How His Majesty Likes It: Winnipeg's 9 Best Fish and Chips
Canada, and especially Winnipeg, loves its fish and chips just as much as the Brits do. When we crave this dish, we want it done right—the English way.
You'll find fish and chips in pretty much every restaurant in the city, but it's sad how a lot of these places either overcook or underseason the delicate fish. We'll show you the 9 best fish and chips in Winnipeg where we're sure it's cooked right.
1. Fergies Fish N Chips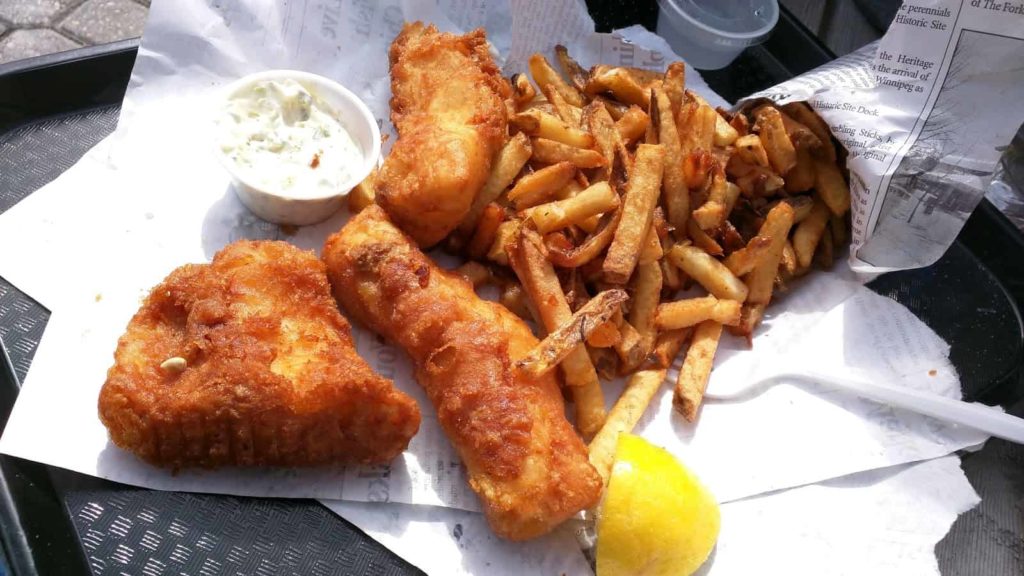 When it comes to fish and chips, you'd be a fool not to try Fergies' version. You can pick from halibut, pickerel, and cod, and all taste amazing (especially the halibut!)
Honestly, we've only recently visited this place despite our friends nagging us for years to check it out. Coming from someone who's been to the UK a few times, this place surprisingly tastes better than English fish and chips!
You can pick from a bunch of different types of chips, but we suggest going for the shoestrings. Mix that with some curry gravy and fried halibut, and you'll be stuffing yourself fuller than a kid at Disneyland!
It's also pretty cool that the chips often come in huge servings. You might find it to be too much if you're a normal eater, but if you're a glutton like us, then it'll fill you up just right.
Address
Forks: The Forks Market, Parking lot, 1 Forks Market Rd, Winnipeg, MB R3C 4L9, Canada

St. Vital: 1225 St Mary's Rd, Winnipeg, MB R2M 5E5, Canada

CF Polo Park: 1485 Portage Ave, Winnipeg, MB R3G 0W4, Canada

Contact Details
Forks: +1 204-942-9444

St. Vital: +1 204-416-7054

CF Polo Park: +1 204-416-6077

Hours
Forks:

• 11:00 AM to 10:00 PM (Sunday to Thursday)

• 11:00 AM to 11:00 PM (Friday, Saturday)

St. Vital & CF Polo Park:

• 11:00 AM to 9:00 PM (Weekdays)

• 11:00 AM to 6:00 PM (Weekends)

Menu
https://fergiesfishandchips.ca/our-menu/
Price Rating
$$ - Average
2. Captain's Table Restaurant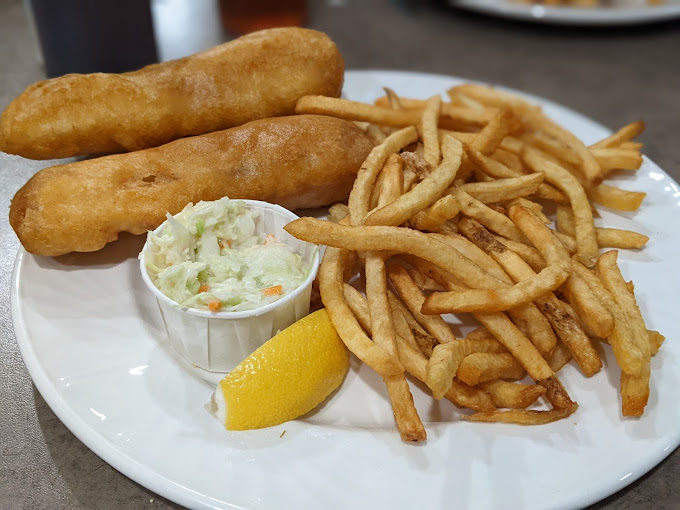 The best food is usually reserved for captains, and Captain's serves nothing but the best! Both the halibut and haddock are always perfectly cooked, which is probably why the restaurant's always full even outside of rush hours.
Once you get past the long lines, you'll want to get at least two orders to feel satisfied. The portions aren't necessarily small, but we guarantee your tongue will be begging for more even if your stomach can't take it!
Captain's fish and chips are usually served with coleslaw or tartar sauce, though the tartar tastes a bit too much like mayonnaise. We recommend you just stick with the coleslaw.
If you really want to enjoy this dish, try ordering it as a combo plate, which includes one cod, one haddock, four sautéed shrimp, four large breaded shrimp, and chips!
The combo is a great way to have your tastebuds swimming with the fish.
Address
1823 Portage Ave, Winnipeg, MB R3J 0G4, Canada
Contact Details
+1 204-837-3474
Hours
3:00 PM to 9:00 PM (Tuesday to Saturday)

Closed (Sunday, Monday)

Menu
https://captainstablewinnipeg.com/m.pdf
Price Rating
$$ - Average
3. Fionn MacCool's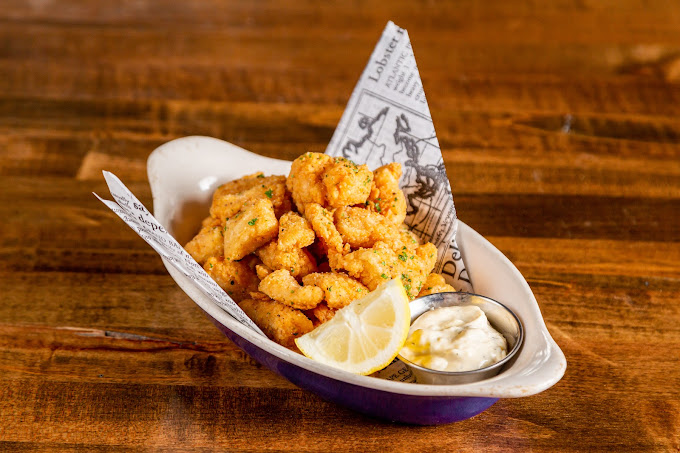 Fionn MacCool's is Winnipeg's favorite Irish pub, and we think its fish and chips taste better than the chippies in England! Out of all the fish and chips we've tried, this is the only one that tastes better without any sauce or lemons.
The portions are great, and the fish pair well with almost everything on the menu. We ordered the vegan power bowl alongside our chips, and the crispiness of the fish went well with the bowl's veggies.
The fish's crispiness and flakiness stand out from the other fish joints in the city. You'll have a hard time getting it to go soggy even hours after it's cooked!
We've lost count of how many times we brought home our orders and not a single one of those times have we had soggy fish.
Address
Grant Park: Grant Park Shopping Centre, 1180 Grant Ave, Winnipeg, MB R3M 2A6, Canada

Crossroads: Crossroads Station Shopping Centre, 1582 Regent Ave W, Winnipeg, MB R2C 3B4, Canada

Contact Details
Grant Park: +1 204-800-6045

Crossroads: +1 204-669-9783

Hours
11:30 AM to 12:00 AM (Everyday)
Menu
https://fionnmaccools.com/menu/
Price Rating
$$ - Average
4. Curry and Pint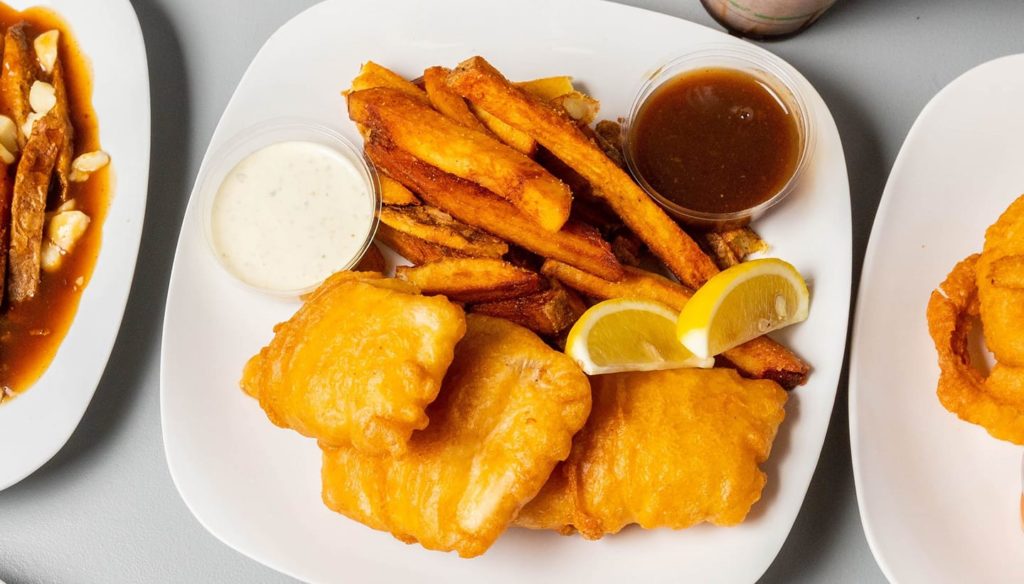 If you think there's not much variation to be had with fish and chips, then wait until you check what Curry and Pint has to offer. It's pretty much just the sauces that have variety, but that sort of counts, right?
The fish tastes just as good and well-cooked as in any other English restaurant, and the chips are equally tasty. It's clear that this place takes pride in this dish.
What Curry and Pint does to spice things up though, is to offer unique dips and sauces. You can choose from around ten different curry-flavored dips, each with varying tastes and spice levels.
You can even try mixing these dips with some of the more traditional dips like tartar to make some interesting flavors! Try to be careful with the lemon though, since too much can make some of these curry dips taste really bad.
5. The Grove Pub & Restaurant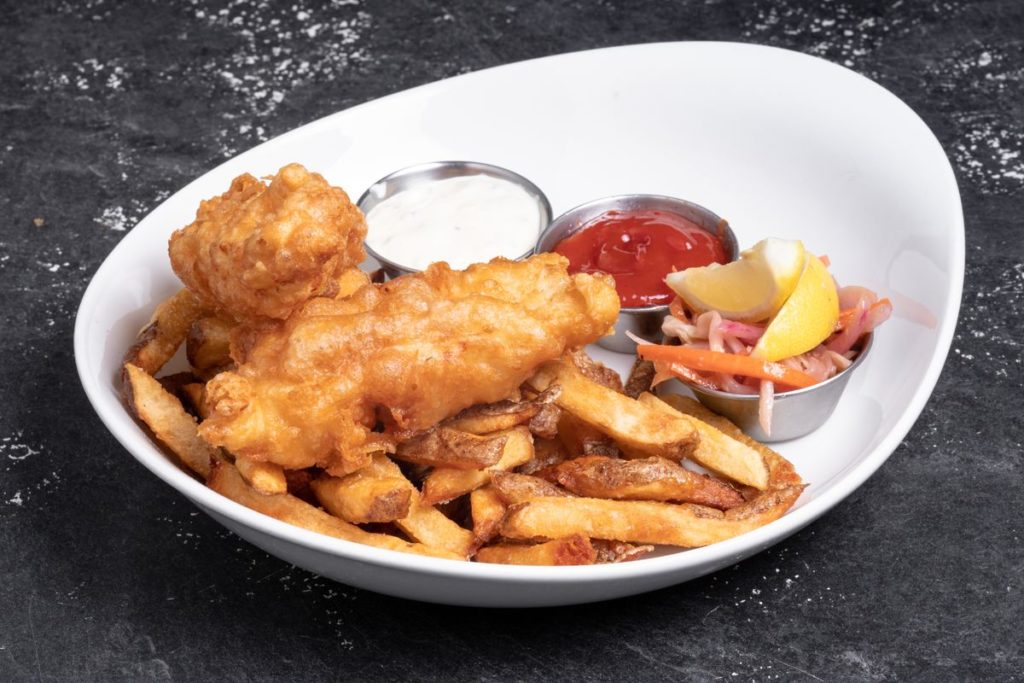 The Grove Pub and Restaurant is the personal favorite of some of our friends, mostly because of the fried salmon. Mix it with some spinach cream and it'll melt in your mouth like chocolate in summer.
This place doesn't try to do anything too crazy or special with its fish and chips, and that's fine with us! Everything's cooked the way it's supposed to, so there's little to complain about.
If you decide to pay a visit, we suggest trying the spinach cream and blue cheese dips. The fish tacos are really good too and you can request for the fish to be fried fish and chips style!
We also suggest you try pairing the fish and chips with the cranberry chevre salad and a glass of grapefruit sangria to really bring out the fish's texture and the batter's seasoning.
Address
164 Stafford St, Winnipeg, MB R3M 2V8, Canada
Contact Details
+1 204-415-3262
Hours
11:00 AM to 1:00 AM (Monday to Wednesday)

11:00 AM to 2:00 AM (Thursday, Friday)

9:00 AM to 2:00 AM (Saturday)

10:00 AM to 1:00 AM (Sunday)

Menu
https://www.the-grove.ca/#starters
Price Rating
$$ - Average
6. Joey's Seafood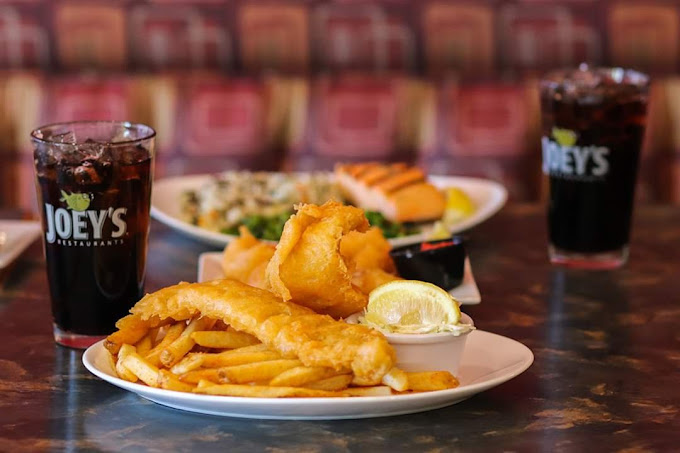 Joey's is one of Winnipeg's largest seafood chains, and we can see why! We were actually told the "why" by one of the waitresses and apparently, it's because of the fish and chips.
Naturally, the fish and chips here are nothing short of perfection. The fish has a light batter that stays crispy even for take-outs, and the chips have an endless, unlimited refill option!
We also noticed that the sauces come in very generous portions, which is always a big plus! There are also around six different types to choose from, though we think the tartar tastes the best.
If you plan on checking Joey's out, try to come outside of rush hours. Whenever we dropped by while the place was packed, we always noticed a slight dip in quality like the fish being soggy and tasting frozen.
During non-busy hours though, the quality is always on point!
Address
Northgate Shopping Centre: 1399 McPhillips St Unit 8, Winnipeg, MB R2V 3C4, Canada

Kildonan Crossing: 1615 Regent Ave W Unit 850, Winnipeg, MB R2C 5C6, Canada

Meadowood: 166 Meadowood Dr #50, Winnipeg, MB R2M 5G8, Canada

Crestview Place: 3421 Portage Ave, Winnipeg, MB R3K 2C9, Canada

Contact Details
Northgate Shopping Centre: +1 204-339-5525

Kildonan Crossing: +1 204-668-7021

Meadowood: +1 204-257-7544

Crestview Place: +1 204-889-0346

Hours
12:00 PM to 8:00 PM (Monday to Thursday, Saturday)

12:00 PM to 9:00 PM (Friday)

12:00 PM to 7:00 PM (Sunday)

Menu
https://joeys.ca/downloads/menus/new-js/Joeys_Dine-In-Menu_S2023688BL.pdf
Price Rating
$$ - Average
7. Elephant & Castle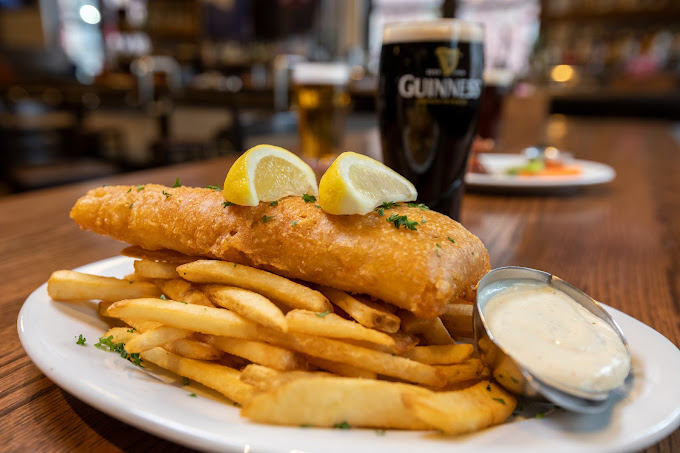 Elephant and Castle's fish and chips are nothing special, but they make for great comfort food! The fish is fried to perfection and usually comes in servings as big as the plate!
The chips are on the same level and they go really well with the French fry brown gravy. The other sauces are good too, and they usually come in overflowing servings.
We think this restaurant's fish and chips are best enjoyed either as take-out or when drunk. It'll protect you from even the worst hangovers and the huge servings are enough to fill your drunk stomach up!
The fish also works well for take-out since it takes forever for these things to get soggy. 
Address
350 St Mary Ave, Winnipeg, MB R3C 3J2, Canada
Contact Details
+1 204-942-5555
Hours
11:30 AM to 12:00 AM (Sunday to Wednesday)

11:30 AM to 1:00 AM (Thursday to Saturday)

Menu
https://www.elephantcastle.com/en/menus.html
Price Rating
$$ - Average
8. King's Head Pub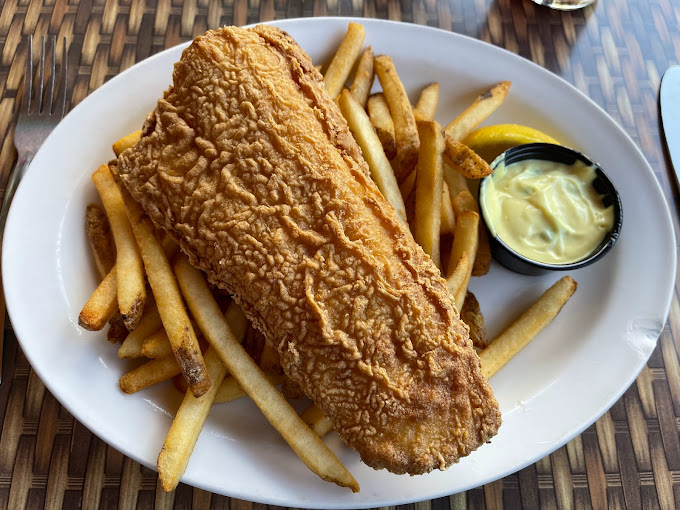 People usually come to King's Head Pub to relax, get drunk, and stuff themselves with its fish and chips. Though the place is inconsistent and the fish can sometimes end up a bit bland, the serving sizes and sauces make up for everything else.
The dining experience is also pretty great and makes the food taste even better. King's Head has gained a loyal following over the years, and it's really fun talking to them while stuffing yourself with fried fish.
If you plan on visiting, try ordering at least three different sauces with your plate. The sauces taste good enough to make you mindlessly eat, so you'll probably end up finishing your dip before you finish half the plate.
Address
120 King St, Winnipeg, MB R3B 1H9, Canada
Contact Details
+1 204-957-7710
Hours
11:00 AM to 2:00 AM (Monday to Saturday)

12:00 PM to 2:00 AM (Sunday)

Menu
https://www.kingshead.ca/khmenu
Price Rating
$$ - Average
9. Original Joe's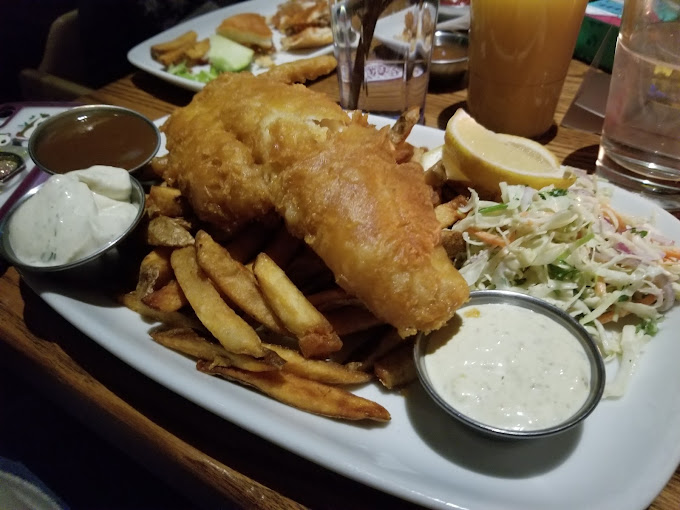 Original Joe's has been serving fish and chips for more than two decades, and it's since become a staple in Winnipeg. If you ask a Winnipegger where their first fish and chips came from, chances are they'll say Original Joe's!
The fish is fried in a batter that's thicker than most, but also more flavorful! You can easily enjoy eating the breading more than the fish itself.
Unfortunately, this place does have its downsides despite being one of the original fish and chips joints in Winnipeg. The only one we can think of though, is how the taste of the fish can sometimes spill over to the chips!
It's not necessarily a bad taste, but you're more likely to taste fish than potato with each bite. Thankfully, the sauces are also some of the most flavorful we've had and can easily mask the fishy taste.
Address
SmartCentres Winnipeg: 3681 Portage Ave, Winnipeg, MB R3K 2G6, Canada

Kenaston Village Mall: 530 Kenaston Blvd Unit 102, Winnipeg, MB R3N 1Z4, Canada

Contact Details
SmartCentres Winnipeg: +1 204-897-7490

Kenaston Village Mall: +1 204-489-2272

Hours
SmartCentres Winnipeg:

• 11:00 AM to 11:00 PM (Sunday to Thursday)

• 11:00 AM to 12:00 AM (Friday, Saturday)

Kenaston Village Mall:

• 11:00 AM to 11:00 PM (Sunday to Thursday)

• 11:00 AM to 1:00 AM (Friday, Saturday)

Menu
https://www.opentable.ca/r/original-joes-restaurant-and-bar-winnipeg
Price Rating
$$ - Average