4 of the Best French Restaurants in Winnipeg
French cuisine is often characterised as fancy, romantic, and visually beautiful. Fortunately, you don't need to fly to France just to enjoy their food and ambiance.
Just for you, we checked out some of Winnipeg's top French restaurants to let you know whether or not they're worth a try. Read on to find out what we think of each one!
French food can be a little pricey, with the average ranging from $30 to $55 a meal. This could be due to the prices of the cuisine's ingredients, the time to prepare the dish, and the skill of the chef.
To get an idea of how much will you spend on dining at French restaurants, take a look at this table of the average prices of different French dishes available in Winnipeg:
| DISH | AVERAGE PRICE |
| --- | --- |
| French onion soup | $14 |
| Steak tartare (raw beef steak) | $25 |
| Beef bourguignon (beef burgundy) | $33 |
| Escargot | $14 |
| Foie gras | $54 |
| Confit de canard | $15 |
| Cassoulet | $41 |
| Bouillabaisse (French seafood soup) | $38 |
| Souffle | $18 |
| Tarte tatin | $31 |
Expect your meal to cost more if the restaurant prides itself in using ingredients imported all the way from France.
How did we choose the best French restaurants in Winnipeg?
We reviewed the restaurants best based on these criteria:
1. Resto Gare and Train Bar Bistro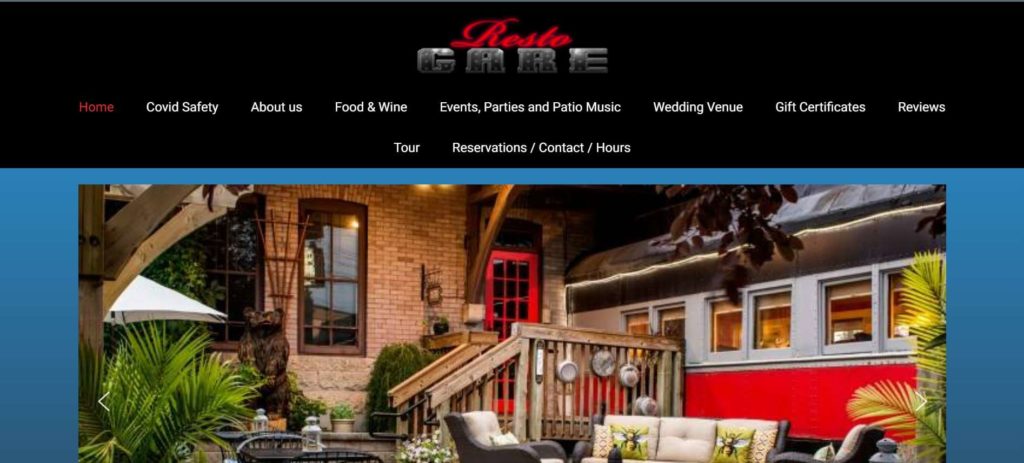 PRICE RANGE

$9 – $125

WEBSITE
https://restogare.com/
ADDRESS
630 Des Meurons St., Winnipeg, MB R2H 2P9, Canada
CONTACT DETAILS
Phone: +1 (204) 237-7072

EMAIL: [email protected]

OPERATING HOURS

Sunday and Monday: Closed

Tuesday to Thursday: 11:30 AM – 8:30 PM

Friday: 11:30 AM – 9:00 PM

Saturday: 4:00 PM – 9:00 PM
| | |
| --- | --- |
| CRITERIA | RATING |
| FOOD SELECTION AND QUALITY | ★★★★☆ 4/5 |
| > Variety | ★★★★★ 5/5 |
| > Food and drink quality | ★★★☆☆ 3/5 |
| AMBIANCE | ★★★★★ 5/5 |
| PRICE | ★★★★★ 5/5 |
| CUSTOMER SATISFACTION | ★★★☆☆ 3/5 |
Resto Gare and Train Bar Bistro serves breakfast, lunch, and dinner. They're known for crowd-pleasers such as mac n' cheese, French onion soup, beef bourguignon, and chateaubriand (filet mignon steak).
It was pleasing to find that each of the dishes have short descriptions of their ingredients.
We find these bits of information useful for customers who aren't familiar with French food as they'll know which dishes they can order.
Another favourable point of the dishes having descriptions is that they make it easier for customers to find the fare they aren't allergic to and order the ones they can eat safely.
As for prices, many of the main entrees cost $9 to $25, prices we think are reasonable given that many noteworthy French dishes cost at least $30.
In terms of drinks, the restaurant carries more than ten kinds of red, white, and sweet sparkling wines.
What we liked about the restaurant's wine selection is that you can order either by the bottle or by the glass.
Do note, however, that not all wines served by the bottle aren't available to order by the glass.
While we appreciate the restaurant for featuring different types of wine, we just find it limiting that there are no other beverages offered.
We think that the restaurant should add other drinks to its menu to accommodate customers who aren't into wine.
Besides serving French cuisine, Resto Gare also has event spaces and catering services suitable for as corporate functions, private parties, and weddings.
An area we want to be improved though is the food quality as we've heard that the quality of the food isn't consistent.
For example, we were told that the steaks weren't as "done" as how customers requested them.
It wouldn't hurt for restaurant management to review its quality control protocols to improve their consistency.
Dishes have helpful and informative descriptions
Impressive wine selection
Accommodates special events
Could add more drinks other than wine
Could improve on food quality
Customer Reviews
Enjoyed our anniversary dinner here
"We arranged to celebrate our 50th anniversary at Resto Gare for a party of 14 in the train car. We were very happy with the planning with Linda and our dining experience. The food was very good and delivered in a leisurely manner. Our waiter Matt was attentive and super with the kids in our party. We had a wonderful evening and celebration!" – Don Richards
A hidden gem in Winnipeg
"What an incredible dining experience. Nestled away in the French quarter of Winnipeg, St-Boniface. This is a gem that is 7 minutes out of the city center. Built out of an old train's dining cart, this French restaurant was not only adorably quaint but the food was delicious. Like role your eyes in pure joy delicious. Starting with the escargot, my Mom had Tortiere for her main course, myself the gourmand macaroni and cheese with smoked ham, and ending with a cappuccino and creme brulee that had to be one of the best I've had. Oh, and the Prosecco was to die for too. Highly recommend! So worth it!" – Jennifer Lupachow
2. InFerno's Bistro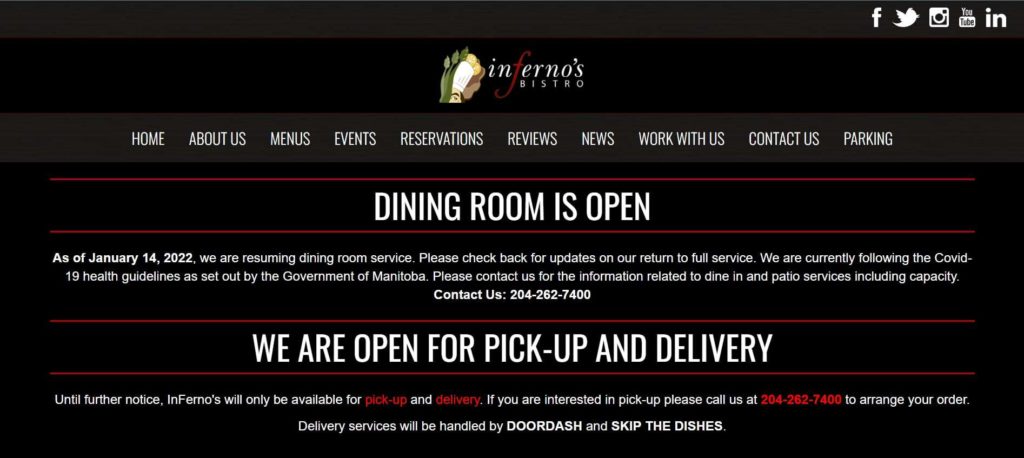 PRICE RANGE

$6 – $30

WEBSITE
https://www.infernosbistro.com/
ADDRESS
312 Des Meurons St., Winnipeg, MB R2H 2N5, Canada
CONTACT DETAILS
Phone: +1 (204) 262-7400

Facebook: Inferno's Winnipeg

OPERATING HOURS

Monday and Tuesday: Closed

Wednesday to Friday: 11:00 AM - 8:00 PM

Saturday: 11:00 AM - 8:00 PM
| | |
| --- | --- |
| CRITERIA | RATING |
| FOOD SELECTION AND QUALITY | ★★★★★ 5/5 |
| > Variety | ★★★★★ 5/5 |
| > Food and drink quality | ★★★★★ 5/5 |
| AMBIANCE | ★★★★★ 5/5 |
| PRICE | ★★★☆☆ 3.5/5 |
| CUSTOMER SATISFACTION | ★★★☆☆ 3/5 |
Despite its name, we think InFerno's Bistro is one of the dining spots in Winnipeg that serves heavenly French cuisine.
Bestsellers include French onion soup, bison short ribs, calamari, and classic French mussels.
One of the restaurant's highlights is that it has a special featured menu that changes every week.
It is worth mentioning that this menu isn't displayed online, so customers will need to call the restaurant to know about the weekly specials ahead of time.
In terms of its prices, this restaurant offers fare more affordable than what other French restaurants do.
For example, its entrees good for two diners cost $50 while other places will offer the same fare for around $100 or more.
As for its authenticity, we think that InFerno's Bistro has an edge in French cooking as it is steeped in a rich culinary history spanning three generations.
Its current owners, Fern Kirouac Jr. and his sons Chris and Zack, anchor on the legacy of Fern Kirouac Sr., a classically-trained French chef well-known in Winnipeg.
Another strong point of the restaurant would be its wide selection of red and white wines and other alcoholic drinks, such as beer, brandy, and Armagnac.
Half bottles of wine are also available, which we think are perfect for couples or groups who want to sample wine flavours without committing to the full bottle.
Another thing we liked about InFerno's Bistro is that it offers catering and event services ideal for birthdays, anniversaries, and corporate events.
On the downside, we've heard that the staff makes last-minute changes without informing the customers days before the event.
We're a bit iffy about this as planning celebrations take time; not getting updates regarding the food and dates can be frustrating.
Hopefully, the restaurant's management will look into this and work on its staff's responsiveness.
Another inconvenience we found is that the restaurant isn't back to full service just yet. As of writing, its dining-in option requires reservations via phone call due to limited capacity.
Current owners are French
Has a featured menu that changes weekly
Carries half bottles of wine
Could improve on updating customers for reservation changes
Dining-in currently requires reservations
Customer Reviews
Love the patio dining area
"Our favourite restaurant hands down. Love everything about it, the food is always great, I love the weekly changing feature menu. Great atmosphere and one of my favourite patios. We go or order take out from here at least once a month. The food is also very reasonably priced for what you are getting. The service is always great. Also get the Bavarian cream pie, you won't regret it!" – Meagan
Great fried chicken and Sangria wine
"Ordered the fried chicken sandwhich and it was the BEST chicken sandwhich I've ever had. The coating and flavour was absolute perfection. We also had the beer cheese bacon mussels and they were to die for. My friend is crazy for their Sangria which I can't wait to try when we're able to go back for an indoor/patio dining experience. Merci beaucoup Infernos!" – Jocelyne Mann
3. FrenchWay Café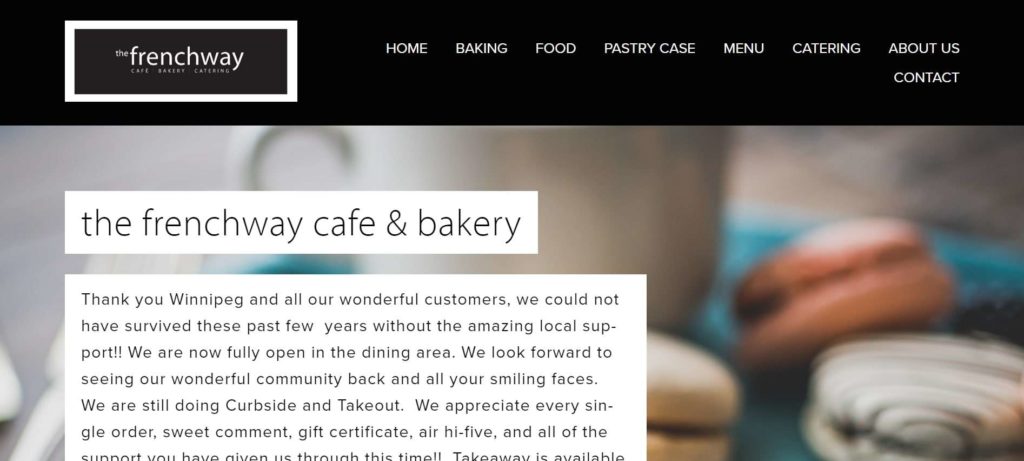 PRICE RANGE

$7 – $15

WEBSITE
https://www.frenchway.ca/
ADDRESS
238 Lilac St., Winnipeg, MB R3M 2S2, Canada
CONTACT DETAILS
Phone: +1 (204) 421-9002

EMAIL: [email protected]

OPERATING HOURS

Restaurant:

Monday: Closed

Tuesday to Friday: 7:00 AM – 3:00 PM

Saturday: 7:00 AM – 3:00 PM

Sunday: 9:00 AM – 3:00 PM

--------------------------------------

Bakery:

Monday: Closed

Tuesday to Friday: 7:00 AM – 5:00 PM

Saturday: 7:00 AM – 5:00 PM

Sunday: 9:00 AM – 5:00 PM
| | |
| --- | --- |
| CRITERIA | RATING |
| FOOD SELECTION AND QUALITY | ★★☆☆☆ 2.5/5 |
| > Variety | ★★★☆☆ 3/5 |
| > Food and drink quality | ★★☆☆☆ 2/5 |
| AMBIANCE | ★★★★★ 5/5 |
| PRICE | ★★☆☆☆ 2/5 |
| CUSTOMER SATISFACTION | ★★★★☆ 4/5 |
A unique selling point of The FrenchWay Cafe is that it has a bakery and a restaurant. Not all French restaurants offer bread and pastries along with their savoury menu fare.
In terms of its bakery, the French dining spot offers bread, brioches, croissants, petit-fours, and pain au chocolat.
Meanwhile, the restaurant itself specialises in pastries such as macarons, tarts, souffle, eclairs, and Parisian flan.
We also have to give it to the restaurant for offering catering services with its pastry collection as the headliner. That said, it seems to lean towards events that serve brunch or afternoon tea.
We also think that they would be a great pastry partner for weddings and anniversaries.
It's just a little unfortunate that the restaurant doesn't have an online menu for its pastries and bakery goods.
To date, the only way to know how much the breads and pastries are is by calling or visiting the restaurant's physical site.
As for its savoury menu, FrenchWay offers crepes, omelettes, sandwiches, salads, and bowls of oats.
While we understand that the restaurant mostly serves brunch fare, we still find its menu quite limited compared to what other restaurants have.
For example, Frenchway's salad selection is currently limited to only two kinds, while other restaurants offer five or more options.
That said, we're still pleased to hear that FrenchWay's savoury meals, particularly the eggs benedict and hash browns, are delicious and worth returning for.
Another favourable point of this restaurant is that it sources ingredients from multiple local suppliers from different parts of Manitoba.
We like this as FrenchWay won't just be making healthy and delicious French-inspired cuisine, but it will also support local businesses and help them thrive in the long run.
Has a bakery
Offers catering services
Uses local ingredients
No menu for bakery and pastry selections
Limited brunch menu selection
Customer Reviews
Nice place for brunch
"It's my first time here, and the food is tasty. The staff are friendly and nice. I also ordered an opera cake for takeout, it is awesome! Not too much sweet, so softy ! I really enjoyed the time here with my friend." – Marilyn Tang
Been here many times, and I always love the experience
"I've been here several times, each time Great food, friendly service. Tasty breakfast of eggs Benedict with steamed asparagus. We were well served by Tanith, our charming and attentive server. Took home a cinnamon bun and a pain au chocolat that was to die for" – David Kairo
4. La Crêperie Ker Breizh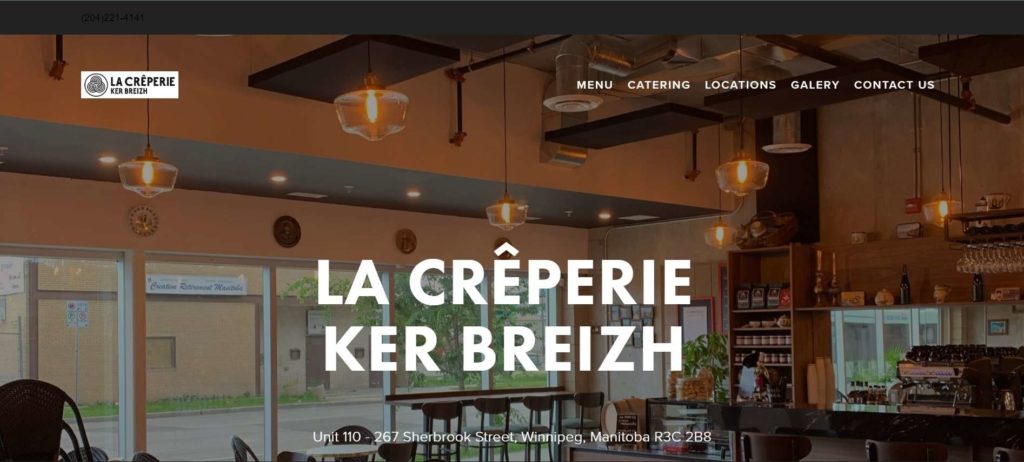 PRICE RANGE

$6 – $40

WEBSITE
https://www.kerbreizhcrepe.ca/
ADDRESS
Unit 110 - 267 Sherbrook St., Winnipeg, MB R3C 2B8, Canada
CONTACT DETAILS

Phone:+1 (204) 221-4141

Instagram: @lacreperiekerbreizh

EMAIL: [email protected]

OPERATING HOURS

Monday: Closed

Tuesday and Wednesday: 8:00 AM –3:00 PM

Thursday to Saturday: 8:00 AM – 8:00 PM

Sunday: 8:00 AM –3:00 PM
| | |
| --- | --- |
| CRITERIA | RATING |
| FOOD SELECTION AND QUALITY | ★★★★☆ 4/5 |
| > Variety | ★★★★☆ 4/5 |
| > Food and drink quality | ★★★★☆ 4/5 |
| AMBIANCE | ★★★★★ 5/5 |
| PRICE | ★★★★☆ 4/5 |
| CUSTOMER SATISFACTION | ★★★★☆ 4/5 |
La Crêperie Ker Breizh is another restaurant that specialises in sweet treats, particularly crepes.
Customers rave about their dessert crepes topped with either bananas and chocolate sauce, butter and sugar, or caramelised apples.
The restaurant also offers its own specialty ice cream, which we think adds a unique flair to the various crepe flavours.
We also love that they serve savoury crepes, or galettes, which are ideal for those who aren't into sugary treats.
Some customer favourites include Le réveil-matin (scrambled eggs, cheese, ham and mushrooms), La Ker B (poached eggs with creamed spinach and cranberries), and Rennes (pork sausage with caramelised onions, hash browns, and mustard).
That said, we're just a bit bummed that there are not many vegetarian options available.
The restaurant's dishes fall between $10 and $30, rates that are more affordable than what most French restaurants in Winnipeg offer.
In terms of drinks, La Crêperie Ker Breizh has four types of white and red wines, as well as other alcoholic drinks, namely cider and kerne. These can be ordered either by bottle or glass.
We're also pleased to find coffee available, although it would be nicer if the restaurant will add more non-alcoholic beverages to its menu.
A downside we found though is that some of La Crêperie Ker Breizh's food portions have inconsistent sizes, with most of them being smaller than what's displayed at the restaurant's gallery.
Customers might also not be satisfied with paying at least $10 for meagre servings.
Specialises in crepes
Has menus for breakfast, lunch, and dinner
Affordable fare prices
Could add more non-alchoholic beverages to menu
Inconsistent portion servings
Customer Reviews
Delicious crepes, excellent service, and lovely restaurant ambiance
Absolutely delicious crepes from both sweet and savoury menu! Excellent service, beautiful restaurant ambiance, and fantastic business hours. We sat outside with our dog and it was perfect. Thank you so much, will be coming back for sure, and have already recommended it to all my friends and family! – Jes King
Love the lunch and dinner food quality
"Very good restaurant with high quality local food. I had already come for lunch and I wanted to try the evening menu, I was not disappointed. Moreover, the cider is imported from Brittany for a complete experience!" – Manon
FAQs on French Food and Restaurants
---
That sums up our unbiased review of the best French restaurants in Winnipeg!
And if you're looking for other restaurants in Winnipeg specializing in foreign cuisine, take a look at our reviews on the best Greek Restaurants and best restaurants for Chinese Food in Winnipeg!