5 of the Best Gift Delivery Services in Winnipeg
Gifts are a great way to show how much you love and treasure family and friends. Thanks to the growth of the Internet, presents of all sorts–both physical and digital–can now be sent through delivery services.
And while many online shopping platforms and electronic wallets offer "send a gift" options for more convenient sending, nothing beats the thrill of selecting items and customising them in a box or basket before delivering them to a certain person.
So, if you're looking for the best gift delivery services in Winnipeg, read on! Our FAQ section below will also give you additional information on availing of these services.
How much do gift delivery services cost on average?
The costs of gift delivery services primarily depend on the items being sent, the size and weight of the package, labour fees, your chosen courier, and where you live.
Additional prices may also stem from where the gift is being sent and the total amount of gifts availed.
For example, some gift stores offer free shipping above $100, although delivery should only be within Canada. Supplementary fees may be required for parcels to be delivered to the USA or internationally.
Here is a table of some common gift ideas and minimum delivery rates you might find in Winnipeg's gift shops, their average price range and starting delivery fees:
| TYPE OF GIFT | AVERAGE PRICE | STARTING DELIVERY RATE |
| --- | --- | --- |
| Flowers | $30 | $68 |
| Chocolates and candies | $82 | $30 |
| Stuffed toys | $29 | $60 |
| Jewelry | $450 | $13 |
| Fruit basket | $46 | $44 |
| Gourmet basket | $25 | $12.50 |
| Wine and cheese | $59 | $12.50 |
What are the best gift delivery services in Winnipeg?
For this list, we've chosen and rated the following gift stores based on the following criteria:
1: Edible Arrangements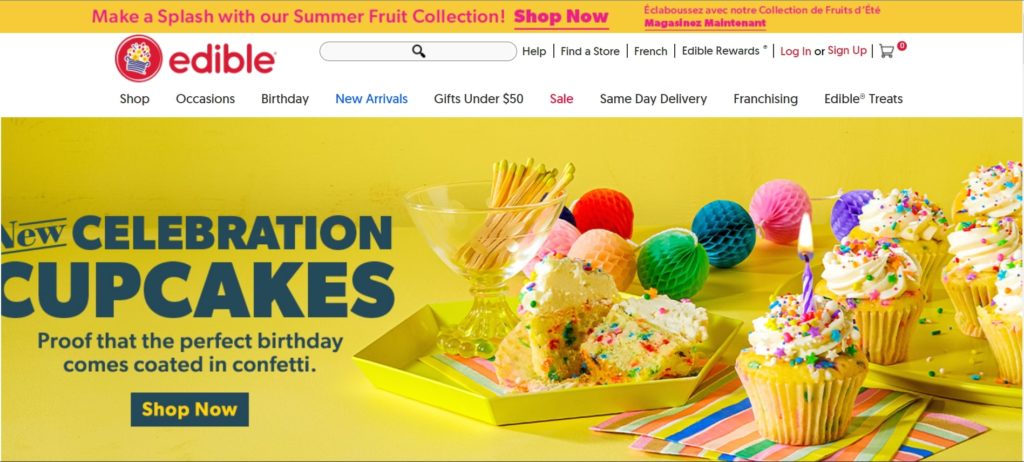 BEST FOR
Edible gift arrangements
WEBSITE
http://www.edible.ca/
CONTACT DETAILS
Phone: +1 (204) 669-6662

Email: [email protected]

ADDRESS
35B - 3 Reenders Drive, Winnipeg, MB, R2C 5K5, Canada
OPERATING HOURS
Monday to Saturday: 9:00 AM – 5:00 PM

Sunday: Closed
| | |
| --- | --- |
| CRITERIA | RATING |
| ARRAY OF GIFTS | ★★★★★ 5/5 |
| PRESENTATION | ★★★★☆ 4/5 |
| ⮕Clean | ★★★★☆ 4/5 |
| ⮕Aesthetically pleasing | ★★★★☆ 4/5 |
| DELIVERY SERVICES | ★★★★☆ 4/5 |
| ⮕Prompt | ★★★★☆ 4/5 |
| ⮕Safe and secure | ★★★☆☆ 3/5 |
| CUSTOMER SERVICE | ★★★☆☆ 3/5 |
If you're looking for the perfect edible arrangements for all sorts of occasions, we think Edible Arrangments is the best stop for you.
This gift store primarily serves a mouthwatering selection of gift-friendly treats such as fruit, chocolate, candies, and baked goods. They can be arranged in platters, bowls, baskets, and vases.
Our personal favourites are the smoothies and fruit cup! For us, these are healthy and delicious gifts ideal for your fitness-loving family and friends, or any loved one craving refreshing and delicious treats.
Besides being delicious, we like that these arrangements are freshly made. We can imagine how special recipients must feel when they receive their items in quality condition.
Now, what we didn't like about this gift store is that it can be inconsistent when it comes to the presentation quality of its gift packages.
Another downside for us is hearing reports of some of staff members' unprofessionalism when dealing with customer criticisms about missing gift items. Sadly, we've heard of surprises being spoiled just because a gift was delivered either too early or too late.
We think that management may need to remind their team of the valuable role they play in creating memorable experiences for people.
Offers different edible arrangements
Fruit gift packages often stay fresh from arrangement to delivery
Some feedback regarding missing items in gift baskets
A few reports on inconsistent presentation and packaging
Customer Reviews
Beautiful fruit arrangements that stay fresh
"Excellent service for out-of-town deliveries. Last year a huge fruit bouquet was delivered to my family for Christmas. It arrived fresh, beautiful, and yummy. This week I ordered a small box sent to a senior in a residence. She was thrilled and said it was beautiful. Excellent service, what more can I say!" – April Vance
Great selection of delicious gift arrangements
"Beautiful and delicious-looking arrangements. Very nice idea for fruit lovers, and people who don't need anything. I have received a package, and just gave one to singing, and both were very appreciated and enjoyed. I was able to think up this idea and have it delivered by supper time, all in one day. Very highly recommended for a unique gift! I was when able to phone on my order to ensure same-day service. Thank you Edible Arrangements!" – Kim
2: Osborne Florist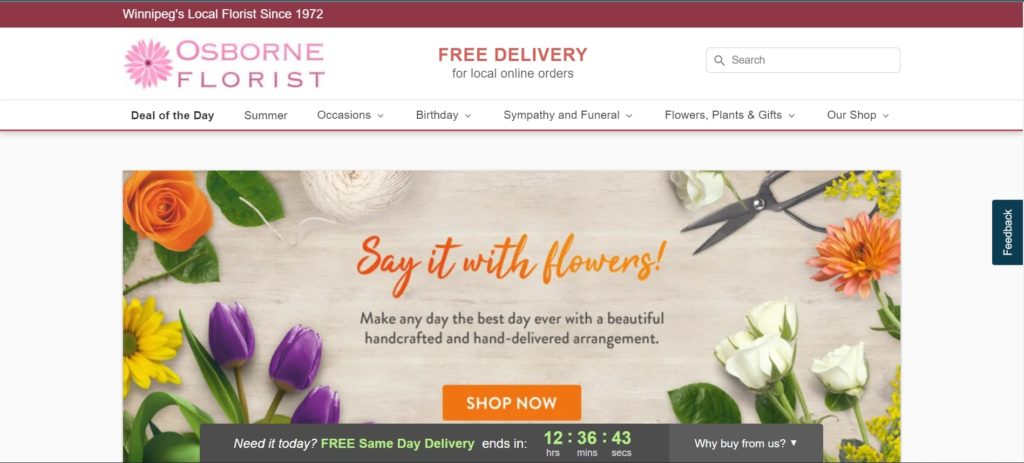 BEST FOR
Flower arrangements
WEBSITE
https://www.osborneflorists.com/
CONTACT DETAILS
Phone: +1 (204) 284-8065 Email:

[email protected]

ADDRESS
565½, Osborne St, Winnipeg, MB R3L 2B3, Canada
OPERATING HOURS
Monday to Saturday: 10:00 AM – 5:00 PM

Sunday: 11:00 AM – 5:00 PM
| | |
| --- | --- |
| CRITERIA | RATING |
| ARRAY OF GIFTS | ★★★★★ 5/5 |
| PRESENTATION | ★★★☆☆ 3/5 |
| ⮕Clean | ★★★☆☆ 3/5 |
| ⮕Aesthetically pleasing | ★★★☆☆ 3/5 |
| DELIVERY SERVICES | ★★★★☆ 4/5 |
| ⮕Prompt | ★★★☆☆ 3/5 |
| ⮕Safe and secure | ★★★★☆ 4/5 |
| CUSTOMER SERVICE | ★★★★☆ 4/5 |
If you're looking to pair your edible gift platters or vases with fresh flowers, Osborne Florist is the place to go.
Since 1971, it has provided numerous flower arrangements for all sorts of occasions, ranging from weddings, birthdays, anniversaries, graduations, and funerals.
What we like about this florist is that it accommodates orders for other celebrations and regular days. This means you can have flowers delivered to your loved ones on any random day and hopefully make their day just a bit brighter!
It's always great when a shop offers suitable alternatives for their regular offerings. Should you have family or friends who aren't fans of flowers, Osborne Florist also has a wonderful curation of decorative house plants that will surely liven up any space.
A word of caution, however: we've heard of instances where the actual arrangements aren't up to par with the advertised samples on their website.
We've also heard reports about missing items (balloons, stuffed animals, etc.), sub-standard arrangements, and customers receiving the wrong flowers.
Upon checking, delivery services also seem to be inconsistent. We've heard some client stories about their items not arriving on the set schedule.
Hopefully, management is already working on improvements in terms of their product quality and customer service.
Accepts flower arrangement orders for all sorts of celebrations
Also has an array of indoor house plants 
Reports on mediocre flower arrangements that don't look like the ones advertised
Some incidents of late deliveries
Customer Reviews
Delivery was prompt
"Excellent service. Flowers were ordered and delivered the same day to 2 different locations and I was kept informed of their delivery promptly." – BRAD
Great place to have flowers and gift baskets delivered
"My brother really enjoyed the surprise birthday gourmet meat and cheese gift basket today. He let me know it's a lovely assortment with lots of variety. Thank you for another great gift." – Donna
3: King's Florist, Ltd.
BEST FOR
Flower bouquets

wreaths

house plants

flower arrangements on vases

gift baskets

WEBSITE
https://www.kingsfloristwinnipeg.com/
CONTACT DETAILS
Phone: +1 (204) 772-5060

Email: [email protected]

ADDRESS
1309 Portage Avenue, Winnipeg, MB R3G 0V3, Canada
OPERATING HOURS
Monday to Friday: 9:00 AM – 5:30 PM

Saturday: 9:00 AM – 4:00 PM

Sunday: Closed
| | |
| --- | --- |
| CRITERIA | RATING |
| ARRAY OF GIFTS | ★★★★★ 5/5 |
| PRESENTATION | ★★★★☆ 4/5 |
| ⮕Clean | ★★★★☆ 4/5 |
| Aesthetically pleasing | ★★★☆☆ 3/5 |
| DELIVERY SERVICES | ★★★★☆ 4/5 |
| ⮕Prompt | ★★★★☆ 4/5 |
| ⮕Safe and secure | ★★★★☆ 4/5 |
| CUSTOMER SERVICE | ★★★★☆ 4/5 |
If you're looking for an alternative gift store and delivery service with floral arrangements, we found that King's Florist at Portage Avenue is a great option.
For one, the store offers an extensive variety of flowers for different occasions. Whether you want roses for your significant other, sunflowers for a summer gift basket, or floral centerpieces for your wedding, this florist will likely have what you need.
We also love how the shop offers floral arrangements ranging from blooms in vases to rustic wreaths, romantic bouquets, and quirky gift baskets.
The shop also offers balloons, chocolates, and plushies to add sweeter and more personal touches to the floral gifts.
On the downside, we were told that some orders had old and wilting flowers in them. The good that came out of this was seeing the shop's willingness to take responsibility and improve their service.
And speaking of delivery, we've heard reports of deliveries coming in late. We hope management has already tweaked their operations strategy to address this, as they are in an industry where time is always of the essence.
As a whole, what we do admire about King's Florist is that it is constantly leveraging customer feedback to improve the overall experience. Given this, we're quite confident that they'll continue to take criticisms well and use these as a way to be better at what they do.
Offers several kinds of flowers and containers for different floral arrangements
Also offers plushies, chocolates, and balloons with their gift baskets
Some reports of late deliveries
Some feedback concerning wilted and old flowers in gift arrangements
Customer Reviews
Love the store's huge array of flowers
"I like this store as it has all kinds of flowers and the staff was so helpful. It was time to close, but she stayed for over 25 minutes to help me with the gift flowers. I am very thankful for the lady who helped me out that day. For sure I will come back. The other thing I want to mention is that the price is also nice here." – Ela
Excellent staff gave me great gift ideas
"Friendly staff, fresh flowers, and hassle-free suggestions. What more do you need from a florist? Thank you for reminding me about Mother's Day which is next month and for offering to call closer to the date!" – Kamil Lark
4: Lakewood Florist & Gifts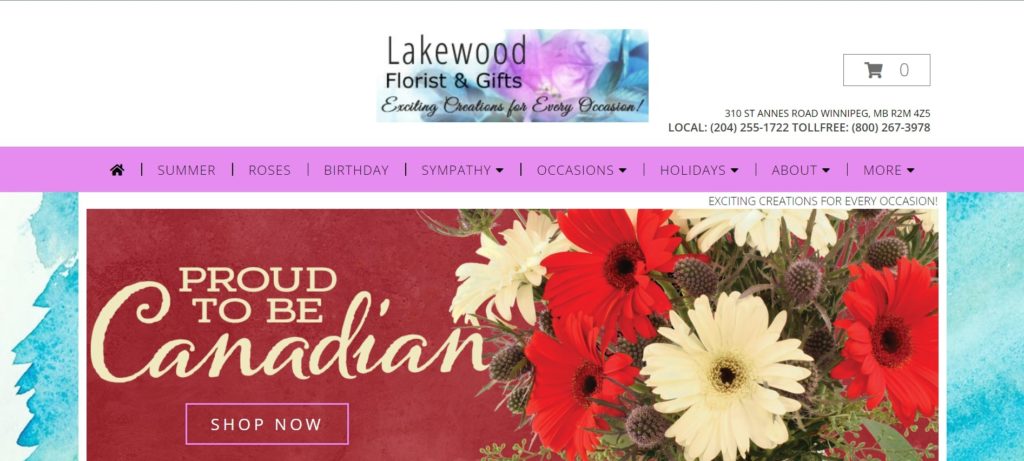 BEST FOR
Custom floral arrangements

fruit baskets

gourmet baskets

junk food baskets

WEBSITE
https://www.lakewoodfloristmb.com/
CONTACT DETAILS
Phone: +1 (204) 255-1722
ADDRESS
310 St Anne's Rd., Winnipeg, MB R2M 4Z5, Canada
OPERATING HOURS
Monday to Friday: 9:30 AM – 7:00 PM

Saturday: 10:00 AM – 6:00 PM

Sunday: 12:00 PM – 5:00 PM (No delivery on Sundays)
| | |
| --- | --- |
| CRITERIA | RATING |
| ARRAY OF GIFTS | ★★★★★ 5/5 |
| PRESENTATION | ★★★★★ 5/5 |
| ⮕Clean | ★★★★★ 5/5 |
| ⮕Aesthetically pleasing | ★★★★★ 5/5 |
| DELIVERY SERVICES | ★★★★☆ 4/5 |
| ⮕Prompt | ★★★★☆ 4/5 |
| ⮕Safe and secure | ★★★★☆ 4/5 |
| CUSTOMER SERVICE | ★★★☆☆ 3/5 |
Lakewood Florist might initially seem like "just another flower gift shop", but we chose to include it in our list because it offers other fun gift baskets that go well with their flower arrangements.
We're a fan of this shop's gourmet and junk food gift baskets, which we think are perfect for your loved ones craving delicious and indulgent snacks! Nothing spells "love" more than someone's favourite comfort food, in our opinion.
In terms of floral arrangements, we appreciate the fact that Lakewood Florist does special arrangements for holidays including Hanukkah, Passover, Kwanzaa, National Boss Day, and Professional's Day.
We think that this is a thoughtful gesture for specific cultures and groups. It shows how they are willing to go out of their way to customise floral and gift arrangements suitable for various celebrations and beliefs, even if not everyone in Winnipeg observes them.
In terms of delivery, we found that the shop is punctual in shipping gift orders. While there were times that packages were delayed due to uncontrollable circumstances, the team continues to commit themselves to the promptness and constant improvement.
We did hear that there have been a handful of issues regarding honoring coupons. We think it would be best if personnel are constantly updated about ongoing promos and coupons so that they can handle these properly when a customer claims them.
Great selection of flowers for different occasions
Offers gourmet, junk food, and fruit gift baskets
Some reports on not properly honoring coupons
Customer Reviews
A prompt and excellent gift store overall
"Very happy to have found Dan and Tanice this week. I needed an urgent request and they graciously accommodated me. Top-notch professional service. They asked the right questions, attentive to details. I will be back!" – Paul Guimond
Highly recommended for floral gifts.
"Lakewood Florist was very professional in handling my order. Although not all the flowers in the arrangement I selected were in stock, the florist was able to arrange a piece that was even better than what I had originally ordered! It says a lot when a company goes above and beyond amidst a pandemic. Not only was the florist attentive and took the care to call to ensure my needs were met, but also was very kind and ensured my safety was kept in mind with curbside pickup. I will definitely order from Lakewood Florist again, and highly recommend this shop for your arrangement needs!" – Hailey Kostusik

5: Small Mercies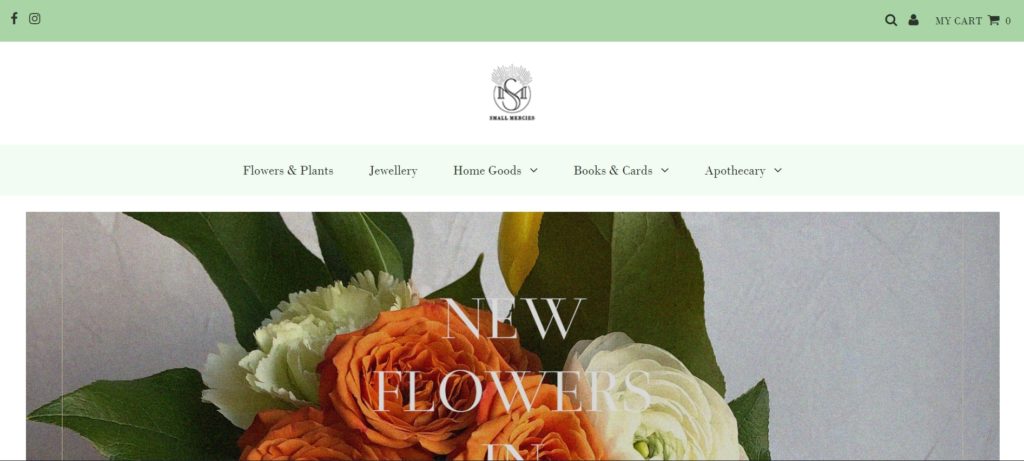 BEST FOR
Dried flowers

jewelry

books

incense

candles

coffee bundles

bath and body kits

WEBSITE
https://www.smallmercies.co/
CONTACT DETAILS
Phone: +1 (204) 615-6290

Email: [email protected]

ADDRESS
111 Osborne St, Winnipeg, MB R3L 1Y4, Canada
OPERATING HOURS
Monday to Sunday (except Thursday): 11:00 AM – 5:00 PM

Thursday: 11:00 AM – 6:00 PM
| | |
| --- | --- |
| CRITERIA | RATING |
| ARRAY OF GIFTS | ★★★★★ 5/5 |
| PRESENTATION | ★★★★★ 5/5 |
| ⮕Clean | ★★★★★ 5/5 |
| ⮕Aesthetically pleasing | ★★★★★ 5/5 |
| DELIVERY SERVICES | ★★★★★ 5/5 |
| ⮕Prompt | ★★★★★ 5/5 |
| ⮕Safe and secure | ★★★★★ 5/5 |
| CUSTOMER SERVICE | ★★★★★ 5/5 |
If you're looking for gifts that last longer than the other presents mentioned here so far, Small Mercies offers an excellent array of preserved flowers, scents, candles, jewelry, coffee, and bath and body kits.
We think these rustic gift options will surely make any recipient feel pampered and special!
Upon checking, these gifts are also customisable, which makes them more unique. We like that you can create a kit that reminds you of the recipient, which is a meaningful form of personalisation.
We recommend looking into the store's card selection as well. These cards have interesting doodles and photographs with witty statements that will make whoever you're giving them to delighted!
Since this store's items are mostly personalised, expect slightly higher prices. However, we think these are worth paying for as you will be getting presents that are aesthetically pleasing, not to mention long-lasting.
And from what we've found, gifts are packaged securely and beautifully! These are delivered as fast as possible so recipients can get them on the right time and date!
One slight downside that we've identified, however, is that the dried flower selection is quite limited. That said, we suggest adding on other dried flowers to make your bouquet fuller and bigger.
Great spot to buy books, jewelry, scented candles, and dried flowers as gifts
Limited selection of dried flowers
Customer Reviews
Beautiful gift store with amazing gift selections
"A beautiful place with amazing items, especially the wind charms! The flowers I bought were gorgeous and very healthy. Arden was helpful and very sweet/nice. I recommend visiting if you are in the area or near Osbourne." – Kee Singh
Has various items that will suit many people
"This is such a cool space! I've been in three times now, and it's definitely one of my favourite places to shop in Winnipeg. It's filled with so many cool products for every style and budget that you can always find something. If you're looking for a gift for someone and you're uncertain about what to get, it's a perfect place to go. I have books, one of the coolest candlestick holders, and candles that have been an absolute hit. The folks who work there are really kind and extremely helpful. I'll certainly be going back." – Dylan Chyz-Lund
FAQs About Gift Delivery Services
---
And that concludes our honest thoughts on the best delivery services Winnipeg has to offer!
While flowers and gift baskets are great go-to presents for loved ones, you can also consider gifting them with meaningful experiences related to beauty and wellness.
Get started by checking out our reviews on the best laser hair removal and best physiotherapy centres in Winnipeg! Some of these services offer gift cheques that you can give to your loved ones.