The 5 Best iPhone Screen Repair Shops in Winnipeg
Shattering your iPhone screen can be a frustrating experience. Luckily, there are iPhone screen repair shops in Winnipeg that can make your phone look as good as new.
If you're on the search for a shop with reliable and fast repair services, you've come to the right place. In this article, we gather and review the top iPhone screen repair shops in Winnipeg.
How much does iPhone screen repair cost in Winnipeg?
The cost of iPhone screen repair services vary depending on where you get it done, the model of your iPhone, and whether you choose to use Apple or non-Apple parts.
Below are ranges of iPhone screen repair prices in Winnipeg for iPhone 5 to 12 models.
| iPhone Model | Price Range |
| --- | --- |
| iPhone 5/5s | $25 - $130 |
| iPhone SE (1st gen) | $25 - $130 |
| iPhone 6 | $65 - $130 |
| iPhone 6 Plus | $75 - $150 |
| iPhone 6s | $85 - $150 |
| iPhone 6s Plus | $95 - $170 |
| iPhone 7 | $95 - $150 |
| iPhone 7 Plus | $115 - $170 |
| iPhone 8 | $115 - $170 |
| iPhone 8 Plus | $125 - $170 |
| iPhone X | $185 - $280 |
| iPhone XR | $145 - $200 |
| iPhone Xs | $195 - $280 |
| iPhone Xs Max | $265 - $330 |
| iPhone 11 | $185 - $200 |
| iPhone 11 Pro | $275 - $380 |
| iPhone 11 Pro Max | $325 - $420 |
| iPhone SE (2nd gen) | $105 - $150 |
| iPhone 12 mini | $225 - $150 |
| iPhone 12 | $275 - $400 |
| iPhone 12 Pro | $275 - $400 |
| iPhone 12 Pro Max | $325 - $440 |
| iPhone 13 Mini | $225 - $150 |
| iPhone 13 | $275 - $400 |
| iPhone 13 Pro | $275 - $400 |
| iPhone 13 Pro Max | $325 - $440 |
Best iPhone Screen Repair Shops in Winnipeg
We assessed each iPhone screen repair shop in this list using the following criteria:
1. Cell Fix Doctors Mobile Repair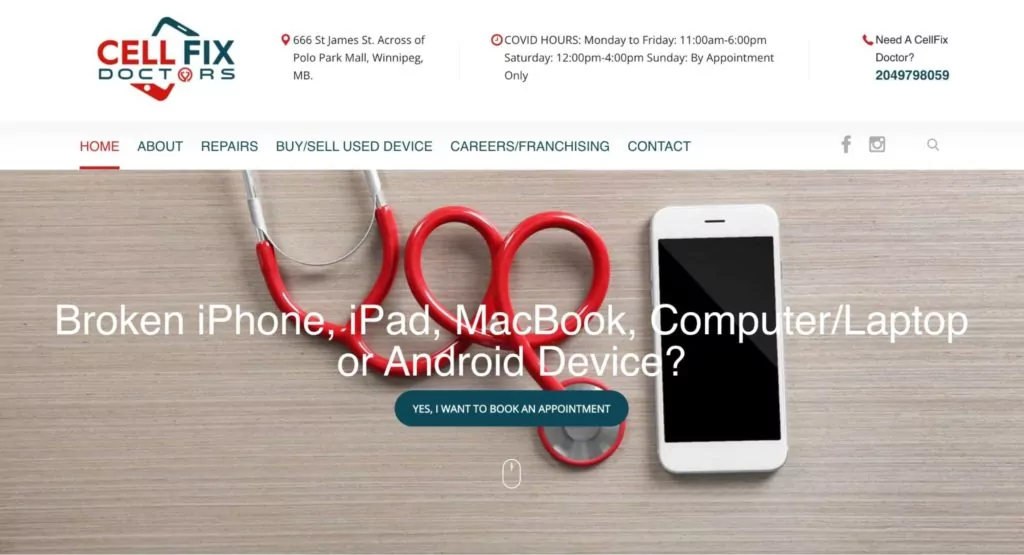 SERVICES
Front screen repair, back glass screen repair, water damage repair, battery replacement, button/ switch replacement, camera/ lens replacement, charge/ AUX port replacement, data recovery/ backup, speaker/ mic replacement, logic board and software repairs, diagnostic services
WEBSITE
http://cellfixdoctors.com/
ADDRESS
666 St James St. Across of Polo Park Mall, Winnipeg, MB.
CONTACT DETAILS
Phone: 204-979-8059
OPERATING HOURS
Monday - Friday: 11:00 AM - 6:00 PM

Saturday - 12:00 PM - 4:00 PM

Sunday: By appointment only
| | |
| --- | --- |
| Speediness | ★★★★★ (5/5) |
| Technician's expertise | ★★★★★ (5/5) |
| Pricing | ★★★★★ (5/5) |
| Customer service | ★★★★☆ (4/5) |
"Cell Fix Doctors" is an accurate name for this iPhone screen repair shop in Winnipeg. From diagnosing the problem to tinkering around the device to solve it, the shop can revive an iPhone with the most complicated problems.
Its iPhone front screen and back glass repair are among its in-demand services, and for good reason. The store has a team of certified technicians who know exactly what they're doing and are able to deliver in record time.
The store offers two types of iPhone screen repairs, either by refurbishing the original Apple LCD and laminating it with OEM glass or replacing it altogether with unoriginal but premium iPhone screens.
We appreciate that they offer the option to retain the original iPhone screen, considering that replacing it may have consequences in battery life, colour pixels, and refresh rates.
Cell Fix Doctors can repair an iPhone screen in less than 30 minutes, which is faster than what we've seen in other repair shops in the metro. But with a repair time as fast as this, we're wondering if the quality of repairs is being overlooked.
Upon thorough investigation, we found out that some customers experienced problems with their devices a couple of days to weeks after they were touched by Cell Fix Doctors technicians — problems that could have been caused by error or negligence during the repair.
With that big of a risk, it's a good thing that each repair is protected with a lifetime warranty. That's the main reason they're on our list!
Less than 30-minute repair time
Expert certified technicians
Lifetime warranty
Repair quality may be overlooked a times
Staff can be more helpful and accommodating
Customer Reviews
Available options for iPhone screen repair
I got my iPhone 8 screen repaired here and the repair was done within a few hours of a walk-in appointment. Highly recommend as there are a few different options to choose from for screen repairs. – Kyle Harper
Fast repair time and good service
Broke my phone right before a flight and these guys had it fixed within 15 minutes- totally saved the day and had great service! 10/10 would recommend. Thanks so much guys. – Molly McNeil
2. Mobile Tech Lab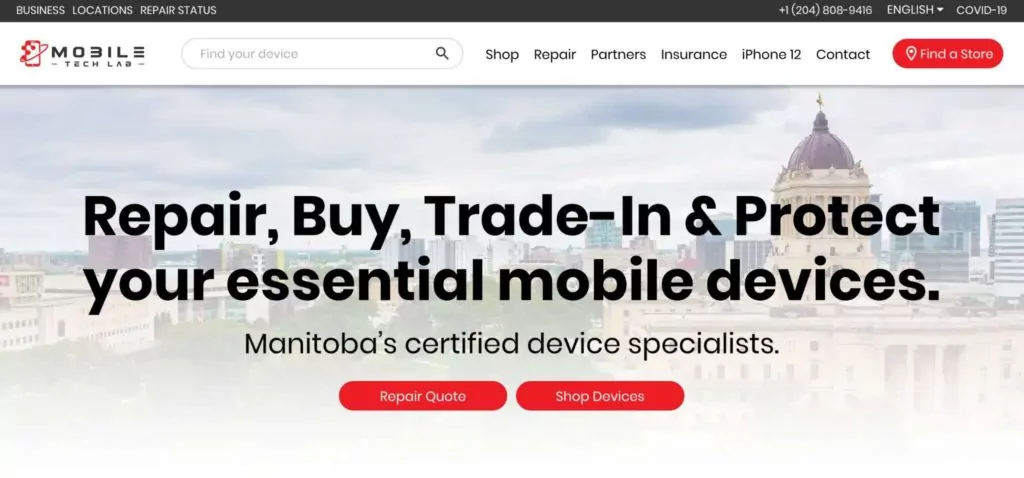 SERVICES
Screen repair and replacement, rear glass/ housing replacement, battery replacement, charge port replacement, front and rear camera replacement, camera lens replacement, earpiece replacement, loudspeaker replacement, simple and advanced diagnostics, data transfer
WEBSITE
https://mobiletechlab.ca/
ADDRESS
2020 Corydon Ave, Unit F, Winnipeg, MB R3P 0N2
CONTACT DETAILS
Phone: +1 (204) 808-9416

Email: [email protected]

OPERATING HOURS
Monday - Sunday: 10:00 AM - 6:00 PM
| | |
| --- | --- |
| Speediness | ★★★★☆ (4/5) |
| Technician's expertise | ★★★★★ (5/5) |
| Pricing | ★★★★☆ (4/5) |
| Customer service | ★★★★★ (5/5) |
With two branches in Winnipeg, Mobile Tech Lab has become a go-to repair shop for broken iPhone screens and other cellphone, tablet, computer, and console device issues.
It's one of the few shops that offer Apple genuine parts, but you also have the option to have your phone repaired with cheaper parts from third-party manufacturers. It's worth noting that Apple parts only have a 12-month warranty, while third-party parts have lifetime coverage.
We also need to point out that their warranty policies only apply to screen issues, such as a broken LCD. Subsequently cracked screens are not covered.
We wanted to point that out because it's easy to misunderstand the coverage of their lifetime warranty from the information on their website. Their staff can also give false information on warranty coverage, which the management should do something about.
But that's not to say the staff is bad at communicating. Warranty-related topics aside, we find the technicians to be very knowledgeable about all sorts of devices and can help you understand what will be done on your phone to yield the best outcome.
While Mobile Tech Lab's repair time is not as fast as other shops we've seen, they have a 2-hour turnaround time. If you ask us, that's not too bad and is a minor tradeoff considering the quality of the repair.
We think it's awesome that the shop is open to walk-ins 7 days a week, which means you don't have to panic if you break your iPhone screen on a weekend.
Open on Sundays
Offers Apple genuine parts
Knowledgeable technicians
Warranty policy prone to misinterpretation
Repair time can be faster
Customer Reviews
Helpful staff with great expertise
Mobile Tech Lab is literally the best. Thanks to Daniel and the great team. Each location was helpful, accurate and showed great expertise. Me, my family and anyone in need of tech services will go to them going forward! – Sam Clucas
Great customer service
Mobile Tech Lab Corydon is simply amazing! I've gone to a number of cellphone repair shops in Winnipeg but this shop is the best! Honest-to-goodness staffs and technicians.No "it's cheaper to buy one than have it repaired" statements which for me would either mean, just buy a new or refurbished one from us or you'll pay a hefty price for a repair. Come and experience the superb service yourself. – Tom Prieto
3. Matrix Mobile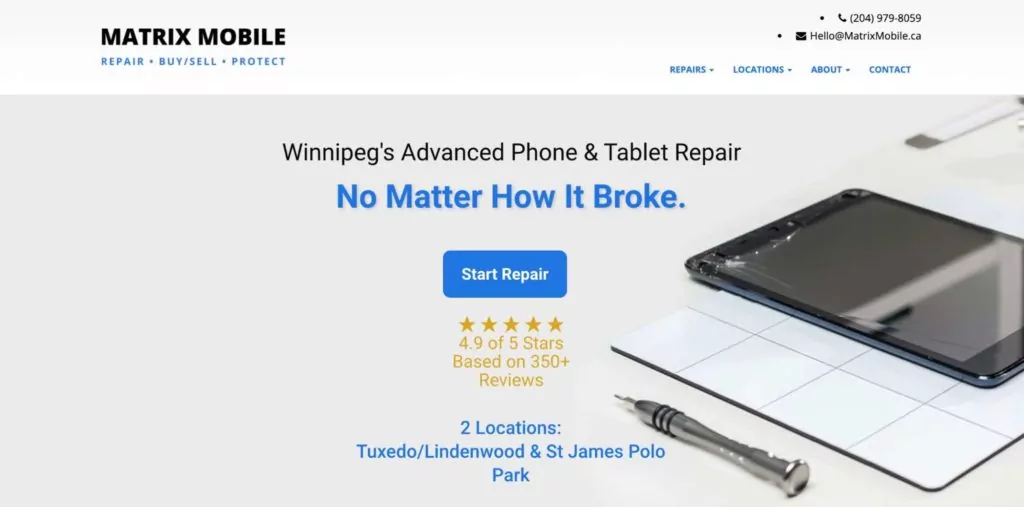 SERVICES
Front screen repair, black glass screen repair, battery replacement, button/ switch replacement, camera/ lens replacement, charge/ AUX post replacement, logic board repair, speaker/ mic replacement, water damage repair, data recovery/ backup, diagnostic services
WEBSITE
https://matrixmobile.ca/
ADDRESS
701 Sterling Lyon Parkway, Tuxedo/Lindenwood, Winnipeg 666 St. James Street, Polo Park - St. James, Winnipeg
CONTACT DETAILS
Phone: (204) 979-8059

Email: [email protected]

OPERATING HOURS
Monday - Friday: 6:00 PM - 9:00 PM

Saturday: 5:00 PM - 9:00 PM

Sunday: By appointment only
| | |
| --- | --- |
| Speediness | ★★★★★ (5/5) |
| Technician's expertise | ★★★★☆ (4/5) |
| Pricing | ★★★★☆ (4/5) |
| Customer service | ★★★★☆ (4/5) |
Although Matrix Mobile has a very wide span of repair and replacement services, its speciality is in repairing cracked or broken screens. To date, it has fixed over 6,500 screens with Apple original OEM displays.
This track record of repairing iPhone screens in Winnipeg helped its technicians become faster and more efficient. We must say that their promise of a one hour turnaround time has quite the allowance, as they have technicians who can replace screens and get the job done in less than 10 minutes.
For their quick quality service, you'd expect them to charge steep prices. But their pricing is relatively lower than what you would find in other shops in the metro offering original Apple parts.
One thing that we don't appreciate, however, is the shop's warranty policies. Despite the promise of a lifetime warranty for all repairs, there have been many instances when the store did not honour the warranties for succeeding repairs or replacements.
It's also important to note that the lifetime warranty only applies to the branch where you initially had your device repaired. Other branches of Matrix Mobile are independently owned and won't honour warranties obtained from other branches.
Overall, Matrix has a good thing going for them with their speedy service and quality repairs. It's a shame that, at the moment, the shop only opens three hours a day.
Specializes in iPhone screen repair
Fast repair time
Affordable pricing
Terrible warranty policies
Short opening hours
Customer Reviews
Great service and fast repair time
Matrix have replaced more iPhone screens for me than I'd care to admit, and the work is always great. I was just in to get my 6S's back reattached after a drop, and she had it done in under ten minutes, and wouldn't charge me. Fantastic. – Craig Marshall
Outstanding customer service
Best in town! Customer service is unmatched! I rarely write reviews, but this was merited! I've had to use Matrix's services a few times and have never been disappointed! Their team is knowledgeable; the prices are reasonable; and they guarantee their work and products, leaving you feeling confident you paid a fair price for exceptional services. Repair work is also completed in a reasonable time frame. They have been patient with me as I asked questions and will often inform me in-depth on the best options and solutions. I recommend Matrix Mobile for any electronic questions, repairs, services, purchases! – B Toure
4. Winnipeg iPhone Repair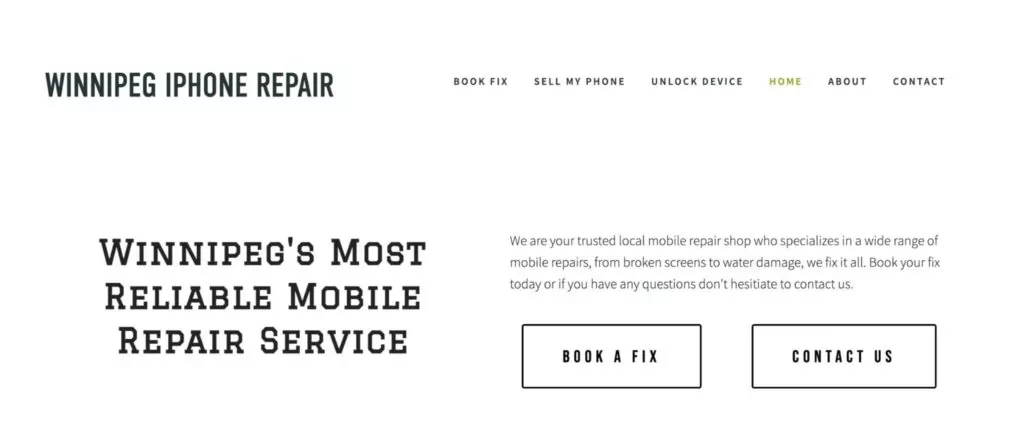 SERVICES
iPhone screen repair, iPad screen repair, Samsung screen repair, battery replacement, Mac and PC repair, tablet repair
WEBSITE
https://www.winnipegiphonerepair.ca/
ADDRESS
765 Moncton Avenue Winnipeg, MB R2K 1Y3 Canada
CONTACT DETAILS
Phone: +1 204 899 2732

Email: [email protected]

OPERATING HOURS
Monday - Thursday: 10:00 AM - 10:00 PM

Friday: 10:00 AM - 9:00 PM

Saturday: 10:00 AM - 4:30 PM

Sunday: 10:00 AM - 3:00 PM
| | |
| --- | --- |
| Speediness | ★★★★☆ (4/5) |
| Technician's expertise | ★★★★☆ (4/5) |
| Pricing | ★★★★☆ (4/5) |
| Customer service | ★★★★☆ (4/5) |
Winnipeg iPhone Repair is the smallest among the stores we mention in this article. But despite that, it's garnered quite a reputation as a top-rated iPhone screen repair service provider in Winnipeg.
What we think is really amazing (and what makes the store worthy of a spot here) is that it only has two mobile technicians — one of which is the owner. But these two guys have been able to provide good customer service and fast iPhone screen repairs.
From what we've seen, the technicians are highly skilled and can quickly solve any iPhone problem. In the process, they exhibit expertise and showcase their outstanding people skills.
But being a two-man team, of course, has its cons, especially in a competitive industry like theirs. For one, the store becomes short-staffed very regularly and has to close down often, to the dismay of customers.
They tend to be very casual when it comes to their opening hours, which is a problem that traces back to having only two people in the team. When both are unavailable, the shop, unfortunately, stays closed even during their business hours.
We also noticed that it can be difficult to get a hold of them by phone, probably because of an influx of customers on-site. The company could really benefit from having more technicians and a front-desk representative who can answer calls and address customer inquiries.
Fast turnaround time despite the lack of technicians
Technicians are knowledgeable and skilled in iPhone screen repair
Friendly and helpful staff
Often closed during business hours
Short-staffed
Difficult to reach them by phone
Customer Reviews
Fast repair time and good quality service
Phenomenal service and flexibility! I had a sudden issue, which needed to be solved immediately and Winnipeg iPhone Repair solved it immediately despite it being challenging for them. I had used this business's services a few times now and every time I was very satisfied with customer service, timing, quality of the service, their people skills and listening skills and fair pricing. I wholeheartedly recommend engaging them for your cellular needs. This review is not paid by anyone, I don't know anybody from this company and I am just a regular customer of theirs. Thank you, Winnipeg iPhone Repair, excellent job! – Victoria Kim
Exceptional customer service
Amazing work and amazing customer service! They truly care about their customers! Would never go anywhere else hands down! – Kendra Lechocki
5. Mobile Klinik Professional Smartphone Repair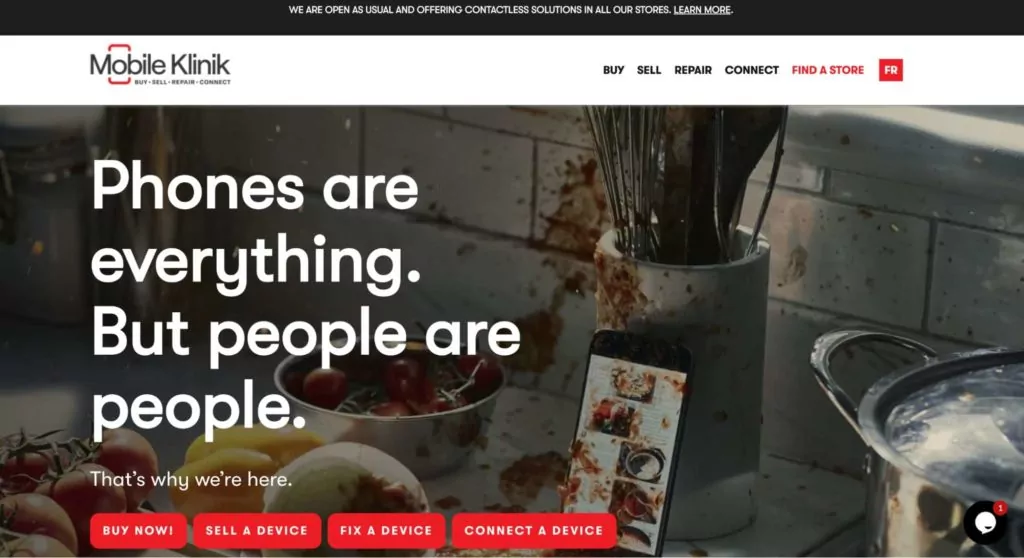 SERVICES
iPhone and tablet repairs, onsite repair service, repair by mail-in
WEBSITE
https://mobileklinik.ca/
ADDRESS
1485 Portage Avenue, Unit Z011A, Winnipeg, MB R3G 0W4
CONTACT DETAILS
Phone: 1-866-210-1070
OPERATING HOURS
Monday - Wednesday: 10:00 AM - 8:00 PM

Thursday - Friday: 10:00 AM - 9:00 PM

Saturday: 10:00 AM - 7:00 PM

Sunday: 10:00 AM - 6:00 PM
| | |
| --- | --- |
| Speediness | ★★★☆☆ (3/5) |
| Technician's expertise | ★★★★☆ (4/5) |
| Pricing | ★★★★☆ (4/5) |
| Customer service | ★★★★☆ (4/5) |
Mobile Klinik is a leading iPhone screen repair store in Winnipeg and beyond, with a number of branches all around Canada. Its Winnipeg branch is the most-visited for all sorts of mobile phone repair services.
iPhones are its speciality. Its technicians are Apple certified and use genuine Apple parts to repair any model of iPhone, which gives you the guarantee that your iPhone will be as good as new after Mobile Klinik works on it.
Its physical store has longer operating hours than what you can usually expect from other repair shops. And what we think is really cool is their mobile repair service that allows you to book from anywhere and wait for the technicians to come to your door.
Whether you're at home, in the park, or in your office, you can book an appointment with their fleet and the technicians will come to you instead of you visiting their Winnipeg location.
The mobile repair service is meant to provide quick repairs so you don't have to go a day without it.
While Mobile Klinik has come up with a way to improve the speediness of their repairs, they still encounter some issues with stock availability. They often don't have enough materials or parts to repair iPhone screens and ask the customer to wait weeks so they can source out the needed parts and begin the repair.
Their inventory management is definitely a point of improvement. Honestly, you're better off getting your iPhone screen replaced somewhere else and having it back within the day instead of waiting weeks for Mobile Klinik to obtain the parts.
Apple certified technicians
Long operating hours
Mobile repair services that take the repair centre to you
Certain parts are often unavailable
Long wait time to source out parts and repair iPhone screens
Customer Reviews
Helpful staff and great customer service
Since moving to Winnipeg ( 2 yrs roughly) I've been going there. The guys that have helped my wife and I more than 5 times are not only good at what they do, they are really helpful and polite. Great customer service. We come from st Adolphe to polo park just for them. – J
Knowledgeable technicians
The best mobile repairing shop I have ever visited in Winnipeg. Intelligent Team they have. – Kunjal Raval
FAQs about iPhone Screen Repair in Winnipeg
---