The Top 14 Must-Visit Picnic Sites in Winnipeg
As someone who's spent years exploring the many green spaces our city has to offer, I've got a few local favorites when it comes to prime picnic spots.
Winnipeg is home to a wide variety of parks and recreational areas that make for perfect picnic venues. From the serenity of river-side locales to the bustling energy of urban parklands, there's a spot for everyone.
In this article, I'm excited to share the top picnic spots in Winnipeg. Whether you're a local or just visiting, I hope you find these locations as delightful as I do. 
Let's dig in!
1. Assiniboine Park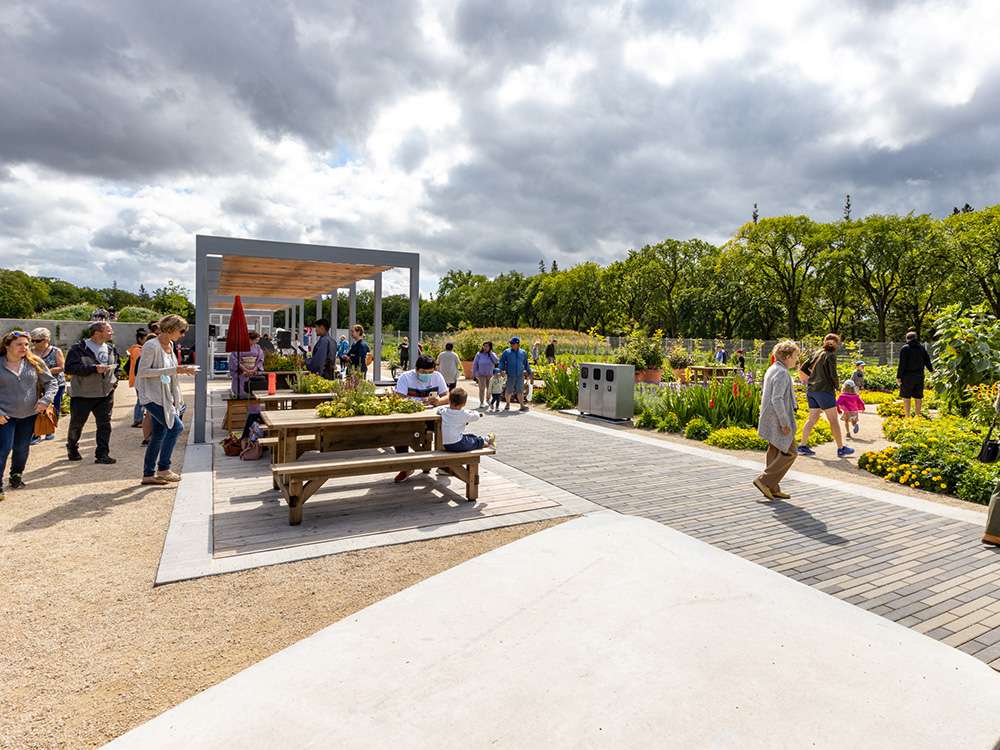 | | |
| --- | --- |
| Address | 55 Pavilion Crescent, Winnipeg, MB R3P 2N6, Canada |
| Contact Number | +1 204-927-6000 |
| Operating Hours | Open 24 hours |
Assiniboine Park, one of Winnipeg's oldest and most cherished parks, is an oasis in the heart of the city. Spread over 1100 acres, the park serves as a delightful retreat for nature enthusiasts and picnic lovers alike.
One of its standout features is the English Garden. It bursts with colors and fragrances that paint a lovely backdrop for your picnic.
The Leo Mol Sculpture Garden is another gem within the park. The park's collection of bronze sculptures and well-maintained greenery creates an artistic atmosphere for picnicking.
Your picnic can be followed by a leisurely walk to the Pavilion where you can explore an art gallery. The park also houses the Assiniboine Park Zoo which might require an admission fee, but the park itself is free to enter. 
For those who enjoy an activity, the park has cricket and soccer fields, a duck pond, biking trails, and even a mini steam train for children.
Its blend of cultural attractions, recreational activities, and natural beauty makes it an exceptional choice for a picnic. The vast green space ensures a spot for everyone and offers a unique and memorable outdoor dining experience.
2. St. Vital Park
| | |
| --- | --- |
| Address | 190 River Rd, Winnipeg, MB R2M 5C4, Canada |
| Contact Number | +1 877-311-4974 |
| Operating Hours | Everyday: 7 AM–10 PM |
Situated along the Red River, St. Vital Park is another popular choice for picnics in Winnipeg. The park's green spaces and mature trees make it a perfect spot for outdoor dining.
You can choose to set up your picnic in a quiet spot by the water or a more lively area near the playground.
One of the highlights of St. Vital Park is its large duck pond, which offers a serene environment for relaxation. This area is particularly favored by families who enjoy the sight of ducks while enjoying their meals outdoors.
St. Vital Park offers vital facilities such as well-kept restrooms, an abundance of picnic tables, and BBQ grills. These amenities enhance the convenience and comfort of those who picnic in the park.
Plus, entry to the park is free. This makes it an affordable choice for an enjoyable day out.
Beyond picnicking, the park offers several recreational activities. You can go for a walk along the well-maintained trails or let the kids have fun at the playground.
With its natural beauty, modern amenities, and recreational options, St. Vital Park truly stands out as a top picnic spot in Winnipeg.
3. Kildonan Park
| | |
| --- | --- |
| Address | 2015 Main St, Winnipeg, MB R2V 2B9, Canada |
| Contact Number | +1 877-311-4974 |
| Operating Hours | Open 24 hours |
Kildonan Park, situated on Main Street, stands out as one of Winnipeg's most appealing picnic spots due to its huge green space and variety of activities.
With much room to spread out a picnic blanket or choose one of the many picnic tables, this park offers an inviting setting for an outdoor meal.
The park is known for its Witch's Hut and Rainbow Stage. These attractions offer a striking backdrop for your picnic and an opportunity for post-picnic entertainment.
For nature lovers, the park's duck pond and well-manicured flower gardens can add a serene touch to your outdoor dining experience.
For families, the park is a perfect choice. Kids can enjoy the large playground and the outdoor pool while parents relax nearby.
And if you're a fan of recreational sports, the park also features soccer fields and baseball diamonds.
Kildonan Park is not only a space for picnics but also a place to relax and enjoy various recreational activities. With its free admission, the park offers a complete package for a perfect day out in Winnipeg.
4. Stephen Juba Park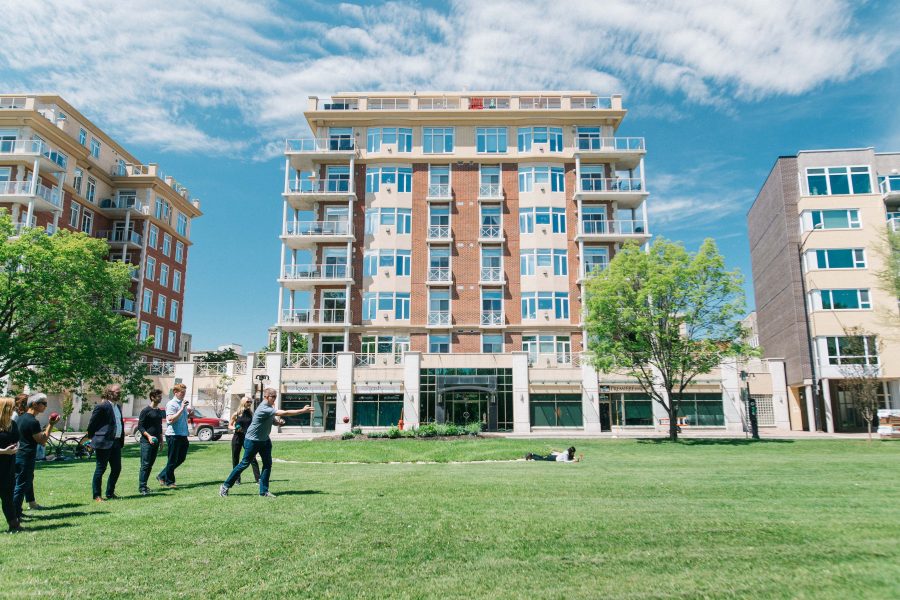 | | |
| --- | --- |
| Address | 130 Galt Ave, Winnipeg, MB R3B 0M3, Canada |
| Operating Hours | Everyday: 8 AM–11 PM |
Nestled in downtown Winnipeg on Waterfront Drive, Stephen Juba Park offers a different kind of picnic experience.

Here, the city's skyline creates an exceptional backdrop for your outdoor meal, while the Red River's gentle flow adds a calming element.
The park's excellent river views provide a majestic setting that serves as its defining feature for a delightful picnic. The grassy areas are spacious enough to spread out a blanket and enjoy a meal while basking in the urban landscape.
You can also opt for one of the benches dotted around the park for a casual picnic setup.
One of the city's most popular shopping destinations is known as The Forks Market, and its proximity to the park adds convenience to your picnic plan. 
You can grab fresh and local produce or pre-made meals from there and then head to the park for a relaxing outdoor feast.
For post-picnic relaxation, a stroll along the riverwalk or sitting and watching the riverboats pass by is a perfect way to end the day. The park also features a playground, which is a great option when you're with kids.
With its blend of urban charm and natural beauty, Stephen Juba Park holds a special place among Winnipeg's best picnic spots.
5. FortWhyte Alive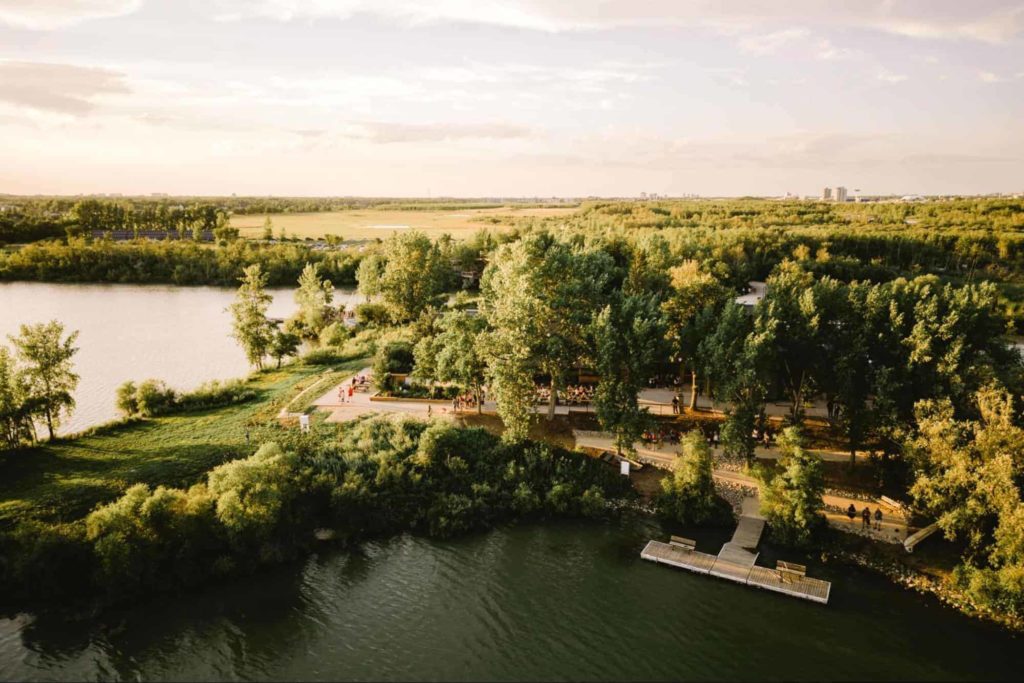 Address
1961 McCreary Rd, Winnipeg, MB R3P 2K9, Canada
Contact Number
+1 204-989-8355
Operating Hours
Monday to Thursday: 9 AM–8 PM

Friday to Sunday (and Holidays): 9 AM–5 PM

Admission Fee
• Adult (18 to 64): $10

• Senior (65+): $9

• Student (with ID): $8

• Child (3 to 17): $8

• Child (0 to 2): Free

• Members, First Nations, Inuit and Métis: Free
FortWhyte Alive provides an unmatched and interactive nature-focused picnic experience. Its 640-acre space teems with wildlife and offers picnic-goers an array of scenic spots, from the lakeside to the forested trails, each with its own appeal.
The environment at FortWhyte Alive is unmatched. Having a picnic here feels like an escape into nature, where you can enjoy your meal surrounded by scenic landscapes and the soft sounds of wildlife.
The serenity, plenty of picnic tables, and open areas for blankets set the stage for a serene outdoor dining experience.
Apart from its natural beauty, FortWhyte Alive offers a range of activities that add to its appeal as a picnic location.
After enjoying a picnic, visitors can explore an array of options. The park's nature trails provide an ideal setting for a relaxing stroll, while the birdwatching spots offer a chance to observe diverse species.
A visit to the bison herd is another highlight that shouldn't be missed. And for those seeking more adventure, canoeing and fishing opportunities are available within the park.
Note that while there is an admission fee for FortWhyte Alive, it provides an extraordinary picnic experience that blends outdoor dining with nature exploration, making it worth every penny and one of the best picnic spots in Winnipeg.
6. The Forks National Historic Site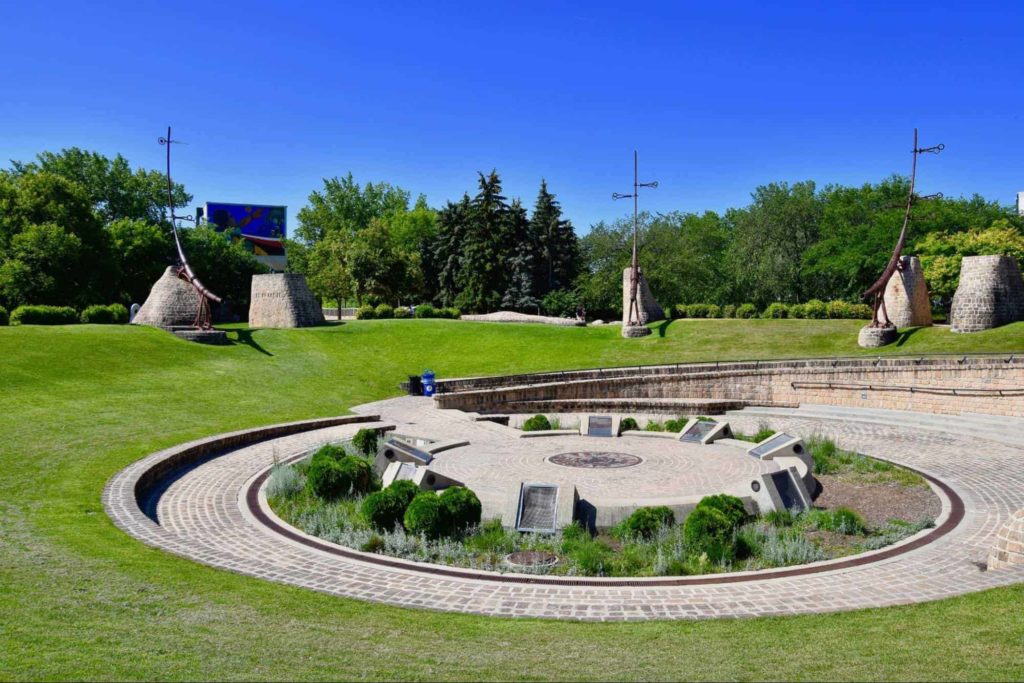 | | |
| --- | --- |
| Address | 1 Forks Market Rd, Winnipeg, MB R3C 4L9, Canada |
| Contact Number | +1 204-927-7874 |
| Operating Hours | Open 24 hours |
The Forks National Historic Site in downtown Winnipeg is a meeting place of natural beauty and rich history. This harmonious blend makes it a highly desirable destination for picnic enthusiasts.
The site offers several fantastic picnic spots, from the banks of the Red and Assiniboine Rivers to the neatly maintained spaces scattered throughout the area.
What sets The Forks apart is the history embedded within its grounds. Having a picnic here offers more than just a meal; it immerses the city's historical roots.
Like Stephen Juba Park, the site's location is further enhanced by the bustling Forks Market nearby, allowing you to enrich your picnic with local food offerings.
If you're seeking a post-picnic activity, a walk along the Riverwalk or visiting the Children's Museum could be on the cards. The site also hosts concerts and festivals, adding a vibrant cultural dimension to your picnic experience.
Offering a rich blend of historical significance, natural charm, and cultural liveliness, The Forks National Historic Site delivers a picnic experience that's dynamic and enriching.
Its unique ambiance, coupled with the convenience of the market and array of activities, undeniably make it one of the best picnic spots in Winnipeg.
7. Bonnycastle Park
| | |
| --- | --- |
| Address | 260 Assiniboine Ave, Winnipeg, MB R3C 4H4, Canada |
| Operating Hours | Everyday: 7 AM–10 PM |
Bonnycastle Park seamlessly blends the comfort of urban amenities with the wonder of nature. This combination sets it apart as a charming destination for picnics.
The park is a lush green oasis amid the city buzz, offering a quiet retreat for picnickers.
The park provides a calming escape from the city's lively pace. Its leafy landscapes contribute to a laid-back, serene environment that picnic enthusiasts will undoubtedly appreciate.
The park's prime location near the river also offers stunning water views. It can accommodate a variety of picnic preferences with its grassy areas and several picnic tables.
But what makes Bonnycastle Park a standout picnic spot goes beyond its location. It's the variety of activities it offers.
The park includes a dog-friendly area, making it perfect for pet owners.
Moreover, the proximity to the Riverwalk makes for a lovely post-picnic stroll. You can also indulge in people-watching or enjoy the sculptures scattered throughout the park.
Bonnycastle Park is about more than just its welcoming picnic setting or how it's a great spot to bring your dogs. The park's location right by the river and the ease of getting there make it a local favorite.
Its scenic and welcoming environment invites visitors to enjoy their meal and stay awhile, making each picnic experience special.
8. King's Park
| | |
| --- | --- |
| Address | 198 Kings Dr, Winnipeg, MB R3T 3G1, Canada |
| Operating Hours | Everyday: 8 AM–9 PM |
The King's Park is a sprawling 49-hectare stretch known for its diverse flora and fauna. It offers a multitude of scenic spots that are perfect for picnics.
Thanks to the beautiful surrounding nature, every meal enjoyed in this park becomes a feast for the senses.
The charm of King's Park is its harmonious blend of natural and landscaped areas. The calm lily pond, beautiful Chinese garden, and well-maintained picnic shelters create an inviting setting for an outdoor meal.
If you prefer a traditional setup, the park provides several picnic tables, while open spaces are perfect for picnic blankets.
The park is a well-rounded spot for picnickers. After the meal, why not set off to explore the trails that wind through stunning scenery?
For those with a curiosity for geology, there's an intriguing display that beckons. And if you're in the mood for a little friendly competition, the disc golf course is waiting to test your skills.
Or if you're picnicking with kids, the playground offers plenty of fun. Basically, each activity adds an extra dimension to your picnic experience.
King's Park offers a multifaceted experience — not just a picnic, but also an opportunity to relax, explore, and engage with various attractions in a serene environment. Each visit promises a fresh perspective, making every picnic here unforgettable.
9. Maple Grove Park
| | |
| --- | --- |
| Address | 190 Frobisher Rd, Winnipeg, MB R2N 3Z1, Canada |
| Contact Number | +1 877-311-4974 |
| Operating Hours | Open 24 hours |
Maple Grove Park warmly welcomes picnic-goers with its expansive layout and clear, blue Winnipeg skies. Its enchanting openness fosters a pleasant atmosphere that makes dining outdoors in this space a truly delightful experience.

The park spans an impressive 40 hectares, providing ample room for everyone to find their perfect picnic spot amidst the natural beauty.
What sets Maple Grove Park apart is its extensive facilities. It features several picnic shelters equipped with tables, providing a convenient setting for your meal.

BBQ pits are also available in the park for those who prefer to spice up their picnic with some grilling, adding another layer to the overall dining experience. The inclusion of a spacious dog park within the area also makes it a well-loved destination for pet owners.

For sports enthusiasts, the place also has rugby fields and a disc golf course. And after your meal, you can enjoy a leisurely walk along the Red River, providing the perfect ending to your picnic.
In essence, Maple Grove Park's versatility and extensive amenities make it appealing to a broad audience. Whether it's a family outing, a meet-up with friends, or a day out with a pet, this park has something to offer everyone.
10. Harbourview Park
| | |
| --- | --- |
| Address | 1867 Springfield Rd, Winnipeg, MB R2G 2K7, Canada |
| Contact Number | +1 204-222-2751 |
| Operating Hours | Everyday: 9 AM–9 PM |
Harbourview Park's distinctive lakeside setting offers a refreshing change of scenery for picnic enthusiasts.
Visitors get to enjoy their food amidst breathtaking views of the lake. It transforms any meal into a truly memorable picnic.
The park also offers several well-placed picnic tables for a more structured dining setup.
For the traditional picnic setup, you'll find ample green spaces here that are perfect for spreading out a picnic blanket and enjoying the peaceful surroundings.
Beyond the picnic scene, the park also features the Harbourview Recreation Complex with a variety of recreational activities, making the picnic an inclusive experience for all ages.
After a satisfying meal, one can walk along the beautiful lakeside paths or engage in a game at the sports fields.
Essentially, the combination of Harbourview Park's exceptional picnic ambiance and diverse recreational offerings is truly unmatched.
It offers an opportunity to mix a fun picnic with engaging activities, thus creating a complete and rewarding outdoor experience not found in many other parks in Winnipeg.
11. Munson Park
| | |
| --- | --- |
| Address | 475 Wellington Crescent, Winnipeg, MB R3M 0A1, Canada |
| Operating Hours | Everyday: 7 AM–10 PM |
Munson Park, found at the heart of Winnipeg, serves as a serene retreat for those seeking a picnic experience away from the city's lively pace. The calm environment provides a rejuvenating scenery where you can savor your food peacefully.
It caters to different picnic styles, from multiple picnic tables for those who prefer a more organized setup to spacious open areas for those who love the traditional picnic blanket experience.
This versatility guarantees that everyone can easily find the perfect place to enjoy their outdoor meal.
In addition to being a great spot for picnics, the park also provides a variety of activities that can take your outdoor dining experience to the next level.
For instance, the soccer field is perfect for a fun-filled game, and the playground is sure to keep younger visitors entertained. And if you're up for a walk, the park's pathways are perfect for a relaxed stroll.
The convenient city-center location, peaceful setting, and various facilities make Munson Park a must-visit destination for anyone looking to enjoy the great outdoors.
12. Bois-des-Esprits
| | |
| --- | --- |
| Address | 650 Shorehill Dr, Winnipeg, MB, Canada |
| Operating Hours | Open 24 hours |
For a more rustic picnic experience, Bois-des-Esprits is one of Winnipeg's largest urban forests. The forest's secluded setting and abundant natural beauty offer a one-of-a-kind backdrop for your outdoor meal.
Picnicking at Bois-des-Esprits is a different experience compared to the city's more developed parks. You can settle down amidst tall trees and enjoy your meal surrounded by the calming sounds of nature.
It's a fantastic choice for those who want a more adventurous and less traditional picnic.
While dining options are more back-to-nature, the forest also offers some fascinating features to explore post-picnic. Bois-des-Esprits is known for its collection of "forest spirits" — whimsical carvings on trees scattered throughout the area.
Hunting for these carvings can be a fun activity after your meal. There are also trails to trek, wildlife to observe, and the Seine River that adds to the scenic appeal.
So, if you are seeking a break from urban life and want to connect with nature while enjoying your meal, look no further than Bois-des-Esprits.
13. La Barriere Park
| | |
| --- | --- |
| Address | 4403 Waverley St, La Salle, MB R0G 0A1, Canada |
| Contact Number | +1 877-311-4974 |
| Operating Hours | Everyday: 8 AM–9 PM |
La Barriere Park offers an intriguing fusion of countryside allure and excitement that creates a remarkable picnic escape. Also, its serene setting provides an ideal ambiance for a relaxing outdoor meal.
And what makes this park stand out is its immersion in Manitoba's beautiful countryside. A picnic here lets you dine while surrounded by incredible views of wide-open fields and rivers, turning every meal into a standout moment.
Once your picnic is over, La Barriere Park has more to offer. The park is renowned for its disc golf course — an activity you can indulge in after your meal.
Also, its network of trails is perfect for those seeking to stretch their legs amidst nature. You can either take a stroll or indulge in an exciting mountain biking experience, depending on your preference.
All in all, La Barriere Park promises an adventure-filled day in the lap of nature.
14. Bruce Park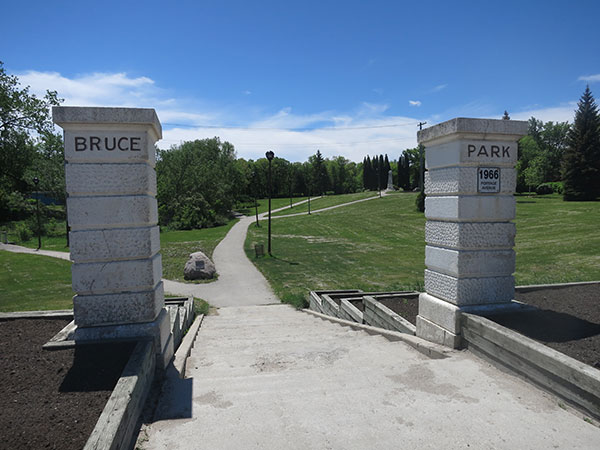 | | |
| --- | --- |
| Address | 1966 Portage Ave, Winnipeg, MB R3J 2A7, Canada |
| Operating Hours | Open 24 hours |
Situated along Portage Avenue, Bruce Park brings together the essentials of a great picnic spot — green spaces, a tranquil atmosphere, and an assortment of amenities. This urban sanctuary stands out for its combination of convenience and natural beauty.
Bruce Park has numerous grassy spots and picnic tables, allowing picnickers to choose their ideal setting for a meal. Whether you prefer to lay a blanket under the park's mature trees or utilize the existing tables, you'll find the park accommodating.
But its charm actually lies in its river views. The Assiniboine River makes for a picturesque backdrop at Bruce Park, making it a charming spot for a waterside picnic.

The river not only adds to the calm ambiance but also provides opportunities for post-meal leisure. Visitors can enjoy Winnipeg's beautiful skyline views by walking along the river's edge.
For those who seek more active pursuits, the park houses a playground and tennis courts. There's also a toboggan slide for winter picnics, adding a fun element to your picnic experience.
As such, Bruce Park embodies the heart of an urban picnic. With the opportunity to dine amidst the natural environment while being treated to river views and the city skyline, your picnic at Bruce Park promises to be anything but ordinary.