Top 3 Places for High Tea in Winnipeg
Over 200 years ago, teatime was the perfect event to catch up with friends, learn the latest gossip, and show off one's wealth and status.
Teatime was also a pause for people to curb their hunger while they wait for their dinner since evening meals back then didn't start until 7 or 8 o'clock.
Today, teatime, such as high tea, can be availed of at tea rooms, restaurants, and even coffee places as a way to take breaks and enjoy refreshments.
Just for you, we looked into different places that serve high tea in Winnipeg and reviewed the best ones in this article. Read on to learn more.
Depending on the tea type, the price for your high tea event may vary. Take a look at this table below for the average prices of tea served at high tea:
| TYPE OF TEA | AVERAGE PRICE |
| --- | --- |
| Black | $1.29/bag; $3.72/cup |
| Earl Grey | $5.66/bag; $8.15/cup |
| Lapsang Souchong | $19.40/bag and cup |
| Green | $2.19/pound |
| Matcha | $1.69/cup; $34/30 grams |
| Iced tea | $0.37/glass |
The sweet treats also add to the tea-drinking experience as well as the total price you'll have to pay. Below are the prices of some of the most common high tea snacks:
| TYPE OF TREAT | AVERAGE PRICE |
| --- | --- |
| Scones | $2.46/piece |
| Cookies | $6.50/pack of 6 |
| Butter tarts | $15/pack of 6 |
| Sandwiches | $18/box of 6 |
How did we select the best places for high tea in Winnipeg?
We've selected the following places for high tea based on the following criteria:
1. High Tea Bakery
WEBSITE
https://www.highteabakery.com/
ADDRESS
2103 Portage Ave., Winnipeg, MB R3J 0L2, Canada
CONTACT DETAILS

Phone: +1 (204) 775-0264

EMAIL: [email protected]

OPERATING HOURS

Monday: Closed

Tuesday to Friday: 10:00 AM – 5:00 PM

Saturday: 10:00 AM – 4:00 PM

Sunday: Closed
| | |
| --- | --- |
| CRITERIA | RATING |
| PLACE | ★★★★★ 5/5 |
| ⮕Ambience | ★★★★★ 5/5 |
| ⮕Interiors | ★★★★★ 5/5 |
| HIGH TEA EXPERIENCE | ★★★★☆ 4/5 |
| ⮕Variety | ★★★★☆ 4/5 |
| ⮕Quality | ★★★★☆ 4/5 |
| PRICE | ★★★★★ 5/5 |
| CUSTOMER SERVICE | ★★★★☆ 4.5/5 |
High Tea Bakery is the place to go for signature tea mixes and assorted themed cookies. This tea room and bakery takes pride in its classic recipes that have been passed down from generation to generation.
We're also pleased to learn that the current owners and staff only use natural ingredients for its teas and snacks.
What we love about this bakery and cafe is that it accepts orders for customised cookies suitable for birthdays, anniversaries, weddings, and corporate events.
But if you aren't a fan of cookies, High Tea Bakery also offers cakes, cupcakes, macarons, tarts, and cake towers.
We also love that these sweet treats are customisable to suit any party or celebration theme.
It's also a plus that the place accommodates bookings for meetings and other business events. From what we're told, customers also receive complimentary tea and treats with their booking.
In terms of its specialties, High Tea Bakery customers rave about the imperial cookies and London Fog tea.
And while we appreciate the bakery for displaying its cookie selection on its menu, we hope it would also update its website and display its tea options, given that its highlight is afternoon tea.
We also think that having the different types of tea available online will help customers choose what they want to have delivered.
It's also worth mentioning that High Tea Bakery has delivery services every day except Saturdays, so take note of this when planning your high tea sessions at home.
Another strong point of this tea place is that it has interiors similar to many contemporary cafes, which we think will appeal to both young and old customers.
Additionally, we also love that it doesn't impose any formal dress codes for its high tea and dine-in options.
We think that makes the experience less intimidating for people who want to try high tea for the first time.
Offers many types of cookies, cupcakes, and tarts
Has delivery services
Doesn't have a dress-code for dine-in
Online menu doesn't display tea selection
Delivery not available on Saturdays
Customer Reviews
A hidden gem for cookies and other sweet treats
"This is a hidden gem. The imperial cookies were brag-worthy (and I also got a whole box of other cookies). The London Fog was excellent, the service was great, and the ambiance is exactly what I love in a tea house. I WILL be back." – Andrea Sokal
Great place for meetings with tea and coffee
"We came for a meeting about my friends wedding cake which came with complimentary tea or coffee. The tea I ended up getting was amazing I can't remember what it was called sadly, the cupcakes we're super delicious with some of the best icing I've ever had and before we left we got some fuzzy peach macaroons they look so good. Everyone who works there gave us excellent service and were an absolute delight." – Sara
2. Velvet Glove Restaurant at the Fairmont Hotel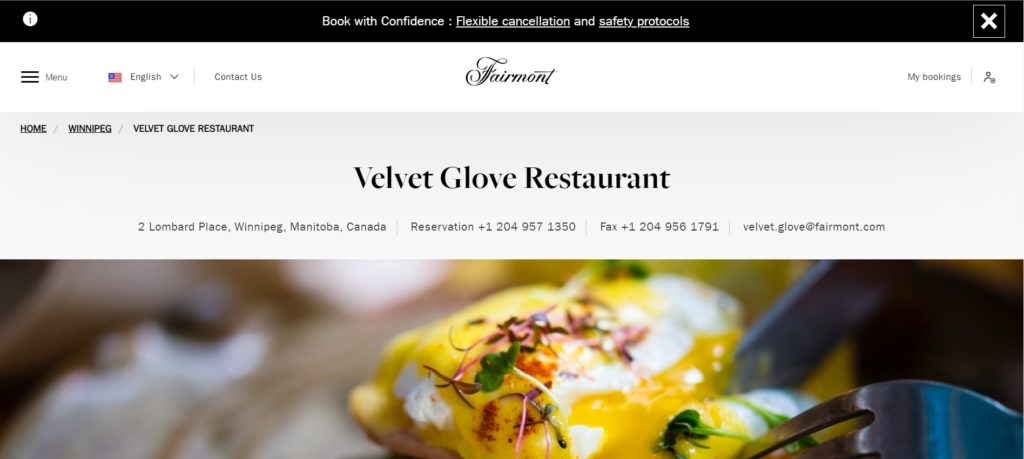 | | |
| --- | --- |
| CRITERIA | RATING |
| PLACE | ★★★★★ 5/5 |
| ⮕Ambience | ★★★★★ 5/5 |
| ⮕Interiors | ★★★★★ 5/5 |
| HIGH TEA EXPERIENCE | ★★★★★ 5/5 |
| ⮕Variety | ★★★★★ 5/5 |
| ⮕Quality | ★★★★★ 5/5 |
| PRICE | ★★★☆☆ 3/5 |
| CUSTOMER SATISFACTION | ★★★★☆ 4/5 |
The Velvet Glove Restaurant at the Fairmont Winnipeg is an upscale location for afternoon tea. Its current tea line up includes Earl Grey, jasmine, and imperial breakfast.
While the selection is limited, we're not one to make a big fuss as they've selected classic infusions for the ultimate high tea experience.
It's worth mentioning that the hotel serves tea bags by Lot 35, which boast premium and ethically-sourced organic tea leaves. We tried it and were pleased to enjoy every drop.
We also think that the place mirrors the feel of the afternoon tea sessions from centuries ago.
For one, the tea place is located at one of the most popular four-star hotels in Winnipeg.
The tea room has that timeless, nostalgic feel, with chandeliers, pendant lighting, carpeted floors, and creamy and oak brown furniture pieces.
Velvet Glove requires a smart casual ensemble, so it's best to plan your outfits before coming in for its afternoon tea.
And, good news: their afternoon tea is open to both hotel and non-hotel guests.
Do note, however, that the afternoon tea requires reservations as they're only available on Sunday afternoon. Holiday teatimes are also only offered on specific schedules.
We recommend booking via the hotel's website so you can check the different high tea themes available and the schedules with slots open.
We also have to give it to this tea room for offering different afternoon tea menus for different seasons and holidays, such as Mother's Day and Valentine's Day.
There is even a Winnie-the-Pooh-themed afternoon tea for kids and adults, which we find creative and adorable!
Kids are offered treats such as chocolate-dipped strawberries, brioches, croissants, and scones, and one of three Lot 35 tea options.
As for the adults, they can order mimosas, vodka, Bailey's with coffee, and other artisanal alcoholic drinks.
It's also a plus that Velvet Glove offers High Tea To Go for adults (priced at $59) and kids (priced at $33) for those who want to enjoy high tea in their homes.
The to-go packages also come with one to two types of teas and various types of cookies, scones, chocolate-dipped fruits, and cake – inclusions we think are worth their prices.
It's just unfortunate that, as of writing, there are no gluten-free or dairy-free options at this place's high tea menu.
We hope the hotel management would consider offering guests the choice to modify their orders to suit their health needs.
Large portion sizesOffers different high tea themes and menus
Has High Tea To Go options
Open to non-hotel guests
Only available on Sunday afternoons
No gluten-free and dairy-free options
Customer Reviews
Fragrant tea selection and great dessert options
"Valentine's Day high tea experience was phenomenal! The tea selection is very fragrant and the desserts were the star of the show." – Simin Islam
Services are superb and worth returning fo
"The food was great, the setting was cozy. Our server Rod was nothing short of excellent. Would go back for the service alone. Thank you." – Lee Manzo
3. Amsterdam Tea Room and Bar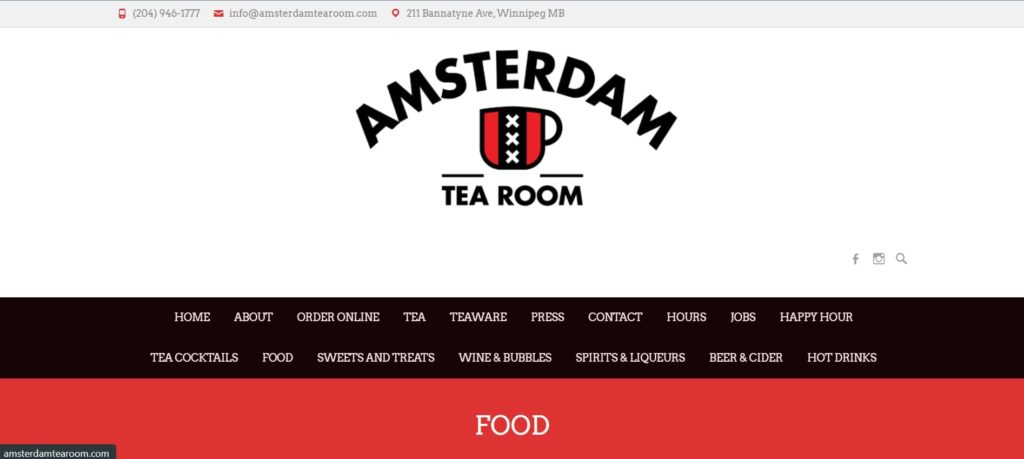 | | |
| --- | --- |
| CRITERIA | RATING |
| PLACE | ★★★★☆ 4/5 |
| ⮕Ambience | ★★★☆☆ 3/5 |
| ⮕Interiors | ★★★★★ 5/5 |
| HIGH TEA EXPERIENCE | ★★★★★ 5/5 |
| ⮕Variety | ★★★★★ 5/5 |
| ⮕Quality | ★★★★★ 5/5 |
| PRICE | ★★★☆☆ 3/5 |
| CUSTOMER SATISFACTION | ★★★★☆ 4/5 |
The Amsterdam Tea Room and Bar is a unique place to enjoy high tea as it is a popular spot for cocktail drinks and happy hour.
When we visited, we saw that there are at least 10 types of black, green, and herbal teas available. It's great that they offer a good range of options for tea lovers.
It's also a plus that the tea room offers matcha and maté (cimarrón) variations, which we think is great for those who want to try other tea types and flavours.
Note that the teas are in loose leaves and not bags. That said, we were told that loose leaves steep better and are more flavourful, which we think makes for a more authentic experience.
We also love that this tea room doesn't have a fixed time for when tea and complimentary sweet treats can be ordered.
Another unique point of this place is that it has tea cocktails available. We love that we were offered 10 tea types that we can order into either a classic cocktail, hot boozy tea, or non-alcoholic virgin cocktail.
We also appreciate the bartenders offering their signature mixes and tea cocktail flights to those who are feeling adventurous about their drinks.
Do note, however, that the tea cocktail flights require reservations for groups of 4 and up.
A downside to this place though is that the only available pastries for high tea are two kinds of cheesecakes. That said, we're not ones to complain about a delicious tea-and-cake combo.
Carries various tea types
Can be ordered anytime
Tea cocktails are available
Tea cocktail flights for groups require reservations 
Limited tea snack options
Customer Reviews
Very nice little tea shop
" The tea really is the big focus here, although they serve cocktails and a limited menu as well. Their pea soup is marvelous! The staff were all very friendly and the service was excellent. The retail tea selection is extremely interesting and well organized. Naturally, you can order a cup of anything that is available for sale – and they have a quintessential tray of biscuits on the menu for just such an occasion." – Emily CPY
Amazing place for all sorts of drinks
"A group of us ladies came to Amsterdam tea house last night for a birthday night out. None of us had been before and we didn't really know what to expect. What an amazing place. These are the places we all need to get behind, unique concept that absolutely works. We were all impressed from beginning to end. The staff were friendly and knowledgeable – if you can't decide what to order, just get the owner to pick for you, you won't be disappointed – food was delicious and well thought out, you can tell that the people who work there, love what they do. I can't wait to go back! Well done!!!!" – Chloe McKenzie
FAQs about High Tea
---
That's the end of our unbiased review on the top places for high tea in Winnipeg!
If you're looking for other amazing places to enjoy food and drink by yourself or with loved ones, we recommend checking out these other articles: