11 Photo-Worthy Sunflower Fields Near Winnipeg
Throughout all our decades of living, sunflowers have never failed to cheer us up. Death, heartbreak, failure—sunflowers signal healing, giving us hope for better days.
Sunflower fields can be found all over Winnipeg, but some are more vibrant than others. Here are 11 worth traveling to.
1. Jardins St-Léon Gardens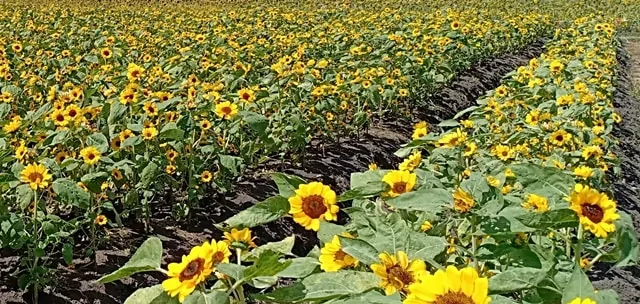 Jardins St-Léon Gardens is a mesmerizing destination that captivates visitors with its breathtaking sunflower fields. Nestled in the heart of the countryside, these vibrant fields stretch as far as the eye can see, creating a sea of golden beauty.
The sunflower fields offer a sensory feast, with their towering stalks adorned with cheerful, radiant blooms.
Bathed in the warm sunlight, the flowers sway gracefully in the gentle breeze, painting a picturesque landscape that is nothing short of enchanting.
Feel free to wander through the fields, immersing yourself in the tranquil ambiance and indulging in the sensory delight of the sunflowers' delicate fragrance. 
Address
Contact Details
Hours
419 St Mary's Rd, Winnipeg, MB R2M 3K5, Canada
+1 204-237-7216
9:00 AM to 9:00 PM (Weekdays)

9:00 AM to 6:00 PM (Weekends)
2. Aurora Farm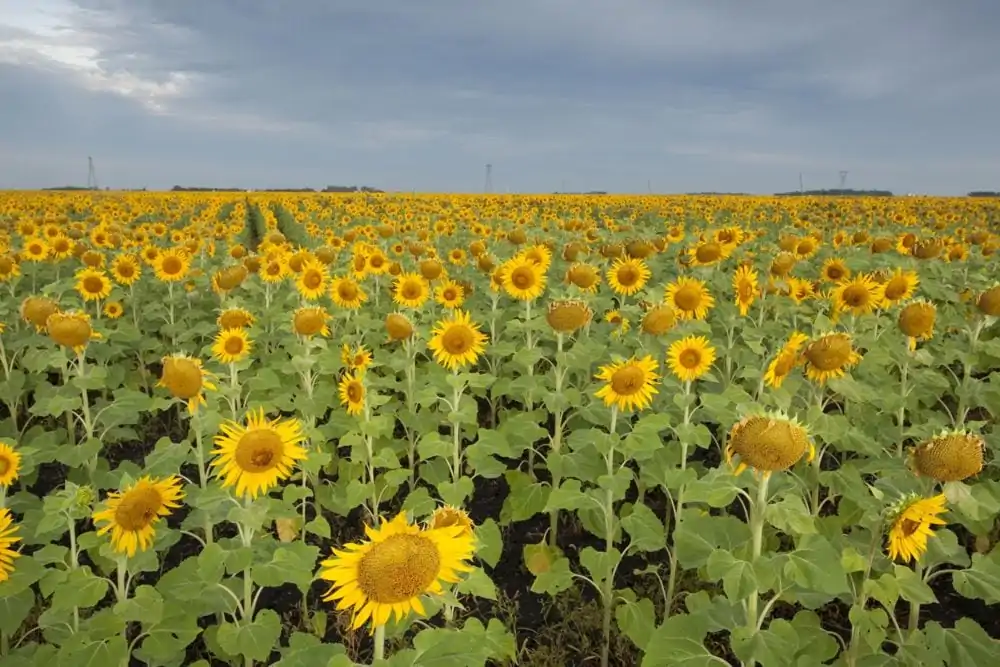 Aurora Farm is a massive solar-powered prairie farm and is home to some of the tallest sunflowers in Manitoba. The sunflowers sway in a certain kind of way that it almost seems like they're dancing with the wind.
When you feel lost and want to feel comfort, inspiration, or love, there's no better place to go than here. The tranquility of it all is enough to soothe every problem you have, making this visit more worthwhile than a therapy session.
As a bonus, going on a date to see the sunflowers here is sure to earn you extra points. 
| Address | Contact Details | Hours |
| --- | --- | --- |
| 4265 Waverley St, Winnipeg, MB R3V 1W8, Canada | +1 204-261-6279 | 7:00 AM to 6:00 PM (Everyday) |
3. Lacoste Garden Centre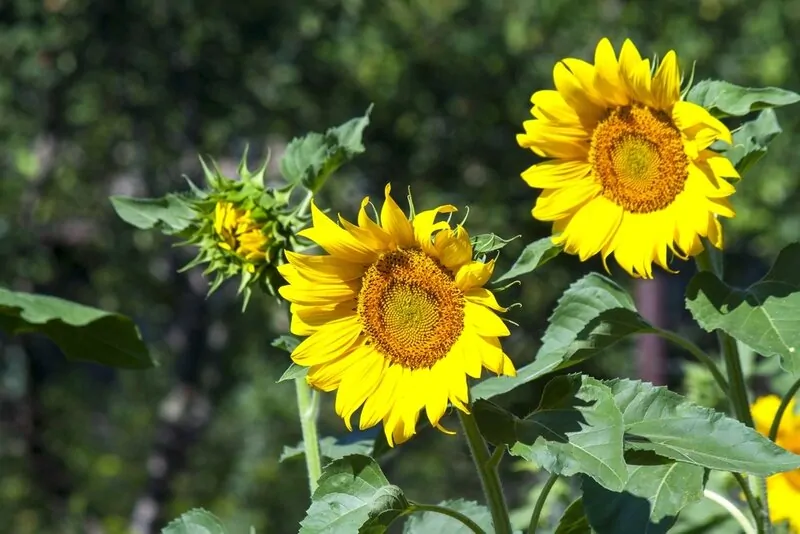 Winnipeg garden enthusiasts know the name Lacoste, which is known for its large selections of flowers set up in rows stretching as far as the eye can see.
The sunflower section is one of Lacoste's most popular, with the sight of the field alone enough to convince most visitors to start planting themselves.
One of the garden center's key attractions is the gardening lessons, where you get the chance to bring home some sunflower seeds and learn how to best nurture these plants.
Address
Contact Details
Hours
2787 St Mary's Rd, Winnipeg, MB R2N 4A6, Canada
+1 204-256-2377
9:00 AM to 6:00 PM (Monday, Tuesday)

9:00 AM to 8:00 PM (Wednesday to Friday)

10:00 AM to 5:00 PM (Weekends)
4. The Forks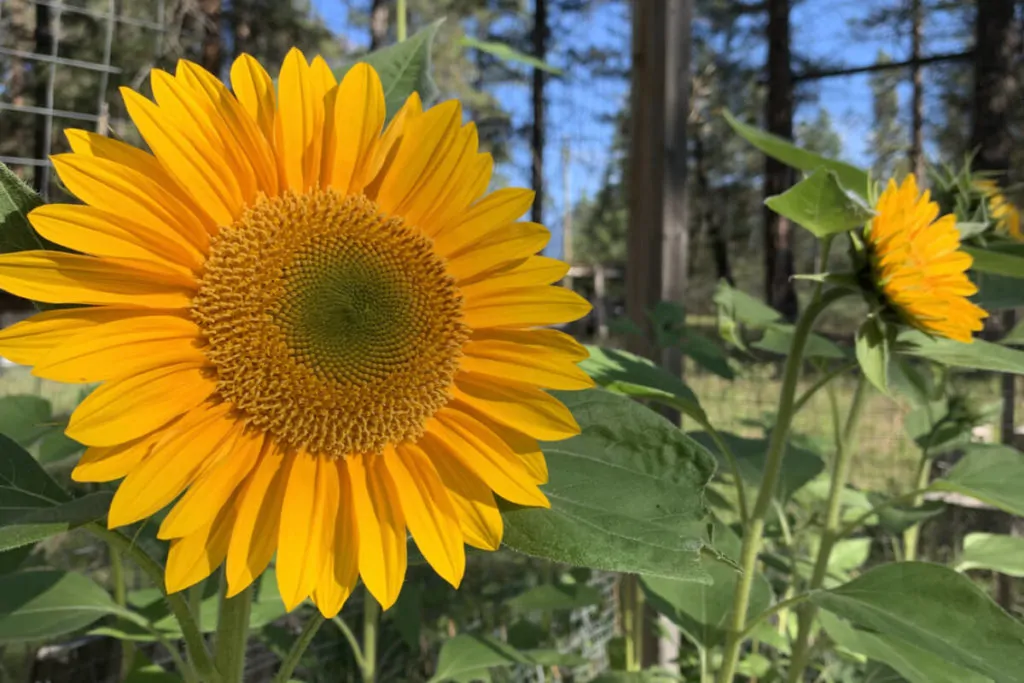 The Forks is a vibrant and captivating destination located in Winnipeg, Canada, where two rivers, the Assiniboine and Red Rivers, meet.
With a rich history dating back thousands of years as a gathering place for Indigenous peoples, The Forks has evolved into a bustling hub of activity and culture.
Within this hub are some of the biggest flower vendors in Winnipeg. When the sunflowers bloom, these vendors set up huge fields of sunflowers for all of us to enjoy. 
Address
Hours
1 Forks Market Rd, Winnipeg, MB R3C 4L8, Canada
10:00 AM to 9:00 PM (Weekdays)

11:00 AM to 10:00 PM (Weekends)
5. Van Ryssel Farms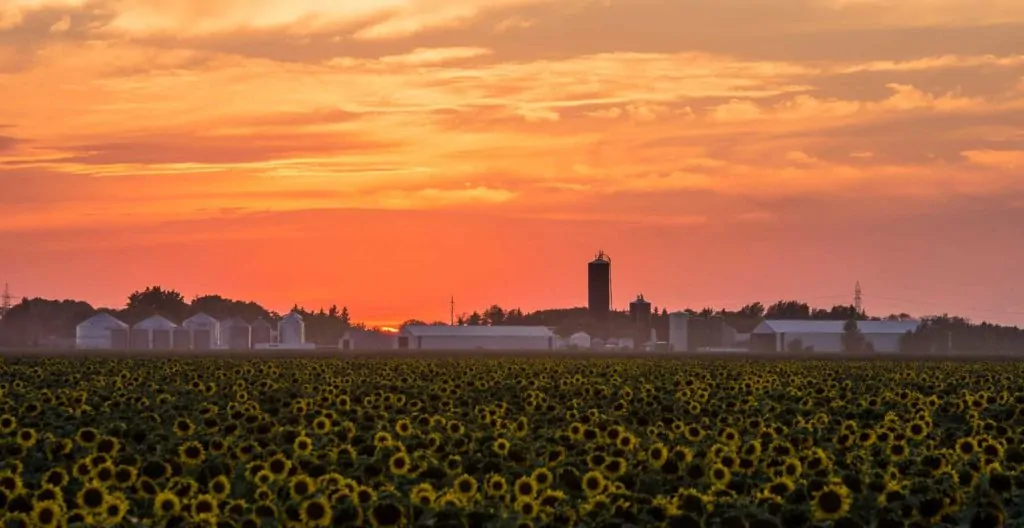 Ever wanted to experience heaven on Earth? Van Ryssel Farms lets you see and go through its massive sunflower field, with all the smells and colors available for you to enjoy.
Spanning vast acres of fertile land, this family-owned farm has been a cherished part of the community for generations. It's gained a reputation for its top-quality produce, which clearly manifests in its sunflowers.
As a bonus, you can enjoy tractor rides, pass through a petting zoo, and learn from the farmers themselves how sunflowers are best-taken care of.
| | |
| --- | --- |
| Address | 62079 Spruce Rd 28E, Oakbank, MB R5N 0C9, Canada |
6. A Maze In Corn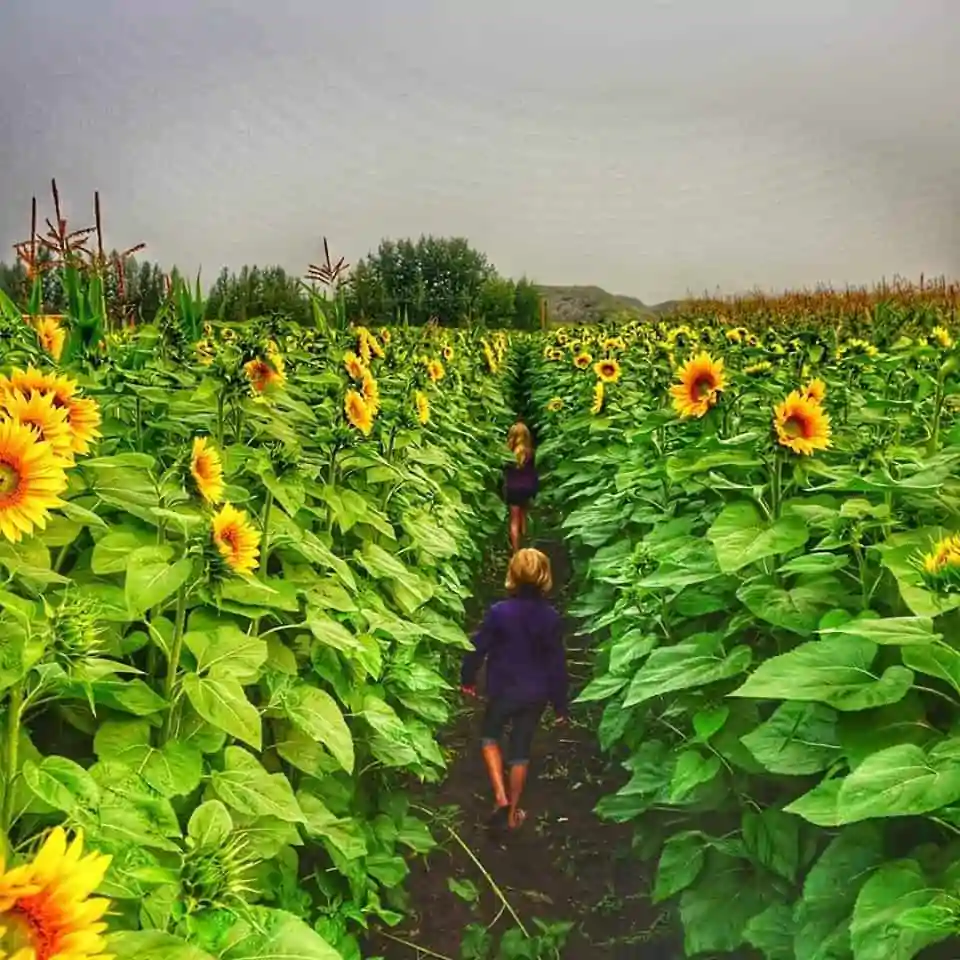 A Maze in Corn is a popular outdoor attraction characterized by giant mazes with walls as tall as corn. Spread across acres of lush green fields, this maze combines the thrill of navigation with the beauty of nature.
During the sunflower season, the labyrinth walls consist of towering sunflowers that can both amaze and terrify you, depending on how lost you are. On the plus side though, your selfies will look great no matter what part of the maze you're in.
If you don't want to get lost, you can also enjoy tractor-pulled wagon rides, pet and feed-friendly farm animals, interactive games, and even take part in a pumpkin cannon show.
| Address | Contact Details |
| --- | --- |
| 1351 Provincial Rd 200, Saint Adolphe, MB R5A 1A2, Canada | +1 204-883-2048 |
7. Deer Meadow Farms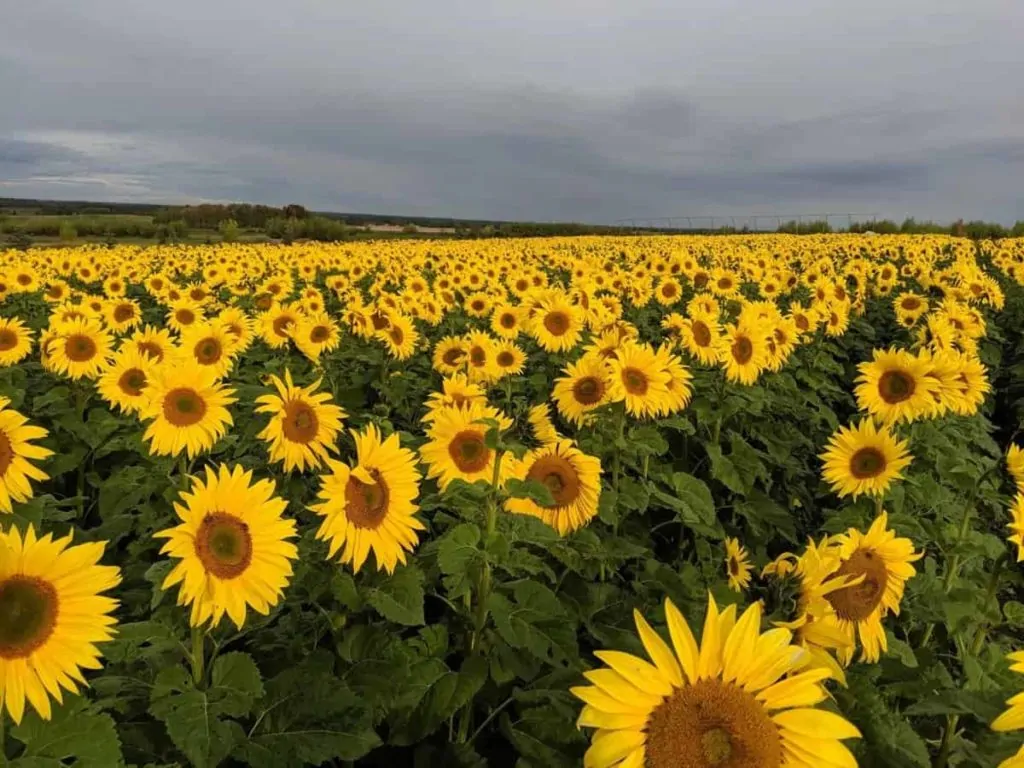 Deer Meadow Farms is the place to be for interactive farm experiences. Not only does the farm let you play with its gardens and livestock, but it also features attractions like corn mazes, farmer golf, and goat yoga.
Its sunflowers are some of the most vibrant in Winnipeg, providing the perfect backdrop for stunning photos. Throughout all the flower fields, you can pluck as much as you please and create unique bouquets to take home.
The best event though, in our opinion, is Paint Night. Here you get taught how to paint, using the sunflower fields as your subject.
You even get a free mimosa during Paint Night, plus all the art materials are provided for free! Walking through a sunflower field half-drunk and covered in paint is the best way to enjoy life.
Address
Contact Details
Hours
21 155 Springfield Rd, Winnipeg, MB R2C 2Z2, Canada
+1 204-224-2517
10:00 AM to 2:00 PM (Weekdays)

10:00 AM to 5:00 PM (Saturday)

12:00 PM to 5:00 PM (Sunday)
8. Focus Fields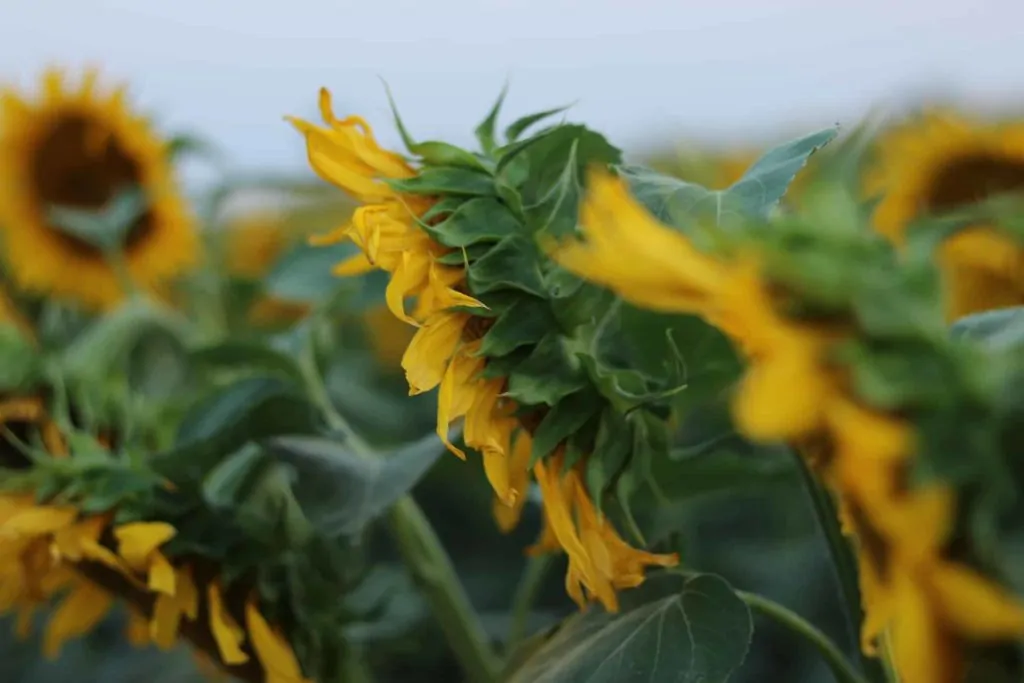 Focus Fields is the sunflower portion of the Toews Family Farm, which has an annual tradition of growing the biggest sunflower field in Winnipeg.
Anyone who wants to take a selfie at the field is welcome to visit and donate, which the Toews family will then give to the Canadian Foodgrains Bank.
There may not be as many activities and whatnot as with other sunflower farms, but the wholesome feeling you get after seeing heavenly sunflowers and helping feed the hungry makes this place a great place for a day trip. 
9. Farmer Road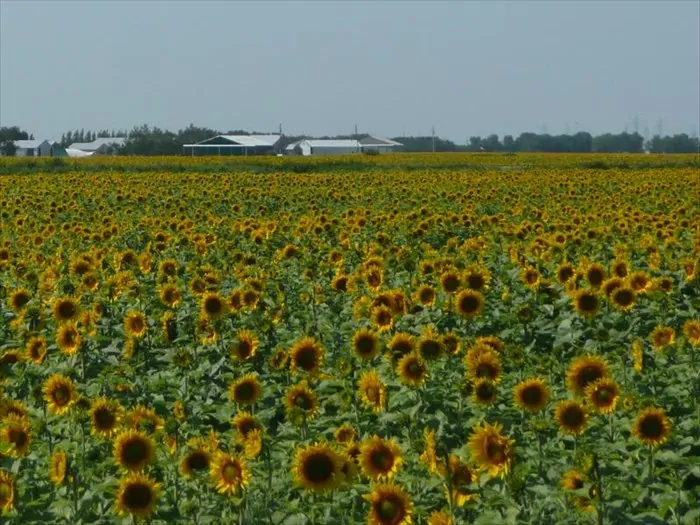 When it's blossoming time, sunflower fields take over the usually barren landscape along Farmer Road. We came across these fields by accident, and we were shocked at how different the road looked.
The whole stretch was covered by yellow flowers. We had to stop and take selfies to convince our friends that we weren't lying.
We weren't the only ones though, because we also saw tens of passersby stopping their cars to take pictures. The smiles on their faces spoke a thousand words, and it all correlated with joy.
| | |
| --- | --- |
| Address | Rosser, MB, Canada |
10. Sturgeon Road & Sturgeon Access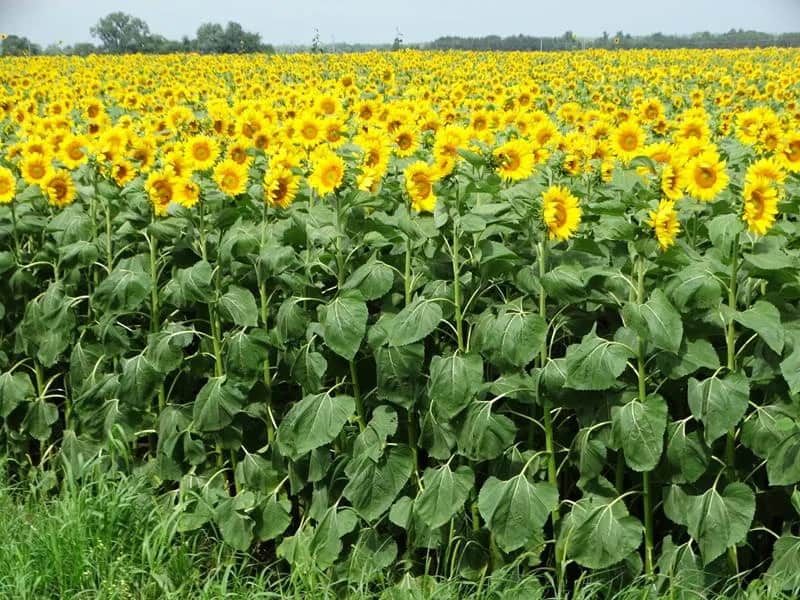 On Winnipeg's city limits at the end of Sturgeon Road are sunflowers planted as far as the eye can see. In a way, it serves both as a welcome sign to Winnipeg's visitors and as a sweet farewell to the ones leaving.
As you journey along the scenic highway, a mesmerizing sight unfolds before your eyes—a vast expanse of sunflower fields stretching as far as the horizon.
The vibrant yellow blooms stand tall and proud, dancing in the gentle breeze, creating a breathtaking spectacle that might mesmerize you enough to crash your car (please don't stare while driving).
Upon pulling over, the overwhelming aroma and radiant beauty of sunflowers will instantly envelop you as they did to us.
Pictures won't be enough to capture the sensations brought by these fields. You'll have to come back next year, and the year after that, and the one after that.
| | |
| --- | --- |
| Address | Winnipeg, MB R2Y 2L6, Canada |
11. Highway 26 to Portage la Prairie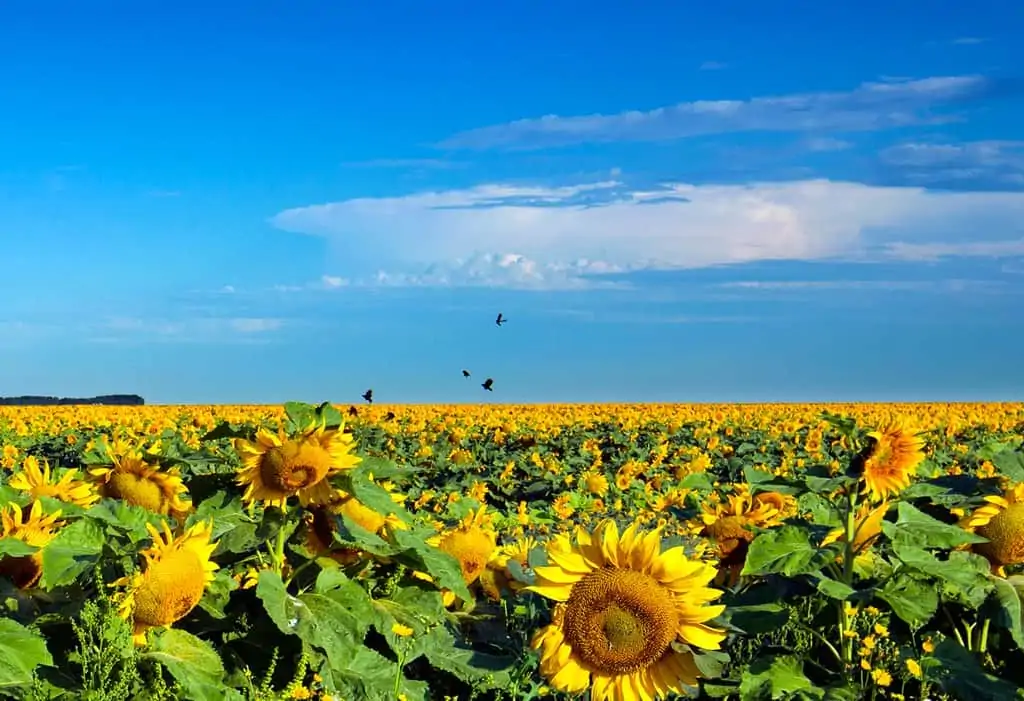 Portage la Prairie is a city located 85km from Winnipeg, and you usually go through Highway 26 to get there. As you get closer to Portage's borders, you slowly start noticing a transition from boring grass fields to a vast sea of sunflowers.
The sunflowers usually start appearing in the High Bluff area, and it's nothing but yellow past that. All the pictures we took reminded us of those old Windows desktop backgrounds–it was kind of hard to believe.
When do sunflowers blossom?
Sunflowers usually blossom around late July to early September, with peak bloom usually lasting just two to three weeks. Most farms stagger planting so that there's a constant bloom throughout the season.