5 Best Restaurants for a Romantic Dinner in Winnipeg
Planning for a candlelit dinner with delectable wine and amazing food? Sounds like a perfect combination for a romantic night out!
Well, good thing we know just where you can take your special someone. Here are the best restaurants for a romantic dinner in Winnipeg.
How much do romantic dinners cost in Winnipeg?
We don't want you stressing out about the bill when you're trying to charm your date. To help you prepare your budget, here is a short list of the prices of the food in the restaurants that we have selected.
Just take note that not all these items can be found in every restaurant on this list and that prices are still subject to change.
| Types of Food | Range of Cost |
| --- | --- |
| Appetizers | $13 – $18 |
| Sandwiches | $16 – $22 |
| Salads | $14 – $24 |
| Pizzas | $21 – $30 |
| Burgers | $27 – $34 |
| Ribs & Steaks | $40 – $49 |
| Poultry | $28 – $32 |
| Seafood | $28 – $40 |
| Desserts | $8 – $12 |
| Wines | $50 – $300 |
| Cocktails | $12 – $16 |
Best Restaurants for a Romantic Dinner in Winnipeg
We want you to have a perfect night where you can just focus on your company. So, to guarantee that you'll have the best worry-free experience, we screened these restaurants according to the following criteria:
We also don't want to risk ruining your moment with your date, so we looked into how the management handles the crowd and noise within the place.
1. Rae & Jerry's Steak House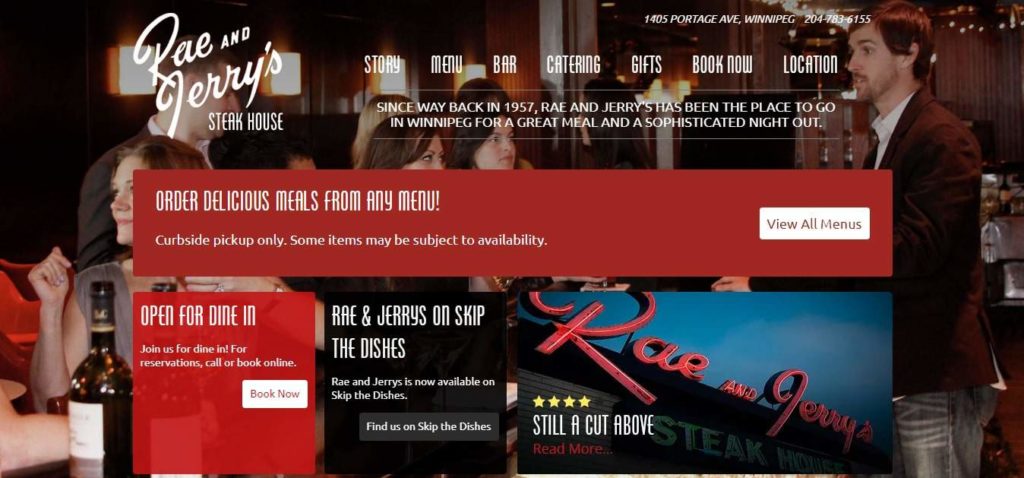 | | |
| --- | --- |
| Criteria | Ratings |
| Customer service | ★★★★★ (5/5) |
| Ambiance and décor | ★★★★★ (5/5) |
| Food quality, variety, and prices | ★★★★☆ (4/5) |
| Cleanliness and crowd control | ★★★★☆ (4/5) |
If you're looking for a restaurant that features fine dining, private dining, and a luxurious bar, we got it for you!
As one of the best restaurants for a romantic dinner in Winnipeg, Rae & Jerry's Steak House takes pride in its elegant, sleek, and high-end dining atmosphere.
That is made possible with fancy dark wood wall paneling, partnered with crimson red vinyl chairs and warm lights.
One of the things we love about this restaurant is its great choice of drinks.
From the 1950s Martinis and old-fashioned cocktails to a more luxurious beverage collection, your drink demands are certainly satiated.
Once you make your reservation, you'll be easily accommodated by its crew in a satisfyingly warm and welcoming manner.
There is no need to wait in queue as you would be promptly seated by the attending staff.
We also love the staff's attentiveness to any of their customer's demands.
But, unlike other restaurants where the attendants stand firmly around you, this place's crews are trained to be meticulous about their customers' needs without having to linger longer than necessary.
This is a great habit since it provides a more comfortable environment that gives a higher consideration to the customer's personal space.
However, the things that we did not agree with Rae & Jerry's Steak House are its inconsistent steak quality, slightly expensive pricing, and poor crowd control.
We observed that there are some instances when the steak contains a huge portion of fat or is too salty.
Considering that you'll have to allot a budget of around $40 to $100 per person, it should be the restaurant's higher intent to serve a good quality dish, regardless if it's a steak or not.
Since this place is popular, it is expected that there would be instances where celebrations are held here, particularly by groups of people.
Surely, there's nothing wrong with celebrations since this is a public restaurant after all.
However, even if the other patrons are making way too loud noises to the point where other diners are disturbed, the management still does not do anything about it.
Nonetheless, if you're looking for a place with classic and modern touches, along with options for gluten-free dishes and excellent staff, this place might be a perfect fit!
ancy paneling 
Suitable for both fine dining and private dining
Bar has a great choice of drinks
Prompt service 
Decent serving portion 
Comfortable and relaxing dining rooms
Attentive staff 
Classic atmosphere with modern touches
Offers gluten-free dishes
Inconsistent steak quality 
Slightly expensive 
Lacking crowd control
Customer Reviews
Food was absolutely amazing
"5 Stars Isn't Enough!! The service we had from Ian was the best we've ever had! The food was absolutely amazing!!! The flavors were amazing, the quality was fantastic, the quantity was perfect!!! Best restaurant we've ever been to!!! 😁😁" — Chantel Gregorchuk
A very classy place
"A very classy place. All food cooked perfectly. Service was 10/10. Expect to spend between $40-100 per person." — Jon Simcoe
2. Cibo Waterfront Cafe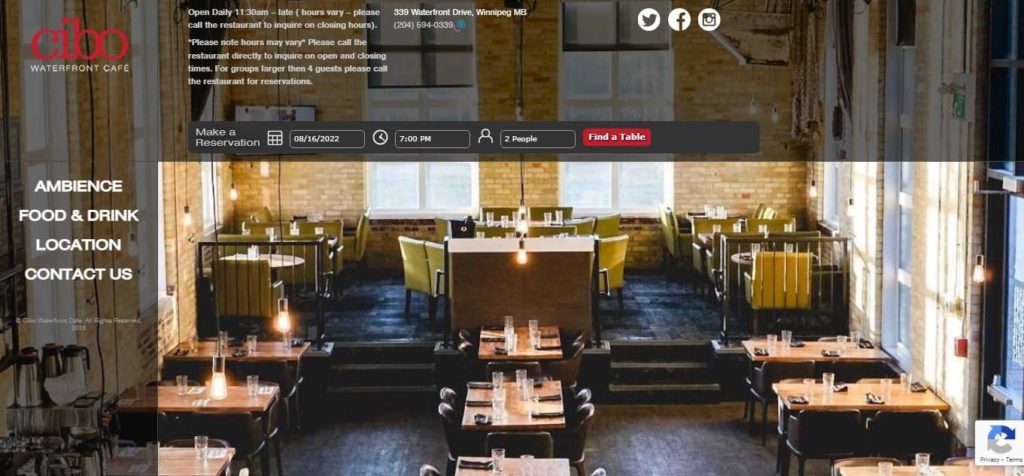 | | |
| --- | --- |
| Criteria | Ratings |
| Customer service | ★★★★☆ (4/5) |
| Ambiance and décor | ★★★★★ (5/5) |
| Food quality, variety, and prices | ★★★★★ (5/5) |
| Cleanliness and crowd control | ★★★★☆ (4/5) |
Want to have your romantic dinner in a restaurant with a unique urban riverfront view? We got you covered!
Cibo Waterfront Café lies within a repurposed industrial building, with high ceilings, massive windows, industrial masonry, simple lighting, and warm furnishings, that all-in-all makes up a lovely dining experience.
What's more to love is its tasty dish offers that will surely make your dining experience all the more enjoyable.
Another admirable trait this restaurant has is that, despite occasionally having a limited number of attending staff, they are still quick to provide service to the customers.
The waiters and waitresses are all attentive but not intrusive to a point where customers would feel awkward during their stay.
During our observation, we gave total hands down to the plating presentation that Cibo Waterfront Café does with its dishes.
Whether it's a pizza, a dessert, or pasta, we were left astounded by just how creative and enticing the dishes are made to be.
Its wine collection also marries perfectly with any of its main courses, so you won't have to worry about having a mismatched drink and meal.
But if you need any help with finding a good combination or are just plain curious about the product's ingredients and composition, you can easily ask the staff to explain the menu.
They are all knowledgeable and familiar with this matter.
Although there are cases where some staff are reported to be unfriendly, the restaurant management made sure that all complaints are resolved professionally by directly communicating with the concerned customers.
With its affordable prices, not only is this one of the best restaurants for a romantic dinner in Winnipeg but is also a great choice for group celebrations.
Just note that it is occasionally busy and has a limited menu option.
For your convenience, we suggest that you check its website first for the available menu, so you won't be disappointed with the narrowed options it has.
Lastly, since there is only street parking, customers need to search for a parking area by themselves before proceeding to the restaurant.
Great atmosphere 
Tasty dishes
Punctual service
Keen attention to customer concerns 
Enticing presentation of dishes 
Willingness to resolve customer complaints
Great wine quality 
Knowledgeable staff 
Great choice for both a date and group celebration
Affordable prices
Limited menu options 
Issues with occasional unfriendly service
Occasionally busy 
Slightly hard to get to
Customer Reviews
Exceptional staff
"Our son and daughter-in-law had their wedding reception here last night. Exceptional staff, very accommodating and friendly. Stunning views of the river and towards Provencher Bridge area. Delicious dinner (pest chicken/prime rib). I'd like to go back for date night, very romantic atmosphere." — sylvialasko
Food is top notch
"As the owner of Alexandra Lillian Weddings and Events, I've had the privilege of working on weddings at Cibo. Not only is it a stunning backdrop for a wedding, but the staff are incredible kind and accommodating to couples. Not to mention the food is top notch!
I would highly recommend couples host their wedding at Cibo!" — Alex Torcolacci
3. Sous Sol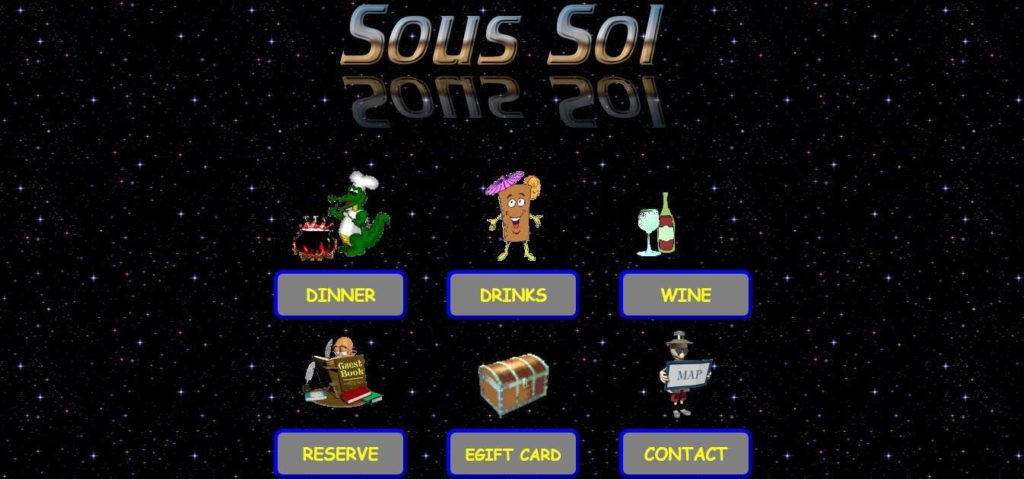 DELIVERY/IN-STORE PICK-UP
Appetizers Salads Poultry Beef Seafood Vegan Dishes Desserts Wines Cocktails
WEBSITE
http://www.soussolosborne.com/
ADDRESS
22-222 Osborne St, Winnipeg, MB R3L 1Z3, Canada
CONTACT DETAILS
Phone:

[email protected]

OPERATING HOURS
Wednesday & Thursday: 5:00 PM – 12:00 AM

Friday & Saturday: 5:00 PM – 1:00 AM
| | |
| --- | --- |
| Criteria | Ratings |
| Customer service | ★★★★★ (5/5) |
| Ambiance and décor | ★★★★★ (5/5) |
| Food quality, variety, and prices | ★★★★☆ (4/5) |
| Cleanliness and crowd control | ★★★★☆ (4/5) |
If you're a Victorian-esque diner design lover, this semi-hidden gem located at Osborne Street is just the right restaurant for you!
Sous Sol is a vintage-gothic restaurant that features superb food quality and a luscious cocktail.
This restaurant deserves two thumbs up for its amazing drinks menu and exquisite dish plating.
Despite being a little on a darker lighting style, it has a peculiarly good choice for featuring classic chandeliers.
This restaurant is filled with just the right amount of light and angle to give a more relaxing ambiance to its diners.
It is also a great place to visit if you are more of a wine, steak, and candle-lit type of person.
We also love its highly welcoming staff that are genuinely considerate of the customer's demands and concerns.
Unlike most restaurants, Sous Sol features a rotational menu option that changes every week.
This is a good strategy to have its other dishes discovered by the customers. Plus, it also allows the diners to have a wider range of meals to like.
However, despite this rotation, the menu is still pretty much cut down. So, if you prefer to stick to a constant order, you might want to check its offer for the day first, just so you won't have to wrestle with its new selection.
You might also consider checking your budget before coming here since its dishes are slightly expensive.
But rest assured, the food quality that you will be getting would make the extra costs all the more understandable.
The last issue that you should be mindful of, especially for first-time customers, is that the restaurant is difficult to locate.
Since its entrance doesn't have signage, it is easy to get lost in the area. So, you might want to arrive early to locate it before your romantic dinner.
Unfortunately, as it is in a basement, this restaurant is not suitable for people with mobility restrictions.
Superb food quality
Vintage ambiance
Excellent lighting option 
Luscious cocktail 
Staff is all highly welcoming
Well-portioned meals
Nice food plating
Well-maintained place
Limited food options 
Slightly expensive 
Slightly difficult to locate
Customer Reviews
Fantastic, romantic, atmospheric restaurant
"This is my and my fiancée's favorite restaurant in Winnipeg. If you are looking for a fantastic, romantic, atmospheric restaurant and you choose anywhere that isn't Sous Sol, you are making a mistake. Well portioned meals, top shelf liquor, and staff who can 100% recommend the proper drink to go along with each course of your meal. I've never been let down by the charismatic waiters and waitresses who work there and we always look forward to the next time we have the time to go back. Max, a gentleman who works here, makes the absolute best hot sauce I've ever had in my life. If you request a bottle or have the oysters, you will not be disappointed.
Book your reservations and enjoy your meal, it's a bit expensive but well worth the price tag" — TheBonkers45
Extensive cocktail and wine list
"The food was fantastic! Extensive cocktail and wine list, relaxed service, and romantic setting made for a very nice night out. We enjoyed everything from start to finish. The prices were reasonable for the high quality food they serve." — Kerrie Ferris
4. SMITH Restaurant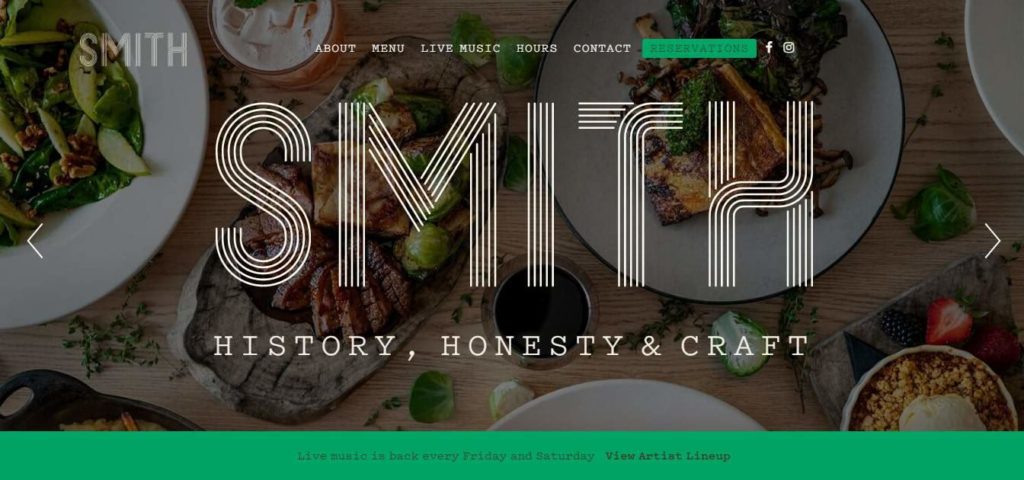 MENU
Appetizers Raw Bar Salads Burgers Vegan Dishes Pork Beef and Steaks Poultry Cocktails Beers Wines
WEBSITE
https://smithrestaurant.ca/#intro
ADDRESS
75 Forks Market Rd, Winnipeg, MB R3C 4Y3, Canada
CONTACT DETAILS
Phone: +1 (204) 123-456
OPERATING HOURS
Tuesday to Thursday: 6:30 AM – 10:00 PM

Friday: 6:30 AM – 12:00 AM

Saturday: 8:00 AM – 12:00 AM

Sunday: 8:00 AM – 9:00 PM
| | |
| --- | --- |
| Criteria | Ratings |
| Customer service | ★★★★☆ (4/5) |
| Ambiance and décor | ★★★★★ (5/5) |
| Food quality, variety, and prices | ★★★★☆ (4/5) |
| Cleanliness and crowd control | ★★★★★ (5/5) |
If you're looking for one of the best restaurants for a romantic dinner in Winnipeg that features a live band, this restaurant could be just for you!
Aside from the cozy environment that SMITH Restaurant is known for, it also features fantastic food quality.
If you want to make sure your date won't be ruined with average food, then this place should be on your go-to list.
Although it is a bit pricey compared to its other competitors, you won't have to worry about risking a bad romantic dinner experience with this restaurant.
We could vouch for its well-curated menu, especially the drinks.
Whether you're a wine, a cocktail, or a coffee person, your orders are certainly served with great mastery.
Plus, the location is easy to access since it can be found just along Forks Market Road.
We also like the cheerful and reliable staff that is promptly available to give you some information and suggestions regarding the menu.
We always love a staff that is familiar with their offers since it shows not only their knowledge regarding their selections but is also a huge plus for their professionalism.
However, what irked us regarding this restaurant is the fact that the crew tends to rush the diners.
Although understandably, some restaurants would have a time limit for diners, it is rude for attendants to take out the plates without asking for confirmation from the customers whether they are already done or not.
This happens not only during busy days but also even if the restaurant is almost bare.
If you are concerned with a restaurant that has great crowd control, SMITH Restaurant is indeed a good choice.
Considering that there is a live band playing, it is natural to assume that the place would be booming with noise.
However, it remains satisfyingly managed as there won't be a need to raise your voice just to hear your partner talking.
Cozy environment
Fantastic food quality
Cheerful and reliable staff 
Excellent crowd control 
Well-curated menu 
Easy to access location
Instances where service is rushed 
A bit pricey
Customer Reviews
Fresh and delicious
"Great atmosphere. Very nice layout and unique decor. Wait staff were all superb and knowledgeable as well as very friendly and patient. Got served by Matt and definitely made the experience that much more memorable. Food was great. Did not have a main but a few sides and cheeseboard. Was fresh and delicious. Portion size was perfect for 2 people and left room for dessert.
Would definitely recommend for any group size. Great dishes to share (thats how its set up) and wonderful atmosphere to end an evening." — Garrett Krieg
Wine list is great
"Food here is always great. Great atmosphere for either catching up with friends or a romantic date. I'm personally not a huge fan of the cocktails I've tried here but their wine list is great." — Daniela Pilomeno
5. Bellissimo Restaurant & Lounge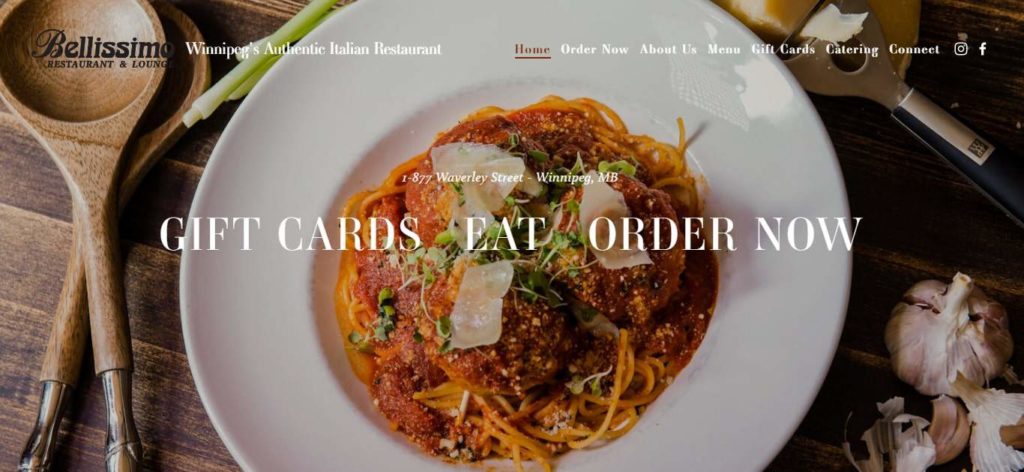 | | |
| --- | --- |
| Criteria | Ratings |
| Customer service | ★★★★★ (5/5) |
| Ambiance and décor | ★★★★★ (5/5) |
| Food quality, variety, and prices | ★★★★★ (5/5) |
| Cleanliness and crowd control | ★★★★☆ (4/5) |
From being a 25-seat dining room to a 140-seat dining area, this restaurant makes its way into the hearts of its patrons with its elegantly presented dishes and outstanding customer service.
Bellissimo is an Italian word for the English term, beautiful. And it is true!
From plainly seeing its dish presentation and the highly maintained place, there's no way its name can be contested.
For years, this restaurant has been offering authentic Italian food, and who does not think of Italian cuisine when planning a romantic dinner?
Starting from the interior, this restaurant features classy and sleek wood-wall paneling and modern wall and ceiling lighting.
The modern theme makes the atmosphere and the dining experience comfortably pleasant.
The menu involves gluten-free options. So, whether you want your chosen pasta dish to be prepared with gluten-free noodles or you're craving a gluten-free dessert option, Bellissimo is just right up your alley!
The food quality in this restaurant is enough to make anyone love Italian cuisine.
What we love the most are its house-made cured meats that are excellently flavourful but not overly salty.
The staff also attends to their customers with great efficiency, so rest assured that your needs will be well addressed.
The pricing is also reasonable, so you won't have to worry about tearing your pockets apart.
The only thing that we found to be an issue in this restaurant is its time-constraint dining.
True enough, there should be a limit to a diner's stay in a restaurant. Of course, you cannot stay in just one place for the entire day.
However, slow food preparation drastically diminishes the time available to enjoy your romantic dining experience.
Features gluten-free options 
Authentic Italian food 
Fairly classy interior 
Amazing food quality 
Reasonable pricing
Reliable staff
Highly recommended pasta dishes
Time-constraint dining 
Slightly slow food preparation
Customer Reviews
Food was amazing
"I wish they had some dairy free options, but the food was amazing, service was even better, dessert (chocolate cake) was to die for. Very good drink options (wine and cocktails). Such a cute place. Definitely recommend." — Jessica R. Moore
Great atmosphere
"Everything we had, from the appetizers and entrees, to the drinks, were perfect. Delicious food, well made, in a great atmosphere." — Jag Sandhu
FAQs about Romantic Dinners
---
Time to prepare those pick-up lines that you have been saving up for a special night like this!
If everything goes well and you decide to go on a second date, feel free to check out these other restaurants for a change of scenery:
You can also check out our list of the best fast-food restaurants in Winnipeg if you're just looking for a quick bite in the area or to simply satisfy your midnight cravings.