Winnipeg Team Building: 10 Ideas to Boost Morale and Productivity
I know just how important it is to break away from the daily grind and bond with your teammates.
Winnipeg, with its unique blend of culture, history, and natural beauty, provides an incredible backdrop for some exciting and memorable team-building experiences.
If you're part of a corporate office, a nonprofit organization, or just a group of friends seeking to strengthen their connections, I've got you covered with a list of 10 fun and creative team-building ideas right here in our beloved Winnipeg.
Escape Room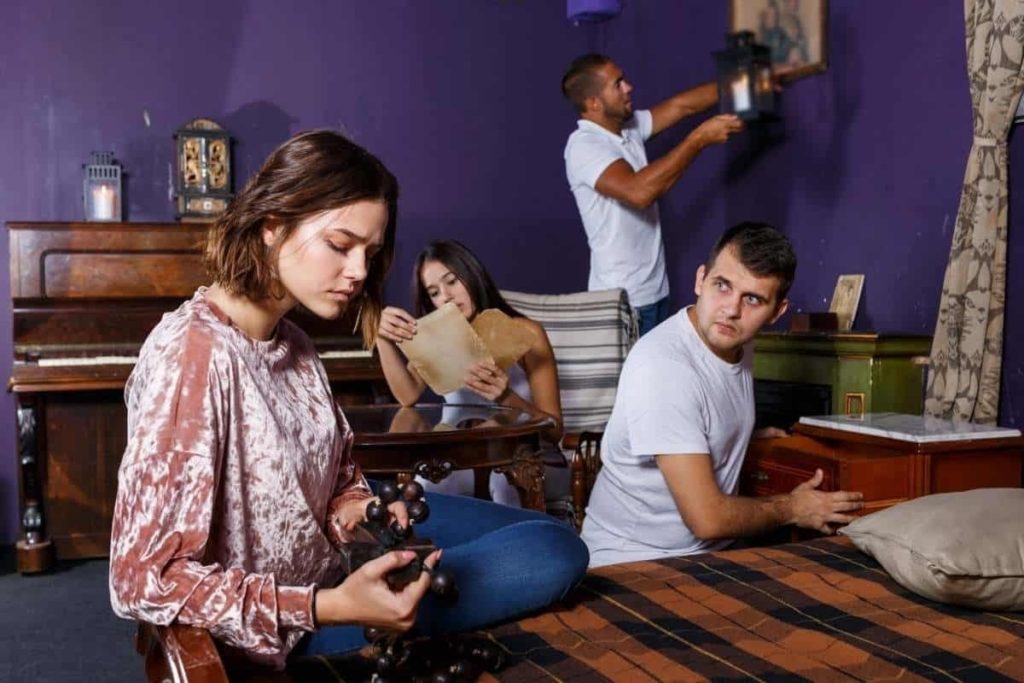 | Company | Location | Website |
| --- | --- | --- |
| Time Lapse Escape Rooms | 654 King Edward St, Winnipeg, MB R3H 0P2, Canada | https://timelapseescape.com/ |
| GET OUT! Escape Rooms Inc. | 420 Des Meurons St #115, Winnipeg, MB R2H 2N9, Canada | https://www.getoutescaperooms.com/ |
| Enigma Escapes | 25 Keenleyside St, Winnipeg, MB R2L 1Y7, Canada | http://www.enigmaescapes.com/ |
| The Real Escape Canada | 25 Keenleyside St, Winnipeg, MB R2L 1Y7, Canada | https://www.therealescape.ca/ |
| Enigma Escapes | 980 Lorimer Blvd Unit 4, Winnipeg, MB R3P 1C8, Canada | http://www.enigmaescapes.com/ |
In an escape room, participants are locked in a themed room and must work together to solve a series of puzzles and riddles to "escape" within a set time limit, usually an hour.
This dynamic challenges individuals to put their heads together, drawing upon their collective problem-solving skills, creativity, and critical thinking abilities.
It's not just about finding hidden clues; effective communication is the key to success. Teams must coordinate their efforts, share ideas, and delegate tasks efficiently to unravel the mysteries that stand between them and their freedom.
The beauty of escape rooms lies in their adaptability to different team dynamics and objectives.
If you're a group of colleagues seeking to improve workplace cooperation or a bunch of friends looking for a fun outing, there's an escape room adventure in Winnipeg that suits your needs.
Some rooms are designed to be particularly challenging, encouraging participants to think outside the box, while others offer a more relaxed experience, ideal for fostering camaraderie and teamwork.
Moreover, escape rooms offer an immersive escape from the ordinary, allowing participants to dive into captivating narratives and scenarios.
It's an exciting way to break the ice, strengthen relationships, and foster trust among team members.
Plus, the thrill of successfully escaping a challenging room together creates a sense of accomplishment that lingers long after the game is over.
Axe Throwing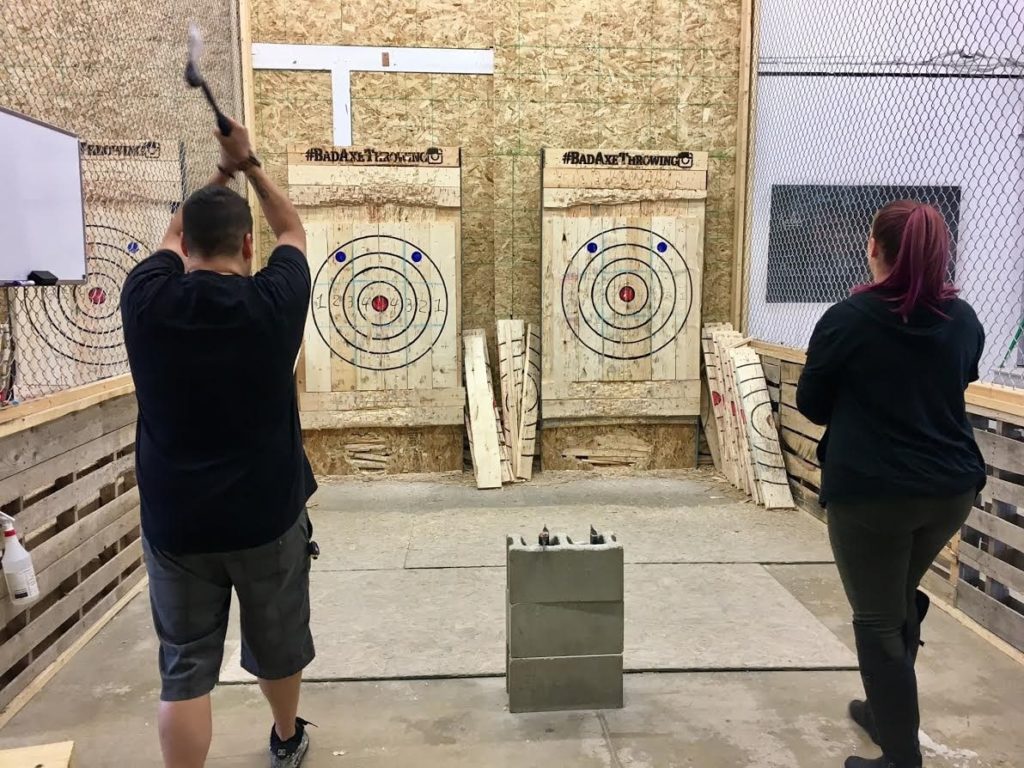 | Company | Location | Website |
| --- | --- | --- |
| Axe Throwing Winnipeg | 30 Durand Rd Unit #4, Winnipeg, MB R2J 3T2, Canada | https://axethrowingwinnipeg.ca/ |
| Backyard Axe Throwing League | 1865 Dugald Rd, Winnipeg, MB R2G 2C | https://batlgrounds.com/ |
| Ace Axe Throwing | 1110 Regent Ave W, Winnipeg, MB R2J 2A5 | https://www.axethrowingwinnipeg.ca/ |
| Tomahawk Axe Throwing | 30 Durand Rd Unit #4, Winnipeg, MB R3T 0K5, Canada | https://www.tomahawkhd.com/reservations-and-booking |
| ManEX Axe Throwing | 30 Durand Rd Unit #4, Winnipeg, MB R2J 3T2 | https://www.maniaxe-throwing.com/ |
Axe Throwing, a thrilling and unconventional team-building activity, has been taking Winnipeg by storm in recent years.
This exciting trend has captured the hearts of many in the city, offering a unique blend of stress relief and team-building fellowship.
With several dedicated axe-throwing facilities scattered across Winnipeg, it's easier than ever to incorporate this activity into your group's bonding experience.
Imagine your team members stepping out of their comfort zones as they pick up axes and aim for bullseyes on wooden targets. The rush of adrenaline that comes with each throw fosters an environment of excitement and friendly competition.
Axe throwing is not only an excellent way to unwind and release pent-up stress, but it also promotes unity among your colleagues as they cheer each other on, share tips, and celebrate every successful throw.
These facilities are thoughtfully designed, ensuring safety for all participants, with skilled instructors providing guidance and supervision throughout the event.
As you engage in this unconventional activity, you'll find that it encourages communication, cooperation, and problem-solving within your team.
The act of throwing axes might seem solitary, but the collective experience and shared moments of triumph make it a fantastic team-building choice.
Culinary Class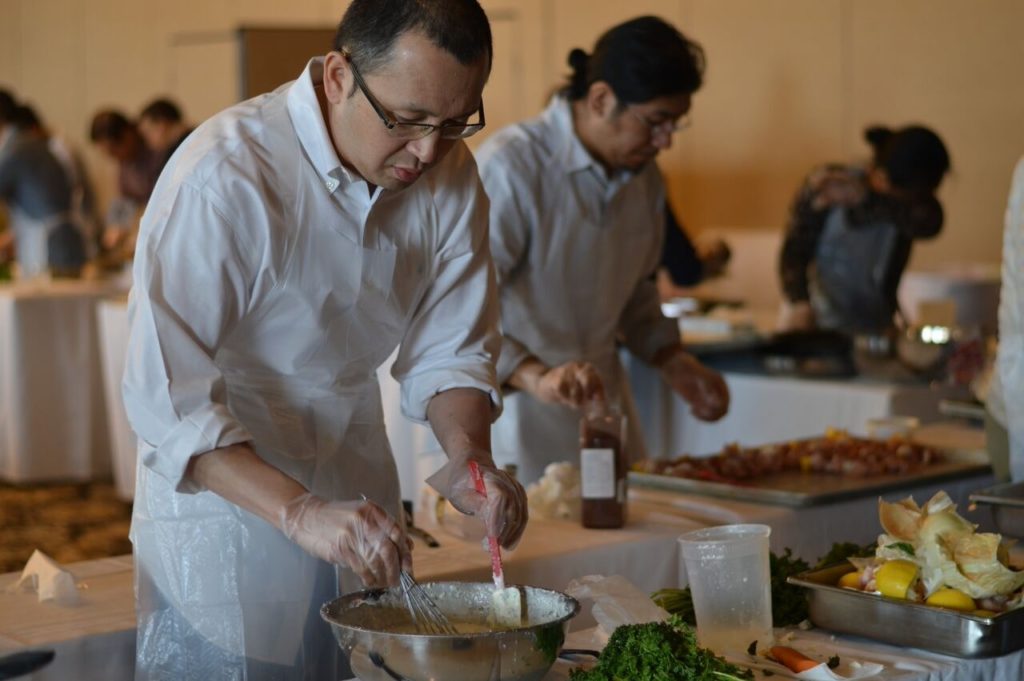 | Company | Location | Website |
| --- | --- | --- |
| Culinary Exchange | Red River College Paterson Global Foods Institute, 504 Main St, Winnipeg, MB R3B 3P2, Canada | https://www.rrc.ca/culex/ |
| The Food Studio | 3200 Roblin Blvd, Winnipeg, MB R3R 0C3, Canada | http://www.foodstudio.net/ |
| De Luca's | 950 Portage Ave, Winnipeg, MB R3G 0R1, Canada | http://www.deluca.ca/ |
| Mary Jane's Cooking School | 252 Arlington St, Winnipeg, MB R3G 1Y8, Canada | https://www.maryjanescookingschool.org/ |
| KitchenSync | 370 Donald St unit a, Winnipeg, MB R3B 2J3, Canada | https://kitchen-sync.ca/ |
Cooking classes are a fantastic way to encourage collaboration and communication. Your team can learn to whip up delicious dishes together, honing their problem-solving skills and enhancing their ability to work seamlessly as a unit.
From mastering the art of preparing gourmet meals to exploring international cuisines, there's no shortage of culinary adventures to embark on.
If your team has a sweet tooth, why not opt for a baking class? These classes provide a delightful mix of science and art as your colleagues come together to create delectable pastries, cakes, and bread.
It's a hands-on experience that encourages teamwork, precision, and the joy of indulging in the fruits of their labor afterward.
For those with a penchant for the finer things in life, Winnipeg also offers chocolate-making classes.
Imagine your team crafting exquisite chocolates from scratch, learning about the intricate process of tempering, molding, and flavoring these sweet delights.
Such experiences not only bring out your team's creative side but also encourage attention to detail and a commitment to quality.
Beyond the culinary skills acquired, these classes provide a relaxed and enjoyable atmosphere where team members can get to know each other on a more personal level.
Laughter, shared challenges, and the celebration of culinary achievements will undoubtedly create lasting memories, fostering stronger bonds within your team.
Scavenger Hunt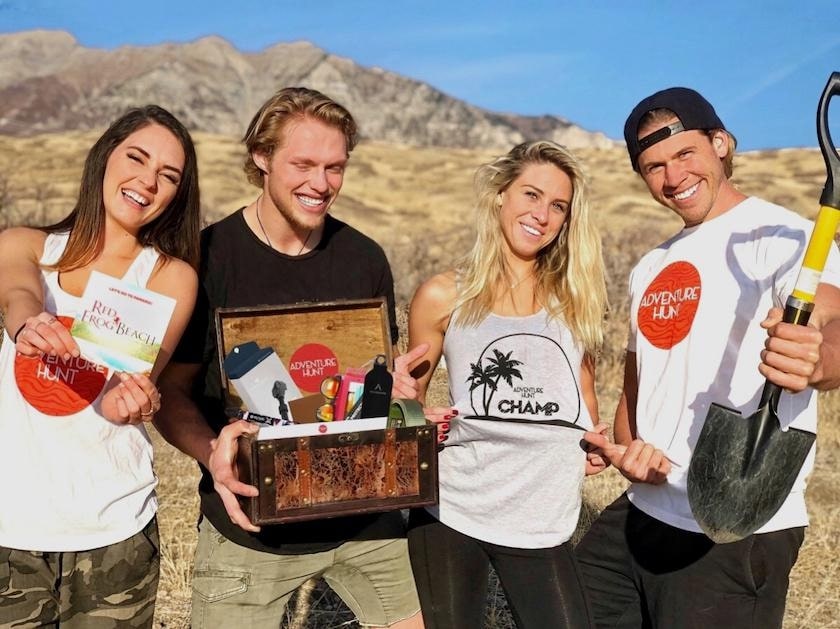 | Company | Location | Website |
| --- | --- | --- |
| Journey to Churchill | Winnipeg, MB R3P 2N7, Canada (Located in Assiniboine Park Zoo) | https://www.assiniboinepark.ca/zoo/home/explore/exhibits/journey-to-churchill |
| The Forks Market | 1 Forks Market Rd, Winnipeg, MB R3C 4L8, Canada | http://www.theforks.com/ |
| Royal Canadian Mint | 520 Lagimodiere Blvd, Winnipeg, MB R2J 3E7, Canada | https://www.mint.ca |
| Naval Museum of Manitoba | 1 Navy Way, Winnipeg, MB R3C 4J7, Canada | http://naval-museum.mb.ca/ |
The beauty of a scavenger hunt in Winnipeg is that you have the freedom to tailor it to your team's unique interests and preferences.
If you're a history buff, a nature enthusiast, or a lover of the arts, Winnipeg offers a wealth of options to choose from.
Perhaps you'd like to embark on a historical journey through the Exchange District, where you can uncover the secrets of the city's past while solving clues and riddles. 
Alternatively, explore the lush green spaces of Assiniboine Park, where your team can connect with nature while hunting for hidden treasures.
Creating your own customized scavenger hunt can be a thrilling experience, as it allows you to showcase your knowledge of Winnipeg's hidden gems. 
Alternatively, you can opt for pre-made scavenger hunt packages available in the city, ensuring a professionally curated experience. These packages often include clues, maps, and instructions to help guide your team on a memorable adventure.
As your team races against time, deciphering clues and completing challenges, you'll witness the magic of teamwork unfolding.
The scavenger hunt not only encourages communication and collaboration but also fosters problem-solving skills and a sense of accomplishment when the final puzzle piece falls into place.
Hiking or Biking
Company
Location
Operating hours
Arthur E. Wright Community Bike Trail
1520 Jefferson Ave, Winnipeg, MB R2P 1K1, Canada
Monday to Sunday: 7 am to 10 pm
Mountain Bike trail, ramps, and rails
451 Notre Dame St, Winnipeg, MB R2J 0A7, Canada
Open 24 hours daily
Mountain Bike Trail
363 Thibault St, Winnipeg, MB R2H 3H6, Canada
Open 24 hours daily
Bikes & Beyond
227 Henderson Hwy, Winnipeg, MB R2L 1M1, Canada
Monday to Wednesday: 10 am to 6 pm

Thursday to Saturday: 10 am to 8 pm

Plain Bicycle - Bicycle Garden
267 Sherbrook St, Winnipeg, MB R3C 2B8, Canada
Wednesday to Saturday: 12 pm to 6 pm
Seine River Greenway's Trail
650 Shorehill Dr, Winnipeg, MB, Canada
Open 24 hours daily
Harte Trail
Unnamed Road, Winnipeg, MB, Canada
Open 24 hours daily
Bois-des-Esprits
650 Shorehill Dr, Winnipeg, MB, Canada
Open 24 hours daily
Bunn's Creek Centennial Park
365 McIvor Ave, Winnipeg, MB R2G 1A1, Canada
Monday to Sunday: 7 am to 10 pm
Exploring the picturesque trails that crisscross the Winnipeg landscape is an ideal way to foster team camaraderie while enjoying the great outdoors.
The city boasts a diverse selection of trails, ensuring that there's something suitable for every fitness level and interest. Whether you're a group of novice hikers or experienced adventurers, Winnipeg's trails cater to all.
For those seeking a leisurely jaunt, the city's riverfront pathways offer serene and flat terrain, allowing for easy biking or strolling.
As you pedal or amble along the Assiniboine River or the Red River, your team can engage in meaningful conversations, fostering collaboration and creativity amidst the soothing sounds of flowing water.
Alternatively, if your team craves more challenging terrain, Winnipeg's surrounding areas present numerous hiking and biking opportunities.
Places like the scenic Whiteshell Provincial Park, just a short drive from the city, boast rugged trails that meander through pristine forests and along crystal-clear lakeshores.
Such environments not only test your group's physical abilities but also encourage problem-solving and teamwork as you navigate the natural obstacles together.
Go-Karting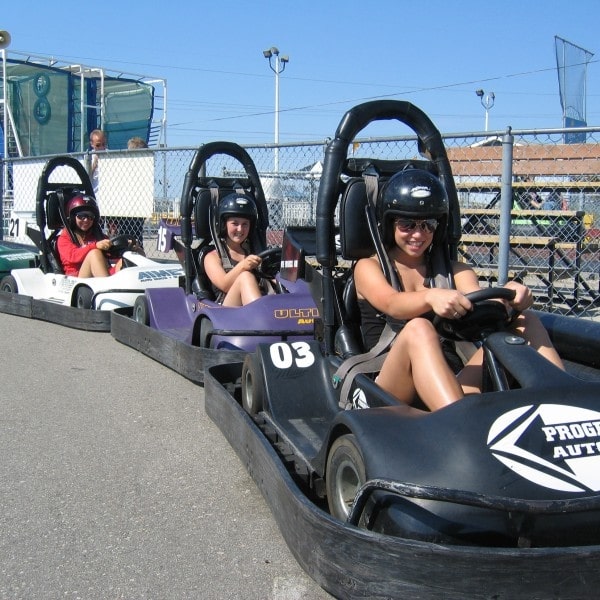 | Company | Location | Website |
| --- | --- | --- |
| Speedworld Indoor Kart Track | 575 Berry St, Winnipeg, MB R3H 0S2, Canada | http://www.speedworld.ca/ |
| Grand Prix Amusements | 57102 Symington Rd, Springfield, MB R5T 0E4, Canada | http://grandprixamusements.ca/ |
| Thunder Rapids | 5058 Portage Ave, Headingley, MB R4H 1E1, Canada | http://www.thunderrapids.ca/ |
| Go Karts Plus | 6910 Richmond Rd, Williamsburg, VA 23188, United States | http://www.gokartsplus.com/ |
| The Forks | 2300 Gateway Drive, Grand Forks, ND 58203, USA | https://forkskartingassociation.com/ |
| Kildonan Park Outdoor Go-Karts | 500 Kylemore Avenue, Winnipeg, MB, Canada | http://www.winnipeg.ca |
| Transcona Trail Park Go-Karting | 455 McMeans Ave W, Winnipeg, MB R2C 2J7, Canada | https://www.transconatrails.ca/ |
Go-karting is an activity that effortlessly blends adrenaline-pumping excitement with a dash of healthy competition, making it a fantastic choice for small groups eager to bond and have a blast.
Winnipeg boasts a handful of top-notch go-karting tracks, ensuring you can find one that suits your group's preferences and location.
These venues offer a thrilling assortment of sharp turns, challenging curves, and speedy straights, all set against the backdrop of Winnipeg's scenic surroundings.
What sets go-karting apart as a team-building activity is the sheer thrill it offers, encouraging participants to let loose and embrace their competitive spirit.
There's something undeniably satisfying about zooming around the track, jockeying for the lead, and testing your driving skills against your colleagues.
Plus, the shared experience of navigating those twists and turns fosters camaraderie and teamwork as you rely on one another to navigate the track successfully.
Paintball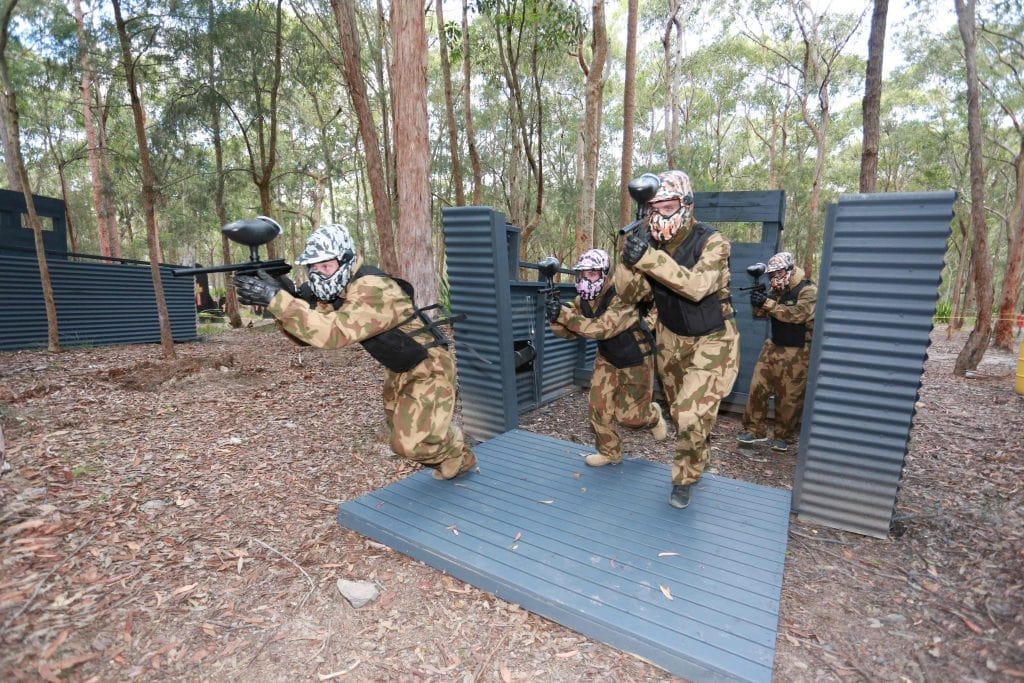 Picture this: your team is divided into two factions, equipped with paintball markers and donning protective gear.
The objective? To strategize, communicate effectively, and outwit the opposing team by eliminating their members with colorful paint pellets.
The heart-pounding action, combined with the need for teamwork and quick decision-making, makes paintball an ideal choice for groups seeking an adrenaline rush while fostering team spirit.
Plus, the natural surroundings of Winnipeg's paintball venues provide an immersive and thrilling experience that'll leave your team with lasting memories and improved group dynamics.
City Escape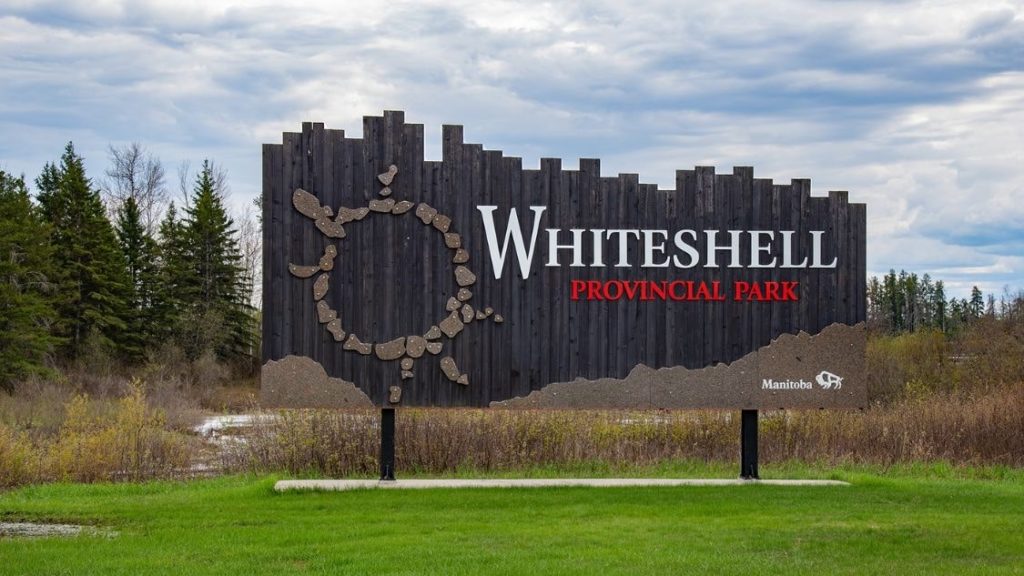 One of the most captivating destinations for an escape from the city's confines is Whiteshell Provincial Park.
Nestled just a couple of hours away from Winnipeg, this natural haven boasts a wealth of outdoor activities that will have your team bonding in no time.
Explore lush forests, hike along scenic trails, or embark on a canoeing adventure across pristine lakes. The serene surroundings provide an ideal backdrop for team-building exercises, fostering collaboration and good fellowship among your colleagues.
For those seeking a more unique experience, consider a visit to the Pinawa Dam. This historic site offers a blend of nature and industrial charm, providing an intriguing setting for team-building activities.
The dam's surroundings include picturesque hiking trails, picnic spots, and opportunities for wildlife observation. It's a place where your team can unwind, reflect, and engage in meaningful conversations away from the usual distractions of city life.
Escape the City in Winnipeg is more than just a break from the office; it's a chance to escape the routine and find inspiration in the great outdoors.
As you and your team venture beyond the city limits, you'll not only discover the natural beauty of Manitoba but also cultivate stronger bonds and a renewed sense of purpose within your group.
Laser Tag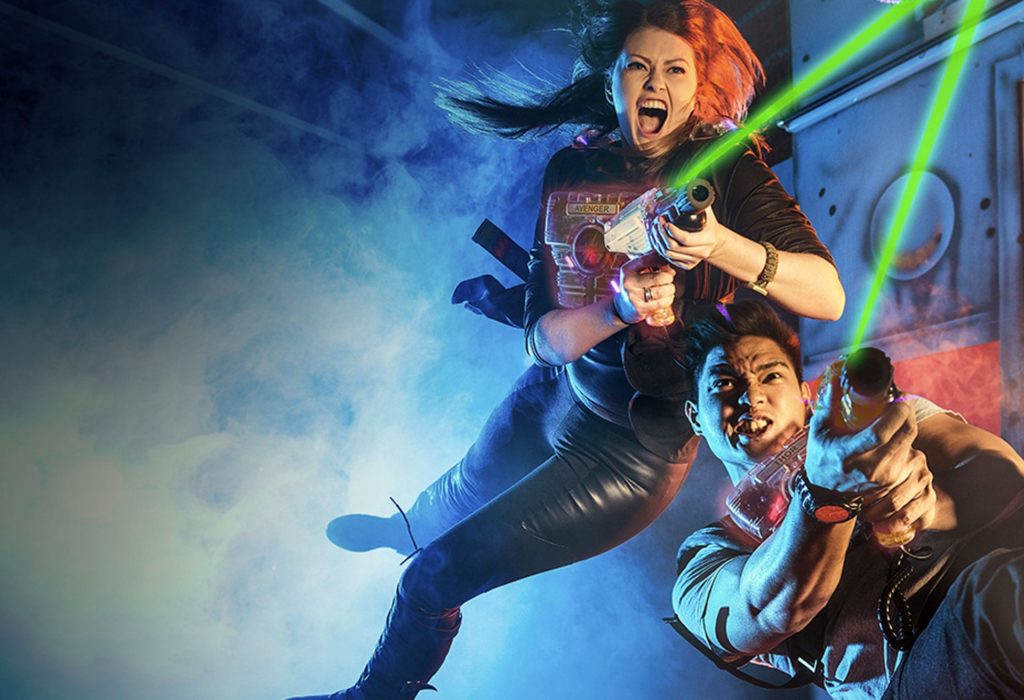 | Company | Location | Website |
| --- | --- | --- |
| LaserTopia | 1140 Waverley St Unit #5, Winnipeg, MB R3T 0P4, Canada | http://lasertopia.ca/ |
| U-Puttz Amusement Center | 423 McPhillips St, Winnipeg, MB R2X 2Z8, Canada | http://www.u-puttz.ca/ |
| Uptown Alley | 1301 St Matthews Ave, Winnipeg, MB R3G 1E3, Canada | https://uptownalley.ca/ |
| Fun Park Amusement Center | 1175 Wilkes Ave, Winnipeg, MB R3P 1B9, Canada | http://winnipeg.funparkcanada.ca/ |
Laser tag is an immersive activity that combines elements of strategy, teamwork, and pure adrenaline. It's a perfect choice for bringing colleagues, friends, or family members together in an atmosphere that encourages friendly competition and companionship.
If you're looking to strengthen bonds within your workplace, celebrate a special occasion, or simply enjoy a thrilling outing with your group, laser tag delivers on all fronts.
In Winnipeg, you'll find several venues that cater to laser tag enthusiasts. These arenas are equipped with state-of-the-art technology and creatively designed layouts to make your experience truly memorable.
Each arena often has its own unique theme, adding an extra layer of excitement to the game. From futuristic space battles to intricate mazes, you can choose the setting that best suits your group's preferences.
One of the great things about laser tag is its inclusivity. It doesn't require any special skills or physical prowess, making it accessible to everyone.
Players of all fitness levels and ages can participate, ensuring that everyone in your group can join in on the fun.
Rope Course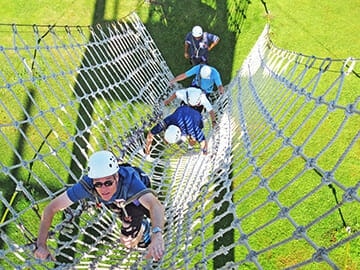 | Company | Location | Website |
| --- | --- | --- |
| Vertical Adventures | 77 Paramount Rd, Winnipeg, MB R2X 2W6, Canada | http://www.verticaladventures.ca/ |
| Serratus Movement Center Inc. | 55 Henlow Bay Unit #1, Winnipeg, MB R3Y 1G4, Canada | http://serratusmovement.com/ |
| Nature Playground | 55 Pavilion Crescent, Winnipeg, MB R3P 2N6, Canada | https://www.assiniboinepark.ca/park/things-to-do/nature-playground |
| La Barriere Park | 4403 Waverley St, La Salle, MB R0G 0A1, Canada | https://legacy.winnipeg.ca/publicworks/parks/la-barriere.stm |
| Transcona Aquatic Park | 1101 Wabasha St, Winnipeg, MB R2C 0P3, Canada | http://winnipeg.ca/cms/recreation/facilities/pools/outdoor_pools/transcona_aquatic_park.stm |
You'll find a variety of ropes courses tailored to different experience levels, ensuring that your group can find the perfect fit here in Winnipeg.
These courses typically involve navigating a series of obstacles suspended high in the air, all while harnessed for safety. It's not just about physical strength; it's a mental and emotional test as well.
What makes the ropes course truly special is the emphasis on teamwork. Participants rely on each other for support, encouragement, and guidance to conquer the challenges.
It's a powerful way to build trust within your team as everyone learns to depend on one another in an environment that challenges their comfort zones.
Whether you're a group of coworkers aiming to enhance workplace dynamics or a team of friends seeking an adventure, the ropes course in Winnipeg offers an exhilarating and remarkable experience.