15 Beaches in Winnipeg Perfect for Any Season
Going to the beach is usually the first thing that comes to mind whenever we plan outings or daycations. We can't help it—Winnipeg is pretty much surrounded by sandy shores and we wanna explore it all before we die.
Well, we've been to all of them and can say some beaches are definitely better than others. Here are 15 beaches worth driving to.
1. Gimli Beach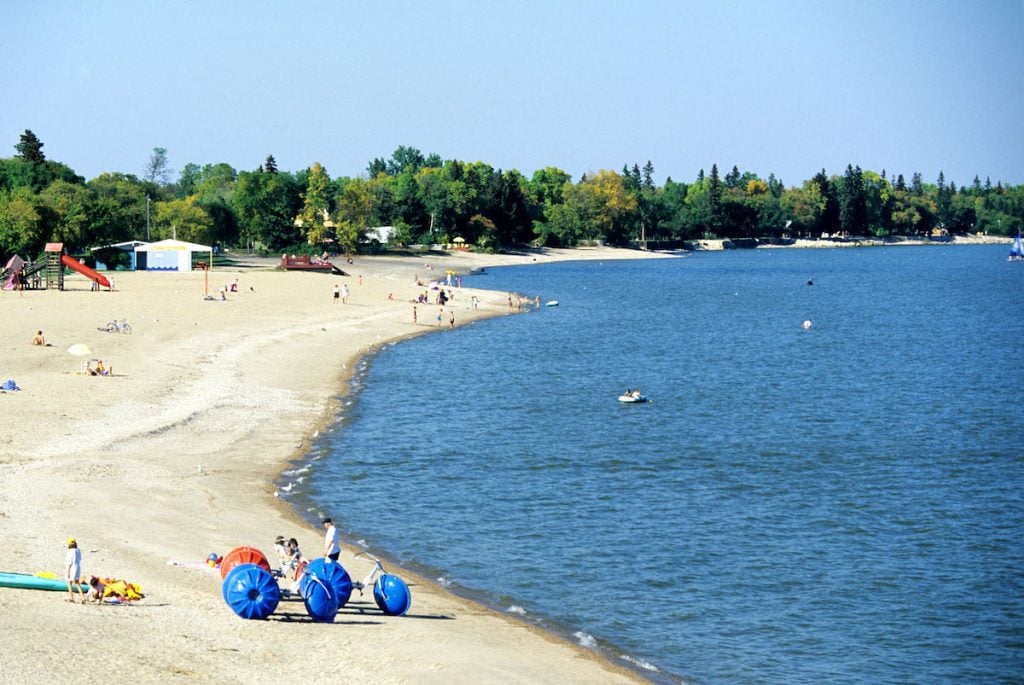 Address: Gimli, MB R0C 1B0, Canada
Travel time from Winnipeg: 1 hr 5 min
Gimli Beach is one of the busiest beaches near Winnipeg thanks to its fun-filled shores. It's got a playground, beach volleyball area, jet skis, windsurfing, restaurants, kayaks, paddleboards, and a row of rentable cottages.
Even after the summer, there are plenty of families sure to be at the beach so you don't feel too lonely. This also means that some amenities like the playground and jetskis are often occupied though, so try to go on weekdays if that's what you're after.
Of course, going to a beach like this would be a waste if you don't get the chance to show it off. For those Instagram and Snapchat stories, head to the long boardwalk that's littered with Icelandic murals.
2. Beaconia Beach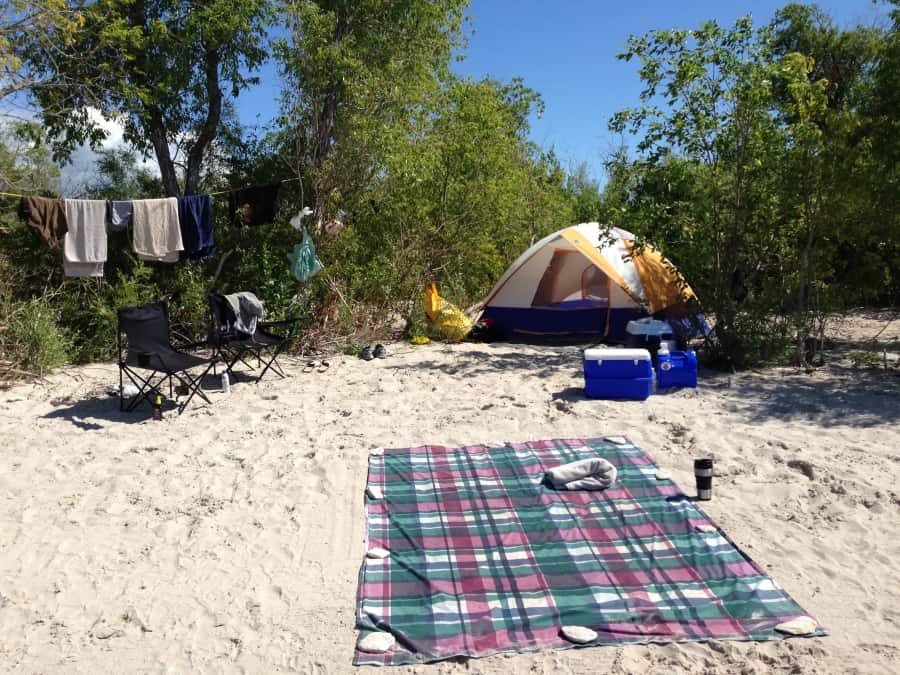 Address: Beaconia, MB R0E 0B0, Canada
Travel time from Winnipeg: 1 hr 3 min
Adults like us deserve a place to relax free from kids. Beaconia is one such place because the beach is divided between clothing-mandatory and clothing-optional sections, with both being five minutes away from each other.
Whatever section you choose though, you'll get to experience white, sandy beaches with plenty of small spots for some private relaxation.
Most of the people we saw in both sections had small camps set up with enough space between them that they didn't bother one another. The more public areas are easy to get used to, and we quickly got comfortable swimming in our birthday suits.
3. Albert Beach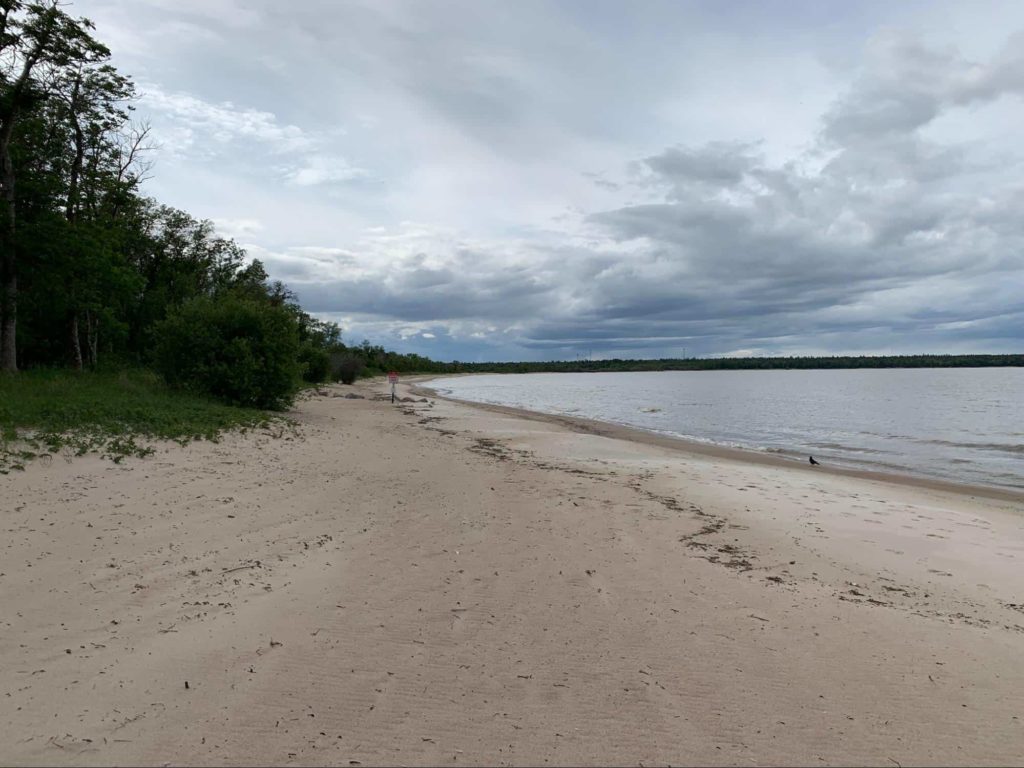 Address: Provincial Trunk Highway 59, Traverse Bay, Manitoba R0E 2A0, Canada
Travel time from Winnipeg: 1 hr 16 min
Albert Beach is best known for its fine sand and hundreds of vintage cottages. Try booking an AirBnB at one of these cottages and we promise you'll feel like you're living the Canadian dream.
The beach gets tons of visitors, but not so much that it feels crowded. You can easily find small private spots to sunbathe or set up a campfire—which the beach offices can supply materials for.
This place is also home to a large variety of wildlife, both in the woods and the water.
All these animals make Albert Beach a great spot for being one with nature, as long as you don't leave your food out in the open. There are plenty of cute furry friends like squirrels, but also scary ones like wolves.
The wolves are harmless most of the time, and there are patrols from Manitoba Conservation constantly trapping and killing these predators.
4. Hillside Beach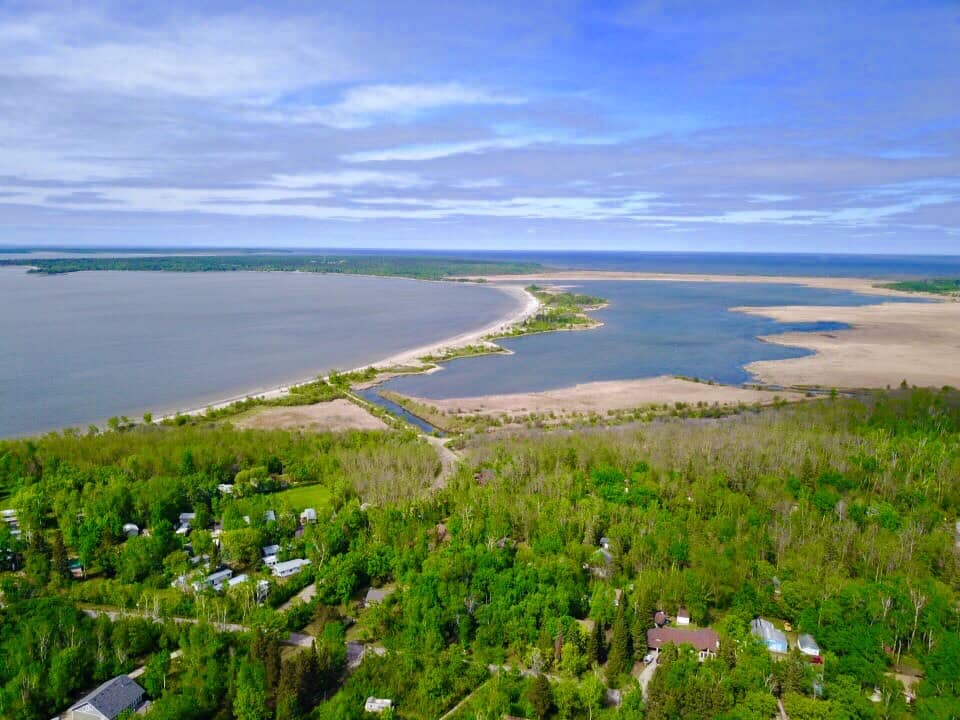 Address: Manitoba R0E 2C0, Canada
Travel time from Winnipeg: 1 hr 17 min
There are three words that perfectly describe Hillside Beach: scenic, spacious, and romantic.
What characterizes Hillside is its blue bay separated from the Lake Winnipeg lagoon by long, beautiful sand dunes. 95 kilometers from Winnipeg's perimeter, this beach is a hidden gem perfect for birdwatching and tanning.
Not a lot of visitors visit Hillside Beach, making it great for solo trips and dates. It's easy to forget you're on a public beach with how spacious and empty the place can be.
Since there's no one around to disturb you, this makes it the perfect spot for romantic dates, proposals, and even weddings.
Imagine a private walk along the beach, listening to the calm waters and chirping of birds. Who wouldn't fall in love?
5. Grand Beach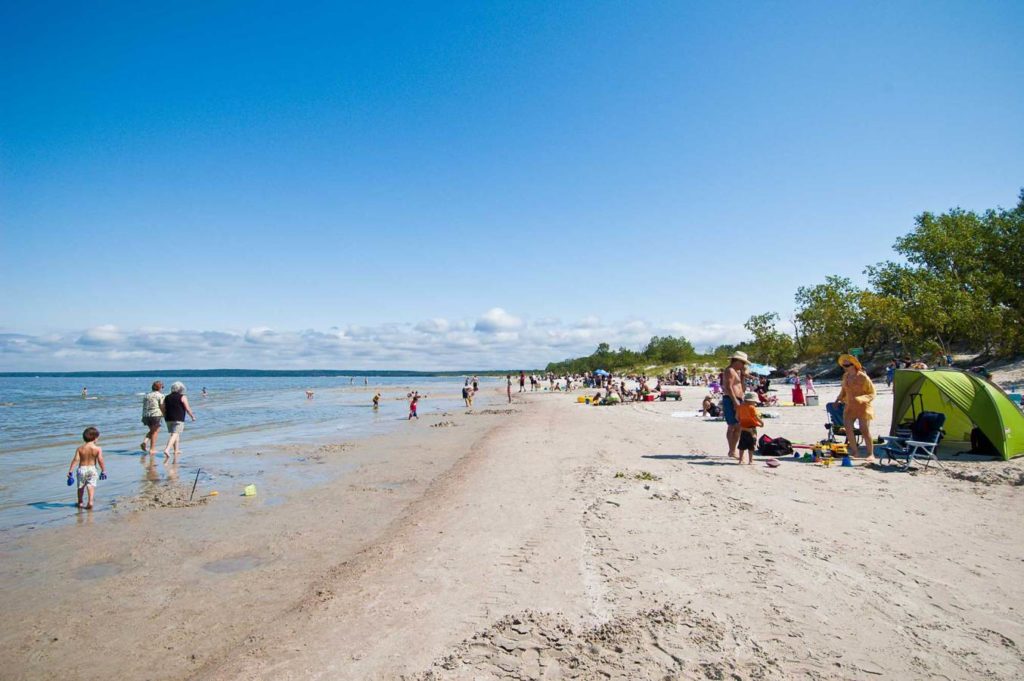 Address: Grand Marais, MB R0E 0T0, Canada
Travel time from Winnipeg: 1 hr 12 min
Grand Beach is a family favorite that lines up along Lake Winnipeg and features beach volleyball, an outdoor amphitheater, a restaurant, and two self-guiding hiking trails. 
Perhaps the best part about this beach is its abnormally powdery sand. Seriously, it's so fine that it feels like walking on grainy clouds.
The sand makes everything more enjoyable, especially beach volleyball. For the first time in our lives, we got to play without our feet feeling like we just jogged on sandpaper.
If you're looking for something slow, the Spirit Rock Trail and Ancient Beach Trail are Grand Beach's two trails ideal for hiking, biking, and birdwatching. These two trails are easy to go through, with one up and downhill path at most per trail.
6. Twin Lakes Beach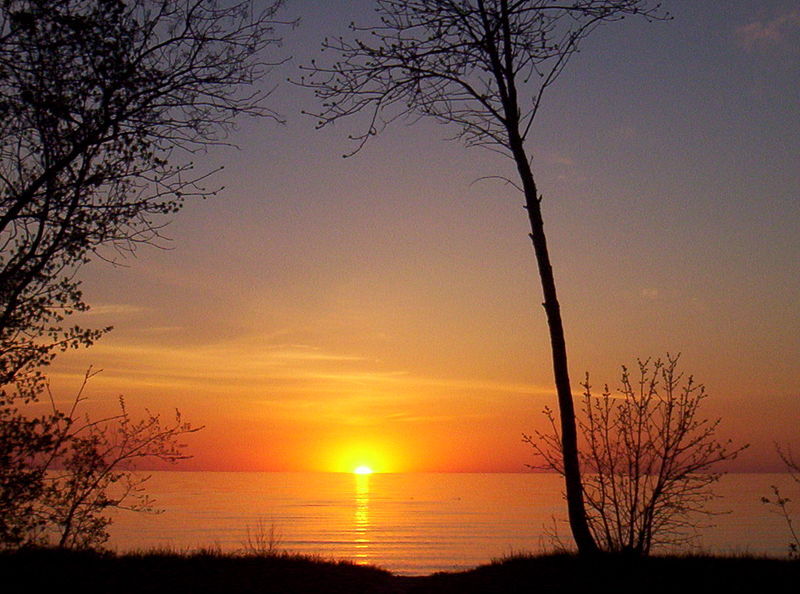 Address: Manitoba R0C 2S0, Canada
Travel time from Winnipeg: 1 hr 12 min
Twin Lakes Beach is a 6 km-wide beach known for its clean and soft sand. Cleaning personnel are available 24/7, so you don't have to worry about stepping on any broken glass.
The beach sits along Lake Manitoba which is home to hundreds of different fish, plenty of which are close to shore. There are fishing boats and equipment available for rent if you want to catch one as a souvenir.
The best part though, is how empty the place is for a public beach. Take advantage of the peace and quiet by laying down on the sand and feeding some plovers.
Personally, doing beach yoga and some beachcombing helped reset my mind, especially since there was no one around to disturb me.
7. Lundar Beach Provincial Park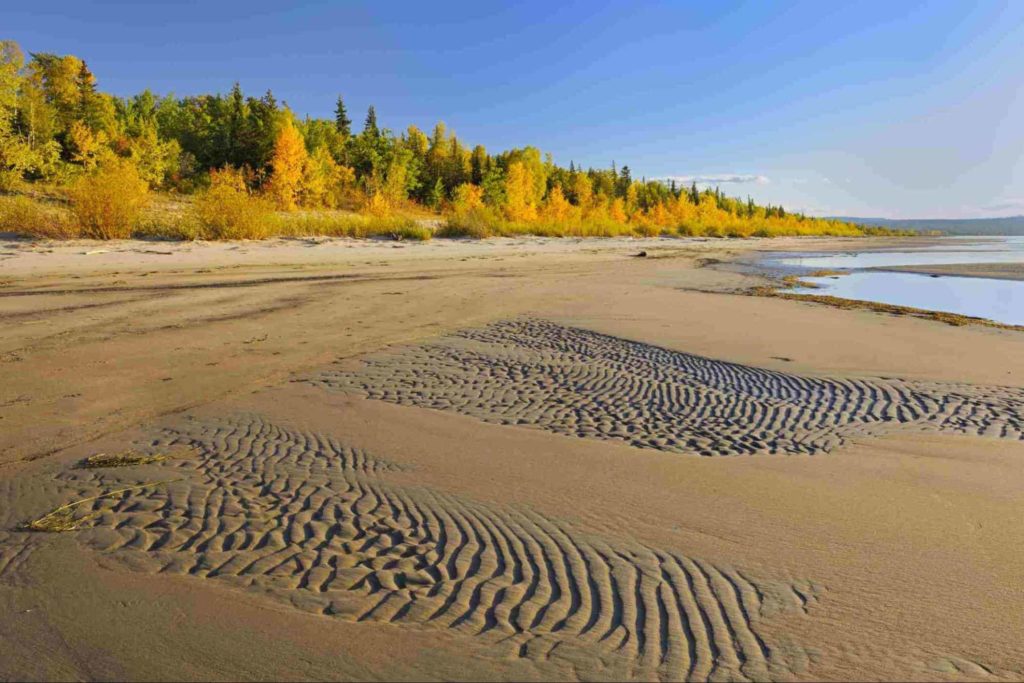 Address: Manitoba R0C 1Y0, Canada
Travel time from Winnipeg: 1 hr 38 min
Lundar Beach is a woodsy coastal paradise with plenty of hiking trails to explore. Mixing the calmness of the waters and the rustling sound of the woods, this breathtaking beach offers a mesmerizing blend of natural beauty and serenity.
Soft, powdery sand stretches along the shoreline, inviting you to dig your toes into its warm embrace. Crystal-clear turquoise waters gently lap against the coast, begging you to ditch the boat and get wet.
Towering cliffs and lush greenery frame the beach, creating a stunning backdrop for unforgettable sunsets. Lundar Beach also boasts a rich diversity of marine life, making it a great place for snorkelers and divers.
The beach is empty most of the time, making this hidden gem a true sanctuary for those seeking to be one with nature.
8. Beach Side Park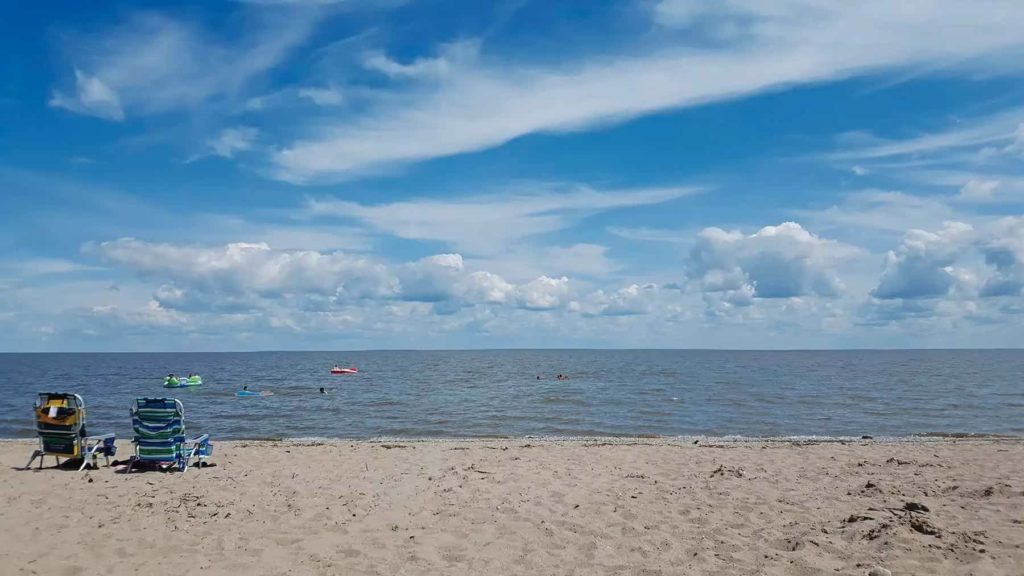 Address: Prospect St &, 4 Ave, Winnipeg Beach, MB R0C 3G0, Canada
Travel time from Winnipeg: 57 min
Beach Side Park is, well, a beach-side park. The first thing you see is the familiar sight of park grass, but it slowly transitions into fine sand.
Most people come here to fish or take pictures at the small pier. The little pier is set up in such a way that although the beach just sits along Lake Winnipeg, it seems like the water goes on forever.
Want to play soccer and then take a swim once your legs are sore? No problem!
The great thing about having both a park and a beach in one area is the flexibility in activities you can do.
Being both a beach and a park also means going on supply runs for your campfires is easier to do since civilization is literally just beside you.
9. Winnipeg Beach Dog Beach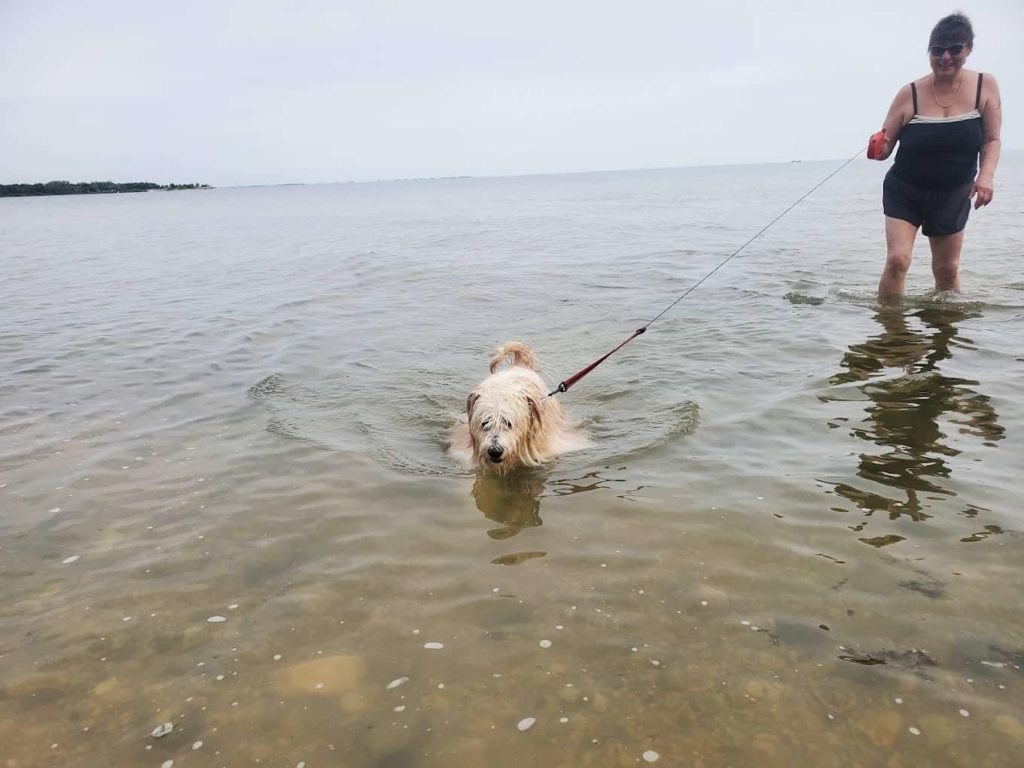 Address: Winnipeg Beach, MB, Canada
Travel time from Winnipeg: 59 min
Winnipeg Beach's Dog Beach is a 3-kilometer-long beach and is reserved for good boys and their owners. If you're an animal lover, there's no doubt you'd want to head over–it's a fun place even if you're petless yourself.
While the beach is dedicated to letting pets get wet, it'll be a good idea if you keep them on a leash. Going off-leash is allowed, but it's better to keep your dog restrained than to suddenly find them swimming 500 meters from the shore.
The beach isn't the only place your dog can have fun though–there are plenty of concessionaires offering treats like dog-friendly frappuccinos and ice cream.
If you're not looking to spend for your dog's happiness, you can also easily find driftwood laying about to play fetch with.
10. Birds Hill Provincial Park Beach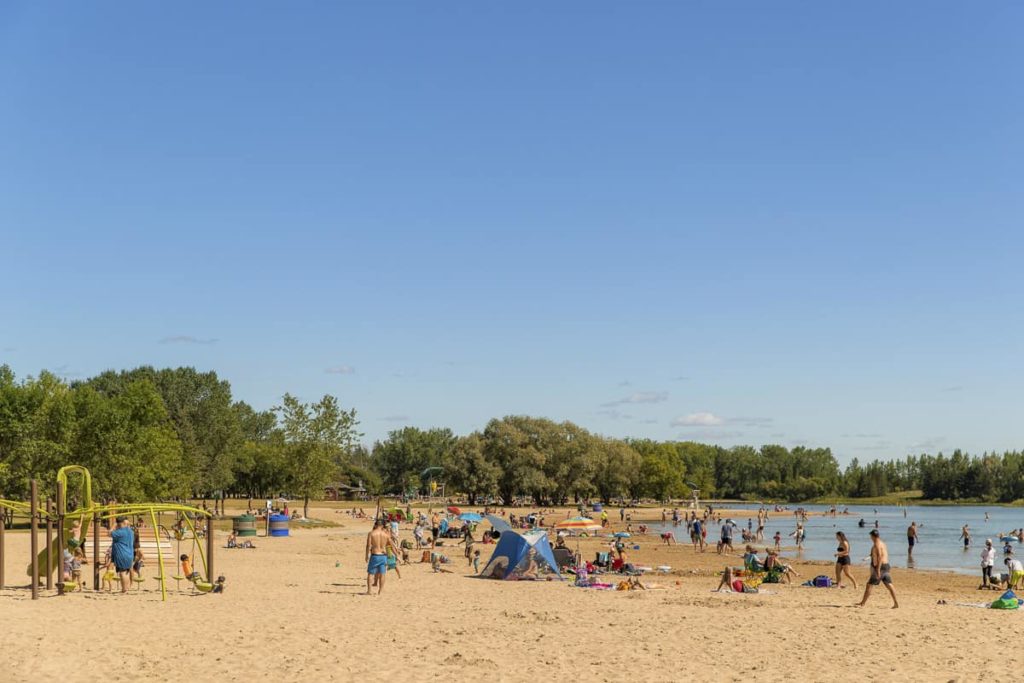 Address: Oakbank, MB R0E 0K0, Canada
Travel time from Winnipeg: 33 min
Surrounding Birds Hill Lake, the Birds Hill Provincial Park Beach is great for kids thanks to its shallow waters and well-kept sand.
Maintenance crews and lifeguards roam the beaches every few hours, picking up trash and anything else that can hurt unsuspecting kids. There's a playground and tons of wind too, making for fun playdates and kiting sessions.
11. Falcon Lake Beach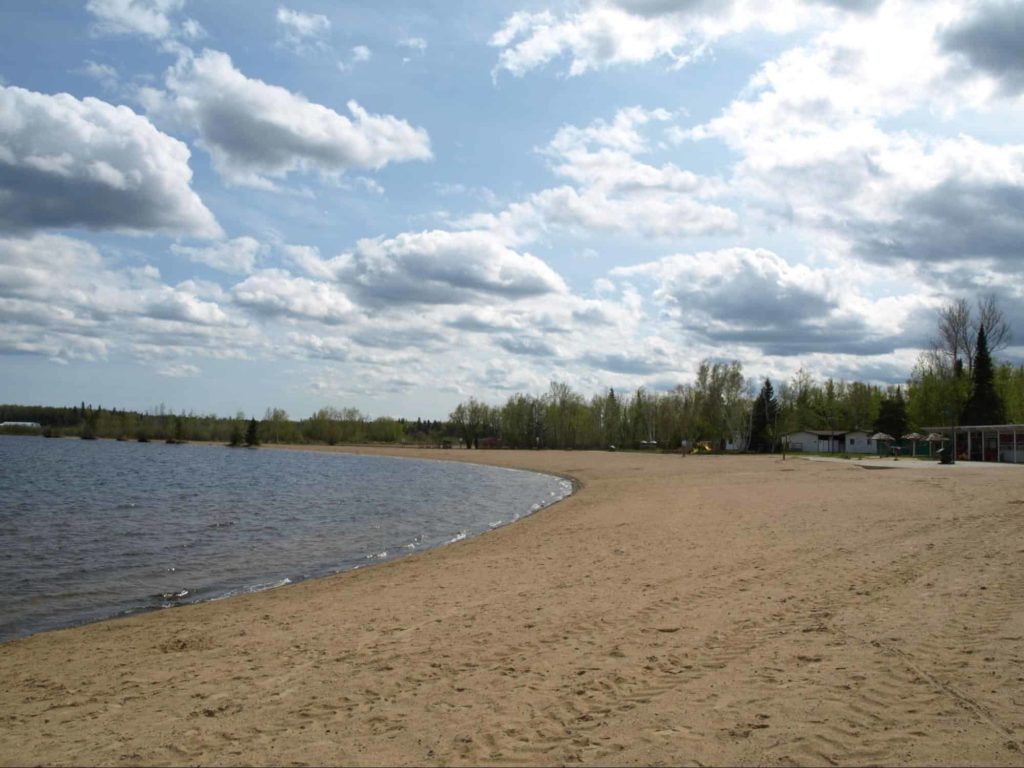 Address: Manitoba R0E 2H0, Canada
Travel time from Winnipeg: 1 hr 36 min
Falcon Lake Beach is a popular beach campground thanks to its spacious shores, big and catchable fish, and mild climate.
The entire place is dog-friendly too, letting you tag them along on a boat while you fish for bass and walleye. The water isn't too deep either, so you don't have to worry in case your boat fails.
If you want to take advantage of everything the beach has to offer, come on weekdays and after summer. Outside of the summer season, the beach is usually empty, giving you plenty of privacy while you eat and sleep on the shore.
12. St. Malo Beach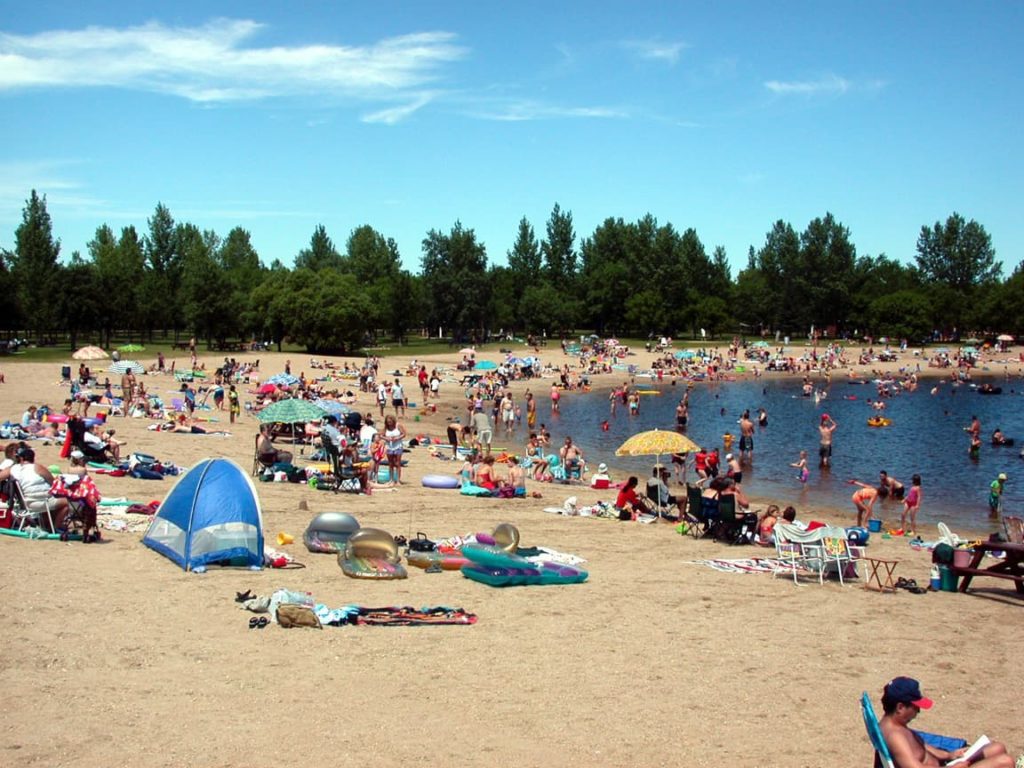 Address: Provincial Trunk Hwy 59, Saint Malo, MB R0A 1T0, Canada
Travel time from Winnipeg: 58 min
Outfitted with three playgrounds, clean and shallow water, all sorts of rentable boats, and an ice cream store that serves huge servings, St. Malo Beach is a kid's paradise.
The water is nice and calm so you don't have to worry about kids getting washed away by the waves. Large trees offer plenty of shade when it gets too hot.
If all the trees have been taken up, then don't worry! The Coop at 59 serves the best ice cream in Manitoba and at scoops bigger than our man-sized fists.
We have to warn you though, the water levels rise and fall pretty often. When it gets shallow enough, expect to find some seaweed brushing against your leg while you swim.
13. Colert Beach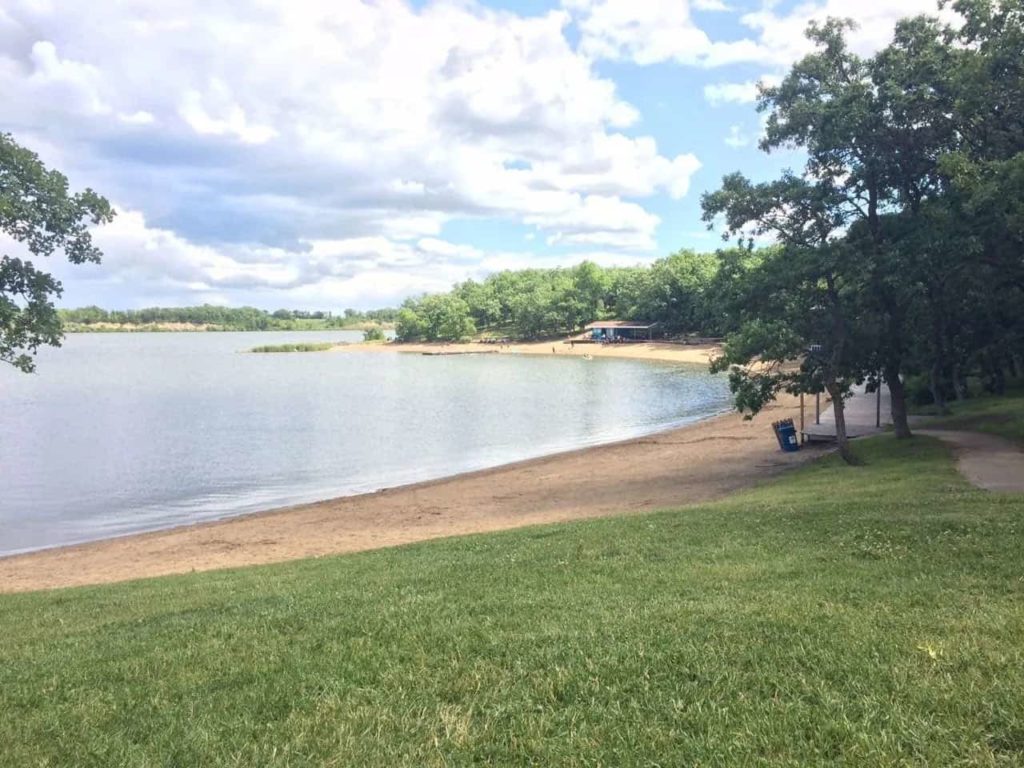 Address: Colert Crescent, Morden, MB R0G 2T0, Canada
Travel time from Winnipeg: 1 hr 30 min
Colert Beach may be small, but it's one of the best vacation spots for families and singles alike. Not only is it far from crowded, but it's also got a water park next to the shore.
Kids can have fun getting wet through the inflatable slides and obstacles offered by the park. Of course, lifeguards and staff are present so your kids stay safe.
For parents and singles who want to relax, there are plenty of cottages that give peace and quiet. Just make sure you have someone watching your kid before you rest.
14. Steep Rock Beach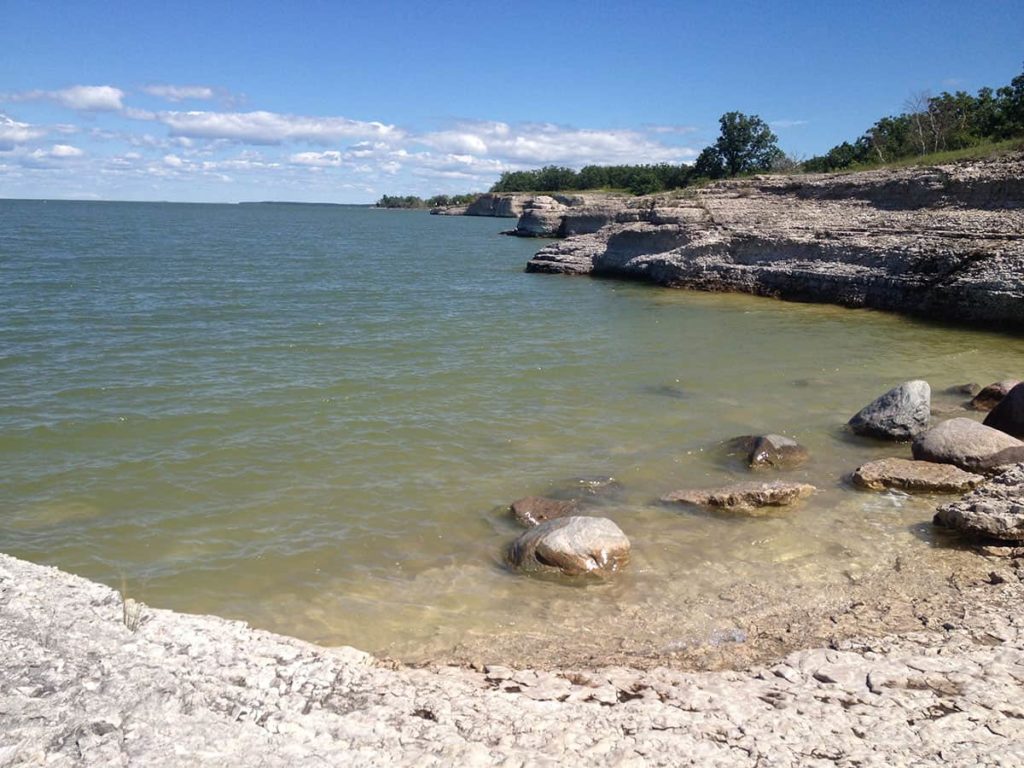 Address: Grahamdale, MB, Canada
Travel time from Winnipeg: 2 hrs
Steep Rock Beach isn't really known for great sand, but what it can boast about is its breathtaking views and cool climate. There are plenty of rocks you can stand on to get a neat view of the crashing waves.
Away from the shore, you can rent out some ATVs for some offroad excitement! ATV races are sometimes held, so there's always something to look forward to.
At the nearby woods, there's a famous walking trail that's pretty easy to go through for beginners. It's mostly flat land and takes around 30 minutes to complete.
15. Clear Lake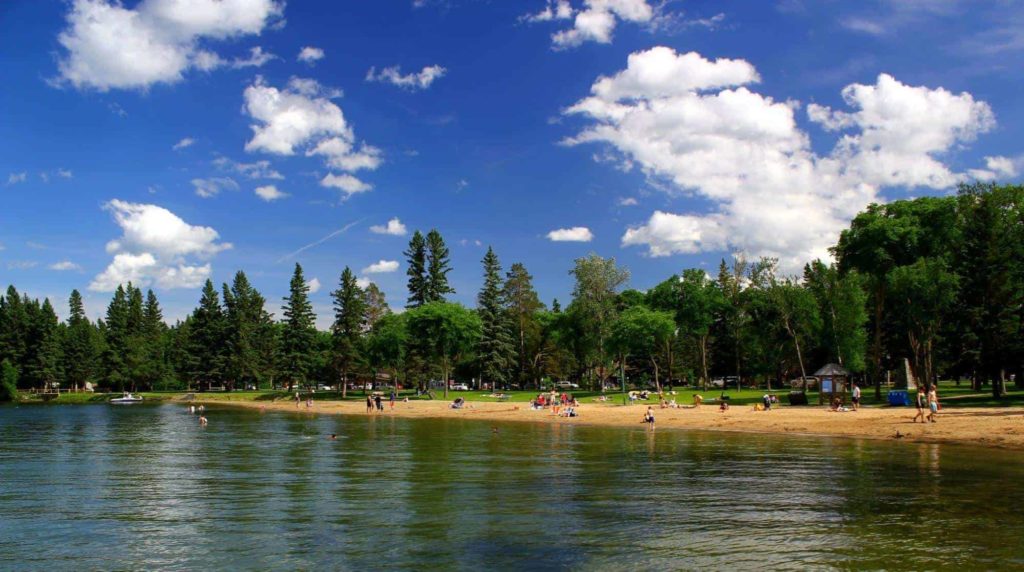 Address: Wasagaming, Manitoba, Canada
Travel time from Winnipeg: 3 hrs
Characterized by its near-white sand and long pier filled with yachts, Clear Lake feels like a tropical paradise but right here in Manitoba!
People usually come here to host events like weddings, but there are sections that let you do as you wish. The green trees, transparent water, and clear weather are all just waiting for you to swing by.
Our favorite part about this beach is how all the elements just blend together to form a comforting experience. You'll find it hard to feel any kind of stress while you're here.
Does Winnipeg have beaches?
There are no beaches inside Winnipeg, but there are plenty reachable within an hour's drive. The closest beach to Winnipeg is the Birds Hill Provincial Park Beach, which takes 30 minutes to get to by car.