The Top 5 Shops to Buy Mulch from in Winnipeg
In most Canadian garden stores, you can find mulch in different varieties. It can be made from straw, peat moss, dried leaves, bark, wood chips, and animal manure.
If you're looking for these one-stop shops, then this article is for you. So, look no further, and let's explore the top places to buy mulch in Winnipeg!
What is the average cost of mulch in Winnipeg?
Mulch prices vary, mostly depending on the type. Here are the average prices of the most common types of mulch you can get in your nearest gardening store:
| TYPE OF MULCH | AVERAGE PRICE |
| --- | --- |
| Pine bark | $36 |
| Pine straw | $47 |
| Pine needles | $181 |
| Shredded hardwood | $57 |
| Tea tree | $60 |
| Hemlock | $64 |
| Redwood | $83 |
| Bark | $92 |
| Wood chips | $100 |
| Cedar | $141 |
| Cypress | $181 |
| Rubber tree | $278 |
Selecting the Top Shops to Buy Mulch in Winnipeg
In choosing the best places to get mulch for your plant babies, we considered the following factors:
1. Ron Paul Garden Centre – Concrete Pavers & Landscaping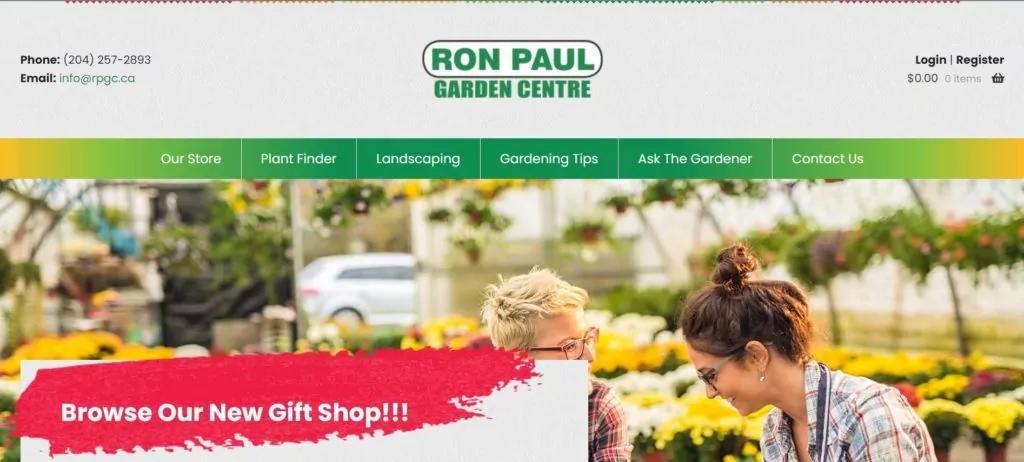 | | |
| --- | --- |
| CRITERIA | RATING |
| SELECTION OF MULCH | ★★★★★ 5/5 |
| ⮕Organic | ★★★★★ 5/5 |
| ⮕Inorganic | ★★★★★ 5/5 |
| PRICING | ★★★★☆ 4/5 |
| AVAILABILITY OF OTHER SERVICES | ★★★★★ 5/5 |
| CUSTOMER SERVICE | ★★★★★ 5/5 |
| ⮕Accommodating | ★★★★★ 5/5 |
| ⮕Competent | ★★★★★ 5/5 |
Ron Paul Garden Centre is a haven for all sorts of gardening tools, seedlings, rare plants, and greenhouse essentials.
And in terms of mulch, we're pleased to see both organic and inorganic types available. Most of the organic types are made of different kinds of bark, while the inorganic ones are sand, gravel, and limestone.
Besides having quite an array of mulches, this garden centre offers pretty affordable prices for these items.
With prices of $20 to $49 per cubic yard, we think these are budget-friendly given that some mulches may cost up to $87 per cubic yard in other places.
Shoppers may also get quotes for their mulch for free by using the calculator in its online store. Buyers will just need to input the total area they need to be mulched, and the final price and number of bags or total cubic yards will be revealed.
That said, shoppers will have quality mulch to keep their plants happy and healthy without breaking their banks or compromising on quality garden supplies!
Perhaps another thing we love about this garden centre is that it employs a team of competent staff who know the ups and downs of gardening and landscaping.
You may hire these professionals to help you mulch your backyard, properly transfer your baby plants into new containers, take exotic carnivorous plants home, and even place stone pathways and landscape a part of your garden!
Perhaps a slight downside we found is that since most of this shop's mulch is derived from bark, it might not be suitable for some plants.
Bark mulch is harder to break down and can be acidic compared to others, which means it can disrupt your soil's pH balance.
Delivery dates are also quite tricky, as the garden centre can't guarantee that the items ordered will arrive exactly on the day they were requested, given that the mulch is always prepared fresh.
On the bright side, the shop ensures that once the items are ready, staff will contact buyers and inform them that their gardening supplies are on their way.
Offers organic and inorganic mulch
Mulch options have affordable prices
Organic mulch is limited to bark types
No guarantee of delivery dates
Customer Reviews
Offers great prices for its gardening supplies
"Good prices compared to other garden centers. A bit disorganized compared to other stores but they got most of what you need for a cheaper price .service is good, very helpful. Great prices on yards of gravel/soil in the city." – John
Has got everything you need for your garden
"This garden centre is probably the best I've been to. The place is way bigger than I expected, they have a huge selection and a range of prices. They have cheaper plants and even some that are quite expensive, but all are beautiful. There's something here for everyone. They sell all kinds of gardening/outdoor supplies too. The plant pot I got (see photos)was $1.49, there are many sizes." – heyitsjaddle !
2. Ditchfield Soils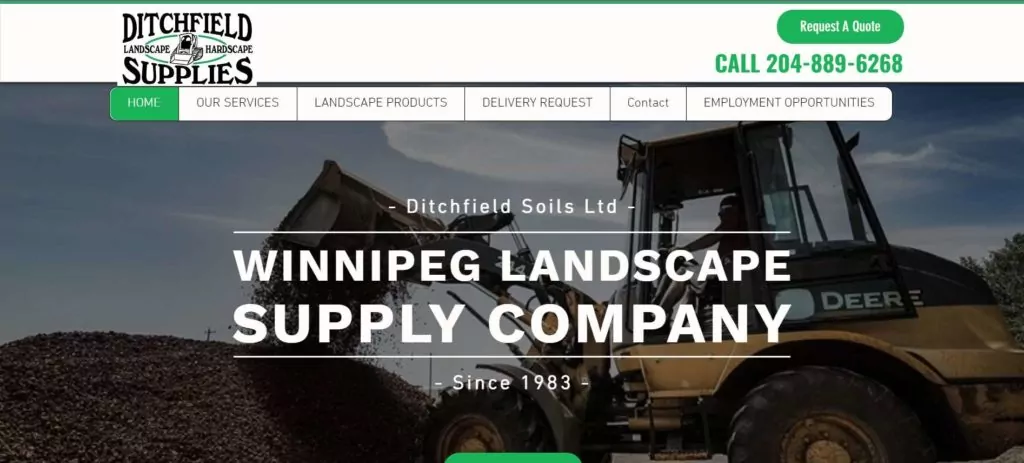 | | |
| --- | --- |
| CRITERIA | RATING |
| SELECTION OF MULCH | ★★★★☆ 4/5 |
| ⮕Organic | ★★★★☆ 4/5 |
| ⮕Inorganic | ★★★☆☆ 3/5 |
| PRICING | ★★★★☆ 4/5 |
| AVAILABILITY OF OTHER SERVICES | ★★★★★ 5/5 |
| CUSTOMER SERVICE | ★★★★★ 5/5 |
| ⮕Accommodating | ★★★★★ 5/5 |
| ⮕Competent | ★★★★★ 5/5 |
Ditchfield Soils is a prime supplier of potting soil, natural and faux turf, landscaping supplies, and various equipment for hauling, ploughing, and removing debris and snow.
We recently discovered that this is another great place to find organic mulch. We looked into its selection and found that it offers a smaller selection of mulch: red mulch, brown mulch, natural, and cedar chunks.
Ditchfied's mulches also feature larger chunks than what other stores offer. That said, they might not be great for potted plants, given that bark mulch can be acidic and retains a lot of moisture.
However, the larger wood bark mulch might be suitable for more spacious garden plots and flower beds.
When it comes to inorganic mulch, this garden supply shop offers limestone and coarse sand. Note that these mulch varieties are best used on trees and shrubs as they are drying and highly acidic.
On the bright side, we love how Ditchfield also offers gardening supplies that aid your mulch in protecting and beautifying your plants. Here, you'll find landscape fabric, side curbing, and plastic edging.
And should you order buckets of mulch and yards of landscaping fabric, you may have them delivered right at your doorstep, or opt for curbside or in-store pick-up.
However, a limitation to its delivery services is that it can't deliver two of the same items at the same time. Here's the workaround: if the second item can be delivered at a different time on the same day, the store will offer half price off the shipping fee.
Sells gardening supplies that help in mulching
Half-price off with deliveries
Smaller mulch selection
Does not deliver more of the same material in the same schedule
Customer Reviews
Garden supplies are reasonably priced
"This is where I always get my soil and aggregate from. Reasonable prices and fast service. I usually come in looking for a bit of advice on exactly how much I need and they're quite helpful. Would recommend." – Stephan
A great spot to get gardening and landscaping supplies
"Very professional landscaping supply spot. Super friendly personnel and competitively priced. A little further down the road than the "other guy" but after using both suppliers professionalism wins hands down! Well worth the extra 5-minute drive. I honestly cannot think of 1 negative thing about these guy's. OK i got one slightly negative item. The road around their piles is a little bumpy, but really its a landscape lot road. Who am I Captain Perfect? Have a day and be happy you're not an American these days." – S. Adam
3. T&T Soils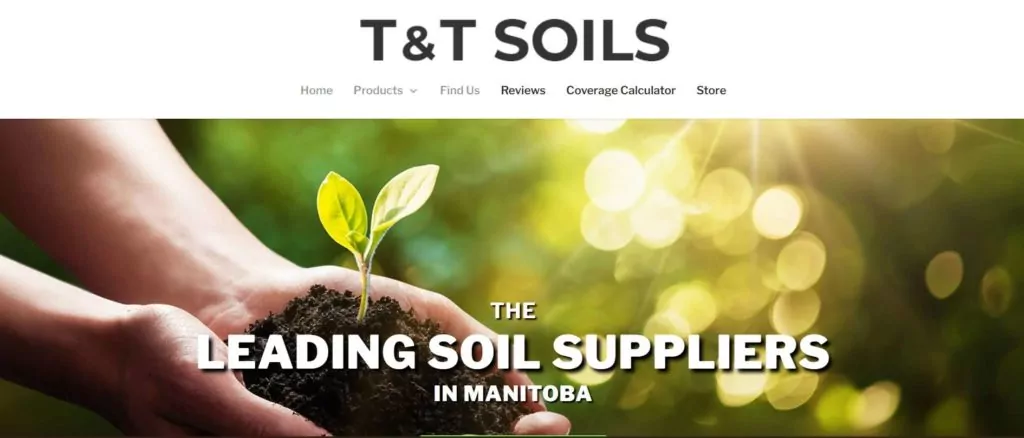 DELIVERY/IN-STORE PICK-UP
Yes
WEBSITE
https://www.ttsoils.com/
CONTACT DETAILS
Phone: +1 (204) 257-3575

Email: [email protected]

ADDRESS
435 Lagimodiere Blvd., Winnipeg, MB, R2J 4J4, Canada
OPERATING HOURS
Monday to Friday: 8:00 AM – 6:00 PM

Saturday: 8:00 AM – 6:00 PM

Sunday: 10:00 AM – 4:00 PM
| | |
| --- | --- |
| CRITERIA | RATING |
| SELECTION OF MULCH | ★★★☆☆ 3/5 |
| ⮕Organic | ★★★☆☆ 3/5 |
| ⮕Inorganic | N/A |
| PRICING | ★★★★★ 5/5 |
| AVAILABILITY OF OTHER SERVICES | ★★★★★ 5/5 |
| CUSTOMER SERVICE | ★★★★★ 5/5 |
| ⮕Accommodating | ★★★★★ 5/5 |
| ⮕Competent | ★★★★★ 5/5 |
T&T Soils offers different kinds of soil mixed with organic moss, some sand, and black topsoil. These are great for different types of crops, plants, flowering greeneries, and trees.
And if you're looking for organic mulch, we're pleased with T&T Soil's coloured mulches! We explored the store and found red, brown, and black varieties.
According to the staff, the colours are made to complement certain plants and make gardens look more vibrant and attractive.
For instance, red goes well with terra cotta pots and plants with warmer colours; brown is excellent for homes with red bricks and light sidings, and gardens with lighter-coloured flowers, while black mulch is great for highlighting green foliage.
Note that these mulches are likely a mix of different bark and wood types, so you have a limited pool of mulch to choose from.
However, these are all organic and will break down eventually, unleashing nutrients that boost your plants' growth.
Plus, adding a layer of these on this shop's soil mixes will foster fertile grounds for your greens to grow.
The shop also currently doesn't have inorganic mulch available. And while it has gravel, limestone, and coarse sand available for landscaping, these might not be fitting as mulch since they can be quite drying for the plants and soil.
Offers coloured mulches that suit several plants
Offers soil with different mixes
Limited organic mulch options
No inorganic mulch available
Customer Reviews
Quality service and products
"The lady on the phone was friendly and very helpful. The delivery was right on time and the driver was friendly, knowledgeable and the gentleman was a pro! He was able to dump the stone so precisely the guy could be a surgeon! Thanks again, guys!" – Dustin Rodeck
Great products with great prices
"Good prices, delivery drivers are very skilled and will accommodate you for unloading options. The service is always very fast. Their quantities are always generous. I have used them over a dozen times and highly recommend their service." – Robert Gray
4. Lacoste Garden Centre Winnipeg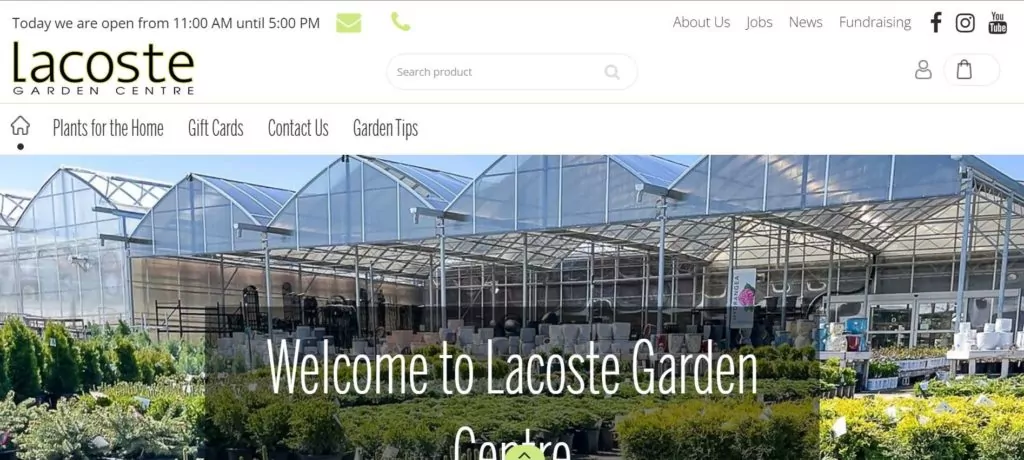 | | |
| --- | --- |
| CRITERIA | RATING |
| SELECTION OF MULCH | ★★★★☆ 4/5 |
| ⮕Organic | ★★★★☆ 4/5 |
| ⮕Inorganic | ★★★★☆ 4/5 |
| PRICING | ★★★★☆ 4/5 |
| AVAILABILITY OF OTHER SERVICES | ★★★★★ 5/5 |
| CUSTOMER SERVICE | ★★★★★ 5/5 |
| ⮕Accommodating | ★★★★★ 5/5 |
| ⮕Competent | ★★★★★ 5/5 |
Lacoste Garden Centre is a family-owned garden and landscaping supplies store that has been running for 75 years – a testament to its credibility and expertise.
We looked into the store's array of supplies and found an ample selection of natural mulches that are perfect for nourishing and decorating plants.
Currently, Lacoste holds wood mulches that are a mix of different bark types, with the exception of its cedar mulch variety. For inorganic options, you'll find pea gravel and smooth river stones available.
These are also manufactured locally, which means you'll be supporting Canadian products and the people depending on this business for livelihood.
On the other hand, Lacoste's mulches are slightly pricier than other stores, with the organic types costing $60 per yard and inorganic types costing $70 per yard.
This price may be steep, but we think it's worth purchasing as the mulch options are mixed with vitamins that help nourish your plants.
And if you need professionals to help you place your mulch properly, Lacoste has staff that are competent and knowledgeable about landscaping, as well as accommodating to clients' preferences.
The shop also offers delivery services, although you'll have to be patient in waiting for your items as it cannot guarantee exact arrival dates. Rest assured that the staff will contact you a day before your item's final designated delivery date.
Mulches are manufactured locally
Offers landscaping services
Mulches are slightly pricier
Delivery times are not guaranteed
Customer Reviews
A locally-owned garden shop with great items and staff
"Friendly, experienced, professional staff. Locally owned. Often put on events for children. Christmas setup is one of the best in the city. Used their landscaping services as well. Competitive pricing and excellent results. I recommend any chance I get. Thank you, Lacoste!" – Kyle Braun
Appreciate the helpful and competent staff
"The staff are helpful and knowledgeable. Lots of staff are available so you can always find someone if you have questions. Great selection of trees, shrubs, flowers, veggies, and fruits. Call ahead if you're looking for something specific in case they are out of stock." – Florian Sauter
5. Good Turf Garden Centre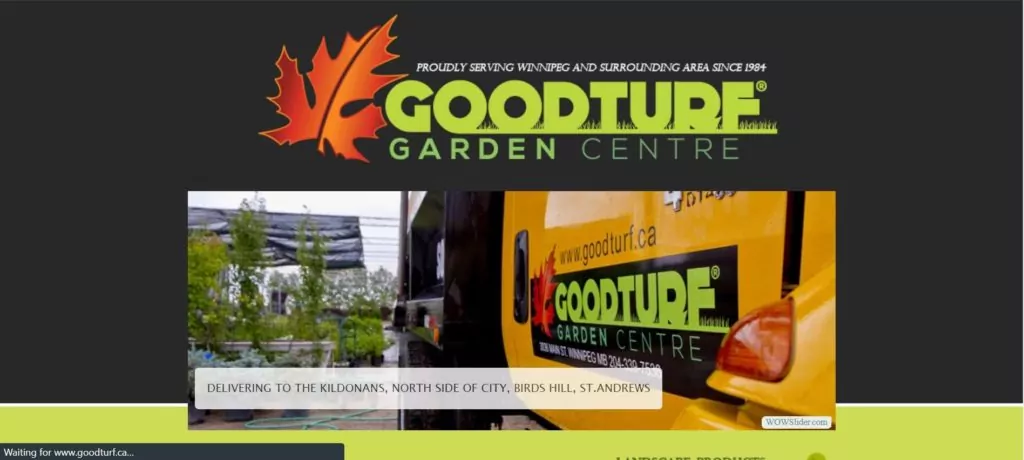 DELIVERY/IN-STORE PICK-UP
Yes
WEBSITE
https://www.goodturf.ca/
CONTACT DETAILS
Phone: +1 (204) 339-7536 Email: [email protected]
ADDRESS
3036 Main St., Winnipeg, MB, R2V 4Z3, Canada
OPERATING HOURS
Monday to Friday: 9:00 AM – 6:00 PM

Saturday: 9:00 AM – 5:00 PM

Sunday: Closed
| CRITERIA | RATING |
| --- | --- |
| SELECTION OF MULCH | ★★★★★ 5/5 |
| Organic | ★★★★★ 5/5 |
| ⮕Inorganic | N/A |
| PRICING | ★★★★☆ 4/5 |
| AVAILABILITY OF OTHER SERVICES | ★★★★★ 5/5 |
| CUSTOMER SERVICE | ★★★★★ 5/5 |
| ⮕Accommodating | ★★★★★ 5/5 |
| ⮕Competent | ★★★★★ 5/5 |
Good Turf Garden Centre offers small to large landscaping supplies such as sod, stone pathways, limestone, coarse sand, and natural wood mulch.
Upon checking, this store's natural mulch selection is a mix of bark, wood chips, straw, and seed husks. That said, you'll get mulches that have nourishing properties from different bark mulch types to protect your plant as well as boost its health.
We also saw colourful decorative mulches ideal for adding vibrancy to the neutral tones of the earth. Some of the colours you may select from are red, gold, brown, and dark brown.
To date, Garden Turf doesn't have stones that can be used as inorganic mulch. But if you're eyeing its limestone, sand, and river stones, lay a sheet of landscape fabric on top of your soil, then place your decorative stones and rocks.
The landscape fabric will keep the inorganic items from drying out and disrupting the pH balance of your soil while also retaining moisture and coolness.
What we love about Garden Turf is that it extends its delivery services to Winnipeg's fringe locations, such as the Kildonans, Birds Hill, Lockport, and Garden City.
And while the garden centre doesn't have an online store at the moment, the shop accepts orders via phone or e-mail. Staff will also confirm your orders to ensure you get the right items right at your doorstep.
That said, even if you live quite far from the physical store, you can still get top-calibre garden supplies for you to maintain your yard.
Offers natural decorative mulches
Delivers to Winnipeg and fringe areas
No inorganic mulch available
Currently does not have an online store
Customer Reviews
Awesome hub of everything related to gardening
"I found everyone at Good Turf to be very knowledgeable and so helpful with everything I needed for my yard! Their prices are great and if you buy Myke's fertilizer you get a 5-year warranty on your trees and shrubs! Can't beat that! This place is awesome! Tons of selections too for everything landscaping!" – Trevor Robb
Knowledgeable about gardening and various plant types
"Very friendly and extremely helpful for all your landscaping questions and gardening ideas! I had a few questions about some trees and shrubs that they were immediately able to provide plenty of advice. We had some decorative rock delivered early in the spring and the driver was fantastic and very careful of our property." – Richie Jones
FAQs About Mulch
---
And there you go–our review of the top shops to buy mulch in Winnipeg!
Use mulch to protect your plants from weather and pests, and to highlight them in your garden.
In the meantime, we recommend looking into our reviews on the best landscaping services and best lawn care in Winnipeg to elevate the care and maintenance of your garden.