10 Unique Things to Do in Winnipeg: Experiences You Can't Miss
I have come to adore the vibrant tapestry of experiences Winnipeg has to offer over the years. Nestled in the heart of Canada's prairie province of Manitoba, Winnipeg holds a special place in my heart.
It's a city brimming with cultural diversity, captivating history, and an undeniable zest for life. From the moment you set foot on our friendly streets, you'll be welcomed by a warm embrace of hospitality and an array of experiences.
Join me as we embark on an enchanting journey through the unique wonders of Winnipeg.
In this comprehensive guide, we will unravel the secrets of this captivating city, revealing its hidden gems and unmissable experiences.
Visit the Canadian Museum for Human Rights.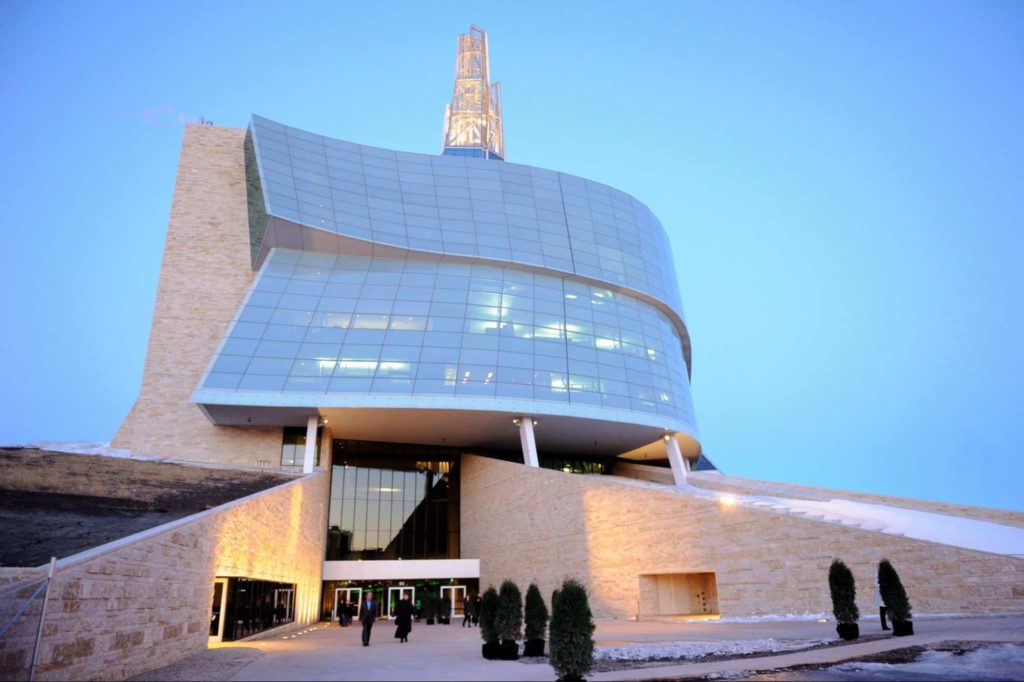 | | |
| --- | --- |
| Location | 85 Israel Asper Way, Winnipeg, MB, R3C 0L5 |
| Contact Details | 204-983-6450 |
| Hours of Operation | Tuesday to Sunday: 10:00 a.m. to 5:00 p.m. |
| Admission | Adult General Admission: $18 |
| Highlights | • Interactive exhibits, films, and art that explore the history and importance of human rights |
I highly recommend visiting the Canadian Museum for Human Rights if you're looking for a unique and inspiring experience. 
The museum is a powerful and moving exploration of global human rights history, divided into five galleries: foundations, universality, evolution, achievement, and hope.
In the Foundations gallery, you can delve into the philosophical and historical roots of human rights. It explores how the concept of human rights has evolved over time and how it is enshrined in international law.
Visitors can learn about the Universal Declaration of Human Rights and how it has been used to promote human rights around the world.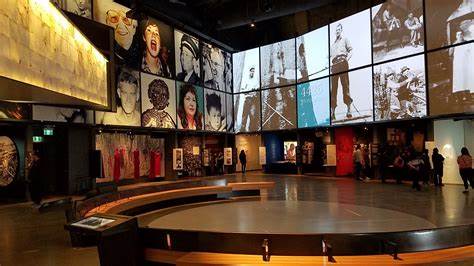 Expanding beyond borders, the Universality Gallery explores the concept of human rights as universally applicable to all individuals.
It demonstrates that human rights are not just for people in certain countries or cultures but for all people everywhere.
You can learn about the different ways that human rights have been violated throughout history and how people have fought to defend them.
Tracing the dynamic nature of human rights, the Evolution Gallery highlights how they have continuously evolved alongside the progress of democratic and inclusive societies.
It sheds light on recent advancements in safeguarding and expanding human rights while acknowledging persistent challenges.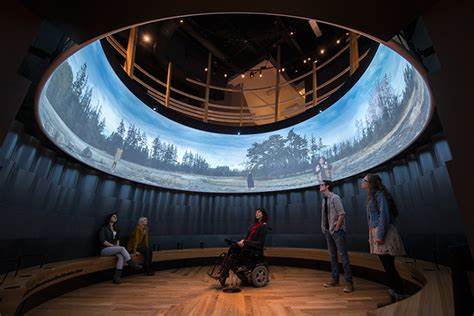 The Achievement Gallery celebrates the tangible impact of human rights. It showcases inspiring stories of individuals and groups who have championed these rights.
Here, you can learn about the contributions of Holocaust survivors, civil rights activists, and indigenous peoples, among others.
The gallery demonstrates how human rights have played a crucial role in creating a more just and equitable world for all.
With an eye toward the future, the Hope Gallery explores the transformative potential of human rights in shaping a better world.
It addresses the remaining obstacles while instilling hope for a more just and equitable future through the lens of human rights.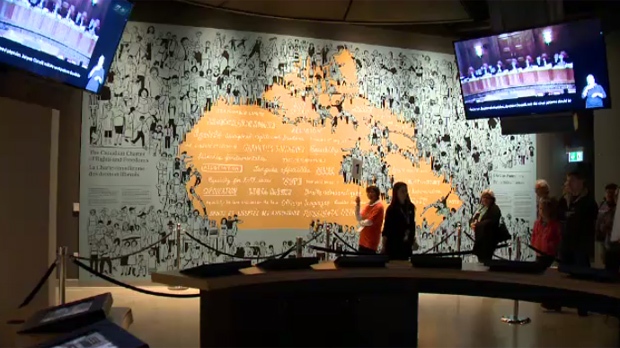 The Canadian Museum for Human Rights offers well-curated exhibits and engaging multimedia presentations. Its accessibility for all ages and abilities, along with its friendly and knowledgeable staff, contribute to its appeal.
It is a must-see for anyone who cares about human rights, providing opportunities to learn, be inspired, and take action for a better future.
Take a walk through Assiniboine Park.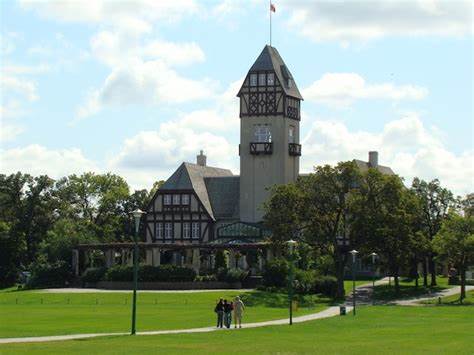 Location
2755 Notre Dame Ave, Winnipeg, MB R2N 3B3, Canada
Contact Details
204-986-2655
Hours of Operation
Open year-round, hours vary
Admission
Free
Highlights
• Assiniboine Park Zoo

• Assiniboine Park Conservatory

• Leo Mol Sculpture Garden

• Assiniboine Park Pavilion

• Walking trails

• Golf course

• Swimming pool
Assiniboine Park is a great place to escape the hustle and bustle of the city and enjoy some peace and quiet. 
I enjoy people-watching in the park. There's always something interesting to see, whether it's families playing on the playground, couples walking hand-in-hand, or dogs chasing squirrels.
One of my favorite things to do in Assiniboine Park is to visit the Leo Mol Sculpture Garden. The garden is home to a collection of over 60 sculptures by the Ukrainian-Canadian artist Leo Mol.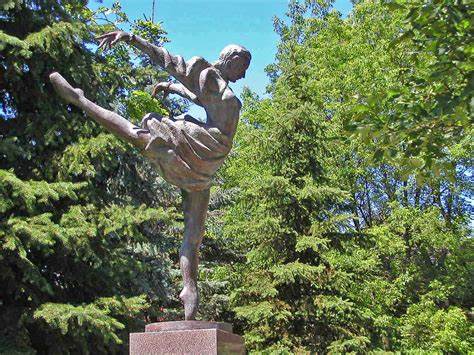 The sculptures are made from a variety of materials, including bronze, marble, and wood. I find them to be both beautiful and thought-provoking.
Another one of my favorite things to do here is to visit the Assiniboine Park Conservatory, which is home to a variety of plants from all over the world.
I love walking through the conservatory and seeing all the different plants. It's a great place to relax and escape the cold Winnipeg winters.
Explore the Exchange District.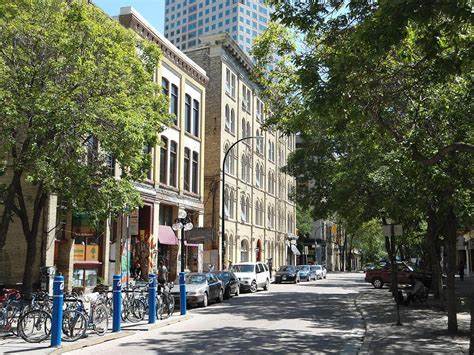 Location
200 Portage Ave, Winnipeg, MB R3B 2N2, Canada
Contact Details
(204) 945-6989
Hours of Operation
• Monday to Friday: 9:00 am to 5:00 pm

• Saturday: 10:00 am to 5:00 pm

• Sunday: 12:00 pm to 4:00 pm

Admission
Free
Highlights
• Historic district with over 200 buildings

• Art galleries

• Boutiques

• Restaurants

• Bars
This historic neighborhood is home to a variety of shops, restaurants, and galleries, and it's always buzzing with activity.
One of the things I love doing here is simply wandering around and getting lost. The streets are lined with beautiful old buildings, and there are always interesting things to see around every corner.
I love popping into the different shops and galleries, and I've found some of my favorite pieces of art in the Exchange District.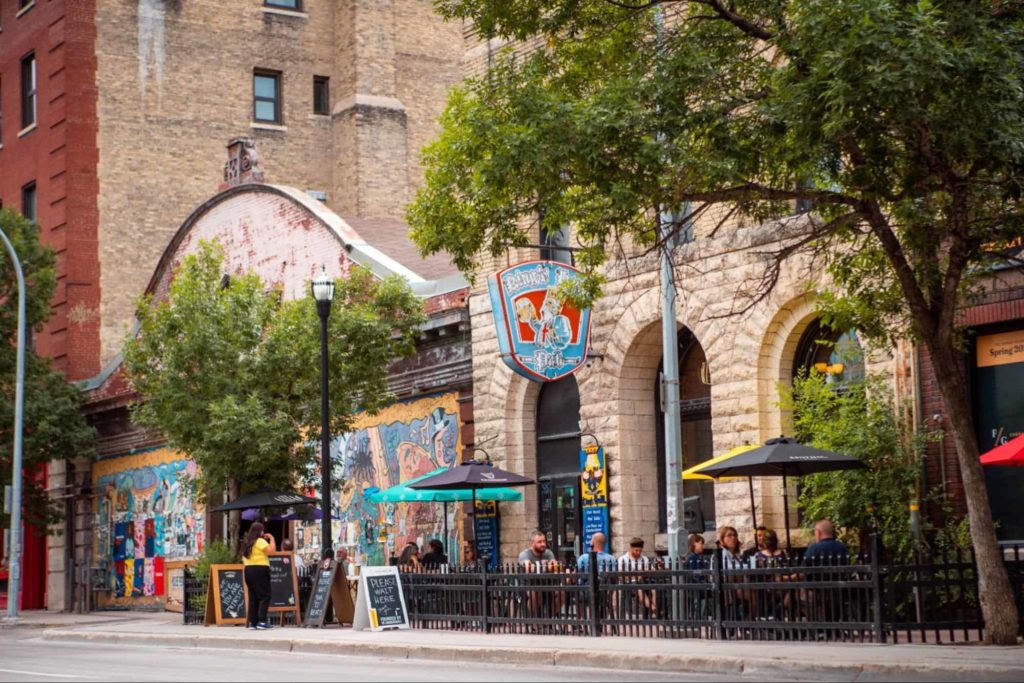 If you're looking for something to eat, the Exchange District has a wide variety of restaurants to choose from. You can find everything from fine dining to casual fare, and there's something for everyone.
I especially love the many cafes and coffee shops here. They're the perfect place to relax and people-watch.
In the summer, the Exchange District is home to a number of festivals and events. One of my favorites is the Fringe Theatre Festival.
This festival features a variety of independent theater productions, and it's a great way to see some new and exciting shows.
Visit Saint Boniface.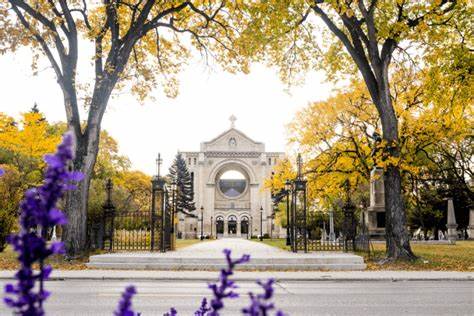 Location
200 Provencher Blvd, Winnipeg, MB R2H 0H7
Contact Details
(204) 233-4589
Hours of Operation
• Monday to Friday: 9:00 am to 5:00 pm

• Saturday: 10:00 am to 4:00 pm

• Sunday: closed

Admission
Free
Highlights
• Oldest European settlement in Manitoba

• Founded by French missionaries in 1818

• Home to a rich cultural heritage

• Many historic sites and buildings

• Basilica of Saint Boniface

• Riel House

• St. Boniface Museum

• Shops

• Restaurants

• Cafes
Saint Boniface is the oldest neighborhood in Winnipeg, and it's home to a rich history and culture. The neighborhood is named after Saint Boniface, the patron saint of Manitoba, and it was founded by French missionaries in the 18th century.
Today, Saint Boniface is a vibrant and diverse community. It's home to a large francophone population as well as people from all over the world.
The neighborhood is full of charming shops, restaurants, and cafes, and it's a great place to wander around and soak up the atmosphere.
One of my favorite things to do in Saint Boniface is visit the iconic Saint Boniface Cathedral. This beautiful Gothic Revival church, built in the 19th century, is a must-see when exploring Winnipeg.
The grandeur and history of the cathedral always leave me in awe.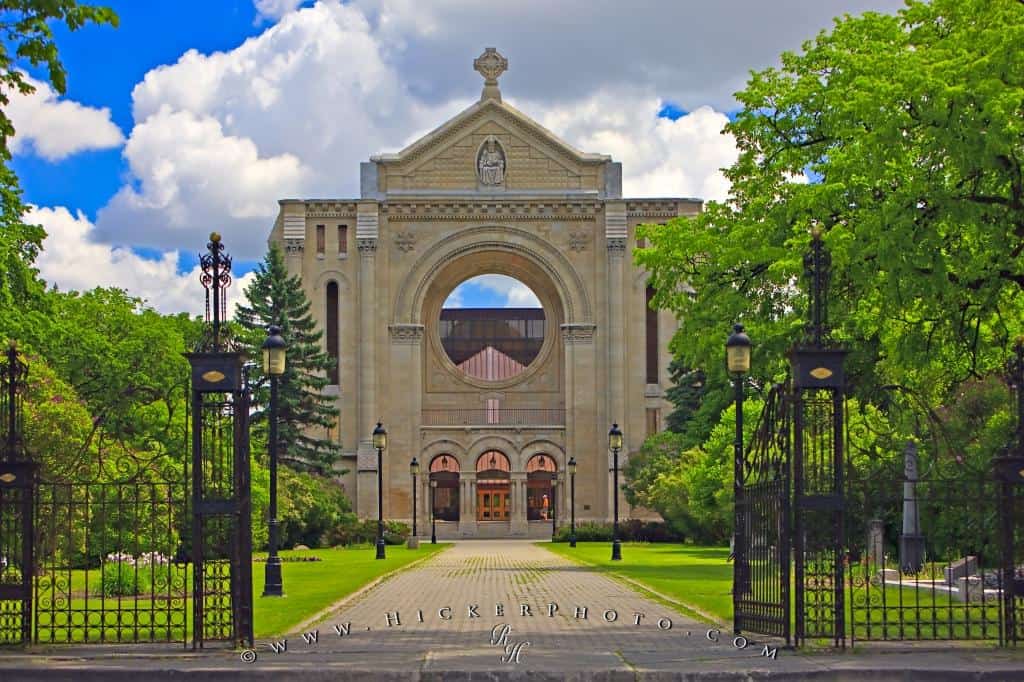 Another activity I love is taking a leisurely stroll along Provencher Boulevard. This bustling street is filled with charming shops, inviting restaurants, and cozy cafes.
It's the perfect spot to immerse yourself in the vibrant atmosphere of the neighborhood. I enjoy sitting at a café, sipping a warm drink, and people-watching as I soak in the local ambiance.
For a unique experience, I highly recommend visiting Heritage Village. This living history museum offers a captivating glimpse into life in 19th-century Saint Boniface.
Exploring the recreated village and learning about the neighborhood's rich history is always a delightful adventure. It's an engaging and educational place for both children and adults.
Of course, no visit to Saint Boniface would be complete without indulging in the local cuisine. The neighborhood boasts a diverse culinary scene, ranging from traditional French dishes to international flavors.
I can never resist trying the local specialties, like the mouthwatering tourtière (a savory meat pie) and the classic poutine (golden fries topped with cheese curds and savory gravy). These delectable treats always leave me craving more.
Eat at The Forks Market.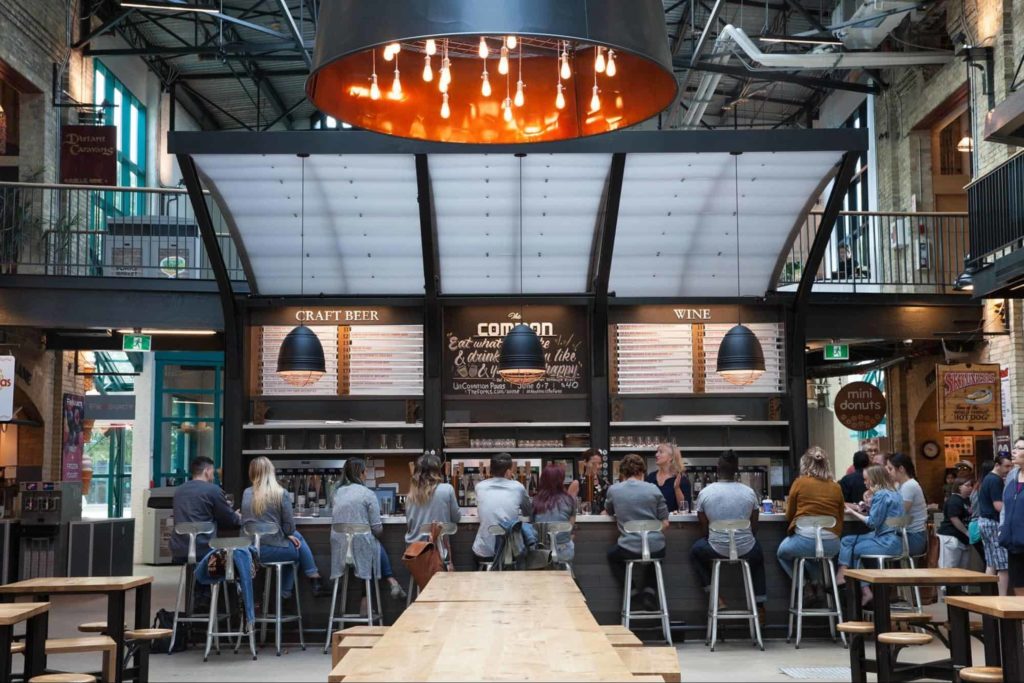 Location
1 Forks Market Road, Winnipeg, MB R3C 4L9
Contact Details
(204) 943-7752
Hours of Operation
Open year-round, 9:00 am to 9:00 pm
Admission
• Perogy Pierogi

• Wienerpeg Hot Dog

• The Common Beer Hall

Highlights
$$ (Moderate)
The Forks Market is a historic marketplace located at the confluence of the Red and Assiniboine Rivers. 
It's been a gathering place for Indigenous people for centuries, and it's now home to over 100 vendors selling everything from fresh produce to handcrafted souvenirs.
But the real draw of The Forks Market is its food.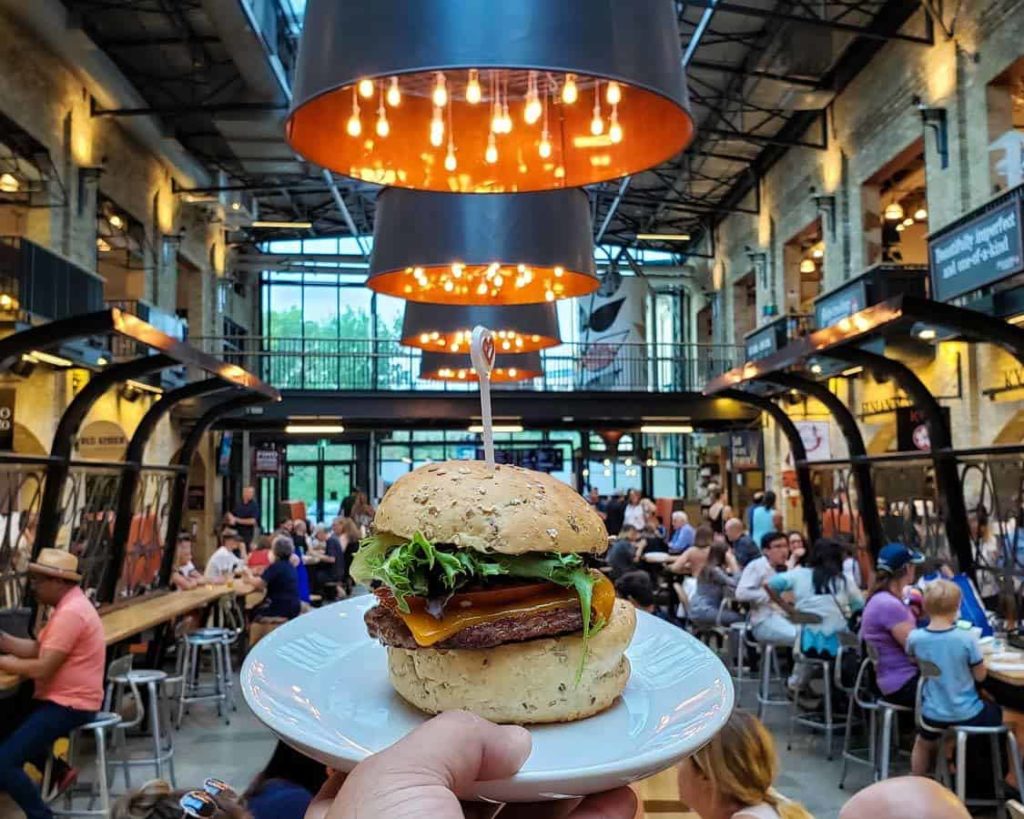 There are dozens of restaurants and food stalls here, serving up everything from classic Canadian dishes like poutine and perogies to international fare like Indian food, Thai food, and sushi.
And with so many options to choose from, you're sure to find something to your taste.
You can simply wander around and take in the sights and smells at The Forks Market. The market is always bustling with activity, and there's always something new to discover.
But if you're looking for a specific recommendation, I would suggest trying the perogies at The Perogy Hut. They're made with fresh, homemade dough and filled with a variety of delicious fillings.
Visit the Manitoba Museum.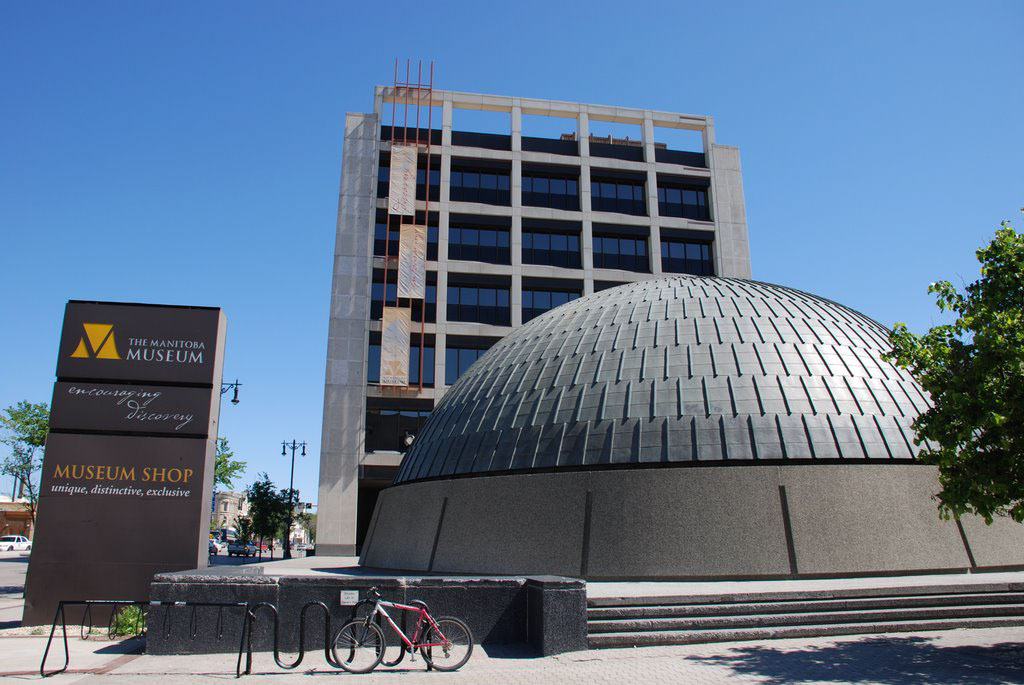 Location
190 Rupert Ave, Winnipeg, MB R3C 0V8, Canada
Contact Details
204-956-2830
Hours of Operation
Tuesday to Sunday: 10:00 am to 4:00 pm
Admission
• Adults: $18

• Seniors: $16

• Youth: $12,

• Children under 6: Free

Highlights
• Human and natural history of Manitoba

• Dinosaurs

• First Nations culture

• Arctic
When visiting the Manitoba Museum, you'll have the opportunity to explore a variety of captivating exhibits. The museum features a human history gallery, a natural history gallery, and a planetarium, each offering a unique and engaging experience.
In the human history gallery, you can delve into the story of Manitoba from its earliest human inhabitants to the present day.
It's a fascinating journey that allows you to learn about the rich culture, traditions, and achievements of the First Nations people who lived in the region long before European settlers arrived.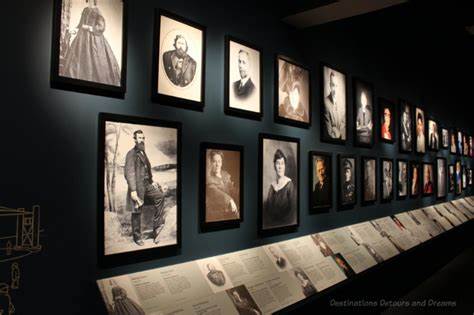 Moving on to the natural history gallery, you'll encounter exhibits that showcase Manitoba's diverse plants, animals, and geological wonders.
Here, you can marvel at the impressive displays and gain a deeper understanding of the province's natural heritage.
One notable highlight is the chance to stand next to a real Tyrannosaurus rex skeleton, an awe-inspiring encounter with a creature that once roamed the Earth.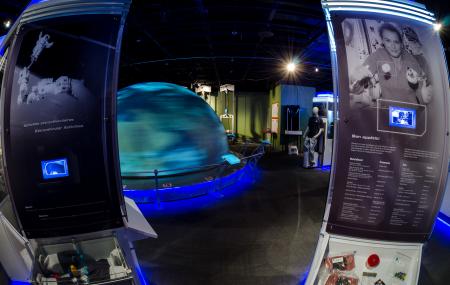 To expand your horizons beyond Earth, the planetarium offers captivating shows on astronomy and space exploration.
Immerse yourself in the wonders of the cosmos as you learn about distant stars, planets, and the mysteries of the universe. It's a captivating and educational experience that ignites curiosity and awe.
In addition to the exhibits, the Manitoba Museum hosts special events such as First Friday Nights and Family Day, which provide unique opportunities to engage with the museum in a different way.
These occasions feature live performances, interactive exhibits, and exclusive activities that make for memorable experiences with loved ones.
Take a tour of the Legislative Building.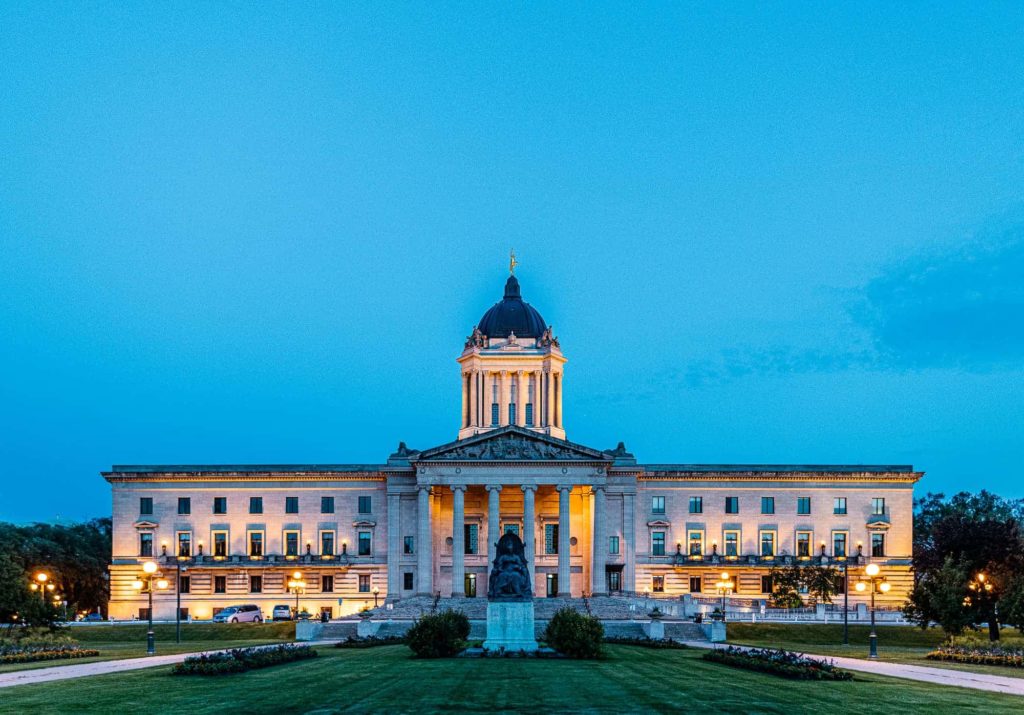 Location
450 Broadway, Winnipeg, MB R3C 0V8
Contact Details
(204) 945-5813
Hours of Operation
• Public tours are offered every Friday at 2 PM from September to June (holidays not included).
Admission
Free
Highlights
• Legislative Assembly Chamber

• Golden Boy statue

• Great Hall
I highly recommend taking a tour of the Manitoba Legislative Building. It's not only a beautiful and historic landmark but also a fascinating glimpse into the rich history and government of Manitoba. 
Starting off in the grand Great Hall, you'll be in awe of the high ceiling and the captivating chandelier, while the murals on the walls bring to life scenes from Manitoba's past.
As you proceed to the Legislative Chamber, you'll be struck by its impressive size and the majestic wooden desk where the Speaker of the House sits.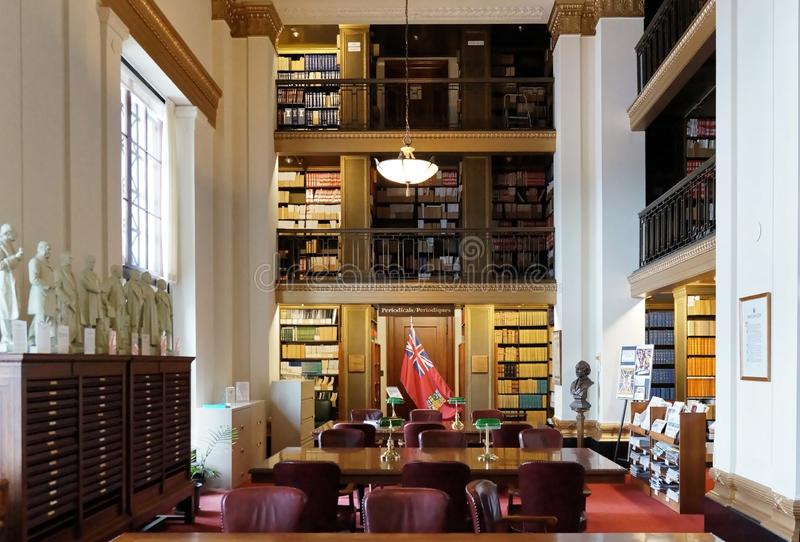 Don't miss the chance to visit the library, where a vast collection of books and documents awaits, or the art gallery, which showcases the talents of local Manitoba artists.
And of course, the rotunda, with its stunning dome, is a sight to behold. Designed in the Beaux-Arts style by Frank Worthington Simon, this limestone and granite masterpiece was completed in 1920, boasting 145 rooms and 100,000 square feet of floor space.
To plan your visit, remember that the tours are free and available every day from 9:00 a.m. to 4:00 p.m., accommodating both English and French speakers. To secure your spot, feel free to call 204-945-5813 and book in advance.
Trust me, this tour will leave you with a newfound appreciation for Manitoba's history and architectural beauty.
See a show at the Royal Manitoba Theater Center.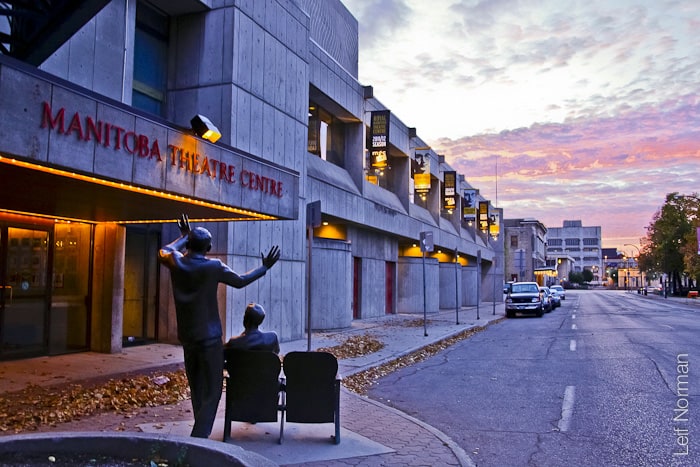 Location
174 Market Avenue, Winnipeg, MB R3B 0E5
Contact Details
(204) 949-6000
Hours of Operation
Varies by show
Admission
Varies by show
Highlights
• Classic play

• Theater performances
I recently had the incredible opportunity to attend a show at the Royal Manitoba Theatre Centre, and let me tell you, it was an absolute game-changer. 
From the moment I stepped into this historic gem, I was captivated by its rich history and unmistakable charm. The production I witnessed was nothing short of remarkable, with performances that left me in awe of the actors' talent and dedication.
What truly struck me was the intimate atmosphere within the theater; it was as if I was transported into the story itself, forging a genuine connection with the characters on a profound level.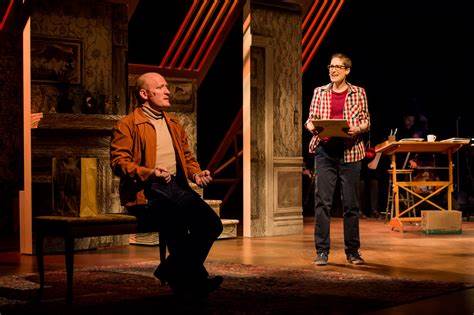 Let me share a few more details that truly impressed me about the Royal MTC. First off, the theater boasts a seating capacity of 785, ensuring there's room for everyone to immerse themselves in the magic.
Plus, the range of ticket prices caters to different budgets, making it accessible to all who wish to indulge in this artistic wonderland.
Located right in the heart of downtown Winnipeg, it's conveniently accessible, allowing for a stress-free journey to the performance.
And oh, let's not forget about the cherry on top: the Royal MTC's full bar and restaurant. Before or after the show, you can treat yourself to a delightful meal or a refreshing drink, adding an extra layer of indulgence to your theater experience.
Visit the Winnipeg Art Gallery.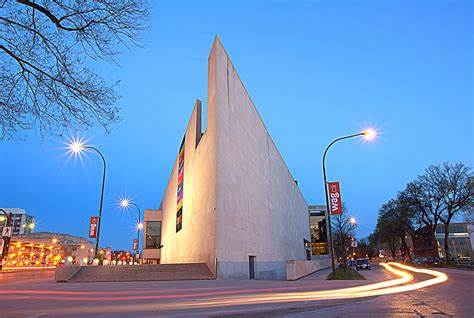 Location
300 Memorial Blvd, Winnipeg, MB R3C 0R3
Contact Details
204-786-6630
Hours of Operation
• Tuesday to Sunday: 11:00 am to 5:00 pm

• Thursday: 11:00 am to 9:00 pm

Admission
Free
Highlights

• Permanent collection of over 24,000 works from Canadian, Indigenous Canadian, and international artists, including the world's largest collection of Inuit art
If you have even the slightest interest in art, this place is an absolute must-visit. With over 24,000 works from talented Canadian, Indigenous Canadian, and international artists, the WAG truly has something for everyone.
My first visit to the gallery was many years ago when I was just a child, and it left an indelible impression on me. As soon as I stepped inside, I was captivated by the sheer beauty of the building itself.
The main gallery is this expansive, light-filled space with high ceilings that let sunlight pour in through the windows.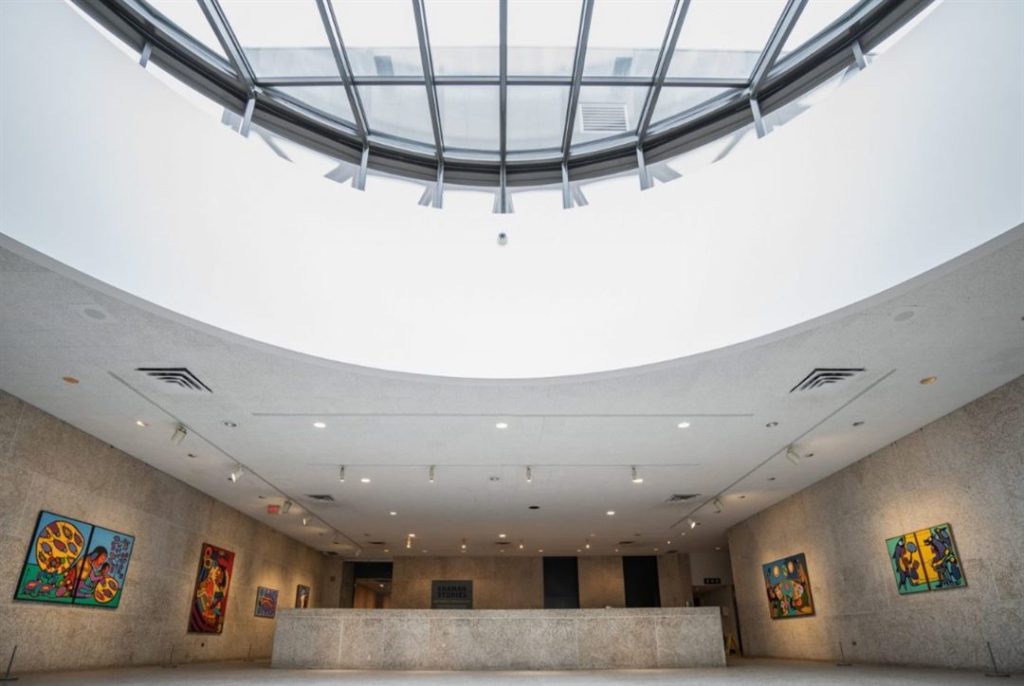 The walls are adorned with stunning paintings and sculptures, and there's always something new and exciting to discover in the rotating exhibits.
Since that initial visit, I've returned to the WAG numerous times, and each time I've been enthralled by something different.
From ancient Egyptian artifacts that transported me back in time to contemporary pieces that challenged my perspective on the world, the diversity of the collection is truly remarkable.
Additionally, I've had the privilege of participating in various educational programs it offers, including immersive art classes and engaging workshops.
What I love most about the Winnipeg Art Gallery is that it's not just a museum. It's a space where people from all walks of life can come together to learn about art, culture, and themselves.
The atmosphere is one of inspiration and connection, where you can lose yourself in the beauty of artistic expression or engage in thought-provoking conversations with fellow art enthusiasts.
Go ice skating at The Forks.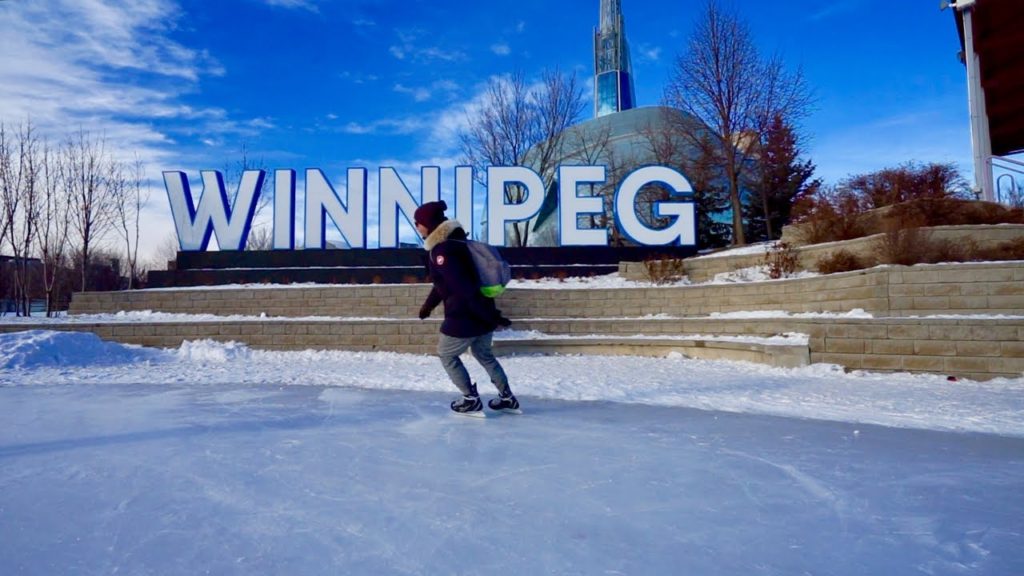 Location
1 Forks Market Rd, Winnipeg, MB R3C 0T2
Contact Details
(204) 983-6000
Hours of Operation
9:00 am to 11:00 pm daily
Admission
Free
Highlights
• Skate on a historic rink

• Views of the Red River and the Forks National Historic Site
Winnipeg is a city with a lot to offer visitors, from its rich history and culture to its vibrant arts and music scene. But one of the best things about Winnipeg is its winter weather. 
When the snow starts to fall, there are endless opportunities for outdoor fun, including ice skating at The Forks.
The Forks is a historic site located at the confluence of the Red and Assiniboine Rivers. It's home to a variety of shops, restaurants, and attractions, making it a great place to spend a winter day.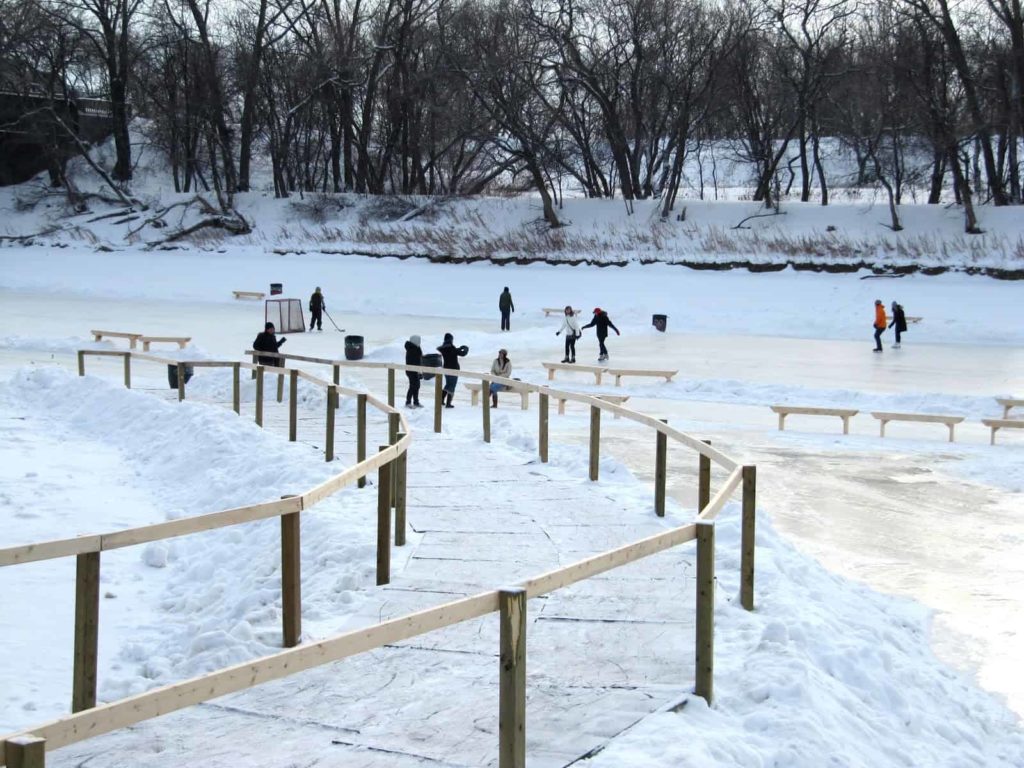 And in the winter, the Forks transform into a winter wonderland, with a skating rink that stretches for over 7 kilometers.
Skate rental is available at the Forks, so you don't need to worry about bringing your own skates. And if you're not a confident skater, there are plenty of people who are happy to help you get started.
Once you're on the ice, you can skate at your own pace. There are no rules or regulations, so you can just enjoy the scenery and the fresh air.
And if you get tired, there are plenty of places to stop and rest, like the warming huts that are scattered along the trail.