The 5 Best Garage Door Repair Services in Winnipeg
Can't park your car because of your faulty garage door? Don't worry because we're here to help you out with our list of the best garage door repair services in Winnipeg.
We'll also provide the information you need to get in touch with these companies and find the solution that best fits your needs.
How Much Does Garage Door Repair Cost in Winnipeg
Let's go over the prices first.
The cost of garage door services in Winnipeg may vary depending on the brand and type. The price ranges from $140 to $300 for a basic installation, while repairs can go from $90 to $280+.
The first thing that affects the price is, of course, the type of problem you might have with your garage door. If there's something wrong with one or more springs, then expect to pay a little more because they are harder to repair than other issues.
The garage door's material also affects the price because some parts are more complicated to work with than others. Apart from that, if you require 24/7 emergency service, these services might cost more than when you use a regular service.
Here's a list of the estimated costs of garage door repairs:
| SERVICE | ESTIMATED COST |
| --- | --- |
| Springs | $125 - $195 |
| Opener | $100 - $210 |
| Tracks | $120 - $270 |
| Cables | $110 - $200 |
| Panels/Section | $250 - $760 |
| Sensors | $85 - $129 |
The Best Garage Door Repair Services in Winnipeg
Now that we've cleared that up, let's go over the list of the best garage door repair companies you can hire in Winnipeg. We've compiled this list according to the quality of services, accessibility, and positive customer feedback so you'll know what to expect.
1. Manitoba Garage Doors LTD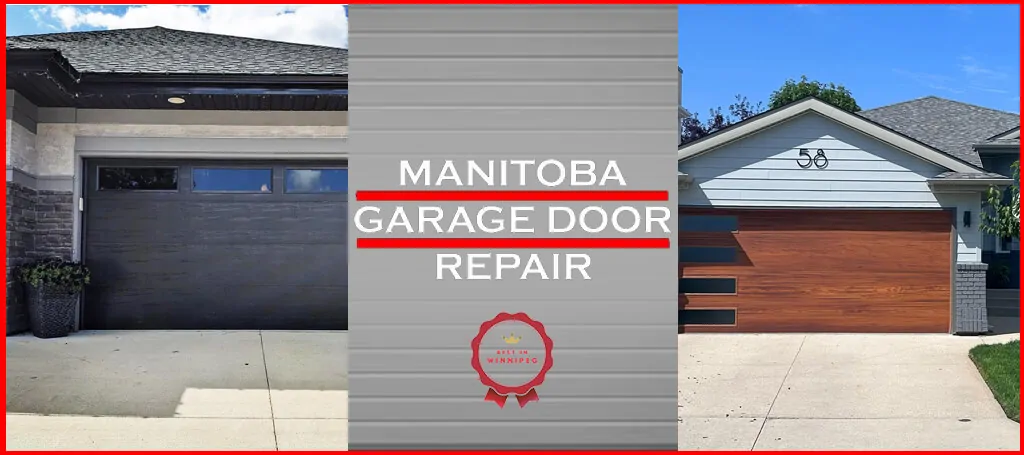 SERVICES
Repairs for all makes and models of wood and steel garage doors and all openers with available parts
WEBSITE
https://www.manitobadoors.com/
LOCATION
187 Sutherland Ave, Winnipeg, Manitoba R2W3E6
CONTACT DETAILS
204-996-9600
OPERATING HOURS
Sunday – 8am-8pm

Monday – 7:30am-10pm

Tuesday – 7:30am-10pm

Wednesday – 7:30am-10pm

Thursday – 7:30am-10pm

Friday – 7:30am-10pm

Saturday – 8am-8pm
Manitoba Garage Doors LTD is a garage door repair company in Winnipeg with 50 years of combined experience in the industry. They have service trucks that are fully equipped with the tools to provide full service to their customers.
If you're looking for free estimates, the company offers them as long as you provide all the necessary details. Clients indicate that estimates tend to be on-point too: several said their initial estimates were the same as their final fees.
In terms of pricing, Manitoba's costs are often 10-40% lower than those of other service providers. Their installation prices are generally between $200 and 600, and they will allow you to choose the design and color you want.
We included them on our list because they have a pretty solid work history based on customer testimonials. However, we did find a few previous clients who noted that the company failed to clean up after its work on their garage doors.
These seem to be in the minority, fortunately. It also says something that the company has a solid 4.9 stars on Google Reviews – and that's out of over 180 reviews.
Free estimates
Knowledgeable and friendly service crew
Customer complaints regarding mess after the job
Customer Reviews
Quick and efficient repair
"Great company, would gladly recommend to others in need of garage door repair. When we called to have someone come to repair our garage door, they were able to send someone over the next day. Cody was very knowledgeable, thoroughly explained what the issue was with our garage door, why it likely broke, and what he was going to do to repair it and how we can maintain it as well. He was very nice, easy to deal with, and was quick and efficient. Thank you for a job well done!" —Marianne Ambalina
Good work
"Highly recommend this company for any garage door related work you need done. Absolutely amazing company. Can't thank them enough. Cody was awesome keep up the good work." —Anthony Goossen
Didn't Try to Sell, Fixed What Needs to be Fixed
"I highly recommend Manitoba Garage Doors Ltd. In the winter when there was a water main break in front of our house overnight, our garage door 'froze' into the ground under 2 inches of ice! Not knowing that this happened, in the morning as I was heading out for work I tried opening the garage door from inside the house to start my car and the door ripped off from the garage door opener. I posted what happened on my community Facebook page and the owner of Manitoba Garage Doors Ltd was quick to respond to my post. Prompt, professional service. My garage door was back in action in no time. They knew what to do, fixed only what needed to be fixed, and didn't try to sell us a new garage door! I will definitely call them again and recommend to all of our friends and our neighbourhood.." —Chris LaForte
2. Creative Door Services Ltd.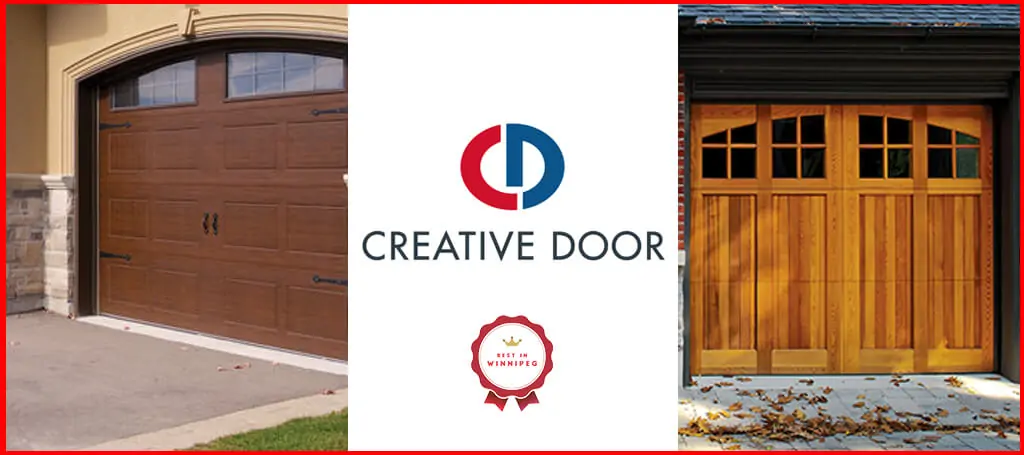 | | |
| --- | --- |
| SERVICES | Broken Spring Repair & Replacement, Panel Repair & Replacement, Track Repair & Replacement, Garage Door Opener Repair or Replacement |
| WEBSITE | https://www.creativedoor.com |
| LOCATION | 64 Hoka St, Winnipeg, MB, Canada |
| CONTACT DETAILS | Phone: (866) 340-0828 |
Creative Door Services Ltd. is a garage door company that has been in business since 1969. With that number of years of experience serving in the industry, you have a pretty good sense that you can rely on their craft.
We love that the company's installers and service professionals are trained to ensure that their skills stay updated with industry standards. They participate in ongoing courses, including the DB Education & Accreditation Program (IDEA) for door dealers and an accreditation program offered through CDI – The Canadian Doors Institute.
Additionally, they have been named International Dealers of the Year by the International Door Association, and they even won Consumer Choice Awards on several occasions.
Creative Door Services also emphasizes safety. They offer intensive, continuous staff door safety training and corporate COR® accreditation, for instance.
Given this willingness to invest in staff skill and safety development as well as the many awards they've received, it's no surprise that they have a 4.4 score on Google Reviews. They certainly impressed us too with their dedication to personnel training.
Reasonable prices
Strong emphasis on safety
Invests regularly in staff training and certification
Customer Reviews
Efficient service
"Great experience. Needed a part for my non typical door and the parts guy Ed was able to troubleshoot my issue and get me what I need. Will go there again." —Mike Steinborn
Reliable service crew
"The technician was very knowledgeable and very polite. Great experience from beginning to the completion." —Barb Summers
Highly recommended
"Fast and professional service. The technician was very knowledgeable. I used another company in the past that didn't even solve the garage door problem for me and still charged for an amount larger than Creative Door. I would recommend Creative to anyone." —The Posh Foodie
3. Mr Garage Doors Winnipeg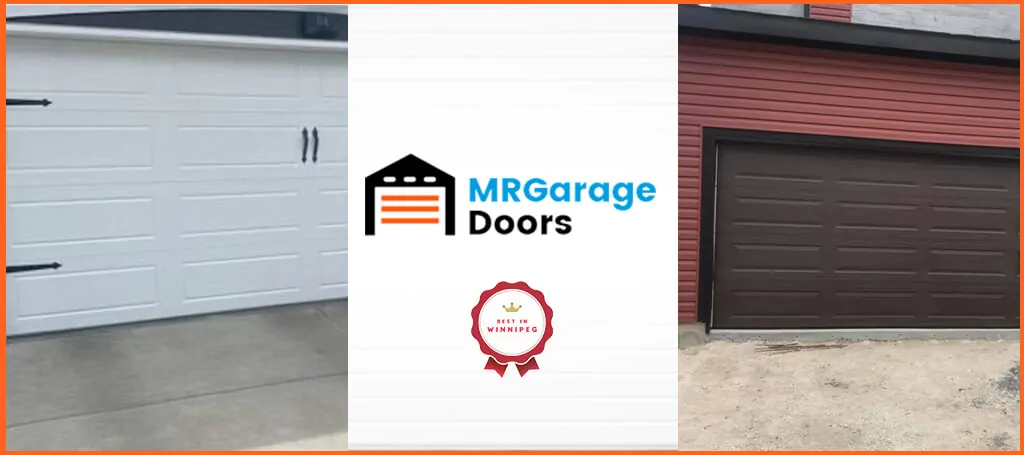 SERVICES
Residential Repairs and Maintenance, Multi-Dwelling Units and Apartments, Commercial and Industrial overhead Solutions
WEBSITE
https://mrgaragedoors.ca/
LOCATION
391 oak point highway Winnipeg, MB, Canada
CONTACT DETAILS
Phone: 204-900-0608 ,

Email: [email protected]
Mr Garage Doors Winnipeg is a garage door company that has 21 years of experience under its belt. Throughout those years of experience, their team established a good reputation based on their customer-oriented services.
The first thing we like about this garage door repair company is that it offers 24/7 emergency repair service for both residential and commercial clients. That means you can call them at any time for a repair job.
We also appreciate their attention to detail. With their "25 Points Checklist," they check and ensure that all doors are operational and functioning properly after each repair.
If you hire them, you also benefit from a three-year workmanship warranty of garage door services. Compared to the standard warranty offered by others in the industry, theirs is pretty good.
Finally, they offer a free consultation to see if you actually need a repair in the first place. This is always a welcome service, as it helps you ascertain a number of things before committing to anything, from whether or not they can help to whether or not you like their rates.
Repair services are available 24/7
Free consultation
Wide range of services and repair offers
Decent warranty
Doesn't accept card payments
Customer Reviews
Fast service
"Had my torsion spring crack on my garage door and called them the next morning (Thursday before Good Friday). Was basically prepared for a visit the following week. Told me they could have a guy there in 2 hours. Within 30 mins he was at my door, gave me the estimate right down to the penny and went to work. Friendly, gave me tons of advice on maintenance and done in less than an hour. Highly recommended" —Peter Tessier
Cost-effective solution
"Five star experience all around. Called them to have a look at our garage door opener. Andre showed up within the hour, and was super friendly and knowledgeable. He came up with a very cost effective solution and everything works beautifully again. Highly recommended." —Jeff Knight
Courteous and friendly service
"Called them on a Sunday with a broken spring. Was here in an hour , replaced both springs and gone in an hour. Fast, courteous, friendly service. I highly recommend using these guys!" —Greg and Jodee Kabowey
4. Transcona Overhead Doors LTD.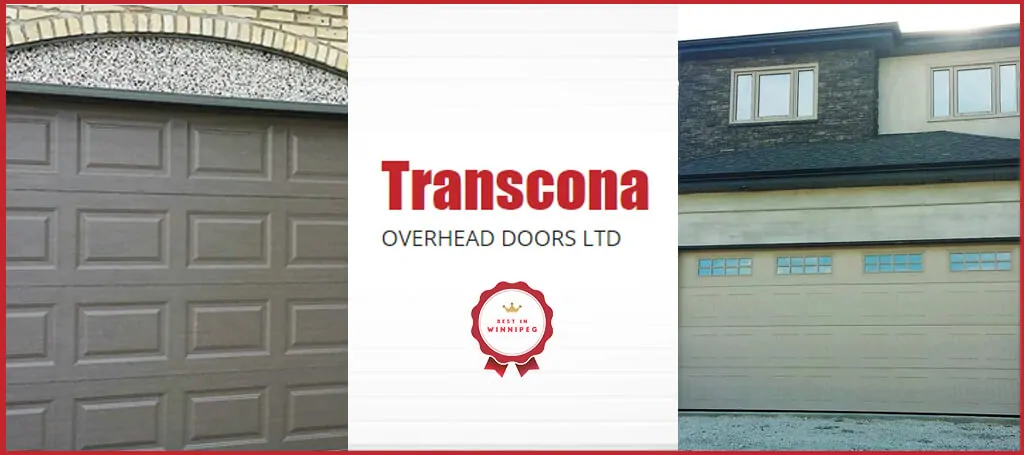 Transcona Overhead Doors Ltd is a garage door company that has been in business for over 40 years. That means they have a reasonable amount of experience in the industry.
This company offers lock, spring, and roller repairs for residential or commercial clients. They also offer upgrades to the garage door system so it will be more energy-efficient.
Besides the service charge, there are no fees that depend on your area, type of door, etc. They also offer warranties on every bit of work – which we definitely appreciate as much as the lack of "extra" fees.
We also included Transcona Overhead Doors Ltd. on our list because they seem to be one of the most trusted companies in the industry. We certainly found an abundance of positive reviews for them when surveying their previous clients.
On the whole, the company offers affordable rates and guarantees their work for years to come, which you want when working with a garage door repair company. A lot of their clients agreed with this assessment and noted the quality of their work in testimonials.
40 years in the industry
Errs on the side of safety pandemic-wise (only takes appointments through calls) 
Accepts both card payment and e-transfer for cashless transactions
No 24/7 emergency service
Due to safety policies, unavailable to walk-in customers
Customer Reviews
Fair price with excellent service
"Excellently service with friendly staff. Prices were great too!" —D. Haegy
Reliable service every time
"This wasn't the first time we have had them come fix our garage door and it definitely won't be the last. They are very professional and courteous, know thier stuff and perform excellent work. They don't try to sell you more than what is needed to fix the door. They are very prompt and thorough, and price thier services very fairly. I cannot say enough good things about them. If you have any garage door needs from installation to repair, this is the company to hire." —Gerald Bazylewski
Prompt service
"We have a garage with a door that was literally falling off the rails. We were looking at replacing and had called a number of other contracters, then we called Steve for an estimate and he promptly called me back to setup an appointment. Estimate process was easy, the price was very reasonable, so we booked the installation. Removal of my old door and installation of the new door/opener was top notch. Excellent job by the installer. I would HIGHLY recommend Steve and his team from Transcona Overhead Doors." —Kenny's AYCE Buffet
5. South-End Overhead Door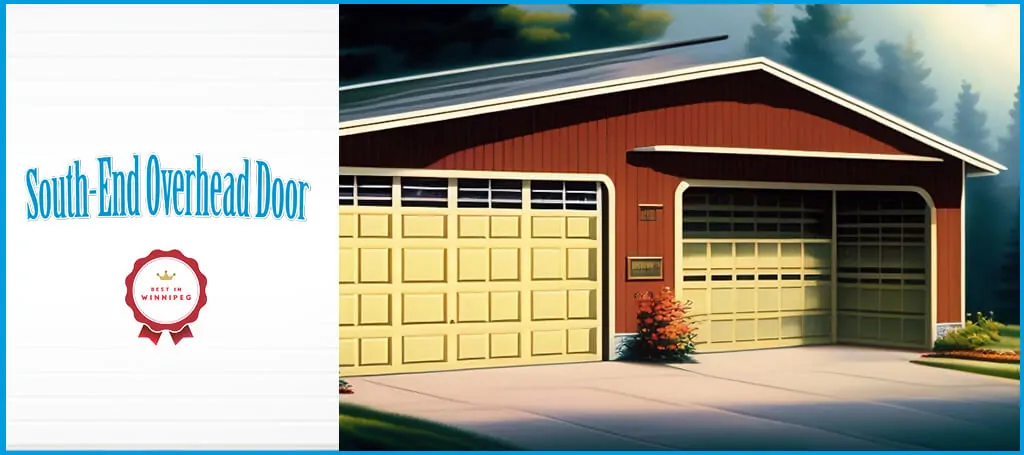 | | |
| --- | --- |
| SERVICES | Residential Overhead Door Installation and Repair |
| WEBSITE | https://southendohd.com |
| LOCATION | St. James Street, Saskatchewan Ave., MB ,Winnipeg |
| CONTACT DETAILS | Phone: 204-781-9890 |
| OPERATING HOURS | Monday to Friday at 7:30 AM – 6:00 PM |
Here we have a business known for residential garage door repairs and installations. South-End Overhead Door has been providing service in Winnipeg for over 20 years.
If you're looking for affordable or reasonable prices, this company might be the one you're looking for. A fair number of testimonials from their past clients agreed with this.
Another thing to like about South-End Overhead Door is that they also offer free estimates. You just have to fill up the form with all the necessary details about your garage door problem on their website.
Unfortunately, they don't provide 24/7 emergency services. They're only open from Monday to Friday at 7:30 AM to 6:00 PM.
But the good thing is that this garage door company renders same-day services. They're also an accredited business by Better Business Bureau with an A+ rating, which usually indicates solid customer service.
Additionally, the consensus from their past clients shows a positive opinion of the company, with 61 five-star reviews on Google alone. Most of the customers were satisfied with the price, fixing the springs, and garage door openers.
Offers same-day services
Offers free estimate 
Affordable prices
Offers free warranties
No 24/7 emergency service
Customer Reviews
Prompt response
"Fast response to my inquiry. Jeff had someone at my door the very next morning. Damian was friendly and helpful to identify the problem. He went the extra mile to make sure everything was working well before leaving and for good price. I would be happy to recommend to friends and family" —Joel Bourgouin
Reasonable price with great service
"My old garage door (not installed by South-End) failed and was jammed partially open and basically bent and ripped apart. South-End was able to come the very next morning and install a new door for me.
The fellows that came to install the door were very friendly and answered all my questions. Looking at the install after they left, you could tell that they paid attention to the little details and did a very good job.
In terms of price, the cost of the door and install was very reasonable!
Definitely recommend!" —David Friesen
Price below than expected
"Jeff was absolutely fantastic.
Not only did he have EXACTLY what I wanted, at a price well below what I expected, he met me in the middle of nowhere to give it to me! That's the kind of service you don't see every day.
THANK YOU!" —Darrel English
FAQs about Garage Door Repair in Winnipeg
More Resources for Door Repair and Installation Services in Winnipeg