The Top 5 Land Surveyors in Winnipeg
Whether you are building something exciting or selling your property, you need the services of a land surveyor.
Luckily, you have access to a good selection of land surveying companies in Winnipeg. To help you find the best one for your property needs, here is our list of the best land surveyors in the area.
How much does it cost to hire a land surveyor in Winnipeg?
In the greater Manitoba area, the average cost of getting a land survey done is $504. This already includes the land surveyor's fee, which can be priced anywhere from $338 to $670.
Of course, the size and history of the property, as well as total area, will largely dictate the specific cost. It is possible for landowners to spend over $1,000 on bigger-sized properties.
The Best Land Surveyors in Winnipeg
In canvassing for Winnipeg's top land surveyors, we took into consideration the following criteria:
1. Lawson Consulting & Surveying, Ltd.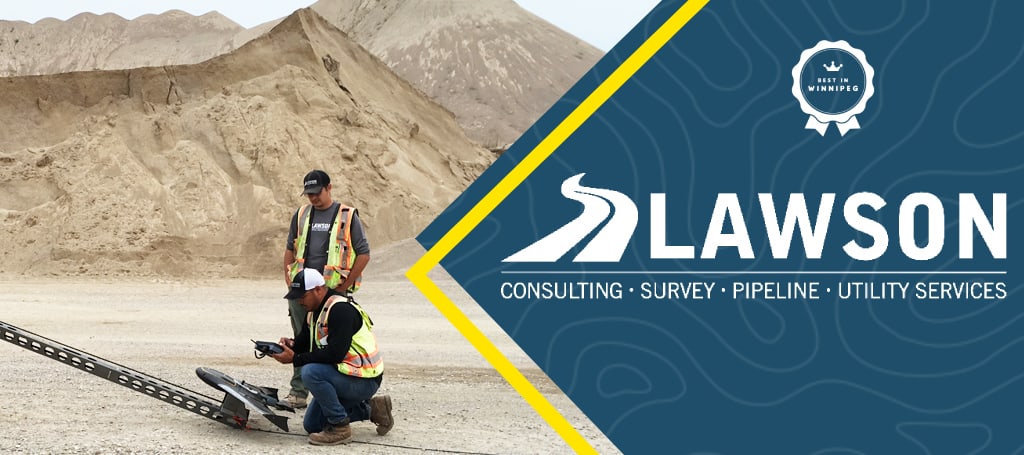 WEBSITE
https://www.lawsonsurveys.com/
ADDRESS
103 Scurfield Blvd, Winnipeg, MB R3Y 1M6
CONTACT DETAILS
Phone: (204) 414-3169 /

Email: [email protected]

HOURS OPEN
7:30 AM-4:30 PM daily, except Saturdays and Sundays
KEY SERVICES
Construction Surveys, Private Utility Locating, Topographic Surveys, Legal Surveys
YEARS OF EXPERIENCE
7+
Our Rating:
| | |
| --- | --- |
| Expertise | ★★★★☆ (4/5) |
| Range of Services / Specialty | ★★★★☆ (4/5) |
| Technology | ★★★★☆ (4/5) |
| Customer Service | ★★★★★ (5/5) |
What we like most about Lawson Surveys is their amazing responsiveness. Many of their clients have had less-than-stellar experiences with competitors and made the switch after their first encounter with Lawson.
Not only do they promptly respond to inquiries, but they are also able to offer more competitive prices than their counterparts.
To a property owner seeking to maximize the value of his or her land, these are two of the most winnable elements in a surveying service – getting quick quality service at relatively reasonable costs.
Given that the company has over 7 years of experience under its belt, we know that customers will appreciate Lawson's familiarity with land development in the area. In fact, knowledgeability stands out as the key first impression most recent clients have of the company.
This is particularly commendable as Lawson Surveys has branches all over Canada. This means that they have really taken the time to train the team in Winnipeg to ensure that they thoroughly understand the complexities of land surveying in the locality.
High degree of responsiveness to customer inquiries
Reasonable rates
Limited types of surveying services available
Relatively less experience than competitors
Customer Reviews
Friendly, courteous, and professional
"Definitely recommend this company. Hydro was taking forevor to locate my yard for a fence. My wife called around and we settled on Lawson for our locates. The guy on the phone (travis i think) was super friendly, courteous, and professional. He had a locator out to us within the hour, and located everything in our yard including the private gas line I had running to my shop. I totally expected a 500 bill for the work they did, but was pleasantly surprised. Lawson will be my locating company for everything private, and all landscaping work I do with my company! Thank you!" –Jeff Silas, Google Reviews
Quick turnaround time
"Very impressed with the customer service at Lawson! Travis and his team were super efficient, getting our locates done within a few hours of our first phone call, and friendly. Highly recommend to anyone needing private lines located" –Julie Bihun, Google Reviews
Competitive pricing and good attention to detail
"Recently used Lawson to Locate some private power on my acreage. Nothing but great things to say. Responded to my phone call that day, and had all my power on my acreage located that afternoon. Hydro wouldnt locate my private stuff, so I called Lawson and not only did they locate everything, they verified all of hydros lines, as well as MTS. They offered the best price of all the companies I called in Winnipeg and really eased my mind knowing that I wasnt going to hit anything when I built my fence. Thank you Lawson!" –Gordon Rainkie, Google Reviews
2. Phillips & Stevens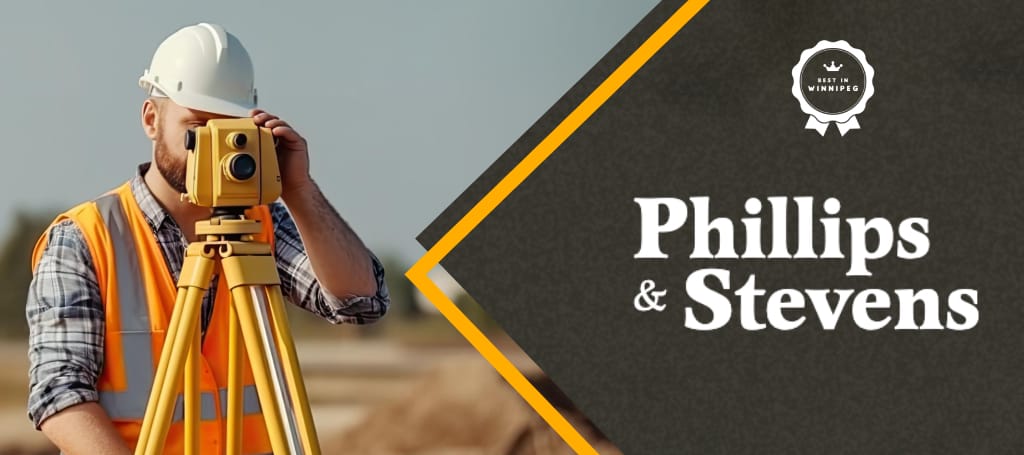 WEBSITE
https://phillipsstevens.ca/
ADDRESS
473 Henderson Highway, Winnipeg, MB, R2K 2H7
CONTACT DETAILS
Phone: (204) 663-2089 /

Email: [email protected]

HOURS OPEN
8:00 AM-4:30 PM daily, except Saturdays and Sundays
KEY SERVICES
Design and Management, Mapping & Environmental, UAV Assessment Services, Crop Analytics, Inspection & Monitoring, Mining & Resources, Aerial Environmental Assessment, Industrial Surveying & Construction Surveys, Land Surveys & Planning Specialty: Land and Resource Information Systems
YEARS OF EXPERIENCE
10+
Our Rating:
| | |
| --- | --- |
| Expertise | ★★★★☆ (4/5) |
| Range of Services / Specialty | ★★★★★ (5/5) |
| Technology | ★★★★★ (5/5) |
| Customer Service | ★★★★★ (5/5) |
Philips & Stevens is one of the land surveying companies we've discovered that goes the extra mile for its customers. We are impressed by the way they listen to their customers' visions for their properties and provide several ways forward, even suggesting options that will future-proof the area.
They are also generous with advice, even during exploratory calls. The decade-long expertise is clearly felt during inquiries and consults, increasing customer confidence in the company.
Phillips & Stevens also makes use of technology to improve the accuracy and quality of their work, using specialised equipment such as Unmanned Aerial Vehicles (UAVs) to carry out drone surveys.
That's always a good sign, we think. It indicates that they stay abreast of the latest developments and improvements in their field, which can only benefit consumers.
We also like their integrated approach to land development, as they implement a Design-Survey-Build-Verify process in all of their work. They are one of the very few Winnipeg surveyors we've come across that include design and management services in their roster.
Extensive knowledge of the Winnipeg area
Well-thought-out proposals for development projects
Use of technology to improve output
Wide range of surveying services
Wide range of services may mean full workload capacity during certain seasons
Customer Reviews
Solid industry knowledge
"Called to get an idea of what a survey would cost, and was able to speak with Wilson (the website indicates this is the company president). He seemed very knowledgable, and was able to give me some good information in a short phone call. If I do end up getting a survey done, I believe I would go with this company." –Kuri889, Google Reviews
Goes the extra mile
"My husband and I were very happy with the service we received at Phillips & Stevens, and highly recommend this company to others. It was a great start to our new home build. They listened to our vision and provided us with multiple options for the layout on our property. I was impressed that they not only delivered the vision, they even suggested a subdivision option as an income investment into retirement, something we had never even thought of. The rates were similar and better than other places, communication was clear and prompt, the work was completed quickly and accurately, and the customer care was fantastic." –Tina Garton, Google Reviews
3. Geoverra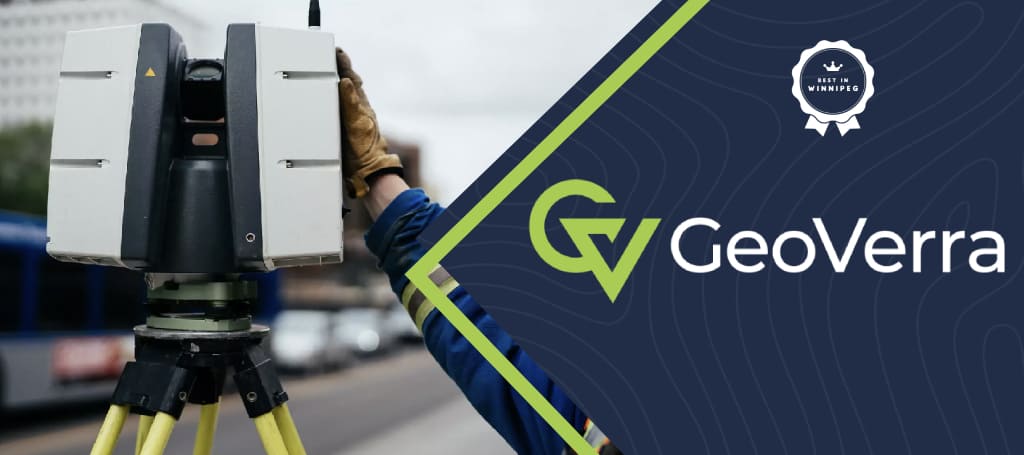 WEBSITE
https://www.geoverra.com/
ADDRESS
661 Century Street, Winnipeg, Manitoba, R3H 0L9
CONTACT DETAILS
Phone: (204) 272-2600

Email: [email protected]

HOURS OPEN
8:00 AM-5:00 PM daily, except Saturdays and Sundays
KEY SERVICES
Legal Surveys, Boundary Surveys, Building Location Certificate, BOMA Surveys, Area Certificates, Subdivision Design and Survey (Urban and Rural), Map Preparation, Line Locating, Construction Layout, Topographic Surveys, Asbuilt Surveys, Volume Surveys, Land Use Planning, Official Community Plans, Zoning Bylaws, Concept Plans, Bylaw Amendments, Public Engagement, Forestry and Environmental
YEARS OF EXPERIENCE
100+
Our Rating:
| | |
| --- | --- |
| Expertise | ★★★★★ (5/5) |
| Range of Services / Specialty | ★★★★☆ (4/5) |
| Technology | ★★★★★ (5/5) |
| Customer Service | ★★★★☆ (4/5) |
We're not surprised that Geoverra has an exhaustive range of services to offer individuals and organizations. It is, after all, one of the "giants" in Canada's geomatics industry.
We love the integration of the latest technology in their services, which a more discerning clientele would be willing to pay more for. They're clearly attuned to the latest developments in their field.
For example, they offer High-Definition Surveying using the most advanced 3D scanners today, as well as UAV mapping and bathymetric surveys, which promise better accuracy and turnaround times,
One potential concern, however, is that the availability of some services varies from branch to branch. We've noticed that compared to other major branches, Winnipeg has a relatively shorter list of services.
That being said, what they offer is still generally more extensive than most competitors. We would just advise interested customers to inquire at the branch regarding their specific land surveying requirements.
Extensive range of services
Use of the latest technology to ensure optimal solutions
Winnipeg branch has a more limited set of available services
4. Stevens Surveys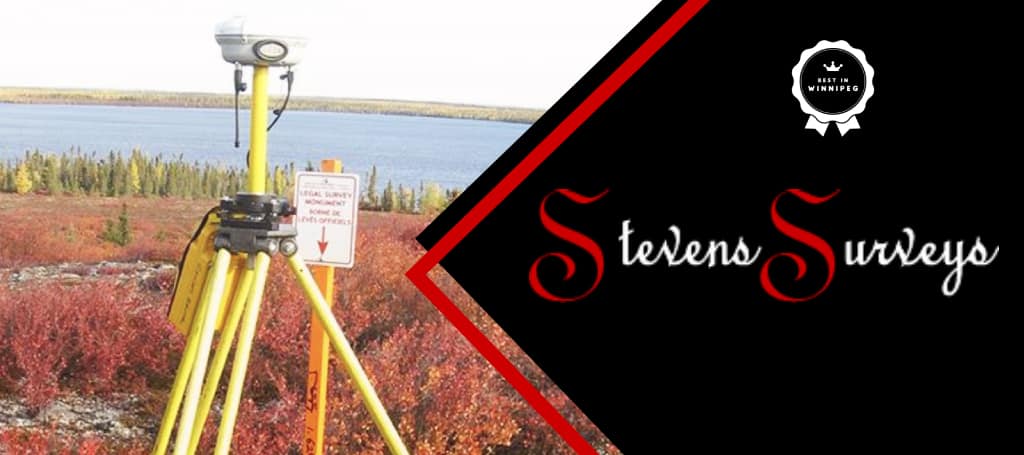 WEBSITE
https://www.surveysbystevens.com/
ADDRESS
1467 Main St, Winnipeg, Manitoba, R2W 3V9
CONTACT DETAILS
Phone: (204) 339-0197

Email: [email protected]

HOURS OPEN
8:00 AM-4:30 PM daily, except Saturdays and Sundays
KEY SERVICES
Subdivision, Geomatics Services, High-Definition Surveying (HDS) Specialty: Land / Legal Surveying
YEARS OF EXPERIENCE
40+
Our Rating:
| | |
| --- | --- |
| Expertise | ★★★★★ (5/5) |
| Range of Services / Specialty | ★★★★☆ (4/5) |
| Technology | ★★★★★ (5/5) |
| Customer Service | ★★★★★ (5/5) |
Stevens Surveys is yet another land surveyor known for top-notch customer relations. Customers highly recommend them because of the positive experience they offer – and honestly, we have to agree, going from our experience with them.
We love how they take the time to walk clients through the process to make sure they are all on the same page. They also make sure to answer any questions the client may have, which is a plus for those who are not so familiar with land surveying or are doing this for the first time.
We think that customers can definitely bank on their experience, as Stevens Surveys has been around for over 40 years. If land or legal surveying is what you need, you'll also be glad to know that this is their field of expertise.
Another thing that we think customers will appreciate is their brand of personalized service. Unlike other similar companies, Stevens Surveys assigns just one contact person or project manager per client, so you are just communicating with one person all throughout.
Lastly, a major plus for us is that they offer High-Definition Surveying (HDS), so customers can expect faster project completion and higher-quality data capturing.
Commendable customer relations
Personalized service with a dedicated project manager
Having a specialty may cause potential clients to look elsewhere for other types of surveys
Customer Reviews
Professional and responsive
"We had the most positive experience with Stevens Surveys and would not hesitate to recommend them. The field staff was friendly, polite and very professional. The job was completely quickly and efficiently. The office staff were excellent in explaining the process and we're always there to answer any questions we had. We have already recommended them to family and friends" –Nancy Prokop, Google Reviews
Helpful and informative
"Doug was friendly, helpful, and provided useful knowledge and information about next steps." –Jamie Bernard, Google Reviews
5. Barnes & Duncan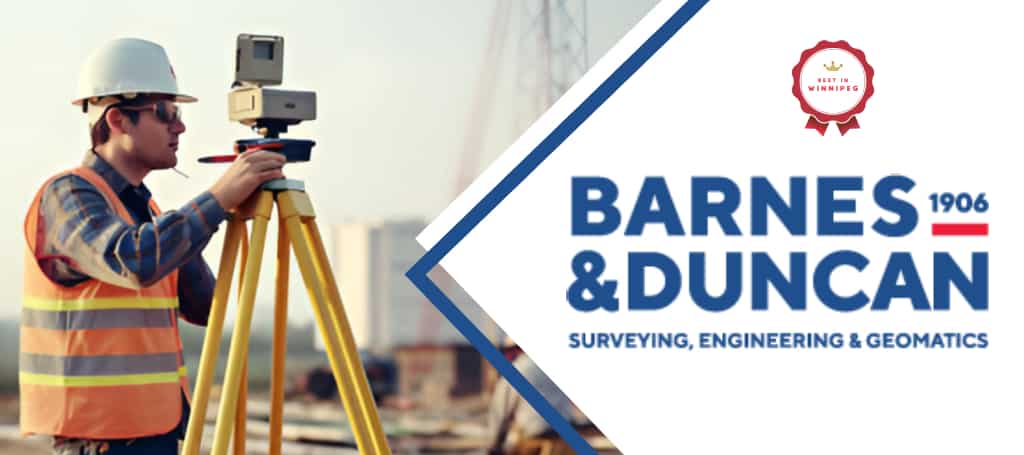 | | |
| --- | --- |
| WEBSITE | https://barnesduncan.com/ |
| ADDRESS | 6 Donald Street, Winnipeg, Manitoba, R3L 0K6 |
| CONTACT DETAILS | Phone: (204) 284-5999 |
| HOURS OPEN | 7:30 AM-4:30 PM daily, except Saturdays and Sundays |
| KEY SERVICES | Land Surveying, Geomatics, Municipal Engineering |
| YEARS OF EXPERIENCE | 100+ |
Our Rating:
| | |
| --- | --- |
| Expertise | ★★★★★ (5/5) |
| Range of Services / Specialty | ★★★★☆ (4/5) |
| Technology | ★★★★★ (5/5) |
| Customer Service | ★★★★★ (5/5) |
We think that having seen the landscape evolve for over a century deservingly makes Barnes & Duncan top-of-mind for customers in Western Canada. They were among the most-mentioned names in our survey when we were asking Winnipegers for surveyors they'd recommend.
The length and breadth of their experience particularly make them a perfect fit for contracting firms and businesses, which are extra-keen on track record and past performance.
While they have a relatively more limited scope of services available, Barnes & Duncan does offer highly technological types of surveys, such as GPS and bathymetric surveys, as well as 3D scanning.
Sounds complicated at first, certainly. That's why we like that they take the time to clearly explain the benefits of such offerings for potential consumers.
Despite servicing bigger groups and organizations, we love that they still have a great track record in responding quickly to individual inquiries. Customers hail them for their fast turnaround times and good attention to detail.
Finally, while they don't offer as many services as other similarly-sized firms, we think that their extensive knowledge of Western Canadian territories more than makes up for it.
Responsive service
Quality customer care
Relatively lower rates
Limited range of available services, most of which focus on large-scale land developments
Customer Reviews
Thorough and prompt
"I highly recommend Barnes & Duncan. They are prompt, courteous and detailed from Day 1 to finish despite the whole pandemic setup. Everything was done professionally and without delay. Their certificate (staking and BLC) also look comprehensive with additional information and graphics not found in our builder's survey documents. Wishing the rest of the Barnes & Duncan team all the best! Thanks again!" –Ear Throb,Google Reviews
Consistently good service
"My Contracting firm has used Barnes and Duncan many times over the past few years. We've always been served with very professional and knowledgeable people. I really appreciate working with such intelligent and caring professionals. I highly recommend!" –Kevin Mallin, Google Reviews
Pleasant to deal with and works fast
"We were glad we chose this company to survey our property before building a garage. Their staff (office and field) were very pleasant to deal with. The work turned out to be more complicated than we had thought, but they worked quickly and charged less than others." –Susan S., Google Reviews
FAQs on Best Land Surveyors in Winnipeg
---
Related Resources for Property Development
Plan ahead and consider these services for when you are ready to build or sell your property.