Top 3 Nutritionists in Winnipeg
The nutrition and wellness industry grew to earn over $50 billion in 2020, and for good reason too – people realized the importance of a healthy diet and lifestyle during the pandemic. That said, let's join in and find ourselves the best nutritionist in Winnipeg.
Food science and nutritionist experts take on a different approach to improve their patients' health, and we'll learn more about their services in this review. We've included our top nutritionists to get you started.
How Much Does A Nutritionist Cost in Winnipeg
It must be noted that dietitians differ from nutritionists, even when they offer similar services in the same industry. Dietitians are registered and regulated health professionals that help with medical concerns, while nutritionists offer advice to improve health through proper food nutrition.
As in most health services, the cost may vary whether their rate is per hour or per program. On average, nutritionists cost at least $14.00 and $35.00 at most.
In this case, getting a nutritionist in Winnipeg proves to be a more cost-effective option, unless you have specific medical concerns like ailments and allergies to attend to. Freelance nutritionists also offer different rates through appointments.
Other factors that may affect your overall cost include the number of visits, dietary restrictions, complexity of goals, and any existing health conditions. In the case of allergies, we recommend you take a food allergy test first, which may cost you approximately $250.

To help you get a better idea of how much nutritionists cost, we've created a table with their average rates below.
| Nutritionist Services | Average Rates |
| --- | --- |
| Per Session or Hourly | $14.00 - $50.00 |
| Half-day appointment | $35.00 - $100.00 |
| Full-day appointment | $80.00 - $150.00 |
The Best Nutritionists in Winnipeg
People in Manitoba, like everywhere else in the world, has taken a turn towards healthier options. So, looking for a good nutritionist in the area won't be challenging.
Still, we need to find one whose expertise matches our goals and can help us with our limitations. That said, here is our criteria in search of the best nutritionists in Winnipeg.
1. Infinity Nutrition and Health Coaching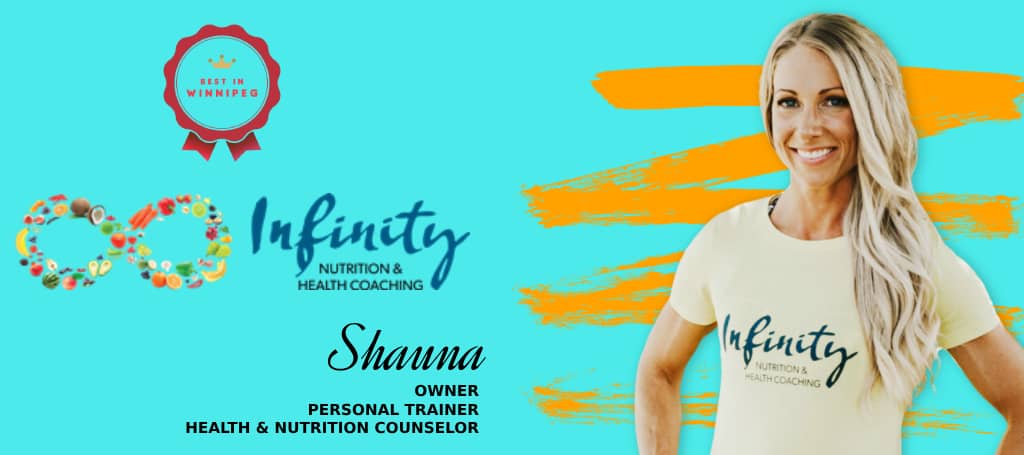 SERVICES
In-person Coaching and Partner Training, Group Fitness Classes, Online Coaching, Workplace Wellness, Team Training, Pre & Post Natal Nutrition and Fitness
WEBSITE
winnipeghealthcoaching.com
ADDRESS
Main Location: 76 Heritage Boulevard, Winnipeg, Manitoba R2Y 0P5, Canada Bootcamp and Fitness Classes Location: Assiniboia West Community Centre, 861 Buchanan Boulevard, Winnipeg, Manitoba
CONTACT DETAILS
Phone: (204) 995-9241
OPERATING HOURS
Weekdays: 6:00am - 10:00pm

Saturdays: 8:00am - 8:00pm

Sundays: 10:00am - 4:00pm
| | |
| --- | --- |
| Criteria | ★★★★☆ (4.2/5) |
| Availability | ★★★★☆ (4.5/5) |
| Variety of Services | ★★★★☆ (4/5) |
| Experience and Expertise | ★★★★☆ (4.5/5) |
| Pricing | ★★★★☆ (4/5) |
| Customer Satisfaction | ★★★★☆ (4.5/5) |
If you're looking for an all-around nutritionist offering health and fitness services, then Infinity Nutrition and Health Coaching is the best choice for you. They offer a customized dietary and workout plan after they get to know you and your goals.
Whether you're down for in-person coaching or you prefer sessions online in the comfort of your home, their set-up is versatile. Consider them a reliable health buddy that will keep you accountable on both exercise and diets.
While Infinity offers great workshops and classes that ensure an improvement on health and wellness, they are not the best choice if you want to just focus on diet. That said, you can always check the resources and articles made available on their blog page for free helpful advice.
Another great thing about Infinity is they offer fitness services for seniors. On the other hand, if you're younger, aim to build strength, burn fat and enhance your cardiovascular health, then you should consider their bootcamps.
One specialty of theirs that's considered unique and impressive is the Infinity Pre and Post Natal Nutrition and Fitness Programs. Not only do they help mothers stay healthy and fit, but they also assure these women with support, positive reinforcement and counseling.
Female-led, empowered, and authentic, the team behind Infinity Nutrition and Health Coaching do not only prepare and offer programs that keep you focused on your goal, but they also customize a system that keeps you accountable. Because of this, many of their clients continue working with them after their first workshops.
They see to it that their services, as well as their facilities are up to standard at all times, which is wh they offer their customers the most convenient way to improve their diets. Moreover, the owner, Shauna Muldrew was a finalist for Women Entrepreneur of the Year in Manitoba back in 2021.
Offering fitness and weightloss services
Offers exercise sessions for seniors
Plenty of health resources on their website blog
A good nutritionist choice for pre and postnatal health
Website contains all essential information and schedules
The best option for those aiming to develop a habit for exercise
Available all week
Does not offer diet-focused workshops
You have to bring your own yoga mats
Customer Reviews
Enriching experience… effective, too!
I was always intimidated to join a program like Infinity's, but I have to say that taking the leap was worth it. I ended working with Coach Candace (and still am) who is absolutely amazing. She could also be called Friend Candace because this type of service definitely gets you to bond. Candace has been so wonderful in hearing me, customizing my plan, reducing my worries, challenging me (in good ways), and making me feel supported. I would 100% recommend Infinity and Coach Candace to anyone no matter where you're at and what your goals are.
— Kelsey Lambert, Google Reviews
Healthier and happier, thanks to Infinity
Infinity Coaching has done more for me than just lose weight. My coach, Megan is fun, positive and so encouraging. She has helped me learn healthy habits and enjoy my journey. I know that I can finally sustain my weight loss with the knowledge and support Infinity has given me. Infinity Nutrition and Health Coaching is five star!
— Lori Taylor, Google Reviews
2. Blue Sky Fitness and Health Coaching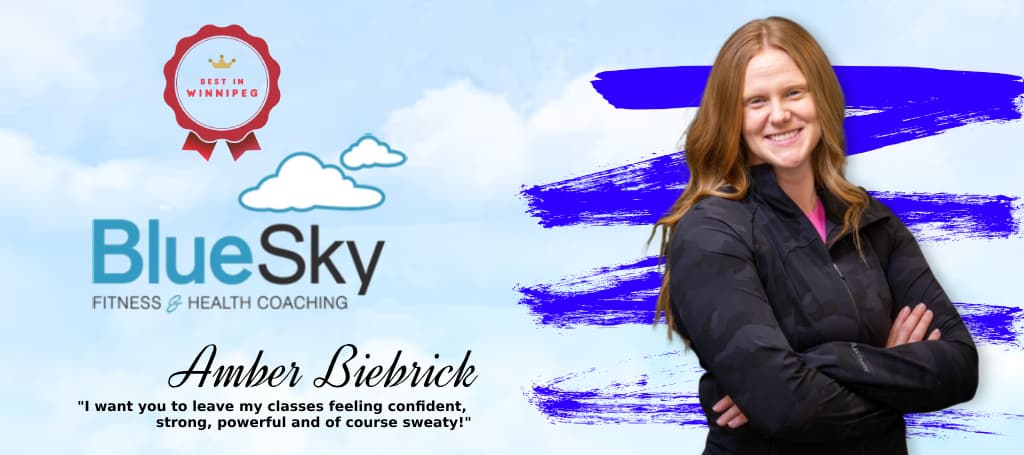 SERVICES
Nutrition: Plant-based Eating, Quitting Sugar, Immunity Support, Anti-Aging Jumpstart, Intermittent Fasting, Clean Eating and Home Workout, 7-day Hormone Reboot Challenge, and 10-day Body Reset Detox In Studio Services: Small Group Classes, Senior Fitness and Personal Training Sessions
WEBSITE
blueskyfitnessandhealthcoaching.com
ADDRESS
Main Location: 468 St. Anne's Road Unit B, Winnipeg, Manitoba R2m 3E5
CONTACT DETAILS
Phone: (204) 979-5284
OPERATING HOURS
Mondays to Thursdays: 6:00am - 8:00pm

Fridays: 6:00am - 6:00pm

Saturdays: 9:00am - 2:00pm

Sundays: CLOSED
| | |
| --- | --- |
| Criteria | ★★★★☆ (4.5/5) |
| Availability | ★★★★☆ (4/5) |
| Variety of Services | ★★★★★ (5/5) |
| Experience and Expertise | ★★★★☆ (4.5/5) |
| Pricing | ★★★★☆ (4/5) |
| Customer Satisfaction | ★★★★★ (5/5) |
Another well-known nutritionist that offers services for both diet and fitness is Blue Sky Fitness and Health coaching. With their simple yet straightforward plans, they make the process convenient for clients through precise options and ample details on their website.
What makes them a great candidate for the best nutritionist in Winnipeg is the variety of food plans they have prepared for their clients. That way, you're sure that you'll find a program that suits your goals and intentions.
Given that their dietary programs are comprehensive and diversified, you can sign up for a session that can help with anti-aging, an improved immune system, and developing a plant based diet. Their website also comes with healthy recipes you can try for the season.
Known as a "small studio with a big heart", another thing we especially appreciate about Blue Sky is the community they aim to build and sustain. Despite being a boutique style studio, their team is able to make an impact on Winnipeg neighborhoods – convincing more and more people to convert into a healthier lifestyle.
The only thing you should be aware of is all their resources are only available to VIP members of Blue Sky Fitness and Health. In order to access all their meal plans and recipes, you need to sign up as a member.
Then again, you won't have to spend so much if you see their services don't work for you. That's why they offer a free 7 day trial of their online studio so you can try it on your own and decide if their program suits your needs.
Not a lot of nutritionists in Winnipeg offer their prospective clients a trial of their services, and we especially appreciate how this invites people to invest in their health. A good deal of people refrain from joining these workshops since they don't know what to expect, and Blue Sky allows them to experience it without spending a lot.
Offers both in-studio and online sessions
Their dietary programs are comprehensive and diversified
Recipes and diet resources on their nutrition blog
Free 7-day trial of their online studio
Also offers workout and senior fitness sessions
Relatively costly nutrition and diet membership plan
Closed on Sunday
Customer Reviews
Fit, healthy and ready for life!
Great gym. If you are looking for something amazing, this is the one. Kathryn totally looks after you from personal training to nutrition. Lots of variety and when you can't go they offer on demand classes to do at home.
— Wanda Laviolette, Google Reviews
Effective nutrition-packed diet plan
Always a great experience going to Blue Sky Fitness. Kathryn is the best personal trainer anybody could ask for, and along with a personalized exercise routine and schedule, she has also helped us change our diet. She has kept us motivated and we are nearing a year and keeping at it!
— Christ Molnar, Google Reviews
3. Winnipeg Nutrition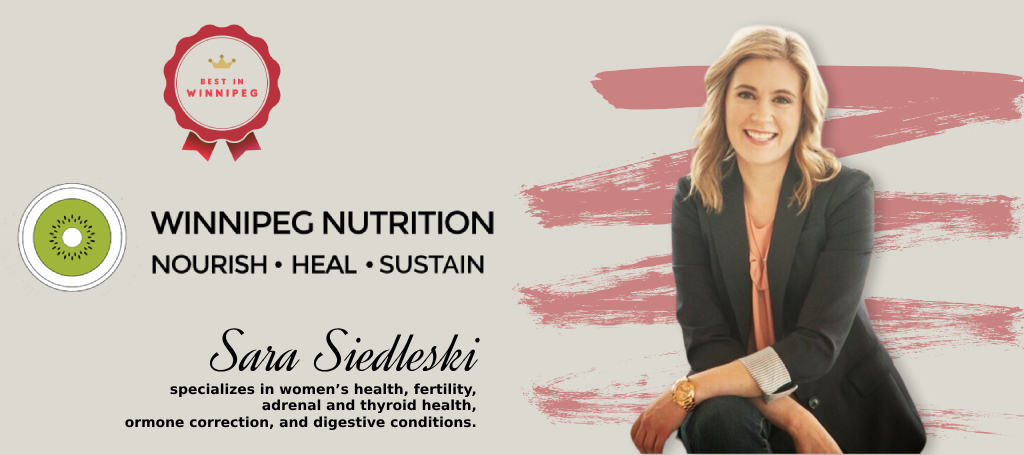 SERVICES
Nutritional Consulting, Weight Loss Programs, Lifestyle Coaching, Homeopathic and Nutritional Support for Stress Reduction, Bach Flower Therapy, Physical Grade Nutritional Supplementation, and Condition Specific Meal Planning
WEBSITE
winnipegnutrition.com
ADDRESS
1459 Corydon Avenue, Winnipeg, Manitoba R3N 0J2, Canada
CONTACT DETAILS
Phone: (204) 952-7982
OPERATING HOURS
Mondays to Thursdays: 10:00am - 8:00pm

Fridays: CLOSED

Weekends: CLOSED
| | |
| --- | --- |
| Criteria | ★★★★☆ (4.7/5) |
| Availability | ★★★★☆ (4/5) |
| Variety of Services | ★★★★☆ (4.5/5) |
| Experience and Expertise | ★★★★★ (5/5) |
| Pricing | ★★★★★ (5/5) |
| Customer Satisfaction | ★★★★★ (5/5) |
If your sole focus is an improved diet and better health, then the Nutritions Team of Winnipeg Nutrition is your formidable ally. This clinic is spearheaded by registered nutritionists and specialists, with the right experience, qualifications and accolades, through programs aiming to nourish, heal and sustain the health of their clients.
Their services include tests, programs and coaching to facilitate recovery and reinforce various body parts and organs against fatigue, stress and imbalances. This is because they believe in measures that aid in preventing illnesses, to reduce the need for a cure.
Then again, if you have serious chronic illnesses that require regular medical assistance, we recommend that you consult with a registered dietitian or a medical specialist. What Winnipeg Nutrition offers is a comprehensive list of services that only help to evaluate and enhance your dietary choices and lifestyle towards better health.
Winnipeg Nutrition is led by Sara Siedleski, a practicing registered holistic nutritionist with Functional Medicine as her specialty. That means that she helps deal with conditions, ailments and certain medical concerns through preventative measures and by addressing the root causes.
Her team, alongside registered nutritionists Samantha Boswell and Asher Kleiber, utilizes a science-based approach that assists the body's recovery from the inside out. They also offer services that help mothers with pre and post natal nutritional concerns.
After they conduct evaluations and tests, they steer their clients toward the best suited programs, whether it be simple nutritional supplementation or something specific like hormone replacement or oral chelation protocols. Their coaching sessions also come with stress relief additions like Bach flower therapy and essential oils.
We must also note that they are not available on three days of the week, so clients can only schedule their appointments from Monday to Thursday. Aside from this minor inconvenience, these nutritionists are accommodating and available during their work hours.
Offers a variety of functional nutrition tests before recommending a diet
Services are thorough and specific
Website contains ample details of the services offered
Great rapport with past and current clients
Nutritionists are qualified, registered and experienced
Closed on Fridays and Weekends
Focuses mainly only on nutrition and diet
Customer Reviews
Hormones balanced and in my best health.
After 2.5 years of infertility, Sara was the first to specifically look at all my hormones and offer me a natural approach to balance them. Not only did I have more energy right and better sleep right away, my baby boy just turned 6 months old today! Thank you!!
— Mia Toews, Google Reviews
Commendable and Recommended!
Sara is an excellent nutritionist. I send many patients to her because I know they receive outstanding care.
— Kristen Mitteness, Google Reviews
FAQs Before Hiring a Nutritionist in Winnipeg?
The common idea is that we can will ourselves towards any goal, and that includes developing a healthier and more suitable diet for our bodies. Even then, hiring a nutritionist just might be the reinforcement we need to achieve such a goal.
Before we do, however, we ought to evaluate this investment. Let's go over a few of the frequently asked questions from people planning to hire a nutritionist in Winnipeg.
---
You are what you eat. The saying may be a cliche, but it holds truth to some degree.
That's because we're not getting any younger, and all the food we consume at this point has an impact on our body. Let's make it our priority to make sure that the effect it has is positive and can improve the quality of our lives.
Dietitians and nutritionists serve to help us find our way out of unhealthy lifestyles and dietary choices, and towards a better and healthier route. That is why we need to find the one that understands our goals and shares our best interests.
We hope that this review helps you through your nutrition and wellness journey, and may you find the nutritionist in Winnipeg that gives you the best solutions for desirable results. If you're a woman looking to address some specific concerns, go over your options from the best women's health clinic in Winnipeg.