5 Best Ophthalmologists in Winnipeg
We all need someone to help us see things clearly, but ophthalmologists are in a league of their own. Whether you need a check-up or extensive eye surgery, the professional you seek could be right around the corner.
In this article, we'll be examining the best ophthalmologists in Winnipeg. We'll also talk about the cost of consultation, tests, and eye surgery, along with some FAQs.
How Much Do Ophthalmologists Charge in Winnipeg?
A check-up and certain tests are usually covered by provincial health insurance. If you're not insured or need treatment outside your insurance scope, here are the average costs:
| | |
| --- | --- |
| SERVICE | ESTIMATED COST |
| Full Consultation (exam and additional tests) | $100 to $250 |
| Optical Coherence Tomography | $100 to $120 |
| Pachymetry | $40 to $50 |
| Disc Photos | $10 per photo |
| Corneal Topography | $150 to $180 |
| Toric Intraocular Lenses | $1000 to $1100 per eye |
| Multifocal Lenses | $1800 to $1900 per eye |
| Multifocal Toric Lenses | $2200 to $2250 per eye |
| Laser Eye Surgery | $500 to $2000 per eye |
| Photorefractive Keratectomy (PRK) | $1000 to $1200 per eye |
| Refractive Lens Exchange | $4000 to $5500 per eye |
It's useful to note that Manitoba Health covers exams for patients under 18. For patients over 65, certain discounts apply.
Surgery and surgically implanted contacts are naturally more expensive and the costs vary depending on your condition.
Also note that this price list is made up of estimates. It doesn't cover all the possible procedures performed by ophthalmologists in all their fields of study.
Best Ophthalmologists in Winnipeg
Now that we've had a clear view of the costs, let's look into the best ophthalmologists in Winnipeg.
1. Dr. Gdih Gdih | MD, FRCSC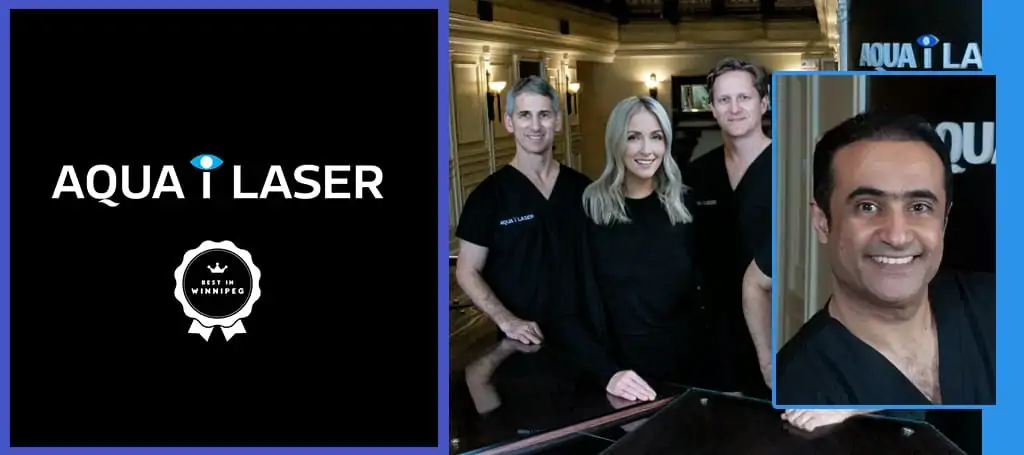 SPECIALTIES
Glaucoma, Cataract, Refractive
WEBSITE
www.aquailaser.ca
ADDRESS
Aqua i Laser 234 Portage Avenue, Winnipeg, MB R3C 0B1, Canada
CONTACT DETAILS
Phone: 204-560-2782
Fax: 204-560-1000
OPERATING HOURS
Monday to Friday, 8:30 AM – 4:30 PM
Saturday, 10:00 AM to 4:00 (phone in advance)
Dr. G Gdih at Aqua i Laser on Portage Avenue offers some of the best and latest corrective eye procedures in the city. Elective surgeries with him range from non-invasive laser treatment to biocompatible implants and more.
Modern eye care is Dr. Gdih's specialty. Clients of his practice can vouch for both his tech and expertise.
Laser procedures take only about a minute while those requiring small corneal incisions take roughly 20 minutes. They also offer Lipiflow for patients suffering from dry eyes.
A lot of his patients can also attest to their vision improving significantly over the course of their treatment. Follow-ups are free, so checking in with him post-op is a breeze.
On the subject of parking, they've mapped out the nearest lots for you on their site. It's a bit of a walk but because his procedures are quick and painless, it's not a major hindrance.
If you want to know if you're eligible for treatment, you can book a consultation free of charge.
Free follow-up appointments
Free consultation
Quick and effective treatment
Closed on Sundays
Third-party parking
Often booked
Patient Reviews
Here are some post-op impressions of Dr. Gdih:
"Thank you for 20/15 vision. I definitely recommend Dr. Gdih, he is amazing! He walks you through every step during the procedure. The best $5k spent in my entire life. No cut or touch and only 1 minute per eye, the newest technology used. Follow ups are free, and they carefully check your eyes several times, to make sure that everything is healing properly. Highly recommend this place!"―Irma A
"Ten years ago I had Lasik Surgery and was very thrilled to have my sight restored and say farewell to my glasses. Fast forward one decade and now there are newer, safer methods available. My daughter recently underwent vision correction at Aqua i Laser by Dr. Gdih. This is a no touch, no flap, painless procedure which only takes 1-2 minutes. I accompanied her throughout the consultation, procedure and follow up appointments. I was extremely impressed with the professionalism of the entire staff. Dr. Gdih has a gentle demeanour and is very passionate about his profession. If you are considering laser eye surgery, this is the state of the art clinic to visit. We are blessed to have Dr. Gdih practice in our midst."―Linda Boiteau
2. Dr. Jennifer W. Rahman | BScH, MD, FRCSC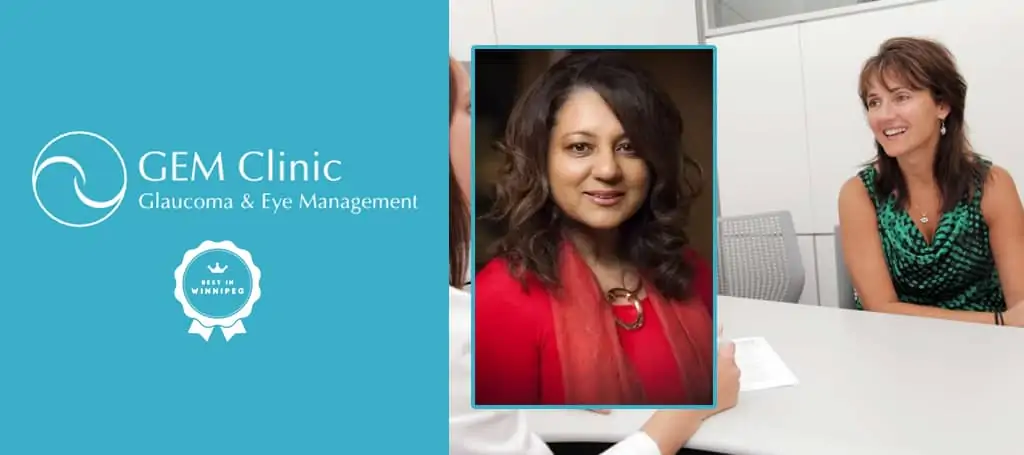 SPECIALTIES
Glaucoma, Cataract
WEBSITE
www.gemclinic.ca
ADDRESS
GEM Clinic 221-2025 Corydon Avenue, Winnipeg, MB R3P 0N5, Canada
CONTACT DETAILS
Phone: 204-992-4000
Fax: 204-992-4006
OPERATING HOURS
Weekdays, 8:00 AM – 4:30 PM
Weekends, closed
Dr. Jennifer Rahman is the CEO of GEM Clinic, where she works as a specialist on glaucoma and cataract management. The clinic is a well-known private practice that caters to patients who seek expert diagnosis and treatment.
Because of their referral process, the clinic is set up to serve patients who've already been prescribed certain tests. We don't recommend it for walk-ins.
Also, we're letting you know this early: expect to spend 2 or more hours on your appointment. This includes testing, intermediate wait times, and your evaluation with Dr. Rahman.
On their website, they have a write up for all their tests and declare how much they cost. It's a great way of letting patients know what to expect and how much to pay.
Dr. Rahman is known for her methodical and thorough approach in patient care. She also offers a wide range of surgical procedures within her field.
Free Wifi
Free parking and wheelchair accessibility
Complaints of long wait times
No online booking
Patient Reviews
Here's what some of Dr. Rahman's patients had to say about her:
"She is one the best physicians I have met in my life. Despite seeing me at the end of a hectic Sunday on call for the urgent eye centre, she was calm, courteous, unhurried and thorough in her history taking and examination. She explained her findings and opinions well and ordered a blood test. She informed me promptly about the results and also her final recommendations. Results were shared with my family doctor etc. Her staff Cheryl and MJ were also courteous and helpful. There was a waiting period but she had a lot of referrals from the urgent eye care and the wait was well worth it."
"Dr.Jennifer Rahman is one of the best doctors who has earned my respect and my admiration for her knowledge, her respect for her patients, her dedication, and her efficiency in diagnosing and saving my eyesight. She cured my double vision. We are lucky and grateful to have you in Winnipeg."
3. Dr. Ian Clark | MBBS, FRCSC, FRCS (Edinburgh)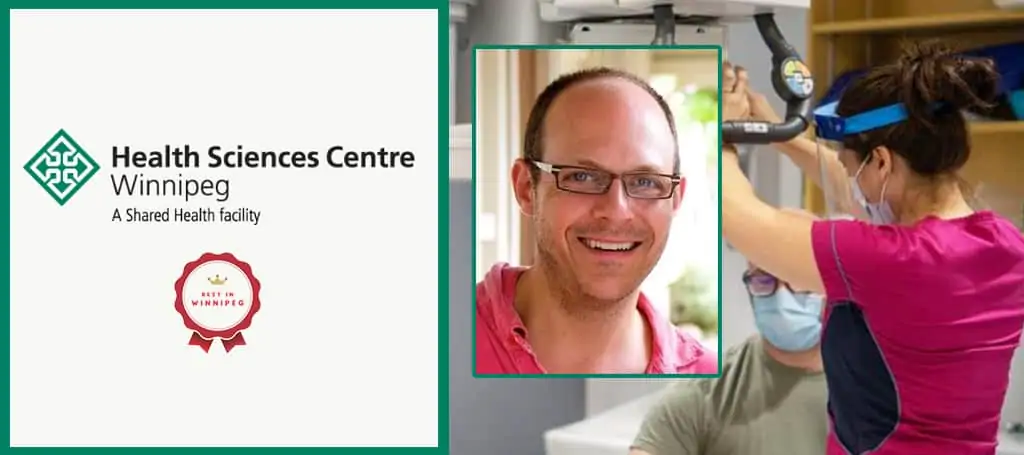 SPECIALTIES
Pediatrics, Strabismus
WEBSITE
www.hsc.mb.ca
ADDRESS
HSC Winnipeg Children's Hospital Eye Clinic CE216-840 Sherbrook St.,Winnipeg, MB R3A 1R9, Canada
CONTACT DETAILS
Phone: 204-787-8500
Fax: 204-787-4965
OPERATING HOURS
Monday to Friday, 8:00 AM – 4:00 PM
Hailing from the UK, Dr. Ian Clark has a strong background in neuroscience and strabismus. He's currently based in Winnipeg, where he specialises in pediatric ophthalmology.
Having taught at the University of Manitoba, he now treats children with impaired vision at the Health Science Centre. We'll tell you how to get to his clinic and what to expect during your appointment with Dr. Clark.
If you visit their page, you're in for a huge info dump on how to navigate the hospital―from parking routes to 3 separate floor plans (in PDF). We've sifted through it for you so you know where to land.
All you need to do is access 840 Sherbrook parking and head up the Yellow Dear elevator to the second floor. From there, you can find the children's eye clinic where they offer outpatient care.
At the clinic, they run standard diagnostics (covered by Manitoba Health for kids). Afterwards, Dr. Clark will see your child for your consultation or treatment.
What's great is that all hospital staff have clearly labelled name tags so you know who you're talking to and what they do. It's also a good security feature that we think most will appreciate.
Colour-coded elevators
Free Wifi zones
Labelled name tags for all hospital personnel
Underground parking
Closed on weekends
Patient Reviews
Here's some patient feedback on Dr. Ian Clark:
"Dr. Clark performed my son's second corrective eye surgery. He is knowledgeable, professional, capable and took the time to answer all our questions throughout his treatment of my son."
"Absolutely fantastic doctor. Kind, compassionate, communicates clearly. Makes children feel at ease. Cannot think of one negative in the many times he has seen our daughter."
"Dr. Clark is outstanding! I have been to numerous optometrists and ophthalmologists in Manitoba over the last 30 years and Dr. Clark is by far the best. He is caring and shows compassion. He took the time to address all my concerns and wishes, as well as spent ample amounts of time with me, going over all of my options about my eye condition and made sure that I was happy with the outcome of our appointment before it ended. I waited over 2 years to get in to see Dr. Clark but it was well worth the wait. My experience was life changing and I cannot express my gratitude enough! Thank you Dr. Clark!"
4. Dr. Matthew Lee-Wing | MD, FRCSC, DABO, FACS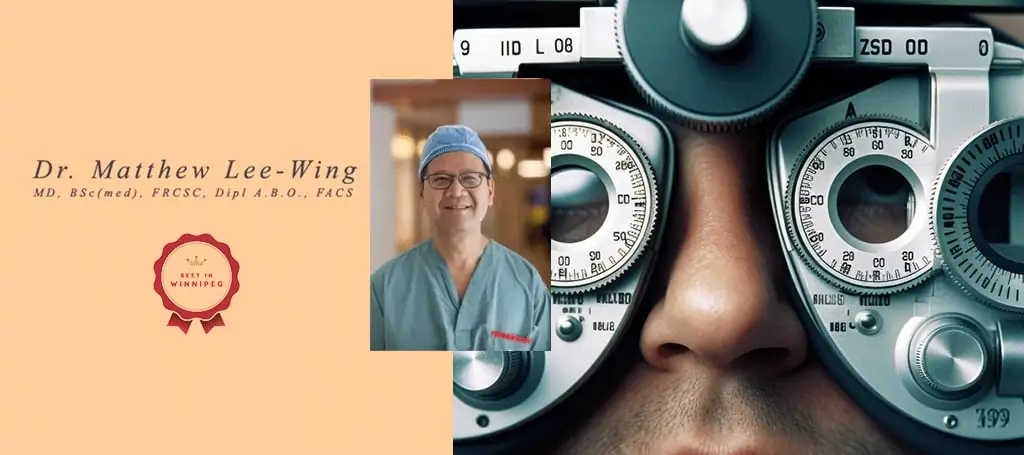 SPECIALTIES
Oculoplastics, Cataract
WEBSITE
www.drleewing.com
ADDRESS
302-1630 Ness Ave,Winnipeg, Manitoba R3J 3X, Canada
CONTACT DETAILS
Phone: 204-946-0649
Fax: 204-942-2240
Email:

[email protected]

OPERATING HOURS
Monday to Friday, 9:00 AM – 5:00 PM
On the cosmetic front, Dr. Lee-Wang is an oculoplastic surgeon specialising in eyelid, tear duct, and eye socket surgery. He's also adept in cataract extraction.
It's an appealing skill set for older patients who want to rid their eyes of wrinkles and cloudy vision. It's also an option for people who can benefit from reparative surgery.
While cosmetic surgery can get pretty expensive, financing can help you ease into the cost. With Dr. Lee-Wing, you can apply for Medicard financing to have the procedure now and pay later.
After surgery, Dr. Lee-Wing usually checks up on patients the same evening through a personal call. It's definitely something his patients appreciate and mention often in their reviews.
In terms of location, his clinic can be tricky to spot for first-timers. He's in the same building as Reider Insurance next to Shell on Ness Ave.
Parking is plentiful, too.There's a whole open lot and even spaces right next to the building.
Outdoor parking available
Aftercare phone calls
Supported by Medicard financing
No online booking
Office is tricky to locate
Closed on weekends
Patient Reviews
Here are some reviews on Dr. Lee-Wing:
"Excellent experience with Dr. Lee-Wing and his staff. My cataract was diagnosed just as we were going into code red and all surgeries were cancelled at Misericordia. He quickly found an alternative location to operate. I am grateful for his expertise and expedited service. His gift of clear eyesight before Christmas was priceless."
"Dr Lee did a great job on a tear duct surgery I had done. He did a follow up call on the evening of as well. Thank you!"
"Very professional doctor. On the day of my surgery, he even followed up in the evening with a phone call to make sure all was well. He has the most patient receptionist I have ever had the pleasure of encountering."
5. Dr. Tenley Bower | ARCT, MD, FRCSC, DABO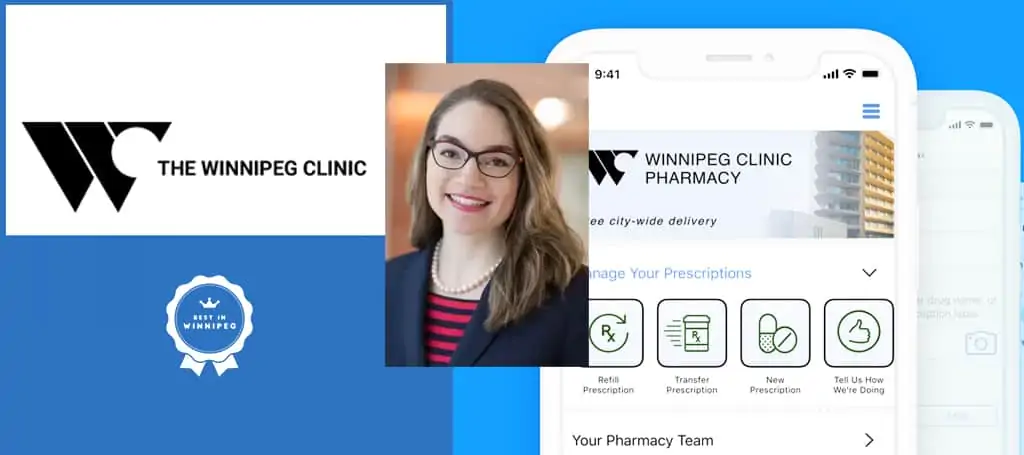 SPECIALTIES
Cornea, Anterior Segment, Cataract
WEBSITE
https://www.winnipegclinic.com/
ADDRESS
Winnipeg Clinic 425 St Mary Avenue, Winnipeg, MB R3C 0N2, Canada
CONTACT DETAILS
Phone: 204-957-3255
Fax: 204-947-0450
OPERATING HOURS
Weekdays, 8:30AM – 5:00 PM
Weekends, Closed
Multi-certified eye surgeon, Dr. Tenley Bower, is a local treasure at Winnipeg Clinic. It's no easy feat achieving the Resident Surgical Skills Award at McGill.
Dr. Bower's clinic is on floor 5 of the building, where she welcomes both consults and referrals. She also does surgery and active research in her fields.
Similar to Dr. Rahman, Dr. Bower is a second stop specialist. This means you would need a letter of consultation from a separate physician requesting her expert opinion.
If you get to set an appointment, it's really best to stick with it. Missing your consultation will entail a fee unless you notify the clinic 48 hours in advance.
Parking is not an easy time, either and it's a bit pricey. You'll have to make do with external spaces under nearby buildings.
However, jumping through all these hoops does seem worth it.This at least true for the many patients who've loved being under Dr. Bower's care.
As a sidebar, you may be wondering what her "ARCT" certification means. That's just her music degree at the Royal Conservatory.
In-house pharmacy
Vision Care Centre in the main floor
Overbooked at times
Closed on weekends
Third-party parking
Patient Reviews
Here's what some satisfied patients think about Dr. Bower:
"I have been seeing Dr Bower for a couple of years now and recently had cataract surgery on one eye and have my other one done soon. I was very nervous about the upcoming surgery. She assured me that I would be very comfortable and would feel no pain. She was right! She also explained everything she was doing during the surgery and assured me that I was doing very well. Her bedside manner was so comforting and the surgery felt like it only took 5 minutes! She is a fantastic doctor and I would recommend her to anyone who is having surgery! She is a very knowledgeable doctor and has a sweet personality!"
"Good bedside manner. Made me feel at ease. Answered all of my questions. Explained procedure and risks. Very knowledgeable. Felt good when I left. She scheduled me for vision surgery. As a side note, don't let her young look reflect her professional abilities – very impressed by her credentials."
FAQs About Ophthalmologists
---
Know anyone else who would sit well on this list? Shoot us a message and let us know if we've missed mentioning your favourite ophthalmologist.
We're glad you've taken this step to serve your health. If by chance you're on a quest for healthy skin as well, check out our picks for the best dermatologists in Winnipeg.