Learn Pottery in Winnipeg: 6 Top-Rated Classes
I know just how rewarding it can be to explore your creative side, and what better way to do that than by diving into the world of pottery?
Winnipeg may be known for its frigid winters and passionate hockey fans, but it also has a thriving arts and crafts scene, with pottery classes that can help you unleash your inner artist.
In this guide, I'll take you on a journey through some of the top-rated pottery classes right here in Winnipeg. If you're a complete novice or someone looking to refine their ceramic skills, there's a pottery class in our city that's perfect for you.
The Edge Gallery & Urban Art Center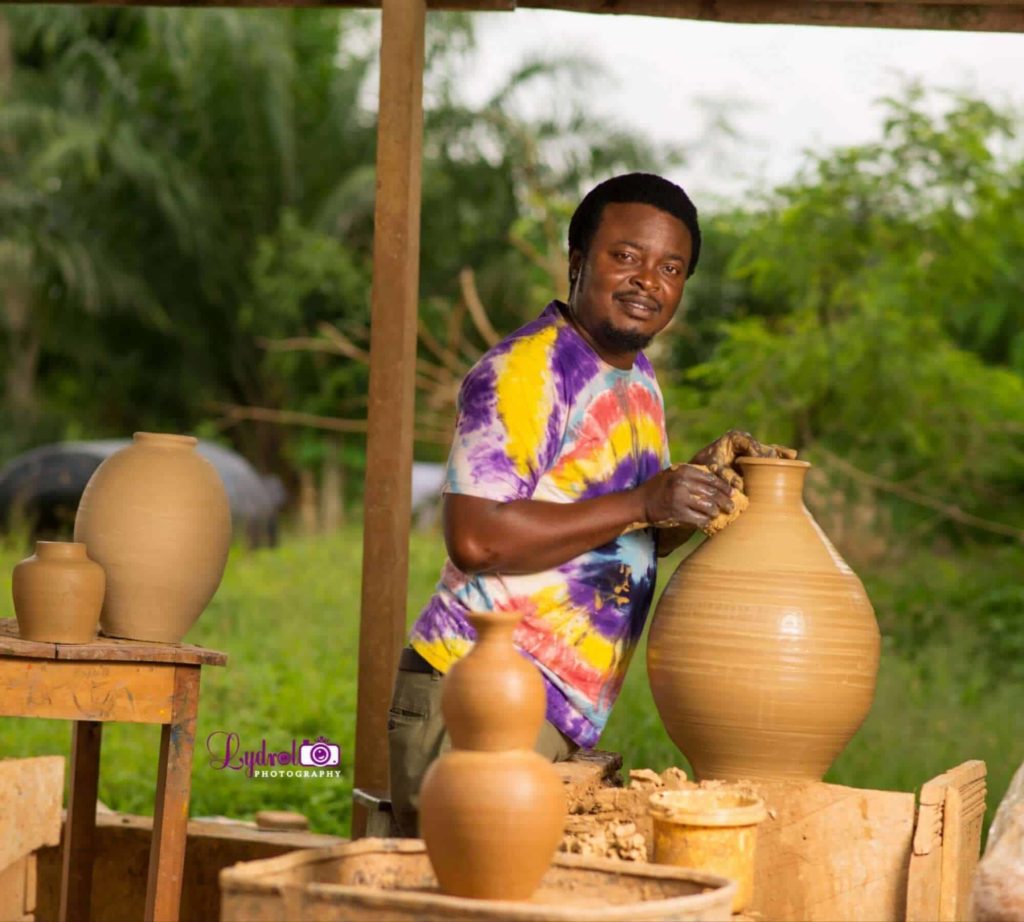 Address: 611 Main St, Winnipeg, MB R3B 1E1, Canada
Website: https://edgevillage.com/
Contact number: 204 947 2992
Operating hours: Tuesday to Thursday & Saturday: 1 pm to 5 pm; Friday: 10 am to 5 pm
The Edge Gallery focuses on urban art and contemporary pottery. Unlike traditional pottery studios, it embraces modernity and pushes the boundaries of this ancient craft.
Here, you won't just find the classic clay pots and vases; you'll encounter innovative and avant-garde pieces that reflect the ever-evolving world of art.
For clients seeking to delve into the world of pottery, it offers an unparalleled experience.
Students here are not simply taught techniques; they are encouraged to explore their own unique artistic voices. The instructors are seasoned artists themselves, and their passion for pottery is infectious.
They understand that pottery is not just a craft; it's a form of self-expression. As a result, classes at The Edge are designed to nurture individual creativity while providing the guidance and knowledge needed to master the medium.
One valuable aspect of The Edge Gallery & Urban Art Center is its commitment to inclusivity. The center warmly welcomes artists of all levels, from complete beginners to seasoned professionals.
It provides a safe and supportive environment for experimentation and growth, making it an ideal space for both novices and experts to thrive.
The sense of community here is palpable, and it's not uncommon for students to form lasting connections and friendships with fellow artists.
The Edge regularly hosts exhibitions and events that showcase the work of its students and resident artists. This not only provides a platform for emerging talents but also enriches the cultural fabric of Winnipeg.
Visitors can immerse themselves in a world of creativity, gaining fresh perspectives and insights into the ever-evolving realm of urban art.
The Sounding Stone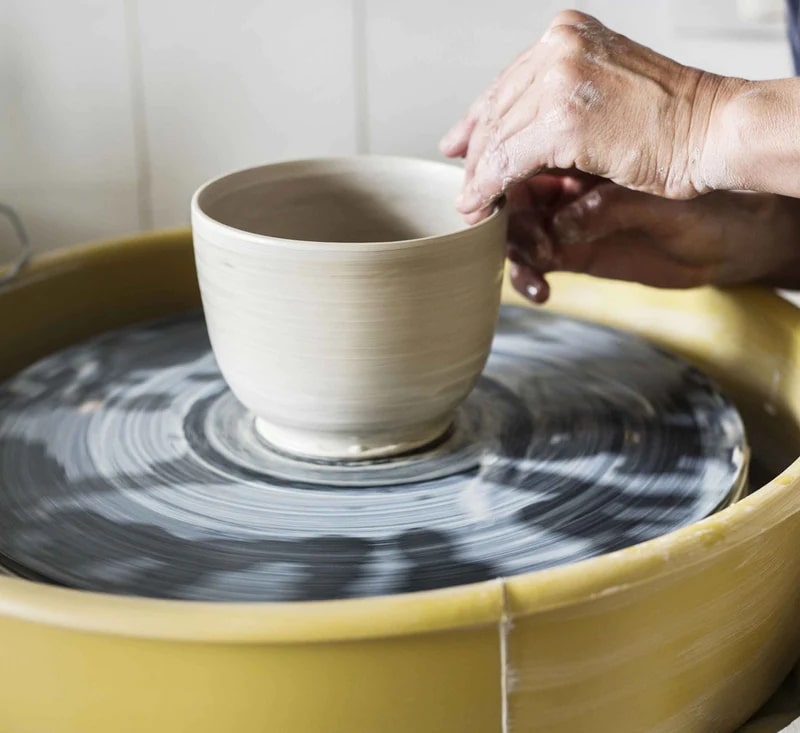 Address: 104 Trottier Bay, Winnipeg, MB R3T 3Y5, Canada
Website: https://www.soundingstone.com/ 
Contact number: 204 284 2964
Operating hours: Monday to Friday: 10 am to 5:30 pm; Saturday: 10 am to 2 pm
The Sounding Stone is a place where people can come to express themselves, make new friends, and learn new skills in a supportive and encouraging environment.
Unlike other studios that may focus solely on technique, The Sounding Stone offers a well-rounded experience that marries skill-building with self-expression.
From the moment you step through the studio's welcoming doors, you're greeted by a friendly and inclusive community of artists and learners who share a passion for pottery.
Here, it's not just about creating beautiful ceramic pieces; it's about finding your own artistic voice.
For clients looking to embark on a pottery adventure, it offers a diverse range of classes tailored to various skill levels. There's always a class suited just for you.
The studio's team of experienced instructors understands that everyone learns differently, and they go the extra mile to provide personalized guidance.
They help students build a strong foundation in pottery techniques while encouraging them to explore their individual creativity.
One valuable aspect of The Sounding Stone is its emphasis on mindfulness and well-being. Pottery, often described as therapeutic, has the power to ground us in the present moment and relieve stress.
The studio recognizes this and offers specialized classes that integrate mindfulness practices with pottery, allowing clients to not only create beautiful art but also find solace and peace in the process.
The Sounding Stone believes in responsible art-making and has implemented eco-friendly practices wherever possible.
From using recycled clay to minimizing waste, it demonstrates that creativity can thrive while caring for the planet.
But it's not just about what happens inside the studio; The Sounding Stone extends its reach into the community. It regularly organizes exhibitions, pottery sales, and events to showcase the talents of its students and instructors.
This not only gives clients a platform to share their creations but also strengthens the bonds within the pottery-loving community.
The Stoneware Gallery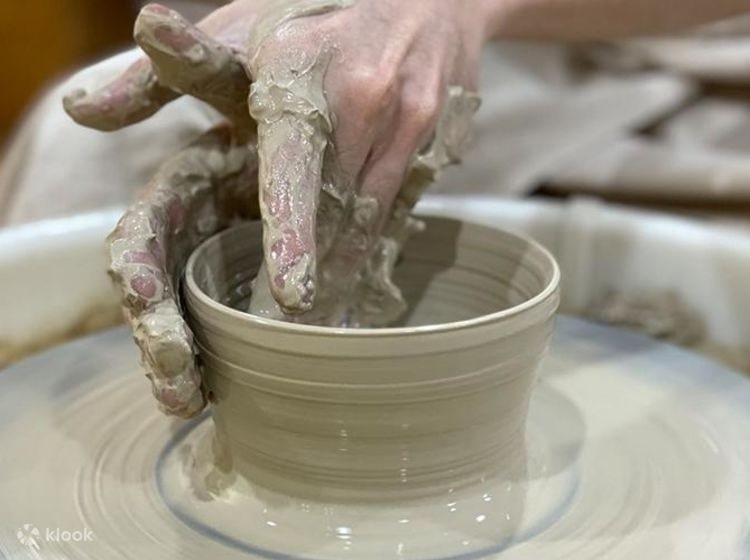 Address: 778 Corydon Ave, Winnipeg, MB R3M 0Y1, Canada
Website: http://stonewaregallery.com/
Contact number: 204 475 8088
Operating hours: Monday to Saturday: 10 am to 5 pm
As soon as you step through the doors, you're greeted with a sense of belonging that can be hard to come by in larger, more impersonal settings.
The Stoneware Gallery offers a diverse range of pottery classes tailored to all skill levels. You'll find a class that suits your needs.
The instructors here are not just educators; they're mentors who are genuinely invested in helping you discover your artistic voice.
They guide you through the intricate process of working with clay, teaching you everything from the basics of hand-building to the intricacies of wheel throwing.
In this gallery, the commitment to fostering a sense of individuality in each artist is truly commendable. They don't just teach you how to make pottery; they encourage you to find your unique style and expression.
They understand that art is not about replicating someone else's work but about discovering your own creative path. It's a philosophy that empowers artists and leaves a lasting impact on their artistic journey.
Beyond the classes, The Stoneware Gallery is a hub of inspiration. The gallery showcases an exquisite collection of pottery created by local artists, offering clients the opportunity to appreciate and purchase these one-of-a-kind pieces.
It's a place where the vibrant artistic community thrives, hosting exhibitions, events, and even collaborative projects that engage both students and the public.
Crock A Doodle Winnipeg-Kenaston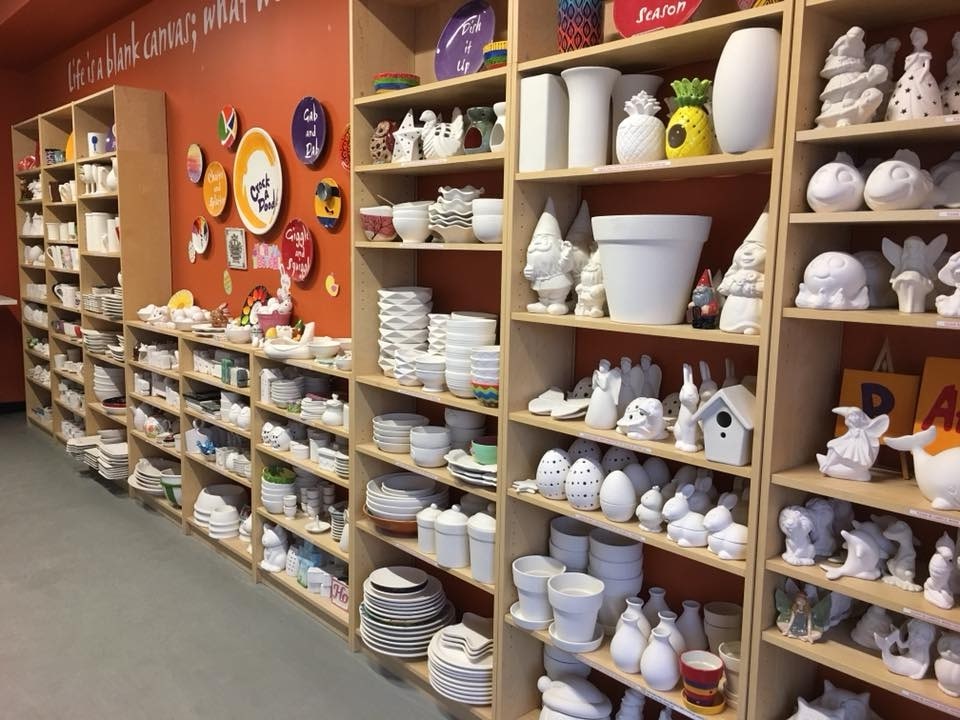 Address: 1765 Kenaston Blvd, Winnipeg, MB R3Y 1V8, Canada
Website: http://www.crockadoodle.com/winnipeg-kenaston
Contact number: 204 488 7665
Operating hours: Tuesday to Saturday: 10 am to 8 pm; Sunday: 12 pm to 5 pm
Unlike other pottery studios or centers in the area, Crock A Doodle has carved out a niche for itself by offering a delightful blend of creativity, relaxation, and community engagement that's truly one of a kind.
The studio exudes a warm and laid-back ambiance that instantly puts visitors at ease. This place will make you feel right at home; it's a creative haven where you can unleash your artistic spirit without any pressure or judgment.
For those eager to embark on a pottery journey, Crock A Doodle has a lot to offer. One of its features is the "drop-in" pottery painting.
This approach allows clients to explore their artistic talents at their own pace.
You simply pick a pottery piece from their vast selection, choose your colors, and let your imagination run wild. There's no need to be Picasso; every creation is unique, and the friendly staff is there to offer guidance if needed.
Crock A Doodle also excels at hosting pottery classes. These classes cater to all skill levels, from absolute beginners to those aiming to refine their techniques.
The experienced instructors provide step-by-step guidance, ensuring that everyone can create their own masterpiece. These classes offer a fantastic opportunity to learn the art of pottery in a relaxed and enjoyable environment.
Another charming aspect of Crock A Doodle is its ability to host memorable events and parties. Whether it's a birthday celebration, bridal shower, or team-building activity, the studio can accommodate various occasions.
You get to create keepsakes that will remind you of your special day for years to come, and it's an experience that fosters bonding and creativity among participants.
In addition to its pottery offerings, Crock A Doodle often collaborates with local artists and organizations to support the community. It frequently hosts charity events, art exhibitions, and workshops that add a vibrant touch to Winnipeg's cultural scene.
The Pottery Bug Studio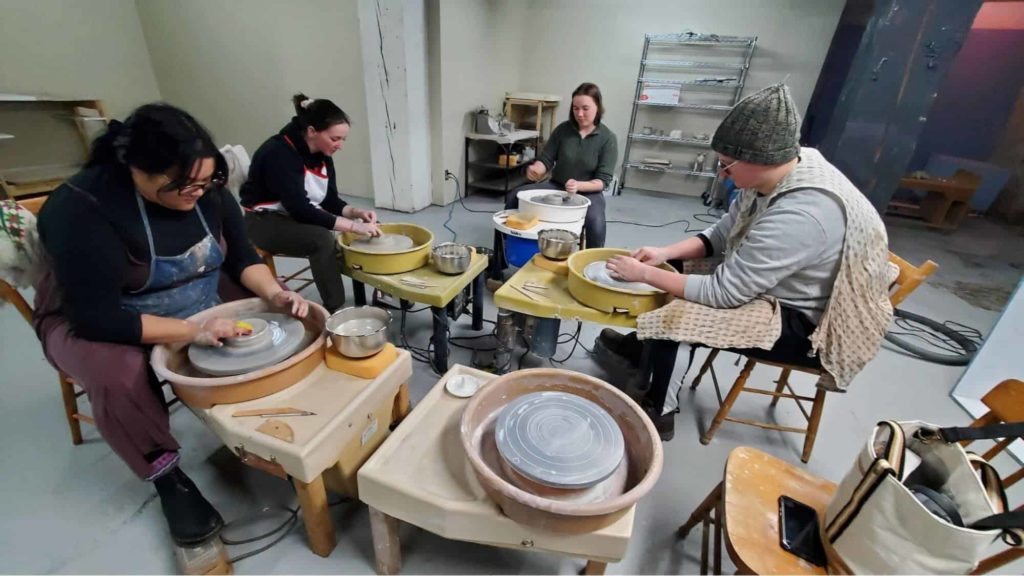 Address: 290 McDermot Ave, Winnipeg, MB R3B 0T2, Canada
Website: http://www.potterybugstudio.ca/
Contact number: 204 417 1199
Operating hours: Monday and Wednesday: 4:30 pm to 9 pm; Friday: 4 pm to 9 pm; Saturday: 2 pm to 9 pm
For those eager to learn the art of pottery, this studio offers a diverse range of classes and workshops. The Pottery Bug Studio has its own commitment to personalized instruction.
Its experienced instructors will tailor their guidance to your individual needs and goals. This personalized approach ensures that every student can progress at their own pace, making pottery accessible to everyone.
Beyond the traditional pottery wheel and hand-building techniques, The Pottery Bug Studio offers a variety of specialty classes.
These include Raku firing, which allows students to explore the dramatic and unpredictable effects of this ancient Japanese firing technique, and clay sculpting workshops that invite participants to push the boundaries of their creativity.
These unique offerings set The Pottery Bug Studio apart, providing students with the opportunity to expand their artistic horizons.
One of the most valuable aspects of this studio is its emphasis on mindfulness and stress relief.
In today's fast-paced world, the studio provides a sanctuary where clients can slow down, focus on the tactile nature of clay, and find solace in the act of creation.
Forum Art Center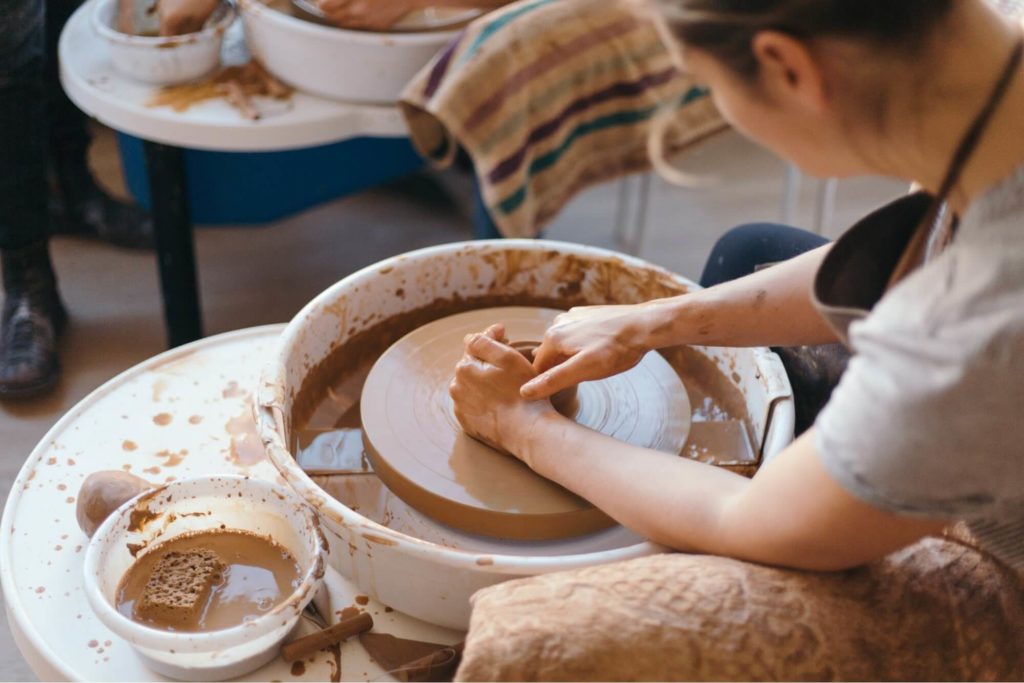 Address: 120 Eugenie St, Winnipeg, MB R2H 0X7, Canada
Website: http://www.forumartcentre.com/ 
Contact number: 204 235 1069
Operating hours: Monday to Saturday: 10 am to 3 pm
The center places a strong emphasis on self-expression and artistic growth.
Here, you're not just learning the basics of pottery; you're encouraged to explore your own artistic voice and develop your unique style. It's an environment that fosters creativity.
It offers a range of classes and workshops suitable for all skill levels. Beginners will find introductory courses that cover the fundamentals of pottery, teaching them how to shape clay and create functional pieces.
Meanwhile, more advanced artists can delve into specialized workshops, pushing the boundaries of their craft and experimenting with new techniques.
This is a place where people from all walks of life come together, united by their passion for pottery. The center hosts regular events and gatherings, fostering a sense of belonging and camaraderie among its members.
If you're looking to meet like-minded individuals, collaborate on projects, or simply enjoy the company of fellow artists, you'll find it here.
The center goes the extra mile to ensure that pottery is accessible to all. It offers scholarships and financial assistance to aspiring artists who may not have the means to pursue their passion otherwise.
This dedication to inclusivity creates a homey atmosphere where everyone is encouraged to explore their creative potential.