Winnipeg's Top Rideshare Apps: What You Need to Know
I've spent countless hours navigating the charismatic streets to go to the hidden gems of this fantastic city.
And in doing so, I've come to appreciate the transformative impact ridesharing has had on our commutes, casual explorations, and late-night adventures. 
This convenience is not just reserved for the out-of-towners but has become an integral part of daily life for us Winnipeggers. We all value the blend of efficiency, cost-effectiveness, and tech-savviness these services bring to our diverse city.
Whether you're a frequent business traveler, a tourist eager to immerse yourself in our vibrant culture, or you're simply searching for a better way to get from A to B, picking the right rideshare app can significantly improve your experience.
So, sit back, and let's dig into the details of pricing, services provided, safety features, and the pros and cons offered by the best rideshare apps in our prairie city. By the end of this blog, navigating Winnipeg's roads will be a breeze.
Let's go!
Uber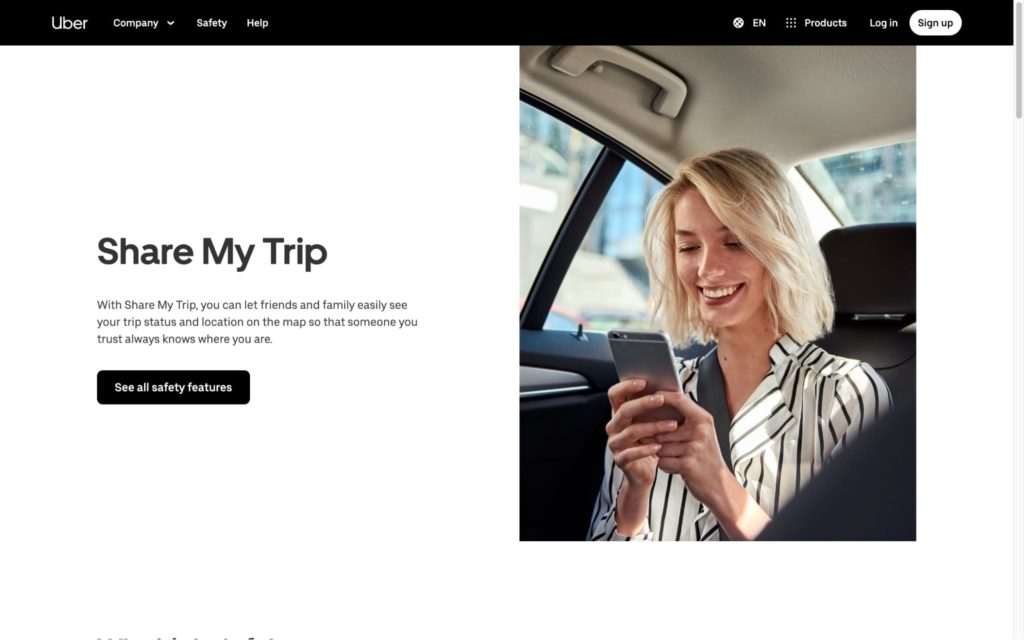 Overview
Uber is a globally renowned ride-hailing service app that connects riders with drivers in their vicinity. It allows users to quickly and conveniently request rides using their smartphones.
Launched in 2009, Uber has been a game-changer in the transportation industry and is available in over 900 metropolitan areas worldwide, including Winnipeg.
Services Provided
In Winnipeg, Uber offers a variety of services to cater to different needs. These include:
UberX – The most basic and affordable option, suitable for solo riders or small groups of up to four.
UberXL – A larger vehicle for groups of up to six, typically an SUV or a minivan.
Uber Comfort – Offers newer, more spacious cars with top-rated drivers.
Uber Assist – Designed to accommodate older adults and people with disabilities, with specially trained drivers who can assist passengers into the vehicle.
Uber Eats – Lets you order food from local restaurants and have it delivered to your doorstep.
Pricing and Payment Options
Uber's dynamic pricing model varies depending on several factors like demand, distance, time, and traffic. Users are given a fare estimate before they confirm their ride.
Also, surge pricing may apply during peak hours or inclement weather when demand is high.
Payment is seamless and cashless. You can pay for your ride using several options: credit/debit card, PayPal, Apple Pay, or Google Pay.
After each journey, the fare is automatically deducted from the chosen payment method.
Safety Features
Uber is committed to safety for both riders and drivers. Key safety features include:
Driver background checks – All drivers must undergo a background check before being allowed to drive.
Share My Trip – Riders can share their trip details with trusted contacts, including location and ETA.
In-app emergency button -This feature directly connects to local authorities in the event of an emergency.
24/7 on-call support – Uber offers round-the-clock support for any issues that arise during a trip.
Easy-to-use app with quick pickup times.
Wide variety of services and vehicle options to suit different needs.
Transparent pricing with fare estimates provided upfront.
Prices can surge during peak times or high demand, making rides more expensive.
The availability of drivers can be limited in less populated areas.
Some users have reported issues with customer service response times.
Lyft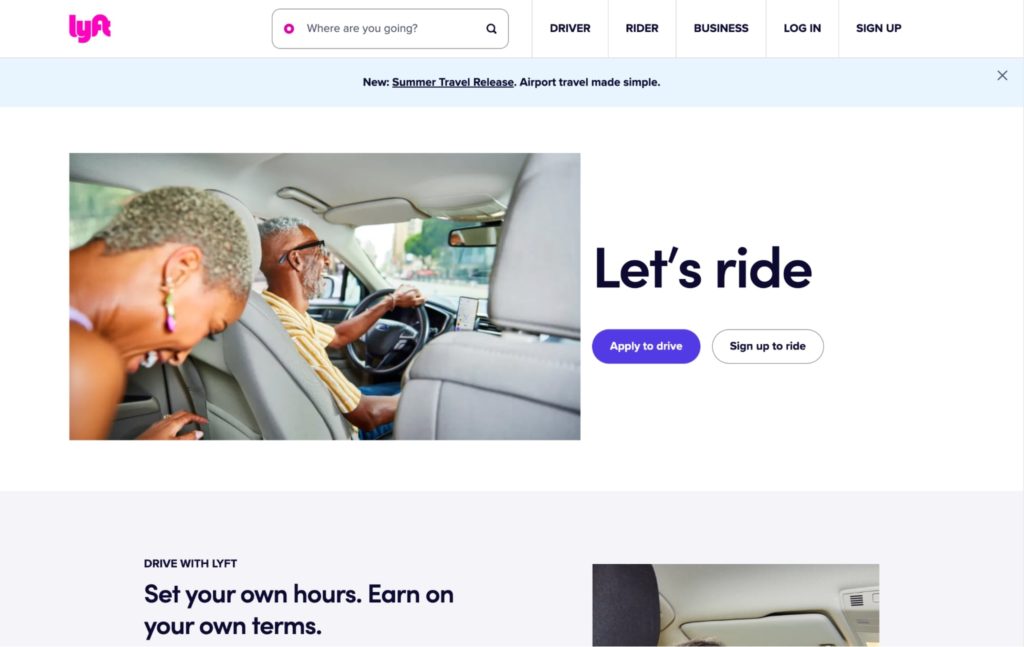 | | |
| --- | --- |
| Website | https://www.lyft.com/ |
| Address | 416 Boul. de Maisonneuve Ouest, Montréal, QC H3A 1L2 |
| Contact Details | +1 514-641-2859 |
Overview
Lyft, launched in 2012, is an American ridesharing company providing a platform that connects drivers and riders through a smartphone app.
Known for its friendly branding and signature pink mustache, Lyft has carved out a niche as Uber's main competitor in the ride-hailing market.
Services Provided
Lyft offers several services to fit the needs of riders in Winnipeg, which include:
Lyft – The default service that accommodates up to four passengers.
Lyft XL – An ideal choice for larger groups, accommodating up to six passengers in a larger vehicle such as an SUV or minivan.
Lux – Offers high-end vehicles and top-rated drivers.
Lux Black and Lux Black XL – Offers luxury black cars with top-rated drivers, with the XL option for larger groups.
Pricing and Payment Options
Lyft calculates fares based on a combination of factors such as the distance to be traveled, the duration of the ride, and the existing demand. Before confirming the ride, users can view an estimated fare.
The payment is simplified through a cash-free system. And the rides are paid for directly within the app using only card payment options such as credit and debit cards, PayPal, and digital wallets like Apple Pay and Google Pay.
Safety Features
Lyft prioritizes the safety of its passengers and drivers. The safety features are:
Comprehensive background checks – Lyft ensures that all drivers undergo extensive criminal background checks before they can join the platform.
Real-time map-matching: The app provides a feature to share trip details with chosen contacts, allowing them to monitor the trip in real-time.
In-app emergency assistance – In case of emergencies, the app has a feature that connects users directly to local emergency services.
24/7 Support: Lyft provides around-the-clock support to address any queries or concerns quickly.
Lyft offers an intuitive app design, making it easy for first-time users.
The service offers a wide range of ride options to suit varying needs.
Riders often highlight the friendliness and professionalism of Lyft drivers.
Like other ride-sharing services, Lyft also applies surge pricing during peak hours or high demand, which can lead to costly fares.
The availability of drivers might be sparse in less densely populated regions, leading to longer wait times.
Users have occasionally reported inconsistencies with the GPS and route navigation system.
TappCar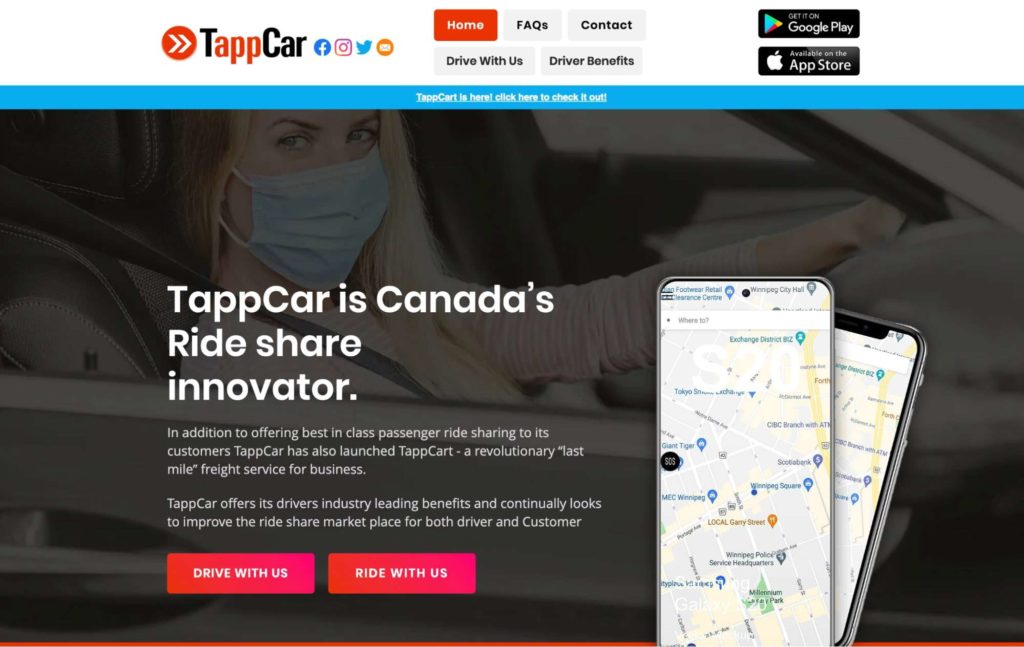 Overview
TappCar is a Canadian rideshare service that debuted in 2016. Positioned as a homegrown alternative to international behemoths, TappCar provides a local touch to the ride-hailing sector.
It has gained popularity for its focus on local regulations and fairness towards drivers.
Services Provided
In Winnipeg, TappCar caters to a broad audience with its comprehensive list of offerings, such as:
TappCar Basic – This standard service accommodates up to four passengers and is a suitable choice for everyday rides.
TappCar XL – This service provides larger vehicles like minivans and can accommodate up to six passengers for large groups or those needing extra space.
TappCar Accessible – TappCar ensures inclusivity with this service, designed for passengers with mobility issues. Vehicles in this category are equipped with accessibility features.
Pricing and Payment Options
TappCar's fare structure depends on variables such as the distance covered, the duration of the journey, and the service type chosen. This transparent pricing strategy ensures passengers can check the approximate fare before booking a ride.
When it comes to payments, TappCar follows a no-cash policy, where all transactions are carried out electronically within the app itself.
Notably, TappCar's current payment system accepts only card payments, through either credit or debit cards, and does not support payments through mobile wallets.
Safety Features
In-car two-way cameras – Two-way cameras installed in TappCar vehicles provide an additional layer of safety. These cameras help in monitoring the ride environment, thereby enhancing the security of both riders and drivers.
Mandatory driver training – Regardless of prior experience, every TappCar driver is required to undertake comprehensive training, enhancing their awareness of safety norms and customer service standards.
Emergency assistance within the app – TappCar's app includes a feature that facilitates quick contact with local emergency services if necessary.
24/7 Customer Support – To address any issues or answer queries, TappCar provides continuous customer support, making assistance just a click away.
The user-friendly design of the TappCar app simplifies the process of booking a ride.
As a homegrown Canadian company, choosing TappCar allows customers to support a local business, contributing to the country's economy.
TappCar follows local regulations and treats its drivers fairly, which includes offering them enhanced medical coverage.
TappCar's rates may rise during high-demand periods, leading to more expensive fares.
Availability can be an issue in less populated areas, which might lead to longer waits for a ride.
Given that TappCar is a smaller operator compared to some of its international counterparts, it may not offer as extensive a range of vehicles or as wide a service area.
ReRyde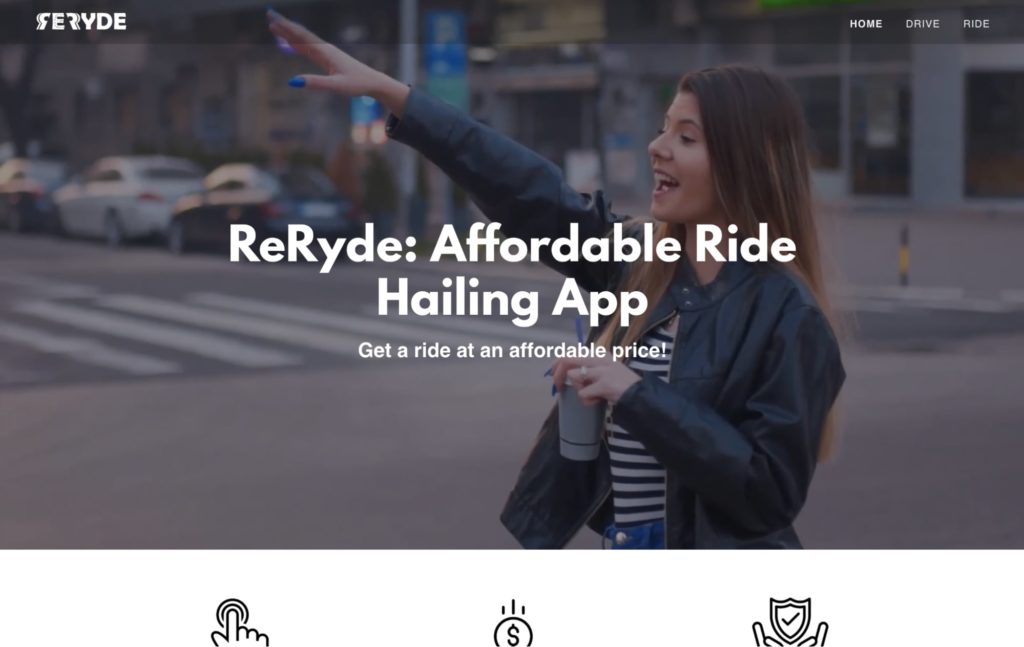 Overview
ReRyde is a Canada-based rideshare company that has been growing in popularity due to its user-friendly platform and commitment to providing reliable and affordable services.
A tech start-up in British Columbia established the ridesharing app and is gaining recognition for being a distinctly Canadian service that takes pride in offering localized solutions.
Services Provided
ReRyde, like many other rideshare companies, offers various services to cater to the diverse needs of its customers. Here are some typical services provided by ReRyde:
Standard Ride – This is the basic service where you can hire a private car to get you from one place to another.
Premium Ride – For a more luxurious experience, ReRyde offers premium rides that involve higher-end vehicles.
Shared Ride – This service allows you to share your ride with other passengers going in the same direction. It's a cost-effective and environmentally friendly option.
Rides for Large Groups – ReRyde offers larger vehicles like SUVs and vans for those traveling in a large group.
Scheduled Rides – This feature allows you to book your ride in advance, ensuring that a car will be available when you need it.
Rides for Special Events – For special occasions, events, or corporate needs, ReRyde offers tailored services.
Pricing and Payment Options
A standout feature of ReRyde is its affordability. While the final fare is based on factors like distance and duration, like its competitors, ReRyde is often priced more competitively, making it a cost-effective choice for many riders.
Users can view a fare estimate before they confirm their ride. As for payments, ReRyde has adopted a cashless model, accepting credit and debit card payments directly through the app.
Safety Features
ReRyde takes the safety of its drivers and riders very seriously and has implemented various measures to ensure this:
Thorough background checks – Before getting approved to drive with ReRyde, every candidate must undergo and pass a detailed background check.
Secret Trip Code – A unique safety feature that ReRyde offers is the 'Secret Trip Code.' Before the start of a journey, passengers receive a code, which must be verified by both the passenger and driver before the trip begins, ensuring the right passenger gets in the right car.
Real-time tracking – ReRyde gives riders the option to share their journey details with friends or family. This allows trusted contacts to follow the trip in real time.
24/7 customer support – Any issues or concerns can be addressed to ReRyde's customer support, which is available all day, every day.
ReRyde often offers more economical fares compared to other rideshare services.
With a solid reputation and a strong following in Winnipeg, ReRyde is one of the city's top choices for rideshare services.
As a newer entrant to the market, ReRyde's services may not be as extensive as those offered by more established providers.
Availability of ReRyde rides might be limited in less populated or remote areas.
Cowboy Taxi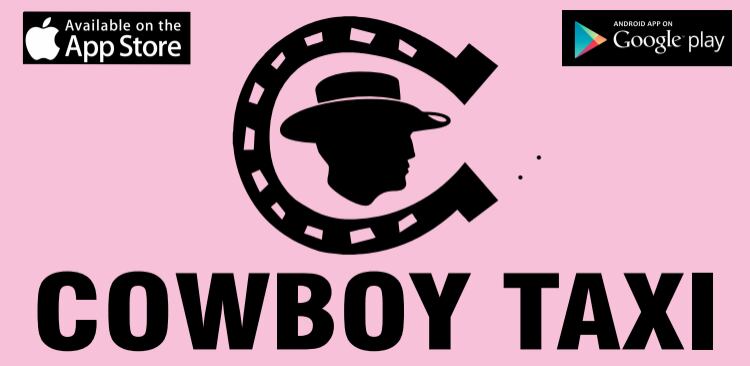 | | |
| --- | --- |
| Address | 300 330 St Mary Ave, Winnipeg, MB R3C 3Z5, Canada |
| Contact Details | +1 (204) 800-2075 |
Overview
Cowboy Taxi is a locally operated ride-hailing service in Winnipeg that strives to provide residents with reliable and affordable transportation solutions.
As a local business, it has a deep understanding of the city, offering personalized and efficient services to meet the needs of its users.
Services Provided
Cowboy Taxi offers a suite of services that cater to the diverse needs of its customers:
Standard Taxi Service – A basic service that gets you from point A to B in a regular taxi.
Executive Car Service – For those seeking a more luxurious experience, Cowboy Taxi offers rides in high-end vehicles.
Courier and Parcel Delivery – A unique offering where it delivers small parcels around the city.
Wheelchair Accessible Vehicles – A specially tailored service for passengers with mobility issues.
Pricing and Payment Options
Cowboy Taxi's prices are based on distance, time, and the type of service selected, in line with local regulations. The total fare is calculated at the end of the trip, and passengers receive a detailed receipt with the breakdown of charges.
It accepts multiple forms of payment, including cash and credit/debit card payments, through its app. This also allows for flexibility and convenience, catering to different customer preferences.
Safety Features
The safety of passengers and drivers is a top priority for Cowboy Taxi. It has implemented a number of measures to ensure this:
Thorough screening – All drivers must undergo detailed background checks before working with Cowboy Taxi.
Vehicle safety standards – Cowboy Taxi maintains high vehicle maintenance and safety standards. Regular inspections are carried out to ensure all vehicles are in optimal condition.
24/7 customer service – Customers can access support anytime, day or night, to report issues or get help with the app or service.
Cowboy Taxi's local roots give it an edge in understanding customer needs and city navigation.
It offers a variety of services to cater to different passenger requirements, including parcel delivery and wheelchair-accessible rides.
The availability of rides can be limited during peak hours or in less populated areas.
The user interface of the Cowboy Taxi app may not be as polished or user-friendly as some of the larger international ride-hailing services.
Past instances of inappropriate and abusive behavior by drivers have raised concerns about rider safety and company oversight.
Yoweby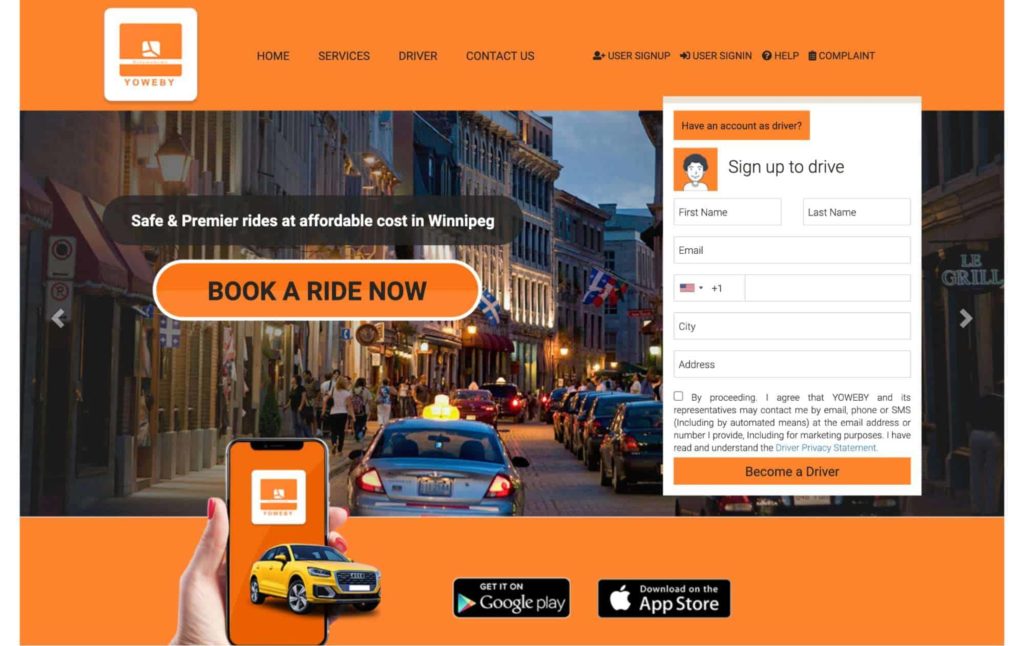 Overview
Yoweby is an innovative ride-hailing platform that offers various transportation services in Winnipeg.
The ridesharing company is built on the foundations of customer convenience, reliability, and safety, and is now a favored option for residents in need of reliable, affordable, and efficient transportation.
Services Provided
Yoweby provides a range of services tailored to accommodate the varied transportation needs of its users:
Yoweby Economic – Regular, everyday rides using standard vehicles for customers requiring a simple commute from one point to another.
Yoweby Prime – High-end vehicles for customers looking for a more luxurious transport option.
Yoweby Van – Large vehicles for groups or families needing to travel together.
Yoweby Delivery Service – Drivers transport parcels to a specified destination.
Yoweby Advance Booking – Allows rides to be scheduled in advance. This feature ensures riders can secure their transportation at their preferred time, providing greater convenience and peace of mind.
Pricing and Payment Options
Yoweby has a competitive and transparent pricing policy, where fares are calculated based on the distance, time, and type of ride chosen. Before booking, customers receive a fare estimate, eliminating any unexpected costs.
For a streamlined experience, all payments are processed through the Yoweby app. It supports all major credit and debit cards, ensuring that transactions are hassle-free and straightforward.
Safety Features
Safety remains a top priority for Yoweby, as it has implemented numerous safety measures to foster a secure environment for both riders and drivers:
Extensive background checks and training – Before joining Yoweby's team, every prospective driver undergoes thorough background checks.
Moreover, drivers receive comprehensive training to ensure they are equipped to maintain high safety standards on the road.
Real-time ride tracking – Customers have the option to share their journey details with trusted contacts, who can monitor their trip in real time. This function contributes to peace of mind for riders and their loved ones alike.
Instant customer support – For any concerns or queries, Yoweby maintains a customer support team available round the clock.
Users have praised Yoweby for its drivers' punctuality, often arriving earlier than expected, which reduces wait times and ensures timely arrivals.
Some users have reported occasional glitches with the app's interface and booking system.
As a local player in the ride-hailing market, Yoweby's service coverage may be limited in certain areas, especially during periods of high demand.
InstaRyde
| | |
| --- | --- |
| Address | 425 Alness St, North York, ON M3J 2T8, Canada |
| Contact Details | +1 416-907-8488 |
Overview
InstaRyde is a Canadian-based ride-hailing platform that has made a name for itself in Winnipeg's transport sector.
Prioritizing customer satisfaction, timely service, and eco-friendly practices, InstaRyde is an excellent choice for those seeking reliable and efficient transportation solutions.
Services Provided
InstaRyde offers various services to cater to different transportation needs:
Regular Ride – This is a standard service for customers looking for a convenient and quick ride to their destination.
Premium Ride – For customers desiring a more luxurious travel experience, InstaRyde offers premium rides with high-end vehicles.
XL Ride – This service offers larger vehicles for customers traveling in groups or requiring extra space.
Eco-Friendly Ride -InstaRyde offers eco-friendly rides, utilizing electric and hybrid vehicles.
Pricing and Payment Options
InstaRyde's pricing strategy is competitive and transparent, with fares based on the distance and time of travel. Furthermore, the app offers a fare estimate prior to booking, ensuring no unexpected costs.
Payments are processed within the InstaRyde app, providing a seamless experience for users. The app supports all major credit and debit cards.
Safety Features
Safety is paramount for InstaRyde. The following measures are in place to ensure a safe ride:
Driver Screening – InstaRyde ensures that all drivers are vetted through a comprehensive screening process, which includes a thorough background check and driving record analysis.
Ride Monitoring – The app has a feature that allows InstaRyde's safety team to monitor rides in real time, providing an extra layer of security.
User Anonymity – To protect rider privacy, personal contact information remains anonymous during communication between drivers and riders.
InstaRyde's initiative to offer eco-friendly rides is a significant advantage for environmentally conscious riders.
Users appreciate the platform's affordable and transparent pricing policy.
Some users have reported challenges when setting up an account on the InstaRyde app, which could impact the initial user experience.
Occasional downtime of InstaRyde's website has been reported, causing temporary inconvenience to users trying to access the service.
MY CAB app by Greencity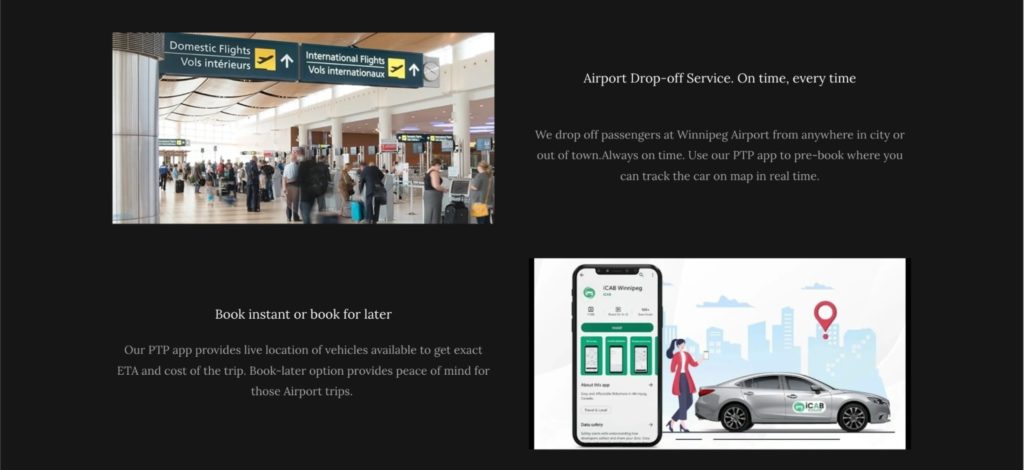 Overview
The MY CAB app, a subsidiary of the established Greencity Taxi, brings a fresh take on traditional taxi services by integrating the convenience and functionality of a rideshare app.
While maintaining the reliability of a conventional taxi service, the app enhances the user experience by offering features such as real-time tracking, easy bookings, and in-app payments — a perfect blend of traditional reliability and modern convenience.
It has quickly become a go-to solution for many in Winnipeg, bridging the gap between traditional cab services and modern ride-hailing platforms.
Services Provided
MY CAB app primarily offers two types of services that cater to the basic transportation needs of users:
Basic Ride – The regular service provides an easy and convenient option for those seeking to travel within the city. This service uses standard vehicles and can accommodate up to four passengers.
Large Ride – The MY CAB app provides larger vehicles for those traveling in groups or with substantial luggage. This option is also suitable for passengers who simply prefer a more spacious ride.
Pricing and Payment Options
The pricing model of the MY CAB app is competitive, with fares calculated based on distance and time of travel. Riders receive an estimated fare before booking, ensuring transparency.
The MY CAB app supports a seamless in-app payment experience. All major credit and debit cards are accepted, making transactions smooth and hassle-free.
Safety Features
The safety of passengers and drivers is a top priority for the MY CAB app. It ensures this through:
Real-time ride monitoring – The app includes a feature for sharing ride details in real time with trusted contacts.
In-app panic button – Riders have quick access to local emergency services through an emergency button within the app.
Customer support – Any concerns or issues can be addressed to MY CAB app's dedicated customer support team available for a call.
Unlike many ride-hailing services, the MY CAB app also offers services for out-of-city journeys, expanding its scope and usefulness.
MY CAB app is forward-thinking in its approach to payments. Not only does it accept traditional payment methods, but it also embraces cryptocurrencies, providing added flexibility for users.
Some users have reported that pre-booking a ride through the MY CAB app's website is not as efficient as it could be, potentially affecting user experience.
There have been occasional complaints about unanswered phone calls, suggesting room for improvement in the customer service department.