16 Must-Do Winter Activities in Winnipeg
As a Winnipeg native, I know firsthand that our winters can be harsh. But here's the secret: Winnipeggers have an uncanny knack for not just enduring the cold but truly savoring the season.

It's a time when the city transforms into a wonderland, and every snowfall brings a new opportunity for adventure.
In this guide, I'll be your winter companion, showing you how we embrace the chill in the air and turn it into a season of pure delight.
1. Get lost at A Maze in Corn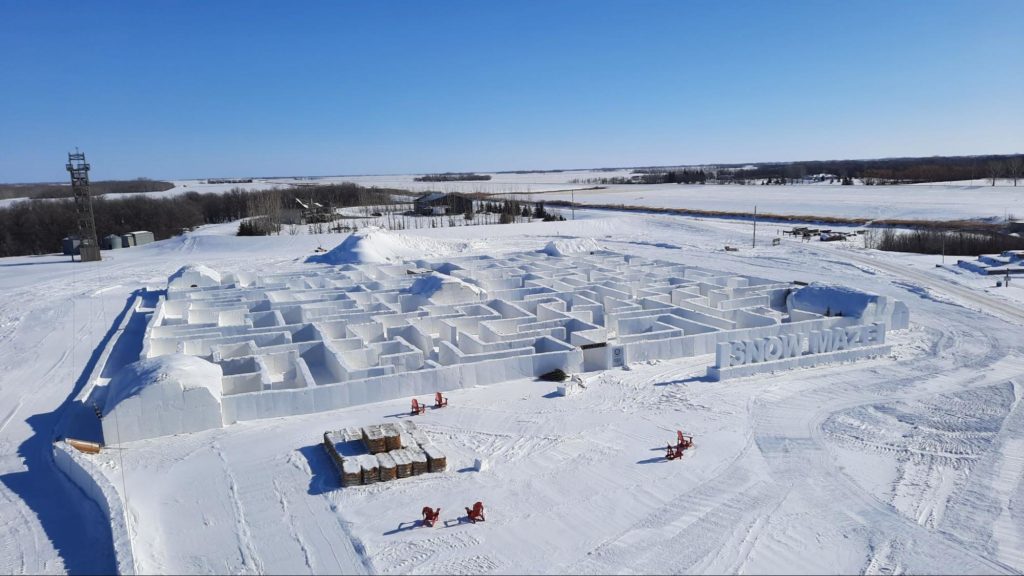 A Maze in Corn is the ideal place to kick off your winter adventure in Winnipeg. This enchanting attraction offers a delightful and family-friendly experience.
As you step into the intricate corn mazes, you'll find yourself immersed in a world of twists, turns, and surprises.
These mazes are not your average walk in the park; they are designed to challenge your wits and navigation skills.
Whether you're exploring with friends, family, or on a romantic outing, A Maze in Corn guarantees plenty of laughter and bonding moments as you work together to find your way out.
This activity is especially popular during the winter months, adding an extra layer of excitement as you brave the cold while tackling the complex paths.
2. Go cross-country skiing at FortWhyte Alive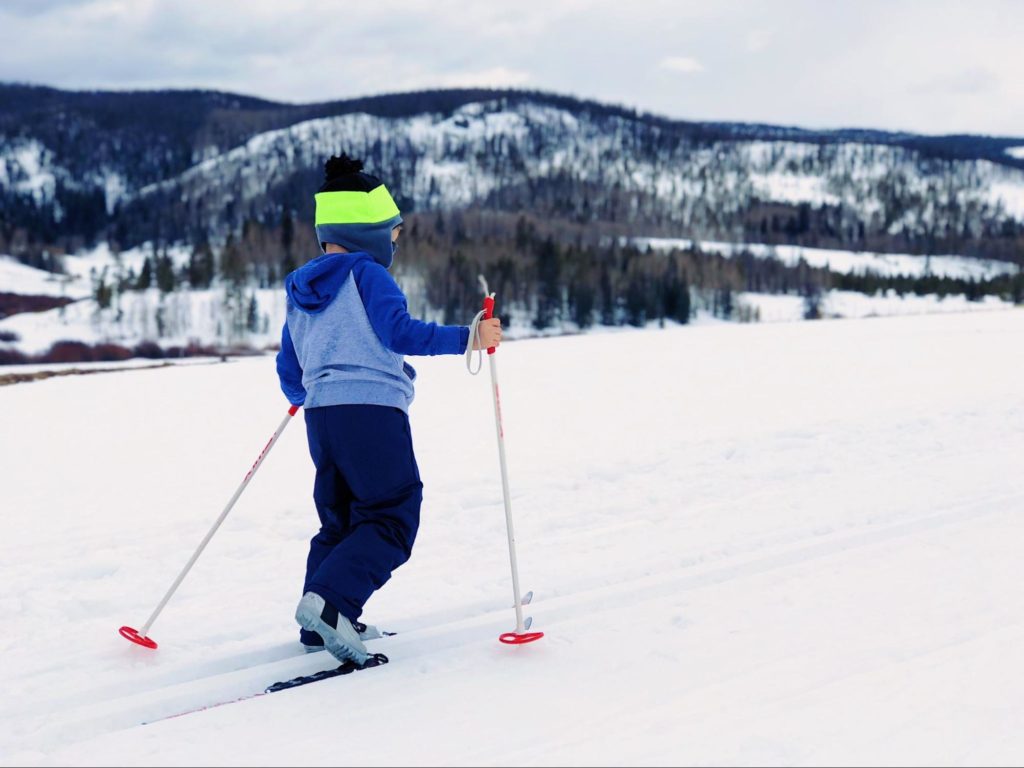 FortWhyte Alive is a winter wonderland for outdoor enthusiasts, and one of the best ways to embrace the season is by embarking on a cross-country skiing adventure.
Located just southwest of Winnipeg, this natural preserve offers a serene and picturesque setting for skiers of all levels.
The pristine snow-covered landscapes and cold winter air create the perfect backdrop for a day of cross-country skiing.
As you glide through the forested trails and open meadows, you'll have the opportunity to connect with nature and experience the quiet beauty of a winter wonderland.
While FortWhyte Alive does not offer rental gear, you are welcome to bring your own equipment to make your visit enjoyable. You can even get outside rental gear, too.
3. Attend the Festival du Voyageur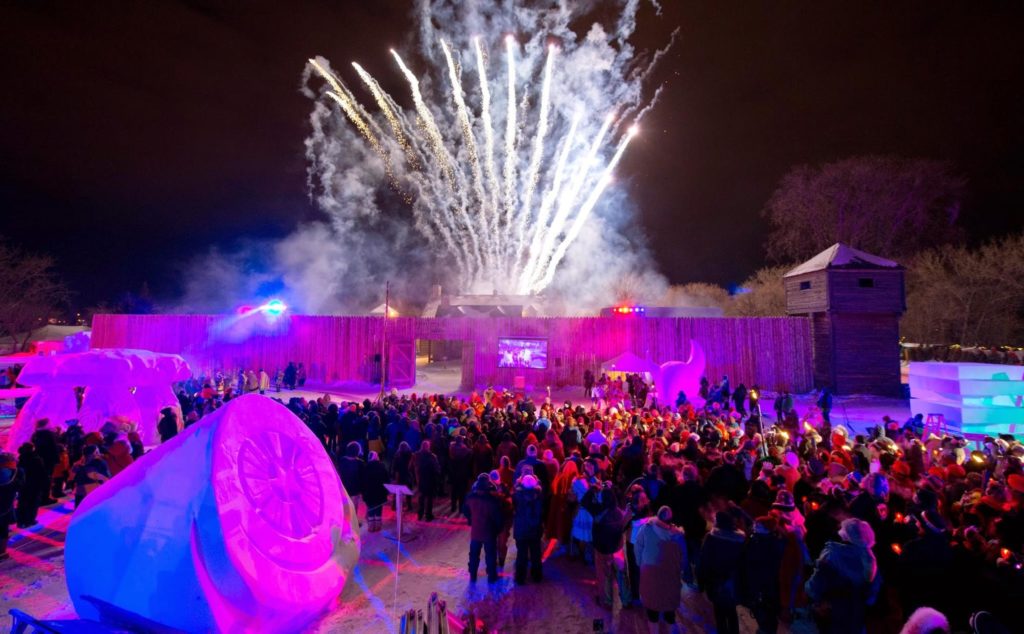 If you're eager to immerse yourself in the rich cultural tapestry of Winnipeg during the winter months, attending the Festival du Voyageur is an absolute must.
This annual event celebrates the vibrant French-Canadian heritage of the region and is a beloved tradition for locals and visitors alike.
The festival is a captivating blend of music, delicious cuisine, and artistic expression, with highlights including intricate snow sculptures and stunning ice carvings.
Also, strolling through the festival grounds will transport you to a bygone era, when fur traders and explorers roamed the land.
One of the standout features of the Festival du Voyageur is its culinary offerings. You can savor traditional French-Canadian dishes like poutine, tourtière, and sugar pie, all while staying warm by cozy bonfires.
Plus, the live music and entertainment add to the festive atmosphere. This makes it a perfect family outing or a romantic date night.
The Festival du Voyageur is a true celebration of winter in Winnipeg and offers a unique opportunity to experience the culture, history, and flavors of this remarkable city during the colder months.
4. Ice skate at Arctic Glacier Winter Park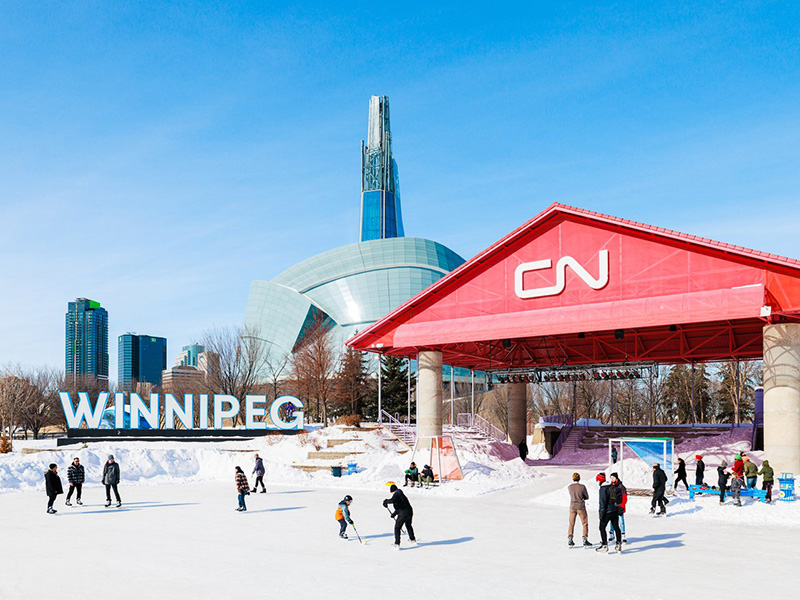 Winnipeg winters are synonymous with ice skating, and one of the most iconic places to enjoy this activity is Arctic Glacier Winter Park. This outdoor skating rink is a picturesque spot for both beginners and experienced skaters to relish the chilly season.
After lacing up your skates, you will be greeted with the stunning winter scenery as you glide gracefully across the ice.
Arctic Glacier Winter Park offers a magical setting, surrounded by twinkling lights and the backdrop of the city skyline.
So, even if you are perfecting your figure-eight or simply savoring a leisurely skate with friends and family, this rink offers an enchanting experience for all.
If you need to warm up or take a break, you'll find cozy warming huts where you can enjoy hot chocolate and snacks, making it an ideal spot for a winter outing.
5. Snowboard at Springhill Sports Park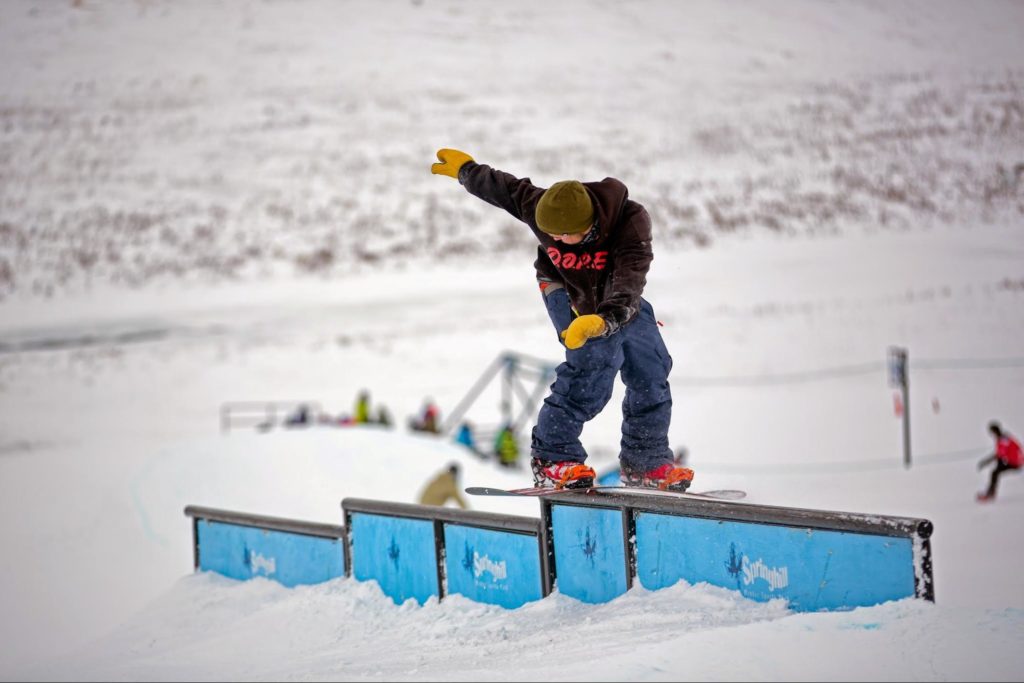 Calling all snowboarders! Winnipeg offers an exhilarating winter sports experience at Springhill Sports Park.

If you're seeking thrills and adventure in the snow, this is the place to be.
Springhill Sports Park boasts well-maintained slopes and terrain parks that cater to snowboarders of all skill levels, from beginners looking to carve their first turns to seasoned riders hungry for a challenge.

The park's dedicated instructors and staff are on hand to provide guidance and ensure a safe and enjoyable experience for all visitors.
As you carve your way down the slopes, you'll be surrounded by the natural beauty of a Manitoba winter. The crisp air, glistening snow, and exhilarating descents create the perfect winter escape.

Whether you're practicing tricks in the terrain park or simply enjoying the rush of riding down the hill, Springhill Winter Sports Park offers a snowboarding experience like no other in Winnipeg.
6. Dine at RAW:Almond
For a unique and praiseworthy culinary experience in Winnipeg during the winter season, look no further than RAW:Almond. This exceptional pop-up restaurant is set against the backdrop of a frozen river, offering a dining experience like no other.
RAW:Almond features a rotating lineup of talented chefs who craft gourmet meals in this extraordinary setting. Imagine savoring a delectable multi-course meal while surrounded by the serene beauty of a frozen river under the winter night sky.
The experience is a perfect blend of artistry, nature, and gastronomy.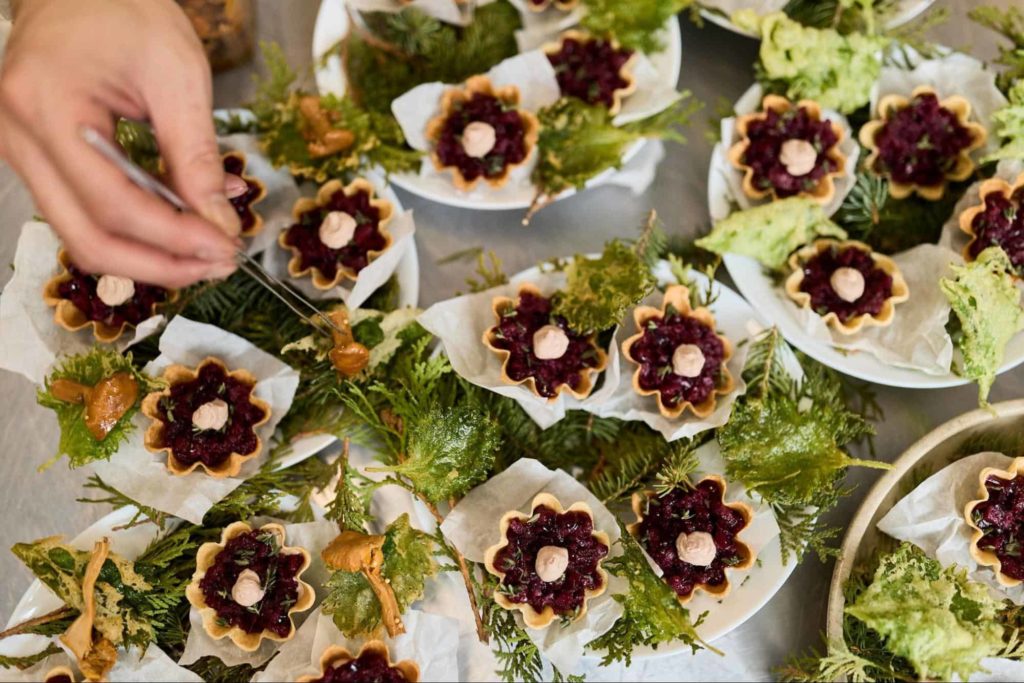 This seasonal restaurant embraces the spirit of Winnipeg's winters, showcasing the city's resilience and creativity. Guests can expect an ever-changing menu that highlights local and seasonal ingredients, ensuring a fresh and delightful culinary adventure.
With its high price point of $225 per person, the key to RAW:Almond lies in the quality of the food, the chef's creativity, and the staff's dedication to crafting an unforgettable dining experience.
And be sure to make a reservation for this one-of-a-kind culinary journey during your visit to the city.
7. Relax at Thermëa by Nordik Spa-Nature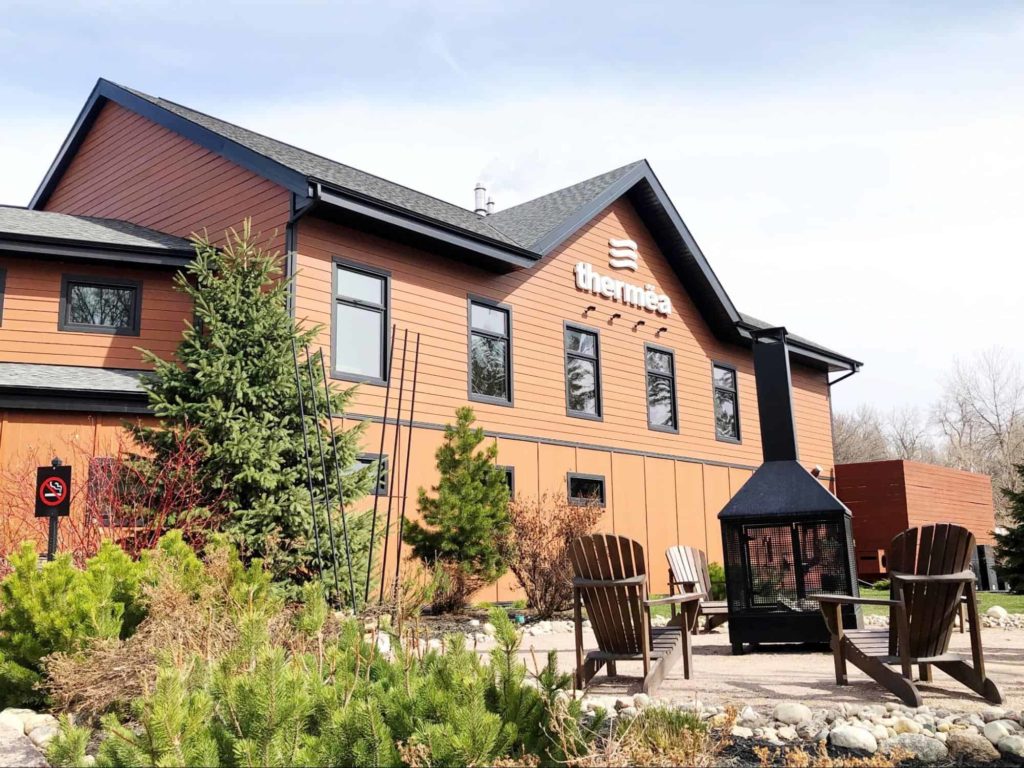 When the winter chill settles in, there's no better way to rejuvenate your body and spirit than by visiting Thermëa by Nordik Spa-Nature. This oasis of relaxation offers the ultimate escape from the cold and the stresses of daily life.
Nestled in a serene natural setting, Thermëa provides a tranquil environment where you can unwind and find inner peace. The spa features a variety of thermal baths, saunas, and relaxation areas designed to melt away tension and soothe your senses.
You can be captivated by the warmth of hot baths and saunas, all while surrounded by the beauty of snow-covered landscapes.
A noteworthy aspect of Thermëa is the unique experience of indulging in the Scandinavian tradition of alternating between hot and cold treatments.
After spending time in the saunas and hot baths, you can step outside into the cold winter air or take a refreshing plunge in the cold pools. This age-old practice invigorates the body and promotes a profound sense of well-being.
All things considered, Thermëa by Nordik Spa-Nature becomes a sanctuary of warmth and tranquility, providing the perfect winter escape in Winnipeg. I recommend visiting this spa to prioritize self-care and relaxation during your winter visit to the city.
8. Go ice fishing at Lake Winnipeg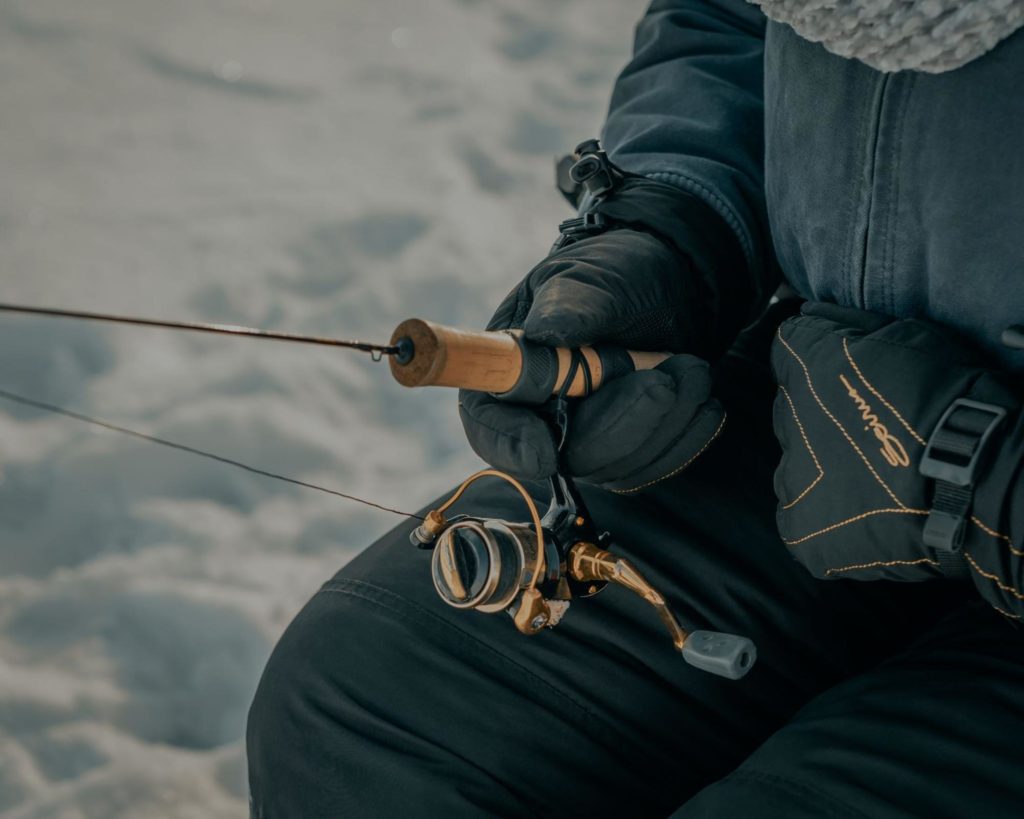 For a quintessentially Canadian winter experience, head to Lake Winnipeg for some ice fishing.

Ice fishing is a tradition deeply rooted in the culture of Manitoba, and Lake Winnipeg offers some of the best ice fishing opportunities in the region.
As the lake freezes over in winter, it becomes a playground for anglers seeking the thrill of catching fish beneath the ice. You can try your luck at hooking a variety of fish species, including walleye, northern pike, and perch.

Whether you're a seasoned angler or a novice, there's something uniquely satisfying about sitting in the cozy comfort of an ice fishing hut, drilling a hole through the ice, and patiently waiting for a bite.
Many outfitters around Lake Winnipeg provide ice fishing packages, including all the necessary equipment and warm, heated huts to make your experience comfortable and enjoyable.
These outfitters are among the best choices for ice fishing on Lake Winnipeg.
9. Enjoy a day at Canad Inns Winter Wonderland
If you're searching for a magical winter experience that will put you in the holiday spirit, Canad Inns Winter Wonderland is the place to be.
This enchanting event transforms a park into a captivating holiday light display, creating a festive atmosphere that's perfect for families, friends, and couples.
As you drive through Winter Wonderland, you'll be surrounded by millions of twinkling lights, whimsical displays, and holiday-themed scenes. It's a visual delight that captures the essence of the holiday season and is sure to leave you feeling warm and festive.
Visitors are encouraged to take their time savoring the sights and sounds of the holiday season from the comfort of their cars.
The display often includes unique features like illuminated tunnels, animated characters, and synchronized light shows set to holiday music.
It's an experience that appeals to all ages, making it a beloved tradition for many Winnipeg residents.
10. Visit the Winnipeg Art Gallery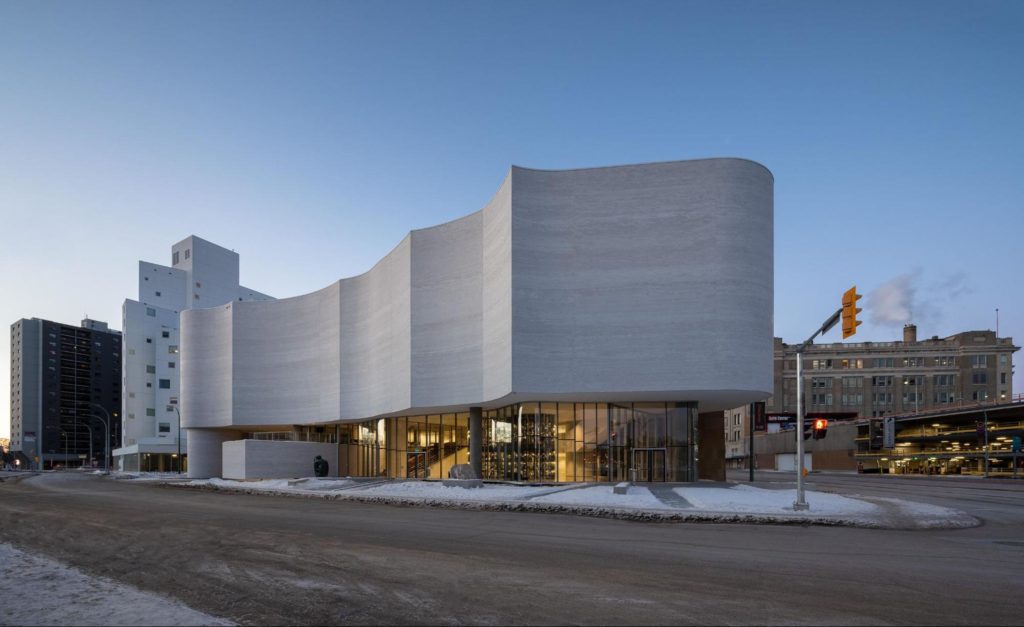 Winter in Winnipeg offers the perfect opportunity to explore the city's cultural treasures, and one of the most iconic is the Winnipeg Art Gallery.

Located in the heart of the city, this renowned institution houses an impressive collection of Canadian and Indigenous art, making it a must-visit destination for art enthusiasts and curious visitors alike.
As you wander through the galleries, you'll encounter a diverse range of artworks, from classic to contemporary. The museum's collections showcase the rich cultural tapestry of Canada, providing insight into the country's history, heritage, and artistic evolution.
During the winter months, the Winnipeg Art Gallery provides a warm and inviting atmosphere for visitors to escape the cold. You can explore the various exhibitions, attend special events and workshops, or simply take in the beauty of the art on display.

Also, the museum often hosts traveling exhibitions, so there's always something new to discover.
No matter if you're seeking a cultural outing, inspiration, or a moment of respite from the winter chill, the Winnipeg Art Gallery offers it all.

The gallery is a cultural gem that shines even brighter during the winter season, inviting you to immerse yourself in the world of art and creativity.
11. Go snowshoeing at Oak Hammock Marsh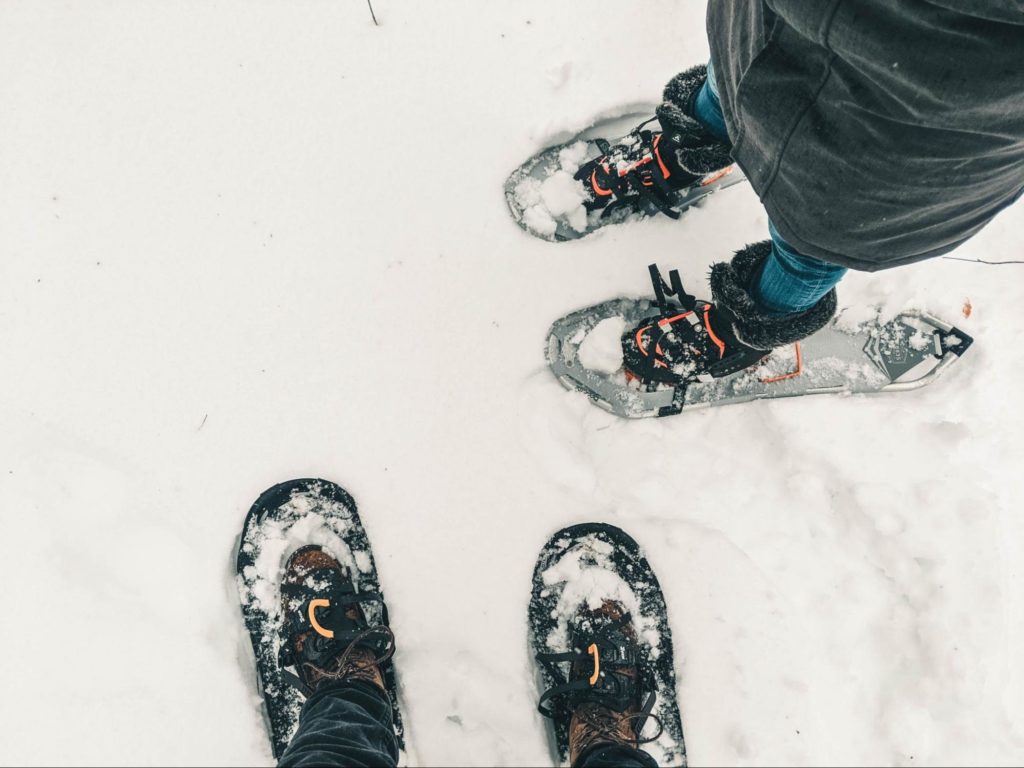 For nature enthusiasts looking to experience the serene beauty of winter in Winnipeg, Oak Hammock Marsh is a pristine wilderness area that offers excellent opportunities for snowshoeing.
Just a 37-minute drive north of the city, this marshland transforms into a winter wonderland when blanketed in snow.
Strap on your snowshoes and venture out onto the marsh's well-marked trails. Snowshoeing allows you to explore the marsh's diverse ecosystems, from frozen wetlands to dense forests.

As you meander through the snow-covered landscape, keep an eye out for winter wildlife, including birds, deer, and other creatures adapted to the cold.
The quiet solitude of snowshoeing through the marsh is a peaceful and immersive experience. You'll feel like you've stepped into a winter fairytale as you listen to the soft crunch of snow beneath your feet and breathe in the crisp, clean air.
Oak Hammock Marsh often hosts guided snowshoeing tours and educational programs during the winter months, making it an excellent opportunity to learn about the area's ecology and history.

Regardless if you're a seasoned snowshoer or a novice, Oak Hammock Marsh promises an unforgettable winter adventure that connects you with the natural beauty of Manitoba's winter landscape.
12. Warm up at Empty Cup Collective
Winnipeg winters can be chilly, and what better way to warm up and recharge than by visiting the Empty Cup Collective, a cozy and welcoming coffee shop located in the heart of the city?
This local gem offers more than just excellent coffee; it provides a warm and inviting atmosphere where you can relax, unwind, and enjoy a hot beverage.
As you step inside, you'll be greeted by the comforting aroma of freshly brewed coffee and a friendly staff ready to serve you.
Beyond its role as a coffee shop, it actively participates in the local artistic scene by frequently appearing at events, setting up its own space at festivals, public occasions, and more.
This makes it a vibrant space to connect with locals and immerse yourself in Winnipeg's artistic scene.
13. Visit The Leaf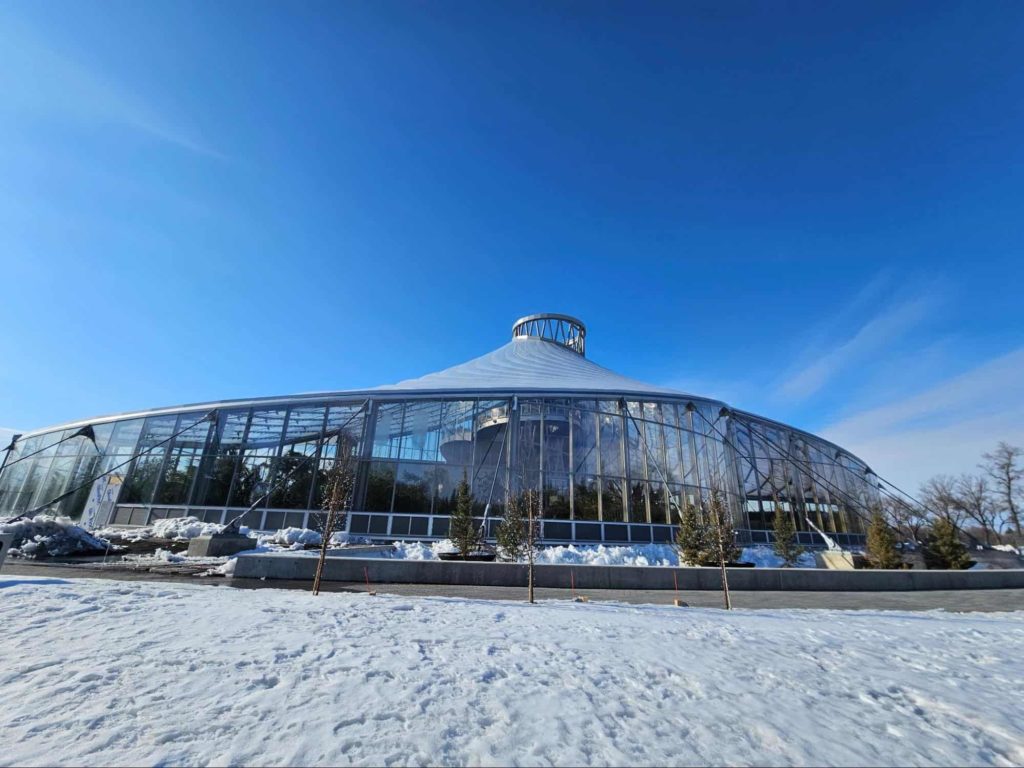 For a warm and inviting escape from Winnipeg's winter cold, consider a trip to The Leaf, an indoor botanical garden within the Assiniboine Park Conservatory. Here, you'll find a tropical oasis amidst the snow-covered landscape.
Inside is a tropical paradise filled with exotic plants, colorful flowers, and meandering pathways. It's a stark contrast to the snowy landscape outside and provides a soothing and rejuvenating experience.
As you explore the conservatory, you can enjoy the fragrant scents and vibrant displays. This hidden gem is a favorite among locals and tourists for its ability to provide respite from the winter chill and a chance to reconnect with nature's beauty.
14. Rent an ice trike at Kendrick's Outdoor Adventures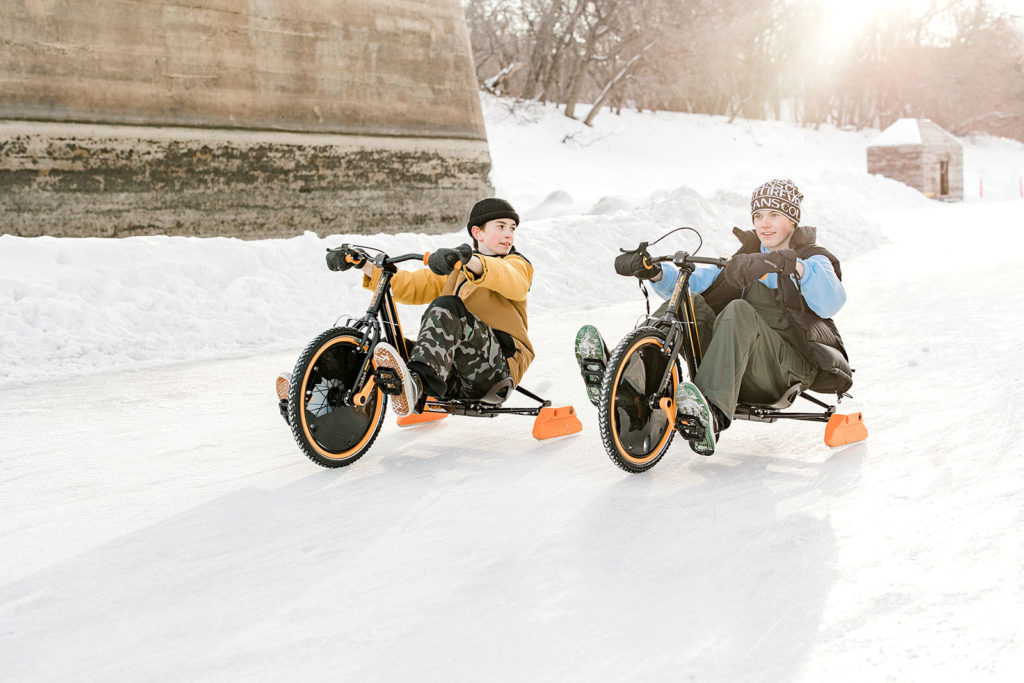 For a winter adventure that's both exhilarating and unique, head to The Forks and try driving an ice trike. This activity adds a dose of excitement to your Winnipeg winter experience.
Ice trikes are pedal-powered vehicles specifically designed for gliding across the ice. As you pedal your way around the frozen riverside paths, you'll experience a one-of-a-kind sensation of speed and control.

It's a fantastic way to enjoy the cold season and take in the scenic views along the river. Plus, The Forks, a historic meeting place in Winnipeg, provides the perfect backdrop for this activity.
This activity is a favorite among both locals and visitors, offering a memorable way to stay active and enjoy the great outdoors during the colder months.
15. See the Warming Huts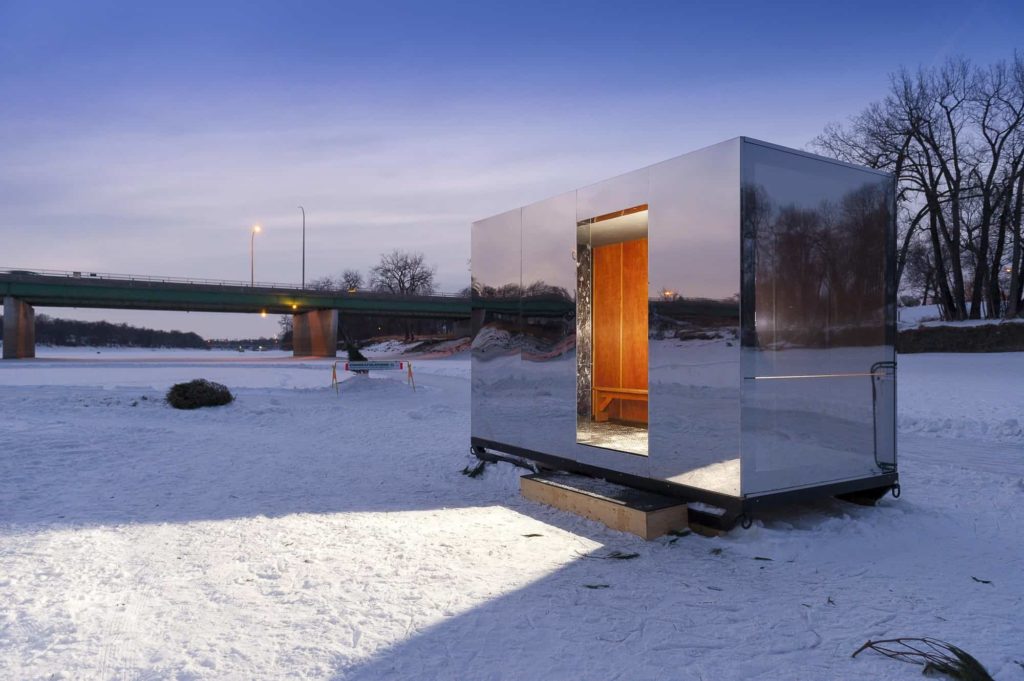 Have you ever strolled along Winnipeg's river trails in winter? If so, you might have come across the fascinating Warming Huts.

These huts are more than just shelters from the cold; they're unique artistic creations.
Designed by architects and artists from around the world, each hut has its own distinct design and story. They add an artistic touch to the city's winter landscape, offering an intriguing blend of form and function.

As you walk along the frozen river, you'll discover these distinctive structures, some whimsical, some thought-provoking, and all engaging.
The Warming Huts not only provide warmth but also ignite curiosity and appreciation for innovative designs. They stand as a testament to Winnipeg's creative spirit and resilience in the face of winter's challenges.
16. Visit the animals at Assiniboine Park Zoo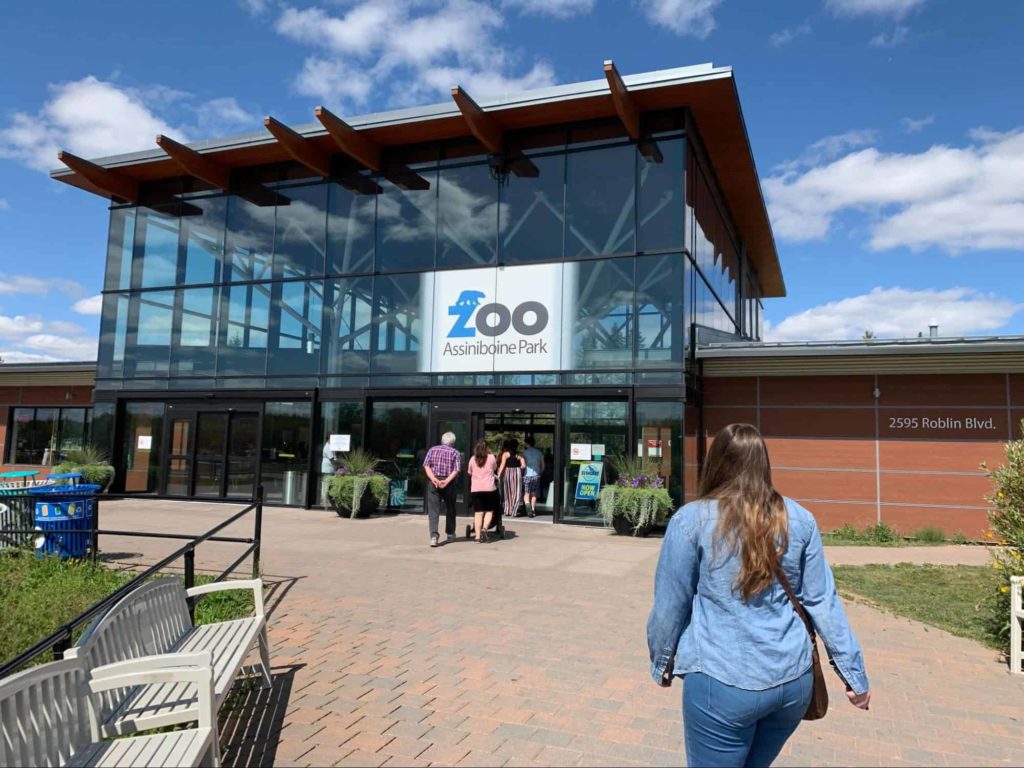 For a heartwarming and educational winter experience, make a point to visit Assiniboine Park Zoo. While some animals may prefer the warmth of their indoor enclosures, many thrive in the winter, making the zoo a fantastic year-round destination.
As you enter the zoo's snow-draped pathways, you can spot resilient creatures like polar bears and Arctic foxes, indeed in their element.
Winter offers a unique opportunity to witness these animals' natural behaviors and adaptations to the cold, providing a deeper appreciation for their resilience.
But it's not just the cold-loving animals; the zoo's indoor exhibits offer a chance to encounter exotic creatures from around the world, regardless of the weather.
Exploring the zoo during the winter months also provides a different perspective on animal life and the challenges they face in changing seasons.
Assiniboine Park Zoo promises an engaging and heartwarming winter adventure.