5 Best Auto Gate Repair Services in Winnipeg
The changing times have called for technological upgrades in homes, commercial properties, and items we use daily.
For example, regular gates can now be automated for smoother and more convenient opening and closing, as well as added security and safety. But like all high-tech objects, auto gates are bound to occasional repairs and maintenance.
We looked into Winnipeg's auto repair services and reviewed the best ones in this article.
How much does it cost to have an auto gate repaired?
Repair services for auto gates range from $600 to $5,300 on average, with hourly rates priced at $40 to $106.
Prices may still change depending on the type of repair needed. Take a look at this table below to know how much you'll likely spend on fixing or replacing parts of your automatic gate:
| TYPE OF REPAIR | AVERAGE PRICE RANGE |
| --- | --- |
| Basic maintenance | $146 – $300 |
| Motor replacement | $280 – $900 |
| Opener replacement | $1,600 – $5,000 |
| Electrical repairs | – |
|   Electrical wiring issue | $166 – $332 |
|   Circuit board replacement | $180 – $532 |
|   Electric panel upgrade | $1,730 – $4,000 |
| Gate repair | $532 – $2,000 |
Other factors such as the material and location of the gate may also change your total repair cost. Emergency services may also entail 20% to 50% additional costs, especially if you call for after-hours maintenance services.
Finding the best auto gate repair services in Winnipeg
In selecting the best auto gate repair services in Winnipeg, we considered the following factors:
1. Wallace + Wallace Fences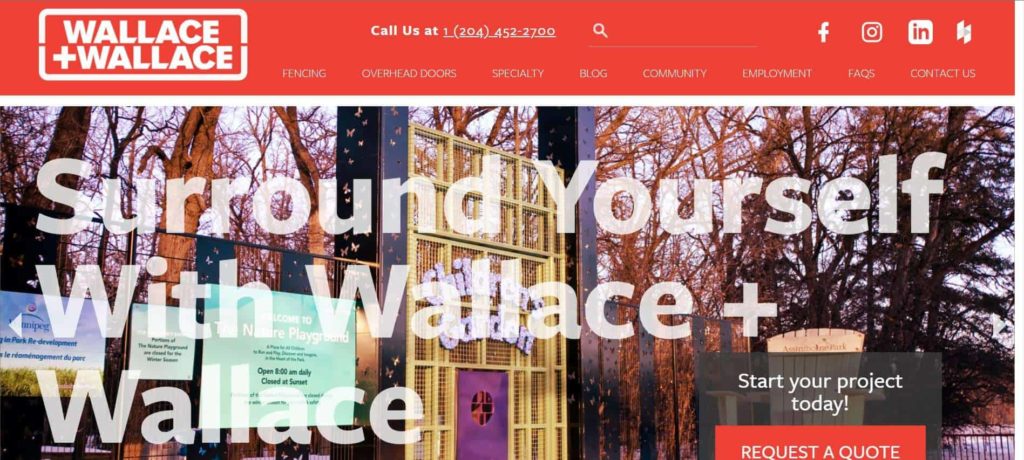 | | |
| --- | --- |
| CRITERIA | RATING |
| QUALITY OF REPAIR | ★★★★★ 5/5 |
| Repair/maintenance condition | ★★★★★ 5/5 |
| Labourers' competence and knowledge | ★★★★★ 5/5 |
| END-TO-END PROCESS | ★★★★☆ 4/5 |
| ACCESSIBILITY | ★★★★★ 5/5 |
| Available | ★★★★★ 5/5 |
| Responsive | ★★★★★ 5/5 |
| CLIENT SATISFACTION | ★★★★☆ 4/5 |
Wallace + Wallace is a notable installer of fences, overhead doors, and automated gates for both residential and commercial properties.
In terms of auto gate options, do note that the company mostly works on sliding and folding gates. You might need to look elsewhere for repairs if your gate doesn't fall in the company's current line-up.
On a brighter note, we love that they sell individual components suitable for replacements. Clients who've had their auto gates done by Wallace + Wallace won't have trouble looking for parts to replace faulty components in their auto gates.
We also appreciate the company for keeping its emergency services available after hours and 24/7 since people can never tell when their auto gate will need immediate repairs.
If you're convinced about getting Wallace + Wallace to repair your auto gate, you'll get a free site visit when you request quotes or estimates for your project.
This will allow the technicians to assess the most appropriate repairs for your gate and provide the most accurate rate.
We're just a bit bummed that the company's warranty for its workmanship only lasts a year. However, repairs under warranty will be free of charge, so there's at least that.
With the company's reputation for building top-tier fences and gates, we think that availing of any of its services will be worth the investment.
Sells individual parts for gates and fences
Services are available for 24 hours daily
Customers may ask for site visits with their quote/estimate request
Auto gate options are limited to sliding and folding
Warranties only last a year
Customer Reviews
Great service and a very knowledgeable technician
"On the weekend my wife and I were inside our home and heard a very loud pop come from the garage. We checked in and didn't find anything out of place. It wasn't until we attempted (unsuccessfully) to open the garage door that we realized one of the lift springs had snapped. We didn't realize how reliant we were on our garage until we lost the use of ours! I called several businesses in a panic Monday morning and it was Wallace and Wallace that answered my call. They had a technician down that morning. He was able to custom-make two springs and have us back in operation very soon after my initial call. He also pointed out several components of my garage door assembly that were beginning to show signs of wear. He went above and beyond and lubricated all the bearings and hinges and now our door opens and closes much more quietly. Great service and very knowledgeable tech. Thank you Wallace and Wallace!" – Jeff Bergen
Outstanding repair work for gates and fences
"We needed our pipe yard gate and fence repaired so we contacted a few different companies for an estimate. One blew us off, one did not even reply but Wallace & Wallace (who we originally bought the gate from a long time ago) not only got back to us quickly but were able to come over for an inspection in a timely fashion. Blaire did the work and was outstanding – he showed us what he did, came up with innovative ways to fix the issues, and went above and beyond what was originally quoted because he identified a few other areas that could lead to problems down the road. He is a total professional who takes pride in his work. Overall, this was a very enjoyable experience I would HIGHLY recommend them to everyone! Thank you!!" – Shane Madison
2. Midwest Fence Company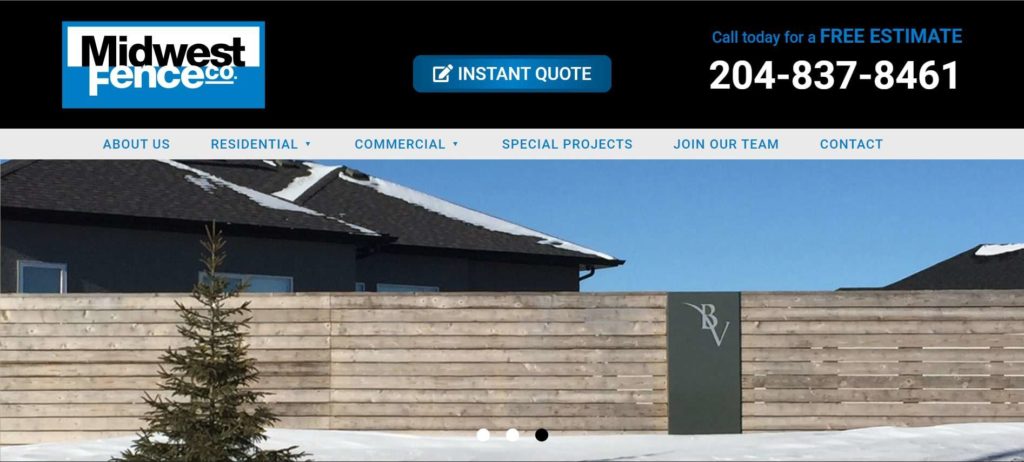 WEBSITE
https://www.midwestfencing.ca/
CONTACT DETAILS
Phone: +1 (204) 837-8461

Email: [email protected]

ADDRESS
115 Lowson Cres., Winnipeg, MB, R3P 1A6, Canada
OPERATING HOURS

Summer hours:




Monday to Friday: 8:00 AM – 5:00 PM

Saturday and Sunday: Closed




Winter hours:




Monday to Friday: 9:00 AM – 4:00 PM

Saturday and Sunday: Closed
| | |
| --- | --- |
| CRITERIA | RATING |
| QUALITY OF REPAIR | ★★★★★ 5/5 |
| Repair/maintenance condition | ★★★★★ 5/5 |
| Labourers' competence and knowledge | ★★★★★ 5/5 |
| END-TO-END PROCESS | ★★★☆☆ 3/5 |
| ACCESSIBILITY | ★★★☆☆ 3.5/5 |
| Available | ★★★★☆ 4/5 |
| Responsive | ★★★☆☆ 3/5 |
| CLIENT SATISFACTION | ★★★☆☆ 3/5 |
Midwest Fencing Company has worked on notable establishments like zoos, parks, football fields, hockey rinks, and theme parks.
We like that they cover a good range of auto gate varieties, namely sliding, swinging, and cantilever types. This allows them to cater to more customers.
It's worth mentioning, though, that the company's auto gate-related services are currently limited to commercial properties.
From what we're told, Jeff is the go-to technician for any service related to fences and gates. We recommend giving the company a call for free estimate requests and having him or other recommended technicians take a look at your gate.
We're also pleased that the company's repair and maintenance services are available during the winter months, from Monday to Friday.
Just be warned: apparently, some of the staff take too long to respond to clients' enquiries. While they accommodate service requests via call, some customers shared that they got the repairs they asked for weeks later than promised.
This is not just inconvenient but unsafe, as a non-functional gate compromises any business' security.
We hope that management can look into this and provide some quick solutions, as this can hurt their already-stellar reputation.
Can handle a wide range of auto gate styles
Services are available in the winter season
Offers free estimates via call
Doesn't service residential clients
Some instances of slow responses
Customer Reviews
Thankful to Jeff for his work on my automatic garage door
"Jeff from Midwest installed my garage door opener and did a fantastic job. Jeff is very knowledgeable and friendly, once the opener was installed he walked me through the operations of the opener using wifi on my iPhone. I would recommend Midwest if you are looking for garage door and opener." – Rod Hourd
Great end-to-end process
"The process was easy and flawless from start to finish. I started with the online quote for a chainlink fence and was contacted the next business day to arrange to get the final quote. The installers came when scheduled, they were friendly and professional. They did an excellent job, my neighbour mentioned how good it looks. I recommend Midwest." – Cindy
3. Total Yard Works Landscaping & Fences Winnipeg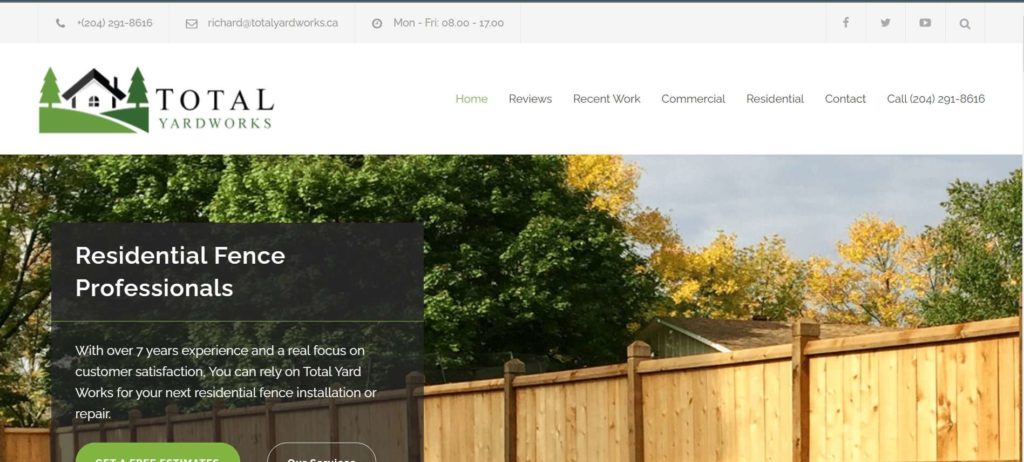 | | |
| --- | --- |
| CRITERIA | RATING |
| QUALITY OF REPAIR | ★★★★☆ 4.5/5 |
| Repair/maintenance condition | ★★★★★ 5/5 |
| Labourers' competence and knowledge | ★★★★☆ 4/5 |
| END-TO-END PROCESS | ★★★☆☆ 3/5 |
| ACCESSIBILITY | ★★☆☆☆ 2/5 |
| Available | ★★☆☆☆ 2.5/5 |
| Responsive | ★★★☆☆ 3/5 |
| CLIENT SATISFACTION | ★★★☆☆ 3.5/5 |
Total Yard Sales is commonly known for landscaping services, but it also works on auto gate installations and repairs – and are apparently quite good at it!
Upon checking, Total Yard Works is quite knowledgeable on wood, vinyl aluminium, and iron gates, which increases our confidence in their expertise.
They also cater to both residential and commercial projects, which gives them an edge over most companies that only deal with one sector.
We have to give it to this company in terms of its end-to-end process. We're told that the staff make the process as smooth and efficient for customers as much as possible.
From the initial phone call to the free consultation services, quote estimations, and project execution, Total Yard Works facilitates each step well and explains the nitty-gritty to customers. This helps set expectations, preventing miscommunication down the line.
Unfortunately, this company's auto gate repair services are currently limited to just gate repairs and maintenance. If you're looking for repairs or replacements for electrical parts, you'll need to look elsewhere for help.
We're just a bit concerned about some client experiences shared with us regarding no-shows. Apparently, some technicians never ended up going to the project site despite a confirmed booking.
It wouldn't hurt for the team to send an advanced notice to the client if they are suddenly unable to make it.
Works on different types of gates and materials
Services are suitable for residential and commercial properties
Offers free consultations and estimates via call
Limited repair services
A few reports on workers not showing up as scheduled
Customer Reviews
Efficient from start to finish
"From the quote to the build, Total Yard Works made the process extremely simple. Very professional from start to finish. The fence looks fantastic!" – Raf & Jocelyn A.
Services are worth paying for
"This was a top-notch professional fence repair company and I've dealt with dozens of them as a real estate agent. From reach-out, to estimate, to follow up and schedule they stood apart from what I and mum are used to. At first, I was a bit shell-shocked at the price, to be honest – but after calling the competitors and getting quotes I quickly learned it wasn't just fair it was lower than other fencing companies in Winnipeg willing to take on my job. I made the right decision and the quality, service, and what I hope was some friendship talking with the crew over the last few days as they finished… the project continues!" – Ricky Provost
4. CB Fencing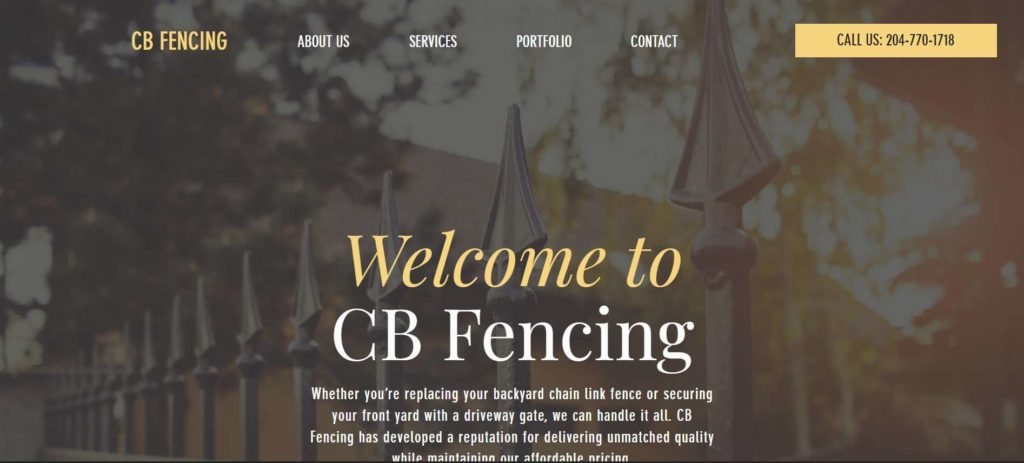 | | |
| --- | --- |
| CRITERIA | RATING |
| QUALITY OF REPAIR | ★★★★☆ 4.5/5 |
| Repair/maintenance condition | ★★★★★ 5/5 |
| Labourers' competence and knowledge | ★★★★☆ 4/5 |
| END-TO-END PROCESS | ★★★★☆ 4/5 |
| ACCESSIBILITY | ★★★★☆ 4/5 |
| Available | ★★★★★ 5/5 |
| Responsive | ★★★☆☆ 3/5 |
| CLIENT SATISFACTION | ★★★★☆ 4.5/5 |
CB Fencing is another trusted contractor that also installs automatic gates for residential and commercial properties.
What we like about this company is that it offers to inspect the client's property first to make the proper measurements and assessments to make the most suitable auto gate.
Only after the free inspection process will the contractors provide estimates befitting the project. We also like how the crew explains which auto gate style works best and what materials are needed to make the gate work efficiently.
The only limitation to this company's services is that most of its auto gate options are chain link types.
That said, an alternative would be to have the contractors add privacy inserts into your auto gate's chain links. Upon checking, clients may choose from wood, vinyl, and galvanised iron privacy inserts.
Besides enhancing your property's privacy, we think that the inserts also add style and colour to your auto gate.
We also like that they are open to working on automatic gates done by other companies or tthose DIY-ed by the owner.
An area we think the company's crew should work on is its responsiveness as we've some clients we've spoken to had some issues regarding late responses to their queries.
Given that CB Fencing's services are available 24/7, their communication lines should be constantly open.
Offers inspection services for free
Does privacy inserts for gates
Open to working on gates done by other companies
Mostly works on chain link gate types
A few reports on slow responses
Customer Reviews
Thankful to the professional crew that made my fence
"I contacted CB Fencing and had them come out for a free estimate. Chad came out and took measurements and went over what I had in mind and answered the questions I had for him. I had the quote that same day. Chad contacted hydro and had all utilities located. The crew that came to install the fence was very professional, they did an amazing job I would recommend CB Fencing 100%." – John Loewen
Friendly and amazing crew who was professional from start to finish
"These guys came out today to put up our black chain link fence. They were friendly, professional and did a super quick while amazing job. It looks great. I couldn't be happier with them from the initial contact and quote to the finished product. If you need fencing done I definitely recommend CB Fencing!" – Kerra McLeod
5. Truefence Works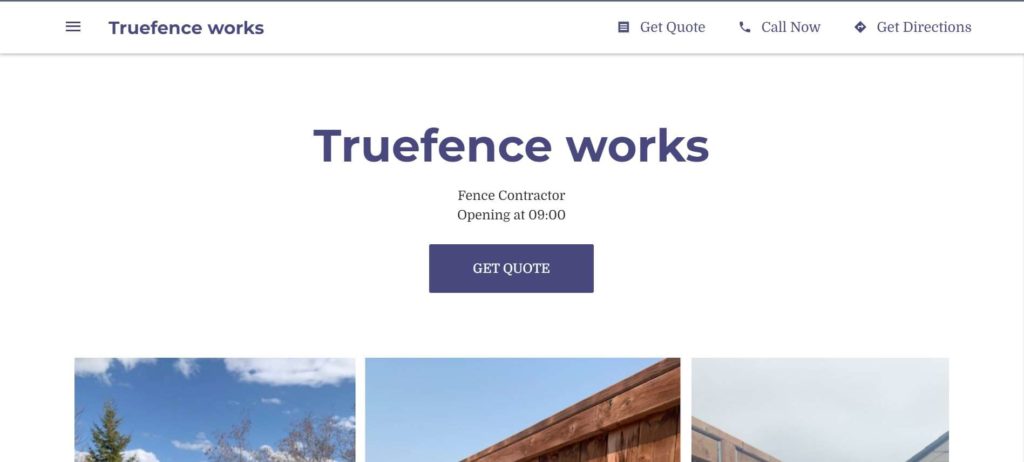 | | |
| --- | --- |
| CRITERIA | RATING |
| QUALITY OF REPAIR | ★★★★☆ 4.5/5 |
| Repair/maintenance condition | ★★★★★ 5/5 |
| Labourers' competence and knowledge | ★★★★☆ 4/5 |
| END-TO-END PROCESS | ★★★★★ 5/5 |
| ACCESSIBILITY | ★★★★★ 5/5 |
| Available | ★★★★★ 5/5 |
| Responsive | ★★★★★ 5/5 |
| CLIENT SATISFACTION | ★★★★★ 5/5 |
If you're looking for a company that specialises in wooden gates, Truefence Works is a great option.
We checked out their portfolio and were glad to know that they do wooden fences, gates, and sliding barn doors.
What we like about Truefence Works' wooden gates is that they're tall and built with few gaps in between panels, which we think is great for security.
A favourable point to this company is that its crew is available to do repair work during the weekends. We think this schedule is convenient for those who want to be around to oversee the work being done and aren't available on weekdays due to work.
We also think it's great that the company provides free quote estimations, and we're pleased to hear that the staff always give honest and accurate estimates for projects.
It is worth noting that Trueworks' fencing and gate services are currently limited to residential properties, and is yet to offer its repair services for commercial auto gates.
This isn't a dealbreaker, though, as there are plenty of homeowners looking for wood specialists that repair auto gates. It's a good thing that Truefence Works is one of the few Winnipeg companies that's able to do this.
Specialises in wooden gates and fences
Available on the weekends
Fair quotes and prompt services
Currently only works on wooden fences and gates
Services are limited to residential properties
Customer Reviews
A company that provides value for clients' time and money
"Was looking for a quote and they offered a super easy to follow and reasonable quote. They also got my fence built before the deadline date. They are super hard working and they value their customers!" – Samuel
Friendly and competent fence builders
"Highly recommended fence builder. Gave me a super reasonable quote which was the cheapest I've had. Got the job done well and they were very friendly and easy to talk to." – Shahrizad H
FAQs on Automated Gates
---
That sums up our unbiased take on the best auto gate repair services Winnipeg has to offer!
For other services related to gates and doors, feel free to check out our other review articles on the best overhead door installers and the best garage door repair services in Winnipeg.