3 Best Tutoring Centres for ACT Prep in Winnipeg
The American College Test (ACT) began in 1959 and was introduced by Professor Everett Franklin Lindquist of the University of Iowa as a competitor for the Scholastic Aptitude Test (SAT), which was deemed the standard exam for college application.
It wasn't until 2012 that the number of ACT takers surpassed those who took SAT, with the total for each being 1,666,017 takers of ACT and 1,664,479 takers of SAT.
If you're looking for tutoring centres that provide ACT preparation courses, then this article is for you.
So, look no further, and let's explore the best tutoring centres for ACT prep in Winnipeg!
How much does it cost to enroll in ACT prep tutorial classes?
Preparing for exams can cost a lot of money, especially if you plan to enroll in review centres or hire tutors to help you study.
Take a look at this table below for the average costs of different ACT preparation courses available:
| ACT PREP TYPE | AVERAGE PRICE RANGE |
| --- | --- |
| Self-study guide | Up to $66/book |
| Online programmes | $132 – $1,800/course |
| In-person courses | $1,045 – $2,400/course |
| One-on-one tutoring | $53 – $264/hour |
Selecting the best tutoring centres for ACT preparation
In selecting the tutoring centres for ACT preparation, we considered the following criteria:
1. Tutor Doctor Winnipeg South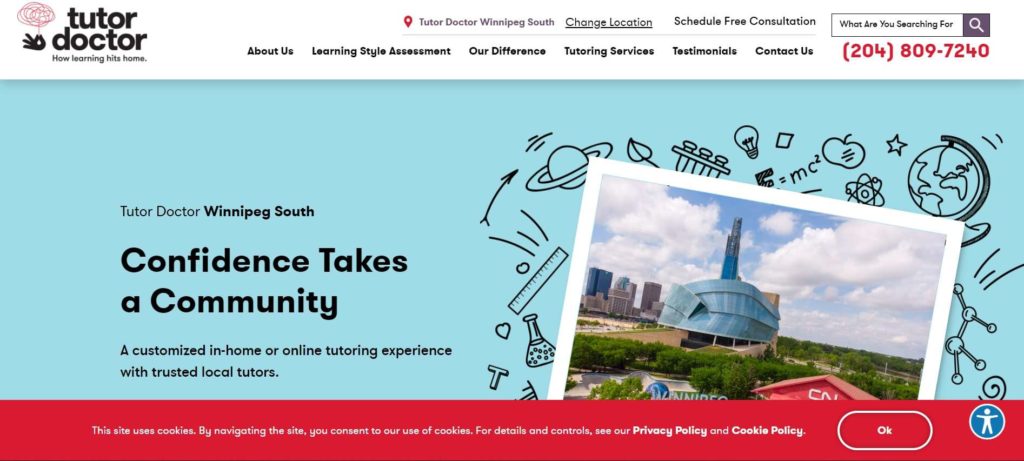 | | |
| --- | --- |
| CRITERIA | RATING |
| TUTOR QUALITY | ★★★★★ 5/5 |
| Knowledgeable and well-equipped to teach | ★★★★★ 5/5 |
| Tailor-fits lessons to accommodate students | ★★★★★ 5/5 |
| LEARNING SETUP QUALITY | ★★★★★ /5 |
| VALUE FOR MONEY | ★★★★★ 5/5 |
| STUDENT SATISFACTION | ★★★★★ 5/5 |
| Encouraged to learn | ★★★★★ 5/5 |
| Found tutoring centre easy to contact | ★★★★★ 5/5 |
Tutor Doctor in Winnipeg South takes pride in providing tutoring services tailored to the needs and learning styles of different people.
One of the things we love about this tutoring centre is that it offers free consultation and learning style assessment services to interested clients for free.
Given that the ACT is a significant exam, we think that these services help students be matched with the best tutors that are accommodating to their learning pace and needs.
We also think that considering the needs of different learners will also help them learn each section more effectively and perhaps be less intimidated by subjects they find difficult and the ACT itself.
Another strong point of this tutoring centre is that its locations are flexible and can be done anywhere the tutor and tutee agree to meet.
While the SOP of Tutor Doctor is to have lessons done in the comfort of its learners' homes, ACT prep lessons can be done in the library or even a coffee shop.
Do note, however, that this tutoring centre only does in-home tutorial lessons and does not have a classroom set-up. If you prefer learning in-person, then you might need to look elsewhere.
The centre also currently does not offer drop-in tutoring, which we think can be a little limiting especially if a tutee needs to meet their tutors for questions.
On a brighter note, tutors provide their contact details so tutees can message them regarding their lessons.
Tutees may also contact Tutor Doctor's office directly in case they have other queries, which is a testament to their availability.
In case students can't meet their tutors face-to-face due to schedule conflicts or distance, we like that they will gladly offer online sessions as an alternative option.
We're also pleased that Tutor Doctor also provides ACT registration assistance, which we think is helpful for first-time takers to apply for the exam more conveniently.
Free consultation services
Also offers ACT registration assistance
Offers online tutoring
Tutoring locations are flexible
Currently only does in-home tutorial sessions
Does not offer drop-in tutoring
Customer Reviews
Appreciate the centre for matching my kids to the most suitable tutors
"My experience with tutor doctor was very pleasant from the intake meeting and with them being very prompt in responding and matching the kids with the best tutor that the kids feel comfortable with. I love that I get an update after every session of tutoring that helps me know how the kids are doing. Like that they work with my schedule and availability." – Queen and diamond Soo cool gang
Kudos to Stacy, for helping my kid pass
"We just wanted to thank you for your efforts in tutoring Stacy. We found out today that she passed her exam, which was our goal at this stage. We know that is largely due to you and are very grateful." – Anonymous
2. Sylvan Learning of North Winnipeg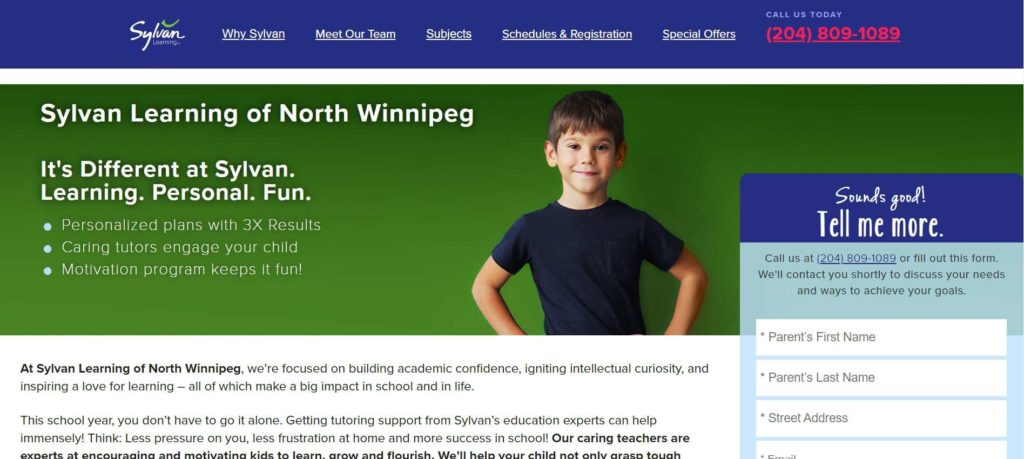 | | |
| --- | --- |
| CRITERIA | RATING |
| TUTOR QUALITY | ★★★★☆ 4.5/5 |
| Knowledgeable and well-equipped to teach | ★★★★★ 5/5 |
| Tailor-fits lessons to accommodate students | ★★★★☆ 4/5 |
| LEARNING SETUP QUALITY | ★★★★☆ 4/5 |
| VALUE FOR MONEY | ★★★★★ 5/5 |
| STUDENT SATISFACTION | ★★★★★ 5/5 |
| Encouraged to learn | ★★★★★ 5/5 |
| Found tutoring centre easy to contact | ★★★★★ 5/5 |
Sylvan Learning is a tutoring centre that prides itself for helping school kids improve their reading and math skills and gain more confidence in school.
In terms of test prep lessons, the centre's North Winnipeg branch offers ACT tutoring and resources (as of writing, the West Winnipeg branch only offers SAT prep classes) and has teachers trained and equipped to teach ACT subjects.
The centre currently only offers in-centre tutoring, which not all students may prefer. The closest a student can get to in-home learning would be through online tutoring sessions.
That said, we still think that the classroom-like setup will be conducive for ACT prep tutees as there will be fewer distractions that will derail them from studying and learning.
Despite the absence of in-home tutoring, we like how Sylvan offers flexible in-centre schedules that students can change depending on their daily agenda.
This creates some extra wiggle room that may prove useful for students who are juggling academics and college prep.
Another strong point of Sylvan is that it provides full-length ACT practice exams, with the writing section included.
The practice exams are also timed in order to simulate the environment of the actual ACT. We think that this will help students manage their time effectively, as well as to understand and answer each section thoroughly.
This will also help ease some of their nerves, as this takes away some of the uncertainty and gives them a basis for what to expect come exam day.
One drawback though, is that many of this tutoring centre's discount coupons are currently limited to math and reading tutoring programmes.
We think is this quite limiting, since materials and services for ACT preparation can be pricey. Alternatively, interested enrollees may apply for Sylvan's financing methods to be able to avail of ACT prep courses without spending big right away.
Offers in-centre and online learning sessions
Flexible in-centre schedules
Offers timed, full-length ACT practice exams
Does not offer in-home tutoring
Coupons are limited to math and reading tutoring lessons
Customer Reviews
Thankful for the tailored help given to my daughter
"Our daughter gained both knowledge and confidence around her math skills. We were able to get very tailored help for her, she enjoyed it and learned!" – Marcela Popowich
Suzanne did well in helping my daughter gain self-confidence in school
"I cannot believe the difference in my daughter. When I first called Sylvan and spoke with Suzanne, I was pretty skeptical. We had tried everything from private tutors to Kumon. Nothing had worked. But as soon as we walked into Sylvan and met Suzanne in person, everything changed. My daughter, Kallie, is now working at grade level and has some new self- confidence! It is wonderful to see her smile again. I cannot thank Suzanne and the wonderful team of teachers at Sylvan enough for making such a difference in Kallie's life. She actually enjoys math now and looks forward to going to school. I recommend Sylvan to everyone I know! Thank you so much!" – Julie Woods
3. Prep Academy Tutors of Manitoba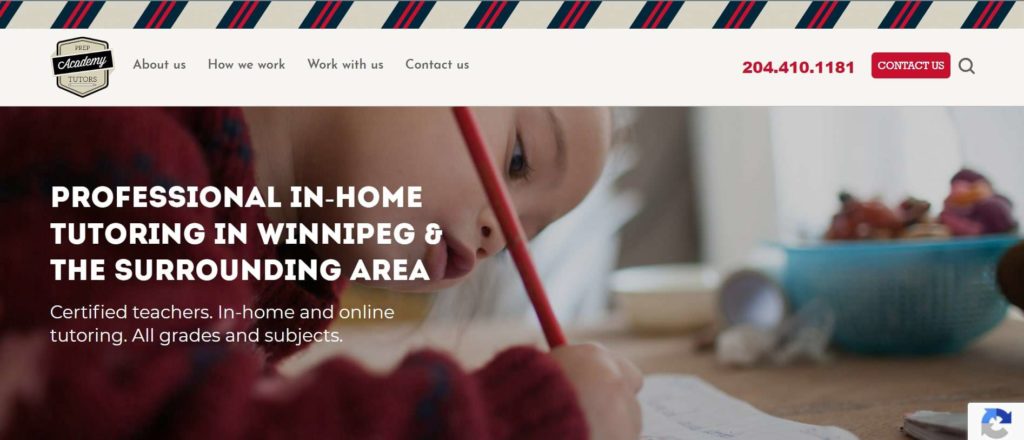 | | |
| --- | --- |
| CRITERIA | RATING |
| TUTOR QUALITY | ★★★★★ 5/5 |
| Knowledgeable and well-equipped to teach | ★★★★★ 5/5 |
| Tailor-fits lessons to accommodate students | ★★★★★ 5/5 |
| LEARNING SETUP QUALITY | ★★★★☆ 4/5 |
| VALUE FOR MONEY | ★★★★★ 5/5 |
| STUDENT SATISFACTION | ★★★★★ 5/5 |
| Encouraged to learn | ★★★★★ 5/5 |
| Foun tutoring centre easy to contact | ★★★★★ 5/5 |
What we love about Prep Academy Tutors is that tutees may choose whether they want one-on-one tutoring for more privacy or group tutoring arrangements for classmates or friends studying for the ACT together.
Online tutoring setups are also available for those who can't always attend their scheduled one-on-one or group lesson.
The one-on-one and group arrangements are usually done in a tutee's home, although Prep Academy will accommodate ACT prep tutoring anywhere conducive for learning and discussion.
We also love that tutoring schedules are flexible and can be arranged according to the student's time and preferences.
Lessons aren't also too lengthy, with private tutoring lasting 60 to 90 minutes each and online tutoring lasting 30 minutes.
Students may also have their lessons last 120 minutes if they want more time to understand each section of the ACT more clearly.
Besides the availability of flexible tutoring hours, we also appreciate Prep Academy for employing a tutor match system to accommodate different learning styles and paces.
Should a tutee feel they've been mismatched with their current tutors, the centre will gladly rearrange them with more suitable lecturers.
A limitation we found is that Prep Academy's branch in Winnipeg doesn't offer in-centre tutoring setups, which won't be favourable for those who prefer a more structured environemnt for their ACT preparation.
While the tutoring centre allows cancellations, tutees–or their parents–need to inform Prep Academy at least 24 hours before the scheduled tutoring date so they can reschedule accordingly.
In case a student won't be able to cancel 24 hours prior, they'll need to call Prep Academy to reschedule their class in order to make up for the missed ACT prep lesson before the month ends.
In-home and online tutoring
Offers one-on-one and group tutoring setups
Tutors can be switched if the student is not satisfied
Currently does not offer in-centre tutoring
Cancellation requests must be made at least 24 hours before tutoring schedule
Customer Reviews
We are very happy we've found them
"My kids have loved working with Prep Academy tutors! They are knowledgeable, professional, and best of all, my kids look forward to their sessions! Any of their questions are taken seriously, which I think boosts their confidence and increases their interest in learning. I think most importantly when my kids face challenges they have somewhere to go to navigate through them." – Mike Carreira
FAQs on ACT Preparation
---
And that ends our unbiased review of the best tutoring centres for ACT preparation in Winnipeg!
If you're looking for other places or services that offer knowledge and skill improvement, take a look at these articles on: