5 Sports Centres with the Best Badminton Coaches in Winnipeg
Planning to start a badminton career or just in need of a new sport to enjoy in your free time? Then maybe it's time to get to know the sports centres with the best badminton coaches in Winnipeg!
How much do badminton coaches cost in Winnipeg?
Before getting on the list, let us first learn the average prices of the usual programs that sports centres or coaches offer.
Just be mindful that these prices are all program-based, meaning that there is already an allotted amount of time for these services. If you wish to hire a badminton coach for just a short period or a specific amount of time, the rates may differ.
| Types of Service | Average Cost |
| --- | --- |
| Junior Coaching | $178 |
| Teens Coaching | $192 |
| Adult Beginner Coaching | $198 |
| Advanced Coaching | $260 |
| Doubles Coaching | $150 |
| Group Coaching | $110 |
| Home Service Coaching | $175 |
Sports Centres with the Best Badminton Coaches in Winnipeg
Starting an athletic journey, even if it is just for leisure purposes, is no joke. So, to give you the assurance that you are getting the best out of this list, we made sure to screen the entries based on the following criteria:
1. Prairie Winnipeg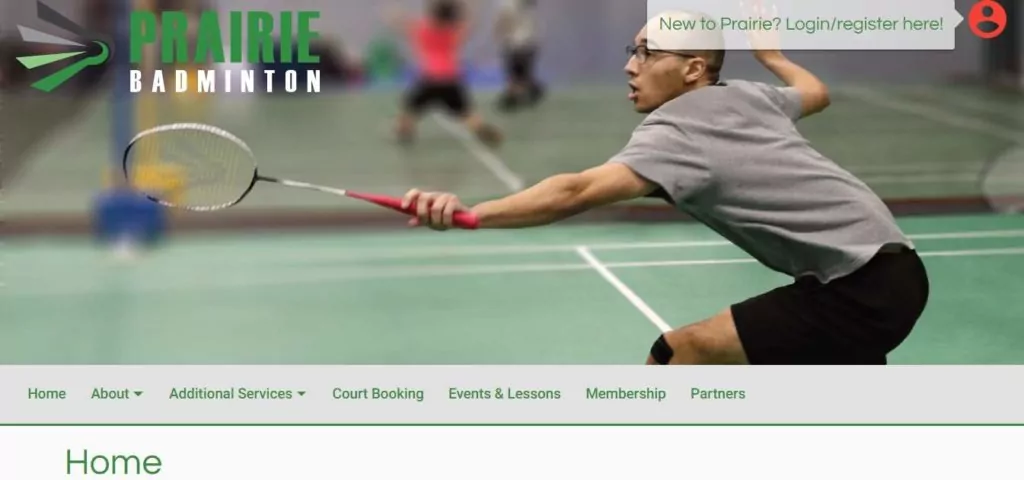 SERVICES & FACILITIES
Group Lessons

Private Lessons

Court Rentals

Camps

Tournaments

Pro Shop & Stringing

Company & Private Parties

WEBSITE
https://prairiebadminton.ca/home
ADDRESS
275 De Baets St Unit 2, Winnipeg, MB R2J 4A8, Canada
CONTACT DETAILS
+1 (204) 663-5499
OPERATING HOURS
Monday to Friday: 12:00 PM – 11:00 PM

Saturday: 9:00 AM – 9:00 PM

Sunday: 10:00 AM – 9:00 PM
| | |
| --- | --- |
| Criteria | Ratings |
| Knowledge and expertise | ★★★★★ (5/5) |
| Professionalism | ★★★★★ (5/5) |
| Rates of services | ★★★★☆ (4/5) |
| Facilities | ★★★★★ (5/5) |
Of course, this list of the top sports centres with the best badminton coaches in Winnipeg can't go on without Manitoba's only dedicated badminton facility — Prairie Winnipeg!
During our visit, the first thing that we noticed is how neat this sports centre is. This place is maintained meticulously so that you wouldn't have to be wary of your surroundings.
This is an important note since players will be at risk of injuries should there be uncleaned areas, even just wet floors.
The indoor facilities are also built with high ceilings, so your shuttlecock won't get stuck on the roof.
We also loved the professionalism of the coaches here. The instructors are perfect either for beginners or highly competitive players.
The coaches also started as athletes who played in some provincial, regional, and national tournaments.
That's why it is easy to bond with them since they understand the struggles of being a beginner.
This connection with the players allows the coaches to drive them and push them harder to be the better athletes that they aspire to be.
The reliability of its coaches is seen in the success of the multiple medallists that they have instructed.
If you're ever planning to visit this place, we suggest that you do a reservation first since it is frequently busy.
Fortunately, the parking spaces are wide enough that you wouldn't have to worry about it despite the large crowd.
Just also remember that the hourly rate here is comparatively higher than other badminton facilities.
But if you're looking for a place to build your badminton career and establish networks with people of the same hobby, this might just be for you.
Good facilities
Easy-going atmosphere 
Professional coaches
Wide parking space
Slightly steep pricing 
Frequently busy
Customer Reviews
Coaches are fantastic
"Great place to play badminton. The employees are amazing and the coaches are fantastic… kudos to coach Ryan for teaching me the basics. More success to PB. Cheers!" — Arnel Dela Torre
Highly qualified coaches
"Great facility designed specifically for badminton. Lots of courts. Highly qualified coaches are great- whether absolute beginner or highly competitive. They also sell good selection of Victor and Yonex gear in the pro shop (and don't try to "up-sell" you)." — Andrew Buhler
2. Winnipeg Winter Club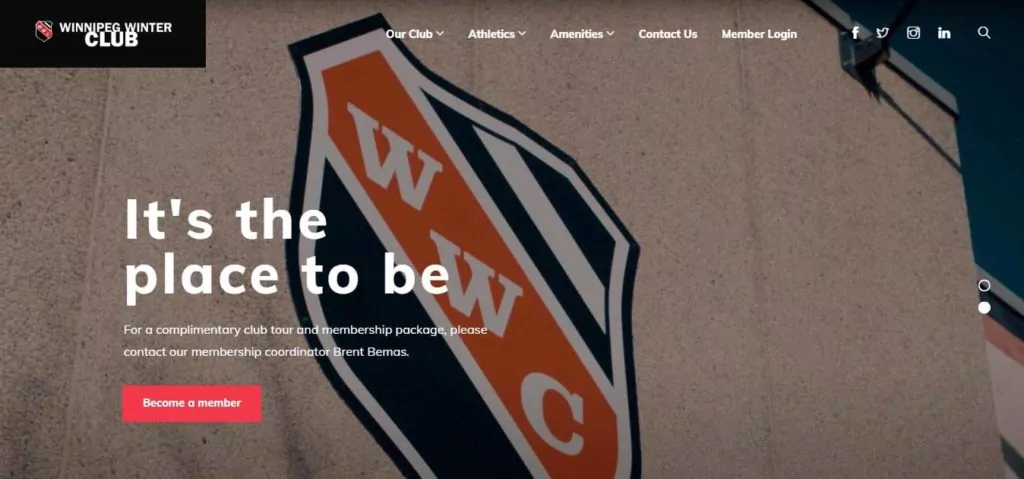 SERVICES & FACILITIES
Group Lessons

Semi-private Lessons

Private Lessons

Camps

Tournaments

Fitness Centre

Dining & Meeting Rooms

Child Care & Junior Lounges

Massage & Athletic Therapy

WEBSITE
https://www.winnipegwinterclub.com/
ADDRESS
200 River Ave, Winnipeg, MB R3L 0B2, Canada
CONTACT DETAILS
+1 (204) 452-3311
OPERATING HOURS
Monday to Friday: 6:00 AM – 10:00 PM

Saturday & Sunday: 7:00 AM – 9:00 PM
| | |
| --- | --- |
| Criteria | Ratings |
| Knowledge and expertise | ★★★★☆ (4/5) |
| Professionalism | ★★★★★ (5/5) |
| Rates of services | ★★★★☆ (4/5) |
| Facilities | ★★★★☆ (4/5) |
The one standard that may come to mind if you're looking for the best sports centre and badminton coach is if they ever had a champion of their own.
If this is what you're looking for, Winnipeg Winter Club is your place to be!
This facility is the place where National and Canadian Badminton Champions Jaimie Dawson and Kara Solmundson fostered their careers.
It is a multi-sports complex that houses areas where you can choose to play badminton, tennis, skating, hockey, swimming, and a lot more!
With over a 100,00 sq. ft. perimeter, you can choose to hop in either recreation or relaxation activities.
There is a total of five allotted badminton courts that you can go to. The location is also convenient to get by as it is decently accessible from the North and the South of Winnipeg.
What we loved the most about this place is, of course, the highly experienced coaches. Its main coach is Elliot Beals who has about two decades of coaching experience.
With his garnered knowledge and expertise, your training sessions are no doubt going to be fruitful.
Indeed, the offer of excellent facilities and coaches is always a gem. However, it also comes with a price — a steep one.
For you to be part of the Winnipeg Winter Club, you'll have to pay the membership fee first. Then avail a private lesson with a coach of your choice.
Another thing that we found disappointing is its limited parking area. If you ever come around during its busy days, be ready for a parking nightmare.
Experienced coaches 
Good customer service
Perfect for multiple sports
Reasonable facilities
Convenient location
Customer Reviews
Great atmosphere
"The Winter Club is by far one of my favourite places in Winnipeg. Friendly and helpful staff, huge selection of facilities/activities and a great atmosphere. It's nice to have the front desk greet you by name whether you're stopping in for a workout, round of squash, to use the steam room or just grab a bite from Urban Prairie. I always look forward to heading to the WWC after work. Highly recommend membership here." — Dan Lawson
Friendly staff
"Easy to spend hours here. Friendly staff and friendly members. Easy to tell that they value their members. Not only a rec facility, get the feeling of belonging in a tight knit community. They offer a variety of classes and events, every month has something new or different." — Katrina Armstrong
3. Whyteridge Community Centre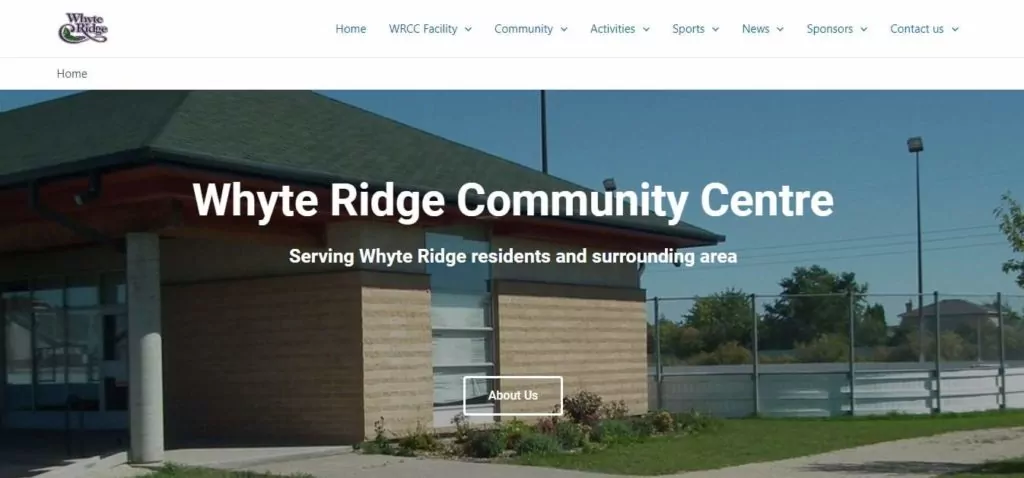 SERVICES & FACILITIES
Young & Adult Badminton Classes

Fitness & Arts Classes

Multi-purpose room

Camps

Butterfly Garden

Soccer Fields

Outdoor Basketball Court

Canteen

Skating Rink

WEBSITE
https://whyteridge.ca/
ADDRESS
170 Fleetwood Rd, Winnipeg, MB R3Y 1R3, Canada
CONTACT DETAILS
+1 (204) 487-3042
OPERATING HOURS
Monday to Friday: 5:00 PM – 8:00 PM
| | |
| --- | --- |
| Criteria | Ratings |
| Knowledge and expertise | ★★★★★ (5/5) |
| Professionalism | ★★★★☆ (4/5) |
| Rates of services | ★★★★★ (5/5) |
| Facilities | ★★★★☆ (4/5) |
A safe space for badminton enthusiasts is what Whyteridge Community Centre should be labeled.
When we got here, we noticed that everyone seems to be a friend of the other — players and coaches alike. It's admiring to see how people with the same interests could get along easily.
A place where you could have a second home surely can't miss this list of the top sports centres with the best badminton coaches in Winnipeg.
The set of coaches you'll encounter here are all professionally trained. They ensure that all the instructors' services are of the highest quality.
The training programs that it offers are led by Honesto Navarro, a certified coach with countless years of experience. The badminton programs, on the other hand, are operated in partnership with Pembina Trails school division.
Plus, since this is a community centre, expect that the rates are absolutely affordable. For just $100, you already have access to 11 classes.
Even more, it's applicable to youths and adults alike.
If you're interested in its other activities offered, you can check around the area and you'll see how expansive the space is.
In fact, it can also be used for hockey, soccer, basketball, and yoga classes. There are also tons of parking spaces so you can go even on the most hectic days.
The only issue we had with this facility is its limited badminton area. Although the community centre offers places for multiple sports, the badminton area is confined to a small indoor bungalow building.
Friendly community & coaches
Wide space available
Reasonably priced
Good maintenance
Trained coaches
Customer Reviews
All are welcome
"Pembina Active Living (PAL 55+), has a home at the Whyte Ridge Community Centre. Both my wife and I are members of PAL. My wife Sandra is the president of PAL. The centre was recently renovated to house our great Executive Director and Administrative Assistant/Volunteer – Program Coordinator. PAL is a charitable, seniors serving organization in South Winnipeg committed to enhancing the lives of all older adults. Classes are provided in person at the centre. All are welcome. It a pleasure to work with the Board of Directors at WRCC." — Robin Sukhan
Great facility
"A great facility. The ice on the outdoor rinks is well maintained. They offer a good variety of yoga, zoom a, and other classes." — Scott Dalrymple
4. Sport Manitoba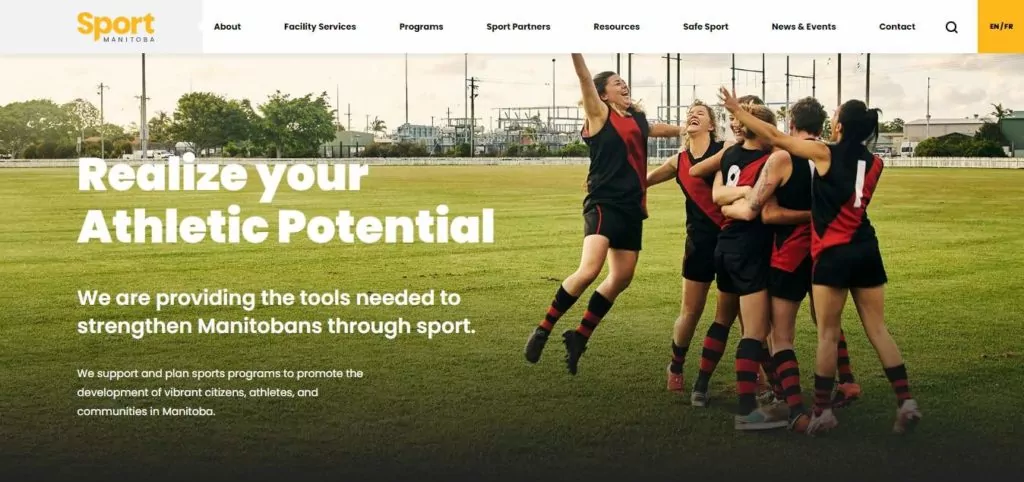 SERVICES & FACILITIES
Youth & Adult Programs

Fitness Centre

Medical Clinic

Professional Training Centre

Coaching

Court & Gym Spaces

Meeting Rooms

Event Spaces

WEBSITE
https://www.sportmanitoba.ca/
ADDRESS
145 Pacific Ave, Winnipeg, MB R3B 2Z6, Canada
CONTACT DETAILS
+1 (204) 925-5600
OPERATING HOURS
Monday to Friday: 8:30 AM – 4:30 PM
| | |
| --- | --- |
| Criteria | Ratings |
| Knowledge and expertise | ★★★★★ (5/5) |
| Professionalism | ★★★★★ (5/5) |
| Rates of services | ★★★★☆ (4/5) |
| Facilities | ★★★★★ (5/5) |
One of the most popular multi-sports complexes is Sport Manitoba. A single word that can describe this place is "pristine".
While visiting multiple sports centres for this list, we witnessed how the staff works so hard to maintain a tidy place with proper neat practice.
However, seeing this facility left us with nothing but pure admiration for the staff and guests who all work together to achieve its immaculate state.
It might seem an exaggeration, but when you set foot here, you'll be welcomed with an expansive multi-purpose gymnasium, complete equipment for varying activities, and lots of available changing rooms.
What's more is that this place also features an indoor track and wide spaces for other indoor activities.
Since the place is rarely busy, you can take your time here and enjoy your stay without the pressure to wrap up quickly — a typical issue in most gyms that offer limited spaces that are easily crowded.
Another thing that we loved about this place is its skillful trainers. Class instructions and programs are perfect for all clients.
Their approaches are friendly and personable, so you won't have to feel awkward during your classes.
The coaches' expertise varies in a wide range. There are some sports scientists, strength and training specialists, mental skills coaches, and even physiotherapists.
The fact that they all stay in-house means that it is unlikely to come over without a coach available.
Just note that this facility is all-around pricey, from the parking spaces that are highly expensive to the personal classes and lessons.
Hence, this is definitely not a good option for a budget-friendly multi-sports complex.
Expansive facility
Rarely busy
Properly maintained
Skillful trainers
Pricey 
Hard to access parking space
Customer Reviews
Very positive and welcoming
"The best gym I've ever been a member of. Lots of equipment, lots of space, very positive and welcoming of everyone (no "bros only" vibe), classes to help you push hard if you want. Wish it was 24-hour access, but otherwise tremendous." — Matthew TenBruggencate
Brand new and super clean
"This could be one of the best indoor facilities available in Winnipeg. Most of the courts are brand new and super clean. They have facilities for volleyball, badminton, gym and basketball. There are other sport facilities as well like a indoor cricket practice pitch and softball. Do try this place" — Sunil Shrivastava
5. Rady JCC Fitness Centre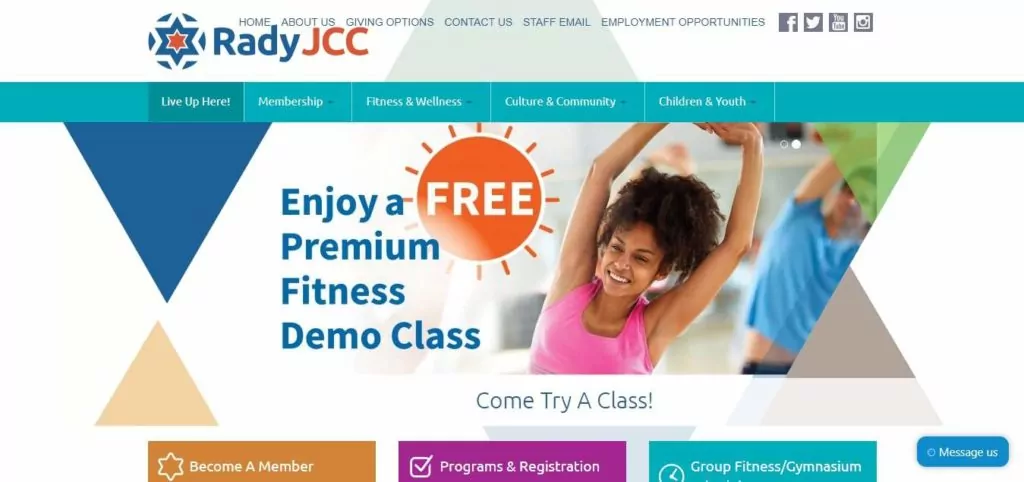 SERVICES & FACILITIES
Fitness Facilities

Wellness Services

Group Fitness

Youth Programs

Adult Sport & Recreation Programs

Aquatics

Sano Therapy Clinic

Demo Classes

Personal Trainers

Team Training

WEBSITE
https://www.radyjcc.com/
ADDRESS
123 Doncaster St, Winnipeg, MB R3N 2B3, Canada
CONTACT DETAILS
+1 (204) 477-7510
OPERATING HOURS
Monday to Thursday: 6:00 AM – 9:00 PM

Friday: 6:00 AM – 7:00 PM

Saturday & Sunday: 8:00 AM – 6:00 PM
| | |
| --- | --- |
| Criteria | Ratings |
| Knowledge and expertise | ★★★★★ (5/5) |
| Professionalism | ★★★★★ (5/5) |
| Rates of services | ★★★☆☆ (3/5) |
| Facilities | ★★★★★ (5/5) |
Training in modern facilities with staff that does not treat you like an outsider is definitely a great place to be, especially for beginners.
Rady JCC Fitness Centre is an establishment that is known for its excellent treatment of its clients.
It doesn't matter if you're a pro or a newbie. The staff will treat you fairly as a member of its community.
Honestly, we did not even feel like this is a business place.
The people here are all easy to talk to. They are informative but never condescending.
You wouldn't feel like you're stepping into foreign territory. So, you can just simply ask around if you're having a hard time with badminton basics or even learning some tricks.
But of course, it is a lot better to have professional assistance. It is a great thing that Rady JCC Fitness Centre is under the lead of specialized coaches.
All the trainers offer personal, pair, or group training. They are recipients of certifications by multiple governing bodies.
Some trainers are MFC Certified Fitness Leaders, CanFitPro: Personal Training Specialists, and High-Performance Coaches Level 3.
We love that all the coaches here try to work around the limitations of their clients. This is important to be highlighted since pushing limits is a great way to achieve maximum potential.
This facility also allows varied courses. That is, you have the liberty to blend your badminton classes with another sport of your choice.
Another plus is that it provides some free demo courses for those who would want to learn the basics first.
The only thing that we found to be bothering is its expensive rates, which is somewhat understandable since the classes are all conducted by experienced trainers.
However, the trainer fee that ranges from $45 to $47 for every 30-minute session is a bit too costly.
Nonetheless, we can still attest to the quality of training that you will get. So, if you do have the budget and choose to avail of the trainers' services here, it'll still be worth it.
Certified coaches
Modern facilities
Excellent staff 
Good parking spaces
Offers varied courses
Customer Reviews
Good instructors
"It's clean and bright with lots of windows. The classes are led by really good instructors. The equipment is always upgraded. The pool is beautiful. There is also a vibrant sense of community. And diversity. People gather for coffee or lunch, kids walk by with their parents or from the school, posters everywhere letting us know about the many offerings in the building for music and celebration. It's a healthy place. I am very glad to be a part of it and would recommend it to everyone." — Catheryn Martens
Well worth the money
"I love going to the Rady JCC Fitness Centre. The staff are always friendly and always speak to guests, the facility itself is fabulous. It's clean, bright and the equipment is the most up-to-date. Trainer Kevin Roy is fabulous. He pushes me but knows the limitations and works around them. If you're looking for some personal training, call Kevin. Love the saltwater pool and steam room too. The Rady is well worth the money and certainly worth joining." — Bj Johnstone
FAQs about Badminton Coaches
---
Hopefully, this list was able to help you gain an idea of where to take your badminton training and which sports centres have the best coach that fit your level and interest.
If you wish to double the fun in your athletic journey, you can also check out these places with the best swimming lessons in Winnipeg!