5 Best Fine Dining Restaurants in Winnipeg
Looking for a place to grab a fancy bite and some drinks whether with your colleagues, friends, or even family?
Look no further for we have just listed the best fine dining restaurants in Winnipeg perfect for your well-deserved luxurious night out!
How much do fine dining restaurants cost in Winnipeg?
It's not a foreign concept that fine dining can be expensive. That's why it is ideal that you get an overview of how much it'll cost you to visit such restaurants.
Make sure to check this price list before grabbing the phone and making a reservation.
Just keep in mind that these costs may still vary depending on the restaurant and the portions that they serve.
| Types of Products | Range of Cost |
| --- | --- |
| Soups | $11 – $15 |
| Appetizers | $12 – $28 |
| Salads | $15 – $25 |
| Sandwiches | $23 – $27 |
| Burgers | $20 – $25 |
| Pasta | $26 – $30 |
| Chicken | $23 – $39 |
| Ribs & Steaks | $50 – $140 |
| Seafood | $50 – $100 |
| Vegan Dishes | $20 – $40 |
| Desserts | $18 – $27 |
| Drinks | $8 – $15 |
| Wines | $40 – $70 |
Best Fine Dining Restaurants in Winnipeg
If you'll be digging some holes in your pockets for an amazing fine dining experience, we want to make sure that it'll be worth it.
To guarantee you that we are giving you the best list, we used the following criteria:
1. 529 Wellington Steakhouse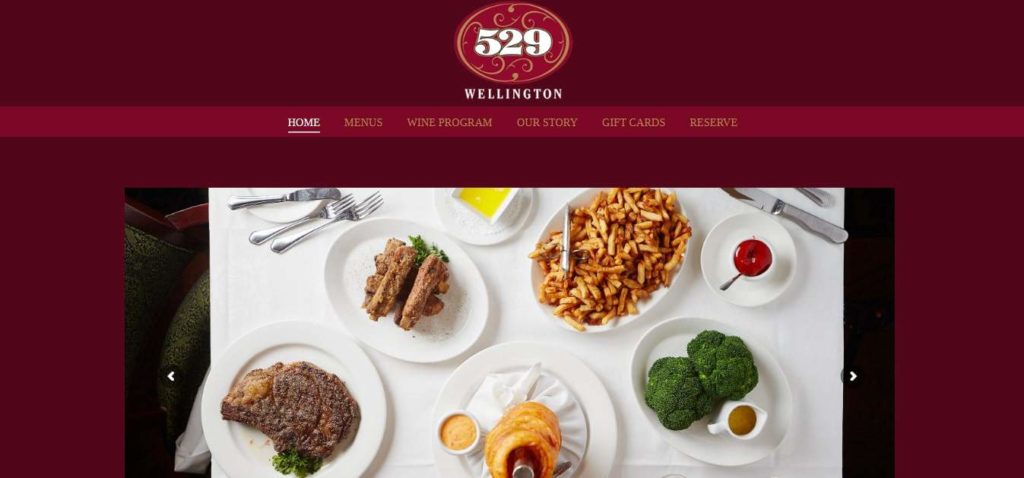 PRODUCTS
Soups & Appetizers Salads Main Course Salads Burgers Sandwiches Steaks Seafood Dessert Wine
WEBSITE
https://529wellington.ca/
ADDRESS
529 Wellington Crescent, Winnipeg, MB R3M 0B9, Canada
CONTACT DETAILS
Phone: +1 (204) 487-8325
OPERATING HOURS
Monday to Friday: 11:30 AM – 10:00 PM

Saturday: 4:30 AM – 10:00 PM

Sunday: 4:30 PM – 9:00 PM
| | |
| --- | --- |
| Criteria | Ratings |
| Customer service | ★★★★★ (5/5) |
| Restaurant design and maintenance | ★★★★★ (5/5) |
| Menu and quality of food | ★★★★☆ (4/5) |
| Crowd control and availability | ★★★★☆ (4/5) |
| Prices | ★★★★☆ (4/5) |
Priding itself on being awarded the Canadian Prime Distinction, 529 Wellington Steakhouse is highly confident with its selection of tour de beef.
It also features 700 wine options and a cellar of more than 17,000 bottles.
If you are looking for a lovely and exquisite steak and wine dining experience, this might just be the best fit for you.
Especially if you're particular about the beauty of a restaurant's exterior, interior, and even the depths of the washroom.
Rest assured that this steakhouse has just the perfect amount of finesse and elegance perfect for a fancy night out.
If the interior is not doing it for you, you may opt to choose the patio where you'll be greeted by the surrounding trees along the Assiniboine River.
We love this part of the restaurant the most because of its serene ambiance.
What's more is that the crew are all professional, polite, and engaging enough with their presentation of the dish options.
Typically, steakhouses would just simply hand you a menu from where you'll be picking your steak of choice.
But, with 529 Wellington Steakhouse, its menu comes with a demonstration of the different cuts of steak to give you a clearer perspective of what they'll be serving.
It is both interesting and informative that it's already entertaining as it is without the need for grandeur gestures or technology.
As expected, this steakhouse is indeed expensive.
It might not be the cheapest restaurant, but for a high-end one with prime-grade meat, rest assured that your bill is worth it.
The location is also convenient since it is easy to find. Just drive along the Assiniboine River and you'll see it around.
There's also no need to worry about parking since it has ample space for it.
However, as much as we love this restaurant, there are also some parts where we feel it is lacking.
The first is that it tends to be unresponsive through emails.
This is a big issue because all concerns are typically sent by email. If no one's attending to it, then such complaints would just be left unresolved.
Secondly, there's an insufficient effort for crowd noise control.
Since this steakhouse is a popular option for a fine dining experience, many people come over to celebrate anniversaries, birthdays, or even company events.
The problem is that the staff does not do well in managing noise, so it's usually discomforting for other diners.
Lastly, even though there's a largely positive note with its meat grade, we found that there's some inconsistency in terms of its food quality, like with its salads or soups.
Wide variety of wine selection
Well-maintained 
Offers a serene patio ambiance
Highly professional crew 
Decent serving portion
Convenient location
Reasonable pricing 
Tendency to be unresponsive through emails 
Insufficient crowd noise control
Inconsistent food quality 
Customer Reviews
Food was excellent
"Fabulous experience. Carl, our server, was outstanding! Food was excellent. Timing of delivery of each course was spot on. Sunroom where we were seated provided confidence for immunocompromised diner." — Cheryl Saper
Service was top tier
"Gorgeous place to celebrate a special occasion or even just to spoil yourself a bit. The ambiance is great and gives a feeling of refinement. Service was top tier and the food was exceptional. It was an overall top notch experience. You get what you pay for though, so budget accordingly. The only critique I would offer, is the parking lot could stand for a little love. However, this is nothing that would deter me from coming back. I will be coming back again and give an enthusiastic thumbs up." — Jason Giesbrecht
2. The Velvet Glove Restaurant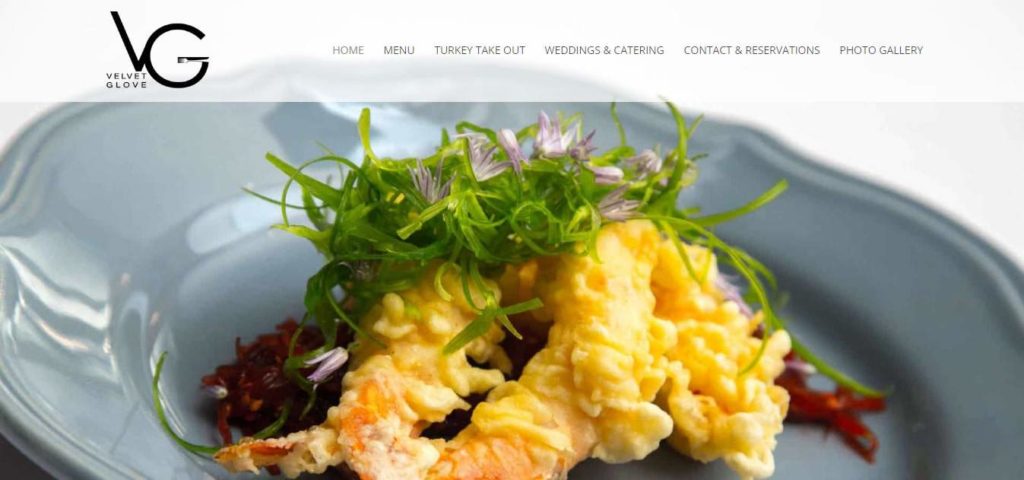 | | |
| --- | --- |
| Criteria | Ratings |
| Customer service | ★★★★★ (5/5) |
| Restaurant design and maintenance | ★★★★★ (5/5) |
| Menu and quality of food | ★★★★☆ (4/5) |
| Crowd control and availability | ★★★★★ (5/5) |
| Prices | ★★★★☆ (4/5) |
A recipient of the 2019 Diners' Choice Award and the Super Tailgate for being a top gameday restaurant, the Velvet Glove is a valid entry for this list of the best fine dining restaurants in Winnipeg.
Since this restaurant is found in The Fairmont Winnipeg, it is certainly spacious enough for all occasions.
The first thing we noted here is its aesthetically pleasing interior with just the right amount and angling of the lights, the color palette from the floor to ceiling, and the choice of tables and chairs.
The menu options are expansive so they basically have everything you could name that can be found in a usual fine dining experience.
It is not limited to just steak and wine this time, but a larger scope of dishes.
The servers are all attentive to customer needs from glass refills, as well as setting and cleaning the tables and seats.
Plus, if by any chance your drink of choice is unavailable, you can easily get a suggestion perfectly cut out according to your preferences.
And even if it is perfect for corporate meetings or family staycations, you can still very much enjoy your stay as the management has good crowd control.
The food quality is undoubtedly excellent from the beverages down to the desserts and main dishes.
Just be mindful that this restaurant offers a different bathroom for people with mobility issues. It can only be found in the lobby area.
If this is not disclosed to you immediately, don't hesitate to ask or inquire about it.
On the other hand, if you are like most that pay huge attention to the plating proper of their food, you might be a bit disappointed with this restaurant.
Not that it is extremely bad, but it could be improved a lot to make the dishes more appetizing.
Lastly, be careful of the confusing parking area as it looks a little complicated. Take note of the signages that you'll be seeing once in the lot.
Multi-awardee
Perfect for corporate meetings or family staycations
Wide menu options 
Excellent food quality
Aesthetically pleasing interior 
Attentive to customer needs 
Provides knowledgeable wine recommendation 
Good crowd control 
Unfriendly bathrooms for people with mobility issues 
Mediocre plating (diminishes overall enticing impact)
Slightly confusing parking area 
Customer Reviews
Exceptional service
"Have been multiple times and always had an excellent experience at the Velvet Glove Lounge at the Fairmont. Exceptional service and wide selection of cocktails and fine eats. We had cauliflower wings that might be the best I've had. Nice atmosphere and the staff were very accommodating – serving us breakfast outside of the usual hours. Really enjoyed our visit to both the hotel and the restaurant." — Colton De Vos
Menu is creative and delicious
"I cannot say enough about the VG. Service is always phenomenal and the menu is creative and delicious. We've been many times and had many different menus and I would not be able to choose a favourite dish from the close to 100 that we've probably had. And the new Sunday brunch is 👌🏻👌🏻👌🏻. Fun, creative, and totally affordable!" — Laura Orsak-Williams
3. Harth Mozza & Wine Bar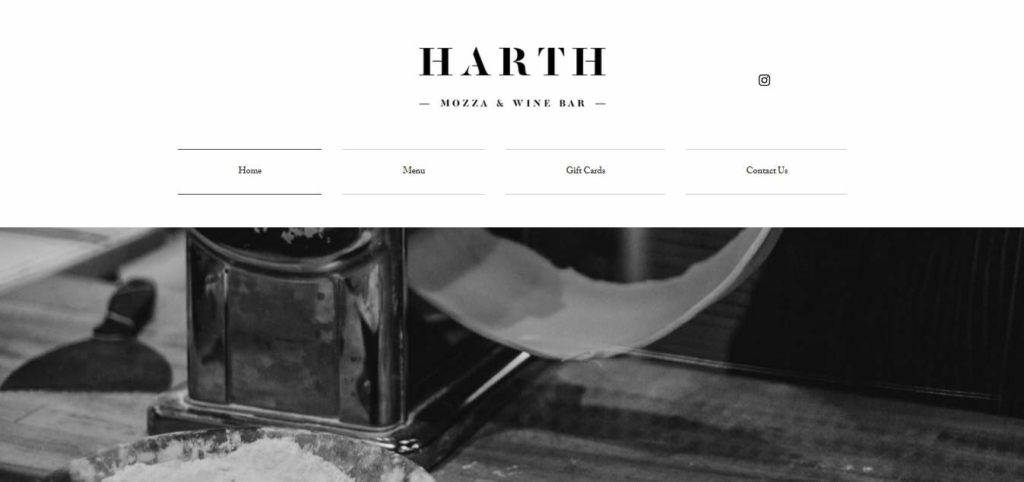 | | |
| --- | --- |
| PRODUCTS | Appetizers Pizzas Seafood Chicken Beef Vegan Dishes Wine |
| WEBSITE | https://www.harthwpg.com/our-vision |
| ADDRESS | 980 St Anne's Rd #1, Winnipeg, MB R2N 0A5, Canada |
| CONTACT DETAILS | Phone: +1 (204) 255-0003 |
| OPERATING HOURS | Tuesday to Saturday: 5:00 PM – 10:00 PM |
| | |
| --- | --- |
| Criteria | Ratings |
| Customer service | ★★★★☆ (4/5) |
| Restaurant design and maintenance | ★★★★★ (5/5) |
| Menu and quality of food | ★★★★★ (5/5) |
| Crowd control and availability | ★★★★☆ (4/5) |
| Prices | ★★★★★ (5/5) |
Of course, this list of the best fine dining restaurants in Winnipeg can't go on without a highly commended Italian restaurant.
When you hear the words fine dining, the first thought that you're likely to have is Italian cuisine. Because who wouldn't?
This cuisine is known for its respect for its tradition, the art of creating a meal, and its love and passion for the ingredients and Italian products.
Serving its house-made pasta and cheese, Harth Mozza & Wine Bar claims authenticity over its dishes and carefully curated wine list.
The plating is downright a chef's kiss. The presentation itself is enough to make you salivate over its dishes, whether it's a pizza, pasta, or even a dessert.
It is well-created and perfect for the eyes and taste buds.
The thing that we love the most is its wonderful service.
When visiting an Italian restaurant, it is easy to get lost in its ingredients and composition. Most of the time, it is the interest to try out different dishes but don't know where to start.
Fortunately, the servers are all knowledgeable regarding the food's composition and ingredients.
Even more, if you ever find yourself looking for a drink that's not on the menu, you can just simply ask if the crew can make it and they'll serve it to you.
For instance, not all restaurants offer mocktails on their menu. But, even if Harth Mozza & Wine Bar is one of those restaurants, its servers are well trained and experienced so you can request a virgin cocktail or something else.
The pricing is quite average, considering that Italian restaurants are expectedly high end.
The portions are generous. Some dishes can be shared by two people, so it's definitely worth your money.
But as much as it is an elite-caliber restaurant, of course, it still has its downside.
One thing is that it has short operating hours. The restaurant opens at 5 PM and closes promptly by 10 PM.
We also observed that there are instances where seating reservations are delayed, and the customers are made to wait longer than a few minutes.
Although this might be patched up with the lovely atmosphere inside the restaurant, it surely does impact the diner's overall satisfaction.
Wonderful service 
Delicious food quality
Appetizing plating 
Extensive wine list 
Knowledgeable servers
Average pricing 
Generous dish portions
Largely varied menu options
Lovely atmosphere 
Limited opening hours 
Inconsistent crowd management 
Customer Reviews
Delicious food experience
"The most delicious food experience I've ever had! The atmosphere is amazing, not to mention the staff. They take the time to make you feel like you're an A class guest, even when the place is packed. Am still drooling over the duck confit pasta. Its to die for!" — Mowgli
Beautifully decorated
"Highly recommend! The service is incredible and the food too. Great space for a couple of cocktails and appetizers – the burrata and bison tartare are favourites. The larger booths are perfect for a formal evening. Beautifully decorated with cork ceilings and great lighting. Their pizzas are often our 'go to', but the tagliatelle with duck confit does not disappoint. Wine list is extensive and the servers are very knowledgeable when it comes to pairing. Can't say enough about the place…definitely in the top 3 restaurants in the city!" — Jennifer Steel
4. Chop Steakhouse & Bar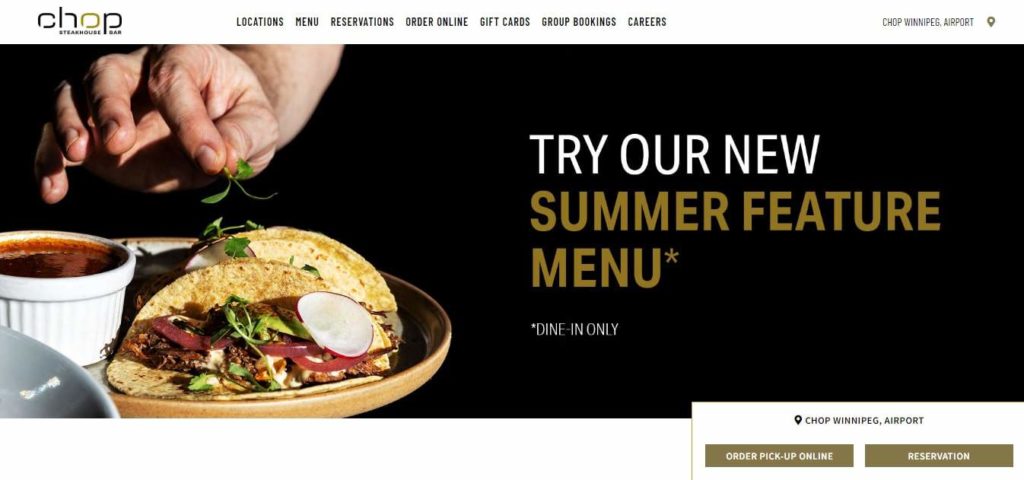 PRODUCTS
Soups & Appetizers Salads Chicken Ribs & Steaks Burger Seafood Vegan Dishes Sides Kids Menu Desserts Coffee
WEBSITE
https://chop.ca/
ADDRESS
1750 Sargent Ave, Winnipeg, MB R3H 0C7, Canada
CONTACT DETAILS
Phone: +1 (204) 788-2015
OPERATING HOURS
Monday to Friday: 11:30 AM – 12:00 AM

Saturday: 3:00 PM – 12:00 AM

Sunday: 3:00 PM – 11:00 PM
| | |
| --- | --- |
| Criteria | Ratings |
| Customer service | ★★★★★ (5/5) |
| Restaurant design and maintenance | ★★★★☆ (4/5) |
| Menu and quality of food | ★★★★☆ (4/5) |
| Crowd control and availability | ★★★★☆ (4/5) |
| Prices | ★★★★☆ (4/5) |
With multiple locations littered across Canada, this next restaurant in our list of the best fine dining restaurants in Winnipeg is perfect for people who are looking for a convenient steak experience.
With Chop Steakhouse & Bar you can easily order for a pick-up online or make a reservation in any of its nearby stores in your area.
Once inside, you'll be entertained by its enthusiastic servers who are all personable and friendly.
It is a refreshing experience, especially since being in an expensive restaurant could be a little discomforting if you're stuck in the rigidity of sophistication.
Sometimes it's just the occasional treat to yourself that acts as a motivation to visit such places.
So, it's lovely that there is no need to feel outclassed in this restaurant with its crew treating you like acquaintances.
It also offers creative dish presentations.
While the servings are all aromatic and enough to leave your stomach wanting for more as you receive your order.
It is not a foreign concept that there are instances where our orders could go wrong.
Sometimes it is because of a high traffic crowd that the orders are mixed up.
Given this case, it is always a great thing if servers are all professional in handling concerns.
If they ever get your orders wrong, you can simply raise this concern to the crew, and they'll surely offer an immediate resolution to give you the satisfying service you deserve.
It could come with some freebies, a replacement of your order, or even both.
The only thing we did not like is its tendency to serve inconsistent food quality.
Some dishes are better than others in terms of proportion and taste in general.
The price is also a bit more expensive than necessary given that the service is not that constant.
While the service from getting you seated to attending to your needs is done promptly, there is occasional slow service of drinks that could potentially affect the diner's mood.
Personable and friendly service
Professional and knowledgeable servers
Aromatic servings 
Creative dish presentation 
Willing to solve customer concerns 
Enthusiastic servers
Punctual service (from getting you seated to attending to your needs)
Decent wine selection
Occasional slow service of drinks
Dissimilar food quality 
Slightly expensive 
Customer Reviews
Very Friendly
"This was our first visit to Chop. I had looked through several of the reviews ahead of time and wasn't sure due to some of the mixed reviews. Long story short, my wife and I are very picky about how our prime rib is done. Not only was the prime rib done to perfection and taste but the rest of the meal also followed suit. Our server for our first visit was Vasyl and I must say it was nothing but professionalism knowledge and very friendly interactions with him. We have not one single complaint from the moment we walked in the door to the time we left. Interactions with the other staff members were equally good we will definitely come back here again. I wish I could give it more than five stars. Great job to the entire team keep doing exactly what you're doing." — Brent S
Atmosphere was calm but inviting
"Food was absolutely delicious! Service was quick and friendly. Atmosphere was calm but inviting. Definitely going back. Ordered the Filet Mignon with fries and seasonal vegetables with a side of Mushrooms." — Dawn
5. Hy's Steakhouse and Cocktail Bar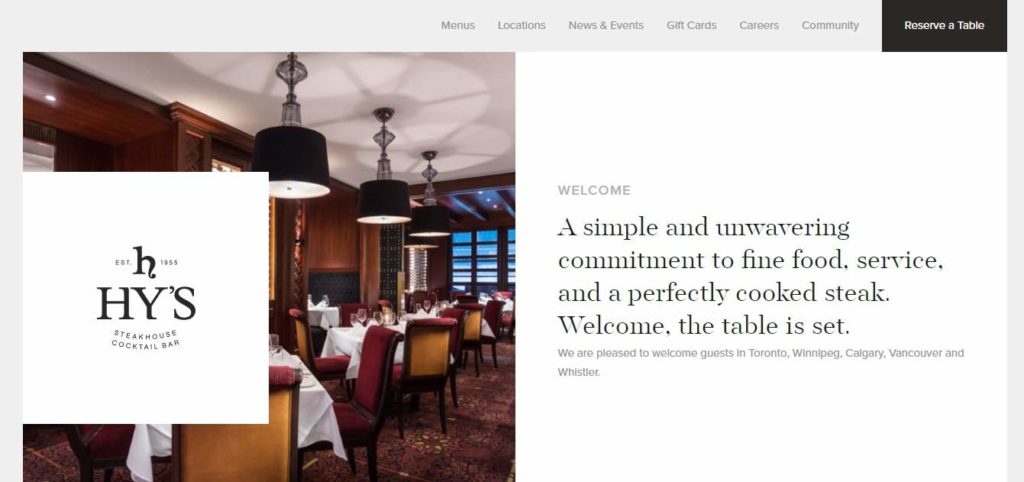 PRODUCTS
Soups & Appetizers Salads Steaks Seafood Vegan Dishes Desserts Cocktails & Wine
WEBSITE
https://hyssteakhouse.com/
ADDRESS
Richardson Building, 1 Lombard Place Main Floor, Winnipeg, MB R3B 0X3, Canada
CONTACT DETAILS
Phone: +1 (204) 942-1000
OPERATING HOURS
Monday to Thursday: 11:30 AM – 10:00 PM

Friday: 11:30 AM – 11:00 PM

Saturday & Sunday: 3:00 PM – 11:00 PM
| | |
| --- | --- |
| Criteria | Ratings |
| Customer service | ★★★★★ (5/5) |
| Restaurant design and maintenance | ★★★★☆ (4/5) |
| Menu and quality of food | ★★★★☆ (4/5) |
| Crowd control and availability | ★★★★☆ (4/5) |
| Prices | ★★★★☆ (4/5) |
Serving as one of the top fine dining restaurants in Winnipeg for more than half a century is the Hy's Steakhouse and Cocktail Bar.
If you're more inclined to have a classic fine dining experience, this steakhouse is no doubt good for you.
The combinations of dark mahogany, rich colors, textures, and intimate lighting are all done to give its customers an authentic upscale and luxurious atmosphere.
The dishes are all flavorful and well-crafted.
It also features an exceptional wine selection. If you intend to familiarize yourself with its massive options, you may choose to ask for the staff's input.
We appreciate the staff's informative explanation of the menu they offer. Because it shows how conscious they are of the dish they serve.
It is extremely helpful if you're cautious of the ingredients or the composition of the food you're purchasing. It is also a lot helpful if you're looking for the perfect drink to marry your meal.
Its service is made even more remarkable by its servers' meticulous attention to the needs of their customers.
Naturally, you'll have to wave someone down first to say your demands in other restaurants.
But in Hy's Steakhouse and Cocktail Bar, you are surrounded by a team of staff that are keen on the needs of their diners and deliver instantaneous service.
Just note that this restaurant does not offer halal meat. So, you may choose to inquire first about its other dishes if you're interested in dining here.
Lastly, it is a bit expensive.
Yes, it is expected. But if you are to consider its small serving, the value of your money might be a bit downscaled.
We can say that for this restaurant, the food is undeniably good. But the service is one of a kind.
Classic fine dining experience
Incredible service 
Informative servers
Exceptional wine selection 
Lovely ambiance
Exquisite plating 
Slightly expensive 
Does not offer halal meat
Customer Reviews
Service is just incredible
"One of the most spectacular restaurants I've visited in Winnipeg Downtown. The service is just incredible, all the staff members from the hosts to the waiters were amazing.
And the food was just brilliant. Tried two different types of steaks along with their oysters and everything was perfect.
Absolutely no complaints at all. It is a little pricey, but well worth it. Highly recommend." — Ghalib Zamir
Everything was perfect
"We had a FANTASTIC TIME tonight with Benjamin as our server. Everything was perfect, atmosphere, service and food. Cheesy bread was delicious, French onion soup was superb, steak and lobster was delicious and the sou vide chicken was very tasty. The service was excellent with great timing and every one of our needs were thought out and we never had to wave someone down to fetch something that was missing. We ended the meal with bananas foster which quite a performance and very delicious. We have done some fine dining in Montreal lately but none of that compares to this evening meal." — T Sky
FAQs about Fine Dining Restaurants
---
We hope we helped you in figuring out where to enjoy a luxurious night out! However, if you're looking for other dining choices on a casual day or for other occasions, feel free to check these out: