4 Best Resume Writing Services in Winnipeg
Whether you're a fresh graduate or a professional seeking a new career, a well-written resume is crucial. Hiring a professional resume writer can help you put your best foot forward.
Professional resume writers are skilled and trained specialists that create engaging resumes. If you're looking for the best resume writing services in Winnipeg, we're here to help!
We've compiled a list of Winnipeg's best resume writing services to help narrow down your choices. But before we delve into our list, here are the criteria we used to find a good resume writer and the average cost of this service.
Average Cost of Digital Marketing Agencies in Winnipeg
Average Cost of Resume Writing Services in Winnipeg
Here are the average costs of resume writing services in Winnipeg.
| Services | Average Cost |
| --- | --- |
| Base Resume Writing | 50 - 200 CAD |
| High-cost Resume Writing | 500 - 1000 CAD |
| Outplacement Package | 1500 - 2500 CAD |
Top Resume Writing Services in Winnipeg
We have rounded up our top picks to give you the best guide for the best resume writing services in Winnipeg. Here are the factors we considered:
So, without further ado, here's the list of Winnipeg's best resume writing services.
1. A Paperwork Pro Resume Writing Service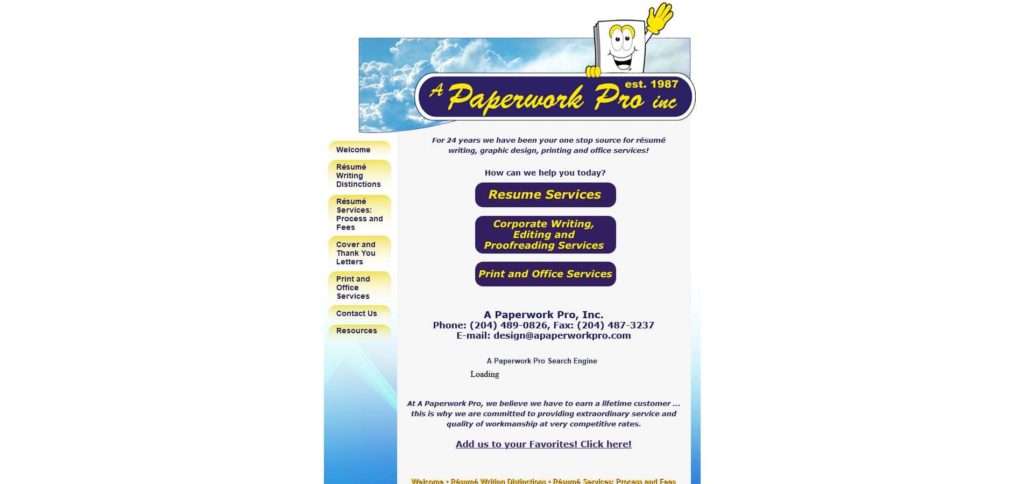 SERVICES
Resume Writing Service

In-Person Consultation Service

Internet/International Services

Resume Updating Service

WEBSITE
https://www.apaperworkpro.com/apaperworkpro/welcome.html
ADDRESS
453 Pembina Highway (at Garwood)
CONTACT DETAILS
+1 204-227-3897
OPERATING HOURS
Monday - Saturday: 10AM–9PM

Sunday: Closed

COST
$180 + GST
| | |
| --- | --- |
| Criteria | Rating |
| Experience | ★★★★★(5/5) |
| Professional credentials | ★★★★★(5/5) |
| Convenience | ★★★★★(5/5) |
| Cost | ★★★☆☆(3/5) |
If you're looking for a resume writing company that has worked in the industry for years, you should check out A Paperwork Pro.
This company is one of the top resume writing services not only in Winnipeg but also in Manitoba. It offers several resume writing services, including consultations, international services, and resume updating.
Over 24 years, it has built a loyal clientele because of its excellent track record. You can always drop by its office in person if you want to meet its writer.
On the other hand, you can also view its sample resumes online, which is easily accessible.
The provider offers a free review of your existing resume. You can easily send it by fax or email and wait for the writer's call, which we think is convenient.
Moreover, it offers in-person consultation services, allowing your resume to be written, processed, and proofread within a two-hour interview session.
We think that one of this company's advantages over other resume writing services is a faster turnaround. It can complete the document in days to a couple of weeks.
However, each consultation has a maximum of two hours, so you shouldn't exceed the time allotted. If you do, you'll need to pay an additional hourly fee.
If you're not starting from scratch, you can avail yourself of its resume updating services. You can schedule an in-person session or email your existing document if you're a current client.
Aside from resume writing services, its writers are also equipped to assist clients in creating customized personal items, including wedding and party invitations.
Regarding pricing, the provider's fees are charged per hour, so it would be best to set your objectives beforehand. It also requires full payment and doesn't issue refunds, so you must ensure your commitment before booking its services.
Has 24 years of experience
Offers in-person consultation services
Offers international services
Offers free critique
Quick turnaround time
Samples are available for viewing
Charged per hour
Requires full advance payment
No refunds
Closed on Sundays
Customer Reviews
Excellent service
" Sandy was great to work with for updating my resume. She brought a perspective that I wouldn't of seen with my eyes in regards to my career history and experience. She also made me realize that I was way too humble in regards to work experience and achievements.
Thank you very much Sandy! " – Darrel Theroux ⭐⭐⭐⭐⭐, Google Reviews
Professional staff
"Sandy wasted no time while working together on my resume. It was evident that she knew her craft. She delivered a very clear, professional product that was highly impressive. Thank you for your time-sensitive approach, you were a pleasure to work with.
Top recommendations! " – Lisa Watts ⭐⭐⭐⭐⭐, Google Reviews
2. Jonathan Seah® Career Consulting & Resume Writing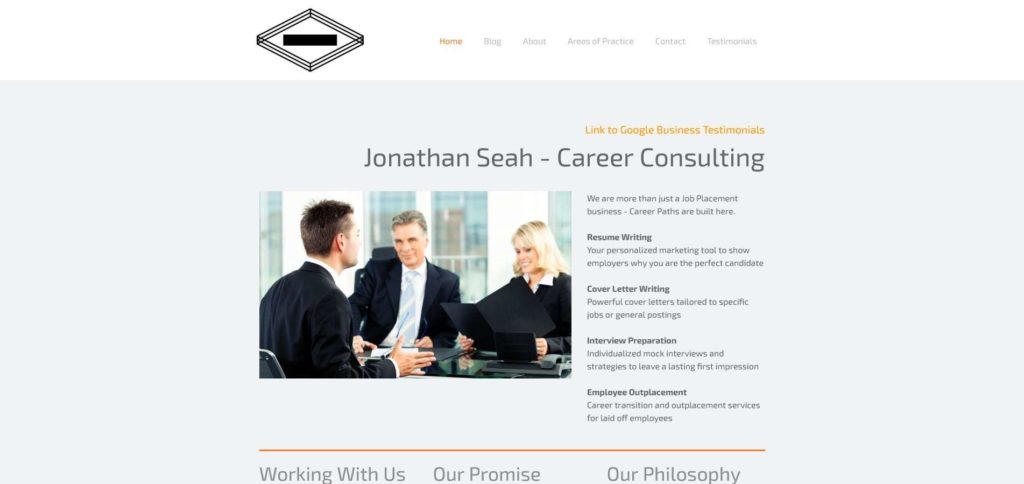 SERVICES
Resume Writing

Cover Letter Writing

Interview Preparation

Employee Outplacement

WEBSITE
https://jonathanseah.jimdofree.com/
ADDRESS
66 Chancellor's Dr, Winnipeg, MB, Canada
CONTACT DETAILS
+1 204-952-6597
OPERATING HOURS
Open 24/7
COST
$200 per resume
| | |
| --- | --- |
| Criteria | Rating |
| Experience | ★★★★★(5/5) |
| Professional credentials | ★★★★★(5/5) |
| Convenience | ★★★★★(5/5) |
| Cost | ★★★★☆(4/5) |
Next on our list is a resume writing service that offers unlimited revisions until you are satisfied.
For over ten years, Jonathan Seah has provided consulting services, including resume writing for Winnipeggers. It also offers cover letter writing, interview preparation, and employee outplacement.
What we love about this company is its promise of 100% satisfaction for its clients. If you need assistance with your resume, it does unlimited revisions until you're satisfied.
We also love how it has a step-by-step process to ensure that your resume or cover letter is of top-notch quality.
It offers a free phone consultation to review your professional history, career goals, and qualifications. It's also a plus that it provides customized resumes instead of templates.
Afterward, your resume will be drafted and subjected to review and feedback. Its writers will work with you until you're satisfied with the output, which is an advantage over other companies.
Aside from its high-quality service, this provider's vast practice area is also great. It has worked with small to medium-sized employers to offer positive transitions for employees who have been terminated or laid off.
It has worked with clients in finance, construction and manufacturing, healthcare, logistics, and many more. Different career organizations, including Career Professionals of Canada, have recognized its top-notch service.
One downside this company has is its fees, which are relatively pricey compared to its competitors. Fortunately, its free consultation and unlimited revisions ensure you're getting your money's worth.
Offers a wide range of career consulting
Recognized by career organizations
Free phone consultation
Unlimited revisions
Personalized service
Open 24/7
Customer Reviews
Professional service
" Jonathan is very professional, I'm extremely happy with the quality of his work to revamp my resume. Now I feel more confident as my resume is polished and I'll be able to find a job easily in my profession as a BA.
Thank you! " – Vigneshwar Shankaran ⭐⭐⭐⭐⭐, Google Reviews
Excellent results
" After months of applying to nearly 100 jobs and no response, I decided something needed to change. After having my resume redone by Jonathan Seah Consulting, offers began to come one after the next.
My new resume was able to capture my personality and skills, and tell my story to potential employers. I highly recommend having your resume updated, you will not be sorry if you contact Jonathan. Thanks again for your prompt and professional service. " – Jennifer Grant ⭐⭐⭐⭐⭐, Google Reviews
3. Prestige Resume Preparation & Interview Coaching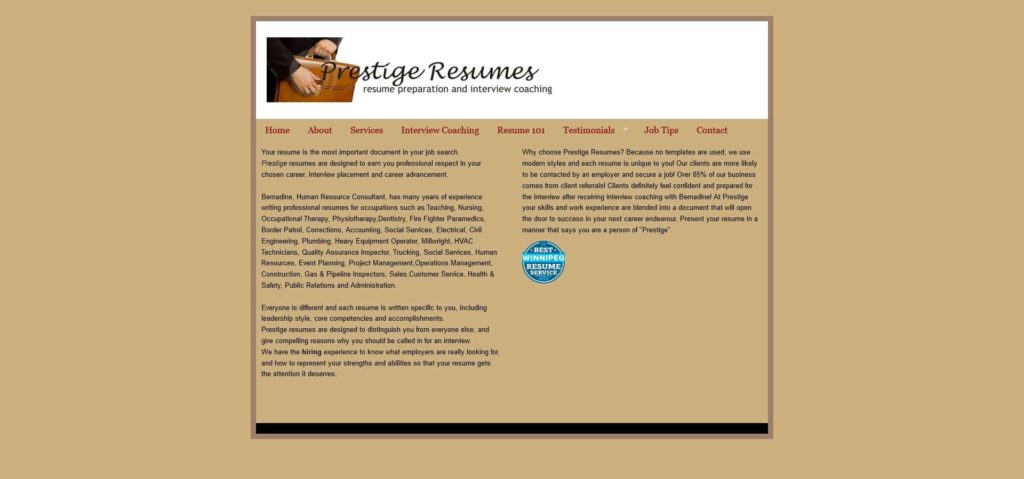 SERVICES
Outplacement/Career Transition

Professional Resume

Student Resume & Cover Letter

Student Interview Coaching

Cover Letter Separately

Professional Resume Package

Resume Updating

Resume Review

WEBSITE
https://www.prestigeresumes.ca/
CONTACT DETAILS
+1 204-471-7110
OPERATING HOURS
Monday - Friday: 10AM–4:30PM

Sunday- Saturday: Closed

COST
$195 for a professional resume

$98 for a student resume and cover letter

$85 - $135 for resume updating
| | |
| --- | --- |
| Criteria | Rating |
| Experience | ★★★★★(5/5) |
| Professional credentials | ★★★★★(5/5) |
| Convenience | ★★★★★(5/5) |
| Cost | ★★★☆☆(3/5) |
Prestige Resumes is owned by Lebanese entrepreneur Bernadine (حداد) Zahra Haddad-Erickson.
Bernadine has a solid background in human resources as a consultant. She specializes in recruitment, hiring, career transitions, coaching, and more.
With her expertise and over 20 years of experience, she is equipped to prepare resumes and assist clients in the interview process.
Bernadine worked as a recruitment consultant with two major agencies in Winnipeg. So, we think working with her will give you many insights and guidance in your career.
Prestige Resumes offers various services, which is a point for it in our book.
Its service menu covers personalized resume writing services, resume updating, and cover letters. Its resume package includes a complimentary cover letter too, which is a plus.
Moreover, it offers interview coaching and career transition services. Bernadine will work directly with you and guide you throughout this transition, which is another pro.
Her techniques as a motivation coach will help you get the confidence you need. She also has online coaching, which is convenient.
If you want to book your appointments, make sure to book during weekdays only. While this is not necessarily a deal-breaker, we wish the company could offer more flexible operating hours.
It also doesn't provide information about its physical office or in-person services. To learn more about these, you should call or send an email beforehand.
Another downside is its longer turnaround time compared to other companies. There are some who can complete the work within the day, but here, your resume won't be delivered until after three to five business days.
Its services are also non-refundable and have cancellation fees. So, settling your inquiries before booking would be best.
Offers a wide range of resume writing services
Has expertise in recruitment and staffing
Recognized by career organizations
Offers complimentary cover letters
Offers online coaching
Longer turnaround time
Closed during weekends
Has a cancellation fee
Services are non-refundable
Customer Reviews
High-quality service
" Bernadine is professional and down to earth. She edit my resume and create a cover letter for me that match the job posting I want to apply for. She also did interview coaching with me to help me answer the interview questions correctly and taught me other techniques to further my chances of getting this job.
I was nervous and wasn't sure what to do during the interview. After interview coaching, I have the confidence to answer any interview questions. She is highly recommended! " – Ivam Cheung ⭐⭐⭐⭐⭐, Google Reviews
Patient and supportive staff
" Thank you very much Bernadine! The resume and coaching helped me not be nervous during my interview. I can now say (thanks to you) that I no longer fumble my words or stutter over key achievements I have accomplished.
I can show a potential employer ME as well as they can see a very detailed resume before they even see me! Thanks for your patience and support. I am now in a job I want instead of a job I had to take. " – Ben Bourget ⭐⭐⭐⭐⭐. Google Reviews
4. RenoMyResume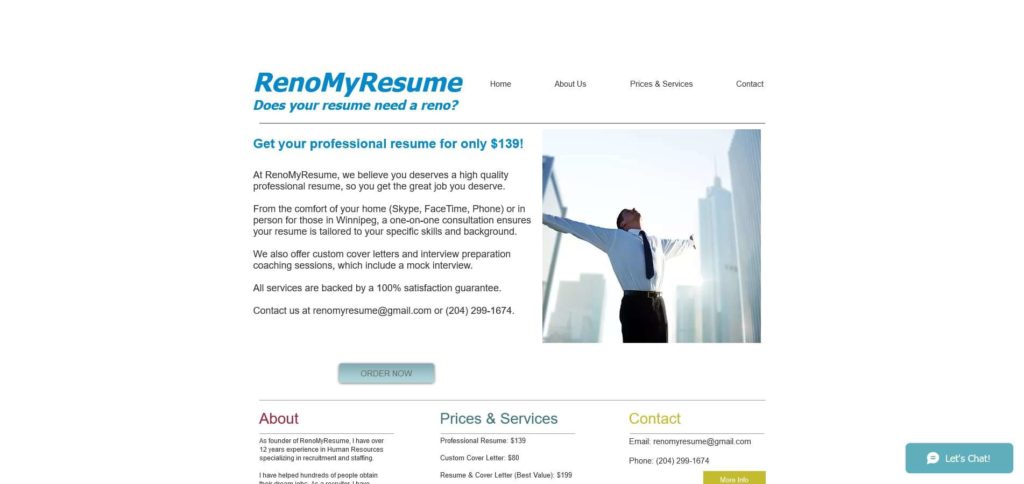 SERVICES
Custom Resume

Cover Letter

WEBSITE
https://www.renomyresume.com/
ADDRESS
726 St Anne's Rd, Winnipeg, MB R2N 0A2, Canada
CONTACT DETAILS
+1 204-299-1674
COST
$139
| | |
| --- | --- |
| Criteria | Rating |
| Experience | ★★★★★(5/5) |
| Professional credentials | ★★★★★(5/5) |
| Convenience | ★★★★☆(4/5) |
| Cost | ★★★★★(5/5) |
RenoMyResume offers services for custom resumes and cover letters for job seekers in Winnipeg. Its owner has over 12 years of experience in human resources, specializing in recruitment and staffing.
One thing we love about this provider is its affordable and flexible services. Its custom resume costs around $139, which is relatively cheaper than most companies.
Moreover, you can save money by availing yourself of its custom resume and cover letter package. Its order process is also convenient, which we really appreciate.
After you place your order and pay for it, you will receive a call within 24 hours to arrange a schedule for your in-depth interview, which takes 30-60 minutes.
We love its flexible options for a one-on-one interview, especially for those who work remotely. You can have your consultation through Skype, FaceTime, phone, or in-person if you're located in Winnipeg.
However, its website doesn't provide information about its operating time, so it would be best to contact the company beforehand. It is accessible via phone call or a message through its website.
Customers attest that this company's services have helped them land many job offers. Add it to the fact that its services are efficiently matched with a high-quality output.
Although its turnaround time is around two to three days, it's still relatively quicker than other companies that take at least five days to deliver.
If you need your resume immediately, you can request an express delivery for an additional fee. You can also ask for free unlimited editing within a week after getting your resume, which is a plus.
Has 12 years of expertise in recruitment and staffing
Relatively cheaper
Offers online booking
Flexible communication method
Unlimited edits for one week
Longer turnaround time
Insufficient info on operating hours
Customer Reviews
High-quality output
" I used this service a few months ago. Reno My Resume did a fantastic job in creating a professional resume and cover letter for me. It got me screened into a number of jobs I applied for, and I ended up with multiple job offers to choose from.
I could not thank you more! " – Adam Butler ⭐⭐⭐⭐⭐, Google Reviews
Efficient service
" Highly recommend this resume writing service. They created a high quality resume and cover letter for me with a quick turnaround, as I needed to submit my application by the end of the week.
The process was easy, clearly explained, and customer service is efficient and friendly. And to top it off I ended up getting the job!!! " – Jeff Hamilton ⭐⭐⭐⭐⭐, Google Reviews
FAQs about Resume Writing Services in Winnipeg
---
And that concludes our list of the best resume writing services in Winnipeg! If you have experience with any of these services, feel free to share them with us.