5 Clinics for the Best Botox in Winnipeg
Featured Image Source: Sam Moqadam via Unsplash
Botox, an injectable medication used to prevent muscle function, is used by most people primarily for cosmetic procedures like lessening wrinkles or for medical treatments to help ease migraines or muscle spasms.
Before undergoing Botox for any reason, be sure to do the due diligence of checking the legitimacy of your practitioner.
To help you with this, we've put together a list of clinics that have a track record of the best Botox procedure in Winnipeg.
How Much Does Botox Cost in Winnipeg?
Botox is often priced per unit, with each unit costing about $8 to $15. Units of Botox will also vary per individual, depending on factors including the strength of facial muscles and the area of treatment.
It's also worth noting that Botox injections are meant to last for only about 3 to 4 months. Once the first treatment wears off, patients will often need a follow-up treatment.
To give you a more detailed summary of how much it would typically cost you per procedure, we surveyed the best clinics in Winnipeg to get a range of their rates.
The table below contains information of how many units are typically needed for the most common cosmetic procedures and how much they cost.
| | | |
| --- | --- | --- |
| Area / Procedure | Number of Units (20 units per area) | Cost |
| Upper forehead lines | Starts at 12 units (½ area) | $60 – $120 |
| Frown lines (in between the eyes) | Starts at units (1 area) | $170 – $360 |
| Crow's feet (wrinkles on the sides of the eyes) | Starts at units (1 area) | $170 – $360 |
| Nasal bunny lines (wrinkles on both sides of the nose) | Starts at 6 units (¼ area) | $50 – $80 |
| Jawline lift | Starts at 50 units (2 ½ areas) | $320 – $1000 |
| Neck bands | Starts at 24 units (1 ⅕ areas) | $100 – $250 |
| Downturned lip corners | Starts at units (⅕ area) | $50 – $70 |
| Chin dimples | Starts at 6 units (¼ area) | $50 – $80 |
Clinics for the Best Botox in Winnipeg
Now that you have the cost of Botox in mind, we can now delve into our list of clinics for the best Botox in Winnipeg. Take note that this list is in no particular order.
1.   The First Glance Aesthetic Clinic & Surgery Centre
| | |
| --- | --- |
| SERVICES | Aesthetic Surgery, Injectables, Lasers, Facials |
| WEBSITE | https://thefirstglance.ca/ |
| ADDRESS | 1851 Grant Ave, Winnipeg, MB R3N 1Z2 |
| CONTACT DETAILS | +1 (204) 885-1419 |
| OPERATING HOURS | Mondays to Fridays: 9:00 AM – 5:00 PM |
When it comes to Botox procedures, safety is the priority. The First Glance is recognized by both national and international medical professionals as a leading clinic in the Medical Aesthetic Industry.
Since Botox is an advanced medical treatment that should only be performed in a fully accredited medical clinic, The First Glance makes sure that only professional nurse injectors or certified facial plastic surgeons get to work on their clients.
They also work exclusively with top-notch injectable products created by world-class brands.
The First Glance's expert injector takes care of their customers the moment they step into the clinic for assessment until the treatment itself.
The clinic also fully customizes each of their customer's Botox treatments according to their existing facial anatomy and desired results. Only after careful assessment can the expert injector determine the proper dosage of Botox for the treatment.
Customers can also sign up for the First Glance Rewards Program and collect points every time they visit. The points can help members save on their treatments.
Award-winning and globally recognized
Offers a rewards program
Same-day consultation and treatment available
Customer Reviews
Catherine Mecas left this review via Google:
"Twyla is a very honest, and trustworthy Nurse Injector. The results are all very flattering, and natural looking. She is very easy to communicate with, and has great suggestions on how to individualize the service based on client goals. The staff at FG are all very professional, and knowledgeable. I will continue to see Twyla for services, as I have for the past two years. The clinic is very well maintained, and clean at all times."
Another review from Google user, danae, reads:
"I went to First Glance looking for a refresh. Being a new mom we all know that aging can happen quicker than we like. Lindsey helped me look like I have gotten a full years sleep! We went with under eye filler, Botox around the eyes and forehead and a half syringe in my lips. She did an amazing job and made me feel so comfortable. I am beyond happy with my results, if you have been considering just the under eye filler I highly recommend first glance."
2.   Dr Earl Minuk's SkinClinic & Laser Centre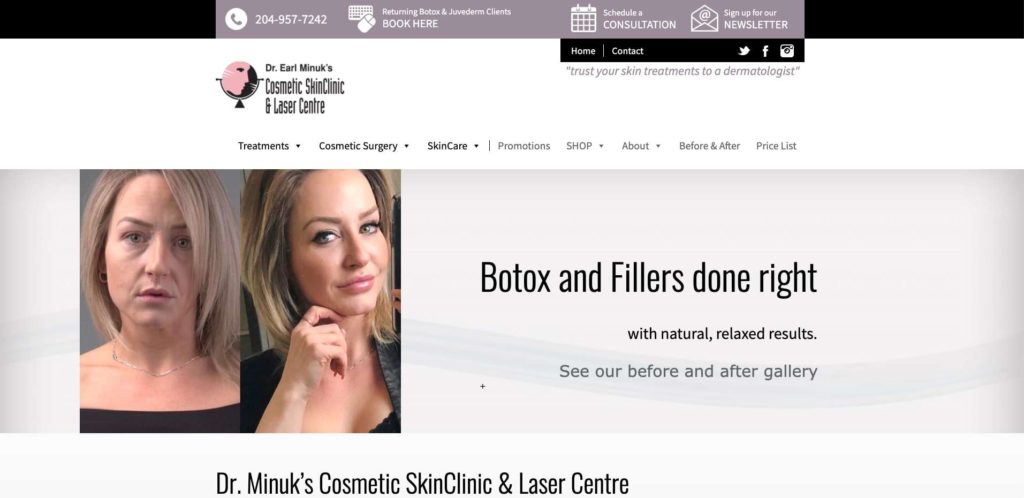 SERVICES
Injectable Treatments, Laser Treatments, Facial Aesthetics, Body Sculpting, Cosmetic Surgeries
WEBSITE
https://www.minuklasercentre.com/
ADDRESS
932 Grosvenor Ave, Winnipeg, MB R3M 0N5
CONTACT DETAILS
+1 (204) 957-7242
OPERATING HOURS
Mondays, Wednesdays, Fridays: 8:30 AM – 4:45 PM
Tuesdays: 8:30 AM – 7:00 PM
Thursdays: 8:30 AM – 6:00 PM
Saturdays: 8:30 AM – 4:30 PM
When it comes to tenure and experience, customers who are considering Botox won't think twice about going to Dr. Minuk.
Dr. Minuk is a board-certified dermatologist and internist both in Canada and the USA. On top of this, he is on Canada's advisory panel for Sculptra, another facial injection, and has trained several specialists in Winnipeg and Western Canada in its technique and applications.
His experiences in demonstrating Botox and filler techniques in training sessions make him stand out as one of the go-to practitioners for this procedure.
Aside from Dr. Minuk's credentials, the clinic also encourages its customers to be knowledgeable of the procedures they want. Dr. Minuk himself will give the clients his opinion, options and a treatment plan.
For new customers, their first consultation is free of charge.
Free of charge for the first Botox assessment or consultation
Offers special discounts and promos
Complaints about long waiting times
Customer Reviews
A review from Deb Bausman via Google says,
"Dr. Minuk and his staff are Professional and very caring on the results after any procedure. I am 65 and had never considered any cosmetic procedure. However, I feel younger than my age but my body wasn't cooperating. If you are struggling with the decision, I would suggest to do something small e.g. lip enhancement. As we age our lips disappear and this procedure brings them back to life. Dr. Minuk is not only very Professional with excellent skill, his experience provides areas in which he can accentuate your beauty. I never thought I would be so thrilled with my results! Please note that change isn't immediate, there may be some swelling. Enjoy your enhancements!"
Another positive review from Jennifer Goncalves reads:
"I've been seeing Dr. Minuk for probably over a year at this point for my Botox injections for my hyperhidrosis. He is always on time for appointments and always makes a point to ask how I am and how things are going. Staff is always courteous and I always leave there pleased with the service received. I would highly recommend his services."
3.   The Derm Centre
SERVICES
Cosmetic Treatments, Facials, Laser Treatments
WEBSITE
https://www.thedc.ca/
ADDRESS
1385 Grant Ave, Winnipeg, MB R3M 1Z9
CONTACT DETAILS
+1 (204) 474-1221
OPERATING HOURS
Mondays, Wednesdays, Fridays: 9:00 AM – 5:00 PM
Tuesdays, Thursdays: 9:00 AM – 5:30 PM
Saturdays: 10:00 AM – 2:00 PM
If you're looking to have a Botox treatment specifically for anti-ageing, Dr. Victoria Taraska of Derm Centre is one of the most prominent doctors using Botox for cosmetic procedures in Winnipeg.
She's been doing injections since 1998 and has in-depth experiences with common concerns like deep frown lines, crow's feet, forehead wrinkles, and smoker's lines above the lip. More than just smoothing out these wrinkles, her meticulous process helps create a lifting effect that makes her clients look more youthful.
Previous customers also attest to the clinic's care for their desired result. For new customers, the clinic will discuss with them their specific issues, conduct a comprehensive assessment, and give a treatment plan which addresses their goals.
Aside from Botox specifically for anti-ageing, their clinic also provides Botox for sweat management.
Free cosmetic consultation
Customer loyalty programs available
Comprehensive Botox post-treatment instructions are available for everyone
Customer Reviews
A Google review from Natalie Klapecki reads:
"I get medical Botox as well as cosmetic Botox at the derm centre with Dr Taraska for years now. She is the best dr I have ever dealt with. She is super sweet and kind and always has a story to share to make me super comfortable in her chair while being injected. The staff are also super sweet and kind."
Another review left by Melissa Elias says,
"Just booked another film playing a character 15 years younger than I am. I cannot say enough about how well Dr. Taraska and her staff not only treat their clients personally and professionally but also how much she cares about our skin. You want a dermatologist that knows faces. One that will be transparent and honest and treat you with care and respect and give you the absolute best results? Go here.
Some people are shy about sharing things they do to take care of themselves but Dr. T has gone above and beyond for me and she deserves credit for not only keeping my face clear but also sculpting my own natural unique face into the best version of myself. I live in Los Angeles but I choose to fly to her instead because I TRUST her. And that's the most important piece."
4.   Aesthetic Solutions
| | |
| --- | --- |
| SERVICES | Plastic Surgery, Non-Surgical Procedures |
| WEBSITE | https://www.aestheticsolutionswinnipeg.com/ |
| ADDRESS | 1250 Waverley St #10, Winnipeg, MB R3T 6C6 |
| CONTACT DETAILS | +1 (204) 927-3500 |
| OPERATING HOURS | Mondays to Fridays: 8:00 AM – 4:00 PM |
Aesthetic Solutions is also one of the go-to clinics for facial and skin care treatments like Botox, fillers, and chemical peels. The clinic makes sure to use only techniques that focus on client safety and efficacy.
Dr. Robert Turner of Aesthetic Solutions has also been serving patients in Winnipeg since 1996.
He and his staff have decades of experience using Botox so for customers looking to erase a few years, you can trust this clinic to have your best interest.
Dr. Turner is a board certified cosmetic and reconstructive plastic surgeon and is certified by the Royal College of Physicians and Surgeons of Canada. He is also an active member of elite physician societies that are focused on the latest techniques and technologies in cosmetic surgery.
These credentials make Dr. Turner one of the best and sought-after cosmetic surgeons in Canada. He has performed hundreds of facial surgeries and will ensure his customers will get the results they want with the utmost safety.
Flexible financing options are available
Gift certificates on their treatments are available
Easy to book through their website
Customer Reviews
A raving review was left by Google user, Hannah H, says:
"The staff was great, I felt listened to and not rushed at all like other places I've had consults at. All of my questions and concerns were answered happily. I had a great results as well on my non surgical procedure. I am very glad I chose this center"
Another review from Shannon Furness via Google reads,
"Such a great clinic! Darcy is amazing at injectables; she is very honest and conservative with her work, and does not pressure you into getting amounts out of your comfort zone. The front staff is amazing as well; overall a great clinic and the first I would recommend to anyone looking for cosmetic treatments. Darcy is extremely talented at what she does and it definitely shows with the results and the reviews she gets! :)"
5.   Visage – Cosmetic Skin Clinic
SERVICES
Plastic Surgery, Medi Spa Treatments, Laser Treatments, Facials, Skin Tightening
WEBSITE
https://www.visagecosmeticclinic.com/
ADDRESS
5-920 Lorimer Blvd, Winnipeg, MB R3P 1G1
CONTACT DETAILS
+1 (204) 219-2154
OPERATING HOURS
Mondays, Wednesdays, Fridays: 9:00 AM – 5:00 PM
Tuesdays, Thursdays: 10:00 AM – 6:00 PM
Saturdays: 10:00 AM – 2:00 PM
Visage Cosmetic Clinic is one of the top-rated clinics providing Botox in Winnipeg. Aside from their team of professional practitioners, they also make use of high-tech machines to ensure the efficiency and safety of their customers.
They use the Vectra 3D Imaging system which helps remove the guesswork out of the possible surgical outcome of the procedure. This helps both the patient and the facial cosmetic surgeon align the result they have in mind.
Another one of the latest technologies that they use is the VISIA Skin Analysis which offers patients the most objective evaluation of their skin health. The analysis helps both the client and the surgeon understand the kinds of treatment perfect for the customer's needs.
The clinic also makes it easy for clients to book a consultation with them through their website.
Uses VISIA Skin Analysis and the Vectra 3D Imaging
Easy booking process
Complaints about customer service
Customer Reviews
A review from Micaela Mayhew via Google says,
"I love going to Visage. The clinic is beautiful and the staff is wonderful. I see Shafroz and she is awesome. She knows her stuff and I always leave feeling heard and with exactly what I wanted! Definitely would recommend her to anyone looking for Botox/fillers"
Another positive feedback from Randi Grant says,
"I recently visited Visage for some Botox and under eye filler. The clinic was beautiful, the staff were so friendly and helpful and made me feel very comfortable. Dr Esmail is very knowledgeable on the products and did an AMAZING job on my under eyes. I've had filler under my eyes from other doctors in the past but he is by far the best! I'm so happy with the results, they look great and I no longer look over tired! I highly recommend Visage and Dr Esmail who is a miracle worker! Winnipeg is lucky to have such a talented doctor! Thank you Visage!! :)"
FAQs about Botox
---
We hope that our list of clinics and practitioners with the best Botox in Winnipeg gave you the information you needed. If you have concerns and questions regarding the procedure, consult your doctor.
Know any other clinics within Winnipeg that weren't included on this list? Let us know by reaching out to us.
If you need help financing your cosmetic procedure, we have a list of the best loan providers in Winnipeg that you can check out.