Top 5 Quality Business Card Makers in Winnipeg
If you own a business or work for a company, the client's ability to reconnect and contact you is crucial. With that said, it's essential that you have some business cards made in Winnipeg.
We have prepared a list of the top-quality business card makers that can do the job for you. All you have to do is provide the essential info and then you're good to go.
In this guide, we have also included the factors you need to consider before having a business card made. Hopefully, this can successfully boost your brand identity and network.
How Much Do Business Cards Cost in Winnipeg
Most people, especially small-time business owners, make their own business cards initially. However, having them professionally made does make quite the impact on clients and customers.
Quality printing businesses have packages and templates prepared for every kind of business. They also allow you to design your own card they can then print out for you.
But how much do they cost?
The cost of business cards depends on a few factors. Namely, the paper's weight, coating, finish, design, and number of pieces. Usually, you can get a lower price per piece if you buy in bulk.
Matte and gloss are the usual finish for business cards. Matte is recommended for simple text and logos, while gloss is the best choice for high-quality images.
Simple business card thickness ranges from 300 to 400. On the other hand, premium designs can go as thick as 650 gsm.
| Type | Thickness | Finish | Cost |
| --- | --- | --- | --- |
| Simple 50 pack | 300 - 400 gsm | Matte | $15 to $40 |
| Simple 100 pack | 300 - 400 gsm | Matte | $20 to $80 |
| Quality Print 50 pack | 300 - 400 gsm | Gloss/ Matte | $30 to $90 |
| Quality Print 100 pack | 300 - 400 gsm | Gloss/ Matte | $50 to $100 |
| Premium 50 pack | 400 - 650 gsm | Gloss/ Matte | $90 to $150 |
| Premium 100 pack | 400 - 650 gsm | Gloss/ Matte | $120 to $200 |
Get High Quality Business Cards Made in Winnipeg
1: PrintPro Digital & Offset Printing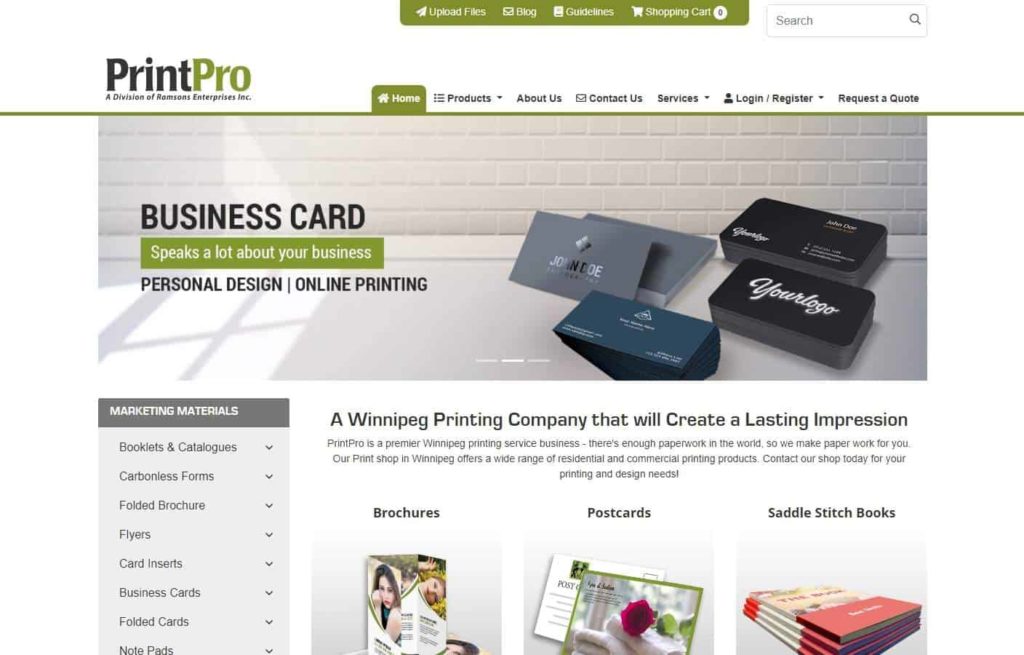 SERVICES
Layout and Printing of Marketing Materials like Brochures, Postcards, Saddle Stitch Books, Flyers, Banners, and Business Cards
WEBSITE
https://www.printprowinnipeg.com/
ADDRESS
348 Saulteaux Crescent, Winnipeg, MB R3J 3T2, Canada
CONTACT DETAILS
Phone: 204-889-3030
OPERATING HOURS
Weekdays: 9:00AM to 5:00PM

Weekends: CLOSED
| | |
| --- | --- |
| Criteria | ★★★★☆ (4.8/5) |
| Long-lasting quality | ★★★★☆ (4.5/5) |
| Suitable material | ★★★★★ (5/5) |
| Reasonable pricing | ★★★★☆ (4.5/5) |
| Initiative and Knowledge of industry | ★★★★★ (5/5) |
| Timely product turnaround | ★★★★★ (5/5) |
Print Pro is a printing service business and a division of the Ramsons Enterprises Inc. They have been in business since 1989, producing prints as small as notecards to something as large as banners.
This family-run business commits itself to providing quality and professional service every step. According to the clients we've spoken to, Print Pro shares the best interests of their customers from the first inquiry up to the final delivery.
They mainly provide residential and commercial printing, with corresponding details on each service displayed on their website.
We love their website because they let their customers customize their business cards on the pages itself. They can pick the size, input the quantity, choose the type of ink and finish, then get the unit price immediately.
That system allows you to gauge which setting suits your brand and budget best. It also eliminates the trial and error process and gets to the results faster.
They also offer Variable Data Printing as one of their on-demand services. This is the best option for those who are in a rush, since the process allows for changes from one material to the next without delaying the printing process.
Furthermore, the company values the impact of printed materials on how well you can leave an impression. That said, if you're planning to have some business cards made, they can surely help you out.
Website has ample details on their services
Product pages allow for immediate quotations
Wide range of products offered
Reliable experience in the industry
Website allows you to upload your own files
Good rapport with customers
Unavailable on weekends
Rates will change for rushed projects
Customer Reviews
I am pleased to offer my highest recommendation for PrintPro
Having published a number of books in the past, I wanted to try a local Winnipeg printer and came across PrintPro. Sitting down with Gaurav, I was impressed with how he was able to answer my every question immediately. I appreciated his excellent recommendations on options regarding book size, paper stock, costs, and other items. I then dealt with designer Jet, who was also a pleasure to deal with, accommodating all my instructions and revisions, and coming up with a very professional-looking product, which included 80 images, mostly in beautiful colour. From start to finish, I had the book in my hands in only a couple of weeks, which I found remarkable. The entire project was stress free, less expensive than I anticipated, and I could not be more pleased with the book's appearance. I can see why this company has a solid five-star rating. I plan to use PrintPro with several other printing jobs in the near future.
— Dr. Robert E. Wrigley, Google Reviews
Responsive and professional
I've used the team at PrintPro for many years now, across several companies, as I take them wherever I go. Gaurav is excellent to deal with, super sincere and caring. The production team always gives a great product. Very competitive pricing and get the work done on time.
— Barrett Davies, Google Reviews
---
2: Galaxy Printing Winnipeg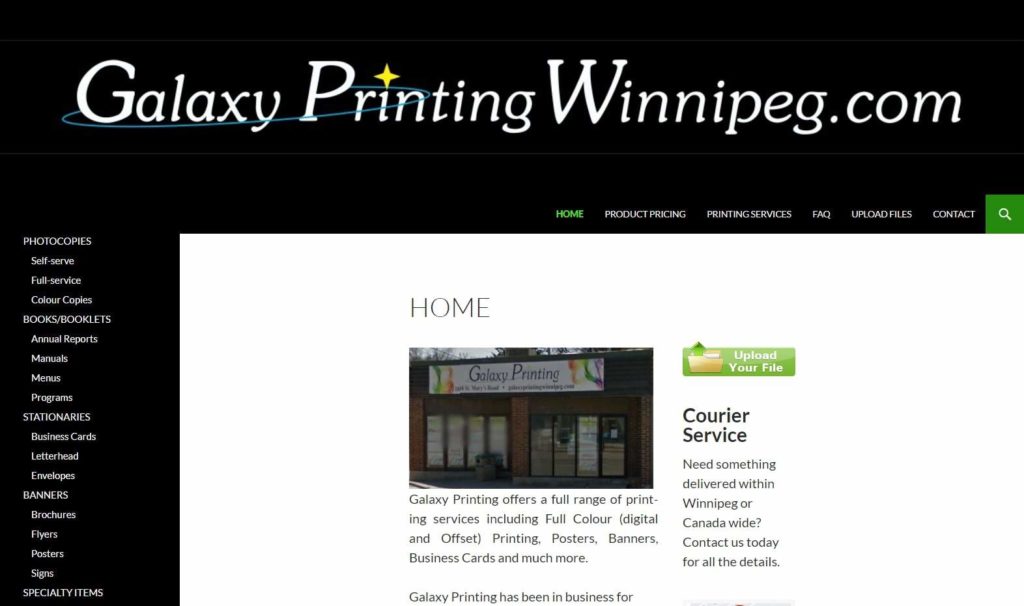 SERVICES
Photocopying, Printing, Stationery Preparation, Banners & Brochures, Specialty & Swag Items, Promotional Material
WEBSITE
https://www.galaxyprintingwinnipeg.com/
ADDRESS
1004 St Mary's Rd, Winnipeg, MB R2M 3S3, Canada
CONTACT DETAILS
Phone: 204-254-2937
OPERATING HOURS
Weekdays: 8:30AM to 4:30PM

Weekends: CLOSED
| | |
| --- | --- |
| Criteria | ★★★★☆ (4.9/5) |
| Long-lasting quality | ★★★★★ (5/5) |
| Suitable material | ★★★★★ (5/5) |
| Reasonable pricing | ★★★★☆ (4.5/5) |
| Initiative and Knowledge of industry | ★★★★★ (5/5) |
| Timely product turnaround | ★★★★★ (5/5) |
Gallery printing has been in business for over 30 years, and they offer a variety of printing services. This includes photocopy, book printing, stationery production, banners, and specialty items.
They take pride in delivering high quality and well-designed printed material under their brand. They also received consistently positive reviews for their products and services over the years.
Another great feature of their services is that they can accept projects from all over the country and have them shipped at reasonable rates.
We like that they display their prices on their website for customers to conveniently check. Then again, when ordering from them in bulk, they are also keen on providing generous discounts.
While they may not be the most affordable option on this list, they remain one of the top choices for many because of their many printing features. In fact, you can get creative with your materials because they can get them done for you.
They also utilize high-tech digital printing equipment that delivers crisp visuals and ensures the speed of product turnaround. That said, when it comes to business cards, they claim to produce them within 1-2 business days, excluding the shipping period.
In the case of rush orders, they suggest you contact them directly instead of making the typical online order.
Accepts orders from anywhere in the country
Allows you to upload your files to their website
Quality materials and high tech equipment
Discounts for bulk orders
Plenty of printing options
Speedy turnaround
Unavailable on weekends
Increased prices for rushed orders
Customer Reviews
Convenient transaction
Absolutely phenomenal service!! Turns out this week was a tough week tech-wise. They were just about to close on a Friday when my client stopped in to pick-up her orders. A few hiccups came up due to our end, and they fixed it in minutes!! They are affordable, professional and helpful! All the things a printing shop should always offer! Thank you Morgan and Chenoa for such an amazing experience. Will be coming back soon for more. 🙂
— Veronica Michalczak, Google Reviews
Amazing. Thank you so much!
Best printing spot in Winnipeg! Have gotten work done here many of times, the customer service is great and always accommodating. If you need printing for a business or just general prints they have great rates and are very time efficient.
— Alisha Murray, Google Reviews
---
3: Print It On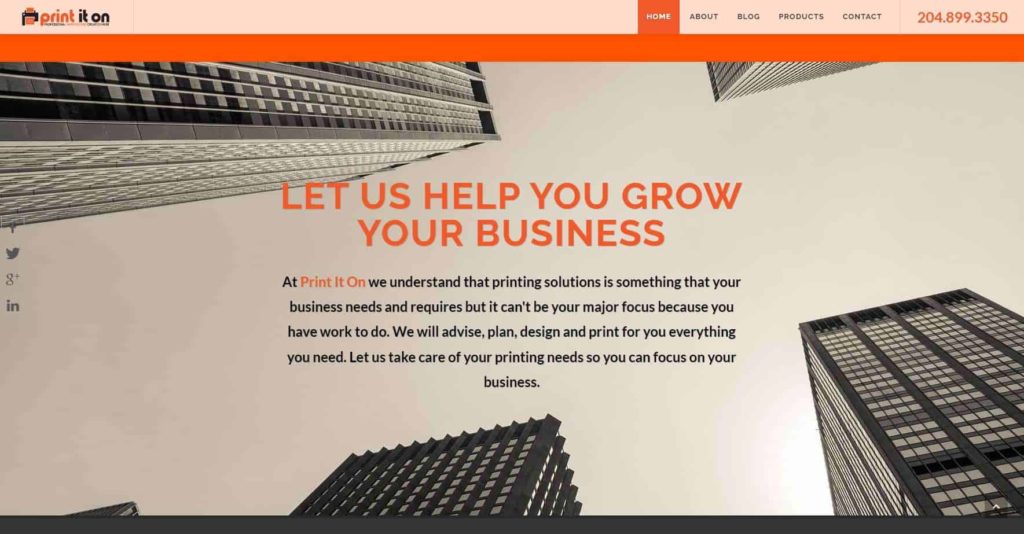 SERVICES
Paper Printing, Large Format Printing, Promotional Items, Screenprinting, and Garment Embroidery
WEBSITE
https://www.printiton.ca/
ADDRESS
1798 St Matthews Ave, Winnipeg, MB R3H 0A5, Canada
CONTACT DETAILS
Phone: 204-899-3350
OPERATING HOURS
Weekdays: 9:00AM to 5:00PM

Weekends: CLOSED
| | |
| --- | --- |
| Criteria | ★★★★☆ (4.7/5) |
| Long-lasting quality | ★★★★☆ (4.5/5) |
| Suitable material | ★★★★☆ (4.5/5) |
| Reasonable pricing | ★★★★☆ (4.5/5) |
| Initiative and Knowledge of industry | ★★★★★ (5/5) |
| Timely product turnaround | ★★★★★ (5/5) |
If you're planning to get your business cards made but don't have the time to make any design-related decisions, Print It On can help you. They specialize in the planning, designing, and printing of any order.
This is a good choice to consider if you're always busy.They also offer consultations and advice if you're still unsure what kind of business card to order.
Customers can just pay and leave it all to Print It On, so they can just focus on their business. With that said, the clients that we've spoken to genuinely appreciate their responsiveness and dedication to customer assistance.
While Print It On offers great convenience, they may not be the best choice if you're more of a hands-on designer or decision-maker. They also have slightly more expensive rates, considering the talents they have on their team.
They are also among the rare printing service shops that offer embroidery work. Another thing Print It On is known for is their high-quality large-scale prints.
Then again, their scope of services is somewhat limited as well. This doesn't make them the go-to for all of your printing needs.
Still, Print It On has garnered many loyal clients who return to them because of their reliability. Their design teams are also great at collaborating and have experience producing business cards in Winnipeg.
Offers full service – planning, designing, and printing
Offers embroidery and large scale printing
A great choice for convenience
Good rapport with customer; good customer service
Slightly more expensive rates
Limited services
Unavailable on weekends
Customer Reviews
Great working with Print It On
Had 500 business cards printed. Very helpful staff. They helped me modify texts on my cards free of charge. Express service and affordable prices. Highly recommend Print It On to everyone.
— Alisher Akilov, Google Reviews
Top notch quality. Highly recommended.
Print It On is the BEST! I have had many special request print jobs done over the years, and the best service I have ever received is definitely from Print It On. Particularly Anton who does a fabulous job. He really came through for me when I had an important job that really needed to get done on time. I would highly recommend Print It On to anyone needing quality prints for a great price.
— Geoff Boddy, Google Reviews
---
4: Esdale Printing Co Ltd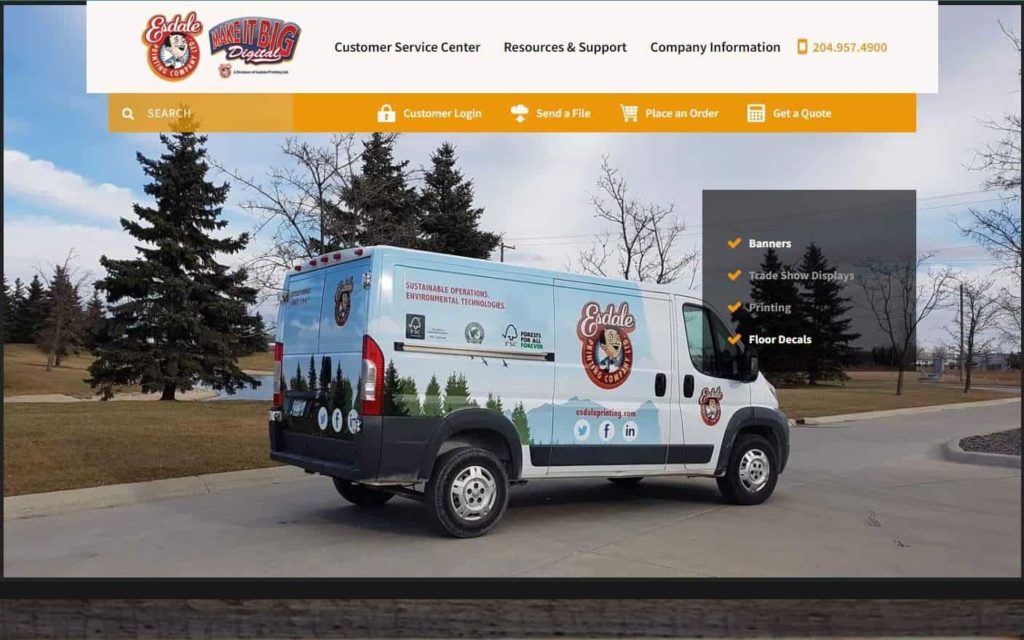 SERVICES
Stationery Design, Envelopes, Cross Media Marketing, Promotional Products, Business Cards, Flyers, Manuals, Flyers, and Catalogs
WEBSITE
https://www.esdaleprinting.com/
ADDRESS
207 De Baets St, Winnipeg, MB R2J 4A8, Canada
CONTACT DETAILS
Phone: 204-957-4900
OPERATING HOURS
Weekdays: 8:00AM to 4:00PM

Weekends: CLOSED
| | |
| --- | --- |
| Criteria | ★★★★☆ (4.8/5) |
| Long-lasting quality | ★★★★☆ (4.5/5) |
| Suitable material | ★★★★★ (5/5) |
| Reasonable pricing | ★★★★☆ (4.5/5) |
| Initiative and Knowledge of industry | ★★★★★ (5/5) |
| Timely product turnaround | ★★★★★ (5/5) |
Established in 1935, Esdale Printing prides itself in its experience and business communication expertise. While they specialize in printing, they have managed to expand their services over the years in the production of marketing materials.
In fact, they are one of the stores with the broadest range of services and can be commissioned for large printing projects as well. They also offer data management, design service, direct mail marketing,warehousing, and distribution.
That said, if you're too busy to fuss over the design of your business card, they can send you some pegs and templates to get things started. Their staff is also very accommodating and knowledgeable on which colors, finishes, or materials to go for.
However, we recommend that new clients contact them directly or head over to their office to talk about orders in person. This way, miscommunication can be avoided, and quotations can be better discussed.
Old customers with repeating order requests can simply use the order forms in Esdale Printing's online customer service center. This is especially true for bulk and continual orders like tabloid printing.
Esdale Printing is also among the rare establishments that are FSC Certified and Rainforest Alliance Certified for their choice of eco-friendly printing materials. They also advocate for the use of environmentally-conscious products.
Wide range of services
Advocates for the use of eco-friendly products
FSC Certified and Rainforest Alliance Certified
Great choice for large scale projects
Offers design services
Expensive rates
Unavailable on weekends
Customer Reviews
Reliable and responsive – 5 stars!
Esdale is great! We have the pleasure of working with Gord LeDrew. Gord is extremely quick to respond and a great person. He gave me a tour of the facility and it first class. The print quality is outstanding and the Esdale team makes everything easy for us when deal small scale job or with large mailers. We look forward to a long term relationship with Esdale!
— Tom Goodfellow, Google Reviews
Quality work and impeccable customer assistance.
Top notch quality and customer service! Hands down the best place in the city for anything you need printed. I was absolutely blown away with the quality, efficiency and skill there team had given me for a recent project and look forward to dealing with them more in the future.
— Derek Rewucki, Google Reviews
---
5: Allegra Marketing Print Mail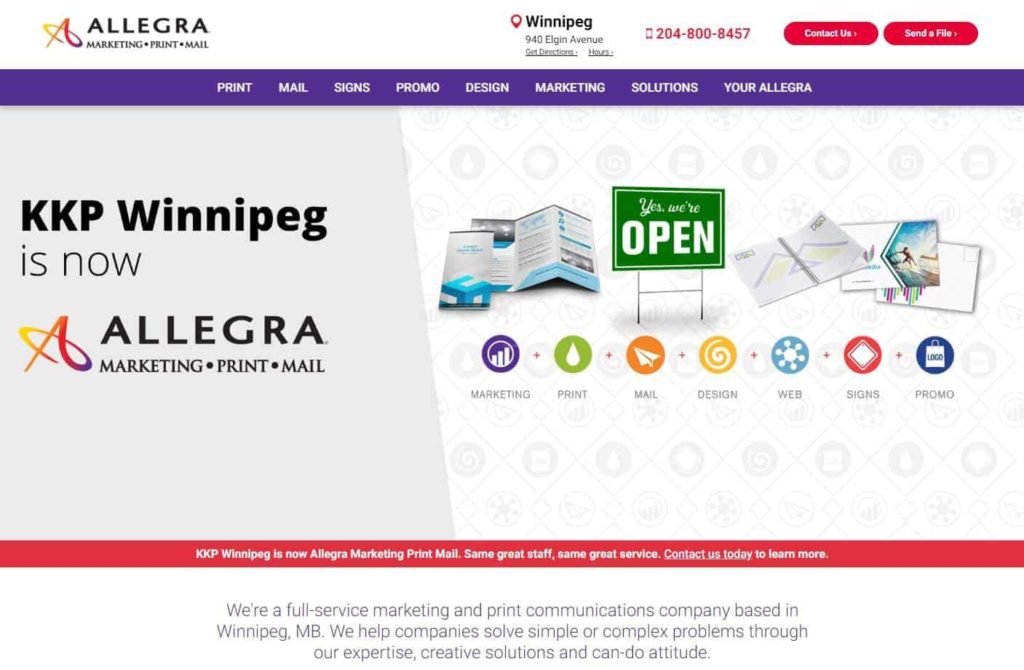 SERVICES
Marketing Services, including Email, Social Media, Video, Multi-Channel, and Campaigns; Design of Promotional Materials, Graphic Design, Identity and Branding Material, Signages, and Logo Development
WEBSITE
https://www.allegramarketingprint.com/
ADDRESS
940 Elgin Ave, Winnipeg, MB R3E 1B4, Canada
CONTACT DETAILS
Phone: 204-772-5945
OPERATING HOURS
Weekdays: 8:00AM to 4:00PM

Weekends: CLOSED
| | |
| --- | --- |
| Criteria | ★★★★☆ (4.2/5) |
| Long-lasting quality | ★★★★☆ (4.5/5) |
| Suitable material | ★★★★★ (5/5) |
| Reasonable pricing | ★★★☆☆ (3.5/5) |
| Initiative and Knowledge of industry | ★★★★★ (5/5) |
| Timely product turnaround | ★★★★★ (5/5) |
When it comes to all things marketing, print, and mail, Allegra takes pride in the quality they produce and deliver. Once known as KKP Winnipeg, this rebranded establishment aims to offer creative solutions to all printing needs at a reasonable cost.
The past and current clients we've spoken to praise Allegra for their prompt communication and reliability, especially for design projects. Their team considers this their edge, given that they offer a wide range of services.
Allegra is the best choice if you want someone to handle the entirety of your marketing team. Then again, clients can always test the waters first by working with their team on smaller orders like business cards.
That said, Allegra offers a plethora of printing options that can boost your brand identity. These include foil stamping, die cuts, embossing, raised lettering, metallic ink, magnetic stock, and
Tyvek stock.
This also means that while the establishment aims to remain affordable, the quality they promise is relatively more costly than other options. So we do recommend Allegra to those who have the budget to splurge on high-quality and premium business cards.
If this is your first time spending on printed business material and you would like to explore your options, their staff is responsive and accommodating enough to help you out.
Wide range of services
Ample printing options for business cards
Offers marketing and design services
Reliable provider of premium business cards
Expensive rates
Turnaround time takes a little longer
Unavailable on weekends
Customer Reviews
Wonderful service and transaction, as always
Placing an order with KKP was a great experience. We were in a unique but difficult situation with needing to print for an international client in Winnipeg, and they were able to pull off this custom project in a short timeframe. Their production quality and prompt communication exceeded expectations and we are very grateful for their services.
— Mel McEachron, Google Reviews
No hassle, and high quality output.
KKP staff are always very quick with their replies back on printing requests & quotes. They are well priced and very quick on delivery of product to our door. They are very good to work with for last minute changes and accommodate our requests always. Very friendly and reliable staff, easy to talk to on the phone and very helpful with decision making options.
— Monika Duggal, Google Reviews
FAQs about Business Cards in Winnipeg
---
As a business owner or a corporate employee, having a business card with your name on it does give a little boost of confidence. It also creates a lasting professional impression to both clients and customers.
That said, we hope that this guide has managed to help you in preparing to have your own business cards made. Just remember to always do your research first, especially on what design to go for.
If you are thinking of having more material made for your business, feel free to check out this guide on the best printing services offered in Winnipeg. These businesses also offer publishing services and signage production.