6 Contractors for the Best Window Replacement in Winnipeg
Featured Image Source: Pixabay
Are your windows starting to look worn out? Then you may need the services of the contractors who do the best window replacement in Winnipeg!
We'll list our picks for those right here. The ones we found offer affordable yet durable materials, excellent customer service, and expertise that can help you identify the type of window you need.
If you need further help sorting through them, we'll also talk about tips on choosing a window type and a contractor for your home improvement. Be sure to stick with us until the end because we also have answers to the FAQs about the topic!
Price Range for Window Replacements
The different types of window replacements also have varying costs, of course. So, here are the price ranges of varied window replacements so you can decide which one to get.
| | |
| --- | --- |
| Window Type | Price Range per Window |
| Casement Windows | $200-$1850 |
| Double-Hung Windows | $200-$850 |
| Single-Hung Windows | $150-$525 |
| Slider/Sliding Windows | $200-$1050 |
| Awning Windows | $350-$1850 |
| Bay Windows | $800-$5900 |
Prices also differ according to the material. The most versatile and durable materials are PVC and other composites as they can imitate the feel and appearance of expensive materials while still being durable and low-maintenance.
| | |
| --- | --- |
| Material | Price Range |
| Composite | $380-$1500 |
| Vinyl | $130-$760 |
| Wood | $1020-$1650 |
| Aluminum | $100-$650 |
| Fiberglass | $650-$1900 |
The Best Winnipeg Contractors for Your Window Replacements
We hope our price guide and tips have helped you decide which type of window replacement you will be getting. Now, it's time you chose whom to hire from our picks of the best window contractors in the city.
1. Ecoline Windows Winnipeg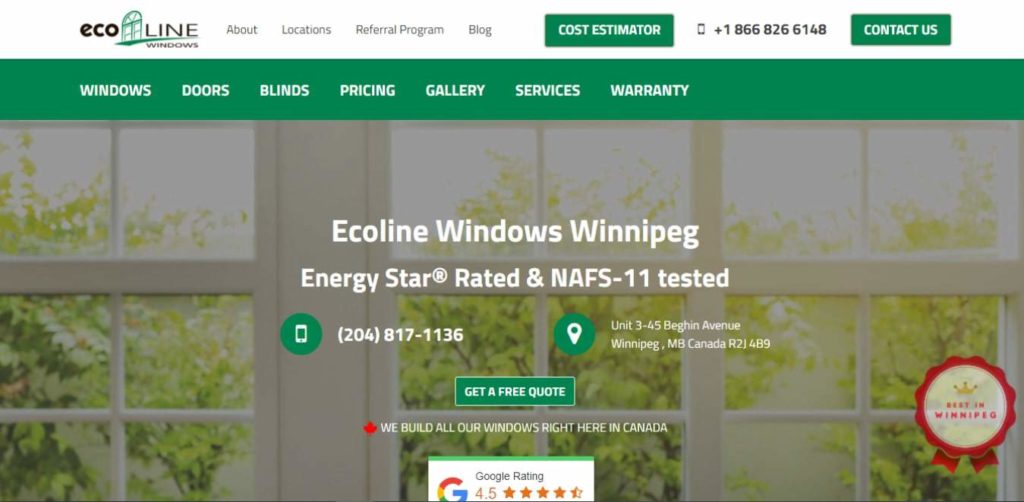 Ecoline Windows specializes in replacement windows and doors. It has a vast collection of window styles, from simple fixed windows to elegant bay windows.
Aside from pre-made windows, Ecoline Windows also offers window customization so that you can approach it with only an idea in mind. Its windows also have certifications from the North American Fenestration Standard (NAFS) 2011 and ENERGY Star.
Ecoline Windows also offers warranties of up to 15 years for labour and 25 years for vinyl frames and insulating glass materials. Additionally, Ecoline Windows also calls its customers weeks after installation to check on client satisfaction.
Post-installation checkups
All styles of windows, including customized ones
Energy Star and NAFS-11 certifications
No wood, aluminum, and fiberglass windows
Customer Reviews
Customers love Ecoline Windows for providing affordable yet diverse choices for window replacements. Here are some customer reviews that share this sentiment:
"I chose Ecoline Windows Doors Replacement because they have replaced most of my windows before and I have been completely satisfied with their work that they have done. Completely satisfied customer and will keep using their services for as long as I need to."
"I had a lot of quotes for our window replacement but chose Ecoline for their reasonable price and also great review. Salesperson is great, easy to talk to. Upon installation, quality was superb, installation was fast. Definitely re commendable."
2. Canadian Choice Replacement Windows & Doors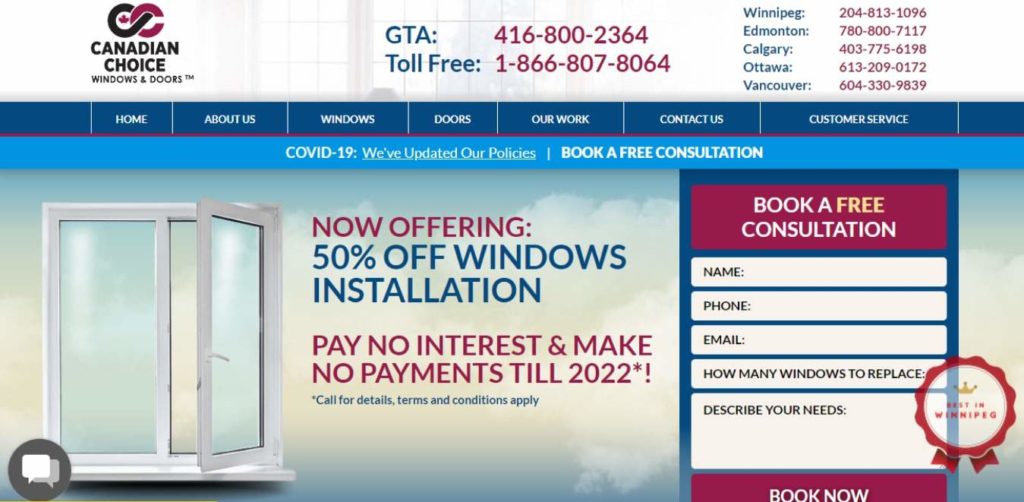 BEST FOR
Lifetime warranty and aluminum windows
PRODUCTS
Awning, casing, sliding, bay & bow, contour series, single hung, double hung, end vents windows
WEBSITE
https://www.windowscanada.com/winnipeg.html
ADDRESS
801 Century St, Winnipeg, MB R3H 3C0
CONTACT DETAILS
(204) 813-1096
OPERATING HOURS
Monday – Friday: 9:00 AM – 9:00 PM
Saturday: 9:00 AM – 2:00 PM
Canadian Choice Replacement Windows provides various types of vinyl and aluminum window replacements. It also offers architectural and customized windows, complete with a wide assortment of colour choices.
It has Energy Star-certified windows to help you save up on your energy costs and make your home as comfortable as possible. Clients can even avail of Canadian Choice's financing options, all of which have 0% interest.
But the chief reason we think this contractor provides the best window replacement in Winnipeg is that it offers a lifetime warranty for its products and services. This warranty is also transferable to new homeowners.
Free window measurement and cost estimates
Transferable lifetime product and labour warranty
Financing options with 0% interest
DraftLOCK™ and Energy-star rated windows
Limited to aluminum and vinyl windows
Customer Reviews
Pricing and timeliness are what customers find appealing with Canadian Choice's services. Here are some customer reviews to expound more on this claim:
"Their tech was proficient and punctual. Appeared on time on my call for two old window replacement at my home. He was skilled and qualified. I couldn't ask for better assistance that I got from them. Their quality of work was commendable. Offering my thanks for providing high quality windows in Winnipeg."
"Excellent windows in Winnipeg. I recently bought CASEMENT WINDOWS for my new office. They are awesome in their quality and enhanced the entire look of the architecture. The price of the product was reasonable and installation was efficient and accurate. Thank you!!!"
3. Weather Pro Windows and Doors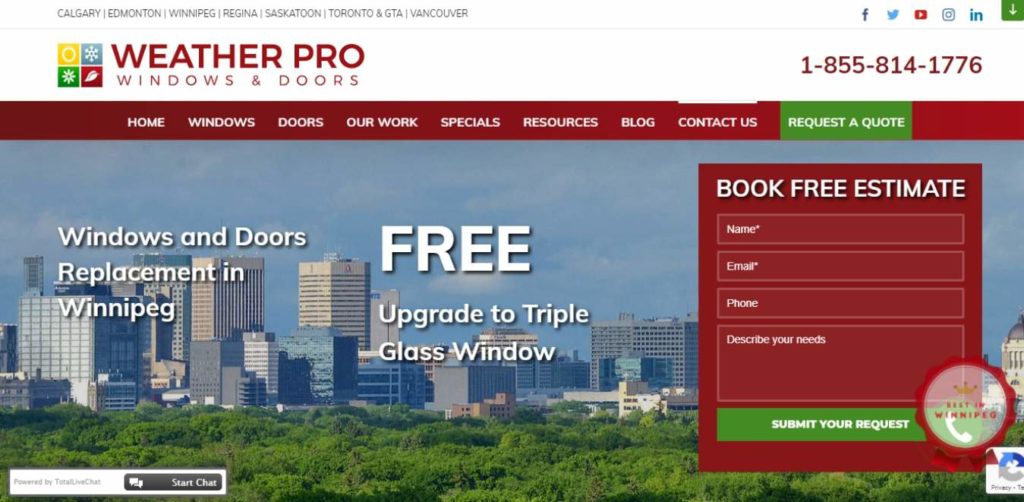 BEST FOR
Decorative and energy-efficient windows
PRODUCTS
Casement, bay & bow, single hung, double hung, slider, fixed, tilt and turn,specialty, and decorative windows
PRICING
$49 monthly payments
WEBSITE
https://www.weatherpro.ca/windows-doors-winnipeg/
ADDRESS
110 King Edward St E, Winnipeg, MB R3H 0N8
CONTACT DETAILS
(204) 583-6163
OPERATING HOURS
Monday – Friday: 9:00 AM – 5:00 PM
Saturday: 10:00 AM – 2:00 PM
Suggest an edit Phone: +1
Weather Pro is another window and door contractor with a nationwide reach. It doesn't just provide the usual types of windows you can find anywhere either: Weather Pro is one of the few contractors offering decorative glass windows.
With over 23 years of experience in fenestration services, Weather Pro can also handle all types of window projects, from home renovations to commercial constructions.
This contractor also offers various special promos such as free upgrades to triple glass windows and even zero-downpayment installation services. Weather Pro also follows the lifetime warranty offer of its product manufacturers.
Lifetime product warranty
Zero-downpayment with 0% interest payment options
Free estimates
Special promos such as free triple glass upgrades
Customer Reviews
Weather Pro's installation team is both professional and friendly, thus offering excellent customer services. Here are some customer reviews to tell you more of what you may get if you also choose Weather Pro Windows:
"I've now used Weather Pro Windows and team twice to replace windows and a door in my home. Vlad did a fantastic job from beginning to end on replacing custom-sized windows. I highly recommend them to anyone who needs quality service done for their windows."
"We just had some replacement work done on some of our doors and windows and I must say, we are extremely satisfied with the result. The replacements look like a natural part of the house. They are very professional and knowledgeable. I am also highly impressed with their customer service. They were willing to answer all our queries and were very friendly too."
4. NorthShield Windows and Doors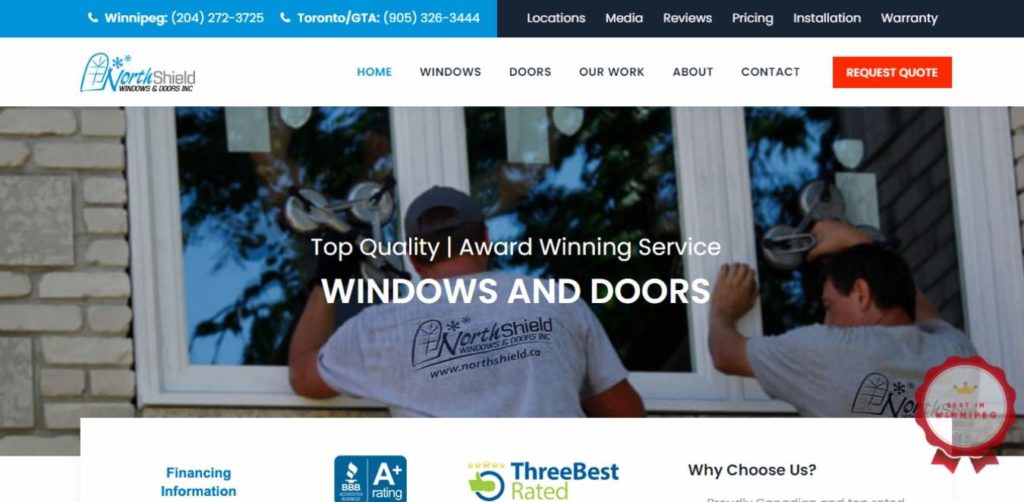 | | |
| --- | --- |
| BEST FOR | Complete process from manufacturing to disposal of windows |
| PRODUCTS | Casement, picture or fixed, tilt-turn, awning, single hung, double hung, slider, bow and bay, custom-shaped, hopper, and lift out slider windows |
| PRICING | https://www.northshield.ca/windows-replacement-cost-estimator/ |
| WEBSITE | https://www.northshield.ca/ |
| ADDRESS | 1645 St James St, Winnipeg, MB R3H 0L2 |
| CONTACT DETAILS | (204) 272-3725 |
| OPERATING HOURS | Monday – Friday: 9:00 AM – 4:00 PM |
NorthShield Windows is known for manufacturing and installing all types of windows. Additionally, NorthShield Windows offers free in-home estimates, 25-year product warranties, and 15-year installation warranties.
This contractor also collects and disposes of old windows so that its clients won't have to worry about proper disposal. This simple action is just one of its eco-friendly actions because NorthShield Windows also creates its windows through ecological practices.
With its local manufacturing, NorthShield Windows guarantees an exclusive selection of weather-resistant and energy-efficient windows. Its products are also certified by Energy Star.
Local and environmental manufacturing
Free in-home estimates
Complete services from manufacturing to disposal of windows
Limited to vinyl windows
Relatively short warranty
Customer Reviews
NorthShield works efficiently to provide its clients with fast replacement services. Here are some reviews from clients who say they found the best window replacement in Winnipeg from Northshield:
"Great service. Replaced 6 windows and patio door with NorthShield Windows and Doors. Eugene was amazing in providing the estimate and Brad and the team came to install it, everything was installed within 6 hours and they cleaned after they were done. Thank you guys."
"This the second time I used Northshield. They replaced five windows and two doors. Work was done efficiently and accurately. Would recommend it to all my friends and family."
5. Green Brand Windows and Doors Inc.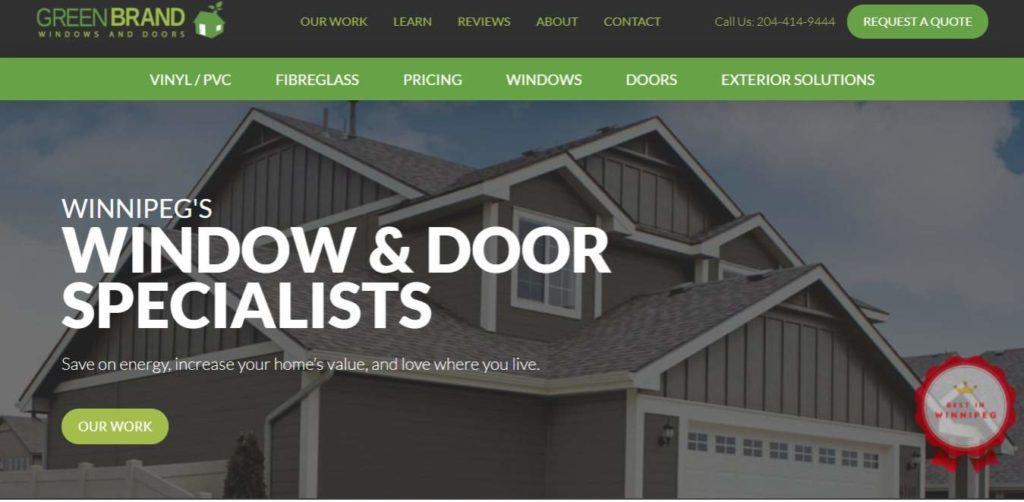 Green Brand deals with all types of exterior finishings, from windows to sidings, to improve its client's curbside appeal. Its energy-efficient and durable windows are suitable for all types of architecture, whether contemporary or traditional.
Another great thing about Green Brand is that it has over seven manufacturing partners. Thus, it guarantees a wide selection of vinyl, composite, wood, and fiberglass windows perfect for any application.
And should you decide to become a client, you can also join Green Brand's referral program.
Lifetime warranty for vinyl windows
Numerous window manufacturing partners
Additional exterior solutions
Not all partners have Energy Star ratings
Customer Reviews
Green Brand offers prompt, professional, and tidy services, which is why customers prefer this contractor for their subsequent home projects. Here are the reviews that say so:
"Thanks to Anders and his crew for getting 2 windows replaced before the cold snap. Super friendly and professional team, left the house and yard spotless. Replicated a window sill ledge no questions asked. Would use again."
"We needed to replace two broken windows in our new house. Anders and Greenbrand solutions were recommended to us and overall did a great job. The quote was reasonable, and Anders made a point to help us understand all our options. The installation crew arrived early and worked efficiently. We will be reaching out to them again when we are ready to replace more windows."
6.   Hi-Tech Energy Windows & Doors
PRODUCTS
Custom thermally efficient windows
WEBSITE
www.hitechwindows.ca
ADDRESS
1530 Erin St, Winnipeg, MB R3E 2T1, Canada
CONTACT DETAILS
204-783-9945


[email protected]

OPERATING HOURS
Monday to Friday, 9:00 AM – 5:00 PM
Hi-Tech is a family-owned window and door supplier based in Winnipeg. Their flagship SuperCORE windows and doors are known for their thermal stability and energy performance.
The Canadian Design and Construction Magazine even listed Hi-Tech as one of their top window and door manufacturers of 2017. They later received the 2020 Consumer's Choice Award.
Hi-Tech's SuperCORE windows are efficient, durable, airtight, and secured with fusion welding.
Their windows are designed to withstand frigid-to-very-warm climates while minimising your yearly energy loss.
To make all this happen, they employ the craftsmanship of factory-certified installation crews. They have three teams working in the city and other parts of the province.
What's great about being your own manufacturer is that you have control and accountability over your product. As far as Hi-Tech is concerned, this seems to be an observable feat.
Some of their clients have been using their services for 20 years or more. Although they don't publish the specifics of their personal warranty, several customers speak highly of their aftercare.
High-performing windows
Good aftercare service
Factory-certified installation crews
Closed on weekends
Further enquiry needed for pricing and window types
No financing options
Customer Reviews
Hi-tech clients have good things to say about the company's helpful staff and skillful crew:
"We decided to have nine of our windows replaced. After contacting several places for estimates and information, we came upon Tom, our window consultant at Hi-Tech. He is incredibly knowledgeable and honest! Very helpful with choices and decisions! We discovered that we did not have to go with "white" windows. They have a vast array of colors to choose from, both outside and inside! Our installer, Ryan, has superior craftsmanship and skill. He was able to reuse our existing oak casings. Our blinds did not have to be "recut" to fit the new windows. Superior job all round, so much so that we have decided to have five more redone. Thank you Hi-Tech!"―Janice Wood
"My wife and I could not be happier with the service, installation and quality of windows that were installed by High-Tech Windows. Also impressed with the clean up and the fact they laid out drop sheets throughout the house minimizing any mess."―Joey Ste. Marie
Tips on Replacing Your Windows
Old age and damage are the most common reasons for window replacement. However, there are also other reasons for window replacements such as these:
Switch to energy-saving windows
Reduce air and water leaks
Improve curbside appeal
Protect your home from the sun and intruders
If you're looking for energy-efficient options so you can decrease your electrical bills, you should try out Energy Star-rated windows. Solar films are also popular environmental choices that can protect indoor furniture and appliances from colour fading due to sun exposure.
With new replacement windows, you can also protect your home from natural weather disasters without the costs and hassles of storm windows. Window replacements can also prevent water leaks.
You should also get windows that are easy to open and close to provide you with a fast escape should there be fire or other accidents in your home. You have to make sure, though, that your windows are hard to access from the outside if you want to prevent break-ins.
Frequently Asked Questions
---
Now that you know all about Winnipeg's best window replacement services, you can definitely improve curbside appeal while reducing energy costs. If you're still unsure of which contractor to hire, you can meet with them and ask for a quotation and decide from thereon.
Just make sure your beautiful house is protected and insured so you can save your investments for every home improvement project. If not, you can check out our list of the best insurance brokers in Winnipeg to get started on securing your property.