5 Best Business Card Printing Services in Winnipeg
Business cards are at the heart of marketing and networking. If you wish to grow your company's networks and build your brand's reputation, having the perfect business card is a strong start.
Many would think that business cards are no longer relevant to this digital age, but studies have shown that more than 70% of people form their initial impression of a company based on its business card quality alone.
So if you're asking where you can get the best business card printing service in Winnipeg, you're in luck! We have just the list for you.
But before diving right in, here's something that may help you in your quest!
How much does business card printing cost?
Different shops offer different pricing options. And because some have different quantity sets and finishing selections, this table only shows you the average price of business cards using 14 pt and 16 pt card stock in various sets.
| Quantity | 50 | 100 | 250 | 500 | 1000 | 1500 | 2000 |
| --- | --- | --- | --- | --- | --- | --- | --- |
| Single-Sided | $25 - $45 | $30 - $50 | $35 - $55 | $45 - $65 | $55 - $75 | $75 - $95 | $95 - $115 |
| Double -Sided | $35 - $55 | $40 - $60  | $45 - $65 | $60 - $80  | $75 - $95 | $95 - $115 | $120 - $140 |
Business cards with special finishes are generally much more expensive than standard ones. For this reason, most services have a higher minimum requirement for cards of these types.
| Special | 500 | 1000 | 1500 | 2000 |
| --- | --- | --- | --- | --- |
| Glossy/ Matte | $100 - $130 | $135 - $160 | $270 - $300 | $410 - $450 |
| Spot UV | +$12 - $15 | +$20 - $30 | +$25 - $35 | +$30 - $40 |
Best Business Card Printing Services in Winnipeg
So how did we choose our picks? Well, to keep the quality of this entry, we have rated the business card printing services on this list based on the following criteria:
Now let's take a closer look at our top picks of the best business card printing services in Winnipeg!
1. Galaxy Printing Winnipeg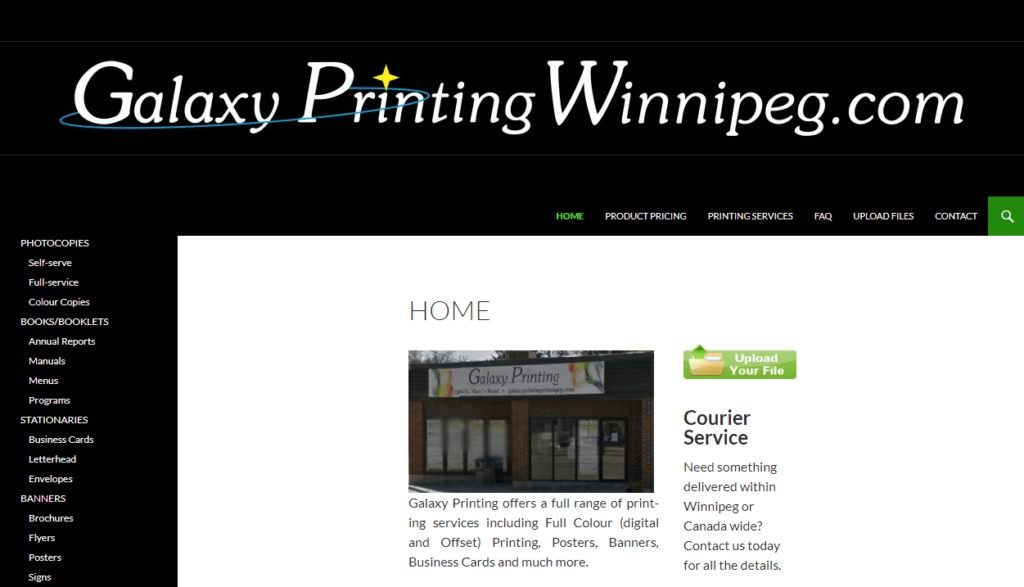 SERVICES
Photocopying, Book/Booklet Printing, Stationaries, Banners, Specialty Items
WEBSITE
https://www.galaxyprintingwinnipeg.com/
ADDRESS
1004 St. Mary's Road, Winnipeg, MB R2M 3S3
CONTACT DETAILS
Phone: (204) 254-2937

Email: [email protected]

OPERATING HOURS
Monday - Friday 8:30 AM - 4:30 PM, Saturday - Sunday: Closed
| | |
| --- | --- |
| Scope of service | ★★★★ ☆ (4/5) |
| Turnaround time | ★★★★★ (5/5) |
| Customer reviews | ★★★★★ (5/5) |
| Years in the industry | ★★★★☆ (4/5) |
| Price | ★★★★☆ (4/5) |
Galaxy Printing may be a relatively small printing business compared to others in the area, but its 30 years of experience in the business easily makes it a tough contender.
The company offers a variety of printing services from stationeries such as business cards, letterheads, and envelopes to specialty items like calendars, greeting cards, and postcards.
It also prints annual reports, manuals, menus, programs, and a variety of banners. But let's focus on the crux of your visit — business cards!
The company prints business cards into sets of 50,100, 250, 500, 1000, 1500, and 2000. So if you're only interested in printing 5 or 10, you might have to take your business elsewhere.
Still, we like the fact that it offers one of the most competitive prices in the area. You can have a set of 50 single-sided business cards for $27.99 and double-sided cards for $36.99.
If you're going for a more sophisticated finish on your business cards, it starts its glossy and matte sets at 500 for around $106. But we're glad to tell you that they use 16 pt thick stock paper for these types of cards, which are sturdier than average.
We also love that it has such a quick turnaround time for this service. For only 1 to 2 days, you can have your ordered business cards back and faster if you have it rushed.
With over 50 positive Google reviews and its affordable, speedy services, Galaxy Printing has earned a spot on this list.
Affordable service
30 years of experience
Highly-reviewed customer service
Steep minimum requirement
Limited printing service for bigger items
Customer Reviews
Professional and efficient
Best printing spot in Winnipeg! Have gotten work done here many times, the customer service is great and always accommodating. If you need printing for a business or just general prints they have great rates and are very time efficient. Thank you Galaxy Printing! – Alisha Murray, Google Reviews
Excellent Customer Service
Absolutely phenomenal service!! Turns out this week was a tough week tech-wise. They were just about to close on a Friday when my client stopped in to pick up her orders. A few hiccups came up due to our end, and they fixed it in minutes!! They are affordable, professional, and helpful! All the things a printing shop should always offer! Thank you, Morgan and Chenoa for such an amazing experience. Will be coming back soon for more. 🙂 – Veronica Michalczak, Google Reviews
2. Print It On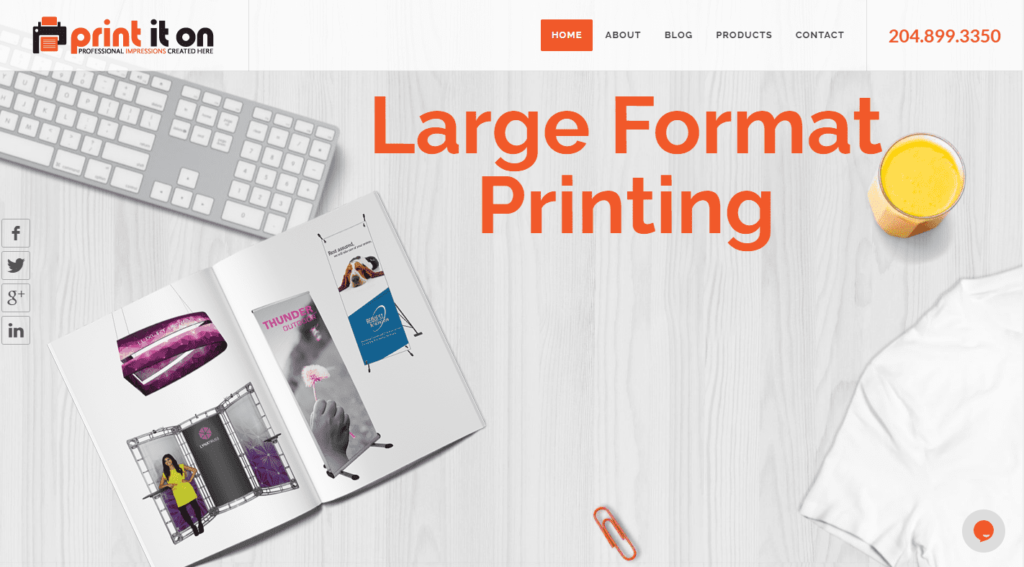 SERVICES
Paper Printing, Large Format Printing, Promotional Items, Screen Printing, Banners, Signages, Trade Show Display Systems, Special Items
WEBSITE
https://www.printiton.ca/
ADDRESS
1798 St Matthews Ave Winnipeg, MB R3H 0A5
CONTACT DETAILS
Phone: 204-899-3350

Email: [email protected]

OPERATING HOURS
Monday - Thursday 10 AM - 5 PM, Friday: 10 Am - 2 PM, Saturday - Sunday: Closed
| | |
| --- | --- |
| Scope of service | ★★★★★ (5/5) |
| Turnaround time | ★★★★★ (5/5) |
| Customer reviews | ★★★★★ (5/5) |
| Years in the industry | ★★★☆☆ (3/5) |
| Price | ★★★★☆ (4/5) |
Print It On may have started a little later than our first printing service mentioned, but it has grown just as fast, if not faster. Since its establishment in 2010, the company has moved twice and is now located in a 1900 sq ft facility.
Not only that, but we also love how its award as one of the top 3 best printers in Winnipeg gives it more credibility and authority in the industry.
Other than the usual paper printing services, the company also offers large format printing such as banners, lawn signs, decals, and even trade show display systems.
On the business card front, we really like the fact that it uses super heavy stock with 16 pt thickness. This ensures that your card isn't floppy and could last for a long time.
Print It On also offers to create your business cards with different finishes such as matte, gloss, silk lamination, and spot UV. But the thing that really caught our attention is its speedy turnaround times.
Its fast printing work will have you waiting for only an hour. And depending on the quantity of your order, you may even wait at the shop and watch your card be printed in about 30 minutes.
The only downside is that you have to ask for a quote every time you want to know how much this service is going to cost you. Its website also does little to give you an idea of your project's cost as it only directs you to an inquiry form.
However, the company makes up for it by helping you with your design needs through its in-house graphic designer free of charge.
With an excess of positive reviews and reasonably-priced services, Print It On is definitely worth checking out!
Wide range of printing services
Very fast turnaround times
Helpful and responsive staff
No browsing option for prices
Divided focus with plenty of other services
Customer Reviews
Excellent service
Had 500 business cards printed. Very helpful staff. They helped me modify texts on my cards free of charge. Express service and affordable prices. Highly recommend Print It On to everyone. – Alisher Akilov, Google Reviews
Quick turnaround
Had new business cards designed and printed in one day, even with adjustments it was quick and enjoyable to be able to see them live. I would gladly work with them again in the future. – Tyler Altomare, Google Reviews
3. The Standard Press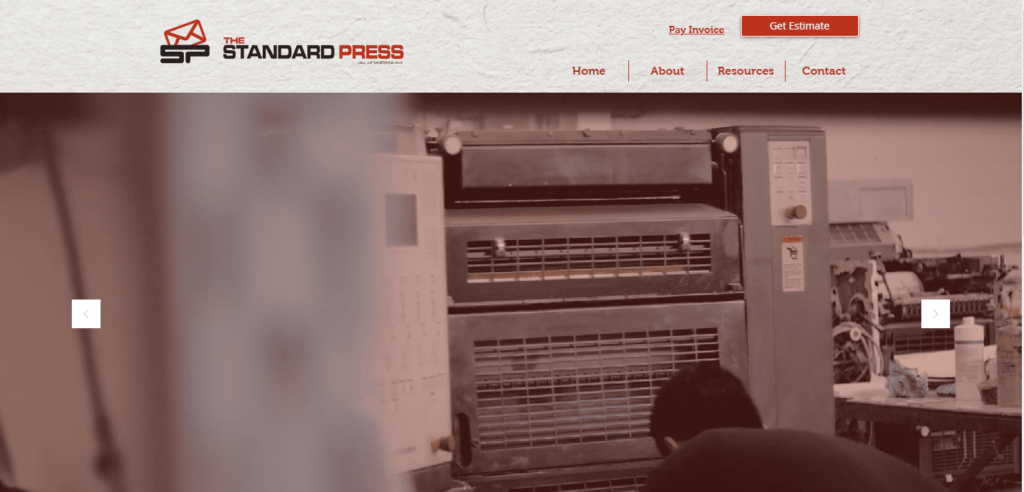 SERVICES
Direct Mail Printing, Signage and Banners, Graphic Design Service, Digital and Offset Printing, Business Card Masters
WEBSITE
https://www.thestandardpress.com/
ADDRESS
68 Higgins Avenue Winnipeg, MB R3B 0A5
CONTACT DETAILS
Telephone: 204-943-2712

Toll-Free: 800-860-0885

Email: [email protected]

OPERATING HOURS
Monday - Friday 9 AM - 4 PM, Saturday - Sunday: Closed
| | |
| --- | --- |
| Scope of service | ★★★☆☆ (3/5) |
| Turnaround time | ★★★★☆ (4/5) |
| Customer reviews | ★★★★★ (5/5) |
| Years in the industry | ★★★★★ (5/5) |
| Price | ★★★☆☆ (3/5) |
The Standard Press is one of the companies on this list with such a rich story. We especially love how it had a humble beginning in business card printing, which adds to the reliability of its service.
The company was founded in 1936. And for those who aren't fond of computing, it has served as a printing shop for more than 85 years.
From traditional paper printing, it has expanded its printing services to various signs, banners, wallpapers, and billboards, as well as direct mail printing such as newsletters, custom envelopes, brochures, and many more.
However, we aren't big on the fact that it only offers business card printing on large bulks. Its sets break from 5,000 to 10,000 and 20,000.
Although you can customize every 250 cards, we feel that the minimum requirement is still pretty steep. However, if you are looking to make business cards for every staff in your organization, then you are looking at quite a reasonable deal.
The Standard Press' turnaround time for business cards usually takes around 2-3 days. Considering the volume of every order, that's actually pretty quick.
So if you want high-quality business cards for your company, you have the company's 85 years of experience to rely on!
Very reliable service
Highly reviewed customer service
Extensive printing services
Only prints in large bulks
Can be quite expensive
Customer Reviews
Great experience
First time dealing with Signs At Cost/Standard Press and what a great experience. Deanne and Anthony went the extra mile right from my initial contact, helping with the design stage and right through to the making and ensuring the quality of the final product and pick up. They were always available and their communication and follow-up through the entire process were always very prompt. They understood my concerns regarding the need and importance of getting my election signs out for the public to see and ensured my needs were met. I would recommend these people and this business to anybody who is looking for and appreciates great service. – Delmer Nott, Google Reviews
Top-notch price
Very impressed with the quality and speed that the signs were ready. And of course, the pricing can't be beat. Half the price of what we paid at our previous sign company. Will definitely do business again! – Scooby Channel, Google Reviews
4. Rinella Printers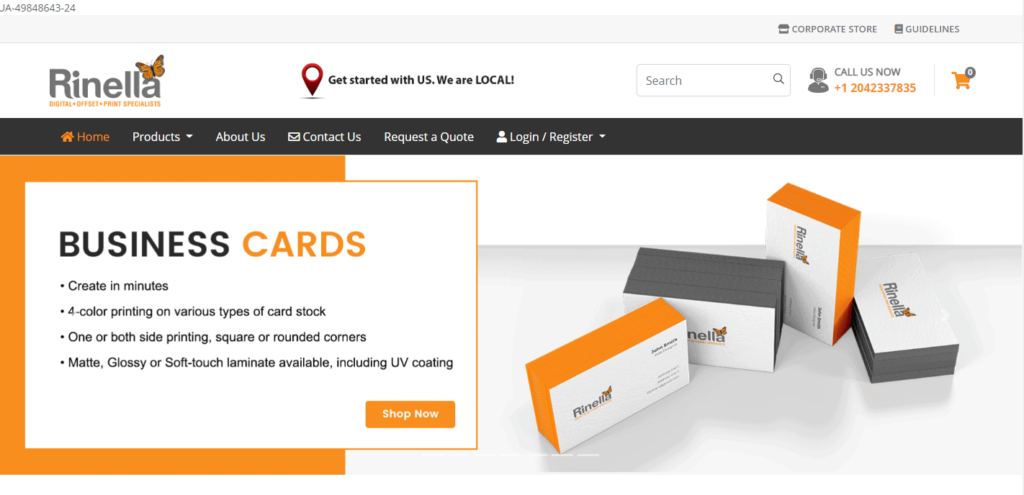 SERVICES
Printing and Copying, Signage and Banners, Decals, Signage Kits
WEBSITE
https://www.rinellaprint.ca/
ADDRESS
1004 Sargent Ave, Winnipeg, MB R3E 0E4, Canada
CONTACT DETAILS
Telephone:+1 2042337835

Email: [email protected]

OPERATING HOURS
Monday - Friday 8 AM - 4 PM, Saturday - Sunday: Closed
| | |
| --- | --- |
| Scope of service | ★★★★★ (5/5) |
| Turnaround time | ★★★★☆ (4/5) |
| Customer reviews | ★★★☆☆ (3/5) |
| Years in the industry | ★★★★★ (5/5) |
| Price | ★★★★☆ (4/5) |
What Rinella Printers lacks in customer feedback, it makes up for in its unmatchable length of service. Believe it or not, it has been in the business for over 100 years!
Rinella Printers was founded in 1919. And though it is the oldest printing shop on this list, we like that it didn't stick to all its traditional printing and marketing techniques.
The company now offers services such as Covid signage kits, signs and banners, as well as walls, windows, and floor decals. Of course, it also has a plethora of paper printing and copying services too.
But what we love about the company is its adaptation of digital and online trends to its business card printing services.
Rinella's new online printing platform allows its customers not just to place their orders, but also to upload, browse or create their own business card designs. And we think that's just ingenious!
With thousands of pre-loaded templates and customizable products in its designing tool, there is almost no limit to what you can do to make your cards as personal as possible.
However, do note that the lowest card stock they use is 100 lb or 14 pt. And though using this level of thickness is quite common, we feel that it falls a little short of what's considered a great business card today.
So if you want a higher quality feel, make sure to change the card stock option to 130 lb. The company also has options to change the quantity of your order into sets of 100, 250, and 500.
We also can't ignore Rinella's prices on this service. Its 50-set of 110 lb business cards, coated or uncoated, is only $35 and its 130 lb thick cards are only $45 for the same number of pieces.
Affordable and highly customizable, Rinella's business card printing services simply have what it takes to cover your needs.
Cheap business card services
Highly customizable cards
Online printing platform 
100 years of service
Limited online customer reviews
High minimum requirement
Low-quality paper for standard cards
Customer Reviews
Top-notch quality
I was introduced to these guys through a friends company. They did fantastic work for us making business cards and decals for a truck and trailer. The opportunity arose to use them in my professional life and they have not disappointed. Alex is quick, professional, and always friendly when I stop in for pickup. The work has always been of top-notch quality and has always been delivered on time. Oftentimes on short notice with no complaint! Really can not say enough good things about this business and its willingness to work with you to meet your needs. Will be a client for years to come!!! – Andrew Langelaar, Google Reviews
Highly recommended
I have used Rinella Printers for over 15 years for my business cards, invoices, folders, and everything printing! I highly recommend them as they pay attention to the details, give great creative and experienced advice, yet always open to input . The products they produce are high quality, on budget, and delivered as promised. They will always be my go-to printing company and I have recommended them to everyone who needs printing.- Bonnie Karr, Google Reviews
5. The UPS Store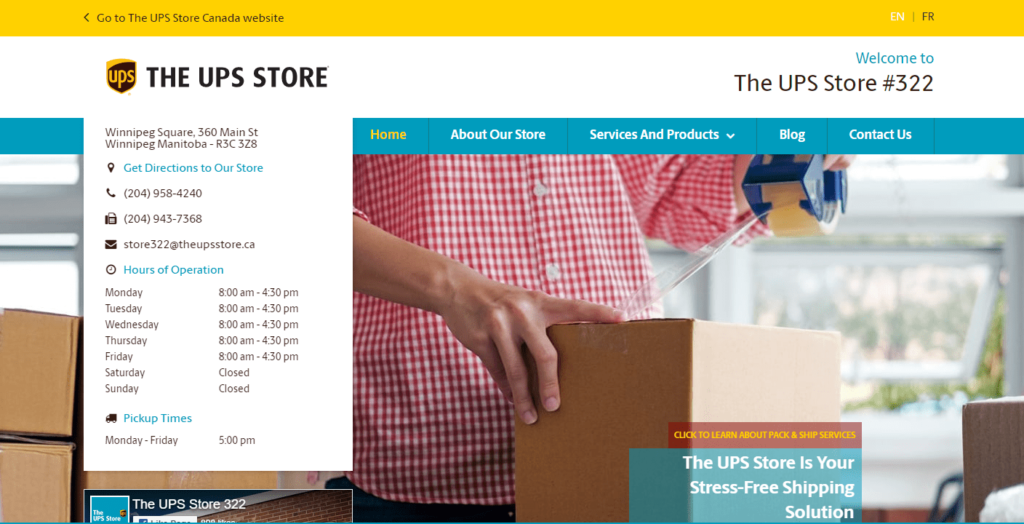 SERVICES
Business Cards, Canvas Printing, Graphic Design, Flyers, Posters, Private Rental Mailbox Service, Secure Shredding, Wide Format Scanning, Wide Format Printing
WEBSITE
https://www.theupsstore.ca/322/
ADDRESS
Winnipeg Square, 360 Main St

Winnipeg Manitoba - R3C 3Z8

CONTACT DETAILS
Phone: (204) 958-4240

Email: [email protected]

OPERATING HOURS
Monday - Friday 8 AM - 4:30 PM, Saturday - Sunday: Closed
| | |
| --- | --- |
| Scope of service | ★★★★★ (5/5) |
| Turnaround time | ★★★★☆ (4/5) |
| Customer reviews | ★★★★★ (5/5) |
| Years in the industry | ★★★☆☆ (3/5) |
| Price | ★★★★☆ (4/5) |
You may know UPS as one of the world's largest shipping couriers. But make no mistake, the one on Winnipeg Square is more than what meets the eye.
We love how the store is located in Winnipeg Square, making it extremely accessible to customers. Plus it makes waiting for your order so much simpler by killing some time to stroll around!
Other than mailing, the UPS Store 322 is sought out for its printing services. In fact, its business card printing services are among the most popular reasons for its customers' visits.
Its business cards also come with nearly limitless design options. You can have it single or double-sided, single or multi-coloured, laminated or open, and in different sizes and card stock quality you want.
Because of its mailing service, the shop is usually seen as overcrowded and busy. However, it is still doing great in terms of its turnaround time, which is usually no more than 24 hours.
If you don't have a design in mind just yet, the UPS Store crew has the technical skills to help you come up with the right design ideas and perfect materials that fit your business.
We also like its option to have your order placed and set up online. So if you don't wish to visit the Square, you can order in the comfort of your office and have it delivered.
The UPS Store 322 may not be able to compete in its number of years in the business, but when it comes to reviews, it wins hands down.
With more than 250 positive reviews, no one else came close. And that earns it its spot on this list.
Excellent location
Highly-reviewed printing shop
Fast turnaround times
Can be overcrowded on busy days.
Divided focus due to mailing service
Customer Reviews
Great customer service
Ernie rocks! His intuition with regards to printing out my images in large formats, man, it was a seamless experience. I love it when I can work with someone and not have to explain my vision or have my vision questioned. I would highly recommend their services. – Rosey Goodman, Google Reviews
High-quality work
Such a great store! Dmitriy and Anna printed our business cards and they are great! Bright and clear printing which was done just in a couple of days. They are easy to work with; their pricing is clear and affordable. I highly recommend them for all printing tasks you plan! Thank you, guys!! – Oksana Lazarenko, Google Reviews
FAQs about Business Card Printing
---
Having the right business card offers a personal touch that no email campaign can compare. With the right printing service, you can deliver the exact message that you and your company are all about.