5 Best Mould Removal Services in Winnipeg
Mould is a fast-growing fungus that likes to hide in the dark and damp corners of your house. And while there are different types of moulds, all of them are definitely health hazards.
Postponing mould removal is not advisable. To prevent causing more damage to your property and exposing your family to a variety of medical conditions, have it removed as soon as you can.
With that in mind, we've made you a list of the best mould removal services in Winnipeg along with their strengths and weaknesses.
But before reviewing each company, here's something you might want to know about the cost of mould remediation service.
How much is a mould removal service?
The price of a mould removal service varies based on the method used, the servicing company, and the scale and location of the mould to be removed.
This list only shows you a general idea of the average cost of the service.
| Type of restaurant | Price |
| --- | --- |
| Simple mould remediation service | $500 - $4000 |
| Mould removal in crawlspace | $500 - $5000 |
| Mould removal in wall ducts or attics | $2000 - $5000 |
| Mould removal in complicated areas | $15,000 - $30,000 |
Below are the factors that affect the cost of mould remediation:
Structure affected (drywall, plaster, wood, carpet, concrete, etc.)
Areas affected (bedroom, bathroom, kitchen, attic, cold room, etc)
Scale of affected areas (10 sq ft, 20 sq ft, 100 sq ft)
Length of service needed (1 day, 2 days, 3+ days)
Methods to use in removal (physical removal, chemical wash, media blasting, etc.)
The Best Mould Removal Services in Winnipeg
Now that you know how much a mould remediation service may set you back, here are the criteria we used to rate and include the shops on this list.
This helps make this entry more trustworthy and relevant to your needs.
Now it's finally time to unveil our best choices for mould removal services in Winnipeg!
1. Breathe Easy EcoSolutions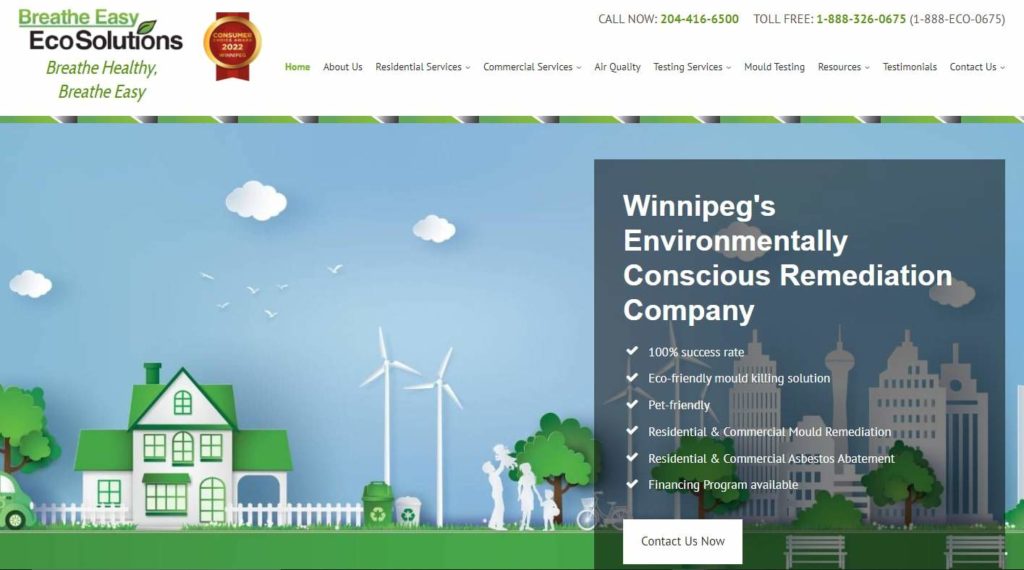 SERVICES
Mould Removal, Asbestos Abatement, Duct Cleaning, Demolition Services, Testing Services
WEBSITE
https://www.breatheeasywinnipeg.ca/
ADDRESS
380 Dupuy Avenue Winnipeg, MB R2J 0T4
CONTACT DETAILS
Phone: 204-416-6500

Toll-Free: 1-888-326-0675

Email: [email protected]

OPERATING HOURS
Monday - Friday 8 AM - 4:30 PM, Saturday - Sunday: Closed
| | |
| --- | --- |
| Qualifications | ★★★★☆ (4/5) |
| Experience | ★★★★☆ (4/5) |
| Service scope | ★★★★☆ (4/5) |
| Customer feedback | ★★★★★ (5/5) |
Breathe Easy EcoSolutions is a remediation company that specializes in mould removal and asbestos abatement. And should you need one, it also offers a custom air duct cleaning service.
But what caught our eye is how the company prides itself on being environmental. We like that it approached its removal service with its clients' health and environment in mind.
The fact that it uses food-grade essential oils and other botanical enzymes to create its cleaning products is a huge point in its favour.
So if you're worried about hazardous chemicals floating in your house afterwards, worry no more. Breathe Easy's EcoSolutions' eco-friendly services will have you sleeping soundly at night.
Although the company has been in service for more than 18 years, we also like the fact that its Certificate of Registration Certification from CSAM adds more to the credibility and reliability of its work.
And if you're on the fence about whether you need the service or not, Breathe Easy also offers free visitation and consultation. It even has an after-hour answering service until 8 PM every day if you have more questions!
However, unlike other companies on this list, it is not open during the weekends. So if you have any immediate requests during these days, you might have to wait a bit longer.
Still, what the company lacks in remediation services, it more than makes up for in its environmental approach and great customer service.
CSAM certified
Eco-friendly products
Specialised in mould and asbestos services
Limited remediation service
Not open 24 hours for emergencies
Customer Reviews
Excellent service
Very satisfied with the mold removal/drywalling/humidex installation in my garage. Tony was great at answering all my questions and the team was very professional. I also liked how I was able to communicate by text/email when needed. – Ric Van Amelsvoort, Google Reviews
Knowledgeable and efficient
Had Mark from Breathe Easy out to do some asbestos inspection/testing in my home. Was very knowledgeable and answered all my questions. Results came back fast. He even came back to answer a few more questions I had a few weeks later. All around a great experience, wouldn't hesitate to use them again. – Chris Anger, Google Reviews
2. Puro Clean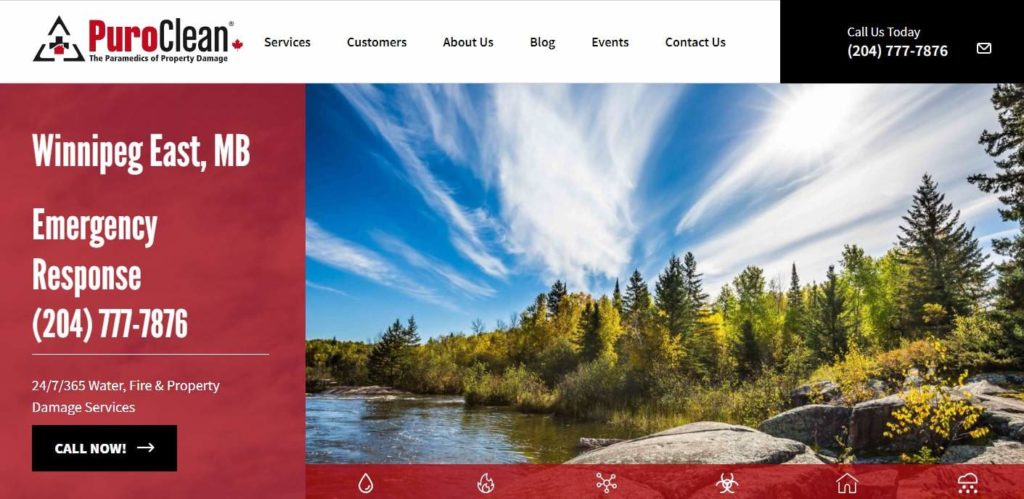 | | |
| --- | --- |
| Qualifications | ★★★★★ (5/5) |
| Experience | ★★★☆☆ (3/5) |
| Service scope | ★★★★★ (5/5) |
| Customer feedback | ★★★★☆ (4/5) |
PuroSystems LLC was founded in 2001 but it launched PuroClean in 2014, a separate company for its remediation services. Though it doesn't have the length of experience we normally like to see, it dominates the industry with its large network.
In fact, PuroClean has a whopping 260 franchised offices all throughout Canada and the U.S. This easily makes it one of the leading remediation services in North America.
The company specializes in water and fire damage restoration, mould remediation, biohazard cleanup, and other emergency work.
What we like about PuroClean is that it is available to serve you 24 hours a day and 7 days a week. It really takes its title as "The Paramedics of Property Damage" at heart!
So even when you have water damage and mould problems at night or on the weekends, PuroClean will be there to the rescue. It also offers free assessment and estimates on your mould removal needs.
The company is a bearer of IICRC Certification and is an EPA Lead-Safe Certified Firm. So rest assured, it's a certified expert, although relatively new.
We also love the fact that PuroClean works hard to arrive at your property in less than 1 hour. This helps reduce the damage done to your property by something as fast-growing as the black mould.
Its mould removal service usually takes around 1 to 5 days, depending on how extensive the damage is. And due to its strict protocols, you may have to find someplace else to stay while the work continues.
But if you're willing to pay the cost of a quality mould removal service, then PuroClean may be the company for you!
Complete certification
24-hour availability
Full Level 1, 2, and 3 Mould Remediation
Extra expense for alternate living option
Relatively new in the industry
Customer Reviews
Best priced service
I discovered a major mold problem in my basement as I began investigating a water leakage issue. Turns out, the water was a result of frost developed over the winter melting in the spring behind my fake wood paneling walls. The previous homeowner had incorrectly installed fiberglass insulation directly against the foundation and then covered it with a vapor barrier creating a perfect environment for condensation and mold. PuroClean did an amazing job of remediation and the difference could be noticed immediately after they finished. No more stuffed noses and sneezing/coughing consistently. Also, they were the best priced with confidence that their method would be the most successful. If you're looking for mold remediation… Trust PuroClean. – Daniel Paspaporn, Google Reviews
Professional and kind
I just found out my daughter has mold allergies and I was very concerned that maybe we had mold in our home. Murray was amazing in making sure all my questions were answered with kindness and very professional! He wasn't trying to make a quick buck, he was trying to help me better understand what I needed to do to keep my kids safe! I highly recommend PuroClean! There are still some really kind and helpful people in this world! Thank you!! – Sara Russell, Google Reviews
3. ServiceMaster Restore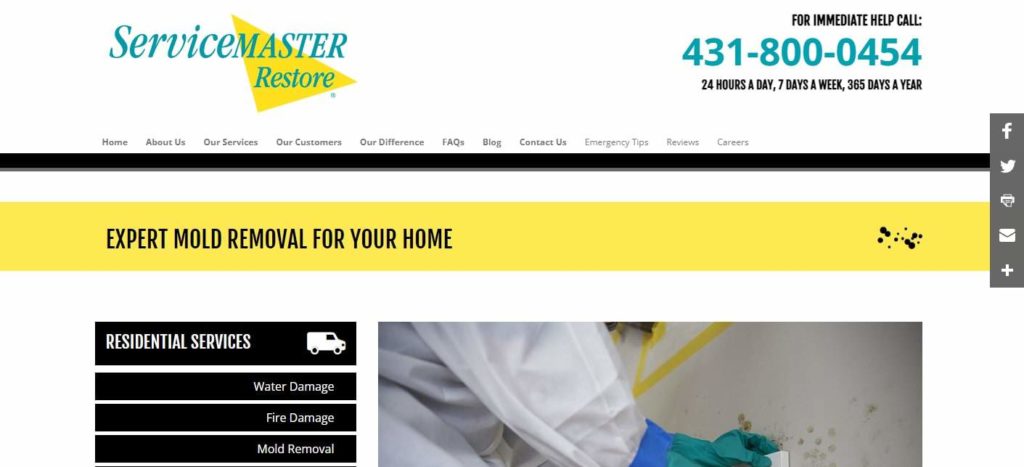 SERVICES
Water and Fire Damage Restoration, Mould Removal, Trauma Cleanup, Reconstruction, Roofing Repair, Odour Removal, Emergency Board Up Services, Ice Damming
WEBSITE
https://svmrestore-northwinnipeg.ca/
ADDRESS
921 Wall Street Winnipeg MB R3G 2V4
CONTACT DETAILS
Phone: 431-800-0454

Fax: 204-783-5765

Email: [email protected]

OPERATING HOURS
Open 24/7
| | |
| --- | --- |
| Qualifications | ★★★★★ (5/5) |
| Experience | ★★★★☆ (4/5) |
| Service scope | ★★★★☆ (4/5) |
| Customer feedback | ★★★★☆ (4/5) |
Service Master Restore Winnipeg opened its services in 2010. And though that only totals a little over 11 years of industry experience as a company, its crew has a combined experience of 50 years.
We like how its lead hands and production workers are Emergency Remediation and IICRC certified. This makes both its staff and services highly reliable.
Service Master Restore is an expert in water, flood, fire, and smoke damage restoration. And of course, it is also known for its mould removal services in both residential and commercial areas.
While the company is also at your beck and call 24 hours a day and 7 days a week, what makes it stand out to us is its 2-year warranty on restoration work. Talk about confidence!
However, you may have to wait a while since its phone staff usually responds to your emergency call within 2 hours and will be onsite at 4. Not bad, but not the best.
Its mould removal service includes repairing or eliminating the water source, mould testing, monitoring, assessment, removal, and remediation.
We also like its use of professional-grade products, equipment, and techniques. This gives us more confidence that it can give you a more efficient and effective service.
With its expert service and several positive online reviews, Service Master Restore is definitely a strong mould removal service contender.
2-year warranty
24-hour availability
Latest products and equipment
Relatively slow response and onsite time
Divided focus from other services
Customer Reviews
Top-notch services
Highly recommended. Our kitchen and finished basement were damaged by floods and ServiceMaster was sent by the insurance company to repair the damage and remover mold from the walls. My wife and I could not be happier. Every tradesperson was polite and on time – and most importantly – knew what they were doing. They even laid down mats to keep from tracking dirt/snow into the house. What couldn't be covered, they cleaned at the end. Most importantly, they gave me excellent advice. I had decided to spend my own money for things like new appliances (which were not damaged by the flood) and for nicer finishes, like countertops. ServiceMaster guided me to get the best bang for my buck. Highly recommended. – David Selch, Google Reviews
Great from start to finish
Our house suffered significant water damage when we discovered the water line on our refrigerator blew during a day at work. We came home to find the kitchen flooring ruined and water raining through the ceiling in several rooms in the basement. One call from our insurance broker's after-hours line put us in touch with Dustin from ServiceMaster Winnipeg. From start to finish, he championed the reconstruction, starting immediately with measures to mitigate any chance of mould developing. I don't ever want to go through this experience again, but since accidents can happen, if it does, I am most certainly asking for ServiceMaster and will not even consider another. – Ryan FitzGerald, Google Reviews
4. Advanced Environmental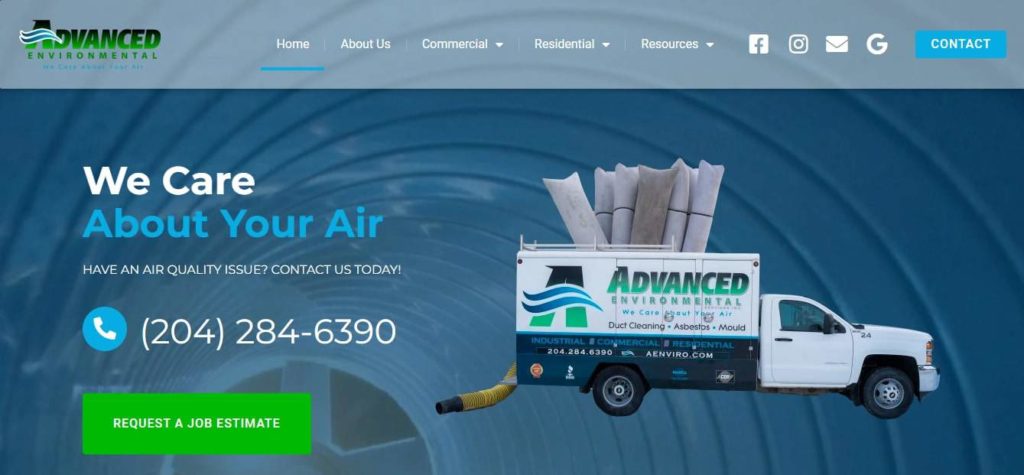 SERVICES
Duct and Vent Cleaning, Asbestos and Mould Removal, Dry Ice Blasting, Clean Up
WEBSITE
https://www.aenviro.com/
ADDRESS
341 Stanley St. in Winnipeg, Manitoba
CONTACT DETAILS
Phone: 204-284-6390

Email: [email protected]

OPERATING HOURS
Monday - Friday: 8 AM - 4:30 PM, Saturday - Sunday: Closed
| | |
| --- | --- |
| Qualifications | ★★★★★ (5/5) |
| Experience | ★★★★★ (5/5) |
| Service scope | ★★★☆☆ (3/5) |
| Customer feedback | ★★★☆☆ (3/5) |
Since opening its doors in 1993, Advanced Environmental has become the longest-running remediation service on this list, with over 28 years in the business.
Although the company's speciality is in duct cleaning and ventilation systems, it also offers asbestos and mould removal, dry ice blasting, and general clean-up services.
We gave points to Advanced Environmental for being BBB accredited, COR registered, and a member of the HVAC Inspection, Cleaning, and Restoration Association.
On top of its long years in the industry, these qualifications give the company more credibility to its name. In fact, it is also an awardee of the 2011 Consumer Choice Award!
On the mould removal front, the company offers free initial estimates upon calling. However, if you want a thorough inspection, you may have to set up an appointment.
During the inspection, its team of technicians assesses all environmental factors to determine the cause and the best steps for remediation and prevention.
We especially love the fact that it uses the latest technology in its services, such as thermal imaging to scan the areas and leave no stone unturned!
Its team also loves to take before and after pictures to show you the difference made by their service, which we think is quite adorable.
Even though it is highly reviewed online, its popular duct cleaning service has overshadowed its other work. This is why we have yet to see any substantial feedback on its mould removal service.
All told, its arsenal of new cleaning technologies, qualifications, and 21,000 served customers make it worth trying out!
28+ years in the industry
Great customer service
Updated in new technology
Fewer reviews on its mould removal service
Not open 24 hours
Customer Reviews
Speedy and thorough work
The service from Advanced Environmental is excellent. The crew arrived at their estimated time and the work was professional and thorough. I highly recommend them.! – David Treble, Google Reviews
Highly professional service
Very quick appointment scheduled, paid what I was quoted initially. Both gentlemen came right on time. Wore masks all the time and shoe covers. Very professional and took pictures before and after. This was my 6-time booking appointment and always – never fails professional service is delivered! Thank you. – Marta Bhopalsingh, Google Reviews
5. Denver Property Restoration Services Inc.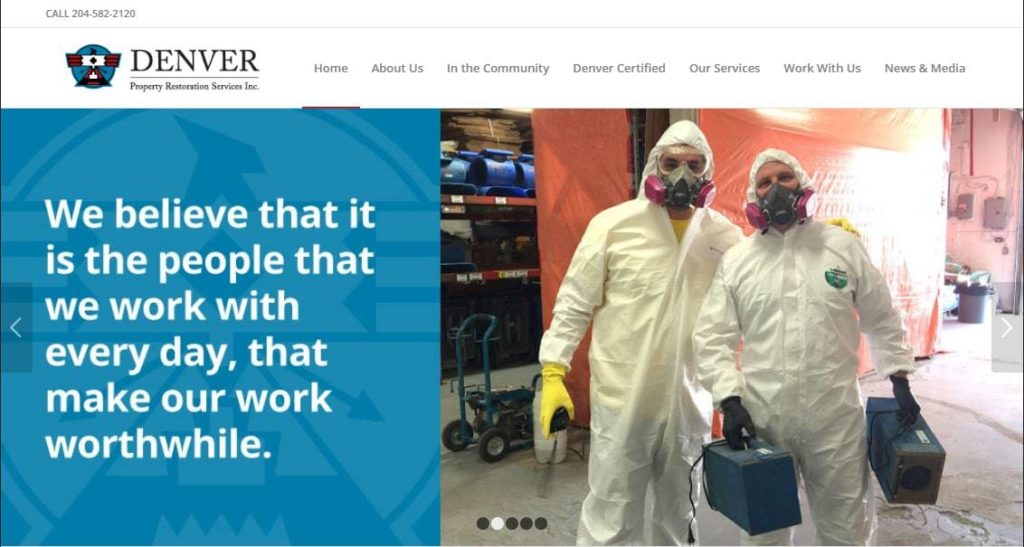 SERVICES
Duct and Vent Cleaning, Asbestos and Mould Removal, Dry Ice Blasting, Clean Up
WEBSITE
https://denverrestoration.ca/
ADDRESS
895 Jarvis Ave, Winnipeg, MB, R2X0A1
CONTACT DETAILS
Phone: 204-582-2120

Emails:

OPERATING HOURS
Open 24/7
| | |
| --- | --- |
| Qualifications | ★★★★★ (5/5) |
| Experience | ★★★☆☆ (3/5) |
| Service scope | ★★★★☆ (4/5) |
| Customer feedback | ★★★★★ (5/5) |
As a 100% Metis-owned and operated company, Denver Property Restoration Services is composed of teams which are multi-cultural and multi-generational.
Its frontline team has no less than 25 certified technicians and production workers with over 200 years of combined training and restoration experience.
One of the things that we like about the company is its dedication to training and quality service.
Its recent development of the "Denver Certified" training program ensures that all employees adhere to its work ethics and philosophy. This training is all done in its 10,000 sq ft facility.
We love that Denver is no slouch in qualifications either. It is registered with the National COR Standard and is IICRC certified.
It is also affiliated with MHCA, Aboriginal Chamber of Commerce, Pinchin Environmental, BOMA Manitoba, and more.
Now that we've established its stellar reputation, let's take a look at its mould removal services.
Denver's technicians will start with a full assessment of the issue to determine the safest way to remove mould. They are fully equipped with the proper tools to avoid stirring up the mould and sending them airborne.
It also uses HEPA filtration and disinfectants to make sure that you are breathing clean air in your home and to prevent any mould from growing again soon.
We like that the company updates you regularly on its progress. Once the project is finished, it will schedule you for a final walkthrough to ensure that the end result is to your satisfaction.
Denver's customer-focus philosophy is clearly reflected in how it guarantees quality service.
We will say, however, that it lacks a portfolio in mould removal, so you need to have that extra leap of faith and trust it without a lot of proof of great work. We understand that, however, since Denver is a fairly new company.
Strong qualification and affiliation
Highly trained workers
Open 24 hours
Fairly new company (Founded in 2014)
Limited mould removal portfolio
Customer Review
Comforting work
Amazing!!! Personable and knowledged. Jerico put me at ease when I discovered some mold and is ensuring my home is in its best shape. 🙂 – Pina Robinson, Google Reviews
Deserves high praise
We recently had an insurance claim that needed to deal with. The insurance company contacted us with the Denver Property Restauration Services. TOBY DIEWERT was assigned to our file as Project Manager. We have nothing but the highest praise for the work TOBY has done for us and the level of service we received. He was professional and prompt. understanding and easy to work with. He made a very stressful situation bearable. He handled insurance paperwork and started the work as soon as possible. We are more than happy with the work done by the Company and would like to thank you Toby for his professionalism, dedication, and kindness. – Vlastimir Drakul, Google Reviews
FAQs About Mould Removal
---
Don't underestimate the damage that mould can do to your house and health! Contact your choice of remediation company and bring back your property's pristine condition.