The 9 Best Plumbers in Winnipeg
Image Source: Narong27
So, you need the help of the best plumbers in Winnipeg? Luckily for you, we've listed them here!
But before we tell you of the best plumbers in Winnipeg, we'll explain what plumbers do (so you know what services you can request) and why DIY plumbing repair can be a bad idea. We'll also take you through some FAQs on plumbing repair and cost later!
What Plumbers Do
Plumbers are experts on pipes that distribute and supply utility water and dispose of wastewater.
Here are specific services a plumber can do:
Inspect and test piping systems
Troubleshoot problems through inspection
Unclog drains by cleaning and rooting
Approximate pricing for plumbing installations
Maintain water and gas pipes and fixtures
Simply put, they're much like doctors for your piping systems, only that their patients can't speak.
Yes or No: DIY Plumbing
Now that you know just what plumbers do, you can surely understand why DIY plumbing is not a question of can, but instead a question of whether you should or should not.
Sure you can learn how to fix your pipe by watching an online video. But learning and remembering everything you need to do and buying the essential supplies and equipment can cost you too much.
In most cases, hiring a pro is more cost-effective, especially in the long run!
The 5 Best Plumbers in Winnipeg
Here's our list of the best plumbers in Winnipeg.
1. The Pleasant Plumber Inc.
BEST FOR
Fast services
SERVICES
Plumbing, hot water tank, furnace, boiler installation and repair, drain and swerve cleaning, furnace installation
WEBSITE
https://www.thepleasantplumber.ca/
ADDRESS
1209 Richard Ave, Winnipeg, MB R3E 3H3
CONTACT DETAILS
(204) 930-9630

[email protected]

OPERATING HOURS
24/7
The Pleasant Plumber guarantees fast turnovers for its high-quality installations, repairs, and replacements. It offers DMV and waterline upgrades, sump pumps and backwater valves services, burst pipe repairs, and garburator repairs.
This company's plumbers are all trained and experienced in residential and commercial plumbing. So, you can be sure that they can handle any kind and size of project.
Aside from these features, you can rely on The Pleasant Plumber's services because the plumbing company also offers 24/7 emergency services.
24/7 emergency services
Good for residential and commercial plumbing
Customer Reviews
Learn more about The Pleasant Plumber's services through these customer reviews:
"Pleasant, indeed! The plumber was vert quick to ascertain the problem, handled the issue very well, made a point of cleaning up after himself, and was friendly, upfront and honest with us every step of the way. Excellent service."—Mike Friesen
"Justin did an amazing job! We had a emergency drain pipe issue within the house and he was here within the hour. He had to work in a tight space but it was very good service. Great job, appreciate the work he did. Thanks!"—Chris Medeiros
2. Dean's Plumbing & Heating
BEST FOR
Affordable rates
SERVICES
Plumbing and heating installation, repair, and replacements
WEBSITE
https://www.winnipegplumbingheating.ca/
ADDRESS
1102 Rosewell Pl #1148, Winnipeg, MB R2G 1V7
CONTACT DETAILS
(204) 801-2008

[email protected]

OPERATING HOURS
Monday – Sunday: 8:00 AM – 9:00 PM
Dean's Plumbing and Heating is a local business that aims to provide its customers with the highest quality of service. As its name suggests, it provides plumbing and heating services to residential clients.
You can hire Dean's Plumbing and Heating for installations or replacements of pipes, whether it may be for a new home or a remodelling project.
Since it is a small business, it also guarantees high-quality services at affordable rates. Dean's Plumbing and Heating's appointment scheduling is also flexible.
Flexible appointment scheduling
Fair and affordable rates
Uses the latest technologies and equipment
Customer Reviews
Dean, a licensed and experienced journeyman, owns and operates this local business. Here are reviews to share to you just how customers feel about Dean's Plumbing and Heating's services:
"Dean was helpful and prompt when our water heater broke. The prices he offers are very reasonable and is willing to go the extra mile to ensure the least amount of physical contact during these times. Would recommend to anyone needing to do installation or repairs regarding heating and plumbing."—Gil Patriarca
"Dean was quick to respond to our request for help, scheduled an appointment, arrived on time and did excellent work! Doesn't get any better! Dean was knowledgeable, careful and solved our problem. You will be happy you contacted him."—Lise Belanger
3. Red Alert Sewer & Drain
| | |
| --- | --- |
| BEST FOR | Drain and sewer issues |
| SERVICES | Sewer and drain inspection, maintenance, and cleaning, rooting |
| PRICING | Drain cleaning: start at $69 Sewer cleaning: starts $149. |
| WEBSITE | https://www.redalertsewer.com/ |
| ADDRESS | 445 Rosedale Ave, Winnipeg, MB R3L 1M4 |
| CONTACT DETAILS | (204) 898-7668 |
| OPERATING HOURS | 24/7 |
Red Alert Sewer & Drain specializes in cleaning and maintaining your drainage and sewer pipes. Aside from such services, the small plumbing company also offers inspections and regular maintenance services to prevent future clogs and blockages in your pipes.
Because Red Sewer & Drain is a locally-owned and operated company, it also has very competitive pricing for its excellent workmanship.
Additionally, Red Sewer Drain also offers 24/7 emergency plumbing services. So, you can call them up anytime for residential and commercial plumbing services.
24/7 emergency services
Affordable prices
Warranty for services
Customer Reviews
Red Alert Sewer & Drain has the best plumbers in Winnipeg, according to their clients. Here are customer reviews to tell you more:
"Our main pipe was blocked (of course on a Sunday night at 8pm) and this company was one of the only companies that live up to true 24/7 and answered our call. Harley was great, professional and prompt. Would recommend to anyone that has an emergency plumbing issue!"—Kirsten Hudey
"Very polite reception. Quick to respond. On time, and very reasonable rates. Did a great job finding my main sewer under concrete and did not overcharge me for the extra labor. Would highly recommend. Thank you Red Alert."—Andy Babiak
4. Shorty's Plumbing & Heating Inc
BEST FOR
Utility and drinking water systems
SERVICES
Plumbing and air conditioning system installation, repair, and maintenance, backhoe services, energy evaluation
WEBSITE
https://www.shortysplumbing.ca/
ADDRESS
3390 Wilkes Ave, Winnipeg, MB R3S 1A8
CONTACT DETAILS
(204) 799-3959

[email protected]

OPERATING HOURS
24/7
Shorty's Plumbing started as a family business way back in 1983 and has since grown in size. However, it still provides excellent services in the same way a small business would.
It can handle all types of pipe repairs and services, whether for utility water or drinking water. Thus, you can hire Shorty's Plumbing to install reverse osmosis and ultraviolet light water purification systems for cleaner drinking water.
It also guarantees to price its services by the amount of work done, not by the hour. This way, you will receive reasonable pricing from Shorty's Plumbing & Heating.
24/7 emergency services
Service rates based on work done
Can be hard to communicate with
Customer Reviews
Here are reviews to help you decide whether Shorty's Plumbing & Heating has the best plumbers in Winnipeg for you:
"Shorty's office staff were professional, cheerful and helpful. The plumbers took an in-depth look at problems and gave detailed explanations for me to make choices. The service went beyond what was required. The manager is responsive, listens to you and offers creative solutions. Excellent all around!"—Pam Hunter
"We needed a new toilet quickly as we had family coming in for medical appointments. They were able to get someone to our house within a few hours. The worker was quick and efficient and the overall value for the work was excellent. Would definitely use again and recommend to others."—Kelly Maslovsky
5. Roto-Rooter Plumbing & Drain Services
| | |
| --- | --- |
| BEST FOR | Years of service |
| PRODUCTS | Plumbing inspection, repair, and maintenance, drain cleaning, camera inspections, water damage restoration |
| WEBSITE | https://www.rotorooter.com/ca/manitoba/winnipeg/ |
| ADDRESS | 1460 Wellington Ave, Winnipeg, MB R3E 0K5 |
| CONTACT DETAILS | (204) 775-8881 |
| OPERATING HOURS | 24/7 |
Roto-rooter Plumbing & Drain Service has been in the plumbing business since 1935, so you can trust that it indeed has some of the best plumbers in Winnipeg (or some of the longest-lasting ones, anyway).
From pipe corrosion and leaks to fault toilets, Roto-rooter Plumbing & Drain Service can tackle it all. The plumbing company also offers water damage restoration services.
Aside from having some of the best plumbers in Winnipeg, Roto-rooter Plumbing also uses eco-friendly materials and procedures. That's always a plus!
Over 85 years of experience in plumbing
Offers eco-friendly services and conservation tips
Wide variety of services
Pricey services
Lacking emergency services
Customer Reviews
With its years of service, clients say you can be sure it knows how to provide high-quality services. Read these reviews to know more about Roto-rooter Plumbing & Drain Service:
"Technician Adam T was very friendly and informative. He showed up early, diagnosed quickly, discussed what he was doing and why, and left no mess. He also gave helpful maintenance tips to prevent future problems. Total price was very reasonable for how hard he worked and he seemed to enjoy his job. Overall positive experience."—Jed Desilets
"Very prompt and professional service. The free estimate was a great feature and the technician provided 3 options before commencing his work. He quickly solved the issue and we flowing again. We are very happy that we called."—David Powell
6. Romyn Mechanical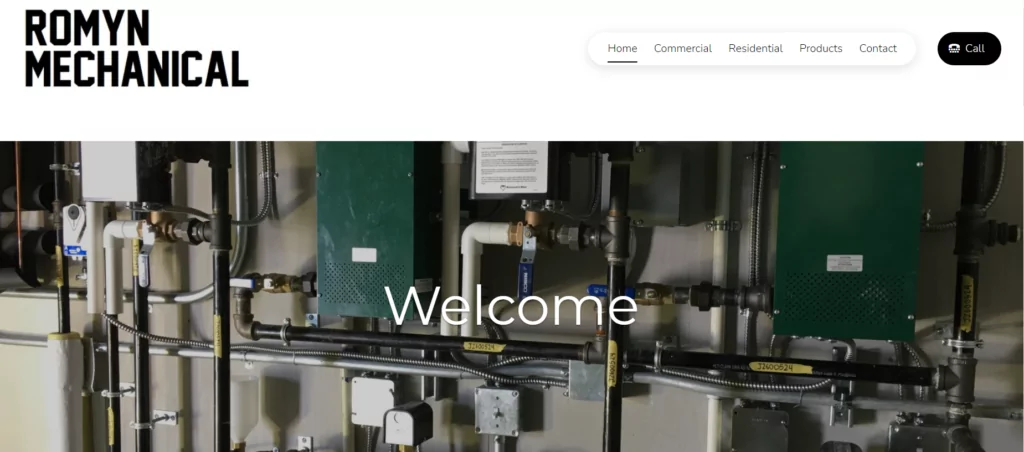 BEST FOR
Commercial and Residential Installations
PRODUCTS
Plumbing, Heating & Air Conditioning
Mechanical Contractors
WEBSITE
http://www.romynmechanical.ca/
ADDRESS
Winnipeg Metropolitan Region
CONTACT DETAILS
204-869-0585
OPERATING HOURS
24/7
Romyn Mechanical is a company that offers plumbing, heating, and airconditioning services to their clients. They specialise in commercial and residential installations.
As a family-run business, their staff is fewer in number compared to the other companies on this list. However, they're professionals who are more than qualified in their line of work.
If you're in need of spare parts for maintenance or repair, you can rest assured that you can get the best ones thanks to their partnerships with numerous local suppliers. Free, no obligation quotes are available to those who need them.
Industry leading certification
Licensed and insured technicians
Free, no obligation quotes
Extended warranty options
Customer Reviews
Learn more about Romyn Mechanical's services through these customer reviews:
"They installed a new 98% efficient gas hot water heater at my 14 unit apartment building in St. Vital. Perfect job. Also replaced a broken hot water radiator at another apartment building in Garden City. Went right away and removed the old rad and installed the new one the next day. Fair pricing. No mess and tenant was happy. 100%"
"Gerrit installed a woodstove and chimney at my house for me recently, he was very professional and thorough. He took the time to take photos of his progress and sent them to me for my records. He also showed me how to use the woodstove and sent me tutorial videos. He left the install area clean. His price was fair and overall it was a great experience."
7. Lynn's Heating, Cooling, Sewer & Drain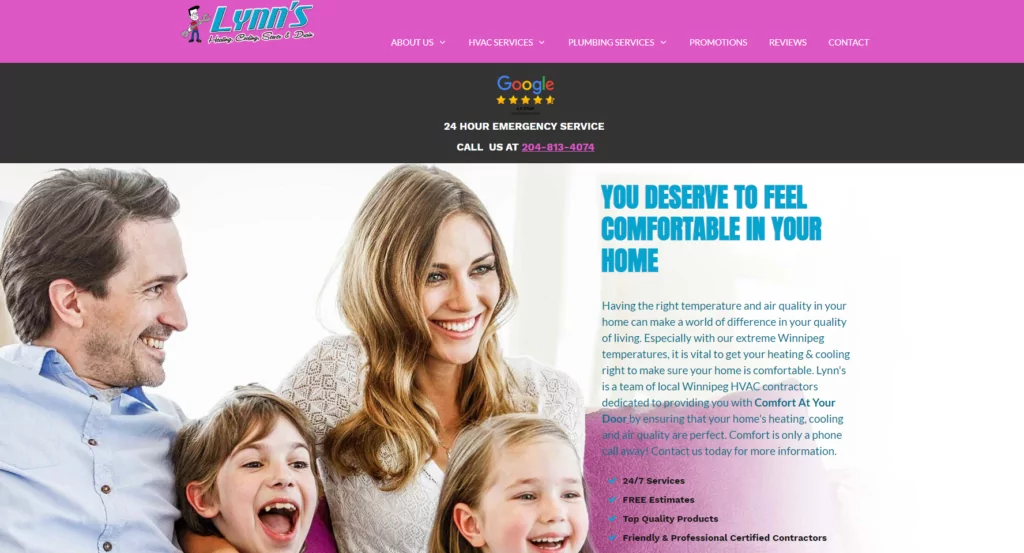 BEST FOR
Plumbing, Heating, Cooling
PRODUCTS
24/7 Emergency Plumbing, Air Conditioning Service, Installation, And Repair, Hot Water Tanks, Water Heater Repair, Sewer And Drain Cleaning, Duct Cleaning, Heating And Cooling, Furnace Repair, Sales & Installation
WEBSITE
https://lynnswinnipeg.ca/
ADDRESS
837 Dugald Rd, Winnipeg, MB R2J 0G7, Canada
CONTACT DETAILS
(+1) 204-817-1595, 204-813-4074
Email: [email protected]
OPERATING HOURS
Monday – Sunday: 24 Hours
Evenings and Weekends
If you're faced with heating, plumbing and issues, don't let these problems give you headaches! Lynn's Winnipeg offers fast and affordable service to residential, commercial and industrial customers throughout Winnipeg and its surrounding areas.
Lynn's team consists of local Winnipeg HVAC contractors who are dedicated to providing you with Comfort At Your Door by ensuring that your home's heating, cooling and air quality are perfect. Their goal is to provide you with the best possible service and best possible products for the best possible prices.
Whether it's working for a government building or a restaurant, a restoration company or just a simple homeowner, when Lynn's HVAC Winnipeg receives a call, they ensure a job well done each and every time.
Free Quotations
24 hours services
Certified Contractors
8. We Love Plumbing
BEST FOR
Anything Plumbing-Related
PRODUCTS
Fixture Replacement, Shutoff Replacement, Drainage Leaks & Repairs, Dishwasher Installation & Removal, Fridge Water Service, Garburator Installation, Drain Cleaning, Gas Ranges, Leaking Tub
WEBSITE
https://weloveplumbing.ca/
ADDRESS
685 Westminster Ave. Winnipeg, Manitoba R3E 1V4
CONTACT DETAILS
Phone: 204-654-6106
Email: [email protected]
OPERATING HOURS
Monday – Friday, 8AM – 6:30PM
We Love Plumbing is one of Winnipeg's experienced and reliable plumbers providing customer-focused service. They offer affordable and transparent rates that have earned them a solid reputation in the area.
Aside from offering emergency call-out services, We Love Plumbing offers their clients a monthly subscription or membership. For a small monthly fee, you can receive exclusive discounts and priority full-time plumbing support.

Their plumbers hold multiple certifications that make them qualified to perform a number of plumbing services. This includes Back Flow Prevention Tests, Confined Spaces Training, WHMIS, and even first aid.
So whether you need fixture replacements in your bathroom, need a dishwasher installed, or need your drain unclogged, We Love Plumbing can provide a range of services. As long its related to plumbing, these guys have it covered, which makes them one of our top options for plumbers in Winnipeg.
Has a wide range of services
Plumbers hold multiple certifications
Offers monthly subscription
No 24/7 service
Closed on Sundays
9. ILV Plumbing Services
BEST FOR
Essential Plumbing Services
SERVICES
New installations, plumbing repairs, faucets and drains, toilet repairs, hot water heaters
WEBSITE
https://ilvplumbing.com/
ADDRESS
880 Scotland Ave, Winnipeg, MB R3M 1X8
CONTACT DETAILS
204-510-7030

[email protected]

OPERATING HOURS
Monday – Friday, 7:30 AM – 8 PM
We think that very few Winnipeg plumbers would be able to live up to the calibre of ILV's work. It was impressive to say the least to read consistently good feedback on the quality of the work they provide.
Their working team all boast deep local experience, which explains their excellent service. Clients love that they are able to finish a task quickly and effectively, even tidying up the place and making it look better than when they arrived.
ILV provides a free, no-obligation quote at the outset, which many canvassing customers can appreciate. Their rates, while not the cheapest, are relatively reasonable given their reputation for outstanding work.
They are also known for honest and clear communication, which is always a big plus. We think that looping in their clients on every part of the process is a great way to help them understand and appreciate their expertise.
However, you'd need to schedule your plumber repair needs during the weekdays since they're closed during weekends.
Lastly, they have empathy and understanding for urgent or emergency situations. Clients have said that the ILV team willingly adjusts their schedules to accommodate such scenarios, which goes to show the level of care they also put in their service.
Free, no-obligation quote
Reasonable rates
Quotes and invoices sent digitally
FAQs about the Best Plumbers in Winnipeg
---
Now that you know where to find the best plumbers in Winnipeg, you no longer need to do DIY plumbing repairs. With these plumbers, you can save both time learning plumbing basics and money buying the proper equipment.
So, make sure you've saved these plumbers' contact details for emergency purposes. If you have other issues at home, you can also see our article on the best appliance repair tradesmen in Winnipeg.