The 11 Providers of the Best Appliance Repair in Winnipeg
Image Source: Pixabay
In everything from washing to cooking, home appliances contribute to the ease and convenience of your everyday life. And if even just one device starts causing problems, you'll immediately want the best appliance repair in Winnipeg, as a result.
Today, we're listing the providers of the best appliance repair in Winnipeg. We'll also show you how to pick one of them and go over a few other practical points to help you with appliance repair.
How to Pick the Best Appliance Repairmen in Winnipeg
First, how do you make sure you're hiring the best tradesmen? First, you have to check if their services include the type of appliance repair you need.
Second of all, you have to make sure they are certified, experienced, and insured to give you the best appliance repair in Winnipeg.
You also need to inquire about their pricing to ensure their rates are within your budget.
Next, you need to check if they're available at the time you need the repair.
Lastly, you should also inspect the provider's online reviews and ratings to discern their quality of services.
We go over all those details for the tradesmen on our list, don't worry.
What to Prepare During Your Appliance Repair Appointment
Once you schedule your appointment with a service provider, you also have to prepare a few more things.
Here are just some of the things you should do before the service technician comes for the repair:
Remove anything within the appliance for easier inspection.
Ready its paperwork, including warranties and invoices of previous repairs.
Clear your schedule because inspection and repair can take a longer time than expected, especially if there are replacement parts needed.
Ensure there's a wide and clear space so the technician can work on your appliance.
Service Providers for the Best Appliance Repair in Winnipeg
As we said earlier, we were able to compile a list of service providers with the best appliance repair in Winnipeg. So, feel free to browse through this list:
1. Mike's Quality Appliance Repair Winnipeg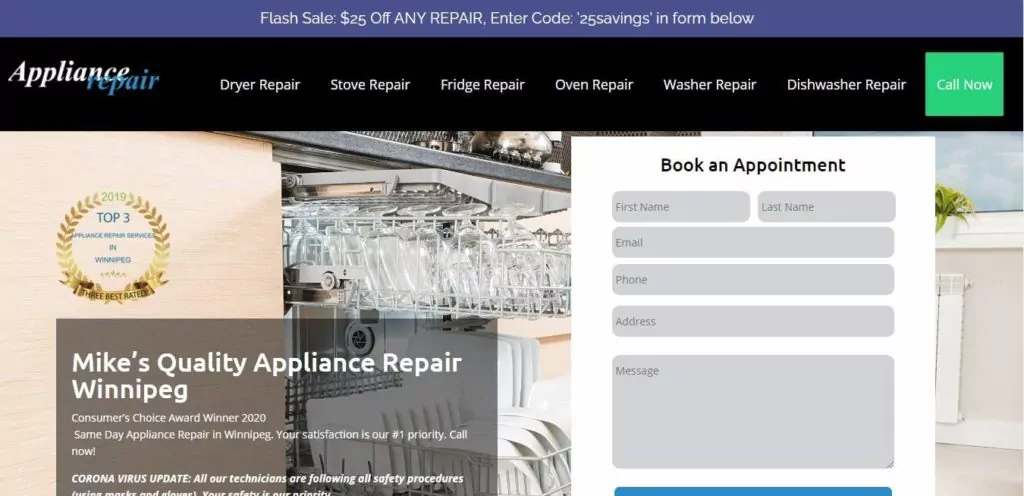 | | |
| --- | --- |
| BEST FOR | Reliable same-day repair services |
| SERVICES | Dryer, stove and cooktop, fridge, oven, washer, and dishwasher repairs |
| WEBSITE | https://mqapplianceservices.ca/ |
| ADDRESS | 2080 Knowles Ave, Winnipeg, Mb, Canada R2G 2K5 |
| CONTACT DETAILS | (204) 292-6852 |
| OPERATING HOURS | 24/7 |
Mike's Quality Appliance Repair offers reliable 24/7 repair services for any kind of appliance. Thus, you can rely on them anytime, as long as you are within the Winnipeg area.
It can handle fridges, stoves, ovens, hood fences, dishwashers, dryers, and washers. The service provider also has experience with over 19 brands of home appliances.
Aside from its level of expertise, Mike's Quality Appliance Repair also guarantees affordable prices and a warranty for its repair services. Additionally, this service provider has also been awarded the Consumer's Choice Award for 2020.
Same-day repairs and 24/7 services
Warranty for services
Award-winning business
Reception staff might not be the best
Customer Reviews
If you want to know more about Mike's Quality Services, here are the customers who found the best appliance repair in Winnipeg from them:
"Mike's Quality Services was able to quickly send out someone to repair our oven after our initial call, and they were both professional and efficient when in our home. Very pleased with the service!"—Wesley de Leeuw
"Our technician was very professional, quick and kind! He was knowledgeable and gave us insight on why the dryer had stopped working and how to prevent it from happening again, which was great! We would definitely use them again."—Alexa Tyndall
2. Rg prado Appliance Repair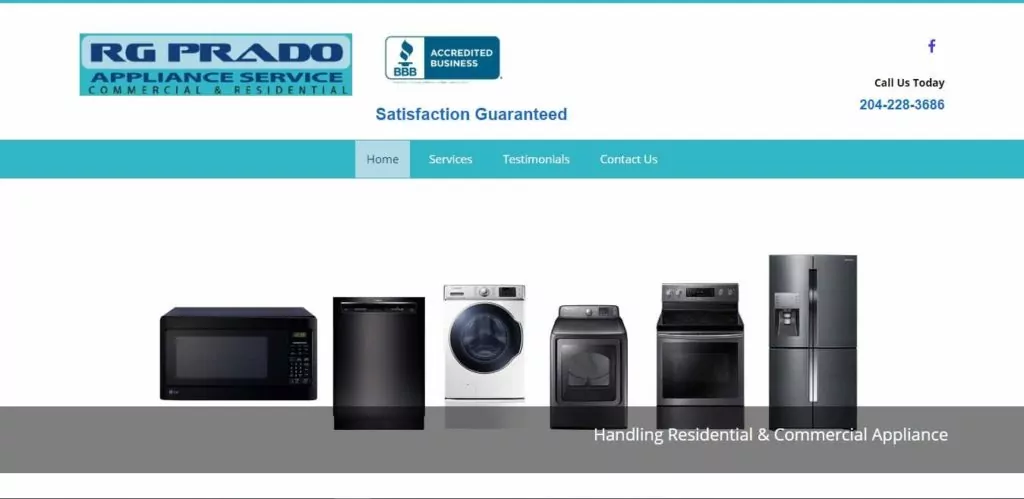 BEST FOR
Commercial appliances
SERVICES
Washing machines, fridges, dryers, stoves, dishwashers, and over the range microwave repairs
WEBSITE
https://www.rgpradoappliance.ca/
ADDRESS
1514 Manitoba Ave Winnipeg, MB R2X 0L5v
CONTACT DETAILS
(204) 228-3686
OPERATING HOURS
Monday – Friday: 9:00 AM – 5:30 PM
Saturday: 9:00 AM – 5:00 PM
Rg Prado Appliance Service has experts in residential and commercial appliances. From small ovens to commercial-grade freezers, Rg Prado's technicians can fix it all.
They can handle the usual brands because they are experienced in dealing with over 23 brands of appliances. These include common brands such as Frigidaire, LG, Samsung, and Whirlpool.
What makes Rg Prado unique is that it recognizes the ever-changing industry. Thus, its technicians stay updated with the latest technologies to provide you with the best appliance repair in Winnipeg.
Updated with latest technologies
Residential and commercial services
Closed on Sundays
Pricey for some
Customer Reviews
Here are some customer reviews to tell you more about Rg Prado Appliance Service:
"Jun was on time, friendly and efficient! My oven was not working properly and he determined the issue, explained everything clearly and had it fixed within an hour. I highly recommend him for any service you may require and will definitely use him in the future."—Nicole Bertone
"Explained problem, showed what needed to be done. Had fridge running same day I called. Definitely be using Prado again if needed !"—Conrad Hill
3. FIX UP PROfessional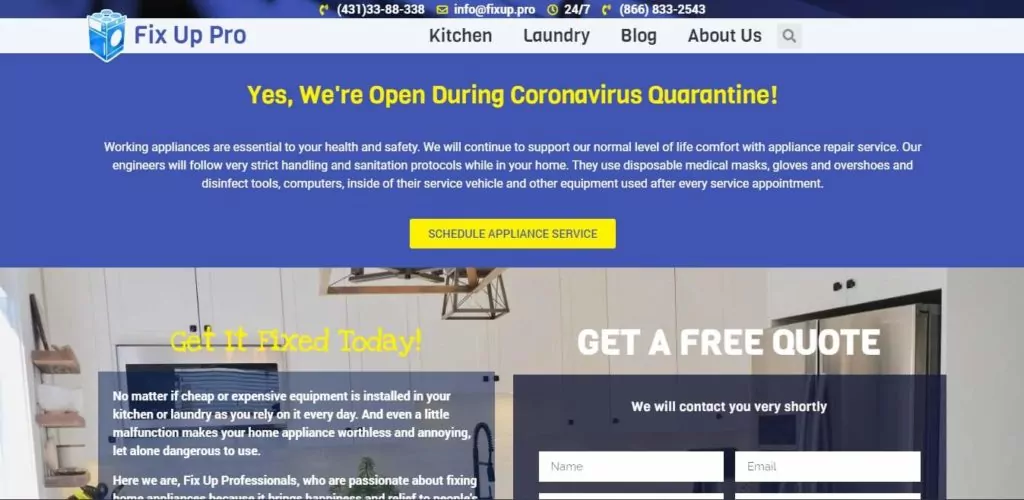 | | |
| --- | --- |
| BEST FOR | Small appliances |
| SERVICES | Coffee maker, mixer, hood, oven, stove, dishwasher, dryer, washer repair |
| WEBSITE | https://www.fixup.pro/ |
| ADDRESS | 28 Dzyndra Crescent, Winnipeg, MB R2C 3V4 |
| CONTACT DETAILS | (431) 338-8338 |
| OPERATING HOURS | Monday – Sunday: 8:00 AM – 11:00 PM |
Fix Up Professional is committed to making your home a safe space with its appliance services. You can book this business for same-day or next-day appliance repairs.
It can give the best appliance repair in Winnipeg for all types of devices, whether it be a small coffee maker or a large fridge. Fix Up Pro is also an expert in over 42 appliance brands.
The service provider also uses only genuine (branded) spare parts for replacement services. Aside from having a wide variety of services, Fix Up Pro also offers affordable prices with no hidden fees.
Same-day and next-day repair services
Affordable prices without hidden fees
Customer Reviews
Read these testimonials from customers who received the best appliance repair in Winning from them:
"Arthur was on time, knowledgeable, professional, and proposed and undertook the most cost-effective approaches to repairing my oven and fridge. I will use him for now on!!!!"—Pat Funk
"Had an issue with my dryer. The technician quickly found the problem and was able to locate the part and return later( same day!!) for the repair. Very satisfied with the work done!!"—Alexey Rozov
4. Appliance Repair Expert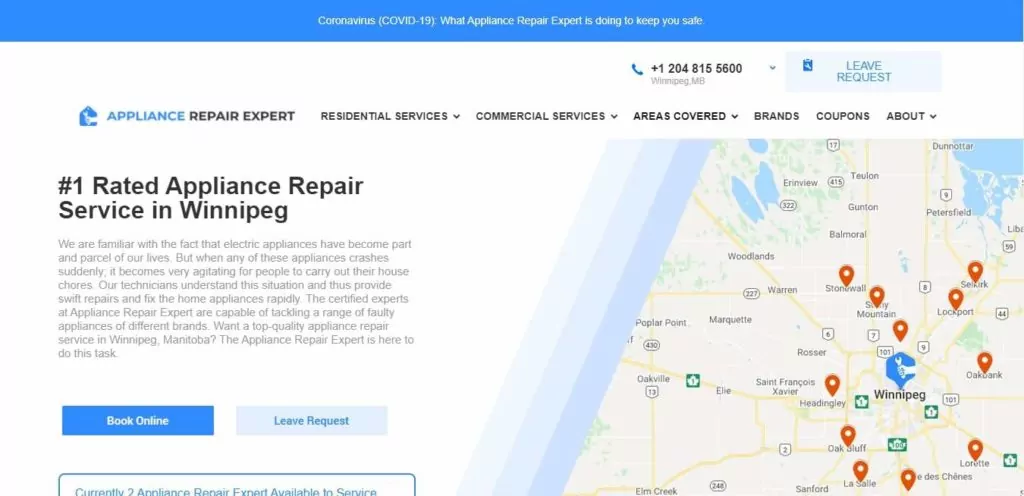 BEST FOR
Variety of services
SERVICES
Washing machine, dryer, dishwasher, stove, and gas appliance installation, repair, and maintenance, fridge, range hood, microwave, freezer, and mixer repair
WEBSITE
https://appliancerepairexpert.ca/winnipeg-appliance-repair/
ADDRESS
330 St Mary Ave Suite 300, Winnipeg, MB R3C 3Z5
CONTACT DETAILS
(204) 815-5600


[email protected]

OPERATING HOURS
24/7
From installation to maintenance and repairs, you can rely on Appliance Repair Expert. The great thing about this service provider is that it's available anytime for commercial and residential repairs.
Its technicians are experts in repairing and maintaining over 44 appliance brands. To guarantee the quality of service, Appliance Repair Expert also offers a 3-month warranty for its services.
Appliance Repair Expert's technicians guarantee that they will give you high-quality repair services. To stay true to this claim, they will even ask about your appliance's condition after the repair.
Expertise in 44 appliance brands
Free service calls with repair
3-month warranty for labor
24/7 services
Customer Reviews
Customers also praise Appliance Repair Expert for its punctuality and professionalism, just as these reviews will tell you:
"Pleasant staff, thanks guys. Edgar installed our cooktop in a timely manner. I am so happy and would recommend Appliance Repair Expert to everyone."—Josh Batter
"An excellent job well done by this highly professional appliance repair company. They were able to come out and inspect my washing machine, tell me exactly what was wrong and provided a fair repair price. Great experience with a seasoned, no nonsense company."Rosa Folio
5. CAppliances Repair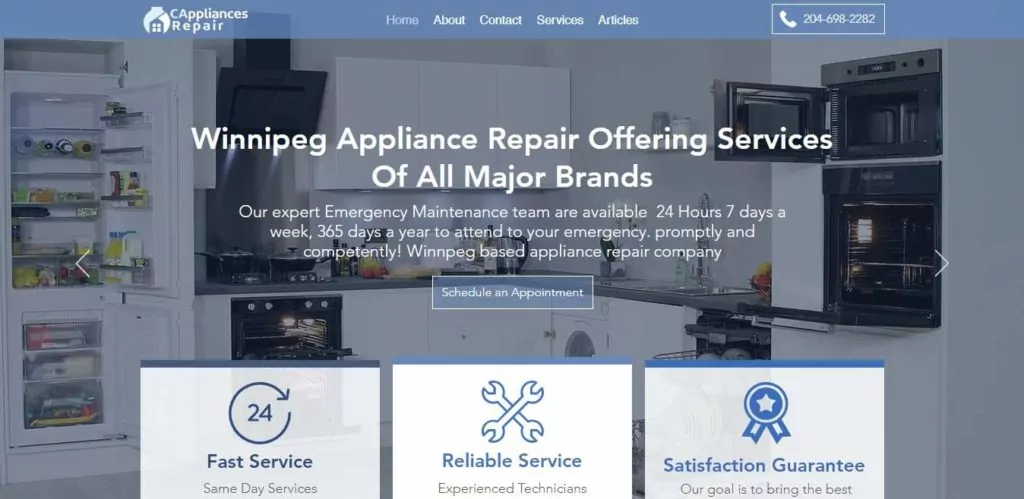 BEST FOR
Discounted service calls
SERVICES
Fridge, oven microwave oven, cookstop, stove, range hood, washer, and dryer repair, appliance installations
WEBSITE
https://www.cappliancesrepair.com/
ADDRESS
34 Barberry Rd, Winnipeg, MB R2J 2G9
CONTACT DETAILS
(204) 698-2282


[email protected]

OPERATING HOURS
24/7
CAppliances Repair is another service provider that offers professional appliance repair services anytime. It also guarantees a quick response to give you same-day repair services you can schedule anytime.
Its technicians are trained and certified by City Guilds and can repair any laundry and kitchen appliance from 31 appliance brands. CAppliances Repair also offers competitive pricing and flexible scheduling for its services.
Another great thing about this service provider is that it has special deals, such as discounted service calls for those within Winnipeg.
Quick responses and same-day services
Flexible schedules and 24/7 availability
Discounted service calls
Replacement parts can be expensive
Customer Reviews
Learn more about CAppliances Repair through these customer reviews:
"Very good service from CAppliances repair. Very courteous and efficient. Diagnosed the problem, explained the issue and did the repair very efficiently. I would definitely be calling for any appliance repair."—Eugene Bernadski
"I really love this company! When I called the wonderful lady on the phone checked to see if someone was available, said he could come by between 1 & 3 He arrived pretty much at 1. Was my only day off and they made it work! Awesome service. Will use again if the need arises."Lara Wutschke
6. A to Z Appliance Repair
BEST FOR
All-rounder repairs
SERVICES
Dishwasher, Dryer, Fridge, Oven, Washing Machine Repairs
WEBSITE
https://atozappliancerepair.ca/
ADDRESS
133 Niakwa Rd, Winnipeg, MB, Canada R2M 5J5
CONTACT DETAILS
431-478-0183 |

[email protected]

OFFICE HOURS
Monday – Friday, 7:00 AM to 10:00 PM
Saturday – Sunday, 10:00 AM to 10:00 PM
A To Z Appliance Repair Winnipeg upholds steadfast demeanor by offering their appliance repair services 7 days a week even on holidays for all customers. Their team makes up of emergency appliance repair technicians not only arrive on time, but also offer reasonable evaluations along with quick and effective appliance repair services.
You also get top-notch service because their team of technicians would dive straight into the root cause of your appliance's issues the moment they arrive. On top of this, they are also equipped with the highest quality of parts and gears, A to Z can repair appliances from any high end kitchen appliances brands to 10 year old laundry models.
With their quick replies and affordable pricing, it makes them a reliable and trustworthy appliance repair service. Contact A to Z today because their emergency appliance repair technicians are awaits your call.
Open on weekends
Expert Technicians
Quick response rate
Customer Reviews
Previous clients left their review on the quality of their services:
"It is much more easier having a dishwasher to do all my dirty dishes rather than having to fuss with a young toddler and get the dishes done at the same time. But that convenience was short lived last week as my dishwasher decided to give us an error code and make a loud buzzing noise as we tried to clear it. That when I told my husband it is time to call a professional. He found A To Z Appliance Repair Winnipeg and boy did they not disappoint. Their repairman was very knowledgeable and polite, he let us know what was exactly going on and how to go about resolving it. The repairman was able to provide the part immediately to replace it and also gave me and my husband a few maintenance tips for future reference. Thank you to the team at A To Z Appliance Repair Winnipeg, your team is amazing."
"Having a nutritious meal is essential to my everyday life and that of my family. We cook only homemade organic meals with no take out what so ever. So, it is safe to say that yes, we do use our stove quite often in our household. The day that it did break down however, was quite chaotic. Thankfully I called in to A To Z Appliance Repair Winnipeg and they were very responsive. They sent out one of their senior technicians, who from the looks of it has been doing this for a while. He was able to quickly diagnosis the issue and supply us with an estimate which we went on to get fixed immediately. He thankfully hand everything he needed on hand and was able to resolve our problem right there. Thank you A To Z Appliance Repair!"
7. DSL Appliances
BEST FOR
No emergency fees
SERVICES
Wall ovens, stoves, ranges, cooktops, microwaves, dishwashers, washing machines, dryers electrical, refrigerators, freezers, wine coolers
WEBSITE
https://dslappliancesrepair.com/
CONTACT DETAILS
(204) 806-7070
OPERATING HOURS
Sunday – Friday: 8:00 AM – 8:00 PM
Saturday: 9:00 AM – 7:00 PM
If you're looking for another company that fixes all makes and models of just about any home appliance, then DSL Appliances may be what you need. It also does installations and maintenance services for such appliances.
DSL Appliances also offers numerous benefits to its clients with the first being the 10% discount for senior citizens. Next, this company also guarantees transparent quotations and no extra charges even for weekends or emergencies.
Third, it also caters to same-day and next-day services so clients don't have to wait long before their appliances are up and running again. Along with this benefit comes its guarantee of quick responses.
Lastly, and maybe the most important of all, is that DSL Appliances offers a repair warranty for all types of repairs.
However, you should know that DSL Appliances' working hours are still limited. So, they may not be able to accommodate you if you're calling late at night.
Same-day or next-day service calls available
10% senior discount
No extra emergency or weekend charges
Warranty for all services
Expertise in 18 appliance brands
Customer Reviews
Here are some customer reviews to tell you what clients like about DSL Appliances:
"Couldn't say enough good things about this company. We recently had some squeaking starting in our machine and Serg was easy to get ahold of and quick to come out to repair the issue. Friendly and Professional he even returned at no charge regarding an issue with the part that was replaced. We'll be using this company again and would recommend it to anyone!"—Bev McFarlane
"Called DSL at 9:45 and was told could be here in 30 minutes. True to his word, Serg arrived before 10:15, and checked out Maytag washer. Told me cost to fix would be $300-600, so just use it as is by putting rinse and spin on to remove excess water at the end of each wash. Still works fine by doing this. I appreciated his honesty as had already figured out would be costly to fix as had Maytag previously . DSL was fast, friendly and knowledgeable."—Darlene A
8. Quality Appliance Repair Winnipeg
BEST FOR
Same-Day Appliance Repair
SERVICES
Refrigerator Repair
Stove And Oven Repair
Washer And Dryer Repair
Dishwasher Repair
WEBSITE
https://appliancerepairinwinnipeg.ca/
CONTACT DETAILS
Winnipeg Phone: (204) 500-9933
Email:

[email protected]

OPERATING HOURS
Contact for more information
Appliances play a critical role in our daily lives, so it isn't at all surprising if we find ourselves at a loss if our appliances are not working or are completely broken down. There's no reason to fret, though, since Quality Appliance Repair Winnipeg can get appliances running as soon as the same day of service.
See, Quality Appliance Repair Winnipeg endeavours to provide excellent appliance repair to the residents of Winnipeg and the surrounding areas since 2010. Their main goal up till now is to be the go-to company for fast, dependable services.
In an effort to continue doing so, the technicians of Quality Appliance Repair Winnipeg will arrive on time, expertly diagnose the problem and prepare a written estimate of the complete repair. Clients will find that Quality Appliance Repair Winnipeg's quotes are fair and include all parts and labor cost, with no hidden cost!
So, if you're interested in all of those, and require quick but reliable service, then Quality Appliance Repair Winnipeg should be on your list, too.
Call 24/7 at no extra charge
Highly skilled technicians
Licensed and insured
Expertise in various appliance brands
No operating hours available online
9. All Seasons Appliance Repair
All Seasons Appliance Repair is one of the most trusted appliance repair companies in Winnipeg, having built up a strong, dependable reputation after constantly providing service excellence throughout the years.
The team at All Seasons Appliance Repair consists of trained, highly skilled technicians who are prepared to handle various household appliances. Some of the appliances they're known to work with include dishwashers, dryers, fridges, ovens, stoves, and washers.
Aside from the range of appliances they're capable of repairing, All Seasons Appliance Repair is also known for their promptness. After initial contact, the team endeavours to get the job done as quickly and efficiently as possible, making them a highly sought-after option.
Homeowners looking to have their appliance checked or fixed can easily avail of All Seasons Appliance Repair's services. The company can be contacted through phone or email, and operates from Monday to Sunday.
Friendly, professional technicians
Repair technicians are licensed, insured, and bonded
Wide range of appliances catered to
Excellent customer service
Reasonable rates
10. Affordable Appliance Repair
| | |
| --- | --- |
| BEST FOR | 24/7 Repairs |
| SERVICES | Washer Repair Services, Dryer Repair Services, Emergency Repair, Refrigerator Repair Services, Freezer Repair Services, 24 Hours Appliance Repair, Stove & Oven Repair Services, Dishwasher Repair Services |
| WEBSITE | https://affordableappliancerepairwinnipeg.ca/ |
| CONTACT DETAILS | Phone: 204-977-6990 |
| OPERATING HOURS | Available 24/7 |
Affordable Appliance Repair in Winnipeg offers round-the-clock repairs for locals in the area. They've earned a reputation for having some of the lowest prices around while still offering reliable and dependable services.
Operating 24 hours a day and 7 days a week, their qualified team of local experts are always available to assist you for any emergencies. Affordable Appliance Repair also keeps regular stocks of the most common parts in their inventory, to minimize waiting time and get your appliance up and running again.
Regardless of the brand of appliance you own, Affordable Appliance Repair can perform quality maintenance and appliance repair services for you at a low cost. Whether it's a washer, dryer, stove or refrigerator, their veteran repairmen have got it covered.
Each technician has been vetted with a thorough background check and has a required number of training hours they must complete. This way, you can rest assured knowing that your beloved appliance is in good hands.
Available 24/7
Can service almost any brand of appliance
Can respond to emergency repairs
11. Allstar Appliance Repair Winnipeg
| | |
| --- | --- |
| BEST FOR | All-around repair servicing |
| SERVICES | Washer Repair Services, Dryer Repair Services, Emergency Repair, Refrigerator Repair Services, Freezer Repair Services, Stove & Oven Repair Services, Dishwasher Repair Services |
| WEBSITE | https://allstarappliancerepairswinnipeg.ca/ |
| CONTACT DETAILS | Phone: +1 204-515-3239 |
| OPERATING HOURS | Monday to Sundays: 7:00AM to 10:00PM |
If one of your priorities is making sure that you don't get ripped off when getting your appliance repaired, then Allstar Appliance Repair Winnipeg may be for you.
Allstar Appliance Repair Winnipeg provides professional home appliance repair and they guarantee the repairs with no unanticipated cost at any time. They have a reliable team and honest service with fast action on their promise.
All the appliance repair experts are factory-trained and certified to ensure you'll get the right repairs done right the first time. When you need help with your fridge's cooling fan, for example, you can count on them to resolve whatever issue your fridge is having quickly and efficiently before it worsens!
What makes them stand out from others is how they have mobile repair units that can get to your location within as soon as possible whilst still keeping competitively low prices on all of their services.
By offering competitive pricing and friendly Allstar Appliance Repair Winnipeg technicians dedicated to upholding our reputation for quality in repair, the staff of Allstar Appliance Repair Winnipeg strives to offer the best customer experience possible and have a longstanding commitment to excellence that is undoubtedly top-notch.
Affordable pricing
Mobile servicing available
Services almost all types of appliance and brands
Not a 24-hour service
No rates listed online
FAQs on the Best Appliance Repair in Winnipeg
---
And that's it for our list of the providers of the best appliance repair in Winnipeg. So, whenever your appliances become dysfunctional, just reach out to any of these service providers and make sure you prepare for their visit.
Another problem you may be facing at home is with faulty utility water systems. If you're having trouble with the pipes connected to your laundry equipment, you may need the help of the best plumbers in Winnipeg, so check out our article for that!