The 6 Best Dryer Repair Services in Winnipeg
Featured Image Source: Stevepb via Pixabay
When the dryer malfunctions, your laundry process falls apart. But we're here to help you with our list of the top dryer repair companies in the area, so never fear!
This article covers the average costs of the most common dryer problems, the best dryer repair services in Winnipeg, as well as common dryer problems and questions you may be encountering.
How Much Do Dryer Repair Companies in Winnipeg Cost?
Let's first discuss how much dryer repair services cost in Winnipeg.
Depending on factors like the kind of service and the brand of appliance you have, the average cost of repairing a dryer ranges from around $100 to a maximum of $420.
The table below shows the average range for fixing the most common dryer problems in Winnipeg.
| | |
| --- | --- |
| Full Repair Service | $300 – $420 |
| Diagnostic Fee | $30 – $80 |
| Broken Door Latch or Dryer Belt | $5 – $10 |
| Broken Heating Element | $35 – 100 |
| New Fuses or Drum Bearings | $10 – 50 |
| Thermostat Replacement | $30 – $70 |
| Problems with Gas Ignition Coils | $100 – $120 |
| Unclogging or Cleaning Dryer Vent | $100 – $150 |
The Best Dryer Repair Companies in Winnipeg
Now that you know what different dryer issues cost, here's our list of the most reliable dryer repair services in Winnipeg.
1. RG Prado Appliance Service
| | |
| --- | --- |
| SERVICES | Repair of the following: Washer and Dryer, Cooktop, Stove and Range, Range Hood, Dishwasher, Microwave, Refrigerator, Over-the-range microwave |
| WEBSITE | https://www.facebook.com/Rgpradoapplianceservice/ |
| ADDRESS | 1514 Manitoba Avenue, Winnipeg, MB R2X 0L5 |
| CONTACT DETAILS | Phone: +1 (204) 228-3686 Email: [email protected] |
| OPERATING HOURS | Mondays to Fridays: 9:00 AM – 5:30 PM Saturdays: 9:00 AM – 5:00 PM |
RG Prado Appliance Service was established in 2010 in Winnipeg to handle both domestic and commercial appliance repairs and installations.
RG Prado made it to the list because they provide emergency appointments to help address the different dryer-related problems that their customers may encounter.
Since their technicians are their biggest assets, they invest in them by educating and training them to be reliable and efficient in the job. Customers can rest assured that their technicians are up to date on the most modern and advanced dryers.
Years of being in the industry have also given them plenty of experience in dealing with all kinds of dryer issues. The company also services major home appliance brands and can generally accommodate any issue despite the age or the condition of the dryers.
Another reason they made it as one of the best repair services in Winnipeg is the timeliness of their response to booking requests.
They remain one of the go-to appliance repair services in Winnipeg for their excellent customer service, which is reflected in the feedback and reviews of their previous customers.
Services major brands
Provides emergency appointments
Services both residential and commercial appliances
Same-day repair services are not guaranteed to be available
Customer Reviews
Kevin Wilson, a customer who found RG Prado through Google, says,
"I was having an issue with my dryer and Googled "dryer repair Winnipeg". I was impressed with the many positive reviews RG Prado has received so I called and left a message. I received a call-back within 15 minutes and Jun was at my house an hour and a half later (after he finished a scheduled appointment). He quickly assessed the problem and had my dryer fixed in no time! Jun was friendly and professional and was happy to answer all my questions – hoping not to need his services again anytime soon but, if I do, I won't hesitate to call again."
Another satisfied customer, Robert Turner, left a review:
"I found RG Prado on a Google Search and called him because of the great reviews I read. They were all true and Jun delivered as promised. He was on time, professional and fixed our dryer issue. He was totally professional, safe and fair in his pricing. Hope we don't need him again for a while but the next appliance issue I have I know who we are calling. Thanks, Jun."
2. Affordable Appliance Repair Winnipeg
Affordable Appliance Repair Winnipeg is a local appliance repair company that offers affordable repair services and a 24/7 customer service line for emergencies.
Part of the reason that they are included in this list is their comprehensive range of dryer knowledge that makes them able to navigate through the moving parts, fuses, wires, and motors of all dryers.
Their technicians are able to provide dryer belt replacement service, drum alignment service, and door seal replacement service.
Another reason they are one of the best is that they only hire local technicians. This makes them able to fix major domestic models and brands of residential appliances.
The company also makes sure that their technicians are fully licensed, insured, and bonded. This allows their technicians to fully focus on providing the best services without worrying about their safety.
Competitive rates
24/7 customer service line
Rapid response time to residential emergencies
Only services residential customers
Customer Reviews
Larry Blevins left this five-star review via Google:
"Great service. The service man was right on time and kept the apartment super clean. He diagnosed the problem with my dryer right away and fixed it quickly."
Another review from Vitaly Chernyshevsky reads:
"Got my dryer fixed with them. Super easy to book an appointment and the service man came on time and wore gloves and a mask."
3. Mike's Quality Appliance Repair
Mike's Quality Appliance Repair (MQAR) is locally owned and operated and has been servicing the Winnipeg community since 2016.
MQAR is one of the best in the industry for their comprehensive range of services to address all kinds of dryer problems. These problems include dryers making strange noises, not turning on, and other more serious issues.
Another reason that puts them in the list is that their technicians carry a range of common parts and tools needed to fix many dryer issues on site like temperature gauges and thermostats.
They also offer a same-day appliance repair service and emergency restoration services for residential customers.
Same-day appliance repair
Available emergency repair services
Carries a range of common dryer parts and tools
2020 Consumer's Choice Award winner
Does not service commercial companies
Lesser known brands of dryers may not be accommodated
Customer Reviews
Al Brockmeyer, a repeat customer, left this review on Google:
"We have used Mike's services at least 6 times now and have always been impressed with their quick and quality service. They are also very honest with you and will tell you whether a unit is worth fixing or should it be replaced. We always have his card handy. Good people."
Another positive Google review from Alexa Tyndall reads:
"Our technician was very professional, quick and kind! He was knowledgeable and gave us insight on why the dryer had stopped working and how to prevent it from happening again, which was great! We would definitely use them again."
4. City Master Appliance
SERVICES
Dryer Repair, Oven Repair, Stove Repair, Washer Repair, Dishwasher Repair, Refrigerator Repair, Freezer Repair
WEBSITE
https://citymasterappliance.ca
ADDRESS
212 Henderson Hwy Winnipeg, MB R2L 1L8, Canada
CONTACT DETAILS
Phone: 204-400-5544
Email:

[email protected]

OPERATING HOURS
Available 24/7
Aside from the Winnipeg community, City Master Appliance also has available repair services in Vancouver, Calgary, and Edmonton.
They offer same-day service and are known for their quick response rate. Customers can also easily book their available schedule through City Master's website.
Aside from their efficient and quick response rate, their technicians are also trained to manage the latest technology-based appliances. Customers can expect their technicians to have constant industry training on top of years of experience in the industry.
City Master's technicians can diagnose and repair typical problems of major home appliance brands, particularly domestic appliances.
Competitive rates with no hidden fees
Offers same day repair services
Available 24/7
Accepts Interac, Discover Card, Apple Pay, and other major credit cards
Lesser known appliance brands may not be accomodated
5. Fix Up Professionals
SERVICES
Dryer Repair, Refrigerator Repair, Freezer Repair, Oven Repair, Stove Repair, Dishwasher Repair, Range Hood Repair, Microwave Repair, Washer Repair
WEBSITE
https://fixup.pro/
ADDRESS
28 Dzyndra Crescent, Winnipeg, MB R2C 3V4, Canada
CONTACT DETAILS
Phone: +1 (431) 338-8338
Email:

[email protected]

OPERATING HOURS
Open 24/7
Fix Up Pro is a full-service appliance repair company that provides same-day appliances repair. Their professionally trained and insured technicians can repair all makes and models of various appliances including dryers.
The repair company is one of the best for the resourcefulness and expertise of their technicians who can manage major dryer repairs in one day and minor repairs during one hour.
Customers with either gas or electric dryer models can trust Fix Up Pro's certified and licensed team of technicians to repair the appliance.
They are also available 24/7 which allows them to cater to emergencies.
Available 24/7
Same day appointment
Uses genuine spare parts
Repairs dryers of all types and models
Only services residential customers
Customer Reviews
A review was left by Google user, McMar Sales and Marketing:
Another review from a satisfied customer, Alexey Rozov, reads,
"Technician /Owner Arthur was prompt with returning my call and in providing service. Was professional in the house visit including wearing shoe covers and accepting the use of hand sanitizer. Showed the problem with the dryer…explained the best possible solution and provided all around great service. Will both use again and recommend to others!"
Had an issue with my dryer. The technician quickly found the problem and was able to locate the part and return later (same day!!) for the repair. Very satisfied with the work done!!
6. DSL Appliances Repair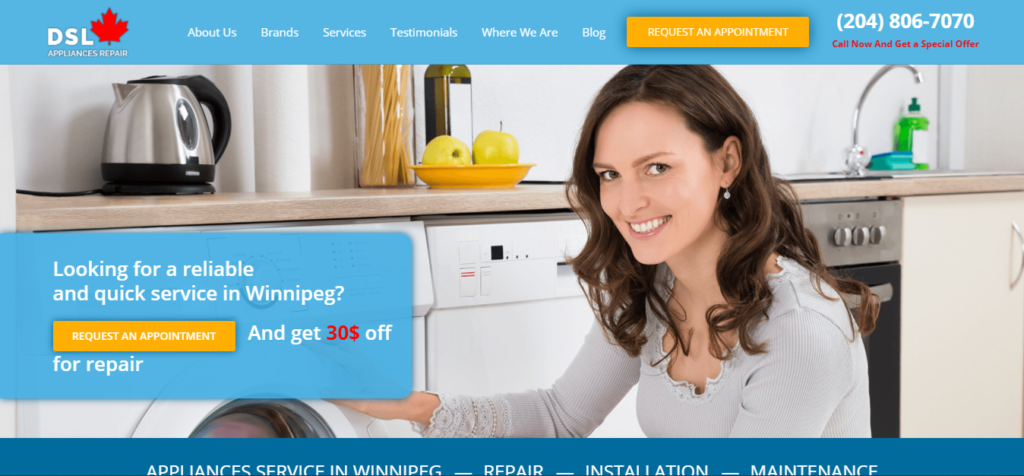 SERVICES
Dryer Repair, Refrigerator Repair, Freezer Repair, Wine Cooler Repair, Oven Repair, Stove Repair, Cooktop Repair, Dishwasher Repair, Range Hood Repair, Microwave Repair, Washer Repair
WEBSITE
https://dslappliancesrepair.com/
CONTACT DETAILS
(204) 806-7070
OPERATING HOURS
Sunday – Friday: 8:00 AM – 8:00 PM
Saturday: 9:00 AM – 7:00 PM
DSL Appliances Repair offers same-day and next-day repair services to cater to urgent breakdowns or issues with just about any dryer. Its technicians are familiar with over 18 household brands as it also repairs microwaves, ovens, washers, and fridges.
To provide full attention to each of its customers, DSL Appliances Repair allots two hours for each scheduled appointment. This assures that each client also receives effective repairs and sound maintenance advice.
While this 2-hour allotment may seem lengthy, it can be short for more complex repairs. Luckily, it still works hard to finish repairs efficiently and effectively, even if it takes more than one appointment.
Besides its prompt and attentive response to quotation and service call requests, DSL Appliances Repair also waives any weekend, late-hour, or holiday service fees. They even call their customers to remind them of incoming appointments.
But what really makes DSL Appliances Repair accessible is that it offers numerous payment options, senior discounts, and even $30 off for repair appointments booked online.
Same-day and next-day services
No additional fees for emergency calls
2-hour allotment for all appointments
10% off senior discounts
Discounts for appointments booked online
Numerous payment options available
Limited time allotment
No 24/7 availability
Customer Reviews
Here are some reviews to tell you more about what to expect from DSL Appliances Repair's services:
"I have rental properties and have no idea when it comes to repairing a washer or dryer. DSL Appliances Repair was very quick to respond. They gave me a time frame when they were able to stop by, which was the next day. He was able to stop by without me being there, checked to see the problem and called me on what the problem was before I gave him the confirmation to proceed with the repair. The whole process was quick and simple. As a landlord he made it very easy for me."—Alor Rico
"Sergey has fixed our washing machine, and dryer on different occasions. He's always punctual and helpful, and very reasonable. Today I called because after trying to fix my dishwasher myself, it just wouldn't work. Sergey went through my fix over the phone, and found my mistake easily. He could have come over and charged me for the 30 seconds to fix… But instead he gave me the information I needed. Highly recommend him!"—Josh
FAQs about Dryer Repair Services
---
We hope that our list of companies for the best dryer repair services in Winnipeg gave you enough information on how to properly deal with dryer problems.
Know any other dryer repair services in Winnipeg that weren't included on this list? Please don't hesitate to reach out to us so we can include them too!
Need help in getting another appliance to work? Check out our list of the best appliance repair services in Winnipeg.