6 Contractors for the Best Foundation Repair in Winnipeg
Foundation is what stabilizes and grounds your real estate property. Thus, a single sign of a damaged foundation would prompt nothing less than the best foundation repair in Winnipeg.
If you're having trouble choosing a service provider for the job, then you're in luck because we've listed the top foundation repair contractors in the city. But before anything else, let's first take a look at how much you may spend on your foundation repair project.
How Much Do Foundation Repair Services Cost
Here are the average costs for each type of foundation damage you may have.
| | |
| --- | --- |
| Type of damage | Price range |
| Cracks | $300-$1,000 per crack |
| Leaks | $3,000-$10,000 |
| Sinking | $1,500-$3,800 per pier |
| Unstable foundation | $350-$1,300 per reinforcement |
The Best Foundation Repair Contractors in Winnipeg
You don't have to worry about choosing the wrong contractor—there isn't a bad choice on our list. That's because we only listed experienced, fully insured, bonded, and well-reviewed contractors.
1. Seal-Rite Foundation Repair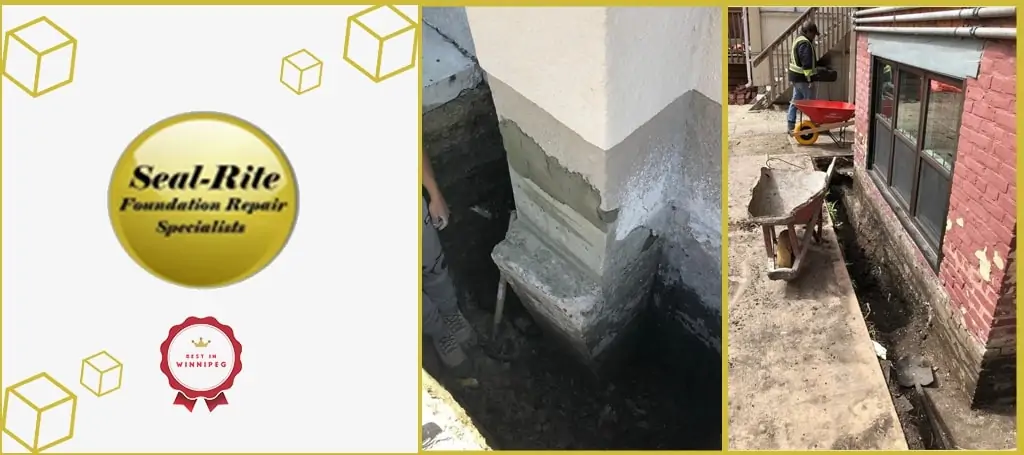 SERVICES
Underpinning, waterproofing, leveling, sump pits & backwater valves, commercial & residential structural repairs, inspection services, teleposts, drainage systems, basement floors, landscaping, weeping tile replacement
WEBSITE
https://sealritefoundationrepair.com/
ADDRESS
1630 Henderson Hwy Suite 1408, Winnipeg, MB R2G 2B9
CONTACT DETAILS
(204) 793-6544


[email protected]

OPERATING HOURS
Monday – Friday: 7:00 Am – 7:00 PM
Seal-Rite Foundation Repair has been one of Winnipeg's pioneer service providers for foundation repairs. It has been in the business for 25 years, making it capable to solve any type of foundation repair.
This company guarantees excellent services as it only uses the most trusted brands in construction. Seal-Rite also doesn't limit itself to just one brand so it can get the best out of every product and cater to its customer's preferences.
Aside from its effective services, Seal-Rite also delivers high-quality customer services. It's responsive to client concerns and is even available for those only seeking advice or inspections for their home's foundation.
Seal-Rite also helps its clients connect with structural engineers to draw up a suitable plan of action for the repair. That said, this contractor will require you to outsource preliminary engineering services.
Vast assortment of partner brands
Repairs all types of foundation damages
Available for simple foundation inspections
No in-house structural engineers for individual analysis
Customer Reviews
With their quality of services and client care, Seal-Rite has earned numerous 5-star reviews online. Here are some examples of those positive reviews:
"Our experience with Seal-Rite, Dave, and the entire team was absolutely fantastic! They came in to fix a crack which was leaking on the north wall of our foundation wall. After an inital meeting and quote, Dave provided an excellent contact to get some structual engineering drawings completed to correct issues from a previous contractor. They worked with us to schedule the work being completed, and went far above and beyond in terms of quality of work and professionalism. When on site, the worksite was kept as clean as possible using plywood boards, and by keeping one pile of mud (which was cleared up within 24hrs of completing digging, well before the completion of the full project). Every crew member who came on site was respectful and professional. "—Bryan Sprange
"When we met Dave, it was immediately apparent that he was knowledgeable and experienced. We also found him very personable and easy to work with. Dave assessed the foundation issues we were having and gave us a creative, cost-effective solution. His team was friendly and worked hard. It's been a few years now and we've had no issues since. A couple of times we've had other, unrelated issues and Dave's come out, taken a look and recommended that we DON'T do anything because nothing needed to be done. He is a guy who is there for his customers and always looks out for them. I highly recommend Dave and his team at Seal-Rite."—Maureen
2. Abalon Foundation Repairs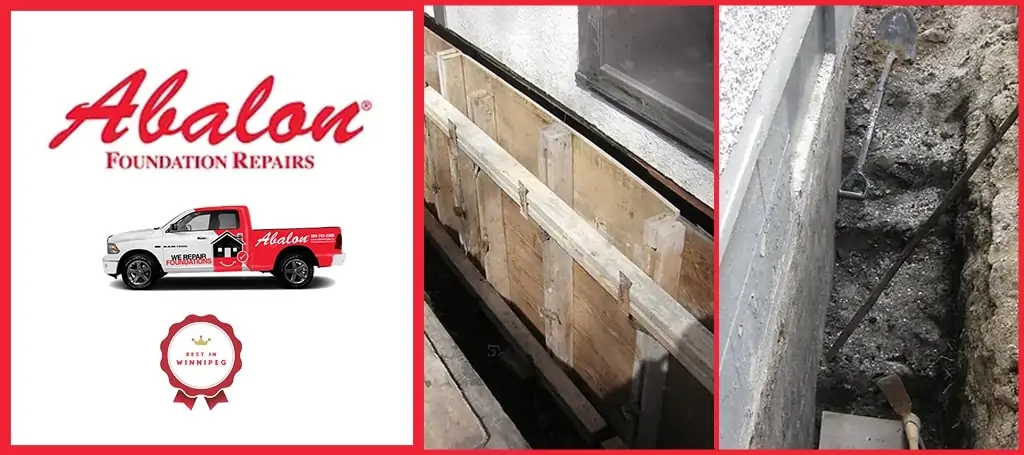 SERVICES
Waterproofing services, foundation crack repairs, underpinning, house levelling, basement floors, telepost adjustments, epoxy injections, foundation infections, basement, waterproofing, weeping tile, sump pits and pumps, back-up valves, window wells, seepage problems, foundation inspections, chimney leaks
WEBSITE
https://www.abalonwpg.ca/
ADDRESS
965 Pacific Ave, Winnipeg, MB R3E 1G3
CONTACT DETAILS
(204) 783-2500


[email protected]

OPERATING HOURS
Monday – Friday: 8:00 AM – 3:30 PM
As one of the oldest foundation repair companies in Western Canada, Abalon delivers the best foundation repair in Winnipeg.
This foundation repair company can handle everything, from major structural repairs to more minor crack repairs with epoxy injections. To ensure customer satisfaction, Abalon delivers friendly services as well as two customer guarantees.
First, it provides a lifetime guarantee for customers who have received waterproofing services for their basements. Second, Abalon gives a 10-year transferable warranty for all types of work done.
Abalon even provides thorough updates to its clients to ensure transparency. Additionally, it also guarantees integrity in ethics as it has won awards for these qualities in its 50 years of service.
Despite all of these guarantees, Abalon lacks accessibility because it's known for highly-priced services. So, if you plan to choose them, just make sure your wallet is ready.
Award-winning for its customer services
Handles all types of repairs
Lifetime warranty for waterproofing
Some complaints about overpricing
Customer Reviews
Apart from its customer guarantees, Abalon is also well-praised for providing pictures and live updates to its clients. Here are some reviews to tell you more about what you may appreciate with Abalon, should you choose it:
"Abalon recently completed doing some foundation repair for me. They were prompt, were there when they said they would be, Brent sent me photo's to show work being done and gave regular updates. When done the gate was a little askew, I asked Brent if he could fix that and maybe put down a little more topsoil. That same day those items were attended to. I am not in the industry so can't comment on the quality of the work (only time will tell, but I have confidence in it), but I can say that the professionalism and follow through were excellent. They will be back in spring once the soil settles to do a top up. Would recommend them to others."—Tim Smythe
"Brent from Abalon completely restructured, leveled and reinforced my sad leaning porch. Brent provided live updates(with pictures!) of the whole process from start to finish. His craftsmanship, level of detail and professionalism were flawless. I highly recommend Abalon if you are looking for the best. Thank you Brent and Team! Colleen McDonald"—Colleen McDonald
3. Belvidere Construction Ltd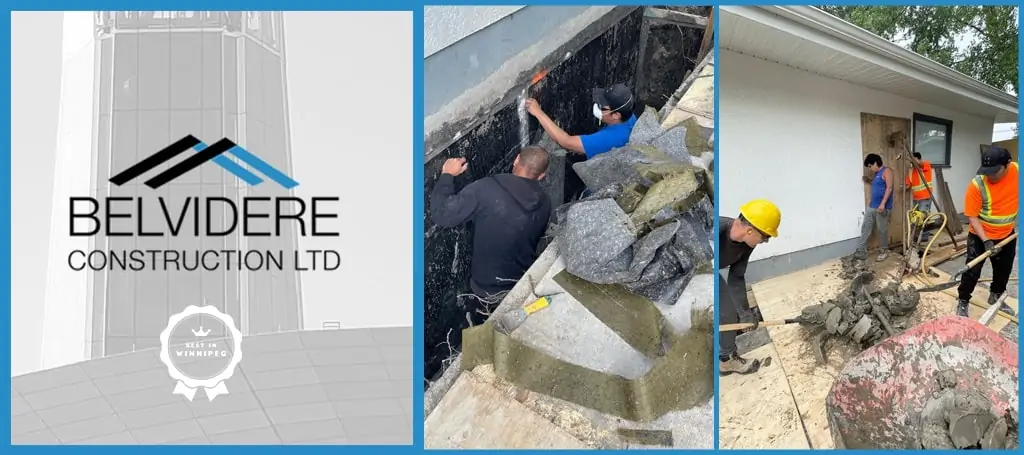 | | |
| --- | --- |
| SERVICES | Waterproofing, foundation repairs, underpinning, house levelling, sump pump and pits, telepost replacement, wall bracing, window wells, weeping tile replacement, foundation bracing |
| WEBSITE | https://www.belvidereconstruction.com/ |
| ADDRESS | 710 St Anne's Rd, Winnipeg, MB R2N 0A8 |
| CONTACT DETAILS | (204) 837-3739 |
| OPERATING HOURS | Monday – Friday: 8:00 AM – 5:00 PM |
Belvidere brands itself as a provider not only of the best foundation repair but also the best waterproofing and piling. It boasts of its multiple awards garnered for its excellent workmanship and customer service.
This family-owned construction company delivers its one-of-a-kind services by providing each customer with a personal project consultant, industry leading-materials, and experienced employees.
Of course, Belvidere guarantees these provisions for all of its services, no matter how big or small. To add to all of these provisions, Belvidere also follows an 8-step foundation repair process as an assurance of high-quality and detail-oriented solutions.
However, its solutions are only limited to waterproofing, damp proofing, bracing, and underpinning methods. Thus, if you need repairs for minor cracks, Belvidere might not be a suitable choice.
Multi-awarded family-owned business
Personal project consultant for every client
Use of industry-leading and suitable materials
Limited to structural repairs
Limited to one brand of material for waterproofing services
Customer Reviews
Belvidere provides the highest quality of work for the few services it provides. Here are reviews from customers who claim they've received the best foundation repair in Winnipeg from Belvidere:
"Belvidere Construction did a great job on the bracing to repair a horizontal crack in my foundation. They were super professional, communicative, left the place super clean and the work passed the city inspection with flying colours. Thanks so much!"—Julie Epp
"We had our foundation waterproofed, the weeping tiles replaced, basement window well replaced, and a broken concrete step removed just in time before winter kicked in. The Belvidere crew did an excellent job and answered our questions and were quick to come back to fix some issues with the ground caving in when the shoring was removed. They took the extra effort to clean up like they hadn't been there at all which was great! Real test will be the spring time and the melt. Thanks Belvidere, we'd definitely recommend them for foundation repairs. The guys work so hard."—Sarah Wilson
4. Blue Maxx Basement Systems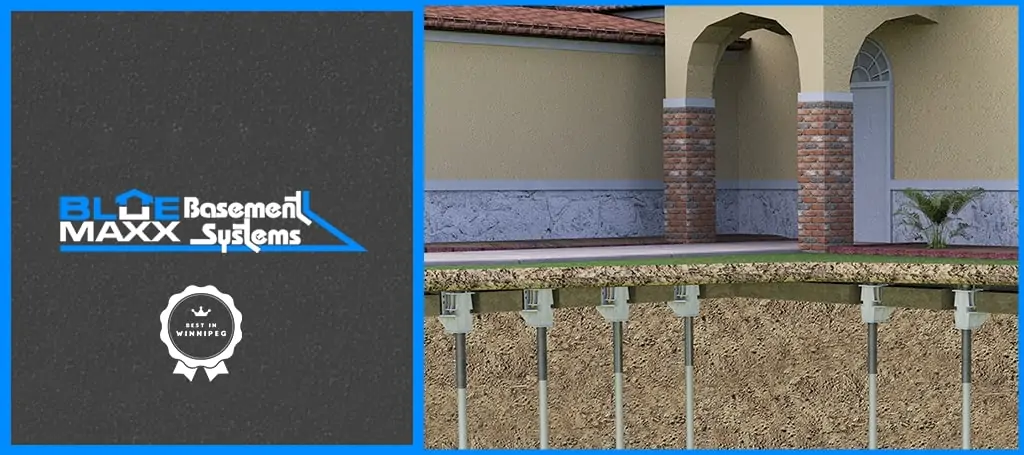 | | |
| --- | --- |
| SERVICES | Foundation piling, wall bracing applications, soil stabilization, beam repair, exterior waterproofing, interior waterproofing, sump pump systems, basement & crawlspace, encapsulation, basement & crawlspace dehumidification |
| WEBSITE | https://bluemaxxbasements.ca/ |
| ADDRESS | 2 Vrel Dr, Cartier, MB R4K 1A4 |
| CONTACT DETAILS | (204) 864-2500 |
| OPERATING HOURS | Monday – Friday: 8:00 AM – 5:00 PM |
Blue Maxx specializes in basement and crawlspace foundations. It thus offers waterproofing, sump pump systems, dehumidification, and encapsulation services for these types of foundations.
To give more than its specialty, Blue Maxx also delivers permanent house levelling services with its deep-reaching galvanized steel piers. It also uses PowerBrace beams to provide wall bracing systems that are applicable for all types of foundation walls, whether concrete, wood, or metal.
As a guarantee to its long-term solutions, Blue Maxx offers a 75-year transferable warranty for house levelling services. Another great thing about this company is it offers its services to commercial buildings.
But what sets Blue Maxx apart from other waterproofing and foundation repair companies is that it offers financing options for all its services. So, those who are on a tight budget yet need an immediate fix can rely on Blue Maxx.
Blue Maxx also dispatches only respectful and efficient workers, so clients don't have to worry about receiving bad customer services. But this guarantee doesn't apply universally we've also found complaints about rude admin staff.
Caters to residential and commercial clients
Available financing options
75-year transferable warranty for house levelling
Some complaints about rude staff
Customer Reviews
Despite its faults, customers find Blue Maxx to be a suitable foundation repair contractor. Read these customer reviews to know why people choose Blue Maxx:
"I had 3 sides of my house excavated and repaired. The crew at Blue Maxx was professional, courteous and accommodating to my extra requests after the quote. Any issues were quickly dealt with and I would recommend them for your foundation repairs."—Jack Martin
"We knew our basement had some foundation problems when we bought out home, but weren't sure exactly what the problem was. We went and got 3 different opinions/quotes, and Brogan and Blue Maxx were by far the most thorough, and were able to explain what was wrong and break up the repairs into priorities for our budget. They completed their work on schedule and the final invoice was exactly what they gave as their estimate. Will definitely keep working with them for future repairs."—Jeff Molnar
5. C.S.S. Concrete Sealant Systems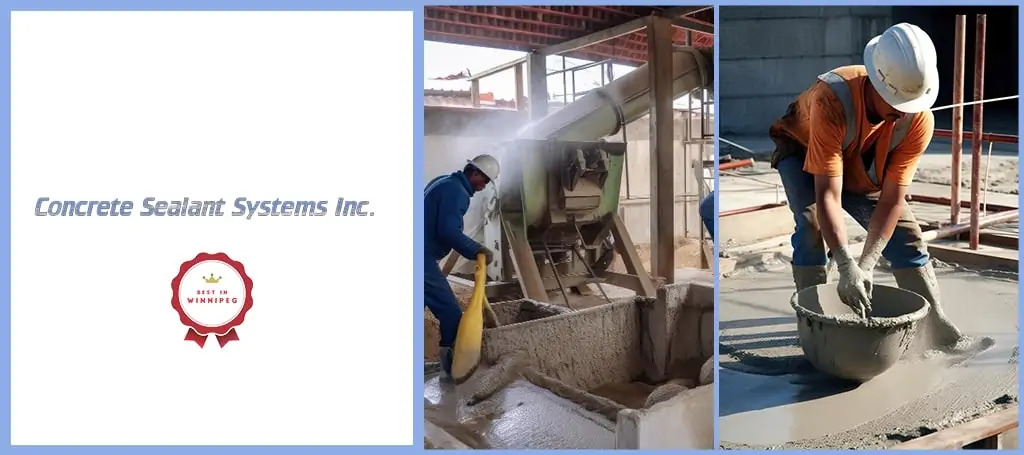 SERVICES
Resin injection, wall bracing, interior weeping tiles, window well installation, sump pump installation, exterior waterproofing, snap-tie repair
WEBSITE
https://www.csswinnipeg.ca/
ADDRESS
500 Stradbrook Ave #210, Winnipeg, MB R3L 0K1
CONTACT DETAILS
(204) 894-1109


[email protected]

OPERATING HOURS
Monday – Friday: 7:00 AM – 7:00 PM
Concrete Sealant Systems, also known as CSS, provides the most cost-effective foundation repair in Winnipeg. It brands itself to provide solutions that are up to 50% less than what its competitors promise.
With its resin injections, weeping tiles, sump pumps, and waterproofing solutions, CSS solves cracked and leaking concerns due to foundation damages. It also offers wall bracing services to cater to walls that are pushing away.
Before CSS does anything to your home, it first does a comprehensive evaluation of the damaged, free of charge. This simple step ensures that its solutions are indeed effective for its customers' specific needs.
However, since most of its services are non-invasive and only address the symptoms of foundation damage, CSS may not be applicable for those with severe foundation damage.
Free on-site inspections
Minimally-invasive and cost-effective solutions
Not suitable for major foundation repairs
Customer Reviews
Its cost-effective and timely solutions as well as its professional yet approachable demeanour are what makes CSS praise-worthy, at least according to customer reviews such as these:
"I recently had the C.S.S Concrete Sealant Systems complete repairs to my foundation walls with their Poly injection method with additional metal bracing. The work was done in a timely manner and they were very professional and explained the entire process to me. Having this work done from the inside saved me from having my yard dug up and having to re-landscape. 2 days later we had a major downpour and absolutely "no leaks". Both Warren and nelson are amazing and I highly recommend them!"—Patrick Mccarthy
"We hired CSS Concrete Sealant Systems to seal four large cracks in our foundation that were leaking heavily when it rained. Warren did excellent work over the course of a few appointments. We even found a fifth crack partway through the process that he sealed at no additional cost. We are extremely pleased with the service."—Jason Smith
6. Foundation Pros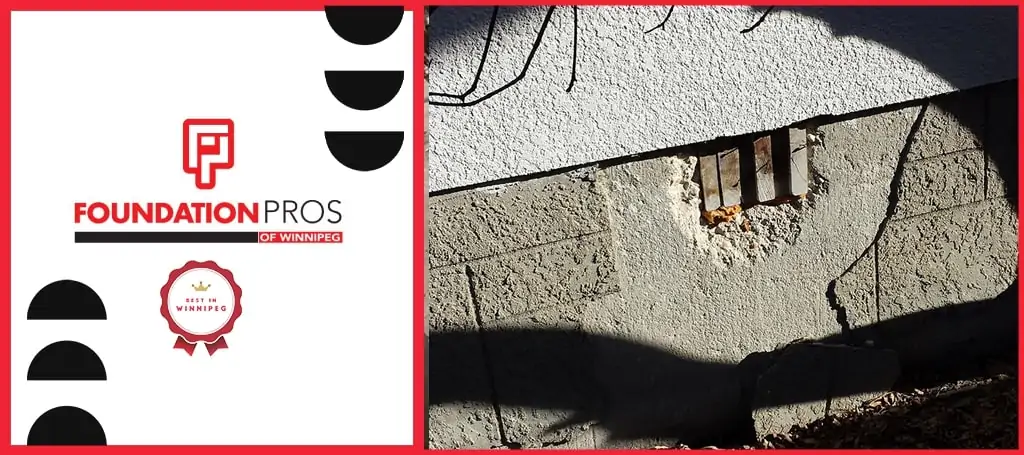 | | |
| --- | --- |
| SERVICES | Cracking Foundations, House Leveling, Basement Foundation Cracks, Foundation Waterproofing, Concrete Repair/Restoration |
| WEBSITE | https://foundationprosofwinnipeg.com/ |
| ADDRESS | Contact for More Information |
| CONTACT DETAILS | 204-227-9697 |
| OPERATING HOURS | 24/7 |
Foundation Pros has been around for a while now—all the way back to 1995, in fact. This tells us that they're quite well-versed in the field, seeing that they have plenty of time to hone their craft.
Being a foundation contractor, they do all sorts of jobs that can repair cracks in your basement. Foundation waterproofing, house leveling, and concrete restoration—these are just some of the things that they can do to make your basement as good as new.
We heard that they offer 15 year warranties in some of their services, which is also transferable to new home owners. We recommend clarifying this with them before committing though.
We should also warn you though that there are some complaints about unprofessional staff members. They are relatively more affordable than other contractors though, so that's something to consider as well.
Relatively affordable
Offers warranties
Some complains about unprofessionalism
No information on area coverage
How to Choose a Foundation Repair Contractor
Now, if you're still having trouble choosing among our list of providers, this section should be helpful for you. Here are the factors you need to consider when choosing a contractor for the best foundation repair in the city:
1. Area of expertise
As you'd see from our list, different companies also have different scopes of services and areas of expertise. Make sure you choose a contractor that can solve your specific issue.
2. Customer services
You'll be letting these people in, or at least near, our home. So, only hire a respectful and understanding contractor. If you're not sure of how a company treats its customers, you can turn to client reviews and see what past clients think about the company's work ethic.
3. Insurance coverage
You should also check for a company's financial and safety safeguards. But don't you worry because all listed providers are bonded and insured.
4. Warranty
Warranties are usually a sign of excellent workmanship. At least 10 years of warranty would suffice.
5. Costs
Foundation repair may cost you a great deal of money, especially if the damage is severe. If you don't know about the average costs, you can consult our price guide at the top of this page.
Signs of Damaged Foundation
Are you still considering whether or not you should call these foundation repair contractors? Here are the signs of a damaged foundation in need of urgent repair:
Exterior and interior cracks
Exterior walls pulling away from the house
Doors not latching
Damaged wood beams
Gaps between window/door frames and walls
Leaning chimney
Uneven flooring
Unpleasant smell in basement or crawlspace
Water leaks
Frequently Asked Questions about Foundation Repairs
---
We hope you find a contractor that'll give you the best foundation repair in Winnipeg from our list. Just request a quotation from your chosen contractor and you'll definitely have a more stable home as soon as possible.
Do you think we missed any other foundation repair contractors? If so, please leave us a note so we can also review them!
Now, you also need to protect your house from overhead, and not just from its bottom foundations. So, if you're looking for other home improvement lists, check out our list of the best roofing contractors in Winnipeg.