5 Providers of the Best Furnace Repair in Winnipeg
Need the best furnace repair in Winnipeg pronto? We can help: we've compiled a list of the top furnace experts in the city right here!
We also have a price guide and some FAQs so you can manage your expectations when hiring a company. In any case, let's start by clarifying when exactly you need to call in the pros.
When to Call a Furnace Service Technician
Here are some of the signs you should call a service technician for your furnace:
Unusual noises. Although a furnace may not be entirely silent, hearing noises you haven't heard before may be a sign of a furnace malfunction.
Poor heating. Your furnace serves the purpose of heating your rooms, so if it's not heating properly, call a technician right away.
Yellow flames. A gas furnace should have a crisp blue flame to indicate proper combustion. Yellow flames may signify contamination of the fuel and burning of carbon dioxide.
Dusty room and air. If the air or room feels dusty, your furnace filter or air ducts may need changing.
Higher electricity bills. If you notice an unusual increase in your electricity bills, your furnace may not be functioning as efficiently as needed.
Price Guide for Furnace Services in Winnipeg
Before we tell you of our top picks for furnace repairs, here are the estimated costs for most types of furnace repair services. This table can help you figure out if the quotation you receive is a good one – but do allow some leeway as each case is unique.
| | |
| --- | --- |
| Type of Furnace Service | Price Range |
| Repair | $166 – $597 |
| Replacement | $95 – $1,905 |
| Filter | $166 – $38 |
| Labor | $95 – $160 |
| Inspections | $64– $127 |
| Cleaning | $127 – $381 |
Where to Get the Best Furnace Repair in Winnipeg
Without further ado, let's proceed to our picks of the best furnace repair services right here in Winnipeg.
We listed only the businesses with expertise, insurance and bonding, reasonable prices, high-quality workmanship… and of course, positive customer reviews so you know they're as good in action as they are on paper.
1. Reliance Superior Heating, Air Conditioning & Plumbing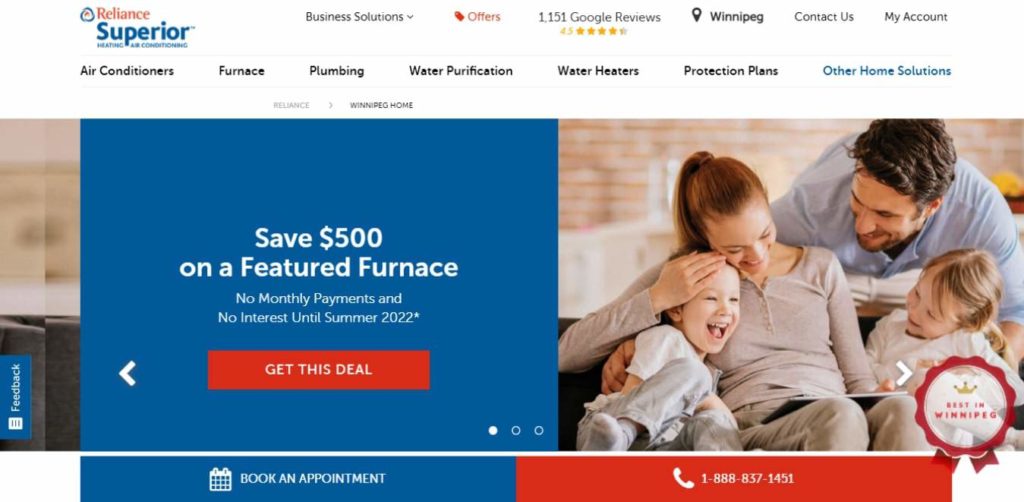 BEST FOR
Online booking, billing, and payments
SERVICES
Furnace and cooling installation, maintenance, repairs, and replacements, plumbing services
PRICING
Heating maintenance plan (1-year): starts at $9.99
Heating protection plan (no term): starts at $14.99
WEBSITE
https://www.reliancehomecomfort.com/winnipeg/
ADDRESS
96 Terracon Pl, Winnipeg, MB R2J 4G7
CONTACT DETAILS
(204) 259-2708
OPERATING HOURS
24/7
Just as its name says, Reliance Superior offers all types of home solutions, from heating to plumbing. It also has heating-system experts who can install and repair furnaces from a wide assortment of brands.
Reliance even offers furnace rentals, should your furnace take more time to repair than expected. To help you avoid costly repairs in the future, Reliance Superior also offers maintenance and protection plans for your heating, cooling, and plumbing systems.
This company also offers convenient payments and billing through its very own online myReliance system. Add upfront, frank pricing and you see how it made our list.
Heating maintenance and protection plans
Convenient online billing and payment
Upfront pricing and fast repairs
Communication and scheduling may not be the best
Customer Reviews
Reliance stays true to its name by providing customers with efficient and reliable services. Here are reviews to tell you more:
"Lost heat @ 2:00 am and tried to resolve ourselves by resetting the furnace. Still got error code so called Reliance. They had a tech arrive @ 8:45 am same day. Very Fast response. Professional and Courteous. Resolved issue quickly and provided answer to all questions. Will use them again in future and request this tech."
"Overall, a good experience! Knowledgeable, pleasant, helpful serviceman. Got my furnace working and let me know what the problem was that caused the furnace to stop working!"
2. Winnipeg Supply Service Experts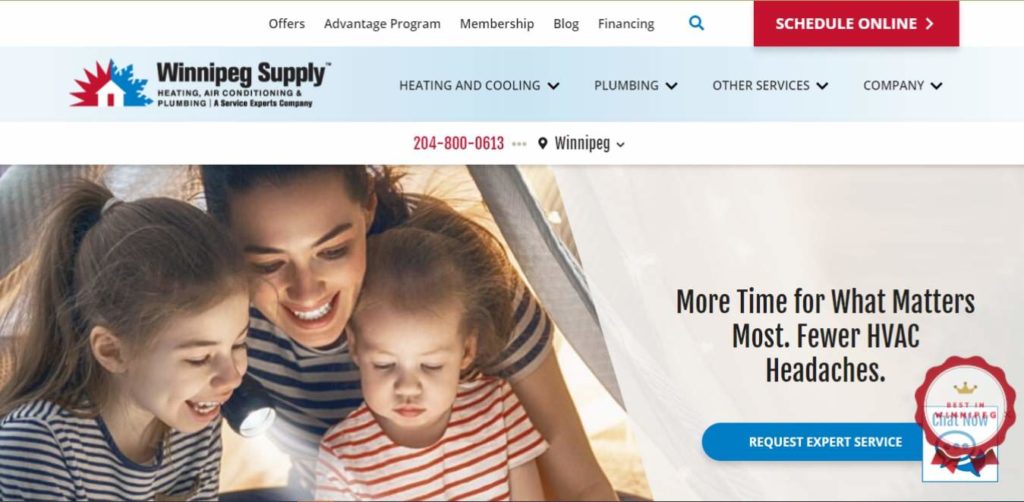 BEST FOR
Prompt services
SERVICES
Furnace and cooling installation, maintenance, repairs, and replacements, air quality testing, plumbing services
WEBSITE
https://www.winnipegsupply.com/
ADDRESS
1555 Dublin Ave Unit 1, Winnipeg, MB R3E 3M8
CONTACT DETAILS
(204) 988-4575

[email protected]

OPERATING HOURS
24/7
Winnipeg Supply has over 4,000 team members to provide you with prompt furnace repairs. It also has NATE certification to guarantee only the highest quality of service.
Moreover, Winnipeg Supply follows a 100% Satisfaction Guarantee. So, if you aren't satisfied with its technician's services, you can call them up, and they'll immediately come back for the repairs.
Additionally, Winnipeg Supply offers the Advantage Program membership. By signing up as a member, you are entitled to yearly maintenance and inspections, a lifetime thermostat warranty, no trip charges, guaranteed repairs, and many other benefits.
NATE-certified
100% Satisfaction Guarantee
Advantage Program membership
Flat-rate pricing with financing options
Customer Reviews
From simple cleaning to replacement of parts, Winnipeg Supply delivers only the best furnace repair in Winnipeg, just as these customers have experienced:
"What a great experience we had with Winnipeg Supply. We called on a Saturday morning with a broken furnace and they came out in a couple of hours. They fully explained what they were looking at and what was wrong with the furnace. They were able to find a new motor and were back Monday morning to replace the motor. Very quick as most motors need to be ordered and delivered."
"Jose was very punctual, polite, and knowledgeable. He did all the furnace cleaning process very carefully, explaining all the important points, main issues and concerns."
3. Tradesman Mechanical Services Ltd.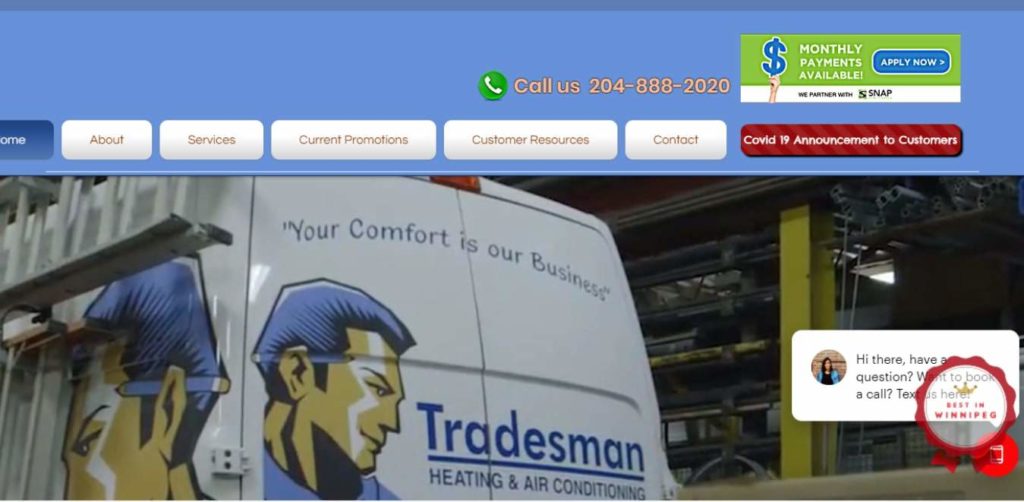 | | |
| --- | --- |
| BEST FOR | Strong warranty on products |
| SERVICES | Furnace repairs and yearly maintenance |
| WEBSITE | https://www.alwaysopen.ca/ |
| ADDRESS | 975 Main St, Winnipeg, MB R2W 3P6 |
| CONTACT DETAILS | (204) 888-2020 |
| OPERATING HOURS | 24/7 |
Tradesman Mechanical Services has spent over 33 years serving heating and cooling systems in Winnipeg. Part of its longevity has come from the fact that it guarantees transparent pricing at the very start, without surprise, emergency, and travel fees.
Should you consider getting a new furnace, you can also get one from Tradesman Mechanical Services: it even offers a 6-year replacement warranty for all its products. Additionally, this company also sells Daikin furnaces with up to 12 years on the warranty.
It also has replacement parts from 10 of the most common furnace brands in Winnipeg households. That makes furnace repairs easier for a lot of customers.
4 guarantees for customer satisfaction
Long-term warranties
Authentic replacement parts from 10 furnace brands
Slightly more expensive than others
Customer Reviews
Read these customer reviews for more information about the quality of service Tradesman can give you:
"I've used Tradesman for my furnace and central AC. Both times they were prompt, courteous and efficient. They explained the issues and the repair was reasonably priced. They will always be my first call when I need a repair!"
"My furnace stopped working at 2AM. Tradesman fit me in that day. Stephan was nice and knowledgeable and repaired my furnace quickly. Highly recommend."
4. Lynn's HVAC Winnipeg: Plumbing Heating & Cooling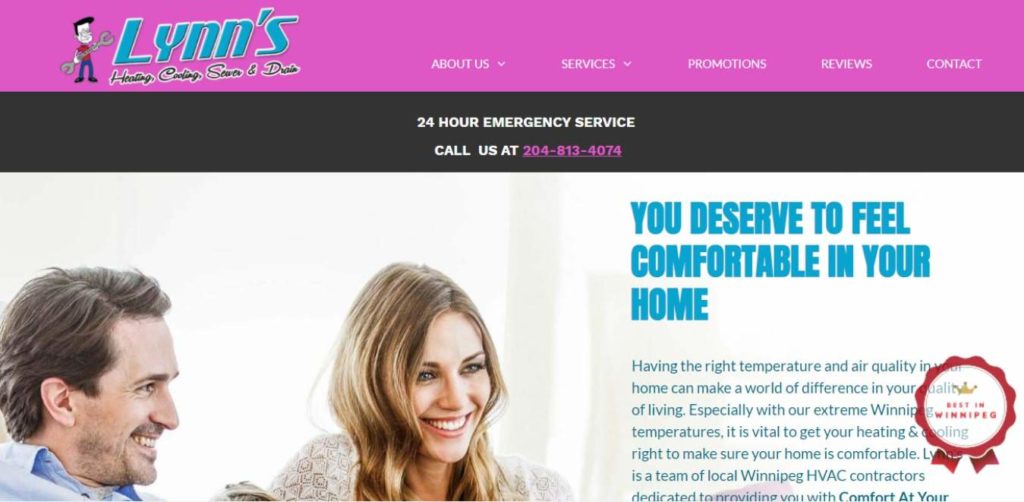 BEST FOR
Family-friendly services
SERVICES
Furnace sales, installation, repairs, and maintenance, duct cleaning
WEBSITE
https://www.lynnswinnipeg.ca/
ADDRESS
885 Redonda St Unit 7B, Winnipeg, MB R2C 2Z2
CONTACT DETAILS
(204) 817-1595

[email protected]

OPERATING HOURS
24/7
Lynn's HVAC Winnipeg offers only prompt and courteous service to all properties, from residential homes to industrial buildings. It can repair any brand of a furnace for affordable prices.
You can also hire Lynn's for tune-ups and can even receive a free 1-inch filter for every session with this company. Aside from repairs and maintenance services, Lynn's also sells furnaces such as the high-efficiency Bryant furnaces.
With over 35 years of service, the people at Lynn's say they guarantee excellent customer experiences by putting their clients' needs first. For instance, they make a point of not trying to upsell a client on any service he may not need.
Free quotations and affordable pricing
Extended warranties for products
Free furnace filters
No routine tune-up services
Customer Reviews
Lynn's services are friendly, professional, and prompt, which is why customers keep coming back. Here are customer reviews for more details:
"I got some minor repairs and general service to my furnace today. I dealt with the technician J.M. He was very knowledgeable and pleasant to deal with. He was patient and explained everything to me.The price was reasonable and the service was very good. I would deal with them again and would recommend to friends and family."
"I had Lynn's heating come to repair my furnace, they were quick to send a technician. JM came to fix my furnace and had figured out the problem and had my furnace up and running in no time. I would recommend Lynn's heating to anyone looking for quality service in a timely manner. Ask for JM he's a great tech who has a lot of experience in the industry"
5. Provincial Heating & Cooling Inc. – Winnipeg Air Conditioning & Furnace Repair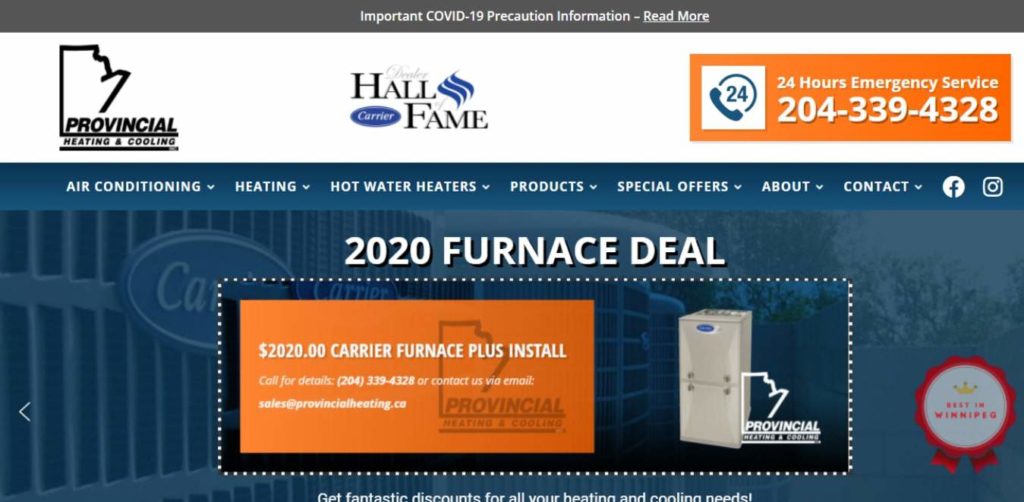 BEST FOR
Unique maintenance plans
SERVICES
Furnace replacement, repair, and maintenance, furnace and air conditioning maintenance plans, air purification
PRICING
Furnace maintenance plan: $145.75 (1-year plan)
$278.25 (2-year plan)
$410.75 (3-year plan)
WEBSITE
https://www.provincialheating.ca/
ADDRESS
324 Keewatin St, Winnipeg, MB R2X 2R9
CONTACT DETAILS
(204) 339-4328
OPERATING HOURS
24/7
Provincial Heating & Cooling has NATE certification, which is one reason we think it delivers some of the best furnace repairs in Winnipeg. Besides repairs, Provincial also offers maintenance plans where you can enjoy reduced repair costs and prompt services.
The best thing about its maintenance plans is that they offer automatic scheduling, so you'll be reminded when it's time for routine tune-ups. And if you need replacements, you can expect only the best from Provincial because it is an official Carrier dealer.
You can also hire Provincial for its air purification services. With this additional service, you can maintain a well-ventilated and healthy atmosphere within your home.
Free in-home estimates
Furnace maintenance plans with automatic scheduling
Authorized and award-winning Carrier dealer
NATE-certified
Not the best with follow-up services
Customer Reviews
Read below what customers have to say about Provincial Heating & Cooling:
"Provincial Heating were a great company to help us get our furnace going. The customer service department was well informed and very informative. The technician who fixed our furnace was very knowledgeable and had it fixed in no time. I would recommend them to anyone."
"Our furnace konked out on a super cold day and they came to deal with it in a jiffy! They serviced the whole unit and told us some things we could do to improve it to make it run better in the future and avoid the same problems. They also thoroughly cleaned the whole unit and surrounding areas. Our techs name was Mike and he talked Us through the whole thing and didn't treat us like we didn't know what we were doing. It was a great experience all around!"
Frequently Asked Questions
---
There you have it, the providers of the best furnace repair in Winnipeg! Each company we've listed offers 24/7 emergency services, by the way.
Should you have severe issues, not only with your furnace but also with your cooling system, you should contact the best HVAC contractors in Winnipeg instead. These service providers will be able to diagnose and treat any part of your ventilation system.