The 5 Best Marriage Counselors in Winnipeg
Couples cannot save marriage overnight, and spouses can undergo marriage counseling to address their problems. A good marriage counselor can act as a mediator for couples towards strengthening and even saving the marriage.
If you are wondering where you can find the best marriage counselors in Winnipeg—you're on the right page. We've rounded up the top marriage counseling in Winnipeg for you.
But before we proceed with our list, let's discuss the things that you should consider in finding a good marriage counselor and the average cost of this service in Winnipeg.
Average Cost of Marriage Counseling in Winnipeg
Marriage counseling costs depend on your location, provider, and the type of counseling you need.
Winnipeg's average marriage counseling cost ranges from $75 to $150/hour. A full-range service can cost from $50/hour to over $200/hour.
Here's the recommended cost of marriage counseling by the Manitoba Psychological Society Board as of January 2022.
| Service | Single/Couple/Family | Group Therapy | Assessment | Legal Consultation |
| --- | --- | --- | --- | --- |
| Cost (per session) | $ 195 | $ 110 (per person) | $ 195 | $ 1560 |
| Duration | 50 minutes | 80 minutes | 1 hour | 1 day |
The Best Marriage Counselling in Winnipeg
We have rated our top picks before rounding up this list to give you an easy guide in finding the best marriage counseling in Winnipeg. Here are the different aspects that we considered:
1. Steve Moscovitch, MSW, RSW, CFT of Steve Moscovitch Therapy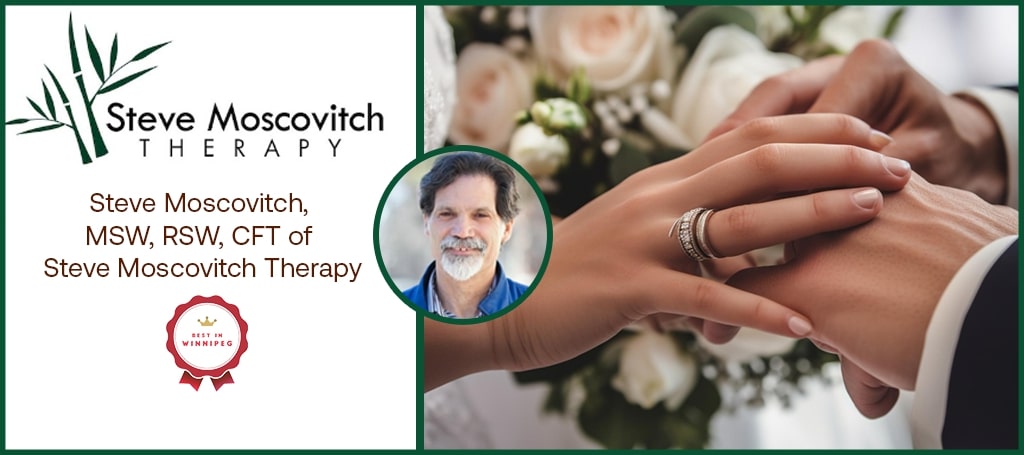 SERVICES
Therapy sessions available for: Individuals Couples Family Treatment approaches: Sexuality Emotional Healing Stress reduction Trauma Addictions Couples Therapy
WEBSITE
https://stevemoscovitchtherapy.com
LOCATION
144 Evanson Street, Winnipeg, MB R3G 1Z9
CONTACT INFO
Phone: (204) 297-7264
OPERATING HOURS
Monday - Thursday: 9 am - 5 pm

Friday, Saturday, & Sunday: Closed

COST PER SESSION
Hourly rate: $110
| | |
| --- | --- |
| Criteria | Rating |
| Experience and Specialization | ★★★★★ (5/5) |
| Cost | ★★★★★ (5/5) |
| Services offered | ★★★★☆ (4/5) |
Many people will tell you that Steve Moscovitch is one of Winnipeg's most engaging and comfortable therapists. He has helped hundreds of clients find self-acceptance and improve their self-esteem for more than 30 years.
He specializes in Emotionally Focused Couples Therapy, a methodology that helps couples tap into their repressed feelings to become stronger as a couple.
He is both a social worker and a grief counselor. He also has a Master of Social Work degree from the University of British Columbia.
We love the wide range of treatment approaches that Steve Moscovitch Therapy offers to couples. Aside from the Emotionally Focused Couples method, spouses can also receive counsel for the different stages of their lives.
He offers sessions for individuals, couples, and families. His work integrates several perspectives and methods.
His approach centers on the client's capacity to heal, grow, and change in the right direction. His clients attest that he is a professional and compassionate counselor.
Add to this fact that his assessment skills are on point. His creative and unique ways of approaching the client's problem is a point for them in our book because it creates a more comfortable environment for couples.
His service is also a bang for your buck. His hourly rate is lower than the average cost, unlike other marriage counselors.
Unfortunately, Steve is only available from Monday to Thursday, which can be inconvenient for clients who work on weekdays. Unlike other marriage counselors, Steve doesn't provide a free initial assessment for clients.
Online booking available
Covered by insurance plans
Available on various online platforms
Unavailable on Fridays and weekends
No free initial assessment 
Customer Reviews
Expert in the field
" Steve is an experienced, professional and a compassionate counselor. I would highly recommend him for any type of therapy. His assessment skills are on point and can easily find creative and unique ways to approach problem areas. We feel very blessed to have him as a counselor. " – Liezel Jacinto ⭐⭐⭐⭐⭐
" Steve is an exceptional human being and skilled seasoned experienced therapist. I highly recommend Steve for Couples or Individual counseling or any emotion focused therapy. Steve is reliable, intuitive and empathic. " – Lisa Telega ⭐⭐⭐⭐⭐
" Have had him as a personal counsellor, and mentor for over 30 years now. He is wise, compassionate and a great listener and is able to provide exceptional advice to many problems I have had whether they be relationships, professional choices or even addiction. Cannot recommend him more! " – Daniel Moscovitch ⭐⭐⭐⭐⭐
2. Luella Jonk, Ph.D., RP, RPC of Luella Jonk Therapy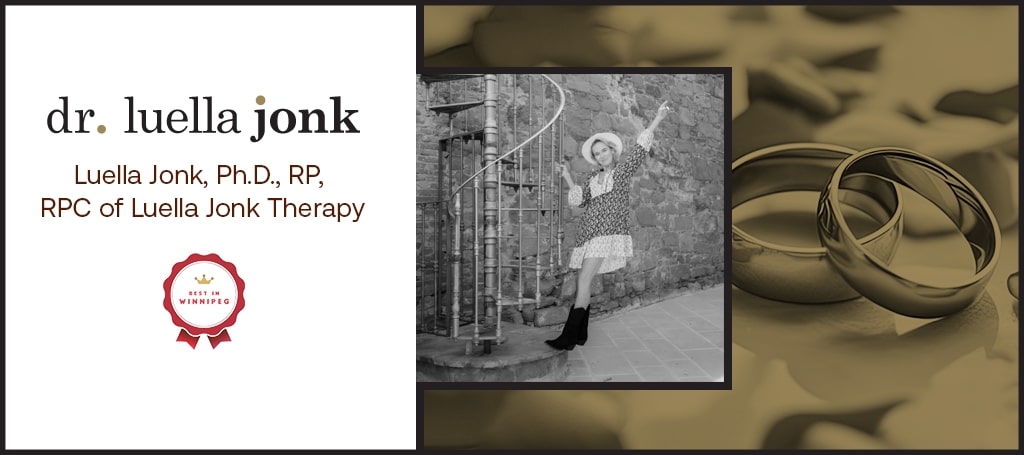 SERVICES
Specialties: Individual and couples therapy Hypnotherapy (RTT) Functional Medicine Free 15- minute phone consultation
WEBSITE
https://luellajonk.com/
LOCATION
305 Kingston Crescent, Winnipeg, MB R2M 0T5
CONTACT INFO
Phone: (204) 771-7650
OPERATING HOURS
Monday- Friday: 8:30 am - 2 pm & 4:15 pm - 6:15 pm

Saturday & Sunday: Closed

COST PER SESSION
Initial Consultation (90 Minutes): $220

Follow-up Sessions:

75 minutes: $200

60 minutes: $155

45 minutes: $125

30 minutes: $70
| | |
| --- | --- |
| Criteria | Rating |
| Experience and Specialization | ★★★★★ (5/5) |
| Cost | ★★★★☆ (4/5) |
| Services offered | ★★★★☆ (4/5) |
Dr. Luella Jonk is a registered psychotherapist specializing in individual and couples therapy, hypnotherapy (RTT), and functional medicine.
She also has multiple credentials as a Certified Functional Medicine Practitioner (IFMCP), a licensed Rapid Transformational Therapist (Hypnotherapist), and a registered Speech Therapist.
We love Dr. Jonk because of her expertise in different fields. As a relationship coach and an expert at clinical counseling, she makes her clients comfortable with her conversational method.
Her specialization centers on childhood trauma, low self-worth, addictions, and emotional and physical neglect. On top of that, she also maintains a blog and podcast that discusses topics from nutrition, relationships, habit change, and relationships.
Her office also gives off a warm atmosphere while overlooking a garden. Clients love that her office is comfortable and has street parking.
Another point for them in our book is their free 15-minute consultation through phone calls for their clients. Their easy appointment setting through the Jane app is also convenient for clients.
Unfortunately, she is unavailable on weekends which can be inconvenient for some clients. On a lighter note, you can contact her online to discuss the schedule that can work for you.
There were also client complaints about her professionalism during therapy sessions. On a lighter note, clients who forwarded their complaints were offered free consultation or a full refund.
Free 15-minute initial consultation via phone call
Online booking available via Jane app
Resume and certifications available online
Unavailable during weekends
Complaints about professionalism
Customer Reviews
Excellent practice and methods
" Luella is amazing. I have seen plenty of counsellors and therapists in my life. Luella has assisted me in making the most progress in my life, marriage, and general wellbeing.
I have been able to cut out toxic relationships, loose 15 pounds, better my marriage, communicate better with others, and been able to put myself first when needed all with her help.
I highly, highly recommend her.
Thank you Luella for giving me the support to make the changes I needed to and take back my life." – Sydney Dueck ⭐⭐⭐⭐⭐
" Luella was instrumental in helping my wife and I manage our relationship. We owe so much to Luella for helping us through one of the hardest times in our relationship, I cannot say enough good things about the therapy that she provided to us.
She worked hard to ensure that we got the advice we needed!
Unhappy in love? Go see Luella for help. Happily in love? You should still go see Luella to ensure you continue to work at what makes you happy!" – Daniel Batson ⭐⭐⭐⭐⭐
Comfortable environment
" I highly, highly recommend Luella as a therapist. I have struggled for years with self identity and negative self talk and she helped me completely change that way I talk to and perceive myself.
She uses a variety of evidence based practices to help, is an excellent listener and draws on personal experiences which demonstrates her empathy and understanding. I personally did the "personal reality check" and it was amazing.
Her office is comfortable, easy to find and has street parking. Setting up appointments using her online system is easy and efficient, she's accessible and her email correspondence is great! Always checking in to see progress and get a quick update.
Great therapist, have referred to her and will continue to do so." – Devon Rawluk ⭐⭐⭐⭐⭐
3. Sandra Scott, BA, MMFT, CCC of Thrive Counselling
SERVICES
Treatment Approach: Emotionally Focused Therapy Attachment Solution Focused Narrative Internal Family Systems (IFS) Cognitive Behavioral Therapy (CBT)
WEBSITE
https://www.thrivewinnipeg.com/
LOCATION
254 Edmonton Street, #200, Winnipeg, MB R3C 3Y4
CONTACT INFO
Phone: (204) 774-4184
OPERATING HOURS
By appointment
COST PER SESSION
60-minute appointments: $70 to $125

One-hour appointment with Sandra: $90

90-minute appointment with Sandra: $135

Couples counseling at Thrive: $90/session
| | |
| --- | --- |
| Criteria | Rating |
| Experience and Specialization | ★★★★☆ (4/5) |
| Cost | ★★★★★ (5/5) |
| Services offered | ★★★★☆ (4/5) |
Sandra Scott is the Clinic Director of Thrive Counselling. Thrive Counselling provides therapy and life coaching for individuals, couples, families, and children in Winnipeg.
She has a Clinical Master degree in Marriage and Family Therapy from the University of Winnipeg. She is also a Certified Canadian Counsellor (CCC) under CCPA and a member of CAMFT.
We love Sarah's systemic perspective brought by her expertise in different fields. Her approach is a blend of therapy models, including Emotionally Focused Therapy, Attachment, Solution Focused, Narrative, Internal Family Systems (IFS), and some CBT.
Sarah's expertise and years of practice allow her to navigate her client's problems effectively and efficiently. On top of that, she is trained in EMDR (Eye Movement Desensitization and Reprocessing) Therapy which helps clients move through single event trauma and other conditions.
From what we've learned, Thrive Counselling provides in-person and secure video options for clients at both Charleswood and Downtown offices. Clients need to have these options to ensure their safety during the pandemic.
Customers attest that their scheduling system is convenient and their rates are reasonable. On top of that, the office is warm and comfortable for clients.
However, there are complaints about their responsiveness to clients. Despite guaranteeing clients for being available 24/7, some clients had to wait three days to get a template response for their initial request.
Affordable couples therapy session
In-person and secure video options for clients
Reasonable rates 
Complaints on responsiveness 
Clunky online booking system
Customer Reviews
Reasonable rates and a comfortable environment
" For what it's worth, I am confident that Thrive would have a lot more reviews if there wasn't such a stigma in seeking help for relational and mental health. There is something very vulnerable in saying, "I saw these professionals because I needed help – and they helped me!" So here I am, combating the stigma, because I feel that Thrive deserves it.
My family and I have been fortunate to see a few different therapists at Thrive (depending on our needs at the time).
-Their scheduling system is painless (online booking is imperative when you're struggling!)
-Their rates are extremely reasonable, and if you have insurance even more so – though, double
check that the person you're seeing can be covered.
-Their office is inviting, comfortable and warm: There is coffee, water, and even some snacks.
-They are great at what they do. We've had success and growth when working with skilled therapists here.
Ultimately, we highly recommend seeing them, even if only for a session or two – if you would see a doctor because something is "off" in your body, then why not see a therapist when something feels off in your mind or environment? Healthy people make the world a better place – let Thrive be your catalyst. " – Bry Koehn ⭐⭐⭐⭐⭐
4. Lindsey Jay Walsh of Pear Tree Family Therapy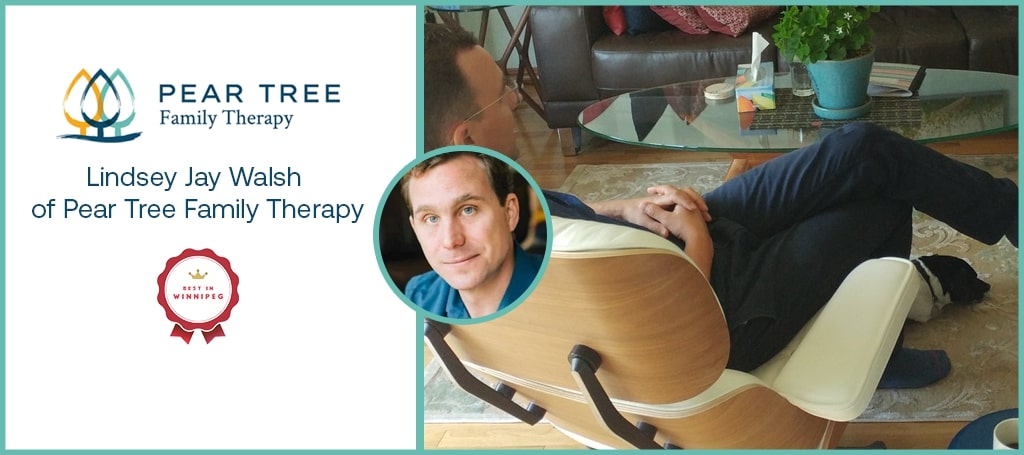 SERVICES
Treatment Approaches: Anxiety, Panic & Depression Individual Therapy Marriage & Relationship Therapy (Couples Counselling) Family Therapy Child and Adolescent Therapy Addictions
WEBSITE
https://www.peartreefamilytherapy.ca/
LOCATION
23 Florian Pl. Winnipeg, MB R2N 3S2
CONTACT INFO
Phone: (204) 272-3993
OPERATING HOURS
(Sessions are by appointment only)

Monday – Friday: 9am – 5 pm

Saturday: Closed

Sunday: Closed
| | |
| --- | --- |
| Criteria | Rating |
| Experience and Specialization | ★★★★☆ (4/5) |
| Cost | ★★★★☆ (4/5) |
| Services offered | ★★★★★ (5/5) |
Lindsey Jay Walsh is known as an experienced marriage and family therapist in Manitoba. He earned his Masters in Marriage and Family Therapy at the University of Winnipeg.
He offers individual therapy, couples counseling, family therapy, and child and adolescent therapy. His treatment approaches also focus on anxiety, panic, depression, and addictions.
He has also worked with therapy organizations, the not-for-profit sector, and community work for Winnipeg.
We love Lindsey's method of having a comfortable dialogue with his clients. Clients tell us how attentive and empathic he is during their therapy sessions.
Customers attest that he is empathic and effective in helping clients understand underlying issues in their problems.
Moreover, he ensures that his clients are aware of the whole treatment process to manage their expectations. Despite being only available during the weekdays, he works with the clients' schedules to make sure they are comfortable with the therapy sessions.
In case you want to cancel your appointment, you need to contact Pear Tree Family Therapy within at least 24 hours. Keep in mind that while they don't charge cancellation fees for emergency cancellations, they do for non-emergency ones.
In-person and phone sessions are available
No charge for emergency cancellations
Wide range of treatment approaches
Cancellation fee (for non-emergency cancellations)
Unavailable during weekends
Sessions are by appointment only
Customer Reviews
Attentive and empathic
" I highly recommend Lindsey as a therapist. I used him during a difficult phase of my life, and found his guidance to be immensely helpful.
He is attentive, empathetic, direct, and wise. He excels at getting to the root cause of an issue.
This may not have always been pleasant in the moment, but was of utter importance in helping me navigate through the issues I was dealing with in a positive way. " – Zachary Derksen ⭐⭐⭐⭐⭐
" Lindsey is not a professional happy maker, he is a therapist. His job is not to give you what you want, it is to help you grow and discover for yourself what you need.
Life is full of moments that are hard. Lindsey is not in the business of telling you what you want, he's to the point and recognizes that your investment of time and finances is not to buy a friend, it's for hard core therapy.
Make no mistake, he is kind-hearted, incredibly empathetic and one of the most encouraging people I've had the pleasure of having "in my court".
Highly recommended if you want actual change in your life, your heart and your mind." – Julie Smith ⭐⭐⭐⭐⭐
" Working with Lindsey has been life changing. My husband and I were at a breaking point in our marriage, we knew we needed serious help however were reluctant to attend because of the financial commitments of regular therapy.
After 10 sessions we have come to the realization that no amount of money is more important than the skills necessary to navigate marriage. I would advocate that no matter what shape your relationship is in Lindsey can help you to create a deeper understanding and appreciation for one another.
If you are contemplating whether or not therapy is right for you ask yourself one question; How much is your beloved one is worth to you?! Priceless? Now give Lindsey a call " – Alisha Audit ⭐⭐⭐⭐⭐
5. Marlene R. Dyck of Endless Possibilities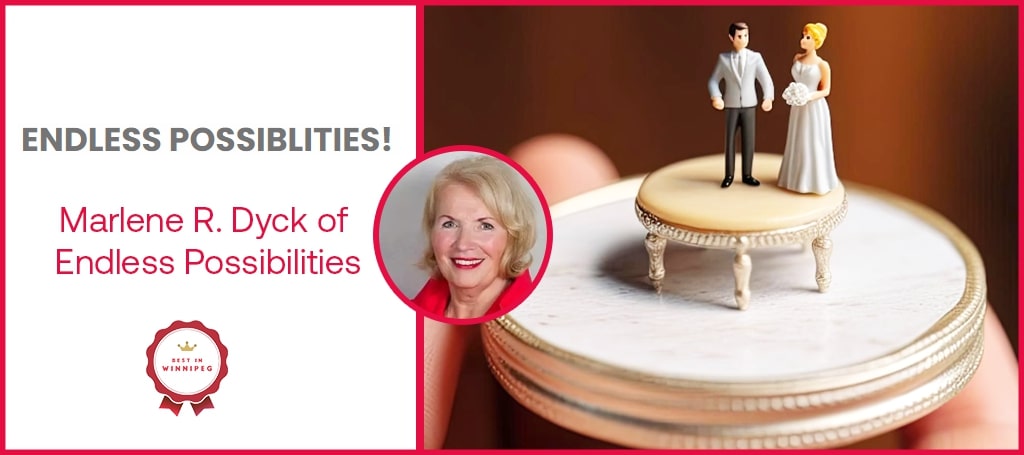 SERVICES
Therapy sessions (50-60 minutes/session) Treatment Approaches: CoachingCognitive Behavioral (CBT) Emotionally Focused Existential Therapy Family/Marital Jungian Relational Psychoanalytic Psychodynamic Trauma-Focused Solution Focused Brief Therapy (SFBT) Focus Areas: Depression Counselling Anxiety Counselling Emotional Eating Addictions Abuse Counselling Sense of Having Lost Oneself Separation/Divorce More Effective Communication Healing of Relationships Developing Healthy Boundaries Counselling
WEBSITE
https://marlenerdyck.com/
LOCATION
1195 Rothesay St., East Kildonan Winnipeg, Manitoba R2G 4K2
CONTACT INFO
Phone: (204) 415-2828
OPERATING HOURS
Tuesday- Thursday: 12:00 pm - 8.00 pm

Friday: 10:00 am - 2:00 pm

Saturday- Monday: Closed
| | |
| --- | --- |
| Criteria | Rating |
| Experience and Specialization | ★★★★★ (4/5) |
| Cost | ★★★★★ (4/5) |
| Services offered | ★★★★★ (5/5) |
Marlene R. Dyck offers professional psychotherapy and mental health counseling in Winnipeg and clients across Manitoba. She has an M.A. in Counselling and a B.A. in Conflict Resolution.
She is also an affiliate member of the Canadian Psychological Association, Professional Association of Christian Counsellors, Psychotherapists (Certified), and a non-certified Professional Member of CCPA.
We love Marlene's therapeutic approach combining psychotherapy and mental health counseling. Customers attest that her therapeutic and investigative approach allows them to have a personalized experience.
Add to the fact that she is also a certified practitioner of Myers-Briggs Type Indicator, a method for personality assessment. Her expertise allows her to give clients a deeper understanding of themselves and their situation.
Clients can also book their appointments virtually and in person. Flexibility in the booking is a point for them in our book because the pandemic has limited how clients visit their doctors and therapists.
However, her website doesn't provide information on the cost per session. In our opinion, the cost per session should be readily available for the clients' reference.
Virtual and in-person appointments available
Therapeutic approach (psychotherapy and mental health counseling)
Free initial consultation unavailable
Cost per session unavailable on the website
Customer Reviews
Compassionate and caring
" She is a caring individual, that has a great listening ear and will provide you w great information to help you through your journey. " – Jared Dyck ⭐⭐⭐⭐⭐
" I feel so encouraged and hopeful after I see her. I always leave with a new perspective. " – Heather Dyck ⭐⭐⭐⭐⭐
" Marlene is one of the most compassionate individuals that I know. She listens, supports and guides in such a gentle caring way. " – Heather Frazer ⭐⭐⭐⭐⭐
FAQs
---
And that concludes our rundown of the top marriage counselors in Winnipeg. If you have availed of their service, tell us your experience!