5 Picks of the Best Funeral Home in Winnipeg
From the shock to the overwhelming grief, the loss of a loved one brings forth emotional turmoil—not to mention the stresses of having to arrange the funeral, wake, and other commemorative programs.
But that's why we're here, to provide you with ways to easily find and choose the best funeral home in Winnipeg. We listed the top funeral homes in town and FAQs about the topic and a choosing guide.
How Much Do Funeral Services Cost in Winnipeg
Here are the costs you may spend on various types of services from a funeral home.
| | |
| --- | --- |
| Type of services | Price range |
| Traditional funeral | $2,900-$7,000 |
| Graveside service | $2,500-$4,800 |
| Memorial service | $2,200-$6,000 |
| Direct cremation | $1,000-$3,500 |
The costs for traditional funeral, graveside, and memorial service already include the embalming and preparation of the body, casket, and burial plot. However, only the traditional funeral and memorial service include costs for the funeral home and director.
On the other hand, the direct cremation costs only include the urn and memorabilia, as well as the transportation and cremation processing of the body.
The Best Funeral Homes in Winnipeg
We've listed only compassionate, understanding, and organized funeral homes so you can have peace of mind when dealing with such an emotional process. So, feel free to pick any entry that suits your needs.
1. Voyage Funeral Home and Crematorium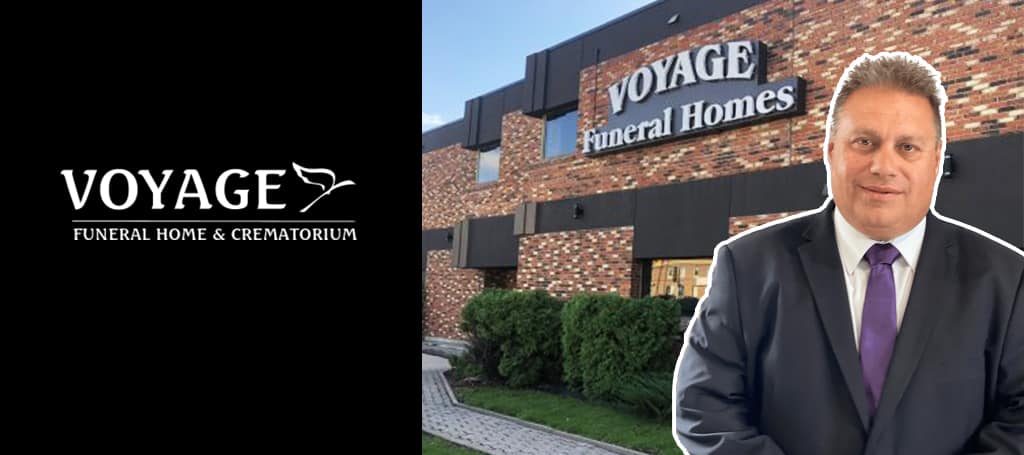 SERVICES
Funeral service with cremation, simple cremation, memorial service, funeral planning
WEBSITE
https://voyagefuneralhomes.com/
ADDRESS
220 Hespeler Ave, Winnipeg, MB R2L 0L4
CONTACT DETAILS
(204) 668-3151


[email protected]

OPERATING HOURS
24/7
Since 1998, Voyage Funeral Home and Crematorium has added cultural sensitivity, cost-effectiveness, and compassion to all its funeral services. It offers an array of services, from funeral planning up to burials.
For its funeral planning services, Voyage offers the option for live streaming so relatives from far away can still attend someone's funeral or memorial service. It also offers in-house catering for hassle-free planning of programs.
Other benefits that Voyage offers are pre-planning services for families with members under palliative care and a will estate kit for those with properties to leave behind.
Probably the best thing about this business is that it has two convenient locations in Winnipeg alone. Voyage even has a crematorium to avoid any delays for those seeking cremation services.
However, since Voyage's crematorium is outside of the city, there may be some instances of minor delays. We also heard customer complaints about Voyage's pricing when it comes to the total bill, so make sure to consult with them in detail about the cost.
Available pre-planning services
In-house cremation service
Additional will planning kit
In-house catering
Live streaming option to include distant relatives
Crematorium is outside of the city
Customer Reviews
Here are reviews to tell you of other first-hand experiences with Voyage Funeral and Crematorium:
"Mike and his staff made us feel like family for my mother's funeral with dignity and respect. Our experience with Voyage Funeral and Crematorium was extremely positive. I highly recommend to everyone and they were very very honest and professional."—Carmela Masotti
"Thank you very much to Jenny and all the staff of Voyage Funeral Home for your kindness and letting us see our sister, Bev Mowat, mother, grandmother, sister, and mother-in law, one more time in Selkirk Manitoba. We thank Mac who greeted us with all our hearts. He knew exactly how to prepare us. To us she looked more peaceful now, than she did in a coma in the hospital before she came back to life and went home for the last time, for her last year with us. We are deeply grateful to you. We will always come back to you in the future. "—Mike Nelson
2. Ethical Death Care Cremation & Funeral Planning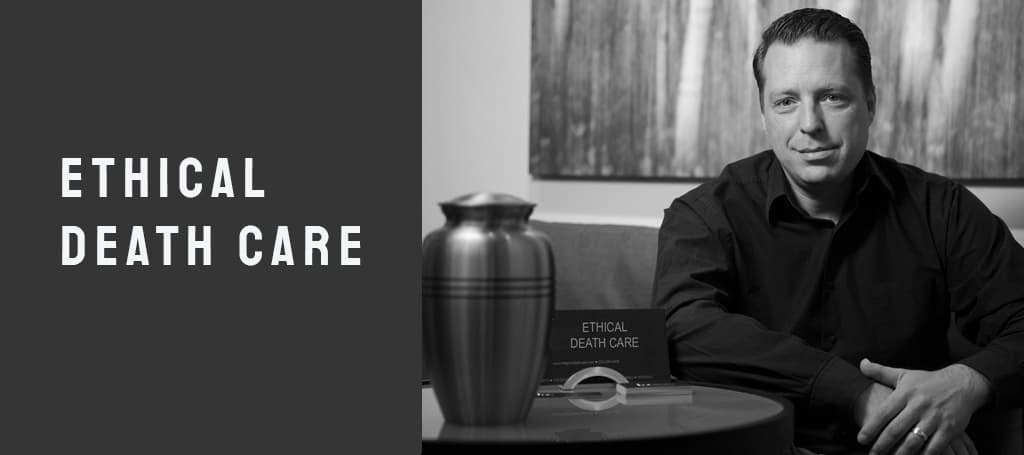 | | |
| --- | --- |
| SERVICES | Cremation, funeral services, memorials, funeral products |
| PRICING | All-inclusive package: $4495 |
| WEBSITE | https://www.ethicaldeathcare.com/ |
| ADDRESS | 530 St Mary Ave, Winnipeg, MB R3C 5R8 |
| CONTACT DETAILS | (204) 421-5501 |
| OPERATING HOURS | 24/7 |
Ethical Death Care provides fully transparent pricing for its products and services with its All-Inclusive Package. This package includes numerous benefits, with the first being a free transfer from the hospital to the funeral home.
Next, it also includes fees for staffing, catering, organizing, and planning of a celebration of life event. For such events, it utilizes Wellington Crescent, a venue with a 300-seating capacity for celebrating life events.
The package also includes cost-effective and accessible memorials, with free online obituaries and video tributes. Ethical Death Care even helps fill out the necessary documents to give its clients peace of mind.
After all these events, Ethical Death Care then continues with the standard cremation services included in the package. Lastly, Ethical Death's package also includes free consultations with estate executors.
Clients who want to have some keepsakes of their loved one's remains may also benefit from Ethical Death Care's jewelry and urn collections. The company also offers direct cremation services for those who only want a simple process.
Free consultations with the estate executor
Customizable level of involvement with planning and organizing process
Large memorial venue
Available jewelry memorabilia
Numerous inclusions in one cost-effective package
Event venue and cremation are outsourced
Limited to direct cremation and funeral service options
Customer Reviews
Read these reviews to know what to expect should you choose Ethical Death Care as the best funeral home in Winnipeg:
"I would highly recommend using Ethical Death Care Cremation & Funeral Planning. The staff just made every thing go so smoothly and they provided you with so much information that you needed to know. Very helpful with answering questions as many times as you may need to ask them."—Charlene Petrovich
"Ethical Death Care helped us through our stressful time. They listened and comforted us with answers and options that were appropriate for our loved one. Shane and Anthony properly attended to our needs with all the unknowns and the little details involved. They were very professional and were more than able to provide us with all the services that you would expect. We were not surprised by any hidden fees and/or 'forced' into paying for extra charges. Their service fees were straight forward and they were very reasonable compared to other companies that we dealt with in the past. Because of their experience and that they care, our loved one's wishes were fully and respectfully granted."—Lang Wong
3. Wojcik's Funeral Chapel & Crematorium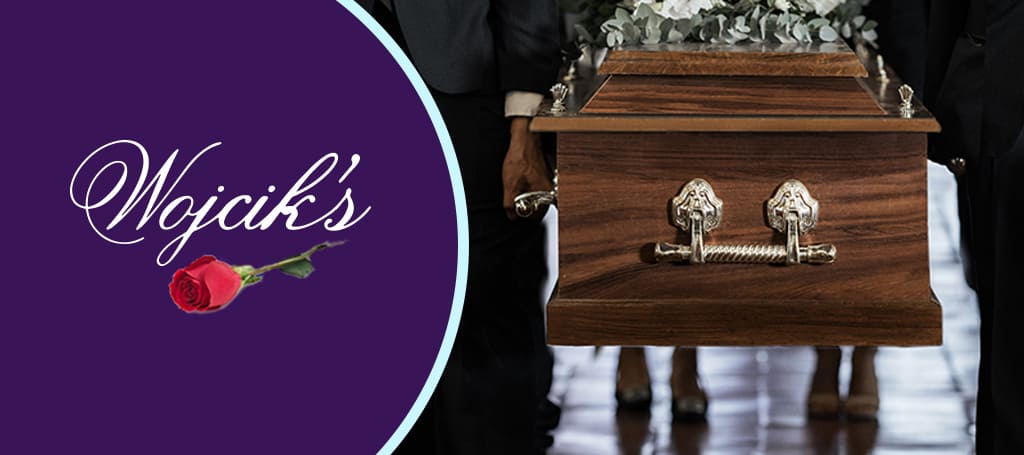 | | |
| --- | --- |
| SERVICES | Traditional funeral service, direct cremation, remembrance services |
| WEBSITE | https://www.wojciksfuneralchapel.com/ |
| ADDRESS | 2157 Portage Ave, Winnipeg, MB R3J 0L4 |
| CONTACT DETAILS | (204) 897-4665 |
| OPERATING HOURS | 24/7 |
Wojcik's is a family-owned funeral home that guarantees the level of compassion family members would give each other. It offers three main options: traditional funeral, direct cremation, and remembrance services.
This funeral home offers its help in planning for obituaries and organizing funeral services. Wojcik's also does clerical and admin services such as filing of necessary documents and transportation of the remains.
These services may already feel natural to all funeral homes, which is why Wojcik's goes up and beyond by providing two unique features.
First, it offers its planning services for families who choose to hold programs in the comfort of their home. Next, Wojcik's has two convenient locations, both complete with private and public viewing spaces to cater to more families at a time.
With its very own crematorium outside of Winnipeg, Wojcik's also guarantees fast and immediate simple cremation services. However, given that it has numerous amenities, it also pays more in taxes and may thus have higher rates than other funeral homes.
Applicable for at-home funeral services
2 convenient funeral home locations in Winnipeg
3 packages to choose from
Full coordination with other third-party companies
Numerous inclusions per service package
Customer Reviews
Read these customer reviews for more information about Wojcik's Funeral Home's services:
"Richard was courteous, personable, respectful and efficient in handling the funeral arrangements. The funeral arrangements consisted of a family viewing, a funeral service at their chapel, reception, and internment. The only glitch we had was not having the obituary printed in the memorial folder, which was partially due to a my own proof reading of the memorial for typos rather than for content. Overall, we were very pleased with Wojcik's service and our family decided to use them again for when our other elderly family members pass along. Thanks again Richard and team for your gracious help and assistance."—Kevin and Diane Friesen
"Words cannot describe how amazing it was to work with Wojcik's Funeral Chapel to plan my mother's funeral service. Richard Wojcik and his amazing team made it a very calm and peaceful experience for me and my family. They took care of everything."—Maya Katz
4. Glen Lawn Funeral Home & Cemetery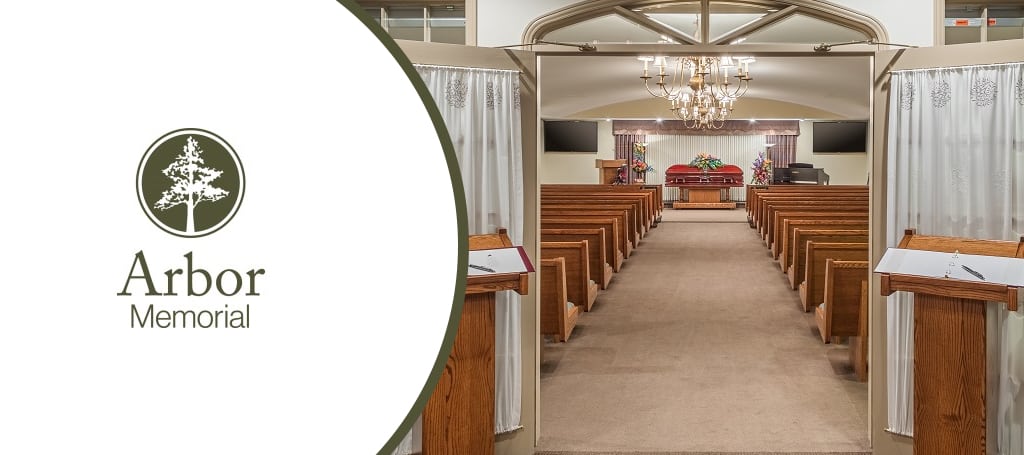 | | |
| --- | --- |
| SERVICES | Funeral services, memorial services, cremation, burial grounds and services |
| WEBSITE | https://www.arbormemorial.ca/en/glenlawn |
| ADDRESS | 455 Lagimodiere Blvd, Winnipeg, MB R2J 4J4 |
| CONTACT DETAILS | (204) 982-7550 |
| OPERATING HOURS | 24/7 |
Glen Lawn offers cremation, traditional burial, and memorial services. It can stick to formal and traditional funerals, but it's also open to customizing programs for the celebration of the deceased's passions in life.
Keepsakes like jewelry are also available for those choosing cremation services. But the best thing about this Winnipeg funeral home is that it also has a cemetery adjacent to it so families can contact only one provider for all their death care needs.
Its cemetery has traditional burial grounds and cremation gardens to cater to all types of burial preferences. Additionally, Glen Lawn also has indoor-glass-front columbarium niches for those who want to visit their loved ones anytime, regardless of any weather constraints.
Additionally, Glen Lawn also offers pre-planning services and an estate planning kit for those who want to ease their loved ones of stress when their time comes.
Adjacent to cemetery
Numerous options for burial (niches, gardens, and traditional grounds)
Pre-planning available
Cremation keepsakes
Highly-customized life commemoration services
Limited coverage of funeral planning services
Customer Reviews
Here are some customer reviews to tell you more:
"I would like to thank the Staff at Glen Lawn Memorial gardens for helping my family in our time of need… It was a very stressful time for us when Dad passed away, One particular staff member stands out and I would like to personally thank him, Daryl Schroeder was professional, caring and had OUR best interest's at heart. He was there for us from beginning to end, our family thanks you, we cant say enough."—Cassandra
"My parents gave us children the gift of preplanning their funeral – when my father passed away it was very emotional but because they had preplanned many of the hard decisions where already made – Glen Lawn even gave us an information package with step by step instructions on who contact to close some of his gov't id's such as CPP, SIN, Health card things we would have never thought of. Scott and his staff were amazing! Then 3 years later my brother suddently passed & we instantly went to Glen Lawn for the arrangements, once again it felt like family were taking care of us. Thank you Scott & Glen Lawn for everything."—Deb
5. Korban Funeral Chapel – Winnipeg Funeral Home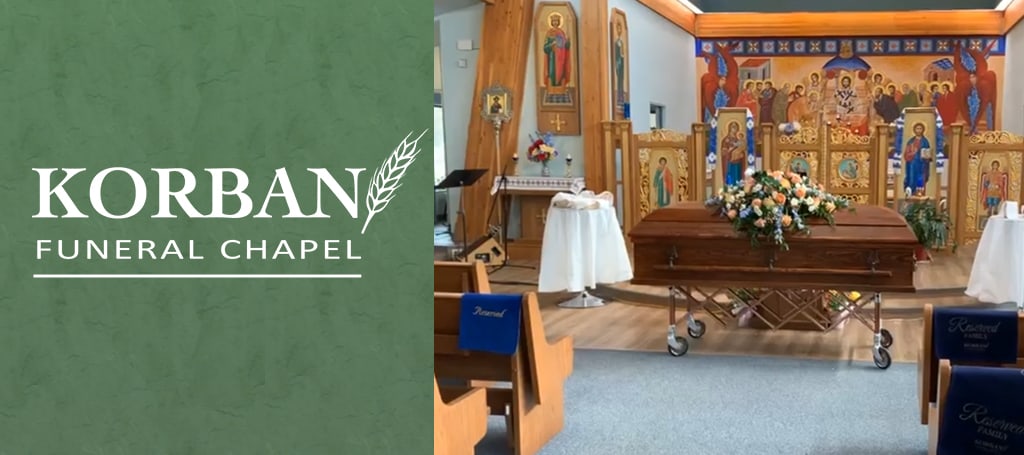 | | |
| --- | --- |
| SERVICES | Traditional funeral services, pre-planning services |
| WEBSITE | https://www.korbanchapel.com/ |
| ADDRESS | 907 Main St, Winnipeg, MB R2W 3P2 |
| CONTACT DETAILS | (204) 956-2193 |
| OPERATING HOURS | 24/7 |
Operating since 1977, Korban Funeral Chapel is a family-owned business with vast experience in solemn and down-to-earth practices. This quality makes Korban the best funeral home in Winnipeg for traditional funerals.
This funeral home provides its spacious and private chapel that can comfortably seat 200 guests. Korban also has a separate reception area that can hold up to 120 people.
Other amenities include ample parking space and functional video and audio equipment. Korban also has a partner caterer to provide a full six-course meal, as well as coffee and donuts for refreshments.
But what separates Korban apart from its competitors is it offers traditional services such as Catholic, Filipino, Portuguese, and Ukrainian funerals. Plus, it also delivers grief support services to its customers.
However, despite its positive qualities, Korban doesn't have a crematorium or a partner for cremations. So, those booking memorials with cremation need to contact another provider.
Spacious chapel and reception area
Caters to specific traditional funerals
Direct connection with a caterer for comprehensive catering services
Available grief support services
Pre-planning services
No in-house cremation services
Limited to funerals and memorial services
Customer Reviews
Read these reviews from customers who claimed that Korban is the best funeral home for them:
"The staff is positive and very helpful. There is a handful of funeral homes in Winnipeg, but this is our go to place whenever we lose a loved one. Every funeral I've attended here has had the highest quality and care."—Tracy Brown
"Korban Funeral Chapel handled the funeral arrangements for my mother and most recently, my father. The caring, professional staff made the very difficult time of loss much easier. They are highly flexible and accommodating. The sensitivity shown to our family will always be remembered. So many little details were handled seamlessly. The reception area is cozy and welcoming. Every aspect of their services were tailored to our family's wishes. Thank you, Jane and Joe, for all that you did."—Roma Konyk Hanson
How to Choose a Funeral Home
Here are factors to consider when choosing a funeral home:
1. Accommodation of existing religious practices
The chosen funeral home should be able to accommodate all the needs and requirements of religious people.
2. Scope of services
To take some stress away from your hands, you better choose a funeral home that can handle everything, from program planning to the overseeing of events during the funeral/memorial. But if you want to be very involved with the process, choose a funeral home with flexible services.
3. Customer services
Getting through the funeral can be a tough ride for you and your family. So, make sure your funeral home is understanding enough to accommodate your needs.
4. Costs
Unless you can claim financial benefits for your loved one, choose a funeral home with services you can afford. Some funeral homes even offer flexible financial payments since they understand how costly a death of a loved one can be.
Frequently Asked Questions about Funeral Homes
---
We hope this list helped you find the best funeral home in Winnipeg. With any of these funeral homes, you'll be able to get the support and guidance you need for such a challenging time.
If you know any other funeral homes we haven't reviewed, please leave us your suggestions so we can look at their services, too.
Losing a loved one may be too much to take mentally and emotionally, which is why you may need the help of the best psychologists in Winnipeg to cope. With these mental health specialists, you can improve how you deal with grief and all the other feelings that come with such a personal loss.