The 9 Best Painters in Winnipeg
Featured Image Source: Pixabay
Paint brings colour and personality to even the simplest of house designs. So, if you're looking to replace the overall feel and freshen up your house this year, then you should look for the best painters in Winnipeg.
Sure there are lots of painters in town, but don't worry because we've gone ahead with the screening process and compiled a list of the best painting contractors for you. And if you still can't decide which one to choose, we have a price table and guide to help you out.
Things to Consider When Hiring a Painter
Let's talk about some basic rules for hiring painters first.
First, you should consider whether the painter is licensed and insured so that you'll receive only the best exterior or interior painting in Winnipeg.
You should also consider the painter's expertise so that you can be sure they can handle the type of painting you want for your home. So, if you wish for specialty painting services with textured or faux finishes, make sure to ask your painter about the extent of their expertise.
You should also take their reviews into account because ratings and feedback say a lot about their quality of service.
How Much Does House Painting Cost in Winnipeg
We checked out different painters and put together this table of average painting costs:
| | |
| --- | --- |
| Type of painting | Price Range for House Painting |
| Exterior painting (for at least 1,500 sqft or 140 sqm) | $2,000-$4,500 |
| Interior wall painting | $500-$2,700 |
| Flat paint | $30-$60 per gallon |
| Semi-gloss paint | $60-$400 per gallon |
| High-gloss paint | $20-$150 per gallon |
| Primer paint | $12-$20 per gallon |
Factors for costing include the texture of walls, size of rooms and coverage area, and speed.
You may also pay more for exterior painting if you need sealants or have sidings and other exterior furnishings.
The Best Painting Contractors in Winnipeg
Now, we hope you already know what you're looking for in a painter because we're about to share with you our list of the best Winnipeg painters! Take note, we only picked insured and licensed painters for security purposes.
1. Perry Wellington Painting and Decorating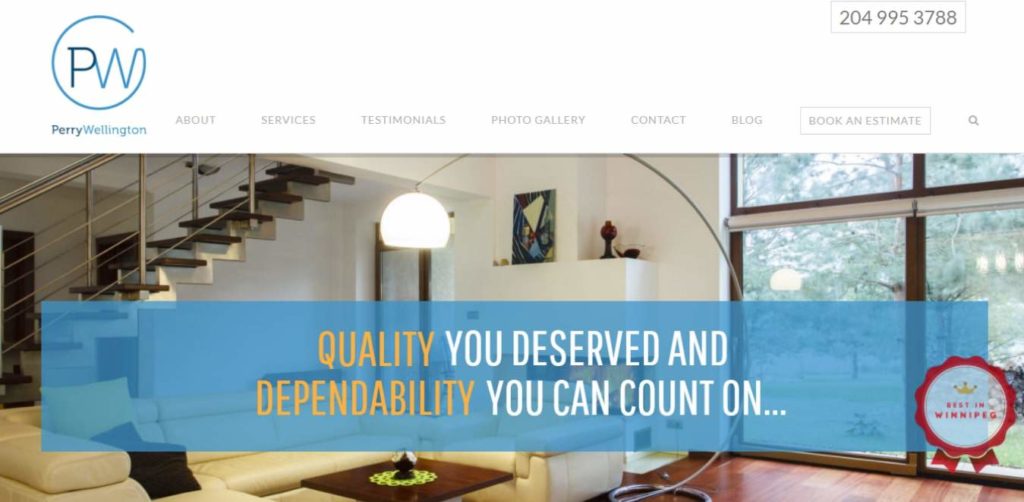 BEST FOR
All types of painting surfaces
SERVICES
Exterior painting, interior painting, commercial painting, stucco repair, carpentry, power washing
WEBSITE
http://www.perrywellington.com/
ADDRESS
309-1200 Sherwin Rd, Winnipeg, MB R3H 0K4
CONTACT DETAILS
(204) 995-3788

[email protected]

OPERATING HOURS
Monday – Friday: 8:00 AM – 6:00 PM
Saturday: 10:00 AM – 4:00 PM
Sunday: 12:00 AM – 4:00 PM
Perry Wellington is one of Winnipeg's best interior and exterior painting contractors. It hires over 15 of the city's finest painters for a full service of preparation, painting, and cleaning.
You can even hire Perry Wellington for carpentry, stucco repair, and power washing for your house. This painting contractor also provides a 2-year warranty for its painting work to ensure customer satisfaction.
Additionally, Perry Wellington has experience in painting hotels, restaurants, retirement homes, and other commercial buildings.
To meet its client's deadlines, no matter how tight the schedule, it even employs more people working multiple shifts. That dedication to timeline fulfilment is what put them on our list of the best painters in Winnipeg.
Can work multiple shifts for tight schedules
Paints on all types of surfaces
50% down payment before the job is done
Customer Reviews
Customers value Perry Wellington for its professionalism, responsiveness, and punctuality. Here are some customer reviews that voice out these thoughts:
"Excellent service! The team at Perry Wellington painted our house exactly as we wanted. More importantly they completed the project on time and cleaned up perfectly. I highly recommend!"
"Perry Wellington did a beautiful paint job on the exterior of our home. The service was excellent – the onsite workers were communicative, courteous and efficient and Tom kept in touch with us before, during and after the job. And the price was competitive. We recommend Perry Wellington"
2. Brilliant Colours Professional Painters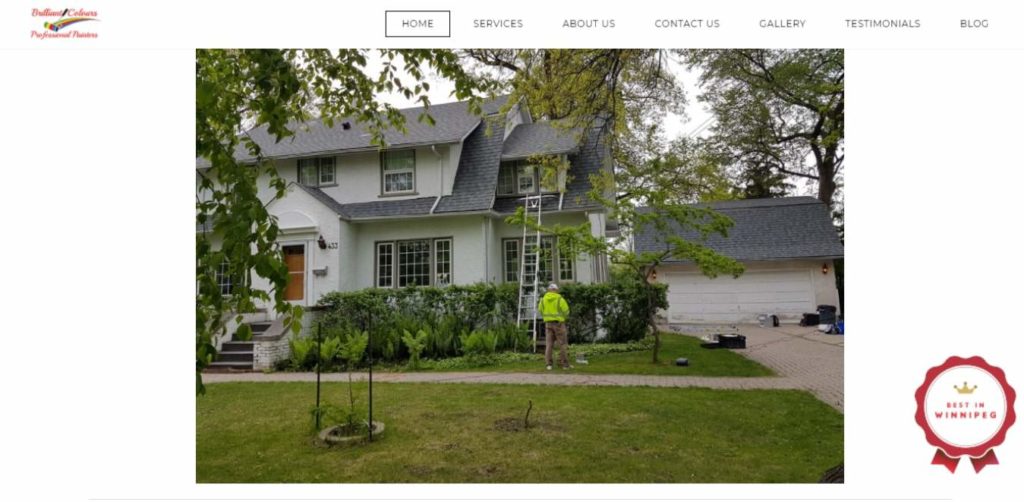 | | |
| --- | --- |
| BEST FOR | Affordability |
| SERVICES | Exterior painting, interior painting, commercial painting, minor carpentry, stucco repairs, roof cleaning |
| WEBSITE | http://www.brilliantpropainters.com/ |
| ADDRESS | 74 Abbeydale Crescent, Winnipeg, MB R3Y 0B2 |
| CONTACT DETAILS | (204) 292-9048 |
| OPERATING HOURS | Monday – Saturday: 7:00 AM – 7:00 PM |
Brilliant Colours Professional Painters provides exterior and interior painting for commercial and residential spaces at affordable prices. It is also a one-stop-shop for all your painting needs because it can do various repairs before painting.
This painting contractor prides itself on providing free estimates and in-home consultations. With these services, you can determine whether its best Winnipeg painters are a good fit for your project.
And because it is a family-owned business with regular homeowners such as you, Brilliant Colours also guarantees to treat your property with care.
Affordable services
Free estimates and paint consultation
Excellent customer care
Handles minor repairs and preparations before painting
Building restorations
Relatively new in the industry
Small team of three
Customer Reviews
Brilliant Professional Painters may just be the best painting contractor in Winnipeg with a perfect 5-star rating due to its timely, affordable, and professional services. Here are some of the customers who have experienced it:
"Tope and Akin were very skilled and did an amazing job! They were courteous and helpful. The job was completed on time and thd clean up was incredible! We will definitely use them again!"
"From start to finish, most professional painters we have ever used. Responded quickly to provide an in-home estimate and scheduled work to meet our requirements. For the scope of work we found them to be very affordable. Finished product was outstanding. Would definitely use them again and recommend them unreservedly."
3. InsideOut Painting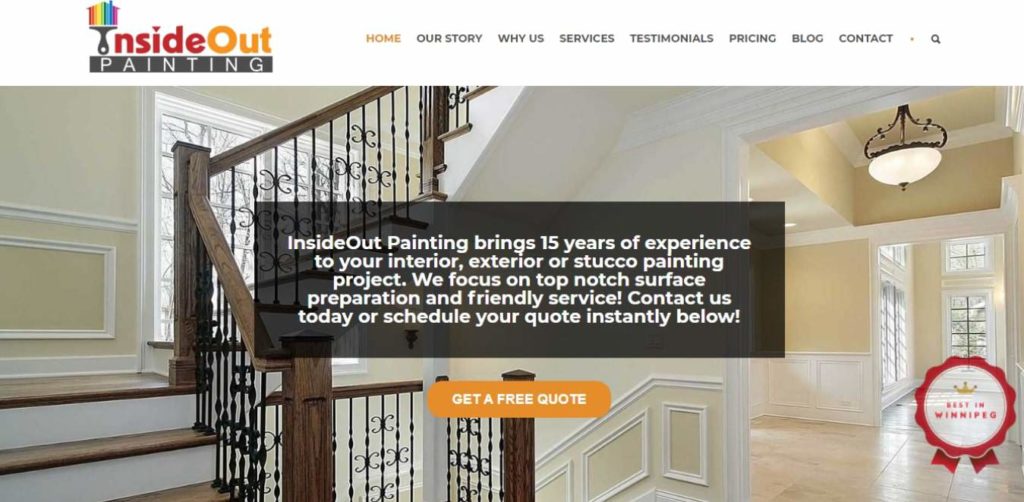 BEST FOR
Warranty
SERVICES
Exterior painting, interior painting, commercial painting, drywall and plaster repair, wall covering installations, stucco repair, minor carpentry jobs
PRICING
Interior: $737-$1455
Exterior: depends on surface
Cabinet painting: $4000-$10000
WEBSITE
https://insideoutpainting.ca/
ADDRESS
1383 Pembina Hwy #101, Winnipeg, MB R3T 2B9
CONTACT DETAILS
(204) 489-1361

[email protected]

OPERATING HOURS
Monday – Friday: 8:00 AM – 5:00 PM
InsideOut Painting brings to the table its 15 years of experience in interior, exterior, and commercial painting. It also offers cabinet painting and deck painting to improve other areas of your home.
Besides its years of experience, InsideOut is also the best for warranty coverage because it offers up to 3 years of labour warranty coverage.
Its website also shows its detailed schedule to make booking an appointment and colour consultation with InsideOut easily. You can also check out detailed pricing tables on the site so you can check if their services fit your budget!
3-year warranty
Transparent scheduling and pricing in website
All-around painting services
Large team of 10-16 painters
Paint layers are low on most jobs unless asked to apply more
Customer Reviews
Customers appreciate the transparency and quality of service InsideOut provides. Read these reviews from customers who found the best painters in Winnipeg from InsideOut for more details:
"This is our second time hiring Insideout Painting to paint our condo. From meeting with Ben for a quote to the finished paint job everything went like clockwork. Painters Rocko and Tony were professional and did a great job! Clean up was second to none! Highly recommend this company!"
"We dealt with Ben & his team on a full exterior stucco/wood siding paint job on our older home and the results were really great. Ben was always available for phone calls, sometimes with other trades as well to work out timing etc., which we really appreciated. Timing was as promised, pricing was transparent, and we were very happy with the results overall. Would recommend to others in the Winnipeg area."
4. WOW 1 DAY PAINTING Winnipeg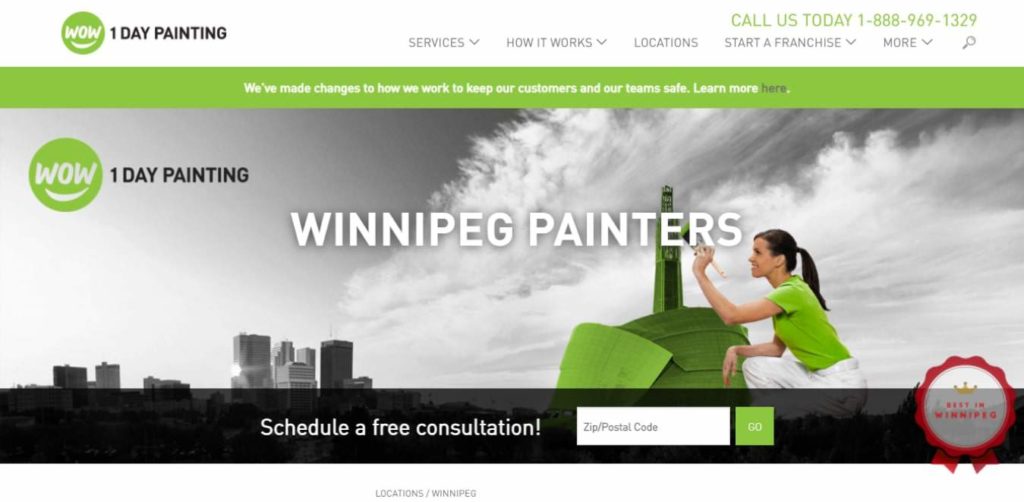 If you want to get your house painted quickly but professionally, then WOW 1 Day Painting may be the best Winnipeg painter for you. This nationwide contractor promises to start and finish on time so you can come home to newly painted interiors and exteriors.
WOW 1 Day Painting offers free on-site estimates where you can also consult them on what colours and types of paint are best for your building. This painter also has a featured colour of the month to provide its clients with some inspiration.
To guarantee customer satisfaction, WOW 1 Day Painting also writes a written 2-year warranty for its painting projects.
1-day painting job in most cases
Free on-site consultation and quotation
Paints on almost all types of surfaces
Eco-friendly paint available
Some complaints on communication issues
Customer Reviews
Read these reviews to learn more about what you can expect if you choose WOW 1 Day Painting as the best Winnipeg painting contractor:
"Very responsive. Easy to book for estimate and answered all of my questions. Quote was very reasonable price. The team was on time and professional. I was shocked they finished the work as quickly as they did. They cleaned up all of their materials. Very happy with the quality of the work. I would definitely recommend."
"Carlito and his crew were prompt, friendly, professional and went above and beyond their job!!!! In at 8:30 done by 5:15. WOW it looked clean, fresh and new! I would highly recommend WOW for any one, happy they are in Winnipeg. I will have them back anytime. Thanks"
5. Paint with Pinnacle
BEST FOR
Trained, professional painters
SERVICES
RESIDENTIAL PAINTING
FLOOR COATINGS
COMMERCIAL PAINTING
INTERIOR PAINTING
EXTERIOR PAINTING
STUCCO PAINTING
DRYWALL REPAIR
WEBSITE
https://paintwithpinnacle.com
CONTACT DETAILS
204-900-8409
[email protected]
OPERATING HOURS
Monday – Friday, 8AM to 6PM
Paint with Pinnacle sets itself apart from other painting companies with its rigorous screening and training procedures. Clients can rest assured that painters from Pinnacle are all vouched for in terms of character, professionalism, skills, and expertise.
Aside from its expert team, Paint with Pinnacle also offers many in-house paint options for both interior and exterior painting needs. The company's years of experience in the business also allows it to competently work on both residential and commercial painting jobs, painting walls that last for a long time.
Their other services include stucco painting, floor coatings, and drywall repairs. Regardless of the job, Pinnacle endeavours to offer only the best to its clients.
Thorough prep jobs
Skilled and professional painters
Excellent post-paint cleanups
Customer Reviews
Read these reviews to learn more about what you can expect if you choose Paint with Pinnacle as the best Winnipeg painting contractor:
"So pleased with the home exterior painting carried out by Darren and Bikram of Pinnacle Painting and Decorating. In addition, the suggestions and assistance received from Paul, Company President, were appreciated and extremely helpful. We are so pleased with our home's new look. The attention to the little details was very evident in the quality of the work carried out. Your friendly and professional attention is very appreciated."
"Very well done, painted exterior of my home this past summer. The paint they used was high quality. I wasn't home when they painted and could not even tell they were there. Clean up was very good. Highly recommend!"
6. Winnipeg Painting Services
BEST FOR
Fairly-priced painting services
SERVICES
House painting, Commercial painting, Residential painting, Interior painting, Exterior painting, Door painting, Stucco repair
WEBSITE
https://winnipegpaintingservices.ca
CONTACT DETAILS
(866) 349-9429
[email protected]
OPERATING HOURS
24/7
There is no denying that professional paint jobs tend to be expensive. Not with Winnipeg Painting Services, though.
This company has been in the business for 25 years, and has unfailingly provided fairly-priced top-notch painting services to the people of Winnipeg since the time it first began operating.
They accomplish such a feat with the help of their professional painter team, whose members have the skills and experience to paint both residential and commercial properties.
With their expertise, and the high-quality materials the company is committed to using each time, Winnipeg Painting Services continues to prove it is one of the best painting contractors in the area.
Free estimates
Competitive rates
Prompt and professional services
No drywall repair services
Customer Reviews
Read these reviews to learn more about what you can expect if you choose Winnipeg Painting Services as the best Winnipeg painting contractor:
"I loved how WPS painted my house. I have worked with plenty of painters over the years and I have never came across this kind of professionalism. I painted my house white and it costed me 400 dollars per room. They also did some Stucco repair and painted the interior of my house with great accuracy. I am more than positive that they will paint my house again and I definitely recommend them. If I could give them 10 stars I would do it."
"Looked for the best local Winnipeg painters to paint my 4 bedroom house. I must say that I am not surprised, there are plenty of skilled painters in our town. I am happy with the results. It was not that expensive too. One of the cheapest quotes that I received. Thank you WPS – Winnipeg painters!"
7. Stephens Edge

Next on our list is a painting company that loves to take its time studying each property for estimate in order to arrive at a number that can please both client and painter: Stephens Edge.
Stephens Edge, in all 25 years of it existing, has promised no hidden charges in the painting jobs they take on. Stephen and his team are thorough in the inspections so clients know what to expect once they have gathered the materials, painted the property, and revealed the end result.
Rates with Stephens Edge are competitive, and many have also deemed it fairly priced given the skills and expertise of the painters as well as the quality of the materials used in every project.
It's also worth noting that Stephens Edge painters are all permanent employees, meaning that they have been vouched for in terms of professionalism and skill.
So, if you're on the hunt for painters for your property, do check out Stephens Edge.
No hidden charges
Professionally trained painters
25 years in the business
Some reported communication issues
Customer Reviews
Read these reviews to learn more about what you can expect if you choose Stephens Edge as the best Winnipeg painting contractor:
"We were very impressed with Pete and his crew when they turned up on time at our house in Stonewall to start the painting and repair work on our ceilings. It got even more impressive over the days of getting into the work. The quality,care and pride that was taken in doing the painting and repair work was simply awesome. The house was left clean and tidy at the end of each day. I would definitely recommend Stephen's Edge painting. Will definitely be seeing you again Pete and your crew sometime in the future. Thank you very much again for your excellent work."
"I would like to express my great compliment to this professional team. Everybody was such enthusiastic and working very hard to bring the attractive modern style and a fresh new look to the interior house. Especially, I want to give the huge thanks to Pete who is the experienced owner of this company. Thanks to his vision and advices the final job was perfectly done. Besides, I am very grateful to Miguel. He was a team leader, easy going and professional. Always polite and punctual. In spite of having three different quotes from the another painting companies, I chose the Stephen's Edge. The price was negotiable and very reasonable. The final result was great. Overall, I would highly recommend this painting company to everybody who is looking for the meticulous and professional job. You won't be never disappointed. A+"
8. Colour Scheme Professional Painters
| | |
| --- | --- |
| BEST FOR | Residential, Commercial, Industrial Painting and Refinishing |
| SERVICES | Interior and Exterior painting |
| WEBSITE | https://www.colourscheme.ca/ |
| CONTACT DETAILS | 204-452-3633 |
| OPERATING HOURS | Monday – Friday, 7AM – 3PM |
Colour Scheme Professional Painters offers high-quality painting services for an affordable price. They have 25 years of experience in their painting services.
What we like about their services is how extensive it is. Their residential services cover interior and exterior painting, as well as repainting and refinishing furniture.
If you're keen on looking for a place where you could do refurbishing and have a fresh coat of paint splattered on your walls, Colour Scheme Professional Painters is a good company to consider.
Apart from this, they also offer commercial and industrial painting. So when you need a fresh coat of paint in your office or warehouse, they have you covered too.
A standout quality that they have is that not only do they have their previous works on their website, but they also publish Facebook videos about their projects.
This is actually a good thing for you and other customers who are looking for a quality company they can trust. You can see from their videos what kind of work that they do, and if you're satisfied, you can call Colour Scheme Professional Painters.
BBB Accredited
4- year warranty on available services
Facebook videos available to see their previous works
Online request form available
Customer Reviews
Read these reviews to learn more about what you can expect if you avail Colour Scheme Professional Painters' services
"We have nothing but positive things to say about Colour Scheme and their staff, who came out to our home just before Christmas to complete painting of our kitchen cabinets. All the staff were incredibly friendly, respectful and professional while in our home, from Tricia in the office to Ihor the carpenter and Igor and Jass with their painting skills. We were thrilled to find such professionals who were willing to come to Lac du Bonnet to complete our project and accommodating our tight timeline. We could not be happier with our refreshed kitchen which now looks updated and modern and at the fraction of the price it would have been to replace the cabinets! Thank you Tricia and your staff. Would highly recommend your team for any painting projects.."
"We recently used Color Scheme for the first time to repair and paint our exterior trims and stucco.  We found the process from start to finish to be very professional and well managed, with excellent communication.  We had Tim as our painter and he did an excellent job of informing us about the work, any issues to address, suggestions & options, and above all he did a fantastic job in sanding and painting our exterior trim.  The windows and door now "pop" from the street.  We thank everyone at Color Scheme for a wonderful experience and a fantastic job!  We will be sure to use them again and would not hesitate to recommend them to family, friends, and anyone in need of paining around the house!"
9.   Zahara Painting
It is amazing to see a painting company last for 15 years and counting as this can only show how their workmanship is when it comes to providing their services to the locals of Winnipeg, may it be for their houses or commercial properties.
And this company that we are talking about is Zahara Painting.
They have been servicing the people of Winnipeg with their top-of-the-line quality of service as the Twins of Zahara Painting, their master painters have been trained by their grandfather's watchful eye at a young age with painting and the value of good character and the satisfaction of a job well done. We are indeed impressed that these boys are now owners of the company.
With the watchful eye influenced by their grandfather, they are and also have employed experienced professionals that have the expertise and equipment to handle your job, large or small, in a prompt, professional manner. If you want to give your interior or exterior a new look, they can handle the job from start to finish.
They also oversee every project from start to finish – they do not outsource any of their work, on whatever type of project you have. Plus they have a variety of colors and coats for you to choose from on which to create the most appropriate look for your property. Their coats are all weather-resistant, so you can wear them all year round.
Aside from that, you will never need to worry about their services as they are licensed, bonded, insured, 3-year written warranty and BBB accredited business.
Free estimate
Free color consulting
No subcontractor
Fully licensed & insured
Solid reputation
Highly qualified, skilled & experienced painters
Invoice upon completion, inspection & satisfaction
 5-year warranty on workmanship & materials
 Foreman on every site & A+ BBB
Customer Reviews
Read these reviews to learn more about what you can expect with Zahara Painting:
"Adam and his colleague were fantastic to deal with. Super professional and worked around our busy schedule. Our facility looks brand new after they were done. I wouldn't hesitate to use them again!" – Kevin Vint
"Adam was very helpful during this process ! He met me at the paint store to help with the color selection because I was still unsure ! He even worked on a Sunday to make sure it was done before I moved in ! Highly recommend !" – Jazmine Jutra
Frequently Asked Questions
---
We hope our list of providers, FAQs and consumer's guide helped you with your search for the best painters in Winnipeg. Now all you have to do is decide on a colour scheme you'd like to see in your house.
If you're looking for more home improvement lists, you can also check our article on the best window replacements in Winnipeg. With these contractors, you'll be able to match your exterior design with your repainting project and hopefully improve your curbside appeal and increase your home's value.