Our Top 5 Choices of the Best Dermatologist in Winnipeg
Your skin brings you so much protection, which also makes it very prone to various risks like overexposure to the sun or irritation. So, it is only fitting that you take care of it with the help of the best skincare products and advice from the best dermatologist in Winnipeg.
So, we're here to talk about the best clinics with dermatologists to help you out. We also listed some FAQs and tips on how to choose the right dermatologist, so be sure to read through the whole article.
Now, before we tell you about our top picks, let's see how much you may likely spend in a clinic.
How Much Do Dermatology Services Cost in Winnipeg
These are the types of services you may get from a dermatology clinic and their respective costs. Note that treatments for medical dermatology conditions are covered by provincial insurance.
| | |
| --- | --- |
| Type of treatment | Price range (per session/) |
| Consultation | $0-$250 per session |
| Skin medication (oral and topical) | $14-$120 per medication |
| Laser treatments (for acne, pigmentation) | $800-$2,800 per session |
| Mole removal | $150-$500 per session |
| Hair rejuvenation | $1,100-$14,000 |
| Microneedling | $350-$500 per session |
| Facials | $45-$150 per session |
The Best Dermatologists in Winnipeg
In this list, you'll find the best board-certified dermatologists in the city who are well-praised for their quality of treatments and patient care. We also tried to diversify our entries to cater to different priorities and skincare concerns.
1. Dr. Victoria Taraska – The Derm Centre
SERVICES
Acne scars, hyperpigmentation, moles, tattoo removal, red spots, rosacea, vein treatments, anti-aging or positive ageing treatments, non-invasive cosmetic procedures, facials, laser treatments, micro-needling, narrow band UVB light treatment, microdermabrasion, fat reduction/body contouring, skin analysis, wrinkle treatments
WEBSITE
http://www.thedc.ca/
ADDRESS
1385 Grant Ave, Winnipeg, MB R3M 1Z9
CONTACT DETAILS
(204) 474-1221


[email protected]

OPERATING HOURS
Monday, Wednesday, Friday: 9:00 AM – 5:00 PM
Tuesday, Thursday: 9:00 AM – 5:30 PM
Saturday: 10:00 AM – 2:00 PM
The Derm Centre has the best dermatologist in Winnipeg for non-invasive and inclusive procedures, Dr. Victoria Taraska. She is trained in both medical and cosmetic dermatology, thus providing treatments for all skin concerns.
Dr. Taraska also has over 25 years of experience and is a proud member of the Royal College of Physicians and Surgeons of Canada. Within her 25 years of experience, Dr. Taraska has also perfected her gentle yet effective approach.
As part of the clinic, Dr. Taraska has access to the VISIA Skin Analysis technology, which lets her assess and examine her client's skin thoroughly. This assessment thus helps her provide personalized and effective solutions for her clients.
But despite her wide expertise, Dr. Taraska is more well-known for her cosmetic treatments. So, if you're looking for medical treatments for more severe conditions, then the Derm Clinic and Dr. Taraska may not be the clinic for you.
Uses VISIA Skin Analysis
Gentle non-invasive yet effective procedures
Caring medical staff
Greater focus on cosmetic dermatology
Customer Reviews
Aside from her vast expertise and experience, Dr. Taraska, along with her staff, is also praised for her excellent patient care. Here are some of her customer reviews:
"I have been going to Dr. Taraska for a few years now and she is so professional and makes you feel so good about yourself. She listens to your concerns and never pushes you to purchase anything from the clinic. My skin looks amazing because of her . The staff is also welcoming and friendly! Thanks so much for being an awesome clinic …makes my experience such a positive one!"—Talia Bailey-Robertson
"The front staff at The Derm Center are very friendly and welcoming. Dr. Taraskas nurse makes you feel at ease and will go over whatever concerns or questions you have with such certainty and confidence. Dr. Taraska, absolutely AMAZING! So professional yet easygoing. She makes you feel so comfortable and confident . Dr Taraska will go over any procedure and explain thoroughly . I would recommend The Derm Centre and Dr Taraska 100% !!!"—Larysa Care
2. Dr. Jill Keddy-Grant – Winnipeg Clinic
SERVICES
Pediatric dermatology
WEBSITE
https://www.academyskincentre.ca/
ADDRESS
500 Academy Rd, Winnipeg, MB R3N 0C8
CONTACT DETAILS
(204) 957-0141
OPERATING HOURS
Monday – Thursday: 7:00 AM – 5:00 PM
Friday: 7:00 AM – 3:00 PM
Now, if you need to find the best dermatologist in Winnipeg for your children, then Dr. Jill Keddy-Grant may be who you need. She is yet another board-certified dermatologist who is also a member of the Royal College of Physicians of Canada.
As an expert in pediatric dermatology, she guarantees a high level of compassion and patience for her clients.
Dr. Keddy-Grant is also known to be informative as she keeps her patients in the know before ending the appointment and providing clients with prescriptions. Additionally, she also listens to her patients' needs and feedback.
As part of the Winnipeg Clinic, Dr. Keddy-Grant thus offers her clients access to various types of healthcare services and diagnostic tests. The clinic also has a mobile app so patients can have their skin topical creams and oral medications delivered to their doorstep.
Given that Dr. Keddy-Grant is a part of this public clinic, you may have to go through long lines and an unpleasant reception experience.
Expertise in pediatric dermatology
Mobile app for medication delivery
Some complaints about rescheduling and rude receptionists
Customer Reviews
Among the many positive traits of the doctor, her patient care services are what was mentioned the most. Here are some reviews to tell you what to expect, should you choose Dr. Keddy-Grant as the best dermatologist for you or your child's situation:
"Dr Keddy Grant is our sons dermatologist. The best we've ever seen, takes very special care to our sons eczema. Will answer any questions asked and very knowledgeable to what creams and medication you need.""—Matt B
"After a year and a half of many doctors not knowing what is wrong with me, I was finally referred to Dr. Keddy Grant for a painful skin condition on my shins. I really needed help, and she was so sweet, caring and helpful. She was the doctor who diagnosed me with my skin condition, and it took her literally 10 minutes of questions (after countless doctors). She is amazing. I was a teenager when I began seeing her, and often times I needed to see her urgently, and she would always make time for me with days notice. I am so grateful for her. She is always so friendly and empathetic. Probably one of the best doctors I have ever had. I would recommend her to anyone."
3. Dr. Shane Silver – Academy Skin Centre
SERVICES
Light treatments, biologic drug injectables, warts treatment, vaccines
WEBSITE
https://www.academyskincentre.ca/
ADDRESS
500 Academy Rd, Winnipeg, MB R3N 0C8
CONTACT DETAILS
(204) 957-0141
OPERATING HOURS
Monday – Thursday: 7:00 AM – 5:00 PM
Friday: 7:00 AM – 3:00 PM
Dr. Shane Silver is yet another board-certified dermatologist offering medical dermatology services in his very own clinic, Academy Skin Centre. Dr. Silver is also active in the academe as he trains medical students and residents alike.
He is also active in research and has been published in numerous journals and textbooks. With his commitment to research, Dr. Silver guarantees only the most innovative and effective treatments to its clients.
For this reason, Academy Skin Center offers services like non-invasive light therapy for various skin conditions like atopic dermatitis, eczema, psoriasis and vitiligo.
Dr. Silver and his clinic also guarantee free consultations for cosmetic procedures. They even go above and beyond by providing lots of free parking spaces and short waiting times.
However, we've also read reports on poor customer services and instances where the dermatologist rushed with the appointment. So, beware of its consistency when it comes to patient care.
Free parking and short wait times
Caters to both medical and cosmetic concerns
Free consultations, even for cosmetic concerns
Non-invasive treatment for numerous skin conditions
Complaints about customer service
Customer Reviews
Most of this clinic's patient reviews were about the effectiveness of its treatments. Here are some of the customers who found Dr. Silver to be the best dermatologist in Winnipeg:
"Dr. Silver is amazing and his staff is fantastic! I saw several Dermatologists to no avail before being referred to Dr. Silver. I have gone from abysmal to totally clear skin for nearly 2 years now. I am grateful. I seldom have to wait but if I do I consider it a small cost for seeing the best Dermatologist in the city"—Karolyn Ryback
"The best dermatologist in Winnipeg. I used to have very bad psoriasis for years till I seen him. After a couple visits he prescribed this new drug to me and I my skin started clearing. This was in 2009. I have a lot more compliments but most of the time I am there I am no longer than 15 min and don't wait long. I recommend this great dermatologist to anyone."—Craig Larocque
4. Dr. Ali Esmail – Visage – Cosmetic Skin, Botox, Laser & Facial Plastic Surgery & Dermatology Clinic Winnipeg
SERVICES
Scalp micro pigmentation, hairline lowering, PRP treatments, hair transplants, surgical and non-surgical rhinoplasty, mini-liposuction, deep neck lift, neck lifts, otoplasty, ear lobe reduction or hole closure, eye lift, upper blepharoplasty, lower blepharoplasty, brow lift, fat grafting, lip lift & lip fillers, face slimming, surgical and non-invasive facelifts, chin augmentation
WEBSITE
https://www.visagecosmeticclinic.com/
ADDRESS
5-920 Lorimer Blvd, Winnipeg, MB R3P 1G1
CONTACT DETAILS
(204) 219-2154


[email protected]

OPERATING HOURS
Monday, Wednesday, Friday: 9:00 AM – 5:00 PM
Tuesday, Thursday: 10:00 AM – 6:00 PM
Saturday: 10:00 AM – 2:00 PM
Now, if you're looking for a dermatologist for scalp and hair treatments, then Dr. Ali Esmail from Visage Dermatology Clinic may help. He offers scalp micro pigmentation treatment, which is one of the most effective treatments for hair loss.
Dr. Esmail is special for this treatment as he has trained in hair restoration procedures during his fellowship program. He is also the sole dermatologist in Winnipeg who received fellowship training exclusive for facial plastic and reconstructive procedures.
Visage also offers all types of invasive treatments for the scalp, hair nose, ears, eyes, neck, chin, lips, and whole face. With his expertise in head and neck surgery, he can also cater to those with medical deformities.
But what really sets this doctor apart from others is that Dr. Esmail enjoys helping his patients achieve their best selves.
These qualities and his success with complex surgeries like blepharoplasty and plane facelift are testaments to Dr. Esmail's capability for cosmetic procedures. That said, you may have to find another dermatologist if you're looking for medical dermatology services.
Sole fellowship-trained facial and reconstructive surgeon
Available for hair concerns
Limited to cosmetic procedures
Customer Reviews
Check out these reviews from happy clients of Visage and Dr. Esmail:
"My first time to the clinic was amazing. My experience with Dr. Esmail and his office was exceptional. The office staff are very friendly and helpful. (Dav & Angela)
Dr. Esmail's bedside manner is quite calming and gentle. Dr. Esmail goes above and beyond to provide you with support and care. I would definitely refer him to anyone Looking for the best! I ALREADY HAVE! I Sooooo will be back!"—Lana
"Dr. Esmail and the rest of the Visage team went above and beyond regarding customer care. The team was great in working with me to ensure complete satisfaction and comfort. The team was very quick to respond when I had any questions, both pre and post procedure- I am so glad that I chose Visage!"—Afton Bell
5. Dr. Earl Minuk – Minuk's SkinClinic & Laser Centre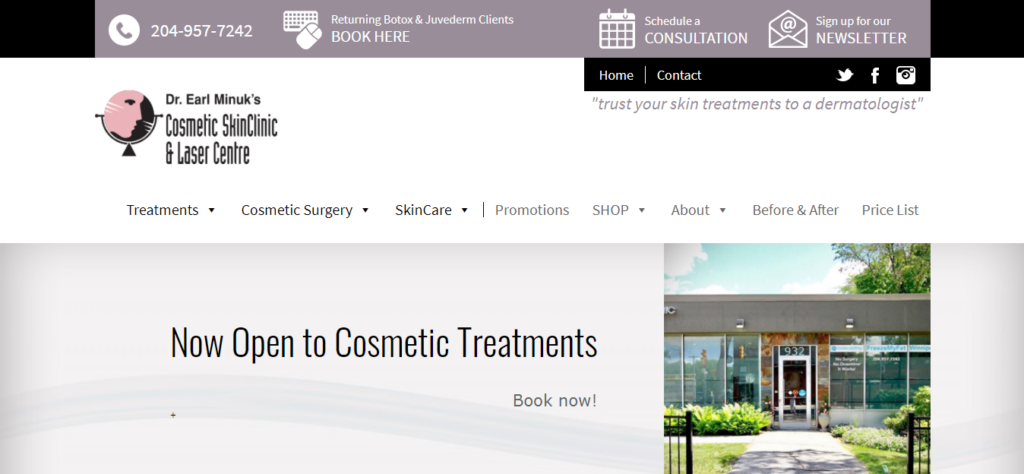 | | |
| --- | --- |
| SERVICES | Laser treatments, injectables, acne treatments, mole removal, microdermabrasion, pigmentation and melasma solutions, tattoo removal, hair regrowth, breast enhancement, breast augmentation, liposuction, labioplasty, eyelid surgery, arm lift |
| WEBSITE | https://www.minuklasercentre.com/ |
| ADDRESS | 932 Grosvenor Ave, Winnipeg, MB R3M 0N5 |
| CONTACT DETAILS | (204) 957-7242 |
| OPERATING HOURS | Monday, Wednesday, Friday: 8:30 AM – 4:45 PMTuesday: 8:30 AM – 7:00 PMThursday: 8:30 AM – 6:00 PMSaturday: 8:30 AM – 4:30 PM |
Dr. Earl Minuk is one of the most sought-after specialists for non-invasive skin rejuvenation treatments. Thus, clients looking for ways to improve or alter their appearances using treatments with little to no downtimes and risks may benefit from his clinic.
He is also one of the leading experts in his field as he serves as a consultant for Sculptura and an instructor trainer for fillers. Dr. Minuk is also among the first dermatologists who introduced laser treatments to the city as he was one of the pioneers for pulse dry laser in 1993.
In his clinic, Dr. Minuk offers cosmetic dermatology such as laser treatments and plastic and body sculpting procedures. Minuk's Cosmetic SkinClinic also caters to those with acne, scars, pigmentations, warts, ageing skin, and hair loss.
Dr. Minuk is also accompanied by a large team of nurse practitioners and skincare specialists. Additionally, his clinic also offers free consultations for cosmetic procedures.
As you may have noticed, most of his clinic's services are for cosmetic dermatology. It still offers treatment for acne and hair loss but its services are limited compared to others.
Additionally, given the strict health protocols, Dr. Earl Minuk's clinic isn't accepting of walk-ins. Luckily, clients can simply book appointments online.
Sought-out specialist for non-invasive treatments
Relatively lesser downtime and risks with non-invasive treatment
Free consultations for cosmetic procedures
Available for hair concerns
More focus on cosmetics than medical dermatology
No walk-ins accepted
Customer Reviews
Patients have praised not only Dr. Minuk, but also his whole team for offering approachable, personal, and respectful services. Here are the reviews that have said so:
"I highly recommend Dr. Minuk and Nurse Carolyn for all of your cosmetic and skincare needs. After needing to find a new clinic to call home, I'm so grateful I found Dr. Minuk's Skin Clinic! I went in with specific requests and appreciated the honesty, professionalism and expertise Dr. Minuk and Nurse Carolyn have consistently provided. I have always been treated with respect, compassion and appreciation and have loved the results achieved. What's more, is the exceptional client service extended during the aftercare of treatments as well. Having someone reach out to ensure they are available to you if needed is appreciated and confirms I have made the right choice in making Dr. Minuk's Skin Clinic and Laser Centre my new home for all of my skincare concerns and needs. I love my results after having fillers and Botox and will continue to see them for all my cosmetic work and skincare needs!"—Jennifer Olsen
"Dr. Minuk, his staff, nurses and technicians are all professional, knowledgeable and friendly. Amanda is a gem! I have started attending this clinic recently and have always felt at ease each visit and satisfied with the results. Dr. Minuk has a great sense of humour and always puts a smile on my face. Their compliance protocols with new Covid-19 restrictions are also A+."—Josie Rose
How to Choose the Best Dermatologist
If you're still having trouble choosing from our list, here are the factors you should consider to guide you:
1. Areas of expertise
Dermatologists also have different subspecialties, so make sure your chosen doctor can address the specific issue you're facing. Skin, nail, and hair are just some of the areas a dermatologist may be an expert in.
2. Credentials
Your dermatologist should be board-certified and free of any malpractice claims.
3. Amenities
Your experience can greatly improve if your dermatologist's clinic offers private rooms and cozy amenities.
4. Availability
If you're a very busy bee, choose a dermatologist whose opening hours extend to late-night hours and weekends.
5. Patient care
Your chosen dermatologist should also be understanding of your worries about your condition and treatment. You can gather information on this based on patient reviews.
6. Communication style
Your dermatologist should know how to listen to your concerns. They should also inform you of the specifics of your condition and treatment plan.
7. Prices
Some dermatology procedures may be considered essential, and thus covered by provincial insurance plans. For good measure, find a dermatologist with rates you can afford.
Frequently Asked Questions about Dermatologists
---
And that's it for our list! We hope you find the best dermatologist in Winnipeg for whatever skin conditions you may be experiencing.
We tried our best to diversify our list. But should you feel like we missed any area of expertise and have someone in mind who's up for that slot, please let us know so we can assess them!
Now, if you're a woman, you'd know that underlying hormonal issues may also cause skin problems. That said, you can check out the best women's health clinics in Winnipeg to gain more tips to include in your skincare and overall health care.