8 Best Clinics To Get Lip Fillers in Winnipeg
If you've ever been told that the sexiest curve in your body is your smile, then they are partly right. In fact, your lips can be a good focal point on your face, and having it enhanced may be one of the best decisions of your life.
Don't worry if your lips aren't your best feature because there are great clinics for lip fillers in Winnipeg to help you out. Their services are FDA-approved and done by medical professionals, so you know you're in good hands.
In this guide, we will discuss more about the procedure, and the best places to have these procedures done. We also included some frequently-asked-questions to relieve you of any qualms.
So without further ado, let's talk about lip fillers.
How Much Do Lip Fillers Cost in Winnipeg
Lip augmentation, like any cosmetic procedure, has the implied reputation of being expensive and impractical. However, the needs of the times have changed, and the new products and services are in demand.
One of which is cosmetic enhancement procedures.
With that in mind, lip fillers costs have become more affordable over time, so many have gotten them like their favorite celebrities. And in all honesty, given the length of time before it naturally dissolves, clients can get a pretty neat deal.
The cost of lip fillers in Winnipeg range from $500 to $2000, with the effect lasting from 6 months up to a year. The pricing also depends on how many injectables will be consumed during your sessions, or per cubic centimeter vial.
There are four main types of injections used for lip fillers. Namely, they are Hyaluronic Acid, Collagen, Silicone and Fat Transfers.
The safest and most modern lip filler procedure uses Hyaluronic Acid, with Restylane and Juvederm as the top brand formulations. Collagen, on the other hand, used to be the most common choice, and usually lasts longer than HA fillers.
Unlike the other fillers that dissolve within a year, silicone lip fillers are permanent and don't need maintenance. This option, however, has a less natural feel and look.
Lastly, fat transfer lip fillers create a more natural and permanent feel, since the procedure involves using fat from other parts of your body to enhance your lips and smile lines. The downside to this is it takes longer to heal and may cause swelling for a week.
| Services and Parameters | Average Rates |
| --- | --- |
| Services and Parameters | Average Rates |
| Cost per session | $500 to $4000 |
| Cost per cu.cm. vial | $450 to $800 |
| Types of Injections Used | Average Rates |
| HA or Hyaluronic Acid Fillers | $400 to $800 |
| Restylane | $620 |
| Juvederm | $499 |
| Collagen Lip Fillers | $500 to $1000 |
| Permanent Silicone Lip Fillers | $500 to $2000 |
| Fat Transfer Lip Fillers | $2000 to $4000 |
Finding the Best Clinics To Get Lip Fillers in Winnipeg
Getting your lip fillers done isn't an easy decision to make. You need to have the money for both the procedure and the aftercare, as well as find the medical professional that can get the job done well and safely.
Today, we will join you in assessing the best clinics to get lip fillers in Winnipeg. While you will need to do more research on your own, our review branches from these five key criteria points:
1. Advanced Cosmetics Clinic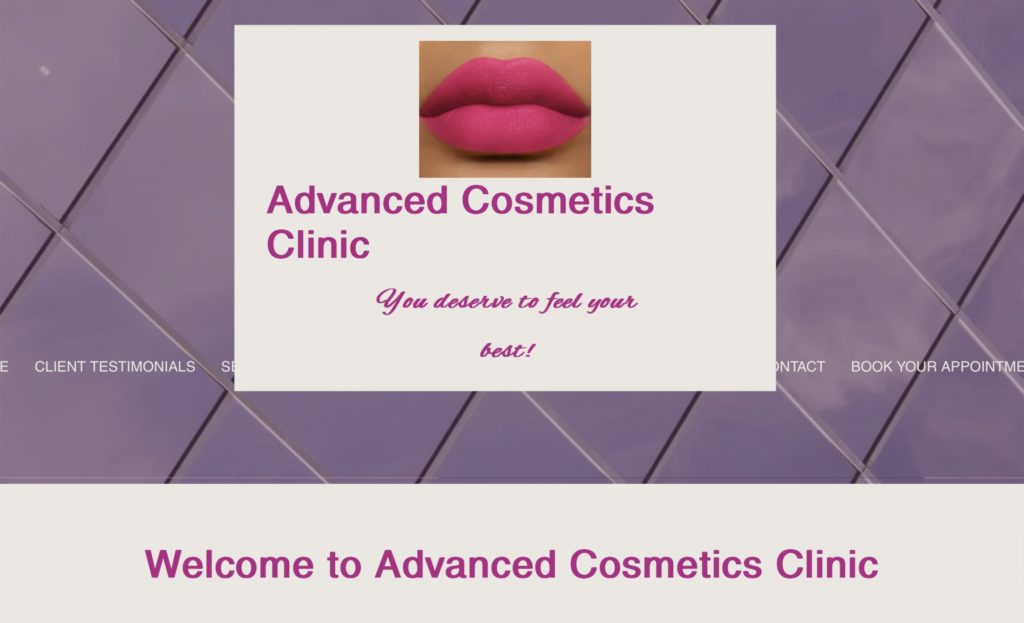 SERVICES
Botox, Juvederm, Microneedling, PRP, Facials, and Skincare
WEBSITE
https://www.advancedcosmeticsclinic.com/
ADDRESS
Unit H-2020 Corydon (in the Advanced Massage Clinic) or 205 Eaton Ave (Selkirk,Mb)
CONTACT DETAILS
Phone: 204 474 2020
Text: 204 960 4571
OPERATING HOURS
Monday(Selkirk) 11:30-5:30
Tuesday (Corydon) 11:30-7:30
Wednesday (Corydon) 11:30-7:30
Thursday (Corydon) 11:30-2:30
Friday (Selkirk) 11:30-5:30
| | |
| --- | --- |
| Criteria | ★★★★★ (5/5) |
| Specialization and Services | ★★★★★ (5/5) |
| Expertise, Certification, Accreditation | ★★★★★ (5/5) |
| Customer Satisfaction | ★★★★★ (5/5) |
| Professionalism | ★★★★★ (5/5) |
| Accessibility and Responsiveness | ★★★★★ (5/5) |
Our experience with Advanced Cosmetics Clinic was nothing short of exceptional. From the moment we stepped into their sleek facility, it was evident that excellence was not just a goal but a standard. The clinic's ambiance exuded sophistication, setting the stage for the premium services that followed.
Efficiency at Advanced Cosmetics Clinic is a finely tuned symphony. Appointments ran like clockwork, and our time was respected as much as our aesthetic aspirations.
The punctuality displayed by the staff was not just commendable; it was a refreshing departure from the norm in the beauty industry. A clinic where "fashionably late" is a term foreign to their lexicon.
Quality is the cornerstone of our praise for Advanced Cosmetics Clinic. Our lip filler treatment was administered with meticulous precision, showcasing the expertise of their skilled practitioners.
The results were not just a testament to their technical proficiency but also a masterpiece that seamlessly blended artistry with science. Our enhanced lips became a conversation starter, a silent endorsement of the clinic's commitment to perfection.
When it comes to cost, Advanced Cosmetics Clinic shatters the misconception that excellence must come with an exorbitant price tag. The value we received for our investment was not just in fuller lips but in the confidence that accompanies impeccable craftsmanship.
In the realm of beauty, where costs often escalate unjustifiably, Advanced Cosmetics Clinic has found the golden ratio—delivering unparalleled quality without compromising financial sensibility.
Over 19 years of injecting experience
Offers medical aesthetics, and advanced skin care treatments
Variety of services available
Tailored treatments
Uses highest medical grade products.
Owned and manned by board-certified professionals
Busy during peak days due to popularity
Customer Reviews
"Holly did such a great job, I'm so pleased with the results. Really appreciate how much time she took during her assessment. Felt like I was in the most knowledgeable and caring hands. As a fellow nurse, I really appreciate how much experience Holly brings to her practice. She took the time to discuss everything with me and my opinion was valued and used to determine my treatment. I'm very happy with my experience and results."
"Holly goes beyond & above in her field of making every woman feel like a brand new person. I love her passion, knowledge & expertise and is so evident she loves what she does. The results I have achieved from Holly are remarkable. I feel she has taken 5 years plus off my face."
2. Enhance Aesthetics and Laser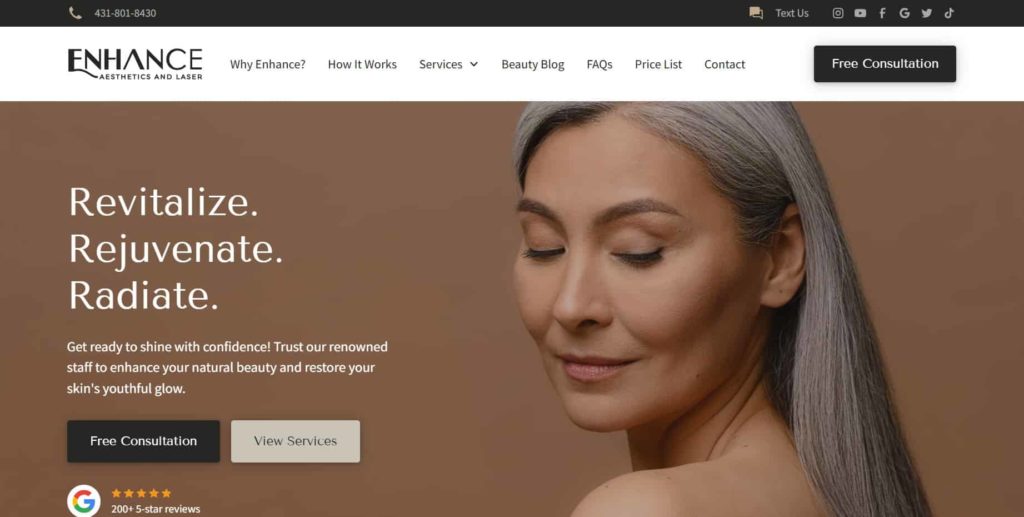 | | |
| --- | --- |
| Criteria | ★★★★★ (5/5) |
| Specialization and Services | ★★★★★ (5/5) |
| Expertise, Certification, Accreditation | ★★★★★ (5/5) |
| Customer Satisfaction | ★★★★★ (5/5) |
| Professionalism | ★★★★★ (5/5) |
| Accessibility and Responsiveness | ★★★★★ (5/5) |
Enhance Aesthetics and Laser, a prominent player in the medical aesthetics industry, prioritizes comprehensive training and global exposure. This commitment is reflected in their extensive experience, which includes training with leading experts worldwide.
We like their emphasis on achieving reliable and natural results in lip fillers is a significant advantage. This commitment aligns with the current aesthetic trends, where clients seek enhancements that rejuvenate and restore without creating an overdone or artificial appearance.
Furthermore, their lip filler treatments are among their most popular offerings indicating a specialization in this area. Whether clients seek subtle contouring or significantly fuller, more voluptuous lips, Enhance Aesthetics and Laser positions itself as capable of providing the right treatment to meet diverse aesthetic goals.
Note though that there is flat pricing available for their treatments so clients may need to expect extra costs for more customization options.
Overall, Enhance Aesthetics and Laser emerges as a reputable destination for individuals seeking expertly administered lip filler treatments. With a commitment to ongoing training, a plethora of positive customer testimonials, and an established track record, the clinic instills confidence in its ability to deliver reliable and natural results.
Global Training and Advanced Expertise
Reliable and Natural Lip Filler Results
Tailored Lip Filler Treatments
Flat rates unavailable online
Customer Reviews
Here are some reviews from their clients:
"Nicole is wonderful! Very consent based and reassuring if you're nervous. Super quick too which I love. She is great at what she does, and I always look forward to seeing her!"
"I have absolutely nothing but the most positive things to say about Nicole, she made me feel extremely comfortable by explaining the process and educating me on types of fillers that would best suit me for my desired look and she did a phenomenal job, I couldn't be happier with my results. Definitely One of the best in the city!!"
3. Dr. Earl Minuk – Dr. Minuk Cosmetic SkinClinic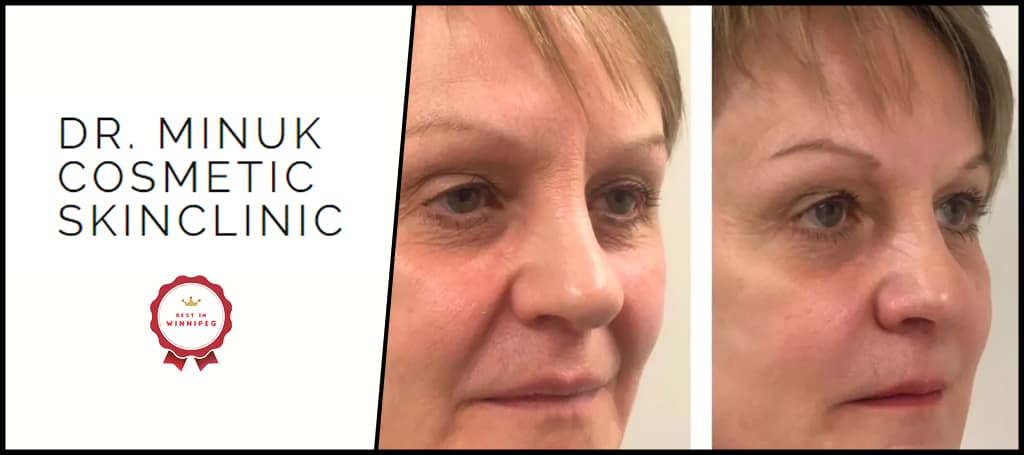 SERVICES
Injectables (Botox, fillers Sculptra) micro-needling, acne treatments, mole checks & removal, Botox for excessive sweating of underarms, palms & soles, pigmentation and melasma solutions, non-surgical face & neck-lift, skin tightening, lasers for port wine birthmarks, facial veins, rosacea. redness and scars; spider leg vein treatment (sclerotherapy), chemical peels, general dermatology
WEBSITE
https://drminuk.ca/
ADDRESS
3250 Portage Ave. Winnipeg
CONTACT DETAILS
Phone: 204-998-0393
Text: 204-813-0956
OPERATING HOURS
Monday – Friday: 8:30 AM–4:30 PM | Saturdays by prior arrangements
Our recent experience with Dr. Earl Minuk for lip filler services left us highly satisfied. The initial consultation was informative, and Dr. Minuk took the time to understand our expectations, ensuring a personalized approach to the lip filler procedure.
Dr. Minuk's expertise in lip fillers was evident throughout the process. He explained the different filler options, helping us make an informed decision. The injection process was relatively painless, thanks to his skilled and precise technique, showcasing a high level of proficiency in cosmetic procedures.
The quality of the lip fillers administered by Dr. Minuk exceeded our expectations. The results were natural-looking, enhancing our lips' fullness without appearing overdone. Dr. Minuk's attention to detail and commitment to achieving aesthetically pleasing outcomes were evident in the final results.
The clinic's atmosphere and staff contributed to a positive experience. The environment was welcoming, and the staff members were courteous and attentive. Dr. Minuk and his team created a comfortable space, ensuring our visit for lip fillers was not only effective but also enjoyable.
While the cost of lip fillers with Dr. Minuk may be higher than some alternatives, the value is apparent in the results. The transparent pricing structure, coupled with the skill and experience of Dr. Minuk, justifies the investment in achieving desirable and long-lasting lip enhancements.
Post-treatment care and follow-up were notable aspects of our experience. Dr. Minuk provided clear instructions for aftercare, and the clinic followed up to check on our recovery progress. This level of attention to patient well-being added an extra layer of confidence in the overall service.
Sought-out specialist for non-invasive treatments
Relatively lesser downtime and risks with non-invasive treatment
Free consultations for cosmetic procedures
Available for hair concerns
More focus on cosmetics than medical dermatology
No walk-ins accepted
Customer Reviews
Patients have praised not only Dr. Minuk, but also his whole team for offering approachable, personal, and respectful services. Here are the reviews that have said so:
"I highly recommend Dr. Minuk and Nurse Carolyn for all of your cosmetic and skincare needs. After needing to find a new clinic to call home, I'm so grateful I found Dr. Minuk's Skin Clinic! I went in with specific requests and appreciated the honesty, professionalism and expertise Dr. Minuk and Nurse Carolyn have consistently provided. I have always been treated with respect, compassion and appreciation and have loved the results achieved. What's more, is the exceptional client service extended during the aftercare of treatments as well. Having someone reach out to ensure they are available to you if needed is appreciated and confirms I have made the right choice in making Dr. Minuk's Skin Clinic and Laser Centre my new home for all of my skincare concerns and needs. I love my results after having fillers and Botox and will continue to see them for all my cosmetic work and skincare needs!"—Jennifer Olsen
"Dr. Minuk, his staff, nurses and technicians are all professional, knowledgeable and friendly. Amanda is a gem! I have started attending this clinic recently and have always felt at ease each visit and satisfied with the results. Dr. Minuk has a great sense of humour and always puts a smile on my face. Their compliance protocols with new Covid-19 restrictions are also A+."—Josie Rose
4. The First Glance Aesthetic Clinic & Surgery Center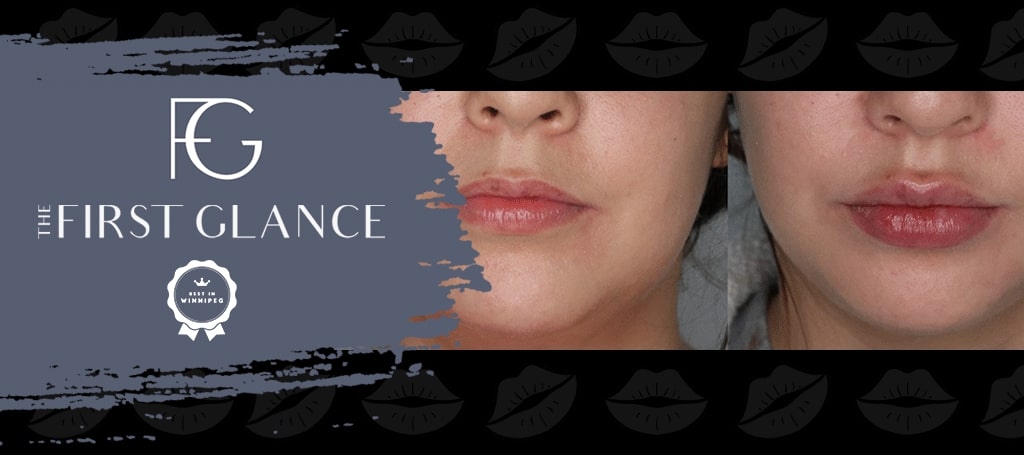 SERVICES
Aesthetic Surgery, Injectables, Lasers, and Facials
WEBSITE
https://thefirstglance.ca/
ADDRESS
1851 Grant Ave, Winnipeg, MB R3N 1Z2, Canada
CONTACT DETAILS
Phone: 204-885-1419
OPERATING HOURS
Weekdays: 9:00AM - 5:00PM

Weekends: CLOSED
| | |
| --- | --- |
| Criteria | ★★★★★ (4.9/5) |
| Specialization and Services | ★★★★★ (5/5) |
| Expertise, Certification, Accreditation | ★★★★★ (5/5) |
| Customer Satisfaction | ★★★★★ (5/5) |
| Professionalism | ★★★★★ (5/5) |
| Accessibility and Responsiveness | ★★★★☆ (4.5/5) |
Among the best aesthetician clinics in the local area, The First Glance Aesthetic Clinic & Surgery Center is one that aims to elevate natural beauty. They do this by providing FDA-approved top quality enhancement procedures.
Their highly-rated services deal with surface-level treatments like facials, to invasive improvements like cosmetic surgery. Basically, what they offer is a fully privatized experience with their fully-accredited practices and in their secured facility.
In fact, they were voted as the Top Plastic Surgery Center for 2021-2022. They were also awarded the Canada-wide Brilliant Distinctions Top Performer Award back in 2019.
One thing to note however is that their rates are quite expensive, and they require strict screening methods before going through the clients' desired service. This is because their team consists of board certified surgeons and specialists who ensure safety before all else.
Also, because they are strict and pricey, you can expect that the services they offer are tailor-fit to your needs. They even sell products for skin aftercare and maintenance to enhance the healing process and boost health after the procedure is done.
The facility itself is owned by a licensed plastic surgeon and medical director working with several professionals with specific specializations. That said, The First Glance Aesthetic Clinic & Surgery Center is one of the most established aesthetic clinics certified under the College of Physicians and Surgeons of Manitoba.
Awarded by both local and national bodies
Owned and manned by board-certified professionals
Surgeons are assigned to respective specific specializations
Offers many services
Ensure that clients are fit and healthy before the procedure
Fairly expensive
Rigorous and strict screening practices
Closed on weekends
Customer Reviews
Such capable and trustworthy professionals
My experience with the individuals working at First Glance was amazing. I was made to feel comfortable well before my procedure date. During my procedure, I felt like I was in the right place with the most capable individuals taking care of me.You can tell that everyone who works for First Glance takes pride in what they do. It must be a wonderful company to work for. First glance exudes professionalism and integrity. They care about their clients, and I look forward to seeing them again in the near future.
— Larissa S., Google Reviews
Looking forward to seeing them again
Each experience I have had at The First Glance has been exceptional. Courteous phone conversations, warm welcoming reception that truly makes you feel at home in the clinic. I can't recommend Dr.Mitchell enough. Fantastic bedside manner. Went through every detail and I couldn't be happier with my results. Further to that I have been seeing Jenn who has tailored my treatments specifically to my needs all while balancing her expertise in choosing the right product for me. I truly couldn't be happier with every experience I have had and each individual I have had the pleasure of interacting with. Thank you for being such a superior team.
— Krista Hummerston, Google Reviews
5. Visage – Plastic Surgery and Dermatology Clinic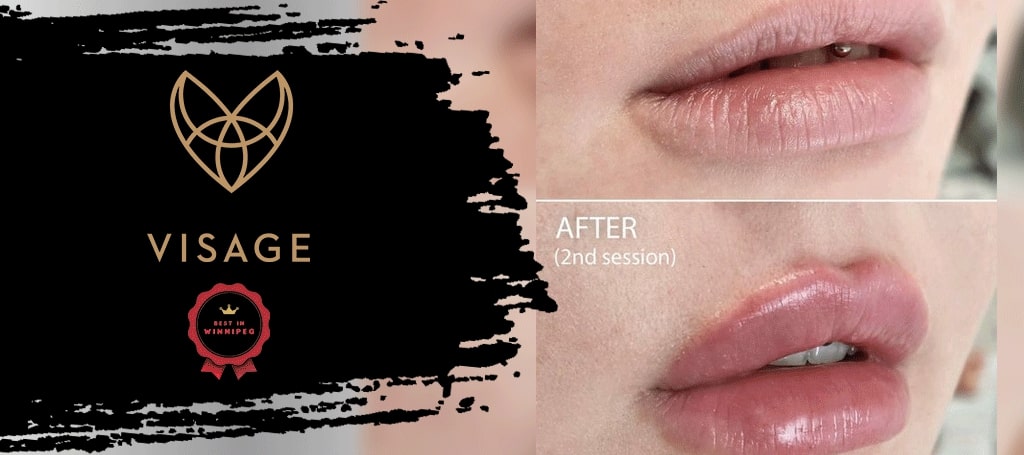 SERVICES
Hair Transplants and Treatments, Rhinoplasty. Lip Lift and Fillers, Liposuction, Octoplasty, Blepharoplasty, Brow or Neck Lift, Buccal Fat Extraction, Facials, Injectables, and Facial Rejuvenation
WEBSITE
https://www.visagecosmeticclinic.com/
ADDRESS
5-920 Lorimer Blvd, Winnipeg, MB R3P 1G1, Canada
CONTACT DETAILS
Phone: 204-219-2154
OPERATING HOURS
Weekdays: 9:00AM - 5:00PM

Saturdays: 10:00AM - 2:00PM

Sundays: CLOSED
| | |
| --- | --- |
| Criteria | ★★★★☆ (4.2/5) |
| Specialization and Services | ★★★★☆ (4.5/5) |
| Expertise, Certification, Accreditation | ★★★★★ (5/5) |
| Customer Satisfaction | ★★★☆☆ (3.5/5) |
| Professionalism | ★★★★★ (5/5) |
| Accessibility and Responsiveness | ★★★★★ (5/5) |
The Visage team is led by Dr. Ali Esmail, the first and the only fellowship-trained Facial Plastic Surgeon in Winnipeg. He is also a board-certified professional by the Surgeons of Canada and Royal College of Physicians.
Given his training and membership to the American and Canadian Academies of Facial Plastic and Reconstructive Surgery, lip filler clients are guaranteed effective procedures and good results. He also works closely with a team of professionals of various specializations like aesthetic treatments and hair restoration.
They also have an extensive list of services involving all parts of the head. However, it must be noted that they don't do cosmetic surgeries or procedures on parts below the neck.
Unlike most clinics, they don't offer free consultations with their clients. Then again, they are very responsive to inquiries and have a page on their website for virtual assessments.
If you're not sure which services to get done, feel free to go through the ample information on their website, or make inquiries to their staff. Their personnel has also made quite the impression as friendly and accommodating.
That said, this is one of the most recommended clinics for facial treatments and procedures. They also offer exclusively curated skin care packages and programs to get clients started on a bespoke regimen.
Expansive list of services
Good accreditation and credentials of team
Impressive specialization on Facial Plastic and Reconstructive Surgery
Excellent medical background
Friendly and accommodating staff
Ample substantial information on website
No free consultations
Varying schedules per day
Services are limited to the face and neck
Fairly expensive
Closed on Sundays
Customer Reviews
Pleasure to work with
Absolutely impressed not only with results but the overall professional atmosphere and friendly staff. I felt so comfortable and put at ease while at the clinic. Karen made my day each time I visited the clinic. I was more than pleased after surgery in the post op…the care was incredible. Dr Islur made me feel very comfortable in my request and made recommendations for the best results. I've already made the decision to visit the clinic for other procedures.
— Moira Bower, Google Reviews
Zero hassles and worries during the procedure
Dr. Islur and his team were excellent and really patient with me. They provided me with the best care to achieve the result I desired! I am very thankful I chose Dr. Islur as my surgeon and I have and will continue to recommend him to anyone. Thank you so much! Amazing job!
— Vanessa Stewart, Google Reviews
6. Enhance Medical Aesthetics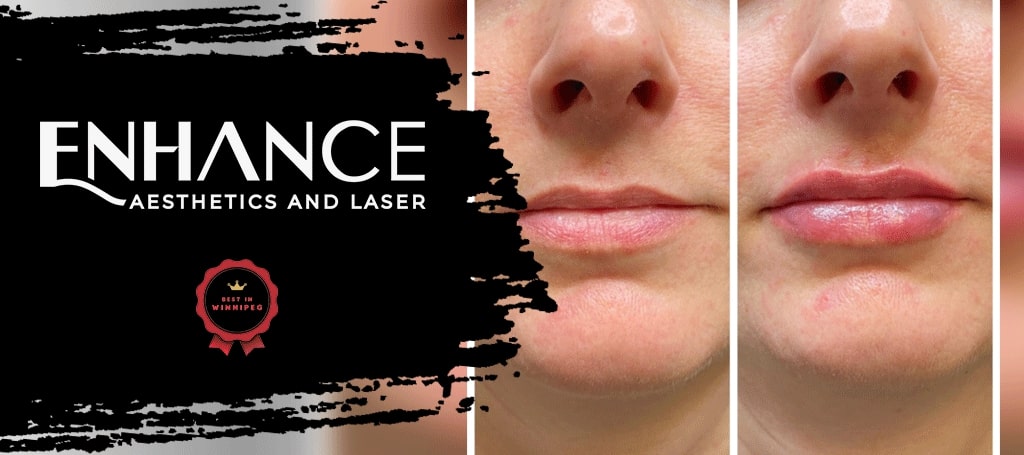 SERVICES
Botox, Dermal Fillers, Microneedling, Hair Restoration, Beauty Booster Facial, Skin Tightening and Hydration, IV Therapy, Medical-grade SKin Care and Facials
WEBSITE
https://enhancemedicalaesthetics.ca/
ADDRESS
871 Waverley St #3, Winnipeg, MB R3T 5P4, Canada
CONTACT DETAILS
Phone: 431-801-8430
OPERATING HOURS
Weekdays: 8:00AM - 4:30PM

Saturdays: 9:00AM - 4:30PM

Sundays: CLOSED
| | |
| --- | --- |
| Criteria | ★★★★☆ (4.5/5) |
| Specialization and Services | ★★★★☆ (4/5) |
| Expertise, Certification, Accreditation | ★★★★☆ (4/5) |
| Customer Satisfaction | ★★★★★ (5/5) |
| Professionalism | ★★★★☆ (4.5/5) |
| Accessibility and Responsiveness | ★★★★★ (5/5) |
If your aim is to prevent the full-blown effects of aging, and boost your skin's health, then this is the facility for you. Enhance Medical Aesthetics may not be the most established aesthetic clinic in the area, but it sure has one clear focus.
That is helping their clients age gracefully and confidently.
Their beauty treatments and procedures include Botox, dermal fillers, and IV therapy, with free consultations. Basically, they mainly offer injectables and otherwise non-invasive treatments that are personalized to the needs and preferences of each client.
Their services are affordable and reasonably -priced, with details and session durations available on their website. In fact, they openly display their price list unlike most facilities, and this allows clients to assess which services fit their budget.
Another thing we love about their services is that they charge depending on the desired results, not by the syringes or amount consumed. There may even be cases when they would offer multiple sessions in order to achieve the expected effect.
The owner, Nicole, is not a board-certified aesthetician or plastic surgeon. Still, she is a graduate and has a Master's degree in Nursing, with occupational experience in Cardiovascular and Thoracic Surgery, and Nutritional Therapy.
Furthermore, the staff aims to build a good working relationship and effective collaboration with clients to produce the best results.
Offers free consultations to clients
Affordable pricing
Plenty of details and information on available services
Personalized services
Does not charge by the syringe/ cu.cm. of product consumed
Not medically-trained under cosmetic or plastic surgery
Only offers limited services
Closed on Sundays
Customer Reviews
Definitely the glow-up experience I expected
This was the best experience I've ever had, with cosmetic work. I've never thought I'd be getting lip fillers, until I met Nicole, she makes you feel comfortable and does what's best for you always! Which is perfect 🙂 The results for my lip fillers are amazing, they look completely natural!!
— Cheyenne Serafin, Google Reviews
Amazing, professional – the best!
There's a lot to say about Nicole.
She was the first person I've ever gone to for lip fillers and she made me feel SO comfortable. She answered every single question beyond expectation. She has so much knowledge and experience with medical enhancements. She knew I was super nervous and she was so patient with me. I will never go to anybody else other than her. I love love love her! Anybody thinking about getting filler/Botox, go see her. She is amazing.
— Kennedy Mikic, Google Reviews
7. Skin Deep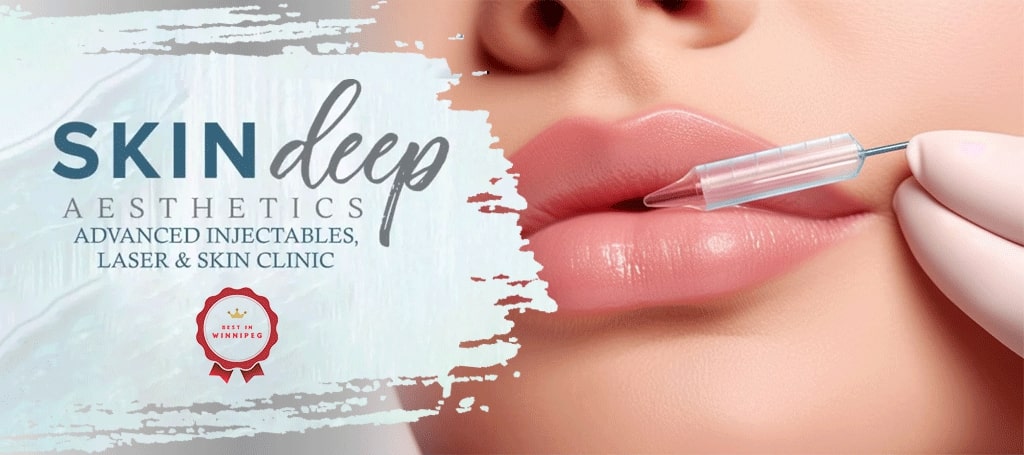 SERVICES
Derma Fillers, Botox, Lip Enhancement, Dermabrasion, Laser Treatments, Rejuvenation, Hair Removal and Skin Tightening
WEBSITE
https://skindeepwinnipeg.com/
ADDRESS
1068 Henderson Hwy, Winnipeg, MB R2K 2M5, Canada
CONTACT DETAILS
Phone: 204-925-9779
OPERATING HOURS
Tuesdays to Fridays: 8:30AM - 4:30PM

Saturdays: CLOSED

Sundays: CLOSED

Mondays: CLOSED
| | |
| --- | --- |
| Criteria | ★★★★☆ (4.5/5) |
| Specialization and Services | ★★★★☆ (4/5) |
| Expertise, Certification, Accreditation | ★★★★☆ (4/5) |
| Customer Satisfaction | ★★★★☆ (4.5/5) |
| Professionalism | ★★★★★ (5/5) |
| Accessibility and Responsiveness | ★★★★★ (5/5) |
If you want to try out cosmetic procedures, but would prefer something mild and non-invasive, then Skin Deep Aesthetics is a good place for starters. With the help of state-of-the-art equipment and using FDA-approved products, they aim to boost their clients' beauty and mitigate the negative effects of aging.
They offer limited services for men, women, and teens, but they ensure that their specializations come as customized skin treatments that are safe and effective.
Skin Deep Aesthetics features a skincare shop on their website containing the best maintaining and aftercare products their clients can buy. Their inventory, while including reputable and effective brands, are quite sparse at the moment.
They also partner with trusted brands for their injectables and procedures. A few of which include Botox Cosmetic, Juvederm, Belkyra, Dysport, Restylane, Pro-Derm and ColoreScience.
Their team is composed of well-trained experienced nurses that are required to take advanced courses to keep them updated with the latest techniques and methods. This continuous learning experience also allows them to properly customize procedures as the clients need.
Furthermore, reviews consist of clients openly praising them for their professionalism and ability to put their customers at ease. They are also open about what insurance can cover, what the most recommended treatments are, and how many sessions it may take to achieve the desired result.
Offers free consultations
Offers discounts and seasonal promos
Continual training and learning for medical staff
Includes a skincare shop
Partners with reputable and high-end brands
Transparent and professional with clients
Staff does not include board-certified surgeons or specialists
Limited shop inventory and services
Closed on Mondays and weekends
Customer Reviews
Services you must try!
I saw Jaime for my appointment and she was professional and knowledgeable. I received Botox and a Mini Lip. I'm so happy with my results. I highly recommend you see Jaime too!
— Shannon Berikoff, Google Reviews
Loved the experience and the results
This was my first time getting botox/lip filler and I was so impressed with Coralee, she was amazing! She took her time explaining every step to me, making me feel more than comfortable. I had so many questions being my first time and Coralee was very professional, friendly and honest in what we should do. Any other treatments I will be going back here!
— Samantha, Google Reviews
8. The Derm Center
SERVICES
Treatment Plans, Botox, Microneedling, Facials, Laser Treatments, Dermabrasions, Deep Peels and Anti-aging Treatments
WEBSITE
https://www.thedc.ca/
ADDRESS
1385 Grant Ave, Winnipeg, MB R3M 1Z9, Canada
CONTACT DETAILS
Phone: 204-474-1221
OPERATING HOURS
Weekdays: 9:00AM - 5:00PM

Saturdays: 10:00AM - 2:00PM

Sundays: CLOSED
| | |
| --- | --- |
| Criteria | ★★★★☆ (4.9/5) |
| Specialization and Services | ★★★★☆ (4.5/5) |
| Expertise, Certification, Accreditation | ★★★★★ (5/5) |
| Customer Satisfaction | ★★★★★ (5/5) |
| Professionalism | ★★★★★ (5/5) |
| Accessibility and Responsiveness | ★★★★★ (5/5) |
If you don't know who to trust and would rather go for the most established in the industry, then go for The Derm Center. Their team of dermatologists and specialists have ample experience and excellent expertise when it comes to skin and aging – they offer free consultations to any new client as well.
Dr. Victoria Taraska leads this facility, and she is a specialist trained in both medical and cosmetic dermatology. She is also actively involved in many dermatology associations, and is a fellow of the Surgeons of Canada and the Royal College of Physicians.
That said, clients are guaranteed that her highly qualified team can carry out a personalized skin care and treatment program that suits them well. In fact, they focus first on what the concerns are before going through the available services and treatments.
One thing to note however is that they are a team of dermatologists, so they specialize in non-invasive procedures to achieve a more elegant and natural result. While they may not be the best choice if you prefer surgery, they guarantee the top quality products and skin aftercare for lip filler sessions.
That said, their hyaluronic dermal filler brands include Juvederm, Saphya, Teosyal and Belotero. They also include substantial information on their website regarding their process, how it works, and how long it may last.
Offers free consultations
Free Wi-Fi, spacious area, and free accessible parking in the facility
A team of expert dermatologists
Ample information on team and services on their website
Active in associations and responsive online
Great skin care treatments and procedures
Utilizes reputable brands for fillers
Does not offer cosmetic surgery services
May be a bit pricey
More known as a dermatologist than an aesthetician
Closed on Sundays
Customer Reviews
Looking incredibly good, thanks to them!
I woke this morning looking so rested 😉. I wanted to publicly thank Dr. Vicki Taraska and nurse Amy for always making recommendations on botox and filler that keep me looking natural and refreshed. I get compliments often on not looking my age (50 this week) and promptly refer friends to the Derm Center. Decided today to post it for others as i have respected how you two never upsell me but rather suggest i only need the baby botox and look great
— Holly Glew, Google Reviews
Definitely my go-to
Dr. Taraska has since opened the Derm centre where I regularly go for routine Botox and fillers done by Amy. After previous less than stellar experiences at another clinic I won't trust anyone but Amy or Dr. Taraska with my face anymore. I highly recommend this clinic (and especially Amy for injectables) as I have done with family and friends!
— C.A., Google Reviews
9. Your Skincare Nurse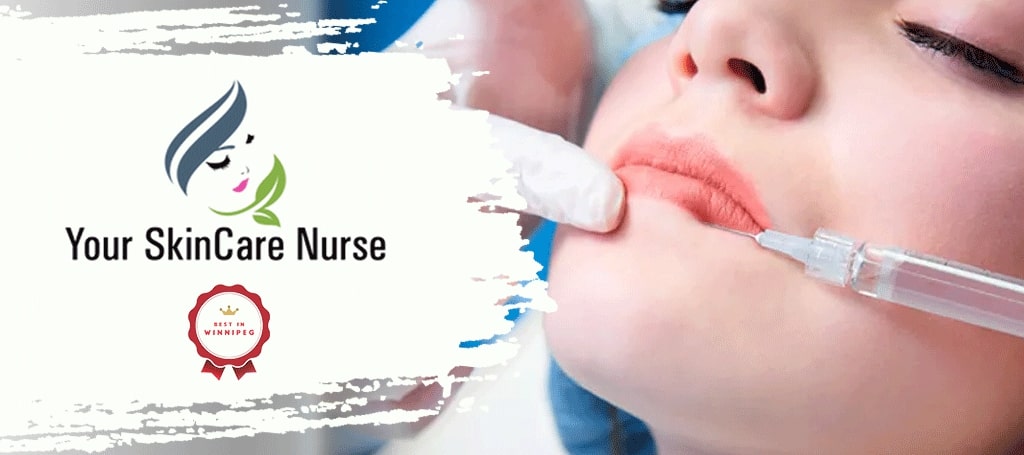 SERVICES
Acne Therapy, Belkyra, Botox, Dysport, Dermal Fillers, Microinjections, Micro Laser Peel, Photo Rejuvenation, ProFractional Laser
WEBSITE
https://www.yourskincarenurse.ca
ADDRESS
160 Provencher Blvd #101, Winnipeg, MB R2H 0G3, Canada
CONTACT DETAILS
Phone: +1 431-441-0201
OPERATING HOURS
Tuesday 10 AM–5:30 PM

Wednesday 9:30 AM–5 PM

Thursday 12–8 PM

Friday 10 AM–5:30 PM
| | |
| --- | --- |
| Criteria | ★★★★☆ (4/5) |
| Specialization and Services | ★★★★★ (5/5) |
| Expertise, Certification, Accreditation | ★★★★☆ (4/5) |
| Customer Satisfaction | ★★★★★ (5/5) |
| Professionalism | ★★★★★ (5/5) |
| Accessibility and Responsiveness | ★★★★☆ (4/5) |
Coralee Shaman, LPN is the mind behind YourSkincare Nurse. She operates under a surgeon who practices at VISAGE Clinical Beauty, making her services accessible to most.
Aside from accessibility, YourSkincare Nurse comes recommended because of her services. She is most known for offering Botox, but she can also accommodate requests for acne therapy, dermal fillers, microinjections, photo rejuvenation, and ProFractional laser.
Coralee Shaman, LPN is committed to providing quality, customized services, which is why her approach to aesthetic services vary depending on the patient. She takes into account their lifestyle, medical history, and preferences to create an approach that meets the patient's individual needs.
Because of this commitment to personalized care, you can trust Coralee Shaman, LPN at YourSkincare Nurse for all your aesthetic needs.
Treatments customized to a patient's needs
Wide range of services
Extensive training and knowledge about aesthetic products
 Available Thursday evenings and every other Saturday.
Friendly and professional
Customer Reviews
Coralee did an amazing job on me! Definitely is more about paying attention to detail and making sure what she does looks as natural as possible. I've been to other places before but it really comes down to service and having a genuine nurse who focuses on her work and clients. Will definitely be coming back to see Coralee.
Coralee is so professional, welcoming and knowledgeable about the procedures she performs. My daughter saw Coralee for her first cosmetic procedure and Coralee took the time to explain everything and made her feel completely at ease. She did an amazing job and I would definitely recommend her.
10. Form Medical Aesthetics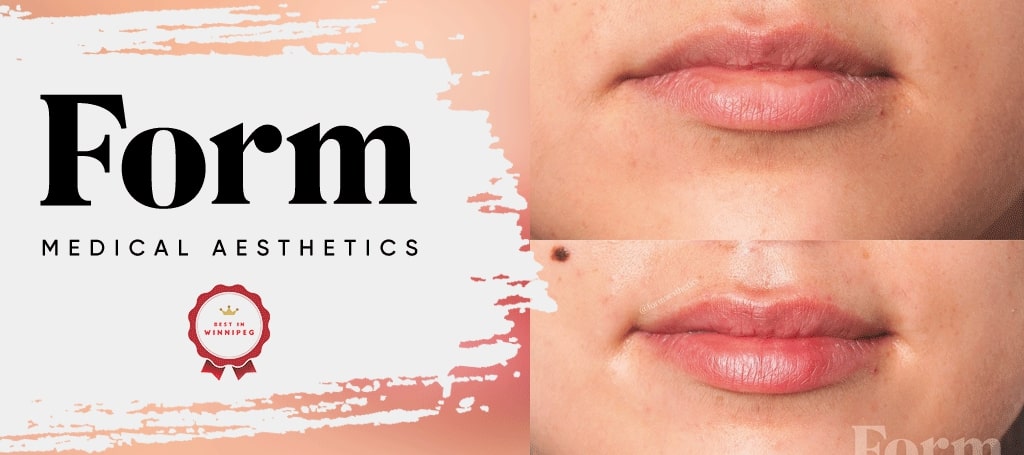 SERVICES

Face:

1721 Facial, The Salt Facial, Forma, Chemical Peels, Microneedling (SkinPen), Microneedling with RF (Morpheus8), PRP and Exosomes, IPL/Photofacial, HydroJelly Mask, and Skincare.

Body:

Triton Laser Hair Removal, Vein Treatments, PRP Sports Medicine Treatments, PRP Hair Treatment, Prolotherapy, Forma PLUS (skin tightening), BodyFX, and MiniFX.

Injectables:

Fillers, Botox, Belkyra, and Skinboosters.

Intimate Health:

Men's Sexual Health Consult, F Shot, Women's Sexual Health Consult, Women's Wellness.

WEBSITE
formaesthetics.com/
ADDRESS
1721 Portage Ave #100, Winnipeg, MB R3J 0E4, Canada
CONTACT DETAILS
+1 204-815-8000
OPERATING HOURS
Tuesday – Saturday, 10:00 AM – 6 PM
| | |
| --- | --- |
| Criteria | ★★★★☆ (4/5) |
| Specialization and Services | ★★★★★ (5/5) |
| Expertise, Certification, Accreditation | ★★★★☆ (4/5) |
| Customer Satisfaction | ★★★★★ (5/5) |
| Professionalism | ★★★★★ (5/5) |
| Accessibility and Responsiveness | ★★★★★ (5/5) |
Form Medical Aesthetics is a clinic that supports the evolving you. They believe in promoting our skin and personal health, and they provide an open environment for exploration and choice. Their staff is dedicated to creating a safe and educational environment, and they strive to make their clients feel more like themselves. They understand that investing in aesthetic and sexual health can improve your quality of life, and they support self-advocacy.
Their newly created clinic is designed to provide clients with a private post-procedure experience. With a circular floor plan, their clinic ensures that clients can enjoy their treatments in a comfortable and luxurious space. Their waiting room is flexible and allows for privacy in custom-designed seating pods or socialization around the fireplace. They are conveniently located on Portage Avenue and provide complimentary parking behind their building.
Form Medical Aesthetics encourages people to care for their bodies and invest in themselves. They believe that whatever drives your desires to evolve or explore yourself is valid. Their result-driven approach and client-oriented service make them a top choice for those seeking to explore their medical aesthetic and sexual health options in a comfortable and luxurious environment. Overall, Form Medical Aesthetics is a great choice for anyone looking to explore their options and invest in themselves.
Clinic supports skin and personal health.
Private post-procedure experience in luxurious space.
Conveniently located with complimentary parking.
Closed on Mondays and Sundays
Customer Reviews
I can't say enough about Form and their staff!
"I have been to Form Medical Aesthetics for several different treatments and I can't say enough about Form and their staff! They are professional, knowledgeable, and love their clients. You are made to feel welcome and comfortable . I have also been very impressed with every treatment I have had! They are very good at recommending what's right for you! I highly recommend Form!" – Janet Thomson
They've really put in time & effort into making this an enjoyable customer experience
"I've been going to form for a number of months for laser hair removal. The staff are extremely friendly every time I go and the quality of work and machinery they use is exceptional. They've really put in time & effort into making this an enjoyable customer experience and it shows. 10/10 recommend Lori for your laser treatments!!!" – Vanessa McLean
FAQs about Lip Fillers in Winnipeg
---
If we're being honest, there is still some stigma surrounding cosmetic surgeries and procedures. Then again, in a world where physical appearances are given a high value, there is nothing wrong with investing in your assets.
So that concludes our quick guide on where to get lip fillers in Winnipeg. We hope this gives you the knowledge you need to make better decisions regarding these procedures.
Remember to always put yourself first when making the choice, instead of pleasing others. This way, you can battle your insecurities and love yourself more each day.
One way to further enhance your beauty and achieve your best self is to have healthy skin. This attribute, however, may be a challenge for some people to maintain.
In that case, you may need some help from the best dermatologists in Winnipeg. Consult with a skin expert and improve your health in all aspects starting today!