The 13 Best Real Estate Agents in Winnipeg
Featured Image Source: Mashvisor
Looking for the best real estate agent in Winnipeg to sell your property or walk you through buying your dream property? There are myriad options out there, especially in the booming market.
In this list, we tried to find the best real estate agents in Winnipeg from among those many possibilities. Hopefully, by the end of it, you'll at least know which ones suit your needs best.
How Much A Real Estate Agent Costs in Winnipeg
Let's start by talking about this: real estate agents are paid a commission to list, sell, or scout for properties. This commission is paid when the transaction is already confirmed and signed by both the buyer and seller.
Real estate commissions are anywhere from 3% to 7% of the sale price. It's all really dependent on the success of the transaction.
For example, if your property sells for about $450,000, the commissions would total $13,500 to $31,500. This commission would then be split between the buyer's and seller's real estate agents.
According to Certified Real Estate Agents (CREA), all members adhere to a rule that states: "Commission rates or fees members charge for services offered to the public, and the division of those fees among cooperating members, are solely the choice of those providing the services."
Below is a table of how commissions are usually calculated.
| | |
| --- | --- |
| Type of commission calculation | Definition |
| Fixed percentage of the sale price | Most common type of commission |
| Split percentage of the sale price | Percentage decreases as the sale prices rises |
| Flat fee | Same fee for every seller/sale |
| Fee for service | Flat or hourly fee for listing and marketing property, holding open houses, etc |
| Combination of fees | Flat fee + additional fees for other services |
The Best Real Estate Agents in Winnipeg
Still with us? Now that we can visualize how much an agent costs relative to the sale price of the property, let's get to know the best real estate agents who cater to clients in Winnipeg.
1. Jennifer Queen
PRODUCTS
Buying, Selling, Listings, In-House Marketing, Staging, Professional Photography, Home Valuation, Relocation, Virtual Tours, Hand-Delivered Open House Invitations, Maximum Open House Signs, Home and Property Search, Market Reports & Buyer's Guide
WEBSITE
https://jenniferqueen.com/
ADDRESS
RE/MAX Professionals
1601 Buffalo Place
Winnipeg, MBR3T 3K7
CONTACT DETAILS
Phone: 204-797-7945
Fax: 204-452-4359
OPERATING HOURS
Every day, 9:00AM to 9:00PM
The Jennifer Queen Team is one of the most sought-after real estate teams in Winnipeg. They have been widely known and well-loved by locals for over 10 years now.
They have their own administrative and marketing team, which makes them capable of providing specialized services in selling houses. Their highly recommended selling service includes social media strategies and campaigns, staging consultations, professional photography, virtual tours, and open house marketing and facilitation.
It is a family-owned business and has a team of 5 real estate agents at the helm. Since the team is very popular in the city and in surrounding areas, expectations on quick responsiveness and attention should be managed, however.
Another downside is that Jennifer Queen's listings are mostly residential properties only. Despite that, we do think they're still among the top choices – you just need to talk to their clients to see how strong their reputation is here.
Highly recommended by locals
Has a dedicated marketing team that has produced fast results
5-woman team might not be able to be as hands-on, especially when demand is high
Listings are residential only
Customer Reviews
Efficient and professional – Tetyana K.
"We can't speak highly enough of our experience with Jennifer Queen. From start to finish she was very responsive, kind, and a constant professional. She sold our house within a week. We received multiple offers the first day the house went on the market, thanks in large part to Jennifer's incredible work. She brought in a fabulous photographer and videographer to showcase our home online, which created much more foot traffic and brought in serious buyers. Her team is top notch and can't be beat! Jennifer was always available to answer our questions. She was so responsive and is the sweetest person. We had a great experience!"
Highly recommended by locals – Kerry F.
"Jennifer already had an excellent reputation in the area and had previously sold my fathers house. In our case she went far and beyond expectations. Certain considerations cropped up during the sale delaying the process. Jennifer worked diligently and continuously on our behalf when others may have not. Her friendly personality and hard work are to be commended and congratulated. Thank you Ms Queen for the hard work, positive attitude and sticking to it. You are the best."
2. Gino Cipriano
PRODUCTS
Buying, Selling, Listings
WEBSITE
https://ginocipriano.ca/
ADDRESS
Royal LePage Prime
1883 Henderson Highway
Winnipeg, MBR2G 1P4
CONTACT DETAILS
Phone: 204-989-7900
Cellphone: 204-955-5853
Gino Cipriano and his team span a lot of property types, including apartment, building lot, business, commercial, condominium, duplex, house, new build, and townhouse.
They have multiple awards under their belt, including the Winnipeg Realtors Gold Medallion, Royal LePage Top 35 under 35, Royal LePage Diamond Award. Gino Cipriano is also a 2021 ThreeBestRated award-winning real estate agent.
One huge plus for us is that despite the recognition and accolades, Gino Cipriano's commission rates can be lower relative to the industry standard. Of course, this can vary based on a lot of variables, but their minimum commission rate is at 2%.
The only con we could find is that Gino Cipriano's team, being as young as they are, might not have that much experience compared to other hard-hitters in the field. This may cause concern for some, despite the fame they're currently riding.
Has a wide array of properties available, not just residential
Has multiple awards under their belt
Has a lower-than-average minimum commission rate of 2% to 7%
Other agents may have more experience than some team members
Customer Reviews
Professional and responsive – Mathew M.
"Gino has helped me both buy and sell homes over the past 5-10 years.. He displays a professional and positive attitude at all times. He's always made my experience a pleasant and stress free one. Rest assured he will go out of his way to help you in any way he can with the buying or selling adventure. His knowledge of the market and connections honestly make the whole process very simple. He's very responsive and won't leave you with unanswered questions. Don't hesitate to call or text him anytime with an inquiry. I'd rate him higher if I could!"
Quick selling process – Mickey W.
"Gino was amazing. He sold our house in very little time, kept my nerves in check as I tend to worry, and managed to get us a great deal. He was a pleasure to work with, always responded to my numerous questions and really took the time to explain things to us. He will be our realtor again should we need him and I can't recommend him highly enough!"
3. Andrea Tiopo
PRODUCTS
Buying, Selling, Listings, Home Evaluation, Renovation and Staging, Interior Design
WEBSITE
https://www.andreatiopo.com/
ADDRESS
1305 Kenaston Boulevard
Winnipeg, MBR3P 2P2
CONTACT DETAILS
Phone: 204-293-8182
Email:

[email protected]
The first thing you will see about Andrea Tiopo is their huge social media presence. They get significant traction not only for their real estate work but for the supplementary information and guidance they post online about properties in general, which can help you in the process, too.
One other thing that will stand out upon reviewing their listings is the knack for listing modern-looking homes. They offer renovation, staging, and interior design in addition to their buying and selling services.
As such, if you're one to look into aesthetics as a priority in choosing homes, Andrea Tiopo would be one worth looking into.
What's more, Andrea Tiopo has definitely got their branding down. If you're selling and you wish to put your property up to par with these great-looking homes, they might be the agent for you.
A con we did spot is that Andrea Tiopo specializes in residential listings and purchases only. We didn't find anything that states they don't deal with commercial or business, but it is a big possibility.
Has renovation, staging, and interior design as additional services
Has a huge social media presence that can supplement information and guidance provided
Perfect selection for those looking for modern-looking homes
Branding is top-notch
Specializes in residential listings and purchases only
Customer Reviews
Flexible and hands-on even after the possession date – Vanessa M.
"Andrea helped me and my partner find our first home! During the process she was very helpful and patient. She was very flexible when it came to showings and informative of each listing we viewed. Even after our possession date she helped guide us with the next steps to get us started. We would highly recommend her!"
Quick and smooth selling process – Kaitlyn G.
"Worked with Andrea to sell our home this summer. She was AMAZING. We needed the house sold quickly- and she made it happen. She is extremely efficient, organized and very helpful. The process went so smoothly – thanks to her! I very highly recommend Andrea Tiopo!"
Patient and helpful for first-time home buyers – Alyssa P.
"Andrea was amazing to work with while we searched for and purchased our first home. She was incredibly flexible with our busy schedules and was very easy to get a hold of when needed. She was always prepared to answer our questions and connect us with appropriate resources. She also frequently sent us listings with the aspects we were looking for. Andrea was not pushy at all and took the time to help us find the house that was right for us. She went above and beyond to help us learn the ins and outs of buying a house, as we were first time home buyers."
4. Bobby Wall
PRODUCTS
Buying, Selling
WEBSITE
https://www.bobbywall.com/
ADDRESS
663 Stafford St.
Winnipeg, MBR3M 2X7
CONTACT DETAILS
Phone: 204-218-7474
One of the offerings that makes Bobby Wall unique is what they call their Private Client Services. They offer a "bespoke" search and acquisition service that spans not only Canada, but the whole globe.
Their dedicated team of experienced financial advisors prioritizes discretion in transactions. This is mainly due to the fact that they cater to high net-worth individuals, families, and global property investment trusts.
Given that, the team may not be suitable for beginners or first-timers in the field. They say that they like to keep their client base small, too, due to the nature of their clients.
On the other hand, they're very difficult to beat when it comes to hands-on, personalized services. Their connections also make them a worthy solution for those who need to find very specific, hard-to-find, or high-end properties as well as buyers.
Bobby Wall himself also has a solid reputation as a responsive agent. The clients we talked to noted that he replied almost immediately to their queries and was regularly in touch with updates.
Has Private Client Services
Services high net-worth individuals, families, and global property investment trusts
Has a team of experienced financial advisors
May not be suitable for beginners or first-timers
Keeps their client base small
Customer Reviews
Professional, clear and concise communication – Donald K.
"Honest, professional, informed, are among the many positive attributes that I would use to describe Bobby Wall and his team. Our experience with Bobby started from an on-line ad that caught my attention and subsequently held it throughout our home selling journey. Bobby laid out a well crafted sales plan with an ambitious timeline that was executed professionally with a very positive outcome. Clear, concise communication is one of Bobby's strongest skills – we always felt that we were well informed and on track with our home sale. I highly recommend Bobby and his team for any of your real estate needs."
Experienced and flexible for clients – Harrison N.
"Bobby offers a level of service we thought didn't exist anymore. His accommodating schedule allowed us to look at every house we wanted to see. Given his experience, he was able to answer many questions on the spot. He listened to our wish list and prepared many Saturdays filled with prospective homes. If you are looking for top notch service and a flexible schedule, Bobby is your man! We would definitely use him again."
5. Amber van den Broek
PRODUCTS
Buying, Selling, Listings
WEBSITE
https://www.ambervandenbroek.com/
ADDRESS
3505 Roblin Blvd
Winnipeg, MBR3R 0C5
CONTACT DETAILS
Phone: 204-947-9800
Cellphone: 204-899-2877
Fax: 204-594-9030
Aside from their experience in plain buying and selling, one of the things that struck us most about Amber van den Broek is their advocacy for environmental conservation and protection. It actually bleeds into how they do their work.
They are a member of green organizations such as The Green Action Centre, Habitat for Humanity Winnipeg, and MREA Shelter Foundation, for instance. They even integrate energy-saving, eco-friendly housekeeping practices in the guidance they give to clients.
They also have special expertise in homes within the Wolseley, Crescentwood, West End, River Heights, River View, Norwood Flats, St. Boniface and St. Vital areas, which would be perfect for those looking into these neighborhoods in particular.
One possible con for those looking to sell or buy non-residential property is that Amber van den Broek only deals with residential listings and purchases, however. Keep that in mind if you're a business owner seeking commercial property – this isn't where you should go.
Has an advocacy for environmental conservation and protection that bleeds into the buying and selling practice
Strong expertise in several areas of Winnipeg
Specializes in residential listings and purchases only
Customer Reviews
Helpful, knowledgeable, and patient – Michele
"Amber was very helpful, knowledgeable and took the time to chat with us to address all the questions, comments or concerns we had during the extremely volatile housing market during COVID. She was extremely patient and determined to understand what my concerns were and provide me with clarifications or explanations whenever possible. I know that due to my professional background as an Engineer, it can be very exhausting providing explanations to the level of detail required for me to make confident decisions, but Amber was up to the task."
Made buying a house in the middle of a pandemic easy – Alicia J.
"Amber was recommended to me through a colleague at my new job and she helped us purchase our first house in the middle of a pandemic. Because of travel restrictions and quarantine, we could not travel to the province before purchasing and she was incredibly patient and responsive to us and our situation. She always answered all of our questions and she seemed incredibly honest and genuine in our discussions. She was very thorough during the walk-throughs of houses, always showing us every little detail."
6. John and Mira Marion Real Estate Winnipeg
John and Mira Marion Real Estate has one simple goal – to assist clients to make smart real estate choices. It is this natural ability of theirs to guide people to make a major financial decision that has earned them respect among colleagues and clients.
Their journey into real estate began in 2006 and 2007, with John taking the first steps while Mira joined him shortly afterward. Since they both have a real passion for helping their clients, they've enjoyed their fair share of success in the field.
Their multi-awarded company has received numerous recognitions such as the RE/MAX Hall of Fame awards and ranking in the top 10 Best Rated Realtors in Manitoba. Their training as a Seniors Real estate Specialist and as a registered supplier at BGRS relocation program also play a large role in their success.
Specializes in homes and condos
Excellent negotiation skills
Competitive commission rates
$1000 cash back to all their clients
Exceptional marketing
Doesn't handle commercial properties
Customer Reviews
The best that can be found in a real estate professional
"If you are looking for a real estate professional to help you find your new home, you won't find anyone better than Mira Marion. Mira represents the best that can be found in a real estate professional. Honesty, integrity, dedication, and knowledgeable are words that best describe my view of Mira as a person. Mira helped me find my new home. She can do the same for you." – Joka
They patiently worked with us
"John and Mira's help made it possible for us to achieve our big dream, on a tight budget. They patiently worked with us over several months until we found the home that worked for us. They also brought a family perspective that helped us think about our needs and desires. Another important quality of their work is honestly. No matter what property they showed us, they were sure to point out the good and the bad, to help us make an informed decision. For us to be happy with our decision and our new home was more important to them than anything else. Good luck!" – Idris

Look no further
"I was a very nervous perfectionist when selling my childhood home. Mira's calm and grace settled my nerves within minutes of meeting her. In addition, her husband John's knowledge and attention to detail perfectly complemented his wife's professionalism. They both have the patience to answer all questions quickly and thoroughly, and the house sold within the week! I simply could not have dreamed of better real estate agents. Look no further! – Maria Munick
7. Team Brown
PRODUCTS
Seller, Buyer, Senior Services, Relocations, Professional Services
WEBSITE
https://www.teambrown.ca/
ADDRESS
663 Stafford Street Winnipeg MB R3M2X7 CA
CONTACT DETAILS
Phone: 204-475-9130
Email: [email protected]
Team Brown is owned by husband and wife team Jeff and Colette Brown, with over 14 years of experience in the real estate industry. As a family-run business, one of their core values is to build strong relationships with their clients.
Serving Winnipeg since 2005, Team Brown is a multi-awarded real-estate agency. They've received recognitions for their outstanding achievements from Sutton's President Award, Manitoba Realtors Board, and the MLS Medallion Club for a number of consecutive years.
One of their unique services is helping seniors during the buying or selling process. Team Brown can declutter, clean, fix up and prepare your property to help increase its value and sale price.
Whether you're a first-time home buyer, a seasoned buyer, investor or looking to sell your home, Team Brown can help you out. They can deal with mortgage brokers, banks, lawyers, insurance brokers, on your behalf and make the entire process of buying or selling your property easier.
Specializes in assisting seniors in buying or selling homes
Wide network of lenders and consultants
Received numerous awards and recognitions
Can help with relocations
Customer Reviews
Professionalism, Quality, Responsiveness, Value
"Just wanted to send a big THANK YOU to Jeff & Colette for helping us sell our home and for helping us purchase our new home. They are amazing people who go out of their way to put your worries and stress at ease. They were fantastic to work with and always treated us so nicely. They take the time to get to know you and truly care about you and your family. Jeff was never bothered by are millions of questions we had and was always there to give his feedback which is super helpful because he knows his stuff and he wants to make sure you do the right thing for you and your family. Having a 3-year-old while also expecting our second child made things tricky especially during a pandemic but again Jeff and Colette were always there to help us and make the process as easy as possible. Our daughter was obsessed with them and kept asking to see them. We do not just think of them as our realtors we think of them as our friends. We will never forget what they have done for our family, it means that much. We keep in touch months after and cannot wait to have them over for celebratory drinks at our new place and for them to meet our son, post COVID-19 restrictions! Thanks, so much Jeff and Colette!!"
Professionalism
"I have had several mutual clients with Team Brown in the past year or so. I like to ask my clients how their other service-providers have done for them, and to a person each client has had an excellent experience dealing with Jeff and Colette. In my communications with Jeff and Colette, both are friendly and prompt, and each seems genuinely dedicated to furthering their clients' interests, even when those interests may make the job take longer. They go to great lengths to make sure their client are taken care of, and achieve the results they were hired for."
8. Ben Woelk REALTOR® From RE/MAX One Group
Ben Woelk REALTOR® is a licensed real estate agent who is based in Winnipeg with RE/MAX One Group. Despite being a single-man team, he provides consistently professional services for his clients, and works hard in their best interests.
We find that his website is highly user-friendly and is a great platform for both buyers and sellers. It offers excellent, recognizable marketing for current featured listings, and plenty of information to get you started in the process of either buying or selling your home.
Past experiences with Ben have been highly efficient and pleasant. Communication is professional and prompt, and clients are given exceptional attention and service throughout their time working with him.
We commend him for his professionalism which is evident in how he deals with properties and his extensive network of buyers and sellers.
Overall, with a free on-site evaluation, clients are ensured that their properties will be efficiently accounted for and systematically dealt with in a way that is smooth and stress-free.
Smooth transaction
Accommodating customer service
Wide network of buyers and sellers
Rates are unavailable
Operating hours unavailable
Customer Reviews
Here are some reviews from their clients:
"My condo was sold within a week of listing, at the listing price with Ben's help! From listing price, marketing strategy , to the timing of preparing paper works, he made the right decision for me at every step. He took care everything and helped avoided lots of headaches. If you are buying/selling, talk to him! He will get the job done!"
"We would highly recommend contacting Ben, even if you're just considering buying or selling a home! Ben set us up with a personalized search for a house with all of our criteria long before we thought we were ready to purchase anything. Ben was very accessible from start to finish, answering tough questions with no delay. Ben made looking at houses easy and writing offers stress-free. He even accommodated looking at more rural properties outside the perimeter. We had a great experience working with Ben and are loving our new place!"
9. Ed Dale Team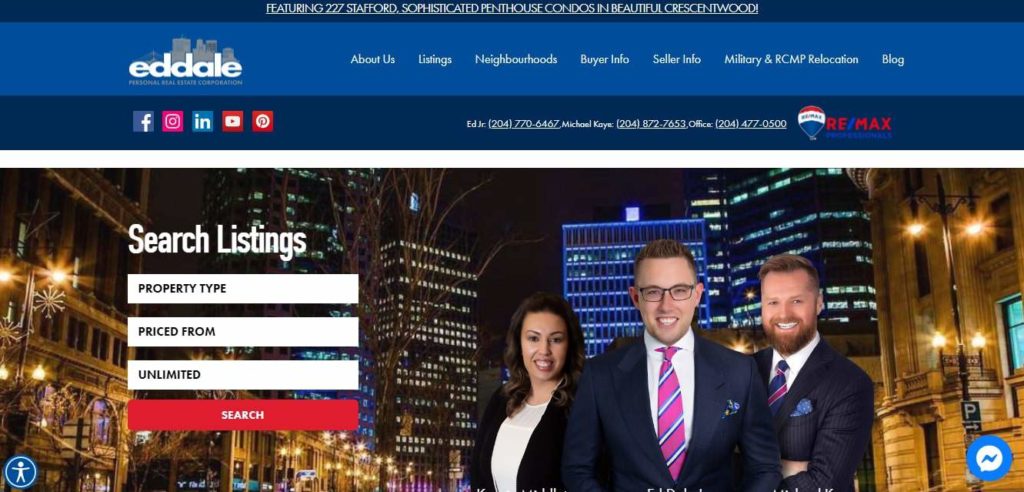 PRODUCTS
Buying, Selling, Listings, Military & RCMP Relocation
WEBSITE
https://eddale.com/
ADDRESS
1601 Buffalo Place #18 Winnipeg, MB, CA R3T 3K7
CONTACT DETAILS
204-770-6467


[email protected]

OPERATING HOURS
9am – 9pm, 7 days a week
Ed Dale Team is a company that helps clients with their real estate issues and services that are specifically geared to sell and buy homes within the Winnipeg area. Being in the industry ever since 1978, they have both the historical knowledge and technical know-how of the field.
We find their realtor team to be highly experienced and certified to deliver reliable services since not only do they possess a wide network of connections but the expertise and understanding of the area to pull off the whole transaction smoothly.
Clients have found their suggestions to be very practical and play into what their real estate goals are which has led to positive and successful results in the end.
They have an excellent listing resource in which they are able to accommodate numerous neighborhoods such as Bridgwater, Island Lakes, River Pointe, Sage Creek, St. Vital, and Royalwood among many others.
Overall, with their past testimonials, we recommend and find them ideal for clients looking for a responsive and proactive company to sell or buy their property within the area.
Wide service area
Features various open houses
Grounded on an excellent foundation of the place's neighborhood
Operating hours unavailable
Customer Reviews
Here are some reviews from their clients:
"Ed Dale Jr was superb in selling our house within a week and well above the asking price. He carefully listen to my concerns and provided sound advice. During those stressful time, my family and I were extremely peaceful knowing that Ed was taking good care of us. I am purchasing and selling house every 2 years on average, responsiveness is critical for me and Ed was always there to support us throughout that process. I truly recommend Ed and his team for a great investment and in order to get top dollar at resale. Please do not hesitate, call Ed Dale Jr." – Steeve Belley
"Ed and his team are supremely knowledgeable about the area, market, social media and strategy. They gave us the best chance to sell and succeeded quickly and easily. Ed was always on his game, attentive to his clients, and inspired confidence at every step. We would use him again without hesitation, and would always recommend him. A pleasure to do business with!" – Matt Cardy
10. Darryl Walsh
Daryl Walsh is a real estate agent who has diverse experience when it comes to buying, selling, and evaluating homes and properties. He has over 20 years in the industry and is also a certified sales and marketing professional as well.
We find their online home evaluation to be very accommodating for clients who intend to have a contactless and convenient assessment of how their properties measure in the particular area and neighborhood.
Another thing we found notable is that their clients have found him to be very professional and thoughtful of the specific situations that his clients are in so that he can offer sound advice and educational information.
He is also described as detail-oriented and pays close attention to the needs of his clients so that he can employ the most appropriate strategy for the client.
Overall, we recommend him for clients looking for a reliable and practical real estate realtor that can help clients understand their property and help clients get equally adequate connections.
Educational approach
Convenient home assessments
Convenient and smooth process
Operating hours unavailable
Customer Reviews
Here are some reviews from their clients:
"Mr. Walsh was thoughtful as this was after the loss of our mother. He clearly explained what needed to be done to get best price. He explained what may affect the sale price. He offered alternatives to help us get best price. I really felt he worked hard for us." – Cherylene Robson
"Darryl helped us purchase our first home. As first time homebuyers, having a knowledgeable, honest realtor like him on our team made the buying process a lot less stressful. Darryl always took the time to answer questions, see properties, and write offers for us. He was a pleasure to work with and had our backs through the whole process. 100% would recommend." – Chris and Alyssa
11. Justin Pokrant
| | |
| --- | --- |
| PRODUCTS | Buying, Selling, Listings, Home Evaluation |
| WEBSITE | https://justinpokrant.com/ |
| ADDRESS | 360 McMillan Avenue, Winnipeg, Manitoba, R3L 0N2 |
| CONTACT DETAILS | (204) 453-7653 |
| OPERATING HOURS | By appointment |
Justin Pokrant is a top-rated agent who works with the talented roster of agents from Century 21 Bachman & Associates. He is an award-winning realtor who has almost a decade of experience on the field.
His services range from giving you advice on buying and selling homes, on mortgages, to stress-free relocation services. What we like about his services is that his guides are readily available on his website.
So even before you contact Pokrant, you're already getting sound advice on what you need to generally know. This adds to the hassle-free experience his services promises.
Pokrant also specializes in relocation, so whether it's medical or corporate, he really tries his best to have his clients satisfied. The only thing he's lacking in his services is that he doesn't handle commercial properties.
Aside from this, he is also part of the Brookfield Global Relocation Services. So if you're affiliated or an employee of the government of Canada or the Department of National Defense (DND), Canadian Forces, Royal Canadian Mounted Police (RCMP), you will receive a white glove service.
Another thing that we really like about his services is that his listings are posted on YouTube. This way, you're able to see what kind of properties that he's handling.
So you would be able to properly assess if his taste and type of properties are to your liking. All in all, Pokrant is a great realtor and we would recommend his services.
Award-winning and top-rated realtor
Free home evaluation
Medical and corporate relocation
Part of the Brookfield Global Relocation Services
Doesn't handle commercial properties
Customer Reviews
"We cannot express how pleased we have been to have had the opportunity to work with Justin over the last year! First, Justin's attention to detail and amazing photography skills helped me sell my beloved condo in less than a week! Shortly after my husband and I got married, we began our search for our new home, with Justin's help. Justin was very patient and always professional as he really listened to what it was that we are looking for. We recently found an amazing house with the yard of our dreams. Justin has gone above and beyond in offering us a wealth of knowledge into undertaking a renovation, and seeking professionals to make our dreams a reality. We cannot wait to recommend Justin to our friends and family in the future!" – Deborah & Chris in Tuxedo
"Justin Pokrant was an excellent guide through the process of buying our first house. We weren't sure exactly what we were looking for, but Justin's patience and knowledge of the market helped us clarify what we wanted and gave us confidence when we decided to make an offer. We appreciated that Justin always made time around our schedule to show us properties, and was always looking for potential problems that we would have otherwise missed. He put us at ease when putting in an offer, helping us find the sweet spot amongst multiple offers. He continued to follow up after closing, making sure we were happy with our new home. We look forward to working with Justin again in the future." – Stefan & Stacey in West End
12. Andrew St. Hilaire
PRODUCTS
Buying, Selling, Listings
WEBSITE
https://www.andrewsthilaire.com/
ADDRESS
15 Scurfield Blvd Winnipeg, MB, Canada R3Y 1G3
CONTACT DETAILS
+1 204-955-8496 /

[email protected]

OPERATING HOURS
Monday – Friday, 8 AM – 11 PM
Saturday – Sunday, 9 AM – 10 PM
Andrew St. Hilaire is a real estate agent that provides its clients with sound and reliable advice and information when it comes to property concerns and services in the area.
We find their website to be very comprehensive and convenient wherein clients can easily have access to a variety of properties that are categorized by their features for a better and more specific browsing experience.
They also possess an exemplary work ethic approach that is transparent and direct so that clients are guaranteed honest fees and reliable services that also ensure quality outputs as well.
Another thing we think is notable is their effective communication system wherein they are able to update clients regarding the progress of their project and employ both the most effective approaches for every individual situation.
The only negative thing we've noticed about them is their fairly limited work force, which means that there may be delays in certain services.
Overall, clients have commended them for their steadfast and professional approach when it comes to customer service and equally promising properties that clients can avail of and sell at affordable and reasonable rates.
Ethical approach
Transparent services
Accommodates a wide range of listings and communities
Open 7 days a week
Customer Reviews
Here are some reviews from his clients:
"Andrew has been very helpful to many of my clients with their real estate needs. Andrew is professional, efficient and responds very quickly to both me and my clients. On top of that, Andrew's knowledge of the market and his drive to help his clients is second to none. For anyone that is thinking of buying or selling Andrew is the man for the job! Keep up the great work!"
"Andrew is a great realtor! He works hard and is very responsive to communications. He helped me sell my former home and buy my amazing new home. He brings a high level of knowledge and experience from many years of renovating houses, so he knows what he is talking about and is able to answer many questions about different properties. When he doesn't have an answer, he knows who to ask. I highly recommend Andrew!"
13. Sheraz Ali
Sheraz Ali is a full service real estate professional in Winnipeg. He works with buyers, sellers and investors, and handles all property types of all price ranges.
What we found striking about him is his wide range of expertise. He's capable of representing his clients on both the buy and sale side, and can represent them for investments and land purchases, development and financing.
The fact that these aren't solely personal claims, but are backed by a number of his past clients makes us confident to add him to this list.
Out of more than a hundred reviews online, he's received an average of 5 out 5 stars so far. All of them attest to his professionalism, knowledge and expertise in the field of real estate.
One thing we think is also worth noting is that he ensures that he provides his clients with all the information they need to make a sound decision, and would go to great lengths to do so.
It's no wonder why clients keep coming back to him for their real estate needs. Although we believe he could still improve his services if he could hire more personnel to help him, since right now he is a one-man team.
Knowledgeable in his field
Full service real estate professional
Represents clients on the buy and sale side, investments and land purchases, development and financing
Operating hours unavailable
Customer Reviews
Here are some reviews from his clients:
"We just completed third deal with Sheraz! He has been helping my family since 2015.
Sheraz is someone you can trust, count on when it comes to Real estate purchase or Sell.
The latest deal require complexity as we showed business income to purchase the property. There were times when Sheraz was guiding us even at 11:30pm when dealing with the mortgage broker & the other agent. Thanks to him we got a very good deal on the property.
Many more to go, Thanks Sheraz for your hard work!"
"Sheraz helped us sell our home quickly and was extremely helpful the entire process! He's very attentive and brought alot of enthusiasm to our interactions. This made the entire experience more enjoyable! He's experienced, professional, and was always prompt! We would highly recommend Sheraz for your real estate needs!"
"Sheraz has helped me buy/sell a home a few times, and it can be a very stressful time, but Sheraz has a way of making it fun! He is very knowledgeable about the real estate but also all the ins and outs of buying and selling. He took the time to understand what I wanted to achieve in buying a new home and helped guide me to the right place. He has always been very patient and honest with me, which I value very much. And his vast knowledge goes beyond just the obvious and he has helped in so many other ways, including linking me to resources for renovations needed, inspectors, etc. He is also very good at staying in touch and checking in, just in case you have questions and always takes the time to answer your questions. And comes up with some I had never thought of. I trust Sheraz completely and would recommend him highly!"
How to Choose the Best Real Estate Agent in Winnipeg
Now that we've laid down the best options to look into for property management, let's set some important and helpful guidelines that'll ensure you pick the right one for your property.
1. Compare and contrast real estate agents online based on homes sold
There are a lot of lists online on the best real estate agents in Winnipeg or Canada in general. It's important to also look at the homes solid and the reviews (and how they respond to negative or neutral ones) online to gauge the agent's character.
2. Look for personal referrals
Getting personal referrals from family, friends, or colleagues with prior experience is the best way to ensure that the agent is worth your trust. Since selling and buying property isn't that much of an uncommon thing, you're sure to find someone with recent experience.
3. Look for repeat agent names across your own neighborhood or city
You can visit open houses in your neighborhood or city to personally see and observe how nearby agents conduct their business. You can also drive by and check out the most common name on properties. It'd be a plus for that agent, too, if the signs in front of houses for sale already say "SOLD!" on them.
4. Make a checklist of key traits
You want your real estate agent to have the following traits:
Familiarity with the local area and neighborhood
Gets to know deeper the property they will be selling
Communicative and hands-on
Positive reviews and professional handling of negative reviews
Good reputation among locals
Good negotiator and quick problem solver
Has sufficient experience with your specific real estate needs
FAQs about Real Estate Agents in Winnipeg
---
Made up your mind yet? We know there are tons of options out there, so do let us know if we have anything to improve on on our list!
While you're on your quest, this list of the best real estate lawyers in Winnipeg can also help you.