The 6 Best DUI Lawyers in Winnipeg
Sometimes, working hard and partying harder gets us in unfavorable situations. However, good legal advice can help you through most cases, including driving under the influence.
With that, you can seek counsel from the best DUI lawyers in Winnipeg and avoid a tough sentence. Getting an expert lawyer can get you through many rough patches you may encounter in this lifetime.
So, let's dive right into it.
How Much Do DUI Lawyers Cost in Winnipeg
First things first – being charged for the impaired operation of a motor vehicle is expensive, even without the legal fees just yet. This is because immediate costs require you to spend a pretty penny, and conviction costs are a different story.
It is best to just avoid driving under the influence altogether, but there are times when we're already in the situation and we just want out. That is why many people hire a good lawyer to help them instead of representing themselves in court.
Also, good legal help can reduce the fines and penalties imposed onto you by the judge. The estimated costs are as follows:
| Immediate Charges | Cost |
| --- | --- |
| Assessment from an Addiction Foundation (a requirement to get the license back) | $650 |
| License Reinstatement Fee | $50 |
| Towing and Storing of Impounded Vehicle | $600 |
| Legal Charges | |
| DUI or Impaired Driving-related Offense | $2000 to $10 000 |
| Conviction Factors | |
| Minimum Fine | $1000 to $2000 |
| Victim Crime Surcharge | 30% of Fine |
| Alcohol Interlock Ignition Program | $850 - $1000 |
| Vehicle Damages | $1000 - $2500 |
Finding Good DUI Lawyers in Winnipeg
Because legal services are costly, we must ensure that we receive the most bang for our buck. With that in mind, we evaluated the best DUI Lawyers in Winnipeg using the following criteria:
1. Jason Malloy Criminal Defence Lawyer
SERVICES
Sexual Assault, Drug Trafficking, Aggravated Assault, Drive Impaired, and Mischief
WEBSITE
https://jasonmalloy.com/
ADDRESS
Theodore L. Mariash Law Office 3-363 Broadway, Suite 401 Winnipeg, MB R3C 3N9
CONTACT DETAILS

[email protected]

204-480-8508

OPERATING HOURS
By appointment basis
| | |
| --- | --- |
| Criteria | ★★★★★ (5/5) |
| Availability and Assistance | ★★★★★ (5/5) |
| Customer Satisfaction | ★★★★★ (5/5) |
| Experience and Expertise | ★★★★★ (5/5) |
| Professionalism and Protocol | ★★★★★ (5/5) |
We were impressed by Jason Malloy, a criminal defense lawyer, for his exceptional services. His dedication to clients shines through in every aspect of his work.
Convenience is key in the legal world, and Jason Malloy excels in this department. He promptly responds to inquiries and accommodates tight schedules, making the legal process smooth and stress-free.
Jason Malloy's reputation speaks volumes.
His track record of successful defenses and high client satisfaction is a testament to his expertise. It's clear he's not just any lawyer; he's the one you want in your corner.
In a world where legal fees can be astronomical, Jason Malloy offers a refreshing change.
His transparent and reasonable pricing structure ensures you get top-notch representation without breaking the bank.
In the courtroom, Jason Malloy shines as a formidable advocate. His legal prowess and attention to detail are truly remarkable.
What truly sets Jason Malloy apart is his unwavering commitment to clients.
He goes above and beyond to understand your case, explore every avenue, and fight vigorously for your rights. It's not just about winning; it's about securing the best possible outcome for you.
Jason Malloy isn't just a lawyer; he's a strategic partner.
He takes the time to explain complex legal matters in a way that's easy to know, empowering clients with knowledge. This level of client engagement is rare and invaluable.
Unfortunately, he doesn't offer promos at the present. We advise checking his website for other affordable deals.
Expertise
Convenience
Reputation
Affordability
Customer Reviews
"Super helpful! Easy to understand. Trustworthy. Reliable. Would use again if I needed to. Mr. Malloy got me acquitted at trial after a long fight. He did a great job as my lawyer. I'm super happy with the outcome!" – W.P.
"Jason is a fantastic lawyer and I would definitely recommend him to my family & friends. He always promptly responded to all my emails, and phone calls. He kept me in the loop every step of the way and, ultimately I am very satisfied with how things turned out in regards to my case." -K.K.
2. Michael Dyck Criminal Law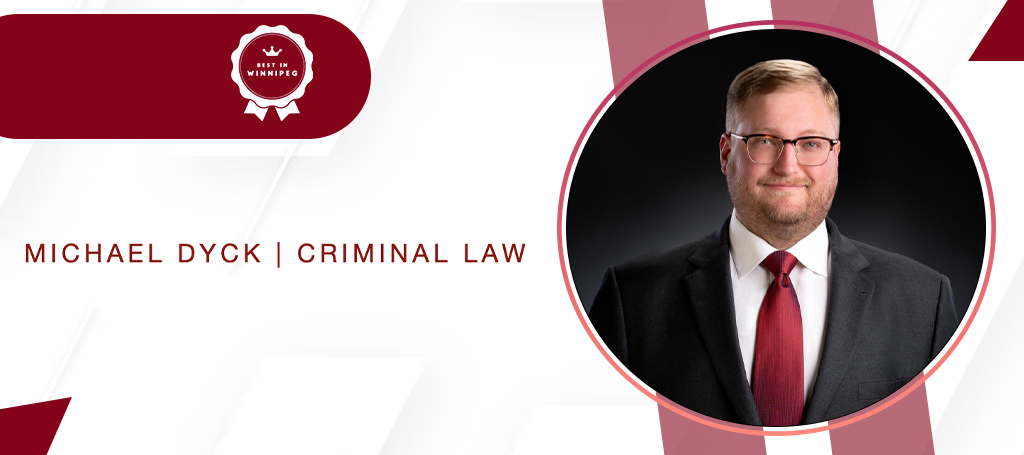 SERVICES
Criminal Law and Defense Cases, including Impaired Driving, Domestic Assault, Drug Charges, Bail Hearings, and Legal Aid
WEBSITE
https://www.michaeldyck.ca/
ADDRESS
155 Carlton St #1640, Winnipeg, MB R3C 3H8, Canada
CONTACT DETAILS
Phone: 204-318-61
OPERATING HOURS
Weekdays: Open 24 hours

Weekends: Open 24 hours
| | |
| --- | --- |
| Criteria | ★★★★☆ (4.75/5) |
| Availability and Assistance | ★★★★★ (5/5) |
| Customer Satisfaction | ★★★★★ (5/5) |
| Experience and Expertise | ★★★★☆ (4.5/5) |
| Professionalism and Protocol | ★★★★☆ (4.5/5) |
Michael Dyck Criminal Law, also a partner firm of Rees Dyck Rogala Law Offices, is situated in Winnipeg and specializes in criminal defense. They are not only recognized as excellent on the field, but also expert communicators of the law, especially when you're being charged for the first time.
If you're a new client, you are eligible for a free initial consultation regarding any concerns. He has mainly helped clients charged with criminal offenses, namely DUIs, drug charges, and assault.
Basically, if you need a lawyer that can simplify all the complicated legal jargon, then Michael Dyck is a good choice.
However, it must be noted that this firm only accepts criminal defense cases. This limited coverage shows his specialization, and also a lack of associates to cover other types of cases.
Nevertheless, the firm stands by a set of core values in order to properly execute his tasks in the profession. That said, Michael Dyck Criminal Law has become one of the trusted lawyers firms in Winnipeg.
Given that they are open 24/7, clients can rely on them to respond if anything comes up, or when there's an emergency. The firm is also responsive on all platforms, whether it's text message or Facebook messaging.
Available at all times
Commendable experience and expertise
Offers free initial consultation to new clients
Specializes in criminal defense
Good rapport and relationship with clients
Does not accept other types of cases
Limited services
Customer Reviews
Considerate and professional
Amazing lawyer and went over the top for me. Answered all questions and concerns even though I ended up not needing a lawyer. I would absolutely hire him in the future!
— Eva Klassen, Google Reviews
One of the best lawyers we've worked with
Michael Dyck was very quick to help with the situation we had. Very knowledgeable and quick to respond to questions. We would highly recommend Michael Dyck.
— Roberta Hiebert, Google Reviews
3. Mat Schwartz Criminal Law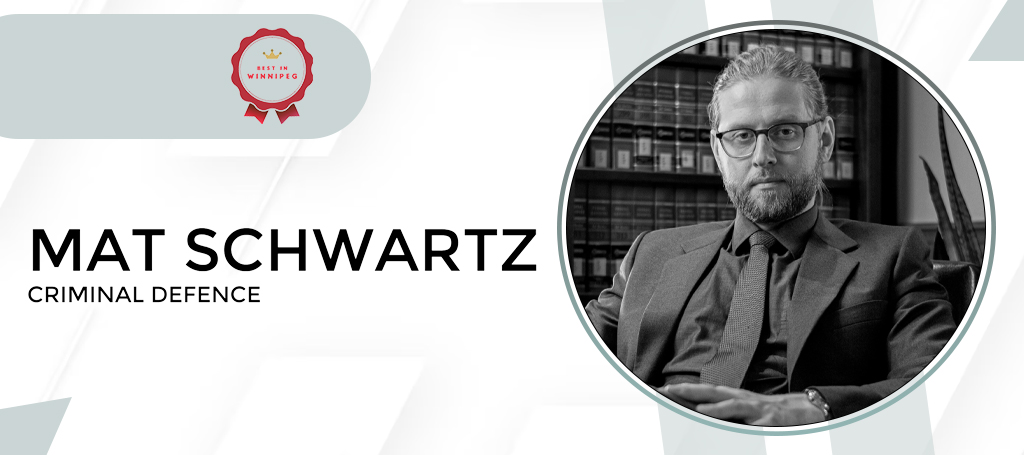 SERVICES
Criminal Law Practice covering Drug Offenses, Domestic and Violent Offenses, and Impaired Driving Incidents
WEBSITE
https://www.matschwartz.com/
ADDRESS
155 Carlton St #1640, Winnipeg, MB R3C 3H8, Canada
CONTACT DETAILS
Phone: 204-272-9637
OPERATING HOURS
Weekdays: Open 24 hours

Weekends: Open 24 hours
| | |
| --- | --- |
| Criteria | ★★★★☆ (4.6/5) |
| Availability and Assistance | ★★★★☆ (4.5/5) |
| Customer Satisfaction | ★★★★★ (5/5) |
| Experience and Expertise | ★★★★☆ (4.5/5) |
| Professionalism and Protocol | ★★★★☆ (4.5/5) |
Mat Schwartz also happens to work with Rees Dyck Rogala Offices as well, and exclusively practiced criminal defense*. His work experience focused on impaired driving or DUIs, drug offenses from possession to trafficking, and domestic or violent offenses.
What makes Schwartz a good lawyer for DUIs is his approach on mitigating the economic hit of the offense. This means that he will not only help clear or enhance a criminal record, but will see to it that the fines imposed are reduced to some degree.
The firm offers limited legal services and focuses only on specific departments. This specialization, however, proves expertise and experience, since Schwartz was able to perform at all levels of court in Winnipeg.
Furthermore, the firm makes sure to address your concerns and accommodate the needs of your case effectively. They do this by allotting a time for assessment and discussion, which comes in the form of a free consultation for new clients.
In addition to all this, Schwartz has received multiple awards for his dedication to various advocacies, including Boys and Girls Club of WInnipeg and Macdonald Youth Services. He also aims to build a community that hopes for a better justice system.
His rapport with clients is impressive, which also proves his dedication to the vocation.
Effective specialization
Community contribution and advocacies
Expert handling of DUI or Impaired Driving cases
Offers a free consultation to new clients
Available all the time and everyday via their 24 hour line
Works for criminal defense exclusively
Limited services
Customer Reviews
Very highly recommended
Mat Schwartz is an incredibly skilled and professional lawyer. He is supportive, attentive to details, well spoken, knowledgeable about prior precedents/case laws – plus had both his client and family well prepped and informed of various possible outcomes going into court. Our case ended with best case scenario, a huge relief for our family.
— Queen Bee, Google Reviews
Knowledgeable service. Effort appreciated
If you are looking for a lawyer that is Not trying to make a quick Buck, Mat is your guy. When Mat says he's the best, he truly is the best. In all sorts of ways. He truly cares and wants to help. The situation I was in was beyond me, I couldn't think, I was panicking, anxious. And Mat went out of his way to calm me down and handled my case for months! He's always available to talk is a big plus. To add cherry on the icing. My case turned out better than expected. Thanks Mat, u cleared from something that would have affected my whole life.
— Jayson Kones, Google Reviews
4. Eric Wach Law: A Law Corporation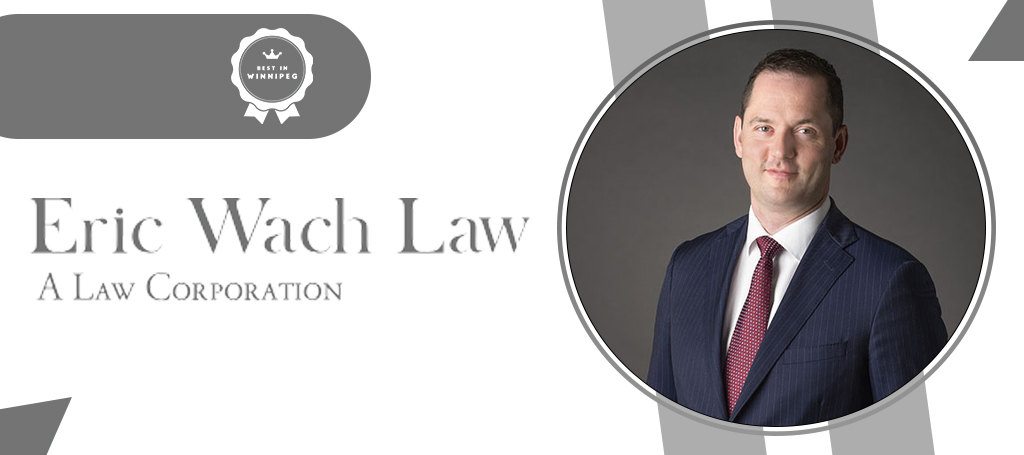 SERVICES
Handling cases involving Drugs, Impaired Driving, Domestic Violence, Firearms, Property Forfeiture, Assault and Violence, Fraud and Appeals.
WEBSITE
https://www.wachlaw.com/
ADDRESS
430 River Ave #4, Winnipeg, MB R3L 0C6, Canada
CONTACT DETAILS
Phone: 204-298-8248
OPERATING HOURS
Weekdays: 9:00AM - 5:00PM

Weekends: CLOSED
| | |
| --- | --- |
| Criteria | ★★★★☆ (4.75/5) |
| Availability and Assistance | ★★★★☆ (4.5/5) |
| Customer Satisfaction | ★★★★★ (5/5) |
| Experience and Expertise | ★★★★★ (5/5) |
| Professionalism and Protocol | ★★★★★ (5/5) |
Eric Wach Law is a criminal lawyer with great experience on handling diverse cases – from drug kingpins to the economically disadvantaged. The firm is a big name when it comes to legal services, but with a wider scope of work.
They offer assistance and defense against cases involving DUIs or Impaired driving, drugs, firearms, property forfeiture, assault and violence, appeals, and fraud. This is definitely a plus, since most criminal defense lawyer firms in Winnipeg stay within specific departments exclusively.
While they can accommodate emergency cases on a situational basis, the office's operational hours are only during weekdays. This means that they are not as available, and may require appointments during their working hours.
The first course of action Eric Wach Law takes is tackling the issue of whether you should invest your money to battle the allegation or not. The firm also ensures to give clients the most favorable result, with reduced fines if possible.
The firm also ensures the well-being of their clients by maintaining transparency and support throughout the process – which is something we appreciate. Eric Wach Law also uses the Canadian Charter of Rights and Freedoms to assert the client's individual liberties, especially if any misconduct or violations are done during the investigation.
Assists clients with the economic aspect of the case
Practices professionalism, transparency and moral support for clients
Wider scope of services
Great experience in handling diverse clientele
Closed during weekends
May not be able to accommodate emergency cases
Customer Reviews
Highly Recommended
Eric is a great guy, easy to get along with and extremely knowledgeable. He puts his whole heart into the case.
— Vikrant Chanana, Google Reviews
Man of integrity. Great service!
One of the most professional articulate attorneys I have ever had the pleasure of dealing with. Eric always responded to my questions and concerns. Was able to get to the bottom of things, uncover the truth, relay it to the crown to eliminate a trial or any more money incurred. Eric is one attorney who has your best interest at heart.
— Diane MacFarlane, Google Reviews
5. Daniel A. Wolson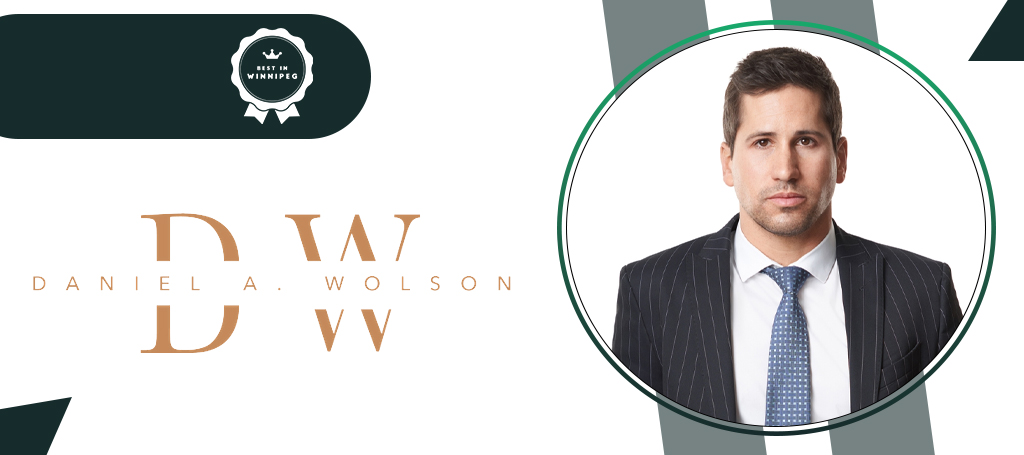 SERVICES
Handling cases including Impaired Driving and Driving-related Offences, Drug Offences, Sexual Assault, Domestic Violence, Fraud, Firearms, Theft and Robbery, Murder and Manslaughter, Juvenile Delinquence, and Appeals
WEBSITE
https://www.lawyerwpg.ca/
ADDRESS
363 Broadway Street #1120, Winnipeg, MB R3C 3N9, Canada
CONTACT DETAILS
Phone: 204-985-8182
OPERATING HOURS
Weekdays: 9:00AM - 5:00PM

Weekends: CLOSED
| | |
| --- | --- |
| Criteria | ★★★★☆ (4.7/5) |
| Availability and Assistance | ★★★★☆ (4.5/5) |
| Customer Satisfaction | ★★★★★ (5/5) |
| Experience and Expertise | ★★★★★ (5/5) |
| Professionalism and Protocol | ★★★★★ (5/5) |
Daniel A. Wolson Law Office centers their expertise in criminal defense law, but are effectively able to expand to different types of cases. The firm has ample experience from the industry's leading names prior to establishment, and now has led successfully acquitted cases since 2010.
The scope of the firm's practice covers more than most criminal defense lawyers showcase. That said, their practice includes cases on sexual assault, theft and robbery, youth and juvenile delinquency, murder, manslaughter, and appeals.
Lead lawyer Daniel Wolson also has secured acquittals at all court levels in Manitoba. He takes pride in his tactical approach and determined focus on strategy and trial preparation.
Because of their technical scope, expertise, and experience, the rates on their services are relatively expensive. With that, the firm aims to make the whole situation easier for their clients by means of Charter Application.
The firm was also awarded one of the top 10 Criminal Law Boutique Lawyers and Best Lawyers Law Firm of the Year in Canada in 2021. They were also accredited by the National Committee under the Federation Of Law Societies of Canada Certification.
Furthermore, what we and many of their clients appreciate about their service is their professionalism and effective communication. No matter how complicated the legal jargon sounded, the process seemed simple and workable with the help of Daniel A. Wolson Law Office.
Offers free consultation upon booking
Wide scope of services and expertise
Good rapport with clients
Professional and expert case handling
Closed on weekends
Not the best choice for emergency situations
Customer Reviews
Incredibly reliable. We appreciate the help!
Mr. Wolson helped me on numerous occasions. He is very professional, responsive and has always delivered positive results. I could not be happier with his service and would recommend him to anyone in need of good representation or legal advice.
— Jessica Lander, Google Reviews
Truly grateful for these experts and professionals
How do I start…
They turned a bad situation for me into the best possible outcome. Something I have been worried about for quite a while.
Communication was great with awesome advice. They never left me feeling confused or not understanding any situation.
I highly recommend their services if anyone is in a tough spot. They are there to help and it doesn't take long to realize that you're in good hands.
— Ted Bowcott, Google Reviews
6. Pinx & Co.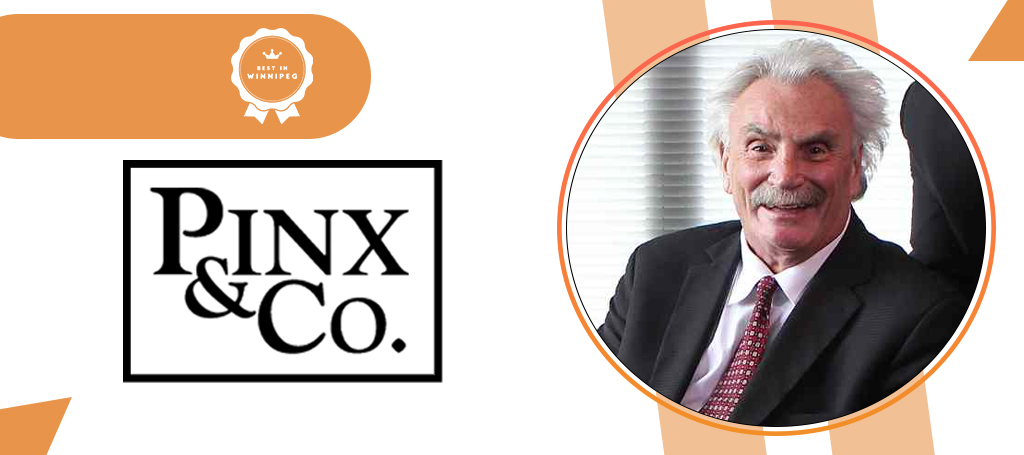 SERVICES
Practice in Areas including Appeals, Assault, Driving Offences, Drunk Driving, Legal Aid, Protection and No-contact Orders, Robbery, Arson, Firearms, Theft, Fraud, and Youth Charges
WEBSITE
a class="link" target="_blank" rel="noreferrer noopener" style="text-decoration:underline" href="https://pinxlaw.com/ https://pinxlaw.com/
ADDRESS
1404-155 Carlton St, Winnipeg, MB R3C 3H8, Canada
CONTACT DETAILS
Phone: 204-949-1700
OPERATING HOURS
Weekdays: 9:00AM - 5:00PM

Weekends: CLOSED
| | |
| --- | --- |
| Criteria | ★★★★☆ (4.75/5) |
| Availability and Assistance | ★★★★☆ (4.5/5) |
| Customer Satisfaction | ★★★★★ (5/5) |
| Experience and Expertise | ★★★★★ (5/5) |
| Professionalism and Protocol | ★★★★★ (5/5) |
If you're aiming to work with lawyers that are well-established and long in the game, then the cutting edge legal defense of Pinx & Co.may be what you need. Since DUIs and Impaired Driving cases can cause so much hassle to clients, they are assured that the firm has enough data and strategy to pull you through.
On their website, they discuss the basics of the case, as well as the details on the process. That said, we appreciate how they open this information to the public, whether they avail the said services or not.
They also include the laws that stipulate the limitations and the parameters of the offense for better understanding. However, they do not offer free consultations to new clients.
Another thing to take note of is that they are not available 24/7, so that means they are not easy to contact after their working hours. That also means that they may not be the best choice when it comes to emergencies.
Pinx & Co. also has a wide range of services and practice areas, with a team of lawyers specializing in particular areas. These services include assistance in cases like protection and no-contact orders, weapons, legal aid, drugs, youth delinquency and assault.
Wide range of services and practice areas
Experts in driving offenses and DUI cases
Plenty of available information on website
Does not offer free consultations
Closed on weekends
Customer Reviews
Respectful and professional
Thought it was impossible to find a decent lawyer. Eric Wach did outstanding work for me. Answers calls promptly easing your concerns. Treats you with professional respect!
— Glenn Shott, Google Reviews
Great time working with the team
Been working with Jon Pinx for a couple of months now and it is clear to me that he is one of Winnipeg's best criminal defense lawyers.
— Christ Laubenstein, Google Reviews
FAQs About DUI Lawyers in Winnipeg
---
With all that being said, it's safe for us to say that expert and effective legal counsel can help you greatly during such times. Not only can it save you from an unnecessarily rough sentence, but it also ensures that none of your rights are violated in the process.
Then again, there are many firms that qualify for the best DUI lawyers in Winnipeg. So feel free to do more research in your area on who has handled similar cases successfully in their career.
If you are in need of legal assistance regarding family affairs, check out this guide on the best family lawyers in Winnipeg. These professionals have the experience to handle such cases and may just have the expertise you require.