The 10 Clinics That Offer the Best Physiotherapy in Winnipeg
Image Source: Studioroman
Our bodies aren't machines, and they may even lose some of their functions at some point. When this happens, you'll need the best physiotherapy in Winnipeg to bring back your body's strength and range of mobility.
Luckily, we're here with a list of the top physiotherapy (PT) clinics in the city. From a guide to choosing the ideal clinic to a list of FAQs, this article may just have everything you need to know regarding Winnipeg's best physiotherapy clinics.
Choosing A Physiotherapy Clinic
So first off, we'll share our insights about how to find the best PT for you. Here are the factors you should consider when choosing a PT clinic:
Expertise: There are many types of PT, depending on what your body needs. Make sure you find a clinic that can give you the therapy you need.
Credentials: Make sure the clinic has licensed, certified, and experienced physiotherapists. Beware of clinics that advertise physical healing but actually have no licensed medical professionals.
Insurance coverage: Physical therapy can be a long process, costing a lot per session. So, be sure to visit a clinic that accepts your insurance plan.
Communication and customer service: Lastly, you should find a clinic with staff and PTs who will listen to what you need. You can screen your options by reading customer reviews.
What to Expect on Your First Appointment
During your first appointment, you should be ready to explain your condition in detail, sharing information such as when the pain started and how often it occurs.
You may also have to show your range of mobility for a better diagnosis.
If you had a previous appointment with an orthopedic doctor, surgeon, or family doctor, you should bring your referral slip to your first PT appointment.
After diagnosis, your therapist will brief you regarding PT options and begin your treatment plan.
Where to Find the Best Physiotherapists in Winnipeg
We hope you now have an idea of how to pick the clinic that can give you the best physiotherapy here in Winnipeg. Without further ado, we present to you our list of clinics with the best licensed PTs.
[Note: this list is in no particular order.]
1. Prairie Trail Physiotherapy & Sports Injury Clinic Winnipeg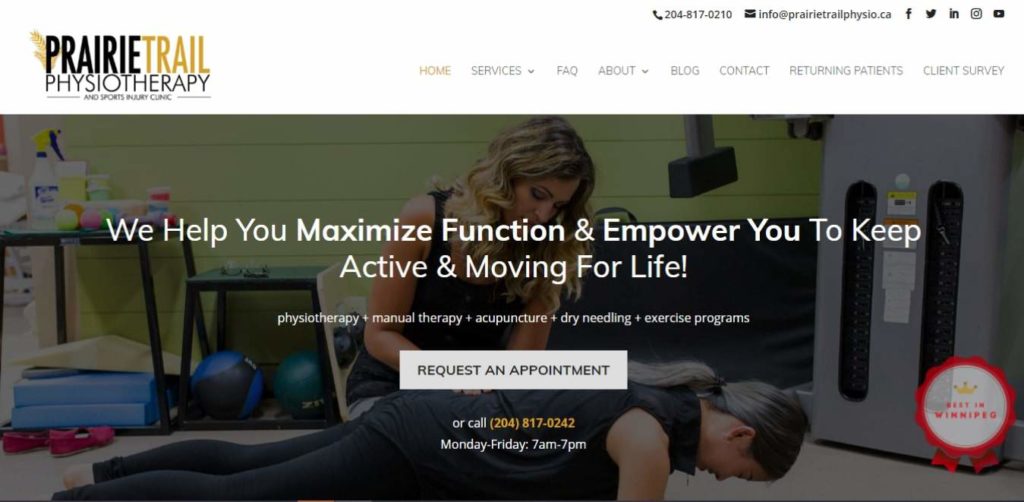 From reconditioning programs to surgery rehabilitation plans, Prairie Trail Physiotherapy offers a hands-on approach to PT. It also has other services such as acupuncture and dry needling, both carried out by certified practitioners.
Prairie Trail has medical staff who are also professional athletes and personal trainers. Thus, they also claim to provide you with the best treatment plans to get you back to your usual physical activities.
And if you need rehab that you can do at home, you can also sign up for Prairie Trail's online consultation and physiotherapy sessions.
Online consultations and video therapy
Dry needling, acupuncture, and other alternative methods
Accepts most insurance plans
Focus limited to active-based therapy
Customer Reviews
Prairie Trail gives you exercise regimes to follow and explain to you how you can get better. Here are reviews that say so:
"Gina & her team have helped me pre & post pregnancies! In all the years that I've been going to Prairie Trail Physio, I know that I'm always going to be well taken care of. Staff has always been very knowledgeable & dedicated in helping me get my body back to feeling 100% again."
"I always have an amazing experience when I come here. From massage therapy to physio and dry needling they do it all and I always leave feeling better. Staff are amazing and so knowledgeable."
2. Kenaston Common Physiotherapy
Kenaston Common Physiotherapy provides physical therapy, massage therapy, dry needling, and acupuncture services to all types of clients. It also offers customized exercise plans suitable for individuals and groups.
What makes this clinic stand out is that it offers the best physiotherapy in Winnipeg on an online platform. Your PT will be watching you exercise through a secure online platform, and you will also receive exercise plans and advice.
Additionally, Kenaston has webinars that you can attend for free. During these seminars, you can learn about how to do healthy at-home exercises.
Has both group and individual exercise plans
Secure online videotherapy sessions and free webinars offered
In-clinic comprehensive gym
Doesn't accept Equitable life, Standard Life, Maritime life, Empire life, Desjardins, Cooperators and Quebec Blue cross insurance
Customer Reviews
Kenaston not only provides effective PT, but it also offers compassionate care for its customers, much like what these customers have felt:
"I went to Kenaston Common Physiotherapy early January 2021, to address three issues. I was seen by Jasmine Stromberg. She is a consummate professional in her field; an attentive listener, extremely knowledgeable, gentle when needed, patient and excellent at explaining what needs to be done to ameliorate one's presenting issues. I cannot recommend her highly enough! 100% Thank you Ms. Stromberg!!"
"Kenaston physio is great! My physiotherapist Hillary was wonderful when I broke my arm, and helped me get my range of motion back quickly! I really looked forward to our appointments."
3. South Sherbrook Therapy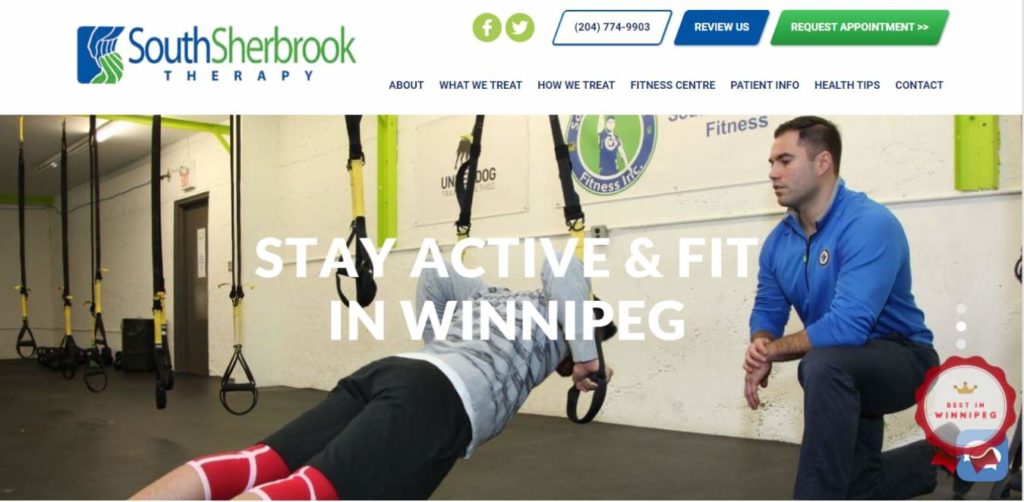 South Sherbrook Therapy is a multidisciplinary clinic specializing in various therapy options, including physiotherapy, athletic therapy, and nutrition counselling.
It offers therapy options using the latest technologies and practices, including ultrasound, laser therapy, and IASTM. South Sherbrook even does assisted therapy, such as myofascial release, kinesio taping, and ergonomic training.
The clinic also has a gym, which offers one-on-one training and group classes. Additionally, South Sherbrook also provides other resources such as free ebooks so that you can take care of your physical well-being.
Offers advanced therapy methods like IASTM
In-clinic gym with solo and group sessions
Nutrition counselling and assisted therapy provided
Free resources offered
Accepts most insurance plans
Massage available only on Tuesdays and Thursdays
Customer Reviews
With its variety of high-quality PT services, South Sherbrook has amassed a perfect 5-star rating from its customers. Here are just some of those reviews:
"Jason and Tyler are very kind and respectful gentlemen. I have gone a few times now for massages and came out feeling amazing each time. I would highly recommend that you visit South Sherbrook Therapy and they will surely help relieve you of any aches or pains you may have. Absolutely great experience!"
"Fantastic therapy clinic! The staff here are super kind and knowledgeable. They have an athletic therapist, physiotherapist and massage therapist, all with similar holistic approach to therapy. They not only look at the injury, but also the root cause of that injury. Highly recommend this clinic to anyone! PS the owner, Jason Moniz, also owns the downstairs Fitness Center."
4. Complete Physiotherapy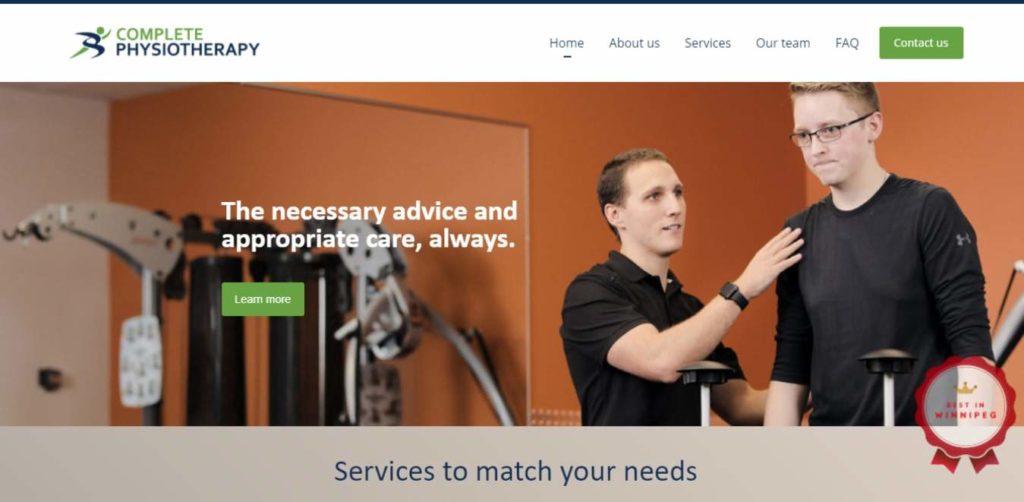 As its name suggests, Complete Physiotherapy offers a full range of PT services. Such services include geriatric, orthopedic, cardio, sports, and neurologic physiotherapy.
Its medical team comprises five certified physiotherapists, two registered massage therapists, and one certified athletic therapist. These medical providers deliver the best active PT in Winnipeg because they are also active individuals themselves.
Besides, you can also avail of Complete's certified acupuncture and dry needling services. With these additional medical services, you may even get rid of your chronic pain for good.
Does PT for a very wide variety of conditions
Big team of 5 physiotherapists, 2 massage therapists, and 1 athletic therapist
Offers alternative treatment options
Doesn't accept public Manitoba Health insurance
Customer Reviews
Customers appreciate South Sherbrook's ability to cater to all types of conditions while providing friendly and approachable services, much like these reviews will tell you:
"Staff here are awesome and so therapeutic. They are very warm and accommodating and actually listen to your concerns. Kudos to the staff! You are all just amazing especially Kelsey."
"I can finally go on long bikes again without tail bone pain. Carlos gave me a variety of good strength building exercises and stretches to enable improvement in several areas. He spent a good amount of time on manual treatment as well, whereas other phsios I've been have been shorter and not adequate or jumping between to many patients."
5. Cordova Physiotherapy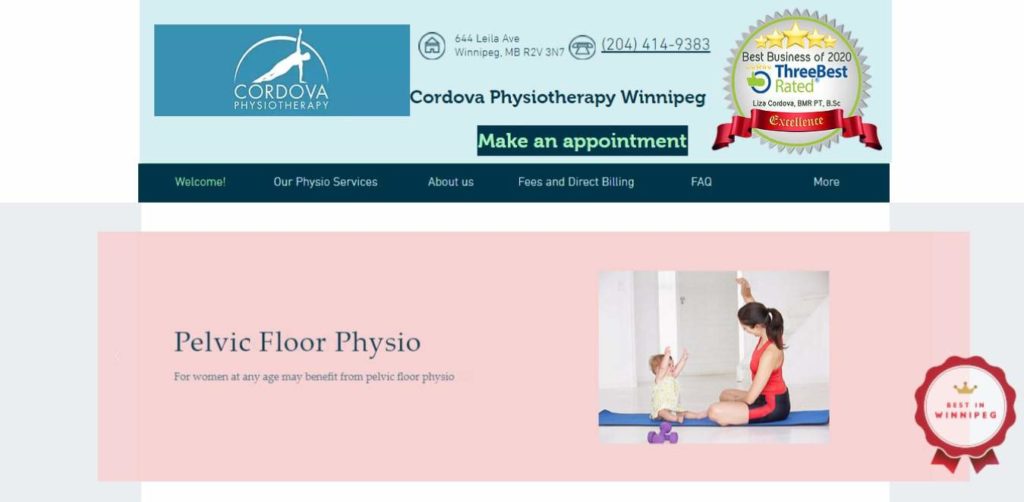 Cordova Physiotherapy is well-known for providing pelvic floor physiotherapy, an effective treatment plan for strengthening and rehabilitating muscles worn out by menopause, childbirth, surgery, or even overuse.
The clinic has five registered physical therapists who are also experts in vestibular and TMJ treatments. Cordova also has three massage therapists for assisted therapy.
Additionally, Cordova offers both in-clinic and in-home exercise programs. You may not even have to worry about billing because Cordova does direct billing for most Blue Cross insurance plans.
Offers pelvic floor therapy for women
5 physical therapists and 3 massage therapists
At-home exercise programs
Accepts numerous insurance plans
Slightly more expensive services compared to most others
No direct billing for some insurance companies
Customer Reviews
Here are reviews from customers who believe Cordova provides the best physiotherapy in Winnipeg:
"I have been coming here since they first opened. And I will never go anywhere else. The one-on-one client to physiotherapist ratio makes you feel like you are truly a priority and cared for; not just a number. The staff there are truly amazing. They are knowledgeable and caring and I couldn't be happier with the care I have received!"
"I was very skeptical of Physiotherapy, until I started working with Liza at Cordova, she made me feel very comfortable and relaxed, and convinenced me to give it a try (what did I have to lose?). I found Liza very knowledgable and a great motivator and has made me a believer. I would absolutely recommend her services, my spained ankle feels so much better and it is all thanks to her rehabilitation program."
6. Active Kids Physiotherapy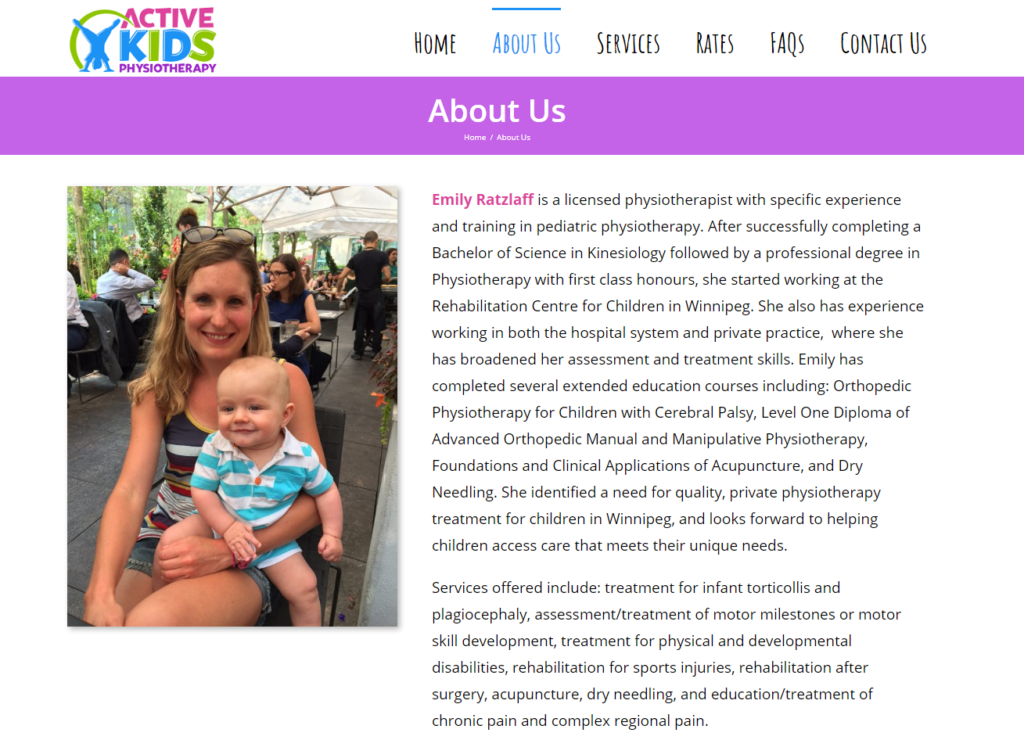 Active Kids Physiotherapy, as the name suggests, focuses on the treatment and maintenance of children's optimal function. It is led by Emily Ratzlaff, a licensed pediatric physiotherapist.
Ms Ratzlaff has a background in Orthopedic Physiotherapy for Children with Cerebral Palsy, Level One Diploma of Advanced Orthopedic Manual and Manipulative Physiotherapy, Foundations and Clinical Applications of Acupuncture, and Dry Needling. With her skills and expertise, she endeavours to help children in need while in the safety and comfort of their homes.
Active Kids Physiotherapy offers standard services like post-surgery and sports injury rehabilitation. It also offers specialised treatments such as treatment for infant torticollis and plagiocephaly.
Every program is specially tailored to fit the patient's needs.
In-home physiotherapy program
Wide range of issues addressed in physiotherapy programs
7. Up and Running Physiotherapy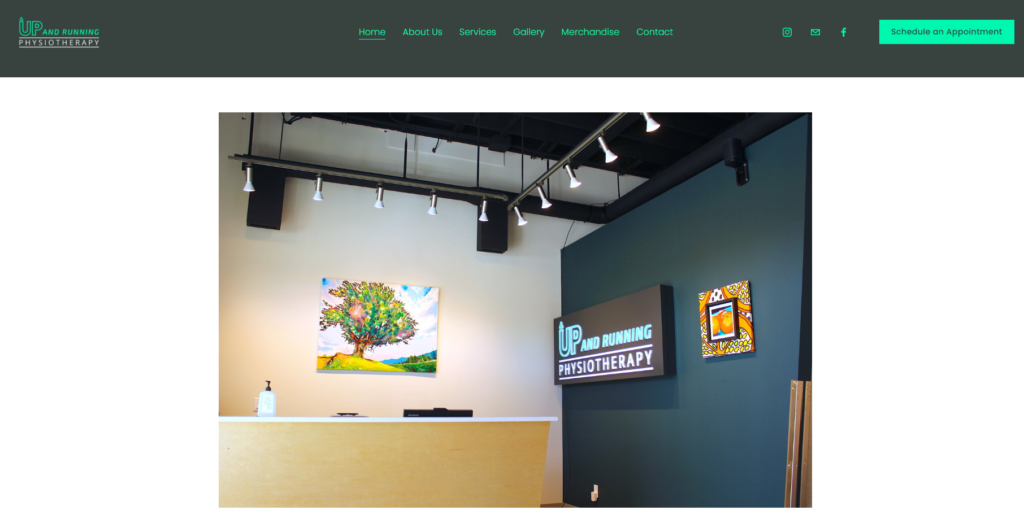 BEST FOR
Personalised physiotherapy treatments in a comfortable location
SERVICES
Physiotherapy and Massage Therapy
WEBSITE
https://upwpg.com/
ADDRESS
3 – 651 Stafford Street, Winnipeg
CONTACT DETAILS
(204) 202-7226 | [email protected]
OPERATING HOURS
Monday to Thursday: 8 AM – 7:30 PM
Friday: 8 AM – 5 PM
Saturday: 9 AM – 1 PM
Sunday: Closed
Up and Running Physiotherapy is a humble clinic located on Stafford street known for its thorough examinations, consultations, and hands-on, custom-tailored treatment plans.
The team of physiotherapists at Up and Running Physiotherapy endeavours to get patients on the right track as efficiently as possible. With this goal in mind, they not only personalise exercise regimens for patients, but also provide some after-care tips to ensure steady rehabilitation even outside the clinic.
They cater to patients of all ages and, should the need arise, offer recommendations for further treatments. Private rooms are available in the clinic for boosted comfort.
Up and Running Physiotherapy's booking site makes the process of acquiring their services as seamless as possible. Check it out here.
Excellent booking tool
Specialised and focused treatment plans
Highly clean and sanitised clinic
Customer Reviews
Here are reviews from customers who believe Up and Running Physiotherapy provides one of the best physiotherapy treatments in Winnipeg:
"The attention given to you here is on a different level from other physio places. The after care is also unique and digital which is great so you don't loose it (for example if it were only on paper; you do also get a plan tailored to your needs on paper). Nicely decorated and clean, COVID precautions in place. I liked it so much I sent my mum. Great online booking tool."
"So far, I have had 2 appointments with Elliott! Elliott is friendly, professional, knowledgeable and I feel completely at ease with him! Elliott gave me a list of stretches, of which I can do at home, and already I am starting to feel better! I would definitely recomend Up and Running Physiotherapy!"
8. Concourse Sports Ergonomic Physiotherapy
BEST FOR
Affordable Physiotherapy treatments
SERVICES
Physiotherapy and Massage Therapy
WEBSITE
https://yourphysio.com
ADDRESS
201 Portage Ave
formerly TD Centre
Winnipeg, Manitoba
R3B3K6
CONTACT DETAILS
2 0 4- 9 4 3 8 4 1 1
[email protected]
OPERATING HOURS
Contact for more information
Concourse Physiotherapy is a humble clinic that has been serving the local Winnipeg area since 1991. Its main goal, even after all these years, is to provide those in pain with treatments that are accessible and affordable without sacrificing the quality of the treatments.
They offer free direct billing to most employee benefit or private insurance plans, free chart maintenance, and free one-hour parking in the Exchange District. Plus, patients are welcome to come in during operating hours without having to book a consultation.
Concourse Physiotherapy strives to accommodates patients as soon as possible, with the latest schedule after 48 hours of initial communication. New patients, of course, will undergo a thorough assessment so the expert therapists at Concourse can provide them with the accurate treatment plan that will lessen their pain for days to come.
New patients always welcome
Treatments are significantly less expensive than average
Free one hour parking near the clinic
9. Harbourview Therapy
BEST FOR
Multidisciplinary Clinic
SERVICES
Physiotherapy, Athletic Therapy, Massage Therapy, Dietitian, Cooling Units
WEBSITE
https://www.harbourviewtherapy.com
ADDRESS
8-1320 Concordia Ave E, Winnipeg MB, R3W 0G6
CONTACT DETAILS
T: 204 615 2888
E:

[email protected]


E:

[email protected]

OPERATING HOURS
Monday
09:00 AM – 06:00 PM
Tuesday
09:00 AM – 08:00 PM
Wednesday
09:00 AM – 08:00 PM
Thursday
09:00 AM – 08:00 PM
Friday
09:00 AM – 06:00 PM
Sunday
Closed
Saturday: Massage Therapy Appointments Available Only
multidisciplinary clinic that offers physiotherapy, athletic therapy and massage therapy to help you with your various aches ,pains and injuries
Next on our list is Harbourview Therapy, a centre in Winnipeg that strives to help those experiencing various aches, pains, and injuries.
The centre has a team of professionals with diverse specialisations, making it possible for Harbourview Therapy to not only offer Physiotherapy but Athletic Therapy, Massage Therapy, Dietitian Services, and Cooling Units as well.
Physiotherapy from Harbourview Therapy can address a wide array of issues, such as aches from accidents, sports injuries, work injuries, and more. If you're looking to relax and recover, they can also address your needs with massage therapy.
Aside from the range of services, Harbourview Therapy also comes highly recommended for offering convenience and following Covid-19 protocols. The centre has a dedicated page for online booking, which also includes pre-screening questions.
While the centre is closed on Sundays, it does operate from Monday to Friday, and accepts appointments for massage therapy on Saturdays. To learn more about their offerings, clients can book a free 15-minute consultation.
Does TMJ (jaw) treatments (massage therapy)

Wide range of services

Convenient online booking system
10. St. James Rehabilitation Physiotherapy Center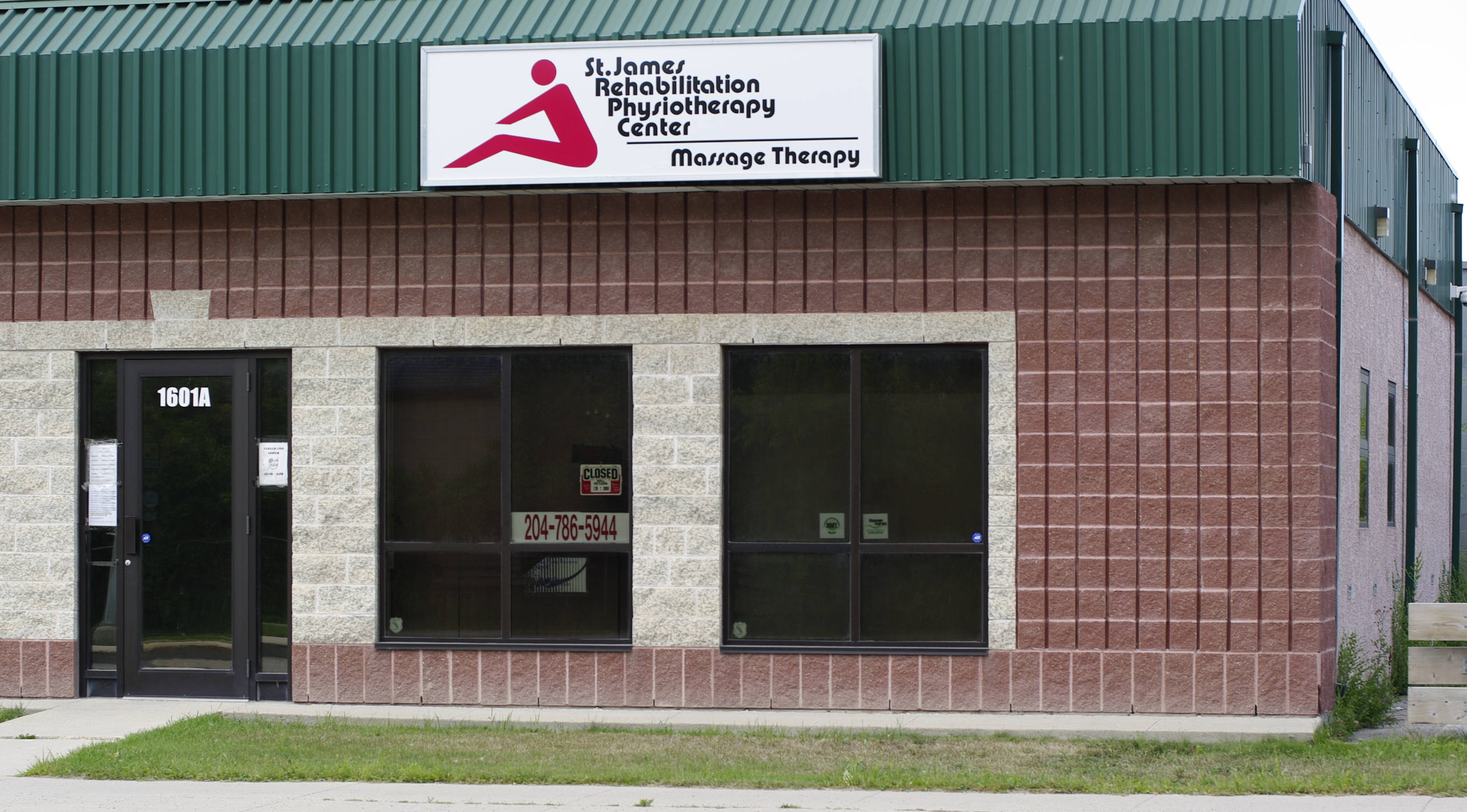 BEST FOR
Wide range of services
SERVICES
Manual therapy, laser therapy, orthotics
WEBSITE
http://stjamesrehab.ca/
ADDRESS
1601a Silver Ave, Winnipeg, MB R3J 4A1
CONTACT DETAILS
(204) 786-5944
OPERATING HOURS
Monday, 8AM–1PM
Tuesday & Thursday, 8AM–4:30PM
Wednesday, 9AM–1:30PM
Ever since 1988, St. James Rehabilitation Physiotherapy has been offering physiotherapy services in Winnipeg. Since its foundation, it has grown and continues to be one of the most updated clinics when it comes to physiotherapy.
Its physiotherapy approaches include laser therapy, custom orthotics, and manual therapy. With this wide range of services, this clinic can cater to those with chronic and musculoskeletal pain, as well as those who have experienced trauma due to vehicular or industrial accidents.
However, do take note that this clinic does not accept cash payments at the moment, but we believe that they can still improve their services when it comes to this aspect. Their operating hours are also a bit irregular, so make sure to double check before coming in person.
We'd also like to note that St. James Rehabilitation Physiotherapy also offers return-to-work readiness and safety level assessments. Aside from its medical expertise, St. James Rehabilitation Physiotherapy also impresses its clients with its transparent fees and direct billing services.
Wide range of physiotherapy techniques
Offers readiness and safety assessments
Does direct insurance billing
Doesn't accept cash payments
Erratic operating hours
FAQs about Physiotherapy in Winnipeg
---
Now that you know everything you need to know about where to get the best physiotherapy in Winnipeg, you can begin to rehabilitate your body.
If you're looking for other healthcare providers, by the way, you should also check out our other medical lists: like the one for the best dentists in Winnipeg. With these doctors, you'll surely keep your mouth and teeth safe and healthy.