The 6 Best Notary Public Services in Winnipeg
Everyone at some point needs the services of a notary public. Whether it is for a contract or any other type of legal document, notary public services are something that you will come across at least once.
That is why we have put together this list of the best notary public services in Winnipeg. If you have a document that needs to be notarized, we can help you out!
Let's start with the cost of notary services here before we get to the actual list of notaries.
The Cost of Notary Public Services in Winnipeg
Notary services vary in cost, but we managed to put together a list of estimates reflective of current prices. These are the usual fees for the most common notary services.
| | |
| --- | --- |
| SERVICE | ESTIMATED COST |
| Notarization | $25 to $50 |
| Notarization of passport | $70 to $100 |
| Initial Notarization | $15 to $25 |
| Subsequent Notarization | $15 to $25 |
| Notary witness | $25 to $35 |
The Best Notary Public Services in Winnipeg
Now let's get to our list of the best notary public services in Winnipeg!
1. Winnipeg Notary Services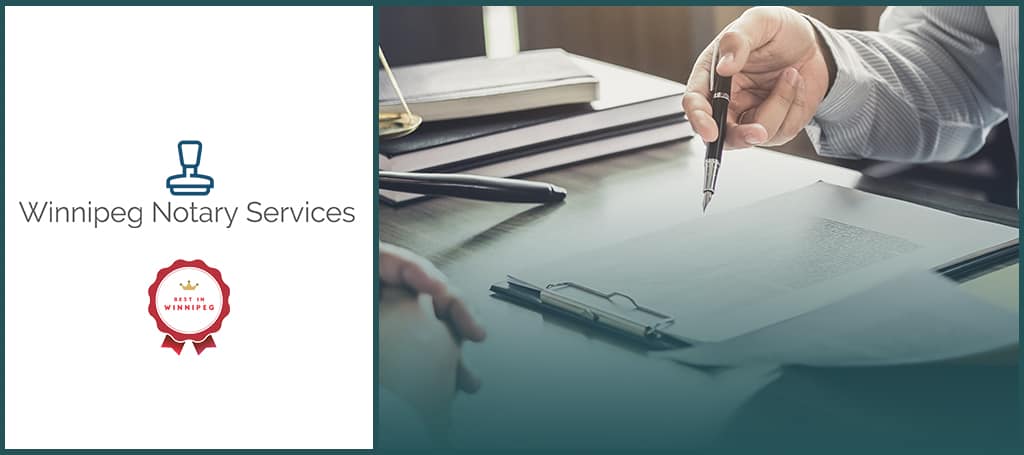 SERVICES
Notary Services
WEBSITE
https://www.winnipegnotaryservices.com/
PRICING
For a full list of pricing, click here.
ADDRESS
Mobile notary
CONTACT DETAILS
To book an appointment click here.
OPERATING HOURS
Monday to Friday 5:00 pm to 11:00pm
Saturday and Sunday 24 hours
Winnipeg Notary Services is a mobile notary service that is able to meet you at a location convenient to you… which might just be the best thing about them.
It's also great that they are open 24 hours during weekends, especially for those who have notary requirements but no time during weekdays.
They make the process of notarizing very accessible to everyone because they go directly to wherever you are. The only catch is that you have to ensure that all required documents are prepared and ready to go because they do not offer any additional services other than notary.
Although they are a bit on the pricey side, the service is worth paying for because they seem to be one of the few companies offering this type of mobile notary service. They also accept all kinds of payment methods like cash, credit, and other e-transfer methods.
This is a modern, unique offering that is definitely useful to the young professionals of today.
Mobile notary service
Open 24 hours during weekends
Accepts Visa, MasterCard, American Express, Cash, and other e-transfer payments
Extra fee for locations outside service area
$25 convenience fee for cancellations with less than 1 hour notice or incomplete documents
Customer Reviews
Based on these client reviews, Winnipeg Notary Services offer the most professional Notary Public Services.
"The service was professional and friendly. K Wills communicated regularly with me and offered helpful advice. I would use this service again and highly recommend them." – Bina J.
"Very professional service with fast replies and flexible options. Definately would recommend." -D. N.
"Very professional. Prompt responses to emails. As advertised!" – G. P.
2. Laufer Notar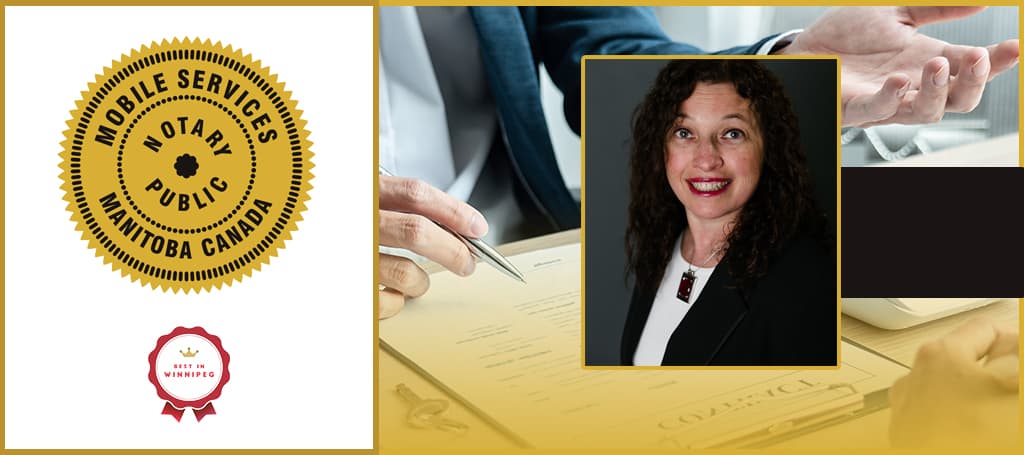 SERVICES
Notary Public, Background Checks, Beneficiary Releases, Certificate of Pharmaceutical Product, Free Sale, Parental Permission Form & Commercial Invoice, Adoption Documents, Affidavits, Agent Authorization Letters, Agreements, Applications, Apostille, Survival, Birth, Analytical Certificates, Assignments, Origin, Cohabitation Agreements
WEBSITE
https://www.laufernotary.ca/
ADDRESS
42 Deer Run Dr. Winnipeg, Manitoba R3P 2L4 Mobile notary
CONTACT DETAILS
204 995 4348


[email protected]

OPERATING HOURS
Open 24 hours
Alicia Laufer founded Laufer Notary when she noticed that there was a lack of mobile notary services in the area. She focused on people in retirement homes, people studying in schools, and basically people with full schedules when she first started her business.
Although she has an extensive background in law, she is currently a non-practicing lawyer in Manitoba and is focusing on her business.
She does not provide any legal advice or draft any legal documents because of this, but her signature is authorized and she can notarize almost any type of document.
She provides notary for documents such as affidavits, authorization letters, birth certificates, commercial invoices, death certificates, and so much more. She is available 24 hours a day, and based on reviews, her clients usually receive next-day service.
Her signature and seal are registered with the Companies Office of Manitoba, which means that she can issue an Authentication Certificate that states that her signature and seal are both valid.
Mobile notary service
Open 24 hours daily
Bilingual (English, Spanish)
Does not provide legal advice
Does not draft legal documents
Customer Reviews
Take a look at what these clients have to say about Alicia Laufer and her services.
"I texted Alicia yesterday to get some important documents notarized. She responded promptly and gave me an appointment for the very next day. Fantastic speedy service. Alicia was very professional and courteous, wore a mask and made me feel safe. Everything was accomplished in a very short time. I will most definitely use her services again in the future if I require them. I loved the speed and convenience of her service." – Gerhard R.
"My brother and I met with Alicia just this morning. We needed to meet at the parking lot due to restrictions set during this pandemic. She is very professional, punctual and detail-oriented. The kind I would trust with my future documents and highly recommend to those in need of her service. The quality of her work at my convenience outweighs the fee she charges." – Garland
"Alicia is fantastic. She came right to my door and provided her services on my doorstep, literally! She was professional and courteous and handled my documents with care. She also wore a mask and gloves, making me feel very safe when she arrived. I will definitely be using her services again in the future if required." – Brianne M.
3. Chhina Law Office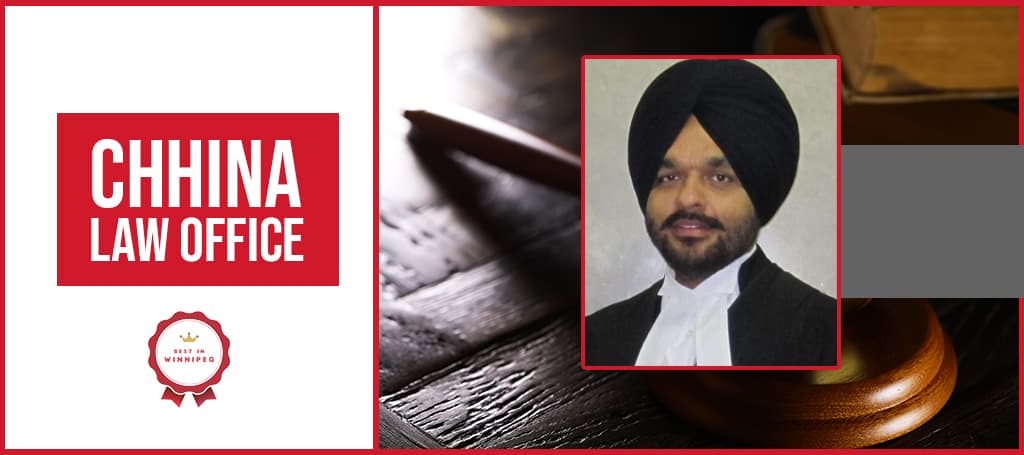 SERVICES
Notary Public, Real Estate Documents, Affidavits, Immigration Law, Family Law, Real Estate Law, Residential, Commercial, Corporate Law, Power of Attorney, Declarations, Travel Consent
WEBSITE
https://www.chhinalaw.com/
ADDRESS
2116 Pembina Hwy, Winnipeg, MB R3T 2G8, Canada
CONTACT DETAILS
204 691 6161


[email protected]

OPERATING HOURS
Monday to Friday 9:00 am to 5:00 pm
Chhina Law Office is owned by Manjinder S. Chhina, he is a barrister and solicitor who personally manages the law office along Pembina Highway. He provides a wide variety of legal services and helps clients organize their legal affairs in the most cost-effective way.
Chhina Law Office is a multi-practice law office that offers legal services related to immigration law, real estate law, family law, and corporate law. And, of course, they also provide notary public services.
They are able to notarize any type of document. That includes affidavits, contracts, declarations, invitation letters, and more.
Based on reviews, Chhina Law Office is best known for notarizing real estate documents and they notarize many purchase and sale documents involving out-of-province transactions. They provide complete legal services for real estate when buying, selling, and financing real estate.
They are also popular because they are able to provide legal services at affordable rates. Note that they cater to both individual and corporate clients too.
Multi-practice law office
Affordable rates
Closed on weekends
Small team
Customer Reviews
Learn more about the services of Chhina Law Office through these reviews.
"Very good experience. This is my second property deal and first time with Chhina Law Office. In my previous house purchase my previous lawyer charged me way more than he agreed and never answered or returned my emails or phone calls. This law office is very easy to deal with. They answered and returned my phone calls and emails in time. The most important part was they provided me their fees and other expenses in writing. I compared invoices and this law office saved money for me. If I ever buy, sell a house again I will use this law firm. Thank you." – Mohsin L.
"Very good and professional service. I hired Chhina Law Office to get help in my complicated immigration case and recently I got my PR status. I will definitely recommend to my friends and others." – Drromi C.
"To Chhina Law Office
I appreciate your consideration, guidance and time
Thank You for the help you and your team have selflessly rendered to us
I will gladly recommend your services to any of my friend or family that ever need it , Thank you for providing valuable advice always." – Simran G.
4. Pollock & Company Lawyers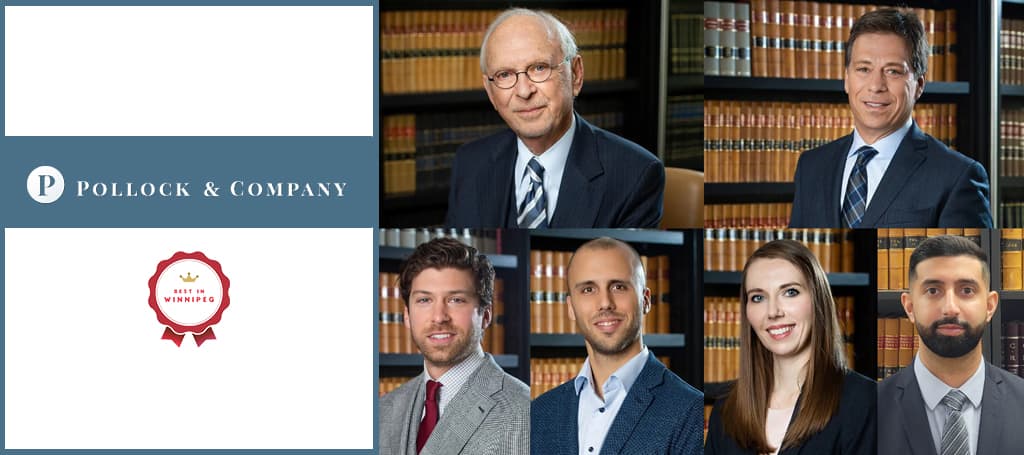 SERVICES
Notary Public, Certifying a True Copy of An Original Document, Consent to Travel, Affidavit & Legalization of Documents, Witnessing of Signatures on Documents, Identity of The Individual Signing the Document
WEBSITE
https://pollockandcompany.com/
ADDRESS
Suite 301 – 379 Broadway, Winnipeg
CONTACT DETAILS
204 956 0450


[email protected]

OPERATING HOURS
Monday to Friday 9:00 am to 5:00 pm
Pollock and Company is a family-owned business in Winnipeg and has been providing Winnipegers with legal service for over 5 decades. They focus on medical malpractice, criminal law, personal injury, and civil litigation, as well as providing notary services.
While they're certainly more than capable of notarizing anything, their real focus is litigation. They have dealt with a wide variety of cases, including cases of people who have undergone injury due to clinical negligence, people injured due to negligence caused by a business, and so on.
They assess each case based on its own merits and provide legal advice and services that they feel will work best in favor of the client.
What is great about them is that they provide free consultation so you can walk in to get your situation assessed and determine whether you need legal help.
They also provide flexible payment terms for clients, which allows you to break down payments into smaller portions and not get overwhelmed with legal fees. You probably won't need this for just notarial services (which are still relatively cheap), but it's worth noting.
24/7 on-call criminal lawyer service
Free consultation
Flexible payment terms
Premium rates
Closed on weekends
Customer Reviews
Learn more about the services offered by Pollock & Company through these reviews.
"I spoke with Martin and I was pleasantly surprised when he advised me against going to court (even though that meant he wouldn't make money). He was very professional and gave great advice. Highly recommended!!" – Erin T.
"I spoke with Martin Pollock as I had a number of questions. As a young adult, I am not very familiar with how things work in malpractice litigations. In the 20 minutes i spoke with Martin on the phone, he was very professional and informed me of the best course of action for my current situation. I definitely recommend Martin if you are looking for experience, integrity, and expert advice." – Yafet S.
"Martin, although extremely busy at the time directed me with the help I needed in a sympathetic comprehension way, towards the information I needed for a Medical Malpractice situation. I thank him and his professionalism for the time and help I needed." – Vinny G.
5. Boudreau Law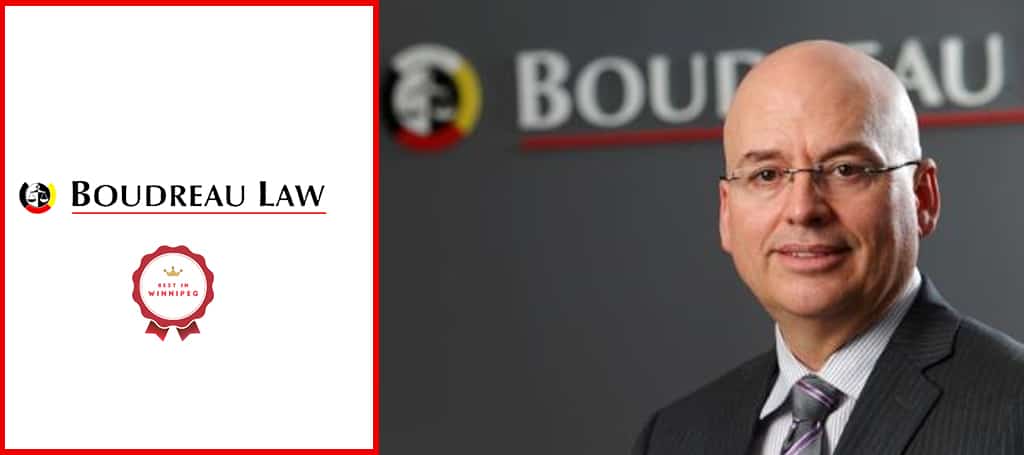 | | |
| --- | --- |
| SERVICES | Notary Services, Indigenous Law, Real Estate, Corporate and Business, Family Law, Estates and Trusts, Personal Injury, Disability Insurance and CPP Claims, Administrative Law, Class Actions, Immigration, Litigation, Labour and Employment |
| WEBSITE | https://boudreaulaw.ca/ |
| ADDRESS | 1618 Pembina Hwy #100, Winnipeg, MB R3T 3Y6, Canada |
| CONTACT DETAILS | 204 318 2688 |
| OPERATING HOURS | Monday to Friday 8:30 am to 4:30 pm |
Boudreau Law is a full-service legal firm based in Winnipeg with its focus on Civil Litigation, Indigenous Law, Real Estate, Family Law, and Corporation & Business Law. Since they are dealing with many different aspects of law, they also provide notary services for the documents they are handling.
The great thing about dealing with a full-service legal firm when it comes to notarizing documents is that they will be able to tell you if your requirements are correct and complete. They can also help you draft legal letters or notices that will need to be notarized later on.
We always find that when dealing with any legal documents, it is always better to have a professional's assistance on it to ensure that you are doing everything correctly.
This is exactly what Boudreau Law does for their clients: they don't just notarize documents but they also guide you throughout the legal process.
They have agents who are fluent in English, Mandarin, Cantonese, and French which makes their services more accessible to the certain minority groups. Their firm also represents a large number of First Nation communities, tribal organizations, and stakeholders.
Wide range of legal services
Online payment available
Fluent in English, Mandarin, Cantonese, and French
Premium rates
Closed on weekends
Customer Reviews
Learn more about the professional legal services provided by Boudreau Law through these client reviews.
"This law firm was very helpful and efficient. I used Scott Enns as my lawyer and he was very quick and on top of everything that was needed. I definitely recommend him if you need someone. I definitely will keep him in my records if I every need a lawyer again" – Kyle R.
"I chose Boudreau Law because of the excellent reviews on google and I'm glad I did. Mr Scott Entz was my lawyer. His passion for the job is clear from the moment you first speak with him on the phone. Scott helped me get custody of my kids when I was in a position where I felt hopeless. He proceeded to act quickly, putting in hard work and time, to get me an emergent hearing. Scott has great knowledge of the law and knew exactly how to proceed. He was extremely well prepared for court and got me the results I wanted. He communicates quick and effectively. I highly recommend Scott Entz and have absolutely nothing negative to say about him." – Joseph W.
"Very positive experience with Norman and Boudreau Law team, 5 stars well deserved and more. Our real estate transaction went very smoothly, everything was explained in details to us, and the deal closed as expected and planned. Proceeds from the sale of our house landed on our bank account exactly one week after closing, as promised. Many thanks to Alexander, he is very efficient and all our communications were answered immediately, literally. I highly recommend Norman and his team – professional, knowledgeable, friendly, ethical and reliable." – Olga A.
6. NotaryPro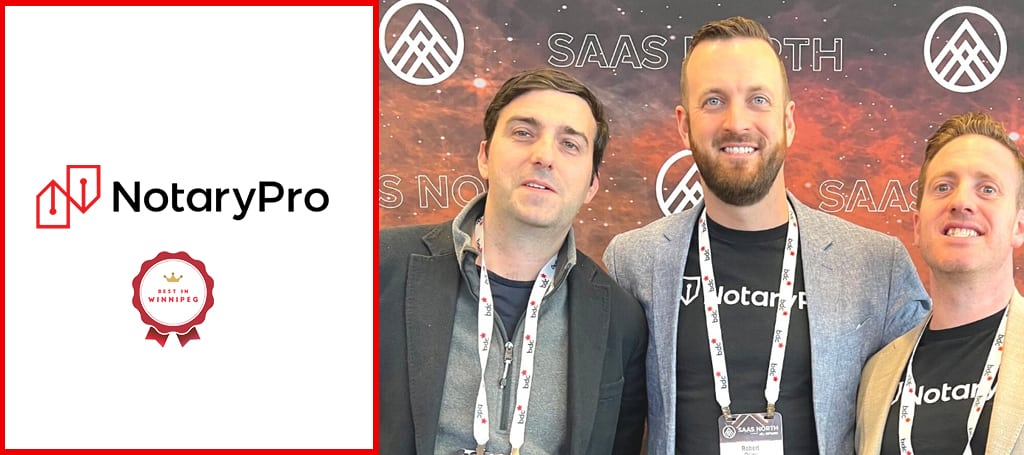 SERVICES
Traditional Notary Services, Remote Online Notarization, Online Will & Power of Attorney Signing
WEBSITE
https://www.notarypro.ca
ADDRESS
1235 17 Ave SW Suite 308, Calgary, AB T2T 3M9, Canada
CONTACT DETAILS
1 888 313 0909


[email protected]

OPERATING HOURS
Contact for more information
Convenience is the name of the game when working with Notary Pro.
Notary Pro is the first company to offer remote online notarization in Canada. Since its inception, Notary Pro has gained a reputation for being a trusted provider of Notary Public and Commissioner service.
Despite being located in Calgary, Notary Pro is capable of assisting clients all over Canada and even the United States. Their online platform is clean and easy to navigate, so you can easily find the services you need.
Moreover, their rates are transparent and honest, with breakdowns included on their website. You will find that services aren't limited to online consultations. Notary Pro can also connect you to an in-person service provider.
Lastly, we like that they are highly efficient in their processes, ensuring that clients are connected in short time with notary service providers. All in all, we recommend Notary Pro if you're looking for a quick, easy way to reach notary service providers.
Easy online appointment booking
In-person or remote services available
Many locations across Canada
Company hours not displayed on website
Customer Reviews
Learn more about the professional legal services provided by NotaryPro through these client reviews.
"Nice discovery for me! A simple little office, enough for the business. Prompt and professional service. Realistic fees. Friendly atmosphere. I will return." – Edit P.
"I highly recommend David Howard. He did a great thing and even when we made a mistake in a form and wanted to redo it, he didn't get money for doing all for the second time. He is so on-time, fast, accurate and trustworthy. He is so reasonable and go beyond of his job to satisfy his clients. Thank you Mr. David Howard for your great job." – Hoda M.
FAQs about Notary Public Services in Winnipeg