The 5 Best Day Spas in Winnipeg
Sometimes, all you need is a day of pampering to relax and rejuvenate yourself after a stressful week at work or home.
Thankfully, Winnipeg is home to many day spas where you can go to have facials, hair treatments, manicures, pedicures, and medicinal baths.
Most day spas in Winnipeg also offer massages, but in this article, we will discuss other services these self-care hubs offer.
If you're looking for the right treatment and place to loosen sore muscles, joints, and tendons, take a look at the best chiropractors and best naturopathic clinics in Winnipeg.
We will also talk about how much it will cost to avail of the different services and amenities these day spas have to offer.
You might just find the right spot to unwind and catch up on your beauty regimens on your next "me time."
And if you need more information on the best day spas in Winnipeg, read the FAQs section below this list.
How much do services in Winnipeg's day spas cost?
The most popular services you can get in Winnipeg's day spas are facials, therapeutic baths, hair removals, exfoliation, cleansing, brow lifting and tinting, and manicures and pedicures.
Costs for these depend on how long they'll take to finish and which facilities you'll be using for the treatments.
Take a look at this table for the average rates of day spa services in Winnipeg:
| SERVICE | DURATION | AVG. COST |
| --- | --- | --- |
| Facial | 15 min. – 60 min. | $100 |
| Manicure | 50 min. – 80 min. | $70 |
| Pedicure | 50 min. – 80 min. | $70 |
| Hair removal (waxing and sugaring) | 15 min. – 45 min. | $40 |
| Brow tint, shaping, and lift | 15 min. – 30 min. | $58 |
| Bath | 60 min. – 90 min. | $93 |
| Body cleansing | 120 min. – 180 min. | $200 |
Note that these services can be offered solo or in bundles. For example, you may go for a solo manicure/pedicure session or also get a package with facials, exfoliation, and massage services.
Top Day Spas in Winnipeg
Excited to plan a pampering day at a day spa? Here are our picks for the best day spas in Winnipeg.
We selected these beauty and wellness institutions based on these factors:
1. Thermëa by Nordik Spa-Nature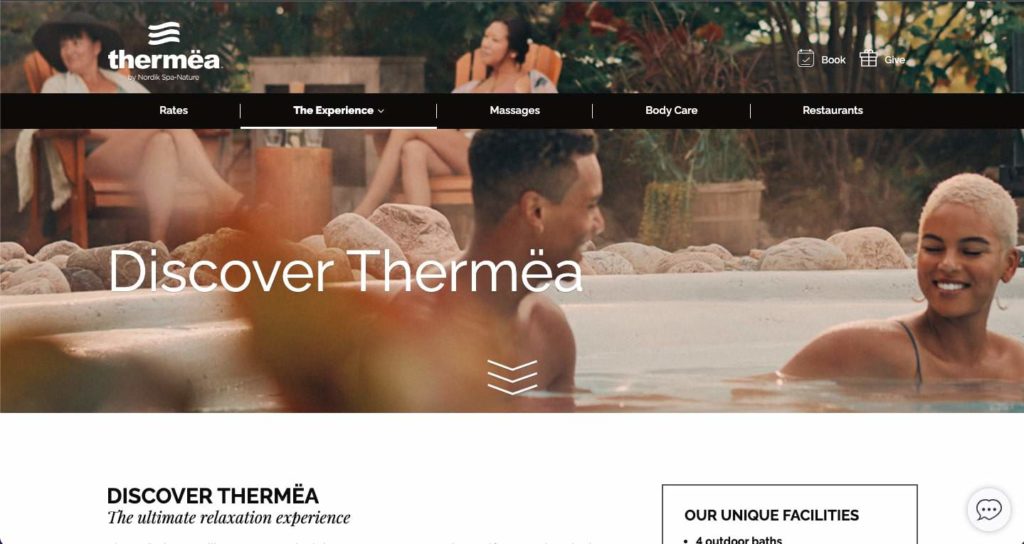 SERVICES
Facials, therapeutic baths, hair waxing, laser hair removal, body sugaring, brow and lash lifting/tinting, advanced skincare treatments, and enzyme treatments
WEBSITE
https://www.thermea.ca/
STARTING PRICE
$74 – $400
ADDRESS
775 Crescent Drive, Winnipeg, Manitoba R3T 1X3, Canada
CONTACT DETAILS
+1-855 284-6868

Email: info.thermea.ca

OPERATING HOURS
Monday to Sunday: 8:30 AM – 10:00 PM
| | |
| --- | --- |
| ATMOSPHERE | ★★★☆☆ 3/5 |
| PRICE | ★★★☆☆ 3/5 |
| QUALITY OF SERVICES | ★★★★☆ 4/5 |
| QUALITY OF AMENITIES | ★★★☆☆ 3/5 |
| ⮕Clean/Sanitized | ★★★☆☆ 3/5 |
| ⮕Well-maintained | ★★★☆☆ 3/5 |
| CUSTOMER SERVICE | ★★★★☆ 4/5 |
| ⮕Professional | ★★★☆☆ 3/5 |
| ⮕Sociable/Friendly | ★★★★★ 5/5 |

Thermëa by Nordik Spa-Nature is one of the most popular relaxing hotspots in Winnipeg. So much so that tourists who frequent the city recommend adding it to future travellers' itineraries.
Due to its popularity, Thermëa has garnered over 1,537 reviews on Google, with a total of 4.3 stars. With that, we selected Thermëa as one of the best day spas in Winnipeg.
Thermëa is popular for its well-crafted spa amenities that promote warmth, comfort, and total relaxation. For instance, they have distinct sauna rooms overlooking the wintery wonderland of Winnipeg.
In a way, you'll feel like you are relaxing amid the icy and frosty surroundings of Nordic regions.
If you're planning a trip to Thermëa, check their rates and available gift packages. You can get massages with therapeutic baths, exfoliation, facials, and Thermëa wellness rituals.
But of course, you can get single services, such as facials, hair removal, body treatments, and brow lifting and tinting.
On the downside, Thermëa's amenities may not always be in tip-top shape all the time. Some customers have noted the lack of cleanliness and organization inside the rooms.
For example, a client noted that the sides of the sauna rooms and tubs sometimes had partially filled wine glasses and plates used by previous clients.
Another noted that the massage rooms had ladybugs infesting the ceilings. While these insects aren't harmful, we understand that it won't be as relaxing and comforting to get spa treatments in a bug-infested room.
On the bright side, we think those incidents could have happened during Thermëa's peak seasons. The place might have been quite busy, with the staff preoccupied with other clients and services, which is why cleaning up wasn't as prompt and precise.
In that case, we recommend future guests book reservations during non-peak seasons to avoid being unattended or getting subpar services.
However, we also still think that Thermëa's staff might need to fine-tune and maintain the quality of their service and amenities, considering that the day spa is a hotspot in Winnipeg.
Well-maintained services and amenities give clients relaxing experiences that are worth their money, whether they avail of solo treatments or purchase gift cards with discounts.
Overall, we still think Thermëa by Nordik Spa-Nature is a day spa you should definitely visit. For instance, it offers Aufguss ritual mediation done inside a sauna with gongs and Thermëa's thermal cycle.
The Aufguss ritual utilizes silence, heat, cold, and breathing techniques to unleash adrenaline in your body. That way, toxins will be released, leaving you feeling refreshed, cleansed, and ready to be filled with new positive energy once again.
And if you get hungry after sweating in the saunas or getting your body exfoliated and polished or your brows shaped and tinted, head over to Thermëa's restaurant and lounge.
The dining place offers authentic and gourmet dishes made with fresh ingredients sourced from within Winnipeg.
It also employs Chef Chicco, a renowned chef whose specialties are Scandinavian-inspired delicacies.
With mouthwatering dishes to feast on while enjoying your spa treatment, what's not to love and come back to in Thermëa by Nordik Spa-Nature?
Has Nordic-style interiors, facilities, and atmosphere that suits Winnipeg's climate and landscape
Serves delicious food that enhances the relaxation experience
Gift packages offer different services for reasonable prices
Has spacious outdoor parking
Some amenities aren't cleaned or arranged right away after previous clients have finished using them
Prices can be hefty
Customer reviews
This place is AMAZING!!! I highly recommend this place of you and to relax and unwind!
I was visiting Winnipeg and my sister took me to this place. Just driving in, you can feel serenity and as we pulled into the gate, we were greeted with a bunch of deer just hanging out grazing.
Walking in, the place looks amazing, the staff was friendly and very accommodating.
We tried all the pools, saunas, and pretty much everything this place had to offer (except the massage as they were fully booked that day) and overall very pleased with everything.
We also went and had dinner here and again, the resto and food we got didn't disappoint. Also, kudos to our server, he was friendly and very funny!!!!
I will definitely come back here again next time I'm in town! – TheFlipGuy
Thermëa in Winnipeg was a truly incredible experience. Had the pleasure of spending the whole day there with my partner and it was like we died and went to heaven.
The food is delicious, the accomodations were above and beyond. Couldn't have asked for a better place to expel some overdue stress.
First time I have ever had a professional massage and it was outstanding.
Definitely going back there again. Highly recommend if you have any interest in stress relief and relaxation. – Christopher Yacucha
2. Pocca Poca – Japanese Detox Spa & Massage Therapy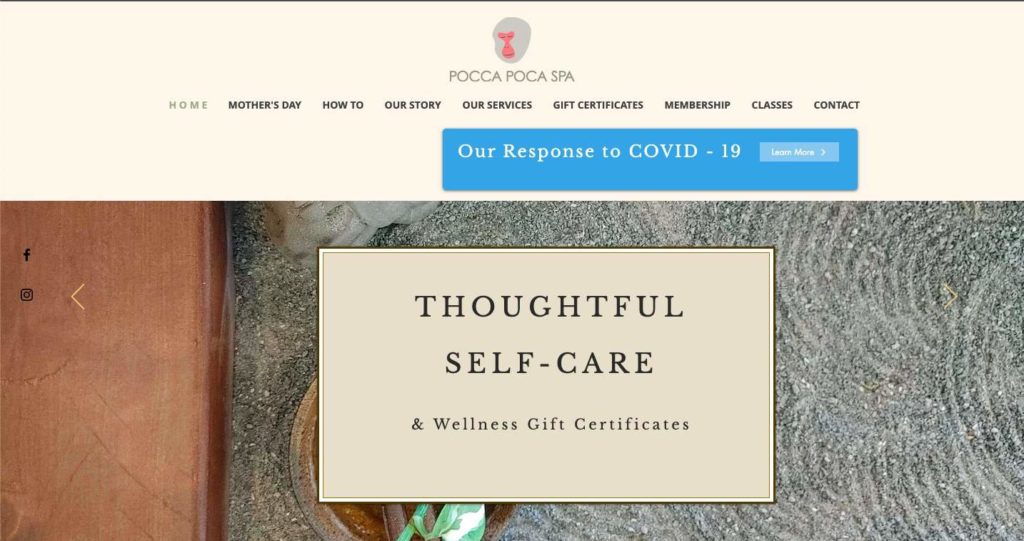 SERVICES
Ganban-yoku, facials, various massages, detox treatments, exfoliation, sugaring, hot stone therapy, and cupping therapy
WEBSITE
https://www.poccapocaspa.com/copy-of-h-o-m-e
STARTING PRICE
$40 – $200
ADDRESS
Unit #3-840 Waverley St, Winnipeg, MB R3T 5Z7, Canada
CONTACT DETAILS
Phone: +1 (204) 488-1314

Email: [email protected]

OPERATING HOURS
Monday, Wednesday, Thursday, and Friday: 10:00 AM – 8:00 PM

Tuesday: Closed

Saturday: 10:00 AM – 8:00 PM

Sunday: 12:00 PM – 6:00 PM
| | |
| --- | --- |
| ATMOSPHERE | ★★★☆☆ 3/5 |
| PRICE | ★★★★☆ 4/5 |
| QUALITY OF SERVICES | ★★★★☆ 4/5 |
| QUALITY OF AMENITIES | ★★★★★ 5/5 |
| ⮕Clean/Sanitized | ★★★★★ 5/5 |
| ⮕Well-maintained | ★★★★★ 5/5 |
| CUSTOMER SERVICE | ★★★★☆ 4/5 |
| ⮕Professional | ★★★☆☆ 3/5 |
| ⮕Sociable/Friendly | ★★★★★ 5/5 |
If you're looking for Asian-style spa treatments, then Pocca Poca – Japanese Detox Spa & Massage Therapy is the right spot for you.
The day spa specializes in ganban-yoku, the Japanese term for a popular form of hot stone therapy.
Unlike typical hot stone treatments where heated smooth stones are placed on the back and other parts of the body, ganban-yoku uses body-sized granite stones that are inserted under floors.
Think of it as a low-temperature sauna: you'll sit or lie down on the heated parts and experience detoxification effects, improved blood circulation, and more supple skin.
And as the highlight of Pocca Poca, you may avail of ganban-yoku along with other services, such as a facial, body exfoliation, and foot spa and detox.
Of course, Pocca Poca doesn't just offer Japanese-style hot stone therapy. It also presents other forms of relaxation, such as cupping therapy and tropical-style body cleansing.
With these forms of pampering and wellness services, we honestly think you'll come out rejuvenated, energized, and perhaps empowered for the next work tasks awaiting you.
Now, despite being a hub of supposed zen and wellness, Pocca Poca may need fine-tuning in certain areas.
For example, the day spa management may have to remind its staff to keep their chatting to a minimum, especially while attending to clients.
We honestly think that relaxation and pampering sessions should be quiet. Perhaps the only noise that should be permitted is white noise, like the sounds of ocean waves, rushing streams, and raindrops pitter-pattering on a tin roof.
Another improvement we think Pocca Poca should do is to maintain the quality of their services.
For example, one client felt disappointed about the lack of relaxation in their ganban-yoku massage. We think management should remind their staff to be consistent with their work and commitment to providing the best service to ensure optimal zen for clients.
After all, customer satisfaction anchors on the quality of services and amenities as well as the professionalism of the staff and the ambience of the institution.
Offers ganban-yoku packages with other wellness treatments
Wellness treatments cover from head to toe
Services can be for individuals or for pairs
Services are limited compared to other day spas
Opening hours during holidays vary/are inconsistent
Closed on Tuesdays
Customer reviews
This is such a treat!! We will be back. From when you walk in the door you are treated as the finest guest. The stones are Beautiful and so relaxing, I could feel the stress leaving my body. I had the shiatsu message and my husband had the deep tissue. Both massages were exceptional!! Thank you to Tomo and Mieko for making today special. – Barb Fayerman
Pocca Pocca spa is absolutely awesome! (Is it possible to give 6 stars?) I was so impressed with the benefits after I did the one-week trial that I joined the spa as a full time member. I've been going regularly for over 2 years. It's made a huge improvement in my health; I no longer have pain in my left shoulder and arm. I sleep better and it helped me detoxify my body. During the first weeks of the Covid shut down, I was devastated that it was temporarily closed. I went back with no hesitations when it reopened as the place is always kept exceptionally clean. I'm so happy that this oasis of peace and tranquility is here to help me look after my body, mind and spirit. I'm so grateful for the chance to be a part of the Pocca Pocca family. Arigato! – Peter Smrdelj
3. Ten Spa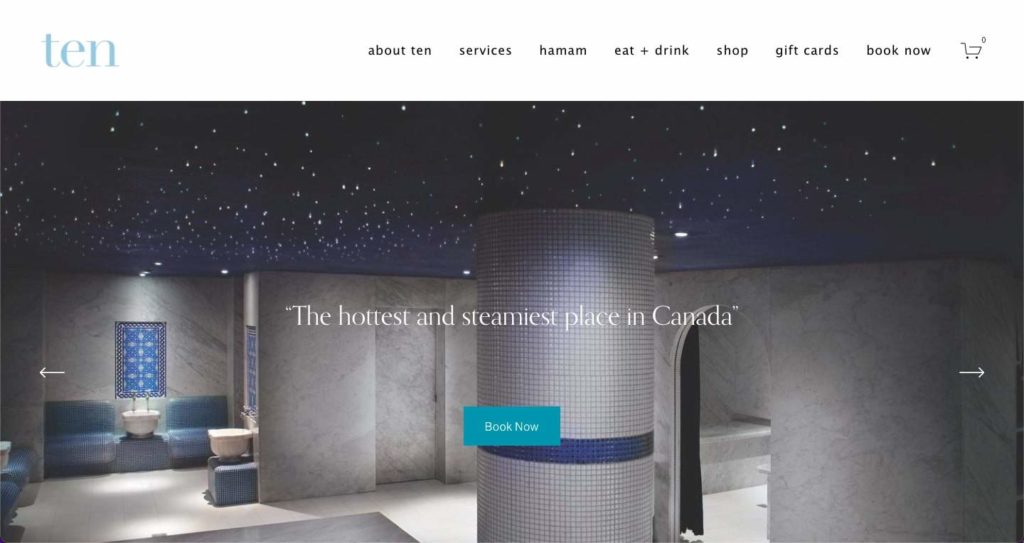 SERVICES
Facials, skin lifts, Hamam rituals, body treatments, foot and hand treatments, detox treatments, waxing, sugaring, brow and lash treatments, and medi-skincare treatments
WEBSITE
https://www.tenspa.ca/
STARTING PRICE
$90 – $400
ADDRESS
The Fort Garry Hotel, 10th Floor, 222 Broadway, Winnipeg, Manitoba R3C 0R3, Canada
CONTACT DETAILS
Phone: +1 (204)-946-6520

Email: [email protected]

OPERATING HOURS
Monday to Sunday: 9:00 AM – 9:00 PM
| | |
| --- | --- |
| ATMOSPHERE | ★★★★☆ 4/5 |
| PRICE | ★★☆☆☆ 2/5 |
| QUALITY OF SERVICES | ★★★☆☆ 3/5 |
| QUALITY OF AMENITIES | ★★★★☆ 4/5 |
| ⮕Clean/Sanitized | ★★★★☆ 4/5 |
| ⮕Well-maintained | ★★★☆☆ 3/5 |
| CUSTOMER SERVICE | ★★★★☆ 4/5 |
| ⮕Professional | ★★★★☆ 4/5 |
| ⮕Sociable/Friendly | ★★★☆☆ 3/5 |
Yet another luxurious day spa in Winnipeg, Ten Spa dons a Turskish-style design that establishes an ambience of royalty and optimal comfort for their clients.
At Ten Spa, you can avail yourself of pampering treatments that promote a healthy glow from your head to toe. For example, previous customers recommend the Hamam rituals.
These are inspired by ancient Arabic body treatments, such as healing baths, facials, scalp cleaning, and salt rubs.
Select from Ten Spa's Hamam ritual packages, such as Intro to Hamam, Hamam Fully Loaded, Mud Party for Six, and Rose Oil Face Toning Facial, and enjoy a deluxe "me time" in one of Winnipeg's best day spas!
Now, if you're after something else other than Hamam rituals, Ten Spa offers an array of facials that boost skin elasticity, reduce fine lines, and eliminate blemishes.
Couple your chosen facial with a body scrub or a hand and foot treatment to get the ultimate pampering experience at Ten Spa!
On the downside, Ten Spa's services may not always be efficient.
For example, a few previous clients noted that booking appointments online isn't that efficient. One noted that they made reservations during the peak season, but Ten Spa staff said they didn't book an appointment.
Since online bookings aren't always reliable, we think it's best to call Ten Spa's management to confirm if an online booking was recorded. You'll also be able to make reservations via phone and ask for any of the personnel's names as proof of your appointment booking.
Other previous clients also noted that Ten Spa's packages were quite expensive and might not have been worth the price considering that some of their staff weren't that accommodating.
We honestly think that customers won't complain about hefty prices if they get the best treatments they came and paid for.
Ten Spa may need to reevaluate their service quality and assess if their staff are still up to par with excellent standards. After all, a wellness hub should always promote comfort, peace, and the best experience for its customers.
Of course, Ten Spa has also garnered positive ratings from their clients. For instance, some have become regulars of the day spa's manicure and pedicure treatments.
Others recommend Ten Spa's Hamam treatments, as they are relaxing, refreshing, and enjoyable! In addition, these luxurious services come with snacks and refreshments.
At Ten Spa, you'll be pampered from head to toe while also filling yourself with delicious drinks and snacks.
Offers a wide array of facials, body treatments, spa packages, and Hamam rituals
Amenities are tastefully-designed, making the ambiance more luxurious
Prices are quite expensive
Booking online may not guarantee you a reservation
Customer reviews
I tried the Intro to Hamam and a massage last week and had a great experience! The Hamam was a very unique experience. I would like to go back and try the Hamam 101 for the full experience. I booked a facial yesterday and enjoyed that treatment as well. After my treatments I stayed a while longer to relax in their quiet room, enjoyed a few light snacks and checked out their steam room.
The facilities were nice and clean and staff were all very friendly from the front desk team, the cleaning staff and the service providers. They all added to a very relaxing and warm atmosphere.
I highly recommend trying out their different services. – Sol Sevillo
The whole experience is worth every penny. This was my first time and I went for the Cleopatra Milk and Oil Cocoon. What is also included in the price is a steam room, essential oil infused mist/cold shower, rain shower, lounge area with snacks, tea and water and a quiet room. The staff are polite and courteous. A great place to unwind and relax. I will be going back and highly recommend. – Mell Wolfe
4. White Elm Spa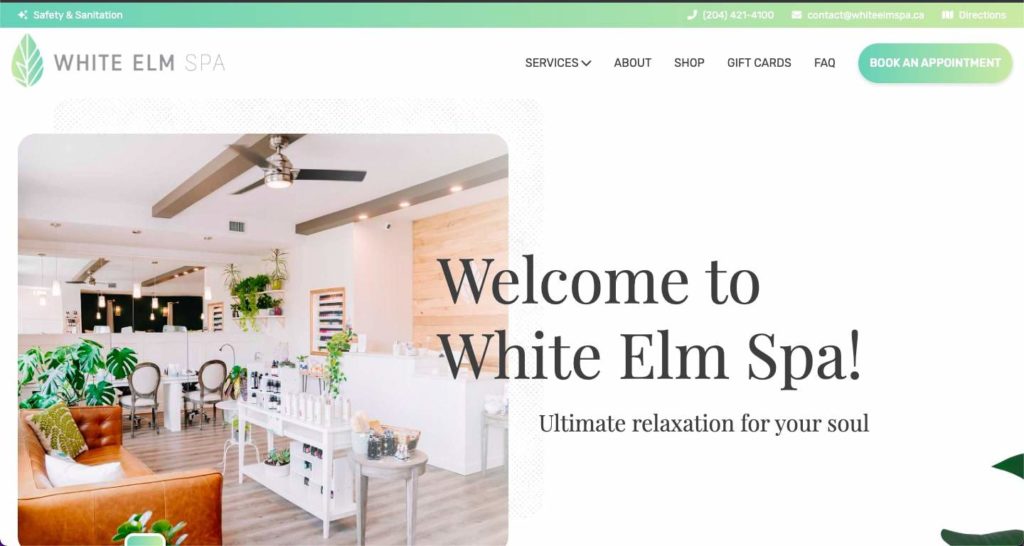 SERVICES
Manicures, pedicures, skincare, facials, waxing, sugaring, and brow/lash tinting and lifting
WEBSITE
https://whiteelmspa.ca/
STARTING PRICE
$20 – $100
ADDRESS
1825 Grant Avenue, Winnipeg, MB R3N 0N1, Canada
CONTACT DETAILS
Phone: +1 (204) 421-4100

Email: [email protected]

OPERATING HOURS
Monday and Sunday: Closed

Tuesday, Wednesday, Friday, and Saturday: 10:00 AM – 6:00 PM

Thursday 1:00 PM – 9:00 PM
| | |
| --- | --- |
| ATMOSPHERE | ★★★★★ 5/5 |
| PRICE | ★★★★★ 5/5 |
| QUALITY OF SERVICES | ★★★★★ 5/5 |
| QUALITY OF AMENITIES | ★★★★★ 5/5 |
| ⮕Clean/Sanitized | ★★★★★ 5/5 |
| ⮕Well-maintained | ★★★★★ 5/5 |
| CUSTOMER SERVICE | ★★★★★ 5/5 |
| ⮕Professional | ★★★★★ 5/5 |
| ⮕Sociable/Friendly | ★★★★★ 5/5 |
Who knew Winnipeg had a seemingly perfect day spa?
Yes, that's right! Regular and new customers can't seem to be over White Elm Spa's impeccable service quality and serene atmosphere.
Many clients praised the day spa's superb manicure and pedicure qualities. They said they felt relaxed while getting their nails done.
Additionally, the clean and beautiful results made them want to return for future mani-pedi sessions.
And because White Elm Spa prides itself as a top-calibre esthetics day spa in Winnipeg, we think you'll get the best beauty and wellness treatments for your face and body.
Should you decide to get a manicure or pedicure, choose a package that offers hand and foot treatments that come with facials, brow and lash treatments, and hair waxing or sugaring.
That way, you'll save yourself energy from returning to the day spa for more treatments. You'll also save money since availing of spa packages is more cost-efficient than getting individual services with base prices.
Another popular service at White Elm Spa is body sugaring. If you have sensitive skin, body sugaring is excellent for removing hairs, as it is less irritating and itching than waxing.
Sugaring is also an exfoliating treatment, leaving you soft, smooth, and fresh skin on your legs and underarms!
In terms of facilities, White Elm Spa is also lauded as clean, comfortable, and well-maintained. Despite being only three years in the wellness and esthetics business, White Elm Spa has preserved its excellent quality to provide the best service to regular and new clients.
That said, we believe that White Elm Spa will commit to giving you the most pampering and relaxing experience through their services.
Now, if there will be a downside, White Elm Spa doesn't have massages, body scrubbing, healing baths, and meditative therapies.
But even if it is limited to esthetic benefits, we still recommend White Elm Spa for those who want the best beauty and pampering services in Winnipeg!
Services are five-star quality and worth their prices
Appointments can be booked online
Gift cards can be availed for oneself or for family and friends
Does not offer massages and spa therapies
Closed on Mondays and Sundays
Customer reviews
Got a mani and pedi done by one of the lovely ladies there! It is so clean and relaxing! My favourite place to go. They go above and beyond! I highly suggest everyone try them. Their handmade product, the friendliness and the cleanliness keep my going back as often as I can! They always have awesome deals going on! Please go check them out! – Ksenia Raback-blocker
Always a wonderful experience at White Elm. The space itself is bright and clean. Always a pleasant greeting from Hannah and whichever of the ladies are out in the spa. The staff are kind, competent, and create a calm, inviting atmosphere where relaxation and pampering thrive. I have never been dissatisfied with the services provided there, be it waxing, facials or nail services. – Laura Edmonds
5. Urban Retreat Derma Spa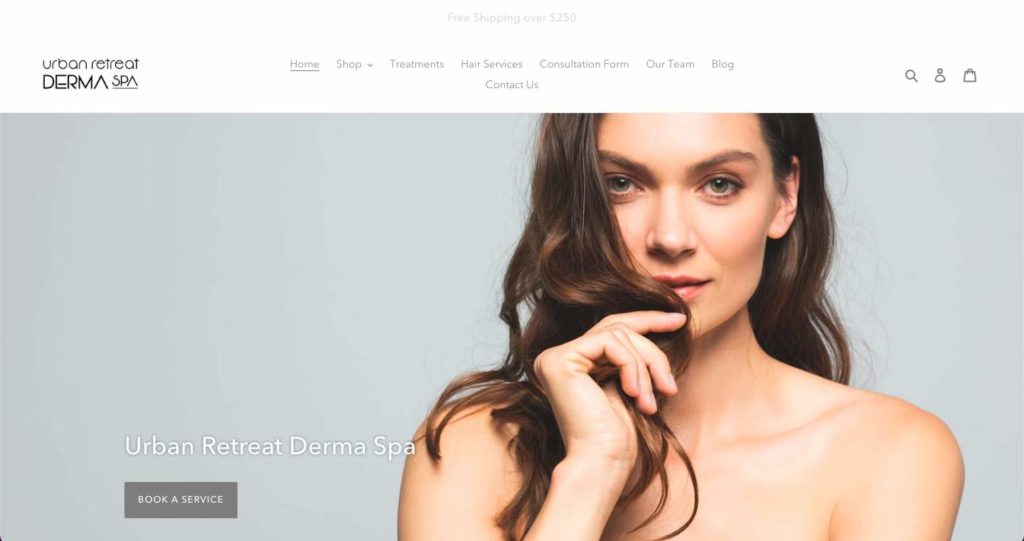 SERVICES
Facials/hydrafacials, advanced skincare treatments, DMK enzyme treatments, waxing, body sugaring, laser hair removal, brow/lash lifting and tinting, and various hair services
WEBSITE
https://urbanretreatdermaspa.ca/
STARTING PRICE
$30 – $200
ADDRESS
444 St. Anne's Road, Winnipeg, MB, R2M 3C8, Canada
CONTACT DETAILS
Phone: +1 (204)-257-7600

Email: [email protected]

OPERATING HOURS
Monday and Sunday: Closed

Tuesday and Thursday: 9:00 AM – 8:00 PM

Wednesday: 10:00 AM – 8:00 PM

Friday: 9:00 AM – 5:00 PM

Saturday: 9:00 AM – 4:00 PM
| | |
| --- | --- |
| ATMOSPHERE | ★★★★★ 5/5 |
| PRICE | ★★★☆☆ 3/5 |
| QUALITY OF SERVICES | ★★★★☆ 4/5 |
| QUALITY OF AMENITIES | ★★★★☆ 4/5 |
| ⮕Clean/Sanitized | ★★★★☆ 4/5 |
| ⮕Well-maintained | ★★★★☆ 4/5 |
| CUSTOMER SERVICE | ★★★★☆ 4/5 |
| ⮕Professional | ★★★★☆ 4/5 |
| ⮕Sociable/Friendly | ★★★☆☆ 3/5 |
If you're searching for a day spa that also offers hair care treatments, then Urban Retreat Derma Spa on St. Anne's Road is the right place for you.
This day spa boasts having expert stylists that commit to giving clients the best treatments. You can avail of salon-expert haircuts and colouring treatments that will surely enhance your look!
Now, if you aren't after having a haircut or touching up on your roots and highlights, Urban Retreat Derma Spa has other hair-related services, such as waxing, sugaring, and IPL (Intense Pulsed Light) treatments to remove hair.
Brow and lash tinting, lifting, and shaping services are also available. You'll enjoy smooth skin, on-fleek eyebrows, fluttery lashes, and silky hair!
Urban Retreat Derma Spa also prides itself on having medical estheticians and skincare analysts on its team. That said, we believe that this day spa's services don't just benefit beauty but also health and wellness.
For instance, clients may select from the wide array of facials that offer benefits such as hydration, skin tightening, dermaplaning, and anti-aging.
So if you decide to book an appointment at Urban Retreat Derma Spa, plan a total pampering day by choosing different treatments for your hair, skin and body. That way, you'll feel clean, refreshed, and beautiful!
In addition, the day spa has its own skincare and haircare line that are suitable for aftercare at home. You'll get the Urban Retreat Derma Care experience right in the comfort of your own abode.
Unfortunately, we noticed that the day spa doesn't have any wellness packages available on its website. Its services are sold separately, which is perhaps why some clients said that the prices are a bit expensive.
Others also noted that the amenities of the spa aren't always cleaned and sanitized thoroughly. With this, we understand why some clients would say that the spa's services are too pricey and not worth getting.
Still, we think that these hiccups could be fixed and improved for clients' safety, comfort, and wellness.
Urban Retreat Derma Spa encourages customers to send their feedback via its Contact Us page so it can address any concerns, provide the most feasible solutions, and fine-tune its services and management.
Offers facials for different skin types
Offers haircuts and hair treatments
Has its own skincare and haircare products
No packages available
Can be expensive
Customer reviews
I saw Tyra for a image signature facial and she was amazing! She was very knowledgeable and professional and made me feel so comfortable and relaxed! I also bought some products that she recommended to keep my skin looking amazing! The atmosphere of the spa is great and very friendly staff also! Go see Tyra! I highly recommend her!! – Amrine Ghattora
Urban Retreat Derma Spa has amazing products and services (gift certificates right now) as well as some really nice gift items. (For guys too). I've known the owner Michelle for over 20 years…followed her as she moved, until she opened her own spa on St Anne's Rd (just north of Bishop and worth the drive!!). Her and the other estheticians are highly trained, top-notch and obviously love what they do! I've known Leah many years also and she's awesome too. (Other 2 seem amazing too, I just don't know them 😊) As everyone "shops local" keep this great local spa in mind! (They even have a drive thru window!). Some of my fave products: image vital c serum, the max stem cell serum, ageless total repair creme and image spf 50 sunscreen. The Hydrafacial is a great treatment. – Janna Kinnear
FAQs about the Best Day Spas in Winnipeg
---
And that ends our list of the top day spas in Winnipeg! So if you're looking for the best place to have facials, aromatherapy, healing baths, and foot care services, select from these five and book your appointment.
Do you recommend any day spa that isn't on this list? Comment down below and we'll reply to you as soon as we can.
And if you're looking for safe places where you can leave your dog while you enjoy your pamper day, check out the best dog groomers in Winnipeg.