6 Best Carpenters in Winnipeg
As fun as it is to start a project in your home, it is still best to hire professional carpenters when it comes to larger outputs such as furniture projects, room renovations, or adding new portions to it.
They offer not only their speciality in various carpentry projects, but also the right training, experience, and even better ideas on how to achieve your expected result.
In this article, we listed the best carpenters in Winnipeg that could perfectly build carpentry projects for you!
How much do carpenters charge in Winnipeg?
The cost of carpenters in Winnipeg varies depending on the type of service you avail, the complexity of the project, and the expertise level of the carpenter you hire.
Although some carpenter costs are based on the negotiation between the client and the company, here is a list of the estimated costs for some carpentry services:
| Types of Service | Range of Cost |
| --- | --- |
| Light Installation | $68 – $100 |
| Toilet Valve Replacement | $98 – $160 |
| Bathroom Faucet Installation | $108 – $220 |
| Fan Installation | $131 – $327 |
| Toilet Bowl Installation | $138 – $240 |
| Kitchen Sink Installation | $280 – $330 |
| Cabinet Refinishing | $350 – $910 |
Best Carpenters in Winnipeg
To filter the companies that offer the best carpentry services in Winnipeg, we used the criteria below:
Now, let's move on to the list and meet the carpenters we have screened for you!
1. Knight Carpentry Inc. – Jeremy Toews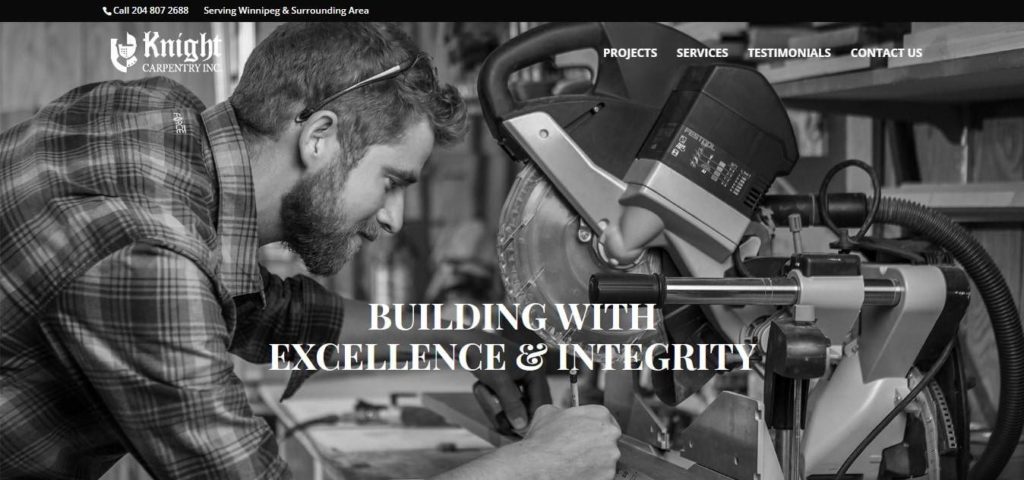 | | |
| --- | --- |
| SERVICES | Door Installation & Basement Renovation, Building Shelves, Mantels, Lockers, Benches, Entertainment Units, Trim, Wainscoting |
| WEBSITE | https://knightcarpentry.com/ |
| ADDRESS | Winnipeg, MB R2C 0B4, Canada |
| CONTACT DETAILS | +1 (204) 807-2688 |
| OPERATING HOURS | Monday to Friday: 8:00 AM – 6:00 PM |
| | |
| --- | --- |
| Criteria | Ratings |
| Quality of Work | ★★★★★ (5/5) |
| Technical Knowledge & Skills | ★★★★★ (5/5) |
| Dedication to the Job | ★★★★★ (5/5) |
| Negotiation Attitudes | ★★★★☆ (4/5) |
| Service Availability | ★★★★☆ (4/5) |
If turning your vision to reality is what you need, Knight Carpentry Inc. is a provider that can help.
Jeremy Toew, the owner of the company, has established the image of his construction company services in the fields of installing doors, doing trims, wainscoting, building benches, and many more.
Its services also extend to basement renovation and railings installation.
We included this company on this list due to its customers' constant feedback regarding quality work and keenness for details.
The crew's punctuality has also been commended, along with their capacity to fulfil the tasks within the timeline. They are also known for being highly compliant with workplace cleanliness.
We highly value that because you don't need to worry about potential splinters or screws during and after the project.
We also observed how clients constantly commended the friendliness of the crew, which totals to overall customer satiation.
Just be mindful that the company's website does not contain much information about its current projects and dealings. So if you wish to know further, it is best to directly inquire through a phone call.
Although there have been some issues of unresponsiveness, it is not as frequent as the affirmation that the customer service the company offers is highly positive.
Furthermore, Knight Carpentry Inc. also specializes in concept-pitching, perfect for clients who are indecisive about what services they need.
Excellent workmanship
In-depth carpentry knowledge
Workplace responsible
Friendly staff
Punctual
Limited website updates and content
Infrequently unresponsive
Customer Reviews
Attention to detail
"Their attention to detail clearly seen in the workmanship. Always on time in the morning to start and left the site clean when done for the day. Great communication during the process. Would highly recommend for any work you need done in and around your house or business." — Travis F.
Work was quick and done perfectly
"Jeremy was very professional. We had no clue what we wanted, just that we wanted railings put in. He gave us excellent recommendations and helped us decide on the type of railings. The quote was fair and up front. The work was quick and done perfectly. We were very happy with the finished product. We will definitely recommend him to friends." — Darryl P.
2. Yawn Flooring – Jan Koestel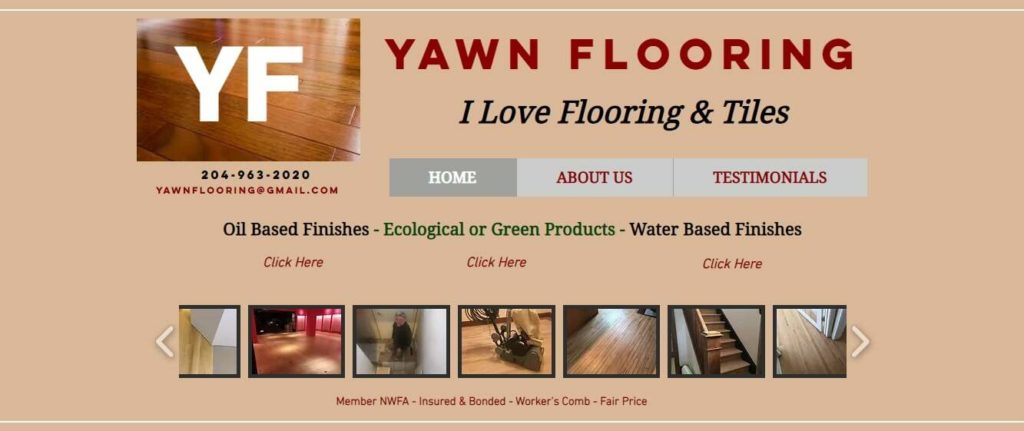 | | |
| --- | --- |
| SERVICES | Floor Fixing & Large Floor Recovery, Repairs of Scratches/Dents/Gaps/Stains/Burns, Floor Sealing, Wood Floor Restoration, Refinishing of Hardwood, Laminate |
| WEBSITE | https://www.yawnflooring.com/ |
| ADDRESS | 1119 Dominion St, Winnipeg, MB R3E 2P3, Canada |
| CONTACT DETAILS | +1 (204) 963-2020 |
| OPERATING HOURS | Monday to Saturday: 8:00 AM – 6:00 PM |
| | |
| --- | --- |
| Criteria | Ratings |
| Quality of Work | ★★★★★ (5/5) |
| Technical Knowledge & Skills | ★★★★★ (5/5) |
| Dedication to the Job | ★★★★★ (5/5) |
| Negotiation Attitudes | ★★★★★ (5/5) |
| Service Availability | ★★★★☆ (4/5) |
Generations of wood craftmanship is the main carpentry service that Yawn Flooring offers. According to Jan Koestel, the owner, his involvement in the construction industry started during the time of his grandfather.
Years and years after, Jan is still part of the business and even began creating his own focus, which is flooring and tiles.
The services this company offers include basically everything that involves wood — from stairs to old hardwood floors, kitchen countertops, floor installation, mural and writing, and even custom-made transition pieces.
Jan Koestel's carpentry service is known for being highly detail-specific. His service doesn't end with just finishing the job, but he also provides different perspectives and opinions on how to maximize the quality of his work by imparting his knowledge about woodwork.
Yawn Flooring's positive feedback is banked on Jan's punctuality and his genuine care for the job that he does.
Although, we learned from some clients that there are instances where the completion of the job gets delayed for a few days.
However, you don't have to worry about any additional payment since Yawn Flooring strictly remains within the agreed quote.
What's more is that it is recognized as a business that prioritizes honesty towards its customers.
So, whether you need an entire re-do of the house or not, the company would certainly provide you with enough information so you have more options.
If you're interested in getting your home project done in a rush without compromising the quality of work, then you've landed on the best choice there is!
Top-notch woodworks
Stays within agreed quote
No additional costs 
Prompt service
Some delays on the project completion
Short operating hours
Customer Reviews
Amazing work
"We contacted Jan to refinish our hardwood floors. He showed up quickly and provided a very reasonable quote. Jan was on time for every appointment and finished the job per the quoted price and timeline without any issues. He also provided helpful advice and recommendations for taking care of the floors going forward. The floors look amazing and we would definitely recommend him!" — Nathan Jasenn
I wish I could give 10 stars
"I wish I could give Jan and Brandon 10 stars. I hired another company to refinish my floors because Jan was booked out 3 months (for good reason). The other company lied, was behind schedule, walked away from half the job, just a nightmare. I came home at 2am from a business trip expecting my floors to be 95% finished as promised. I walked into a disaster, my home covered in dust and unliveable. The sanding hadn't even been completed after 5 days. I called Jan at 9am on a Sunday desperate. He was at my home at 11am that morning and spent 2.5 hours reviewing what needed to be done, explaining every detail of what had been done and needed to be done to allow me to move back into my home." — Michael Nyczai
3. Unlimited Builders of Canada – Roman Rycyk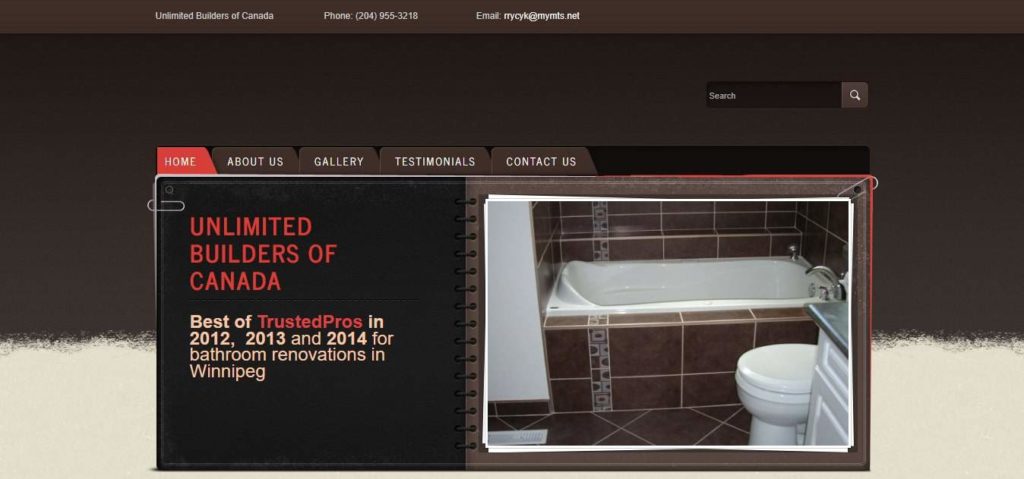 SERVICES
Basement Renovation & Bathroom Renovation, Carpentry, Kitchen Renovations, Countertops, Drywalling, Framing, Handyman Services, Home Additions, Painting, Tiling, Reconfiguring Floor Plans, Fixtures, Adding Gas Fireplace, Pub Style Sit at Bar, Walk-Up Bar/Convenience Centre, Building Offices, Recreation Areas, Bedrooms, Home Gyms, Laundry Rooms, In-Law Apartments.
WEBSITE
http://unlimitedbuilders.weebly.com/
ADDRESS
32 Timberwood Trail, Winnipeg, Manitoba R2V 3X2, Canada
CONTACT DETAILS
+1 (204) 955-3218
OPERATING HOURS
Monday to Thursday: 7:00 AM – 8:00 PM

Friday to Saturday: 7:00 AM – 7:00 PM
| | |
| --- | --- |
| Criteria | Ratings |
| Quality of Work | ★★★★★ (5/5) |
| Technical Knowledge & Skills | ★★★★★ (5/5) |
| Dedication to the Job | ★★★★☆ (4/5) |
| Negotiation Attitudes | ★★★★★ (5/5) |
| Service Availability | ★★★★☆ (4/5) |
Looking for carpenters that specialize on bathroom and basement design and development? Check out Unlimited Builders of Canada.
This company ranks among our best carpenters in Winnipeg due to its renowned carpentry prestige of over 20 years.
Unlimited Builders of Canada was established way back in 1996. Its bathroom renovation service was awarded about 9 consecutive times in TrustedPros — from 2012 to 2021.
The main services enlisted under this construction company are basement renovations, bathroom renovations, and home restoration.
However, it also extends its job offer from demolition to framing, electrical, plumbing, painting, and tiles, down to the clean-up.
Roman Rycyk, the main contact person and the most recommended carpenter, prioritizes communication with clients and is trusted by many due to his ability to work on schedule-constrained projects.
If you want proof of the quality of the work this company provides, you can actually check out samples on its website.
It also offers referrals and project drawings for layout, electrical, HVAC, and plumbing. Plus, it can pull the permit for the project site for you.
Furthermore, it also provides liability insurance which could ease some of your worries regarding unnecessary damages.
And since negotiation with the company happens before the start of the project, every cost and fee are well discussed beforehand, giving you ample time to decide whether you'd like to avail of its services or not.
Just one thing that we learned from its customers is that credit cards are not accepted. So, you might consider finalizing your payment procedures during this process.
It's certain, though, that you can keep your pocket protected with this company since there are strictly no additional rates at the end of the project.
It also offers a one year warranty on craftsmanship, truly catering to your carpenter needs with quality and assurance.
Does not charge additional costs
Time-committed
Wide array of services
Awarded for bathroom renovation services
Offers liability insurance
Provides referral
Does not accept credit card
Website is not up to date
Customer Reviews
The bathroom and the kitchen could be in a magazine
"I hired Roman to renovate my son's kitchen and bathroom and he surpassed my expectations; He and his worker Greg are perfect gentlemen and they both pay attention to detail. I have to say Roman is as detailed oriented as I am. They did an absolutely job. Down to every last detail. There just couldn't be anyone else who does finer work. The bathroom and kitchen could be in a magazine." — Marianne
Workmanship is excellent
"My cousin and his wife had Unlimited Builders of Canada renovate their kitchen and bathroom. After seeing their finished kitchen and bathroom, I knew that this was the company that I would use to redo my main bathroom. Roman met with me and discuss what would entail to do the renovations from suggesting products, discussing construction timelines, and providing a cost estimate. During the renovation, Roman would get my input regarding the fixtures that I had selected and where I wanted them placed in the bathroom. His pot light suggestion provided more light than the ordinary bathroom vanity lights I had planned on. Greg and Roman even corrected the exhaust fan ducting issue that the roofing company I hired had tried to fix. I am happy with my new bathroom and would recommend Roman and Greg to anyone planning on a bathroom renovation. Their workmanship is excellent and they prided themselves on making sure the customer is happy with their finished room." — Janice
4. Brako Building Concept – Steven and Anita Kovacs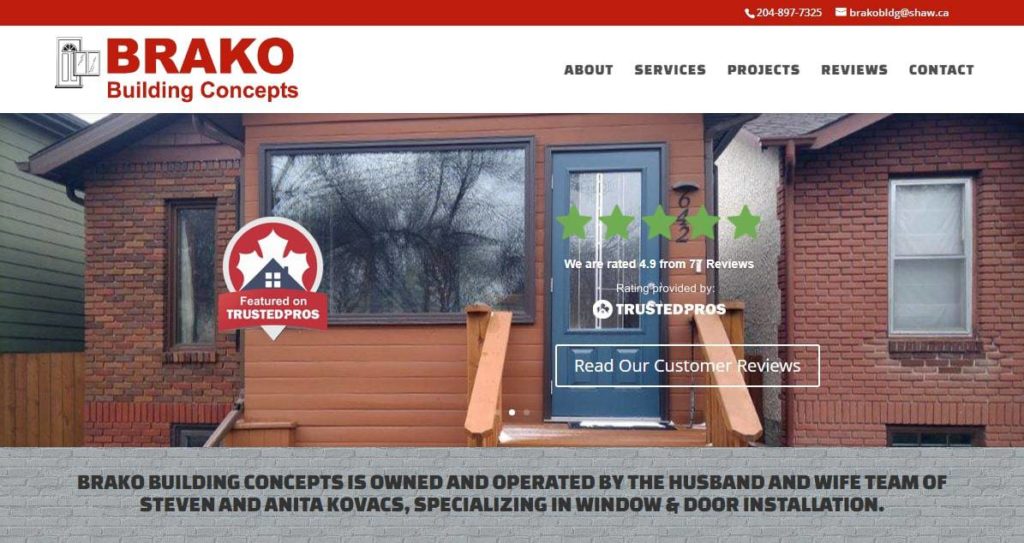 SERVICES
Windows & Door Installation, Baseboard Installation, Casing Installation, Interior Doors Cut Down, Wood Brickmould or Sill Replacement, Caulking
WEBSITE
http://brako.ca/
ADDRESS
406 Marlton Crescent, Winnipeg, MB, R3R 1A7
CONTACT DETAILS
+1 (204) 897-7325
OPERATING HOURS
By appointment

Friday to Saturday: 7:00 AM – 7:00 PM
| | |
| --- | --- |
| Criteria | Ratings |
| Quality of Work | ★★★★★ (5/5) |
| Technical Knowledge & Skills | ★★★★★ (5/5) |
| Dedication to the Job | ★★★★★ (5/5) |
| Negotiation Attitudes | ★★★★★ (5/5) |
| Service Availability | ★★★☆☆ (3/5) |
Owned and operated by Steven and Anita Kovacs, Brako Building Concepts lines up in this list of carpentry service companies with a long history.
30 years in the construction, administration and sales industry allows it to give its clients the best blueprint for renovation projects that can stand up against Manitoba's weather.
Its services range from windows and doors installation to carpentry works on casing installation, and even caulking.
Brako Building Concept's strategy to keep its clients affirmed of the quality of its work is by constantly updating them about the progress. In other words, its team doesn't just work for you, rather, they work with you!
The company also provides several options on ways to personalise the renovation process.
Its team is known to work with great efficiency and time management. There's also no need to worry about cleaning up since the company is recognized to handle this well.
Furthermore, Brako Building Concept provides warranties for both product and labour upon request and even offers to finance your carpentry needs.
Upon screening the major concerns of its customers, we learned that credit cards are also not accepted here. However, free estimation or consultation are offered, which could give you an idea about the potential cost of its services.
Should you be interested in hiring Brako Building Concept, make sure that you reach out through its website first. We noticed that appointments are necessary to avail of its services.
Meticulous work ethics
Excellent time management
Free estimation or consultation
Keeps the client updated
Warranty grant for both delivered product and labour
No hidden fees
Maintains cleanliness in the work area
Does not accept credit card
Services are strictly by appointment 
Customer Reviews
Meticulous work
"Brako Building did excellent work, when installing my windows. They were very meticulous in ensuring that they inspected every window as it was installed. The finishing work around the winds was very professional. When finished the job they cleaned up everything and left the work area spotless. I have recommended this company to friends." — Richard
Our go-to contractor
"This first-class family run business uses old fashioned business practices that really resonate with us—-on time, polite, straight talk about options and costs, happy to answer questions and demonstrate product uses. No loud music, swearing or mess to clean up. These folks bring the window cleaner and the broom to the job site! We have used them twice now and will continue to do so in the future. They have quickly become our 'go to' contractor for household projects." — Brenda & Virgil
5. Handyman Collection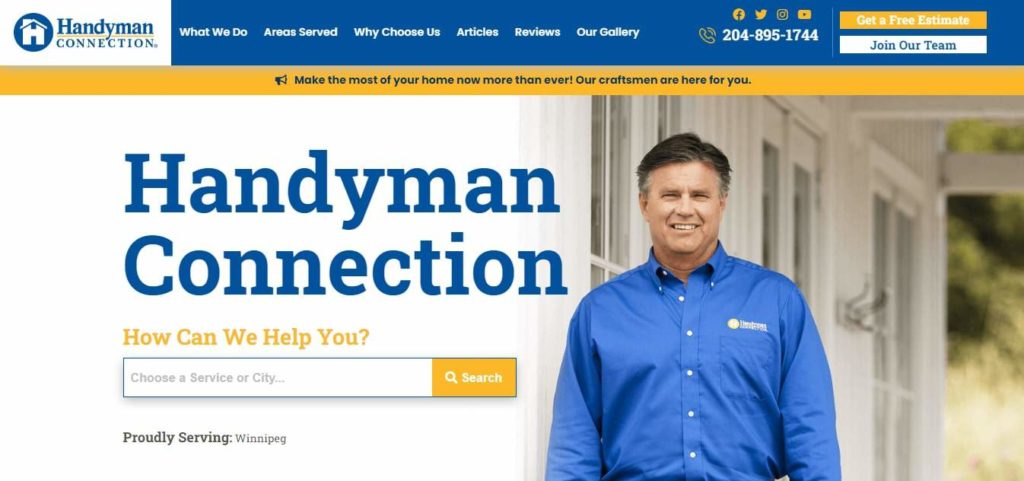 | | |
| --- | --- |
| SERVICES | Custom-made Shelves, Kitchen Cabinets, & Countertops, Crown Moulding Painting, Trim Paint Jobs, Deck Staining, Deck Finishing, Tile Painting, Tile Finishing, Maintenance Repair, Bathroom Repair |
| WEBSITE | https://handymanconnection.com/winnipeg/ |
| ADDRESS | 204-1080 Wall Street, Winnipeg, MB R3E 2R9 |
| CONTACT DETAILS | +1 (204) 895-1744 |
| OPERATING HOURS | Monday to Friday: 8:00 AM – 5:00 PM |
| | |
| --- | --- |
| Criteria | Ratings |
| Quality of Work | ★★★★★ (5/5) |
| Technical Knowledge & Skills | ★★★★★ (5/5) |
| Dedication to the Job | ★★★★☆ (4/5) |
| Negotiation Attitudes | ★★★★☆ (4/5) |
| Service Availability | ★★★☆☆ (3/5) |
Handyman Connection is a team of carpentry specialists that promises to deliver best quality workmanship and superior customer service.
It recognizes Winnipeg's growing demand for carpentry repairs. And hence, offers services that cover home improvement projects, general maintenance needs, renovations, remodelling, and more.
Since this company consists of multiple specialists, it has people that are well-knowledgeable in specific areas such as plumbing, electrical, repairs, painting, and much more!
Just make sure to contact the company before anything else so it can refer you to a professional carpenter tailored for your needs.
We have encountered some concerns about unresponsiveness and delayed arrival of some workers, but the company has promised to address such issues immediately upon report.
According to most feedback, the staff is efficient and highly reliable. They tend to conclude their jobs in a short time because they are packed with advanced technology.
We like that the team also works on equipping its clients with knowledge on how to properly facilitate the newly renovated and repaired projects to avoid further damage.
The company's craftsmen are screened and background checked, so clients won't have to worry. Plus, we saw a lot of comments that highlight the friendly personality of the staff, allowing for more comfortable service.
Handyman Connection also offers free consultation and estimation so you can get yourself a quote for your project. Just visit its website to know more.
Uses advanced technology
Various specialization areas
Free estimation or consultation
Staff is background checked
Efficient work
Great time-management
Occasionally unresponsive
Delayed arrival of staff
Customer Reviews
Fast service
"I was very pleased with Chuck Groth. He did a fantastic job, and I appreciate his pleasant personality and maturity. I felt very comfortable with his manner, and I am also impressed how fast the service is. Please forward this to Chuck. Thank you" — Lori
Did a beautiful job
"I needed to replace a bathroom floor, first guy said 6 weeks, okay fine then he forgot about the appointment. I called the office and Diane had another Tradesmen Warren come and have a look the next day. Warren was here a day later on time and did a beautiful job. I would recommend this Company and I will use them again." — CB
6. Winnipeg Renovations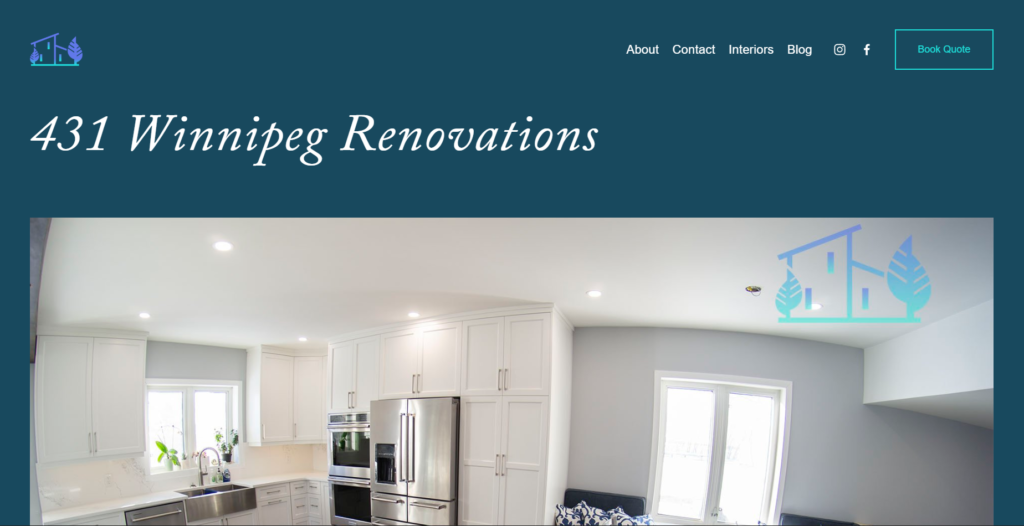 | | |
| --- | --- |
| SERVICES | Interior Transformation, Exterior Transformation, Staircases |
| WEBSITE | https://www.winnipegrenovations.ca |
| ADDRESS | Winnipeg, Manitoba, Canada |
| CONTACT DETAILS | 431-588-1575 |
| OPERATING HOURS | Contact for more information |
| | |
| --- | --- |
| Criteria | Ratings |
| Quality of Work | ★★★★★ (5/5) |
| Technical Knowledge & Skills | ★★★★★ (5/5) |
| Dedication to the Job | ★★★★☆ (4/5) |
| Negotiation Attitudes | ★★★★☆ (4/5) |
| Service Availability | ★★★★☆ (4/5) |
Your home is your sanctuary, and it only makes sense that you work with reliable craftsmen to improve its state. Here is where Winnipeg Renovations come in.
Winnipeg Renovations is an established crew of carpenters known for their skill and expertise in the field. They have worked with numerous clients in the Winnipeg area, expertly delivering residential renovation projects over the years.
The team at Winnipeg Renovations is committed to making their clients happy, so you can expect them to work closely with you, taking note of your requests, and applying their skills to the project.
Many years of experience
Knowledgeable and dedicated team
One year limited warranty
Operating hours not listed on website
FAQs about Carpenters in Winnipeg
---
Done with house renovations but are in need of appliance repairs? We got you covered!
In our list of the best appliance repair service providers in Winnipeg, we discussed not only whose services ranked best, but also things to consider in choosing the best appliance repairmen and how to prepare during your appointment.