5 Best Roadside Assistance Services in Winnipeg
Everybody knows the terror of being stuck on the side of the road with a broken-down car. And if you are hauling your family with you, the level of stress easily skyrockets.
No matter how careful, we all need help on the road once in a while. And when you're stranded because of a flat tire, an empty tank, or a sputtering engine, a good roadside assistance service is what you need.
So if you need a roadside recovery service and find yourself asking the question of the Ghostbuster theme song, you're in luck. We know who you should call!
But before we take a closer look at our top picks for the best roadside assistance service in Winnipeg, here's something you might want to know about its cost.
How much does roadside assistance cost?
Oftentimes, car insurance policies cover roadside assistance services as well.
There are also car owners who have opted to avail themselves of membership plans from towing companies or other insurance providers.
Because of these, roadside assistance services vary greatly based on who covers the service. This table only gives you a general idea of how much a standalone roadside service will cost.
Towing Rates in Winnipeg
| | |
| --- | --- |
| Motorcycle Towing | $80-$90 |
| Wheel lift towing | $80-$90 |
| Wheel lift towing with dollies | $90-$100 |
| Flatbed towing | $90-$100 |
Note: Most towing companies charge a based price for the first 10 kilometres only. Every succeeding kilometre is often charged extra for around $1-$3.
Other Roadside Assistance Rates in Winnipeg
| | |
| --- | --- |
| Jumpstart | $60-$75 |
| Unlock vehicle | $60-$75 |
| Fuel delivery | $60-$75 (usually with 5L of gas) |
| Winching | $70-$130 + $35 for the next 15 minutes |
| Flat tire/tire change | $60-$75 |
| Tire swap | $90-$200 |
| Tire repair | $70-$120 |
Best Roadside Assistance in Winnipeg
Now that you know how much roadside assistance or recovery services may take out of your pocket, here are the criteria we used to rate and include the shops on this list.
These criteria ensure that our entry is trustworthy and relevant to your specific needs.
And now it's time to dive into our top picks for the best roadside assistance in Winnipeg!
1. Winnipeg Towing And Tow Truck Services

| | |
| --- | --- |
| SERVICES | 24 Hour Roadside Assistance, Emergency and Long Distance Towing, Lockout Assistance, Flat Tire Repair, Jump Start Battery Boost, Fuel Delivery, Junk Car Pick UP |
| WEBSITE | https://www.towtruckwinnipeg.com/ |
| ADDRESS | 515 Stewart St, Winnipeg, MB R3K 1T4, Canada |
| CONTACT DETAILS | Phone: 204-900-0553 |
| OPERATING HOURS | Open 24/7 |
| | |
| --- | --- |
| Response Times | ★★★★★ (5/5) |
| Service scope | ★★★★☆ (4/5) |
| Expertise | ★★★★★ (5/5) |
| Customer feedback | ★★★☆☆ (3/5) |
Winnipeg Towing And Tow Truck Services is a locally owned and operated tow truck company with over 15 years of service in the industry.
This makes the company one of the longest-running roadside assistance services in Winnipeg. We like how that adds to the level of reliability it brings to its work.
We love the fact that it offers complete roadside assistance to its clients.
Other than the fact that you can basically call for assistance early in the morning or in the middle of the night, the company offers a variety of services to meet most of your servicing needs on the road.
First off, it offers short and long-distance towing. So if you are stuck in Winnipeg but want to go up North or to any surrounding area outside Manitoba, it can pick you up and take you there.
It can also help you jump start and boost your car, open your car doors in case you've locked yourself out, and repair your flat tires when needed.
And if the reason you're stuck on the road is that you've run out of gas and can't get to the nearest station, you're in luck! Winnipeg Towing can get the gas right to you with its fuel delivery service.
Though there are a few unsatisfied clients who left some unfortunate feedback online, it's effortlessly overshadowed by its army of happy customers.
All in all, with all the bases of roadside assistance covered and its wealth of experience in the service, Winnipeg Towing is a contender that's simply hard to beat.
15+ years in the service
Complete roadside assistance service
Quick response times
Relatively average online rating
Price browsing unavailable online
Customer Reviews
Quick response
I was stuck and called and they had a tow truck out to me within 10 mins the operator who showed up was very nice as well as the person who took my call. Would definitely use their service again in the future. – Bailee Horrox, Google Reviews
Reasonably priced
I called Winnipeg towing after my car broke down during rush hour and needed it towed to my home. They were quick, professional, and reasonably priced. Will use them again if needed. – Lisa Johannson-Maloney, Google Reviews
2. HHH Towing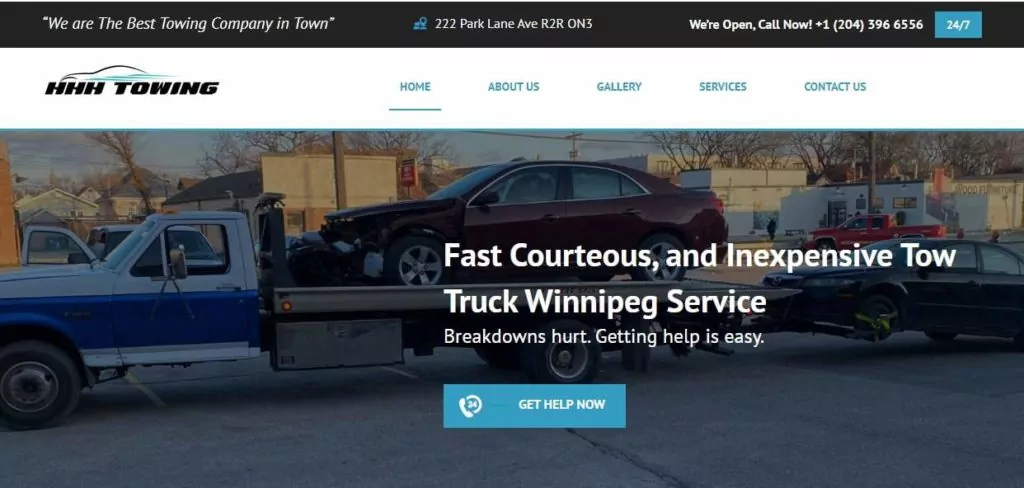 | | |
| --- | --- |
| SERVICES | Truck, Car, and Motorcycle Towing, 24/7 Emergency Towing, Engine Work, Oil Changes, Accident Recovery, and Site Remediation |
| WEBSITE | https://hhh-towing.com/ |
| ADDRESS | 222 Park Lane Ave R2R ON3 |
| CONTACT DETAILS | Phone: +1 (204) 396 6556 |
| OPERATING HOURS | Open 24/7 |
| | |
| --- | --- |
| Response Times | ★★★★★ (5/5) |
| Service scope | ★★★★☆ (4/5) |
| Expertise | ★★★★★ (5/5) |
| Customer feedback | ★★★★☆ (4/5) |
From a one-man operation, HHH Towing has claimed to be one of Winnipeg's largest towing companies. With over 70 employees and 23 communities served, it's quite easy to believe.
The company specializes in various towing services. So whether you are stuck on the side of the road with a motorcycle, car, bus, an 18-wheel semi-truck, or other construction vehicles, HHH Towing has got your back.
We also like its arsenal of state-of-the-art towing and recovery vehicles. It has a number of light-duty tow trucks, flatbeds, tri-axle trucks, heavy wreckers, and hydraulic float trailers all ready to cater to your needs.
That being said, it should be noted that the company does not offer long-distance towing. So if you're from way out of town, you can only have your vehicle towed to a nearby mechanic in the area.
On the plus side, we love the fact that its employees are not only highly-trained professionals, but they are also covered by liability insurance.
So in cases of any unplanned accidents during work, this greatly reduces the risk of you having to pay the price of the fallout later on.
It also offers other services other than towing, of course, such as tire changes, car unlocking, and auto starter repairs. However, fuel delivery does not seem to be in its repertoire.
With HHH Towing's three-decade-long service in the industry and its highly rated roadside assistance services, it's simply impossible not to give it a spot on this list.
Heavy-duty/equipment towing service
Standby personnel all throughout their service area
Highly reviewed online
No long distance towing option
No fuel delivery service
Customer Reviews
Excellent service
HHH, helped me in an efficient and professional manner. Very reliable service, I felt confident knowing I could get home in a Winnipeg snowstorm after their help. Highly recommend it if you're in need of help regarding car troubles. – Zach Giesbrecht, Google Reviews
Affordable and efficient
CALL THESE GUYS. They're awesome. Robel's the man. Professional and polite. Cheaper than any other company I called that day BY FAR and showed up within 10 minutes of their estimate during rush hour. Got me unstuck in less than a minute. – Mitch Beaudry, Google Reviews
3. Sprinter Towing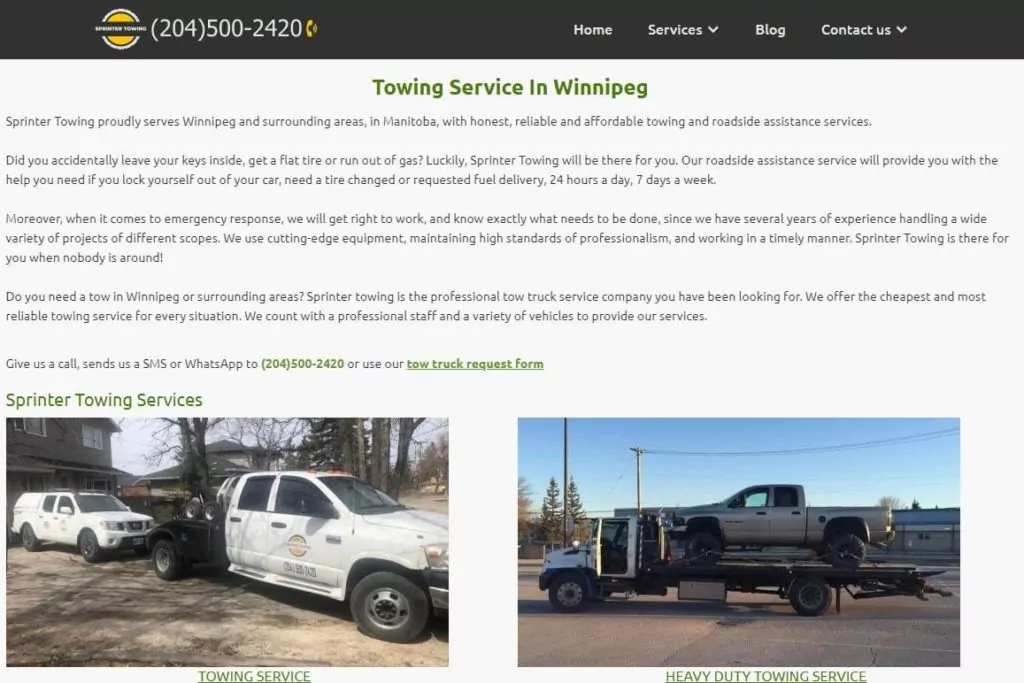 SERVICES
Flatbed, Wheel Lift, and Motorcycle Towing, Vehicle Unlocking, Fuel Delivery, Car Recovery, Tire Repair or Swap, Battery Test, and Jump Start
WEBSITE
https://www.sprintertowing.ca/
ADDRESS
1395 Waller Ave Winnipeg MB R3T 1P8
CONTACT DETAILS
Phone: 204-500-2420

Email: [email protected]

OPERATING HOURS
Open 24/7
| Response Times | ★★★★☆ (4/5) |
| --- | --- |
| Service scope | ★★★★★ (5/5) |
| Expertise | ★★★★☆ (4/5) |
| Customer feedback | ★★★★★ (5/5) |
Another popular towing company that is open 24 hours a day, 7 days a week, and 365 days a year is Sprinter Towing.
Its services include light and heavy-duty towing, lockout services, flat tire repair, tire swapping and balancing, boosting and jumpstart service, battery test, and fuel delivery.
Afraid of having your luxury car scratched during towing? No worries!
What we love about the company is that its workers and services are also insured. So in case of any mishaps, which rarely happen, you know you have protection.
But if that does little to ease your mind, the company also has flatbed towing services. This is perfect for setting your luxury car safely on top of the towing vehicle and preventing further damage.
Sprinter Towing also helps vehicles that have swerved offroad due to terrible road conditions. Its winching service is fully capable of pulling your vehicle out of a tough spot and back on the road.
What we like most of all are its multiple channels that are constantly open to answer your call.
You can call or send an SMS through its number or send a message on WhatsApp. You can also connect with the company through Facebook Messenger, Google Business, and Kijiji.
The only disadvantage that Sprinter Towing has against others is that it's relatively new. It has only been around for a little over 5 years.
Nonetheless, it has become one of the highest-rated roadside assistance services in the city! So we think Sprinter Towing is definitely worth checking out.
Wide range of roadside assistance services
Multiple channels to connect
Fully insured services
Relatively new in the industry
Unavailability of online browsing option for fees
Customer Reviews
Great customer service
Excellent service overall. Lorena was easy to deal with. Wilson, who picked me up, was very kind and courteous. Will use again when the time comes. Highly recommended! – William Legaspi, Google Reviews
Helpful staff
They were super helpful. I couldn't leave my work but needed my car towed to Winnipeg Kia and they helped me do everything. It was very convenient and they were super helpful. They also gave me the option of paying via e-transfer. Thanks a lot for your great service. – King, Google Reviews
4. Dr. Hook Towing

SERVICES
Light and Heavy Duty Towing, Roadside Assistance, Air Cushion Recovery, Emergency Spill Response, Traffic Control, Offroad Recovery, Specialized Hauling, Incident Management, Hotshot Delivery Service, Tilt Decks and Trailers  
WEBSITE
https://www.drhooktowing.com/
ADDRESS  
75 Lowson Crescent, Winnipeg
CONTACT DETAILS
Phone:1-800-561-4665

Email: [email protected]

OPERATING HOURS
Open 24/7
| | |
| --- | --- |
| Response Times | ★★★★☆ (4/5) |
| Service scope | ★★★★★ (5/5) |
| Expertise | ★★★★★ (5/5) |
| Customer feedback | ★★★☆☆ (3/5) |
With 40+ years of industry experience, Dr. Hook Towing is the longest-running towing and roadside assistance service on this list. But it pales in comparison to its crews' combined years of experience.
Its administrative team alone has a combined experience of 382 years. Adding Dr. Hook's entire crew to that and you get a whopping 750 years in total!
Dr. Hook Towing specializes in emergency spill response, incident management, specialized hauling, traffic control, and of course, a plethora of light and heavy-duty towing services.
If you're the driver of an overturned van, tractor, trailer, or tanker and are looking for an assist, it has an air cushion recovery service that is perfect for turning your vehicle upright.
On the other hand, if you're a driver of a light vehicle and are stuck on the side of the road, the company has a complete roadside assistance service it can provide.
Whether you need road assistance for a flat tire, dead battery, locked doors, or running out of gas, Dr. Hook Towing will have you back on the road in no time.
We also admire its use of computerized dispatch to organize all received requests. This allows its team to respond quickly and more accurately to all clients in need.
Unfortunately, because of having almost 400 reviews online, its average rating isn't much to write home about. But digging deeper, you'll find that all its positive reviews easily outweigh the negative ones.
All in all, with over 110,000 service requests each year and 70 dispatches a day, Dr. Hook Towing has a portfolio that is just hard to match.
Large roadside assistance portfolio
Complete towing services
Unmatched expertise
More than a few negative feedback
Impounding service may create negative image
Customer Reviews
Highly Recommended
Strong recommendation – a surprising and excellent customer service experience. When the CAA said it could be "days" until they could tend to my daughter's car (with a blown tire) on the side of the highway, we contacted Dr. Hook Towing. Through Corey's excellent communication, we were notified that Dr. Hook would arrive at the call within less time than originally promised. However, when Dr. Hook got to my daughter's car, they called to say the CAA had just arrived. Though there was no need for a tow with Dr. Hook, we offered to pay them for their trouble but were told there was no charge. Very much appreciated and great modeling of customer service. Thank you very much! – Rosanne Carcasole, Google Reviews
Beyond helpful
The Service was great! In particular for one certain employee, unfortunately, we did not get his name… This was during one of our bad snowfalls where you could barely see the car in front of you. Unfortunately, due to the road conditions, my car swerved off the road and into the ditch. We were stranded there for a while trying to get a hold of the next available tow truck, but there was no luck since they were all mostly needed that night. Luckily a Dr. Hook tow truck was driving by and kindly pulled over and asked us if we needed help. After half an hour or so they successfully pulled us out, with no damage to the car whatsoever. Because we weren't expecting our night to go as such, we weren't really prepared for anything, he was gracious enough to let us go for nothing. WORDS CAN'T STRESS ENOUGH HOW GRATEFUL WE WERE FOR THAT MAN. We are thankful for their service! – Bethany Thomas, Google Reviews
5. Towing Winnipeg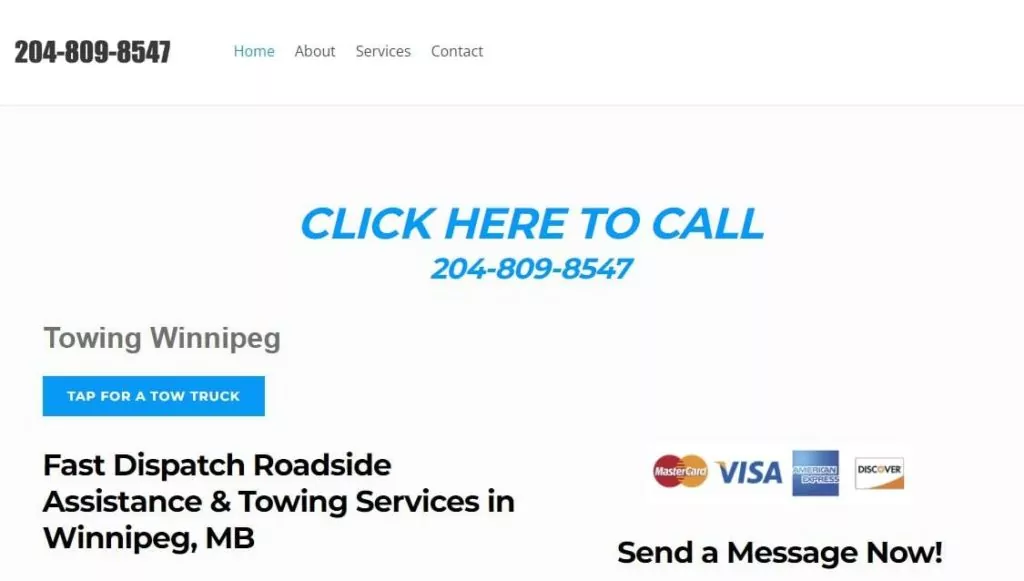 | | |
| --- | --- |
| SERVICES | General Towing, Accident Recovery, Winching, Jump Start and Car Boosting, Tire Change, Lockout Assistance, Fuel Delivery |
| WEBSITE | https://www.towingwinnipeg.com/ |
| ADDRESS | 134 Goldthorpe Crescent, Winnipeg, MB R2N 3E4 |
| CONTACT DETAILS | Phone: (204) 809-8547 |
| OPERATING HOURS | Open 24/7 |
| | |
| --- | --- |
| Response Times | ★★★★☆ (4/5) |
| Service scope | ★★★★☆ (4/5) |
| Expertise | ★★★★☆ (4/5) |
| Customer feedback | ★★★☆☆ (3/5) |
Towing Winnipeg may sound like your generic towing company in the neighbourhood but you'd be surprised. It has yet to leave a client disappointed!
The company may not be able to match the others in terms of the number of years it has accumulated. However, it can surely compete in terms of roadside assistance services.
Towing Winnipeg offers services such as light and heavy-duty towing, emergency towing, luxury vehicle towing, and accident recovery 24 hours a day, 7 days a week.
It is no slouch on roadside assistance services either as it provides a car battery boost, vehicle unlocking, tire change, and fuel delivery.
We also like the fact that all its drivers have passed background checks, completed various safety training, and are fully licensed to give you the assistance you need with skill and care.
But what stands out to us the most is its long-distance towing service. Yes, other companies on this list have services like this as well, but Towing Winnipeg may have taken it up a notch.
Not only does the company provide long-distance towing service to Manitoba and other nearby areas, but it can take your car anywhere nationwide. It'll even help you when you want to be towed anywhere outside Canada!
This service is especially great for people who have become a victim of a car breakdown in the middle of a vacation and want to be brought to their own local mechanic.
Although its services sound dreamy, not a lot of people have taken the chance to leave a positive review about it yet. But those who did are more than happy with the service they received.
Towing Winnipeg is the industry's rising star and we think it's definitely worth checking out!
24-hour availability
Complete roadside assistance services
Nationwide long-distance towing service
Minimal online reviews
Fairly new to the industry
Customer Reviews:
Quick arrival
Heat got the best of my car, but Towing Winnipeg came to the rescue, fast arrival too. – Bradley Cousins, Google Reviews
Great experience
I had a wonderful first experience with Towing Winnipeg. The staff is friendly and efficient. – M Spell, Google Reviews
FAQs About Roadside Assistance
---
That was pretty comprehensive but now you finally know who to call! Still, being careful is far better than having to need the best towing company regularly, so remember to always drive safe.