The 6 Best Construction Companies in Winnipeg
Featured Image Source: Michael Gaida via Pixabay
Thinking of getting your house or business remodelled, fixed, or built from the ground? Then you likely need to hire a company that specializes in this.
Your friends, acquaintances, or previous contractors might have a list of construction companies that they'd recommend in a heartbeat. If not, we're happy to give you a list of the best construction companies in Winnipeg.
How Much Do Construction Companies in Winnipeg Cost?
We surveyed the field to get an idea of how much construction companies charge for specific construction projects in Winnipeg. You'll find them in the table below.
| | |
| --- | --- |
| Custom-Built Residential House | $410 – $860 per square foot |
| Foundation | $40,000 – $48,000 |
| Roof | $4,750 |
| Eaves | $1,000 |
| HVAC installation | $13,000 – $17,000 |
| Plumbing | $8,000 |
| Electrical System | $13,000 |
| Wall Sidings | $8,000 – $20,000 |
| Exterior Doors | $700 each |
| Windows | $1,000 each |
| Driveway | $3,050 |
| Flooring | $4 – $15 per square foot |
The Best Construction Companies in Winnipeg
Here's our list of the best construction companies in Winnipeg.
1. Westland Construction Ltd.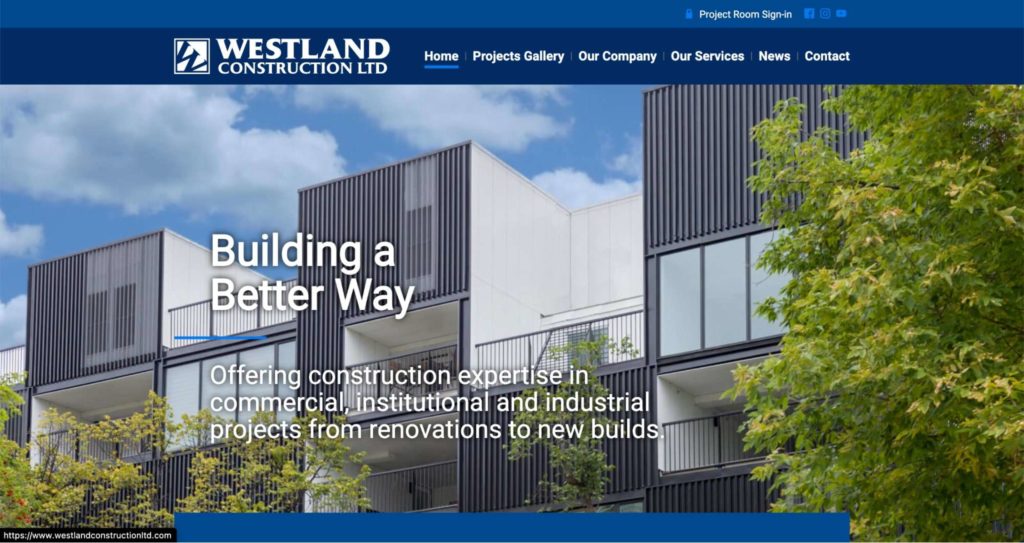 | | |
| --- | --- |
| SERVICES | Construction Management, Design/Build, General Contracting, Structural and Civil Contracting |
| WEBSITE | https://www.westlandconstructionltd.com/ |
| ADDRESS | 475 Dovercourt Dr #1, Winnipeg, MB R3Y 1G4, Canada |
| CONTACT DETAILS | +1 (204) 633-6272 |
| OPERATING HOURS | Mondays to Fridays: 8:00 AM – 4:30 PM |
For over 30 years, Westland has been working on various construction projects including the construction of commercial, industrial, and institutional buildings. They also have expertise in renovations, restorations, and hydroelectric support work.
In addition to their industry experience, Westland has worked with many of the region's most notable companies. If you're a new client, you can take comfort in knowing that over 80% of their business flows from repeat clients.
One of their main offerings is construction management, which allows them to efficiently plan the execution of the project. This process includes preparing bid packages, awarding contracts and procuring materials.
One of the best things that customers can rely on them for is their array of contacts – they have many positive relationships within the industry. This ensures customers can receive quality contractors at competitive prices.
Westland's team can be trusted to establish cost and time parameters, and ensure these are met. They build strong relationships with their clients through good communication to get the job right and make sure their customers are satisfied.
Comprehensive safety programs
Has experience in servicing multiple sectors of business
Affiliated in the construction industry
More suitable for commercial construction projects
Customer Reviews
A review from Chris Hall via Google says,
"I had the pleasure of working with Westland Construction for their winter party and they were all super cool and helpful! If I ever need something constructed I would call here first!"
Another review from Renan Luis reads:
"Westland is a great company to work for and to do business with. Great work environment, employees are nice and know the industry inside out. Excellence & Continuous Improvement are big in Westland and top managers are always open to innovation and new ideas."
2. DeVries Construction & Renovation
SERVICES
Basements, Kitchen, Bathrooms, Garages, Interiors, Exteriors
WEBSITE
http://www.devriesconstruction.ca/
ADDRESS
103 Hart Ave, Winnipeg, MB R2L 0K4, Canada
CONTACT DETAILS
+1 (204) 990-6576
OPERATING HOURS
Mondays to Fridays: 8:00 AM – 8:00 PM
Saturdays: 9:00 AM – 4:00 PM
De Vries is a family-owned and operated company. They've been in the construction and renovation industry for over 35 years.
As most construction companies go, De Vries guarantees superior customer service and excellent workmanship. They have photos on their website cataloging all their previous projects, from renovating house exteriors to transforming interiors to comply with their customer's vision.
Aside from the before and after photos on their website that showcase their skills, they also offer a free estimate and consultation for any customer in need of a construction job.
If you're the kind of customer who loves asking questions, you will appreciate them being there all throughout the process to answer you and make sure your project turns out exactly as you imagined it.
They are fully licensed and insured, a member of the Manitoba Home Builders Association, and are compliant with workers' compensation.
Offers workmanship warranty
Accepts residential and commercial construction projects
Payment plans not guaranteed
Customer Reviews
A Google review from L. Christianson reads:
"The DeVries crew did a renovation of my tiny 1920's bathroom, and I am truly pleased with the job they did and the service provided. Quality of work was excellent, and I was kept in the loop on every aspect of the reno. And they delivered on time and on budget. Will be looking to hire them again for more future reno work."
Another review left by Aaron Anderson says,
We hired DeVries construction to update our kitchen and bathroom. We couldn't be more happy with how everything turned out. Dave and his team were professional and took care of our home like it was one of their own. We will definitely be using them again for our upcoming basement project. Highly recommend them.
3. Gateway Construction & Engineering Ltd.
SERVICES
Commercial, Multi-family, Institutional, Renovations, Industrial, Bridges
WEBSITE
https://gatewayconstruction.ca/
ADDRESS
434 Archibald St, Winnipeg, MB R2J 0X5, Canada
CONTACT DETAILS
Phone: +1 (204) 233-8550
Email:

[email protected]

OPERATING HOURS
Mondays to Fridays: 8:00 AM – 5:00 PM
Gateway is a family-owned and family-operated construction company founded in 1973. Since then, it has established itself as a leading provider of construction and project management services.
Having been in the industry for almost 50 years, they have built expertise, expanded their knowledge, and combined decades of advanced construction strategies for quality workmanship.
They offer planning, designing, and engineering, among other project management services. They also provide services for apartments, bridges, churches, and many other establishments.
They stand out in the business for their focus on scheduling and cost-efficiency. They are able to do this because rather than contract out for carpentry and concrete trades, they learned to perform these critical elements themselves, keeping the cost to the client cost-effective.
They also provide a free and preliminary cost estimate, so customers can budget accordingly.
Free estimate
Trusted by high-profile companies
Doesn't outsource carpentry and concrete trades
Not suitable for residential projects
Customer Reviews
A rave review was left by Google user, Pete, says:
"Matt Strength and Gateway Construction are awesome. Working with them has been easy and all communication has been crystal clear. Matt is who I mainly dealt with and he was very well organized and detail oriented / never missed a thing."
Another review from Peter Jaffray via Google reads:
"Gateway Construction is a top notch general contractor. I recommend executives at any development project to make sure they consult with Gateway prior to beginning a big project."
4. Creative Design Contractors LTD
| | |
| --- | --- |
| SERVICES | Whole Home Renovation, Kitchen Renovation, Bathroom Renovation, Basement Renovation & Finishing |
| WEBSITE | http://www.creativecontractors.ca/ |
| ADDRESS | 255 McPhillips St, Winnipeg, MB R3E 2K5, Canada |
| CONTACT DETAILS | +1 (204) 296-1397 |
| OPERATING HOURS | Mondays to Fridays: 9:00 AM – 5:00 PM |
Founded in 2008, Creative Design specializes in whole home, kitchen, bathroom, and basement renovation and finishing. They have since seen steady growth in the quantity and the complexity of the projects they've been getting.
For new customers looking to renovate their homes, Creative Design is definitely one of the go-to companies for many reasons.
First, they value project timeline, transparency, and customer service. They make sure that on top of the quality of their workmanship, they are also guiding their customers through the entire process.
Second, they offer a 2-year warranty on all their workmanship. This ensures that you are protected and they will correct any problem that may arise.
The warranty claim process is also very simple, with the customer just contacting the company to describe the issue and booking a site visit to fix the situation.
Third, to further ensure peace of mind of all their customers, Creative Design is insured for up to 2 million dollars.
Finally, they have consistently received positive reviews from previous customers and have received the Consumer Choice Award for Home Renovation in Winnipeg for multiple consecutive years.
2-year warranty on all workmanship
Provides insurance certificate
Online quote available
 Limited to residential projects
Customer Reviews
Ash Single left this review via Google:
"They have a good crew of workers who treat your home as if it was their own. Every job has challenges & Dale is a very reasonable guy & any issue gets addressed promptly. They also have a good warranty & stand by their work. Would definitely recommend!"
Another review from Janet Bell reads:
"A year ago we began a main floor Reno on our 2800 square foot home. Jason and his team at Creative Design were highly recommended due to the details that were involved with the new design. A year later we have our dream home thanks to Jason and his skilled team members, it was a long process but the end results are more than we could have ever imagined, the entire team were always on time, very respectful of our space and communicated with us in every aspect as the project progressed, highly recommend Creative Design for anyone looking to do a renovation no matter how large or small of a job that needs to be done."
5. Alair Homes Winnipeg
| | |
| --- | --- |
| SERVICES | Home Renovations, Bathroom Renovations, Kitchen Renovations, Build |
| WEBSITE | https://www.alairhomes.ca/winnipeg/ |
| ADDRESS | 126 Cordova St, Winnipeg, MB R3N 1A1, Canada |
| CONTACT DETAILS | +1 (204) 813-7919 |
| OPERATING HOURS | Mondays to Fridays: 9:00 AM – 5:00 PM |
Alair Homes serves the communities in and around Winnipeg by specializing in custom-built homes and modern renovations.
Their team of project managers has the necessary skills and experiences in modern renovation, from replacing a worn-out deck to raising the roofline to create a two-story home.
If you're the kind of customer who loves being up-to-date with your renovation project, Alair Homes has an open-door policy where project managers are encouraged to fill you in on the latest updates on the project site, which you can also visit at any time.
They also have a proprietary online system that keeps their customers informed of all the things happening during the project like the timeline, inspection report, and budget. The system offers a direct line of communication between clients and their project managers.
Alair's award-winning reputation is also built on consistently delivering both quality craftsmanship and top-notch customer service.
Easy booking process
Comprehensive online portfolio of previous projects
Offers a free home resource guide for home maintenance
Customer Reviews
A review from Chris Hope via Google says,
"Collin was a pleasure to work with on my project; he was polite, professional, and got the job done quickly. It is no wonder that Alair Homes is held in such high regard as they have earned it. I can not recommend them highly enough!"
Another review from Jack Hildebrand says,
"Nowadays, finding a company that builds their name brand on integrity and good workmanship is hard to find. But if you read any of the other reviews, Alair Homes has accomplished this with ease. I highly recommend this team to anybody that is looking to build or renovate."
6.   Macanta Design Build Inc.
| | |
| --- | --- |
| SERVICES | Architectural Design, Interior Design, Home Additions, Major Renovations (Both Interior & Exterior), Full Home Rebuilds, Custom Homes, Structural Repairs, Secondary Suites |
| WEBSITE | https://www.macanta.ca/ |
| ADDRESS | 729 St. Mary's Road, Winnipeg, MB  R2M 3N3, Canada |
| CONTACT DETAILS | Phone: 204-977-6604 |
| OPERATING HOURS | Mondays to Fridays: 8:00 AM – 5:00 PM |
Macanta Design Build Inc. was established in September of 2014 by Cory Kloos and Desmond Sweeney. These childhood friends partnered together to create a building and design company that delivers custom solutions and maximum value to their clients.
Cory brings his years of extensive expertise in construction, renovation and contracting to the company. Desmond, on the other hand, brings organization skills and handles the administrative side of the business, which makes for a balanced partnership.
This award-winning company specializes in home additions, major renovations, and custom new homes. They are committed to ensuring that your project will not just be visually pleasing, but built to last, which has earned them a solid reputation in the area.
Macanta Design Build Inc can manage the entire process of your project from the initial concept through to the finishing touches. The core elements of their workflow includes design, detailed pre-build analysis, project planning, and transparency with clients, among others.
Macanta Design Build Inc. is one of our top companies in Winnipeg that offers renovations, home additions, and custom home builds. They offer a wide range of services at affordable rates, making them a one-stop-shop for all your design needs.
Specializes in custom home builds
Can facilitate the entire renovation or build process

Extensive experience in the field

Can do structural repairs
Not available on weekends
Doesn't offer free consultations
Customer Reviews
Let's take a look at what their clients have to say:
"Cory and Macanta Design Build Inc. are extremely professional, easy to work with, and trustworthy. Being out of province, it could have been difficult to find a business to fulfill our Site and Floor plan needs. We contacted a couple of businesses and Macanta replied with the most thorough, quick, and reasonably priced quote. After proposing a project outside the nature of their work, Macanta referred us to an appropriate business just as professional as them. Five Stars." – Brad Burnett
"We dreamed about our renovation for close to a decade. After extensive research we hired Macanta. It may have been one of the best decisions we've ever made. The workmanship is exceptional. The communication was very clear, we knew the options available to us, and never felt out-of-the-loop. When something didn't quite go to plan it was promptly resolved. We were treated with utmost respect and they followed through on every commitment. Would I hire them again? In a heartbeat. And I likely will. Would I recommend them? Without question, yes. Cory, Desmond, Rob – thanks for turning our dream into reality and taking a lot of the chaos out of our chaotic family!" – Colin Matychuk
How to Choose the Best Construction Companies in Winnipeg
1. View offered services
Each construction company has their own specialty so be sure to check the nature of your construction project and if your needs align with their specialization.
Going to just any construction company who may be good in paper but doesn't have much experience in the particular type of project you have in mind may end up being less efficient in the long run.
2. Check their credentials
The best construction companies are generally affiliated with industry partners, which ensures their processes satisfy all requirements of the law.
Other items in the checklist for choosing the right construction company are licenses for the builders, warranties, and insurance.
3. Read reviews
A quick scan of client reviews from different platforms can generally give you an overview of the previous customers' experience working with the construction company.
You'd want to make sure that if there were issues in the past, the company holds themselves accountable and responds with care.
FAQs about Construction Companies and Projects
---
We hope that our list of the best construction companies in Winnipeg helped you stay informed on how to tackle your next big home renovation or business construction.
Know any other construction companies within Winnipeg that weren't included on this list? Don't hesitate to let us know!
If you're specifically looking to enhance or repair your roofing system, be sure to read our compilation of the best roofing companies in Winnipeg.