The 5 Most Trusted Auto Wreckers in Winnipeg
Auto maintenance is made more cost-friendly when you go to an auto wrecker that can help you source second-hand automotive parts instead of buying them brand new. This is also an eco-friendly and sustainable way of maintaining your vehicle.
If you don't know where to find a good auto wrecker, this one's for you. But before we take you through a list of the most trusted auto wreckers in Winnipeg, let's first talk about how much you can expect to spend on different car parts.
The Cost of Auto Wreckers in Winnipeg
Second-hand parts are generally much cheaper than new ones but the price always depends on the condition, make, model, year, of the product.
Here are the usual prices for certain auto parts at auto wreckers here:
| | |
| --- | --- |
| AUTOMOTIVE PARTS | ESTIMATED COST |
| Basic Steel Rims | $90 to $100 |
| Painted Finish Rims | $100 to $280 |
| Car Battery | $15 to $30 |
| Tail Lights | $5 to $20 |
| Windshield | $100 to $140 |
| Head Lights | $10 – $25 |
| Front and Rear Bumpers | $100 to $150 |
| Fenders | $30 to $60 |
The Most Trusted Auto Wreckers in Winnipeg
1. CTR Auto Parts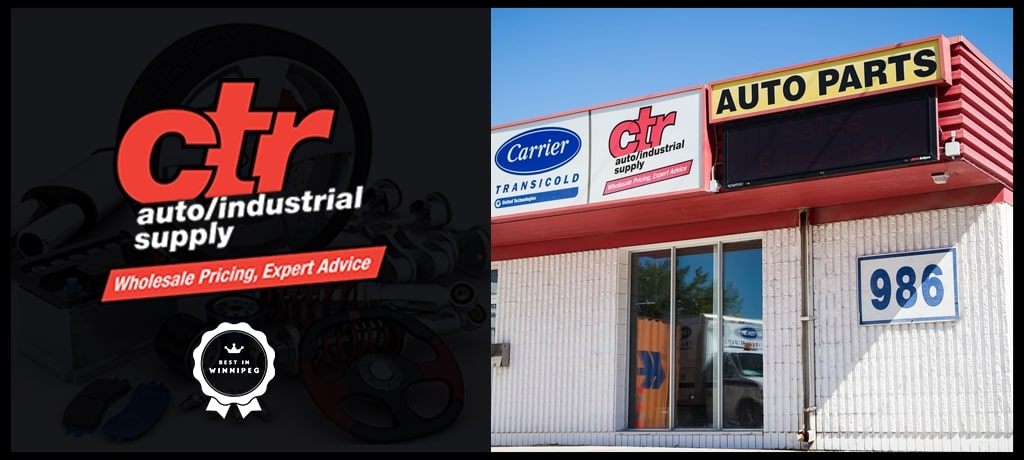 BEST FOR
Fuel/Emissions, Interior/Exterior Accessories, Filters/PVC Valves, Oil Filter, Batteries, Engine Parts and Mounts, Wipers, Fluids/Chemicals, Wheels, Brakes, Exhaust System, Suspension/Steering, Belts/Hoses, Transmission/Transaxle, Safety Equipment, Struts, Cooling/Heating, Tools and Equipment, Truck and Towing
WEBSITE
https://ctrautoparts.ca/store/portal/
PRICING
For the full list of products & pricing, click here.
ADDRESS
986 Wall Street, Winnipeg, MB R3G 2V3
CONTACT DETAILS
204 772 2481


[email protected]

OPERATING HOURS
Monday to Friday 7:30 am to 5:30 pm
Saturday 8:30 am to 1:00 pm
CTR Auto Parts is a local family-run operation with over 50 years in the industry. It has experience in diverse industries such as construction, manufacturing, landscaping, automotive, and heavy-duty truck repair shops.
They can cater to both industrial and retail customers because they have 2,000,000 SKUs and over 850 product lines to back their service. They have an online shop right on their website, which we found to be very convenient.

What makes them a top choice in Winnipeg is that they offer their wide range of products for low prices. Based on their online shop, they offer the best value for money in automotive parts compared to the other companies on the list.
If you need car parts in bulk, CTR even offers wholesale pricing and has an 18,000 sq. foot facility that holds more than 850 product lines located in the heart of Winnipeg.
Wholesale prices available
Wide range of products and parts
Large warehouse facility
Curbside pick up is not available
Customer Reviews
Read these reviews to find out more about CTR Auto Parts.
"CTR is the first place I turn to when I need an obscure, hard to source part. I have been a customer there for the past 15 years and that in and of itself shows the legitimacy behind their business."
– Lenny Blackburn at Maple Leaf Construction
"CTR has excellent service that extends beyond their great knowledge of parts and quick delivery times. When I need a part they will exhaust every option to find it for me" – Gail Dougall at CPB Equipment Rentals
2. PartSource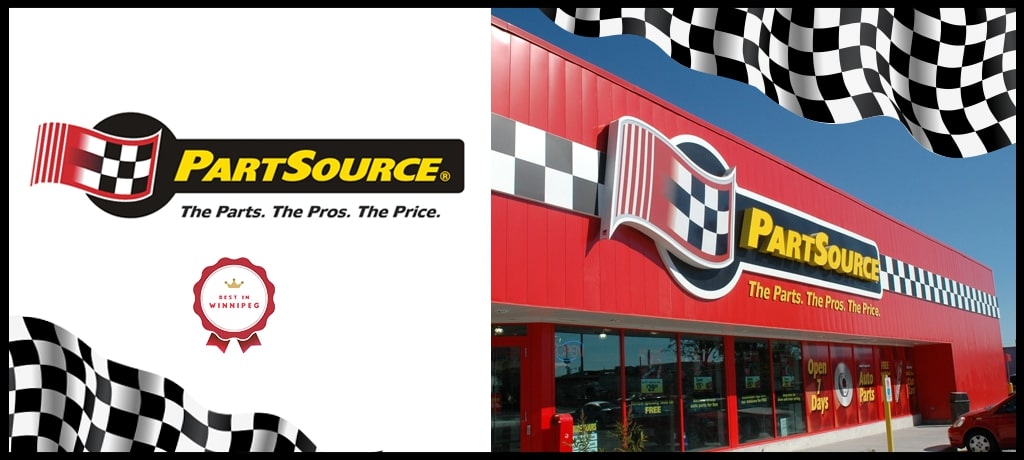 BEST FOR
Steering, Heating and Cooling, General Auto Repair, Exhaust Accessories, Custom Floor Mats/Cargo Liners, Brake Rotor, Auto Filters, Starters and Alternators, Driveline, Suspension, Engine Oil, Wiper Blades, Batteries, Filters, Shop Supplies and Equipment, Muffler & Engine Management
WEBSITE
https://www.partsource.ca/
ADDRESS
2356 McPhillips Street, Winnipeg, Manitoba R2V 4J6
45 Isabel Street, Winnipeg, Manitoba R3A 1E7
2550 Portage Ave., Winnipeg, Manitoba R3J 0N8
1550 Regent Ave., Winnipeg, Manitoba R2C 3B4
1969 Bishop Grandin Blvd., Winnipeg, Manitoba R2M 5S1
CONTACT DETAILS
204 334 2880
204 944 8642
204 888 8370
204 667 9137
204 253 2361


[email protected]

OPERATING HOURS
Monday to Friday 9:00 am to 7:00 pm
Saturday 9:00 am to 5:00 pm
Sunday 10:00 am to 3:00 pm
PartSource is an automotive parts specialty store popular among professional automotive installers and serious do-it-yourselfers. They deliver a quick in-and-out purchase experience with an extensive selection of quality brand-name parts and competitive prices, this is why professionals prefer them.
They carry top brands like Mobil1, Bosch, Magna Power, Monroe, and more. Every PartSource store is also staffed by experienced auto parts professionals and licensed automotive technicians who can access over 60,000 parts on the same day or overnight basis.
What makes them a top choice is that they offer a labour warranty for all their products, including their top brands, for one year from installation. They frequently offer discounts and promotions so don't forget to inquire about this to get the best deal possible.
If you would like more information regarding the availability of their products and parts, their website has a database of over 100,000 products. All you need to do is create an account to get started.
Discount rate and promos available
0% interest payment options
Online store
Labour warranty
Customer Reviews
Take a look at these reviews to find out more about PartSource.
"I called to find a part for my old buick and was connected to Dawn I explained what i was looking for and she checked their listings , asked me more questions ,crosschecked some more and found the part was available (it took her some time to do this ) When i said I appreciated what she was doing she said "Just doing my job" I thought at that time she was going beyond the regular search and plus she explained to me to use Google to see the part and make sure the connections etc were proper etc before purchasing the part . She was very congenial and informative through this whole process. Now if that isn't the best service you could expect to experience because she made me feel very confident that I came to the right place to find this part. Thank you Dawn for being there and helping through this whole situation Brian."
– Cinnabar M.
"Grabbed some recommended windshield wipers and the sales guy young man put them on for me too as I said it might be tricky for me. It was a simple but tricky installation that would have taken a bit of effort and doing. Thank you. Also, the visit before a woman (manager I think)recommended perfect light bulbs for my car and needs…….decent price too….everything has been very good." – Jeremy H.
3. Direct Automotive Inc.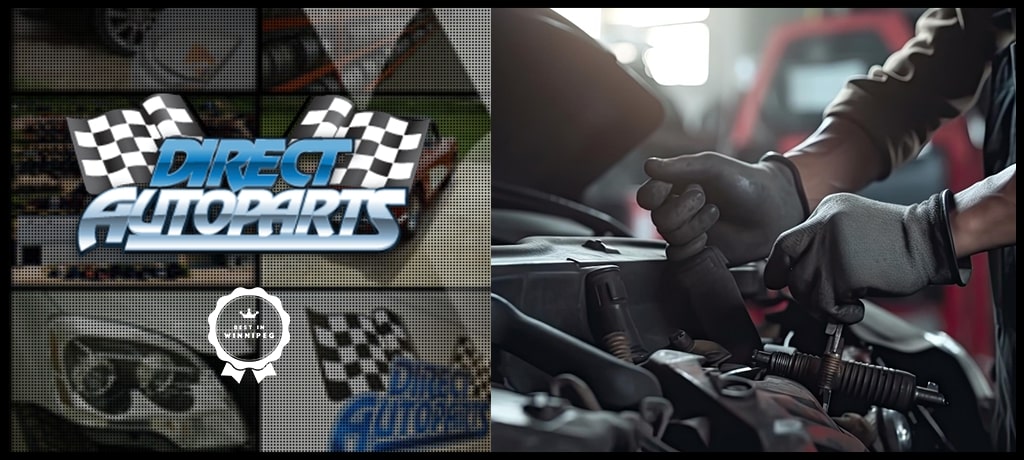 BEST FOR
Quality new, rebuilt and recycled car and truck parts
WEBSITE
https://www.directauto.ca/
ADDRESS
673 Wall Street, Winnipeg, Manitoba R3G 2T6
CONTACT DETAILS
204 864 2000
1 (888) 864 2484
OPERATING HOURS
Monday to Friday 8:00 am to 5:00 pm
Direct Auto has been around since 1962 and is a one-stop shop for all your car needs. They offer quality rebuilt and recycled parts, whether for personal use or industrial use.
Direct Auto is not only popular for their great service, but they are one of the most budget-friendly auto wreckers in Winnipeg. What is great is that they also provide a warranty for products, and the terms and conditions are available on their website.
They supply new, recycled, and rebuilt car and truck parts, and of the recycled parts available 50% to 90% are off of new OEM. This means you can get barely used parts at low prices.
Although they do not have an online shop, their order form is available online. All you have to do is download the order form and fax it in to place your order.
Gold Seal Automotive Recyclers of Canada
Budget-friendly
Inventory search available on the website
No online checkout
Closed on weekends
Customer Reviews
It seems that these guys are really known for their great prices. Check out what these customers have to say about Direct Automotive Inc.
"Wow saved a ton of cash! The wiper motor I bought was half price of a new one. What a great bunch of guys" – mrfixrite
"Amazing service! I had to order in a taillight assembly and they were able to get it in the next morning. Will be going back here for all my parts from now on." – AJ
"I've been bringing my cars to Direct Auto for over 10 years. They provide excellent service at a great price. They can be trusted and have always been upfront with me." – Nathan D.
4. Aime's Autoparts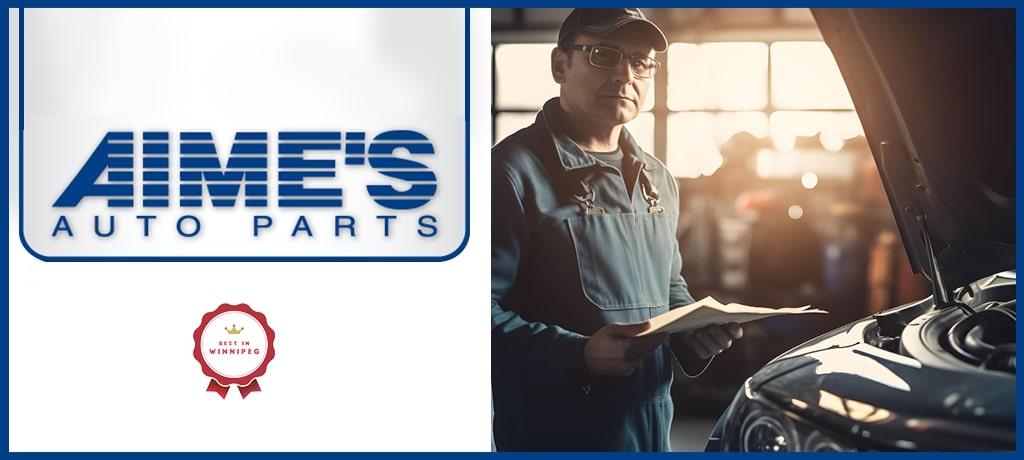 BEST FOR
Recycled auto and truck parts for North American vehicles
WEBSITE
https://www.aimesauto.ca/
ADDRESS
15 Aimes Rd, Winnipeg, MB, R3X 1V4
CONTACT DETAILS
204 257 0858


[email protected]

OPERATING HOURS
Monday to Friday 8:00 am to 5:30 pm
Aime's Auto Parts is one of the main sources for quality used truck, van, or auto parts in Winnipeg. They offer a complete inventory of affordable parts that are in good working order and ready to be used in your vehicle.
They carry engines, transmissions, transaxles, and other drivetrain components, as well as interior and exterior bodyparts and accessories: alternators, computers, control modules, headlights, taillights, bumpers, doors, fenders, antennas, stereos, radios, struts, shocks, starters, radiators, and auto glass.
Aime's offers a 90-day warranty on all their products, and details of the terms and conditions are available upon request.They carry OEM parts for late-model North American cars, vans and light trucks.
Aime's has earned a spot on our list for this and a few other reasons. Among others, they are also members of the organizations Automotive Recyclers of Manitoba (ARM), Automotive Recyclers of Canada (ARC), and Automotive Trades Association of Manitoba Inc. (ATA).
90-day warranty on all products
Inventory search available on website
Part of ARM, ARC, and ATA
No online store
Only recycled parts available
Customer Reviews
Read these reviews to find out why people choose Aime's.
"Had exactly the part we were looking for, was fantastic to deal with on the phone and in person. Although this is over 2 hours from home, we will DEFINITELY use them again for our car part needs! Thank you so much!!" – Alice P.
"Very Covid friendly business. Staff are very pleasant and courteous.
Pleasure to talk to & do business with.
Thanks." – Arthur B.

"Knowledgeable and helpful staff, response time is great if they have to make sure they have what you are looking for" – Moley P.
5. Bucks Autoparts Winnipeg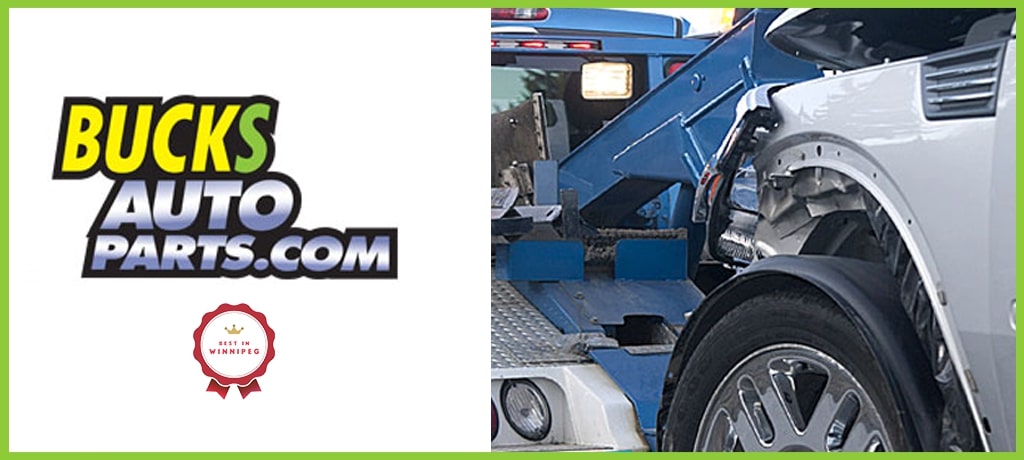 BEST FOR
DIY, recycled parts, car recycling, truck & towing
WEBSITE
https://www.bucksautoparts.com/bucks/index.jsp
ADDRESS
1550 Springfield Rd., Springfield, Winnipeg, MB R0E 1J3
CONTACT DETAILS
204 925 7278
OPERATING HOURS
Tuesday to Saturday 9:00 am to 5:00pm
Sunday 10:00 am to 4:00 pm
Bucks Autoparts is the largest and most environmentally conscious chain of auto wreckers in Western Canada. They process junk vehicles responsibly with minimal environmental impact.
They offer reusable parts as a low-priced resource for customers to repair their vehicles. What is interesting is that this might be the only auto wrecker in town that lets you poke around totally unsupervised.
You will need to bring your own tools and your own safety gear though, because you will be given access to a wide variety of cars that you can inspect. Many young car enthusiasts use Bucks as their very own playground, poking around the wide variety of cars for hours.
They have detailed inventory lists of parts available on their websites so you can search for what you need across all their branches. If you are looking to get rid of your vehicle altogether, you can sell or donate your car to Bucks.
Environmentally responsible
Sustainable practices
Budget-friendly
Bring your own tools
Bring your own safety gear
Closed on Mondays
Customer Reviews
Bucks is popular among a lot of DIY car enthusiasts, check out some of these reviews to find out why.
"If you are repairing your car by yourself and looking for some used part for it this is the best place. It is very simple. You just come and remove the spare part you need by yourself. If it does not fit your vehicle, you can return it. Good staff and good prices. I highly recommend this place." – Oleg T.
"Very friendly and welcoming staff. Had no experience with a pick and pull scrap yard and the women at the two front offices were helpful and welcoming. Wish they had more of my type of vehicle I was looking for, but that's a minor gripe. Overall, a great experience and I'll be returning in the future." – Justin W.
"Bucks always seems to have the parts I need… its always fun to poke around and see what they hauled in and as available. Vehicles are nicely organized and easy to access. Prices are on point too, just fixed a Pontiac G6 mirror for under $20 …dealer wanted over $350 for the part and install. Staff are always friendly and fair. I'll be back as usual!" – RF Digital
FAQs about Auto Wreckers in Winnipeg
---
Now that you know about the reliable and cost-friendly auto wreckers in the Winnipeg area, the next time you're looking for automotive parts, you'll know exactly where to go!
Did we miss out on any other auto wreckers? Let us know and we'll check them out as soon as possible.
Once your car is in good shape, the next step as a responsible vehicle owner would be to get insurance. Check out this list of the best insurance brokers in Winnipeg to find out more.