The 6 Best Data Recovery Services in Winnipeg
Data recovery is a computing process that retrieves inaccessible, corrupted or lost data from a storage device. If you have a hard drive, phone or any other secondary storage device that has data that you can no longer access, then this list is for you!
In this list, we will be talking about the best data recovery services in Winnipeg. Before we talk about that though, let's talk about the cost of data recovery here.
The Cost of data recovery in Winnipeg
The cost of data recovery usually depends on what is wrong with your storage device as well as the amount of data that needs to be recovered.
Actual rates vary from one shop to another, but here's a basic idea of the ranges.
| | |
| --- | --- |
| SERVICE | ESTIMATED COST |
| Basic Data Recovery | $100 to $700 |
| USB Flash Drive Data Recovery | $150 to $500 |
| Mechanical Failure | $1,000 to $2,500 |
| iPhone Data Recovery | $300 to $400 |
| Android Data Recovery | $200 to $400 |
The Best Data Recovery Services in Winnipeg
Now it's time for our list of the best data recovery services in Winnipeg.


1. Truedata Recovery Solutions Inc.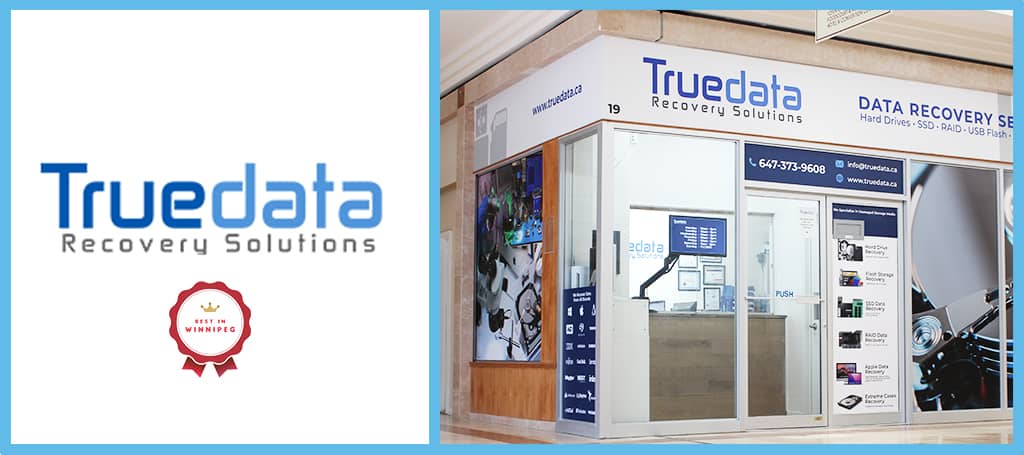 SERVICES
Data Recovery, Hard Drive Recovery, Laptop Data Recovery, Desktop Data Recovery, RAID Array Data Recovery, External Drive Recovery, Smartphone Recovery
WEBSITE
https://www.truedata.ca/
PRICING
For complete details regarding pricing, click here.
ADDRESS
723 Borebank St, Winnipeg, MB R3N 1G3, Canada
CONTACT DETAILS
204 808 6518
OPERATING HOURS
Monday to Friday 10:00 am to 6:00 pm
Saturday 10:00 am to 3:00 pm
Truedata Recovery can recover all software formats from all operating systems. They can recover data from a wide variety of storage devices as well, such as hard disks, solid state drives, pen drives, flash drives, and more.
What we like about Truedata is that they offer free advanced diagnostics for every type of storage device. They inspect the device to find out what the exact problem is and let you know the cost to repair your device or recover your data before starting the process.
Their prices range from $200 to $500 for hard drive data recovery and can take anywhere from 2 to 7 business days.
They also offer smartphone data recovery ranging from $250 to $2,500 depending on the model of your phone. Don't worry, though, as they are able to recover data from (most) iPhones, Androids and Blackberrys.
One thing to note though is that they cannot recover data from iPhones or iPads that have been disabled or restored to its factory settings. They are also unable to recover deleted photos and videos from the latest Apple iPhones or iPads, so if you have the latest model then you might not have much luck with Truedata.
Their standard service can take anywhere from 3 to 5 weeks so if you have a data recovery emergency, it is better to let them know so that they can place you on priority status and you can have your data back within one week.
Free advanced diagnostics
Affordable rates
Closed on Sundays
Cannot recover data from latest iPhone and iPad
Customer Reviews
Read through these customer reviews to find out more about the services of Truedata.
"I am a freelance videographer and I had two separate hard-drive failures in the span of three months. This man saved my life both times! I thought all hope was lost but Truedata went above and beyond to ensure they got ALL my files back BOTH times saving me so much stress & money from potentially losing the client & the job. I can't begin to describe my appreciation for these people. I have used other recovery services in the past and Truedata not only has the best prices but also has the best customer service as you are dealing with the same one or two people every time that know your case in and out. HIGHLY RECOMMEND" – Brett A.
"Have had two complete hard drive failures in the last 5 years. Thought I had lost hundreds of scanned old family photographs and family history files of 10,000 people among other things, such as shortcuts to census records and electoral maps. Noel has completely saved my computer life both times. He did it with understanding and empathy and high quality professionalism. He has now set me up with automatic data backup on an external hard drive(This should also save me the displeasure of my wife who has had little sympathy with me for not backing up my data on a regular basis)." – Iris M.
"Noel was awesome. He recovered our data from a dropped hard drive. We had to be patient as it took him time and multiple donor drives to succeed but it was worth the wait. I would definitely take any hard drive issues I had too him before wasting time and money else where. Thank you Noel" – James S.
2. WeRecoverData Data Recovery Inc.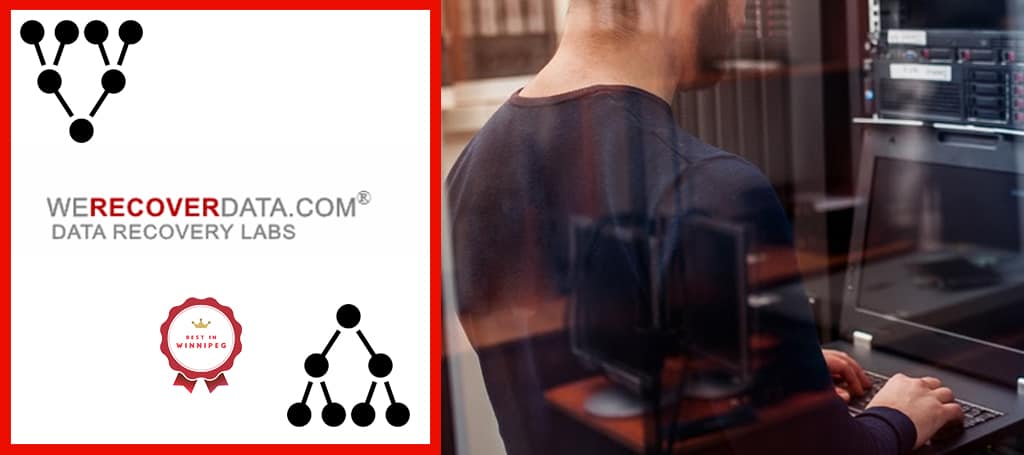 | | |
| --- | --- |
| SERVICES | Data Recovery, Hard Drive Recovery, Unix Recovery, Linux Recovery, Mac Recovery, RAID Data Recovery, Virtual Machine, Database Recovery, Digital Forensics |
| WEBSITE | https://www.werecoverdata.com/ |
| ADDRESS | 201 Portage Ave #1800, Winnipeg, MB R3B 3K6 |
| CONTACT DETAILS | 204 818 6710 |
| OPERATING HOURS | Monday to Friday 9:00 am to 5:00 pm |
We Recover Data claims to be the leader in enterprise data recovery, having serviced companies like Google, Canon, Dell, HSBC, Nestle, Verizon, Hilton, and Coca-Cola. While a big portion of their company services large companies, they also service everyday consumers.
They have an in-house R&D team, a state of the art facility, and an emergency response unit for urgent, mission-critical restoration of data. This can be very helpful if you lose data, have no back up, and need to restore the data immediately.
The downside of dealing with such a large scale and well-reputed provider is the price. As per their pricing, the base price for basic logical hard drive recovery starts at below 1000$, while mechanical recoveries can go up to $2000.
They also offer a feature called Secureturn, wherein data that is returned to you is encrypted, to prevent the data falling into the wrong hands. This will come in handy when dealing with sensitive information.
Emergency services available
Option to encrypt recovered data available
State-of-the-art recovery facility
Closed on weekends
Premium rates
Customer Reviews
Take a look at what people have to say about WeRecoverData.
"Definitely weRecover team is great to solve that kind of hard drive problem. Great response and remarkable. They recovered my all data successfully within short time. I wanna give special thank to Pawel. Thanks a lot man." – Lilly R.
"At first lot of thanks to WeRecoverData.Because my cellphone was damaged after dropping in water.Most valuable contacts and data was in that phone.Some peoples gave me advice of this company.And then my phone is Okay with all contacts and data. Really great service and unbelievable work." – Andrew D.
"It was a dream day in my life.Becasue They restored all the most valuable information which data corrupted from hard drive.I thought could not to be recoverd but they did it well.Thanks to werecoverdata." – Luanne L.
3. Tecfix
SERVICES
Data Recovery, Laptop Data Recovery, Desktop PC Data Recovery, External Hard Drive Data Recovery, Computer Repair, Macbook Repair, iPhone Repair, Samsung Galaxy Repair, iPad Repair, LG Repair, Google Pixel Repair
WEBSITE
https://www.tecfix.ca/
ADDRESS
1094 Naim Ave. E, Winnipeg, MB R2L 0Y4, Canada
CONTACT DETAILS
204 813 1993


[email protected]

OPERATING HOURS
Monday to Saturday 10:00 am to 6:00 pm
Tecfix is a data recovery service provider based in Winnipeg that does not only offer data recovery, but offers repair services for hard drives and storage devices as well. This can be a useful complementary service to your data recovery requirements.
One particular feature that stands out is that they offer mail-in-repairs or recoveries, which is perfectly timed now that there is a pandemic and it would be more advisable to stay indoors.
Like many recovery providers, they also offer free inspection and diagnosis as well as logical and mechanical recovery.
Tecfix gives you the option of setting an appointment via their website, and has 3 service plans for you to choose from. Level 1 deals with deleted or formatted data, which could potentially be recovered by a recovery software.

Level 2 deals with mechanical damage on the hard drive, wherein it needs to be opened and parts need replacement for the recovery to be conducted.
Level 3 is for severely damaged drives and requires the hard drive to be sent to a clean room to be opened up, inspected, and repaired.
We included them on our list because an important factor to consider during data recovery is the environment in which your storage device is opened up for repair. It is important that your storage device is opened in a clean and sanitized room to minimize the risk of any more data loss.
Tecflix offers a great sanitary environment for such work, making the odds of further damage to the storage media lower.
Device repair available
Mail-in recovery option available
Affordable rates
Closed on Sundays
$30 diagnostic fee
Customer Reviews
Learn more about the repair and recovery services of Tecfix from these reviews.
"Spilled beer all over my macbook like a real dummy. Took it here to for a deep clean and repair and they were really great. Replaced the damaged parts and I had my laptop back after a few days, and best of all it's in perfect working order. The two people I dealt with were really friendly and kept me updated on the progress of the repair. Thanks so much!" – Callan A.
"Do not look anywhere else for cell phone, tablet or computer repairs! We have taken in 3 or 4 devices now and the customer service is unbelievable. They have a no fix, no pay policy however we have never had them unable to fix any of our issues. Their prices are super reasonable. The two guys are friendly, helpful and very professional. We will never use anyone but this place! Thanks for being such an awesome, trustworthy business!" – Jennifer A.
"Nobody else in the city even wanted to look at my phone, much less fix it. Called Tech Fix, went in, phone was fixed in two hours. Now that's prompt efficient service, and the price was very reasonable and fair. No hesitation in recommending this place for fast, well priced, quality work." – Mal M.
4. ReStoring Data Canada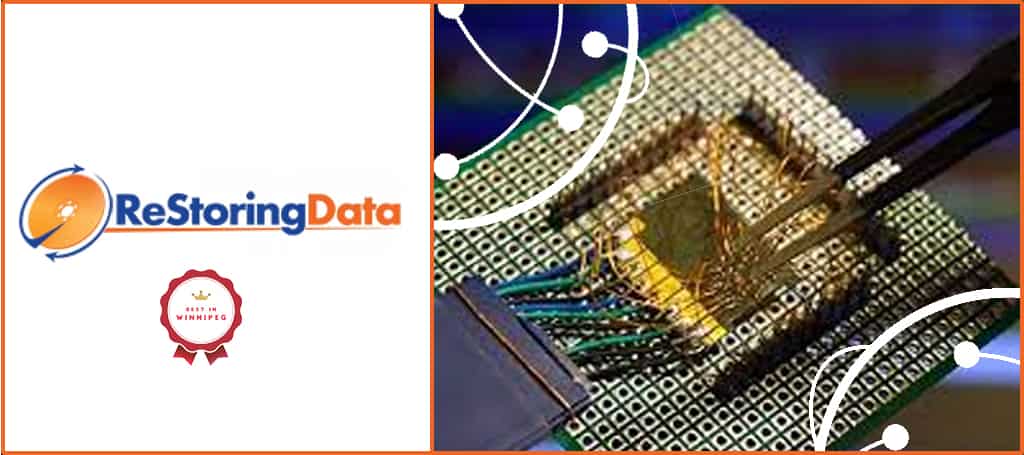 SERVICES
Data Recovery, Hard Drive, Flash Drive, RAID Array, Drobo Recovery, Phone, Emergency Data Recovery, Second Attempt Recovery
WEBSITE
https://restoringdata.ca/
ADDRESS
Unit A, 730 Century St., Winnipeg, MB R3H 0M1
CONTACT DETAILS
204 772 6177


[email protected]

OPERATING HOURS
Monday to Friday 9:00 am to 5:00 pm
ReStoring Data is one of Canada's more established chain of data restoration centers, boasting 3 awards to its name. With branches in 12 cities nationwide, they have established a decent reputation in the market.
One thing unique about this company is that it provides data restoration services for 6 types of hardware using their own proprietary hardware and software in data recovery.
Their pricing starts at $250 and $400 for logical (basic) recovery of flash drives and hard drives respectively. The prices go up depending on the type of recovery and the amount of work involved.

They also charge a $50 evaluation fee if your device has been previously tampered with by another company. So, you might be better off going directly to them to have your data restored.
On the plus side, they offer free shipping to their recovery lab, which is usually located offsite, as well as multiple pricing options depending on the urgency of the recovery – Economy, Priority, and Super Rush.
Free inspection
1-month warranty
Free shipping to data recovery lab
Premium rates
$50 evaluation fee for previously tampered devices
Customer Reviews
Find out more about the services of ReStoring Data through these reviews.
"Halfway through transferring files from one computer to another, I discovered that our external hard drive would no longer connect to any of our computers. Initially, I thought that our Business file and Pictures file including more than a decade of digital images were lost for good. That is until a friend with an IT background gave me ReStoringData's contact information. The entire process of dealing with ReStoringData was extremely professional on all levels and I am happy to report that they were able to recover our entire business file and every last picture! I will absolutely recommend them to anyone that needs critical data recovered!" – Len R.
"I was VERY happy with the recovery and your overall service. ALL the files were restored and are 100% ok." – Darryl D.

"Fantastic customer service, very friendly and helpful! They restored my data in a week and I am forever thankful!" – Megan C.
5. DAS Repair Centre Inc.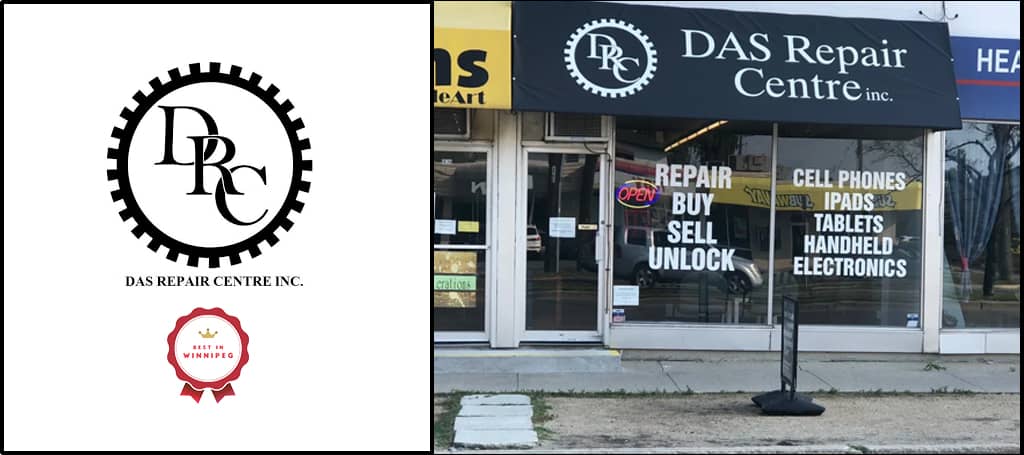 SERVICES
Data Recovery, Device Repair, Device Unlocking, Cellphone Repair, Micro Soldering iPhone & iPad, Charge Board, Circuit Board, Tablet Repair, Liquid Damage, Macbook Repair, iPhone Data Recovery
WEBSITE
https://dasrepaircentre.com/
ADDRESS
1838 Grant Ave, Winnipeg, Manitoba R3N 0N4, Canada
CONTACT DETAILS
204 505 4905
204 227 4905
OPERATING HOURS
Monday to Friday 8:30 am to 6:00 pm
Saturday 10:00 am to 4:00 pm
DAS Repair Centre is a family-owned repair and service centre that specializes in same-day service for cellphone repairs.

We included them on our list because they can provide a more intimate customer service experience by offering after-hours services.
They would much rather adjust their schedule to fit with yours than have you go somewhere else because they are confident in the services that they provide. Now that's great service!
They provide data recovery services for a wide variety of devices like iPhones, android phones, hard disk, flash drives, and iPads. They can recover lost or deleted data like pictures, phone numbers, and text messages.

If you have a broken device that you can't access, you may be better off bringing it over to DAS Repair Centre. In most cases, they can recover data from broken devices and transfer it to a new device without losing any information.
After hours service available
Essential phone accessories available
Warranty available
Small team of employees
Closed on Sundays
Customer Reviews
Check out what people are saying about DAS Repair Centre.
"David (the owner) was extremely knowledgeable, personable and friendly and did not hesitate to share his vast knowledge of technology with me while I waited to get my phone fixed. Not only did I learn a lot while waiting but my phone works flawlessly again. This was my first time here but I wouldn't go anywhere else for my mobile tech repair needs. Thanks David it was great to meet you!" – Adam D.
"I really want to share my experience with DAS and David. My phone I use for business and personal was dropped and had some minor water damage that happened in Feb on a trip to Mexico with my family. Though it was still somewhat functional eventually just went to a black screen and would not turn on. David fixed my phone the same day in under 30min. While keeping all my data, pictures of my kids and sensitive msgs and client appointments intact. The workmanship, transparency and price was fair. Very highly recommend for any cell phone needs or repairs." – Jason H.
"Dave was my saving grace!! I was so thankful for his expertise!! I bought a new phone from him as I had issues with mine. He was able to safely move all my data very quickly! He even texted me the next day to ensure the transition was smooth! I HIGHLY recommend going to him with any technical issues!" – Karina B.
6. TickTockTech – Computer Repair Winnipeg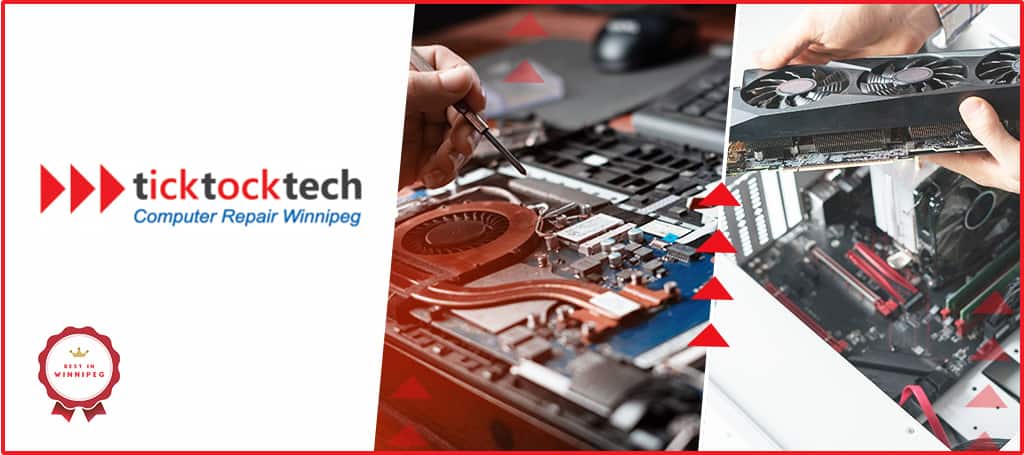 TickTockTech is an expert in all computer systems, from standard laptops to complicated smart home security systems. This business is also well-known for handling malware issues and data recovery services.
The best thing about TickTockTech is that it offers free estimates and same-day services in the comfort of your home, office, or wherever your problematic computer is.
This company also tries to be the best computer technician in Winnipeg with its quality and efficiency. TickTockTech bills per quarter of an hour, so you won't have to pay too much for a 15 or 30-minute repair service.
Expertise in malware removal and data recovery
Discount pricing and money-back guarantee
Free on-site estimate
Same-day services
No actual office you can visit
FAQs about Data Recovery in Winnipeg
---
That's it for our list! We hope you go with one of our top choices for your data recovery needs because we believe that these guys are the experts of their industry!

Has your data been saved by a data recovery company in Winnipeg that is not included on our list? Tell us all about them so we can check them out as soon as possible!
Do you have a computer that needs professional repair? Check out this list of the best computer repairs in Winnipeg.