The 5 Best Employment Agencies in Winnipeg
Building your dream team sounds exciting, yes, but reading a tonne of resumes―not so much.
To save precious time and effort, you'll need experts who know how to sift through and match talent for a living. That's why today, we're reviewing the top employment agencies in Winnipeg for you to choose from.
For job applicants reading this, do stick around too because we also talk about how these companies and their systems work for you as well!
What fees are charged by employment agencies in Winnipeg?
If you're a job candidate, then you can breathe easy for now. Applying for a job shouldn't cost you a cent, and that's true for Canada at large and most parts of the world.
Employers, on the other hand, are expected to pay recruitment firms to find the workforce they need. It isn't a set fee either―it depends on the annual salary of the position that's open.
The name of the game is commission, and fees are only paid when a candidate is hired. Here are the average rates that employment agencies charge in Winnipeg:
| | |
| --- | --- |
| SERVICE | AVERAGE RATE |
| Permanent Hire | 15% – 25% annual employee salary |
| Hard-to-fill positions | 25% – 30% annual employee salary |
| Temporary or Project-based | 20% – 50% of team member's hourly rate |
A good rule of thumb is that the harder a position is to fill, the higher the commission. After all, hunting for unicorns isn't easy.
Because temporary or project-based jobs don't usually last more than a few months, some agencies will charge hourly to find you the right fit.
The Best Employment Agencies in Winnipeg
Now that you know how much employment agencies charge, let's talk about the best ones in Winnipeg. These are our favourites based on networking strength, client satisfaction, and hiring efficiency.
1. Pinnacle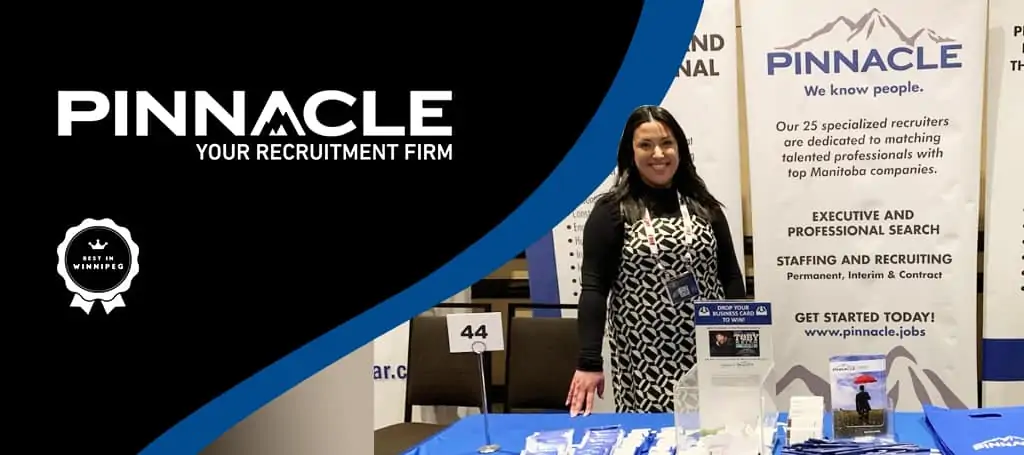 SERVICES
Interim Staffing, Direct Hire, Evaluation-to-Hire, Executive & Professional Search
WEBSITE
www.pinnacle.jobs
HIRING DIVISIONS
Accounting & Finance, Engineering, Sales & Marketing, Logistics & Transportation, Procurement & Supply Chain, HR, Insurance, Manufacturing & Operations, Construction, Restaurant & Hospitality, Office Support, Industrial & Skilled Labour, IT
ADDRESS
2nd Floor – 394 Graham Ave., Winnipeg, MB R3C 0L4, Canada
CONTACT DETAILS
Phone: (204) 943 8649
OPERATING HOURS
Monday to Friday, 6:00 am – 4:00 pm
Closed on weekends
Pinnacle is a Manitoba-based recruitment firm that's big on networking. Their affiliations with the Chamber of Commerce, EO, and Asper School of Business, to name just a few, have made them a familiar entity in various industries.
This also makes it easy for them to source talent from leading schools and training areas. While they lack nationwide reach, we think they excel at local labour.
Even their top stakeholders are homeowners in Winnipeg. That said, decisions come straight from their principals and trickle down to a tight-knit team of 25 specialists.
Pinnacle is also an active community builder, which we like a lot. They host a tonne of charity events, workshops, scholarships, sports tournaments, art festivals, and even have a blog on career tips and management best practices.
That's why we think that networking is one of their major strengths, albeit at a provincial level. Whether your business is corporate or family-owned, there's a big chance they're already connected with someone who might be a good fit.
The company's popularity as a recruiter does have its downsides though, as agents receive over 100 resumes on a daily basis. This draws attention to job seekers that really shine, but has generated some complaints from other applicants regarding lack of follow-up.
That's not necessarily a bad thing for employers, especially when you want to fill out a position quickly. Still, the thought of missing out on a potential match due to possible backlog is a little hard to shake.
Multi-affiliated company
Winnipeg-based principals 
Specialises in local labour
25 available agents across 13 hiring divisions
Strong networking and community presence
Some complaints from applicants about lack of followup
Limited to Manitoba 
Customer Reviews
Helped find someone for a position that was difficult to fill
"I contacted Cathryn Thomas to help find a suitable candidate for a position that was a difficult one to fill. Right away she was on the hunt and connected me with Courtney Czezowski. Within a week a perfect match was presented and interviews were set up. I was impressed by their speed and professionalism throughout the process. This was a tough position to fill, but somehow they managed to find a unicorn. I look forward to working with Cathryn, Courtney and the team again"―Melissa Meilleur
Hiring process is very well-managed
"The recruitment and hiring process is very well managed from day 1 of the initial interview until the deployment of assignment. I commend the staff for being very responsive and accommodating to all my concerns and queries. The support provided was outstanding in helping job applicants to become successful in landing the right job"―Vin Molina
2. Robert Half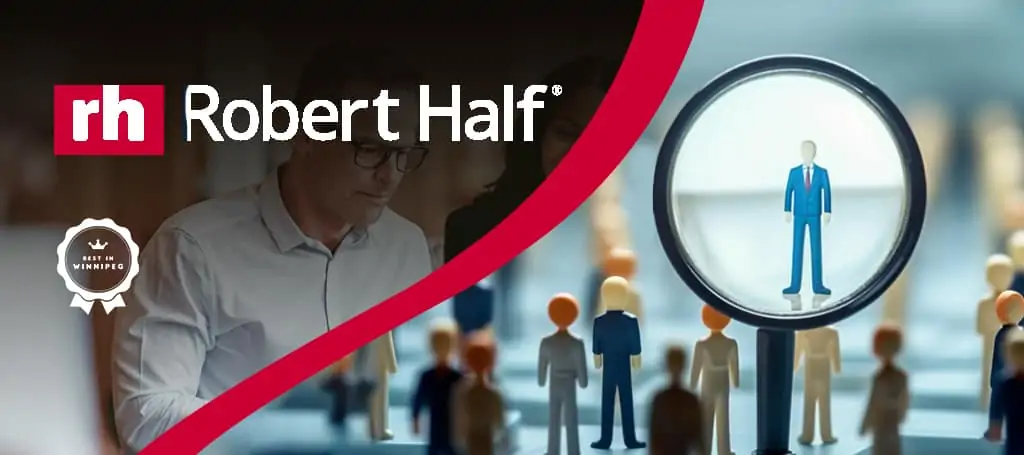 SERVICES
Contract Talent, Permanent Placement, Consultants & Specialised Teams, Remote Hiring
WEBSITE
www.roberthalf.ca
HIRING DIVISIONS
Administrative & Office Support, C-Suite / Executive Leadership, Finance & Accounting, Marketing / Creative, Technology, Legal
ADDRESS
201 Portage Ave Suite 2400, Winnipeg, MB R3B 3K6, Canada
CONTACT DETAILS
Phone: (204) 809 0122
OPERATING HOURS
Monday to Friday, 8:00 am – 5:00 pm
Closed on weekends
If you want to extend your search to global talent, Robert Half has the connections and resources for the task. Engaged in Canada, Europe, Asia, the US and South America, they're quite the force now in the recruitment industry.
Need receipts? Robert Half has got a pageful of accolades.
Just this year, they've earned a spot in Fortune's worldwide list of Most Admired Companies, following a long history of prestigious awards. And while they look good on paper, they have the work ethic to back it up.
Based on our survey, clients appreciate their responsive handling and genuine interest in people. Companies also enjoy timely hires thanks to their streamlined systems and high-end algorithms.
If you're used to doing everything through your phone, hiring a new employee can be managed from the comfort of your pocket. Their mobile app makes the process very portable, while blending AI with the personal touch of trained consultants.
Offices are currently closed to the public, so meetings and interviews will likely be done over the phone as well. If it doesn't bother you that candidates aren't screened face-to-face, then we think they're definitely worth considering.
Another thing of note: while they have a division on creatives and marketing, their strongest suit is corporate finance and accounting. As a result, businesses in other industries may feel a bit excluded from their area of expertise.
Notable global accolades
Lots of locations in Canada and around the world 
Well-executed mobile app
Limited hiring divisions
Offices are currently closed to the public
Customer Reviews
Responsive and provides realistic expectations
"I appreciate that the professionals working here are always responsive and provide one with realistic expectations. Danielle Vanderwey in particular took a genuine interest in my profile and in matching me. I do not yet have an offer but it is gratifying to know that extent of duty of care is given to my case."―Delphine Jean Charles
Professional on both sides of the hiring process
"I have had a good experience dealing with and working for Robert Half. This impression is from the day of my initial meeting/ interview with them. They are very professional, especially Danielle Vanderwey who I deal with all the time. Assignments are well communicated, as well as the communication and follow up for each placement. I have been on both sides of this process — as an employer needing temp services and as an employee seeking for employment (permanent & temp). On both sides of the hiring process, I have always appreciated the professionalism of the staffing personnel at Robert Half."―Winnie Navarro
Streamlined experience and clear guidance
"My Representative Logan has been excellent from the get go. He has streamlined the whole experience, giving clear guidance on what to ask for and what to look for. Always responds in a friendly and timely manner."―Suzanne Paintin
3. David Alpin Group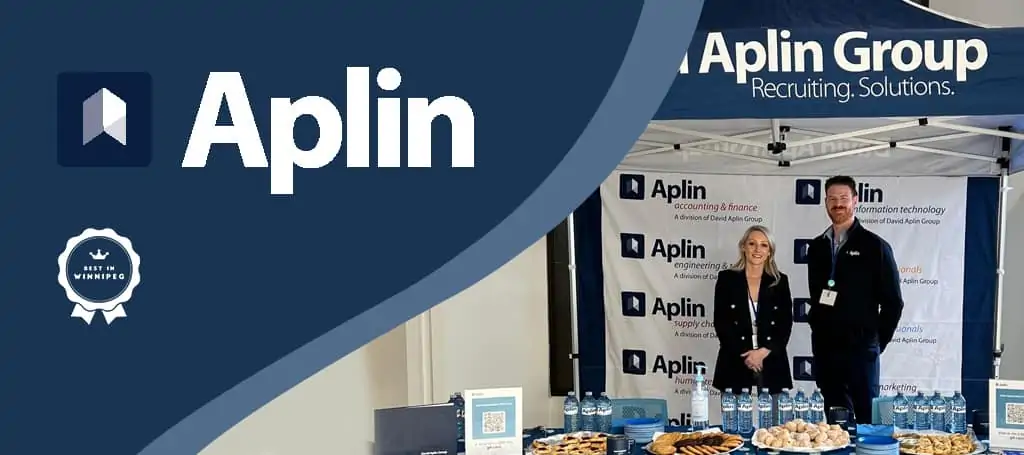 SERVICES
Temporary Hire & Contracts, Direct Hire, Executive Search, Staffing Consultation
WEBSITE
www.aplin.com
HIRING DIVISIONS
Accounting & Finance, Engineering & Technical, Executive Search, Healthcare, Human Resources, Industrial, Information Technology, Legal Professionals, Office Professionals, Sales & Marketing, Supply Chain & Operations
ADDRESS
1 Lombard Place, #600, Richardson Building, Winnipeg, MB R3B 0X3, Canada
CONTACT DETAILS
Phone: (204) 235 0000 | ​​Fax: +1 855 273 7393
Email:

[email protected]

OPERATING HOURS
Monday to Friday, 8:00 am – 5:00 pm
Closed on weekends
David Aplin Group has over 45 years of history as a top-performing recruitment firm. Founded in Alberta, DAG now operates at a national level with offices in Winnipeg and 9 other cities around Canada.
They're also a proud platinum recipient of Canada's Best Managed Companies Award of 2021.
One of the things we like the most about DAG is their diverse array of job functions. While corporate jobs are a mainstay, they also specialise in other niche industries concerning science, aerospace, and forestry.
That means companies and startups of all sorts can benefit from their staffing services. It also helps that they provide a tonne of free resources for employers, including guides to virtual management, online training, and more.
One of the good things we've heard from our survey: they're excellent listeners. Clients appreciate that they take the time to understand the role without compromising timeframes.
True enough, reports also show quick turnarounds―which will help you fill the role on time. It's also common for the staff to come through for last minute queries and concerns.
Since their office in Winnipeg is an annex of the main firm, its history with the local work culture isn't as deep. Nevertheless, DAG leverages extensive market research to get solid leads and tailor their search to what you're looking for.
Over 45 years of experience
Diverse array of job functions
Free online resources for employers
Good understanding of the role 
Timely hires 
Not a Winnipeg-founded company
Offices are currently closed to the public 
Customer Reviews
Understood the role and worked with the company to address concerns
"Kim was very helpful. She understood what kind of role I was looking for and put me in touch with a great company. I had some concerns about switching roles but she worked with the company to negotiate a contract that addressed these concerns and worked well for everyone. I would definitely recommend."―Marc De Leeuw
Able to get a hire 2 days after the first interview
"After 2 long months of job searching on my own I finally got in contact with Leanne. She was able to get me hired 2 days after my first interview with her. I was hesitant about the fit in my role but she convinced me it would work. She was correct! The company and fit is perfect! It was amazing working with her!"―Andy Sayroo
4. Summit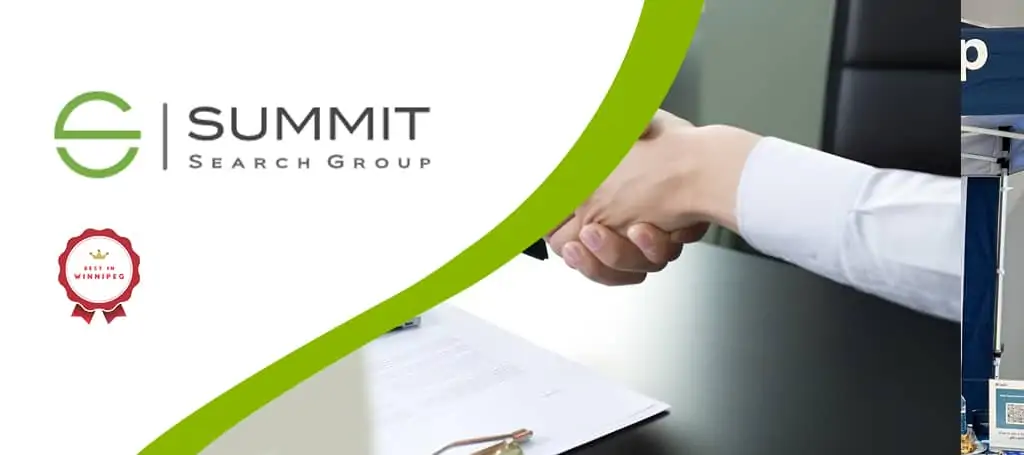 SERVICES
Professional Recruitment, Execute Search, Project Recruitment, Remote Hire
WEBSITE
www.summitsearchgroup.com
HIRING DIVISIONS
Executive Search, Environmental, Transportation, Logistics, Supply Chain, Business Products & Services, Professional Services, Retail and Consumer Goods, Technology, Accounting & Finance, Medical & Healthcare, Pharmaceutical & Biotechnology, Manufacturing & Industrial, Financial Services & Insurance, Real Estate, Mining & Energy (Oil & Gas), Agriculture, Construction, Public Sector and Not-for-Profit
ADDRESS
Phone: (204) 957 5500
Email:

[email protected]

CONTACT DETAILS
18th Floor, 201 Portage Avenue Winnipeg, MB R3B 3K6, Canada
OPERATING HOURS
Monday to Friday, 9:00 am – 5:00 pm
Closed on weekends
If you're looking to build a dynamic team, Summit Search Group (SSG) could be the staffing partner for you. We say this because SSG actively leads its hiring assignments with inclusion and diversity in mind.
That goes for female representation as well, as SSG has gained notable acceptance into the 30% Club. We're also pleased to know that they're partnered with the Canadian Centre for Diversity and Inclusion.
It's not all lofty promises either―their commitment to inclusion is evident in their work flow, too. SSG has programmed its search protocols to steer clear of bias when considering age, race, sexual orientation, and more (provided that it doesn't hinder performance).
Employers we've talked to cite a high degree of diplomacy and accountability in the way they work. Clients also enjoy open and frequent dialogue with the team, which is something you want when constantly refining the search for an important role.
That said, we get why the company receives a lot of praise for how they do their Executive Search. It's no surprise either that their managing partner in Winnipeg, Matt Erhard, has held multiple leadership roles in top Canadian organisations, so he knows the field well.
If you're still undecided about commissioning their services, you're still free to check out their e-books and toolkits on recruitment best practices. We think it's great that all these resources are available upfront, free of charge.
High regard for female representation
Active anti-bias protocols
Large number of hiring divisions  
Free e-books and other helpful resources 
May be difficult to set culture or age-based filters
No specified sector for Media & Arts
Customer Reviews
Impressed with the tenacity to find the best talent for mid and senior-level roles
"We have partnered with Jessica to solve several mid- and senior-level people needs over the last 12 months and have been very impressed with her tenacity and drive to find us the best talent for our roles. She has taken the time to dig deep into our organization to understand exactly what we need each time. She's come through on urgent requests and is always up for any challenge we throw her way. I can't say enough good things about working with Jessica. She is professional, kind, an exceptional communicator, and has strengthened our team with her expertise."―Jan Reischek
Did a tremendous job finding an executive director for a non-profit org
"Matt at Summit Search Group did a tremendous job in helping our non-profit organization conduct its search for an executive director. Excellent job!"―Chris Wullum
5. Staffmax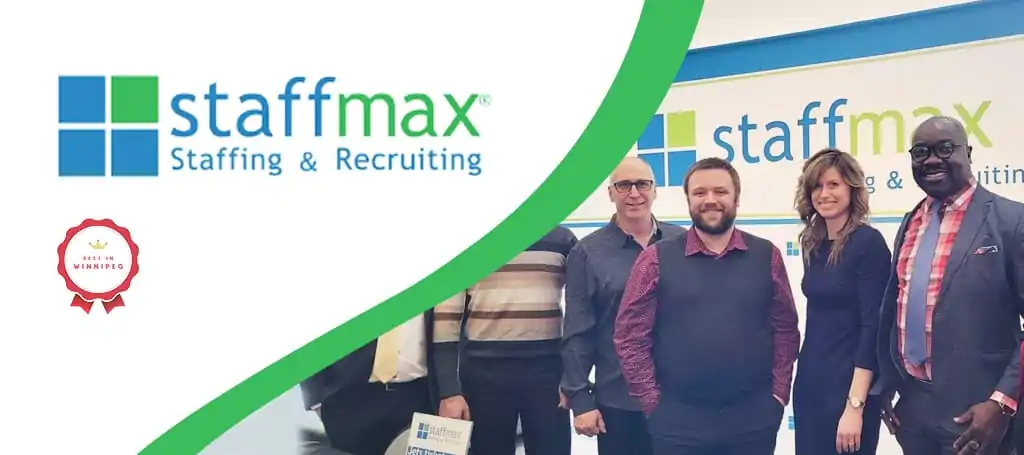 SERVICES
Temporary & Contract Staffing, Permanent Recruitment, Executive Search, Payrolling/Professional Employer (PEO), HR Concierge Services
WEBSITE
www.staffmax.ca
HIRING DIVISIONS
Office & Administrative Services, Finance & Accounting, Labour & Skilled Trades, Contact Centre / Customer Service, Property Management, Sales & Management​, Information Technology, Professional & Engineering, Physicians & Healthcare Professionals, Legal Professionals, Hospitality & Retail, Other Specialties
ADDRESS
206-1661 Portage Ave., Winnipeg, MB R3J 3T7, Canada
CONTACT DETAILS
Phone: (204) 956 7090
Toll-free: (888) 956 7090

Fax: 204-956-7411
Toll-Free Fax: 855-956-7411

Email:

[email protected]

OPERATING HOURS
Monday to Friday, 7:00 am – 6:00 pm
Closed on weekends
You've probably heard of Staffmax before and for good reason. Their human resource solutions have supported Winnipeg businesses for the past 15 years and counting.
Currently, they have 12 mainstream hiring divisions within their purview. They also deal with temporary, permanent, and executive hires―offering flexible opportunities for candidates and employers alike.
It doesn't stop there, either. Whether you need an ad hoc committee, a special project team, or even just consultancy, finding transitory talent is right in their wheelhouse.
What sets Staffmax apart in our book is that they don't just connect employers to job candidates. They also offer administrative services―extending support to the back-room management of your newly-hired workforce.
As a third-party professional employer, Staffmax can provide workers' insurance and manage payroll, remittances, ROEs, T4s, and the like. This includes keeping track of time records and leaves, and is great if you want to outsource a large amount of clerical work.
For this, you'll want to enlist their Professional Employer Services (PEO). We particularly like this function for startups and emerging businesses―basically companies that are still starting out and need some help with HR services.
Staffmax also has a mobile app, but it's currently designed for candidate use only (perhaps something to extend to employers for added convenience). It may also be helpful to note that they don't specialise in forestry and agriculture, which may be a letdown for select producers in Manitoba.
Head office is in Winnipeg
In-demand hiring divisions 
Flexible staffing formats 
Payrolling and administrative services available 
No set specialty in forestry and agriculture
Mobile app is for candidates only
Customer Reviews
Staff are friendly, quick, and efficient
"Staffmax Staffing and Recruiting is a fantastic company. The staff there are friendly, quick and efficient! They will help you find your life time career or help find you a temp position so you can still pay your bills while you continue your search for that perfect career! Thanks again Anelle."―Alyssa Code
Helped find a part-time job
"During the pandemic, there were fewer employment available in Winnipeg, but Jake, Jason, and Brittany helped me find a part-time job. I'd like to express my gratitude to you for all of your assistance. Also, I would like to recommend everyone to contact them."―Fiona Wang
"My dealings with Staffmax have been nothing but pleasant. Matters are addressed in an organized fashion, with a friendly and responsive dialogue at all times. I would definitely recommend being in communication with Jake and this agency."―Veronika Ring
FAQs About Employment Agencies
---
Did any of these companies land you a hire? Or did they disappoint in some areas?
Either way, we'd love to know. Our lines are open for messages and recommendations!
In the meantime, you may be interested in outsourcing other services to help your business run smoothly. For that, we've also written a review for our picks of the best accountants in Winnipeg, so check that out, too!